Automotive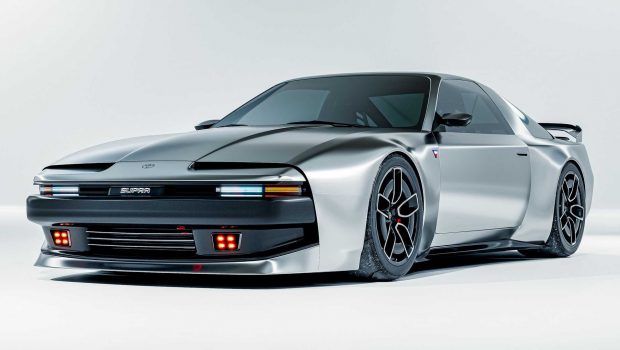 Published on September 6th, 2022 | by Joshua Chin
0
Toyota A70 Supra Reimagined With A Retro-Futuristic Flair
The under-appreciated wedge-shaped A70 Supra has been treated to a Tron-esque digital makeover. 
Mention Supra to anyone and it'll likely be the A80 generation of this famous Toyota nameplate that will first spring to mind. Considered among the greatest of the 90s-era JDM sports cars and made even more popular by the Fast and Furious franchise, that particular iconic iteration could in all honesty be said to have been single-handedly responsible for the Supra name to still live on in its BMW-based form today. 
Having said that however, the immense love for the 2JZ-powered A80 Supra unfortunately doesn't really translate to its predecessors. In fact, there are those who would cynically say that the only reason to buy any of the older generation Supra is simply because of wanting the Supra name but not paying the (now exorbitant) price of what an A80 Supra is currently commanding. Though for those who think that way, this particular retro-futuristic A70 here might just change your minds.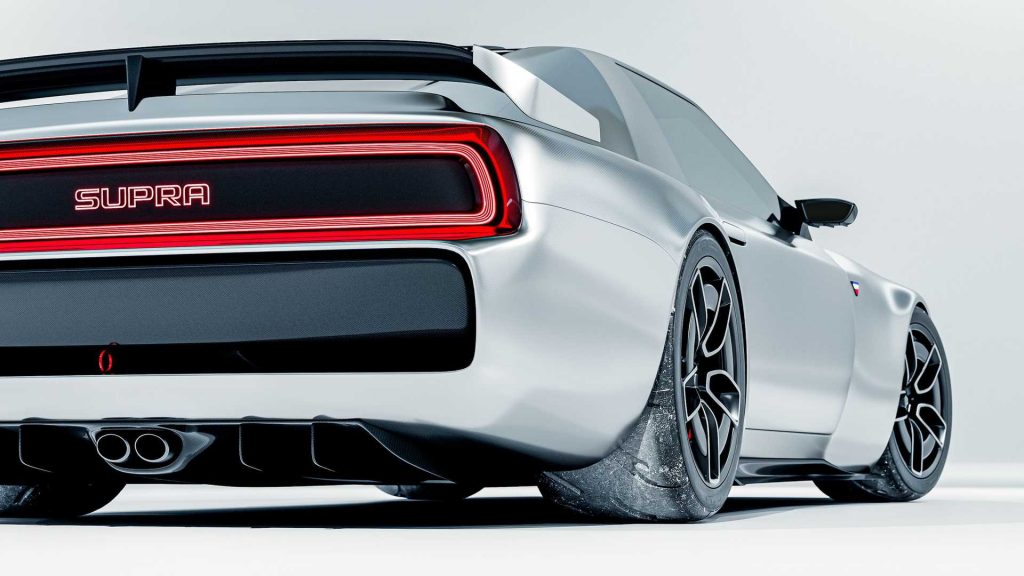 A fantastic rendering from Hakosan Designs on Instagram, what was previously a pretty bloated wedge of an A70 Supra has since been given the Tron treatment and been transformed into a rather cool-looking coupe. It might even generously be considered as a Japanese cousin of KITT, with a pair of quad red LED fog lights tucked on either side of a more aggressive lower fascia and the retro-futuristic light bar tucked beneath the pop-up headlights giving a vibe that is vaguely reminiscent of the gadget-laden indestructible Pontiac Trans Am from Knight Rider.  
Though while it is all KITT up front, the rear meanwhile does suffer slightly the retro-futuristic makeover and has ended up looking not unlike a gaping-mouthed cyclops. The massive gloss black panel that runs right across the rear bumper is largely to be blamed for this likeness, but the equally massive black trim above it that houses the (admittedly cool) Supra logo and rear light ring should be shouldering some responsibility too.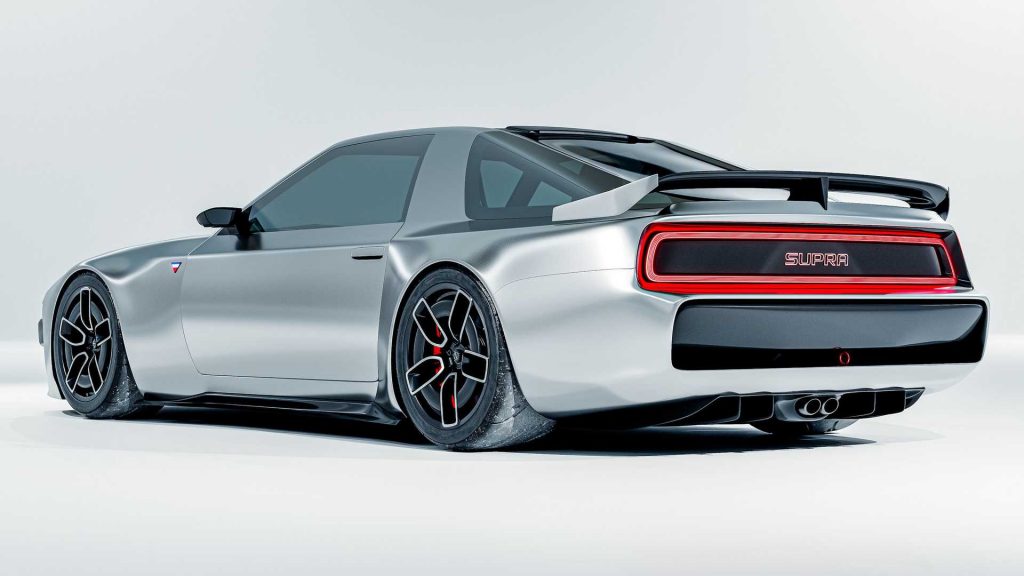 Credit where it is due however, the almost-floating rear spoiler design is rather neat. So too is the large and futuristic-looking two-tone alloy wheels, but it is those massively flared and boxed arches which really gives this particular A70 Supra the butch and mean aesthetic that is sorely lacked from the 80s original.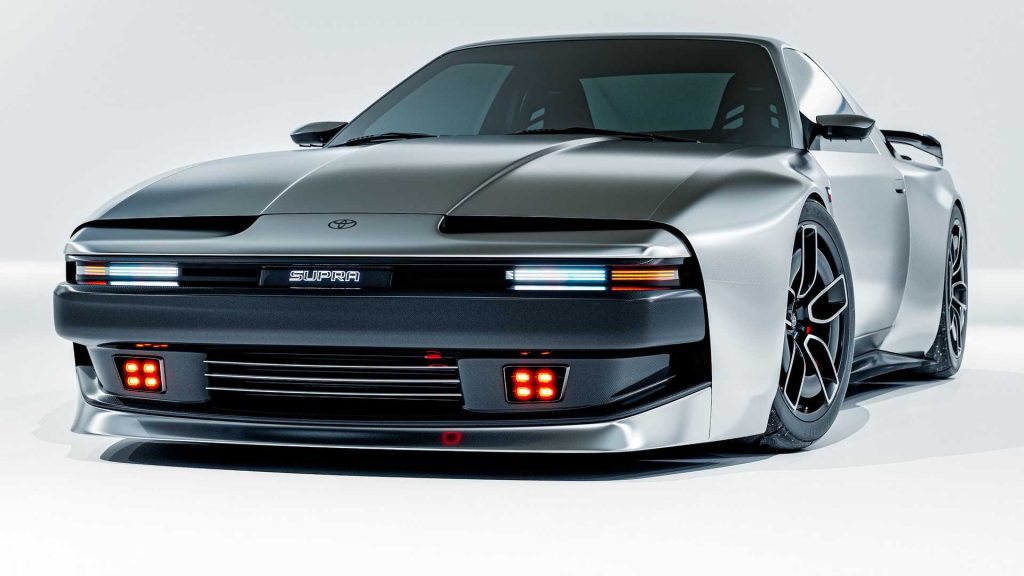 Rather unfortunately, there is no rendering of the interior of this retro-futuristic Toyota coupe just yet. If going by Tron theme of this sleek silver A70 though, a full suite of digital instrumentation with some 80s graphics and brushed aluminium trim would suit this Supra to a tee. 
Being just a computer rendering thus far too, there is no telling as to what would lie under the low hood of this Supra. That said, the rendering artist has nevertheless put forth the idea of either Toyota's iconic 1JZ or 2JZ straight-sixes driving the rear wheels of this 1980s restomod, or even a slightly smaller 3S-GTE four-pot typically found in a Celica or Caldina.