Cars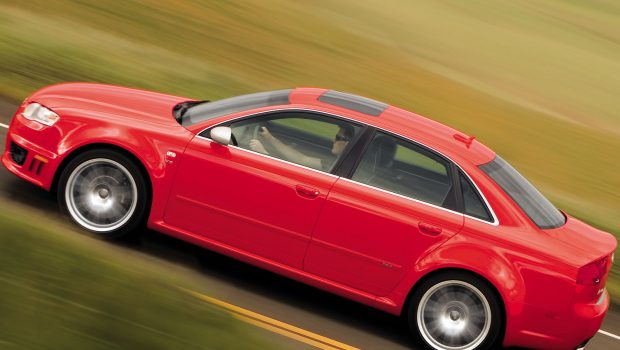 Published on February 9th, 2020 | by Hammer
0
Audi RS4, the forgotten super sedan from 2008
As anyone with a drop of petrol in their veins will tell you, Italy has the best scenery in Europe for photographing cars and women. Way back in 2008 we were invited to test drive the 'then' all new Audi RS4 in Italy and at the test drive presentation were given a short briefing of the latest RS4 and then its keys were handed to us for all hell to break loose on the Pirelli test track.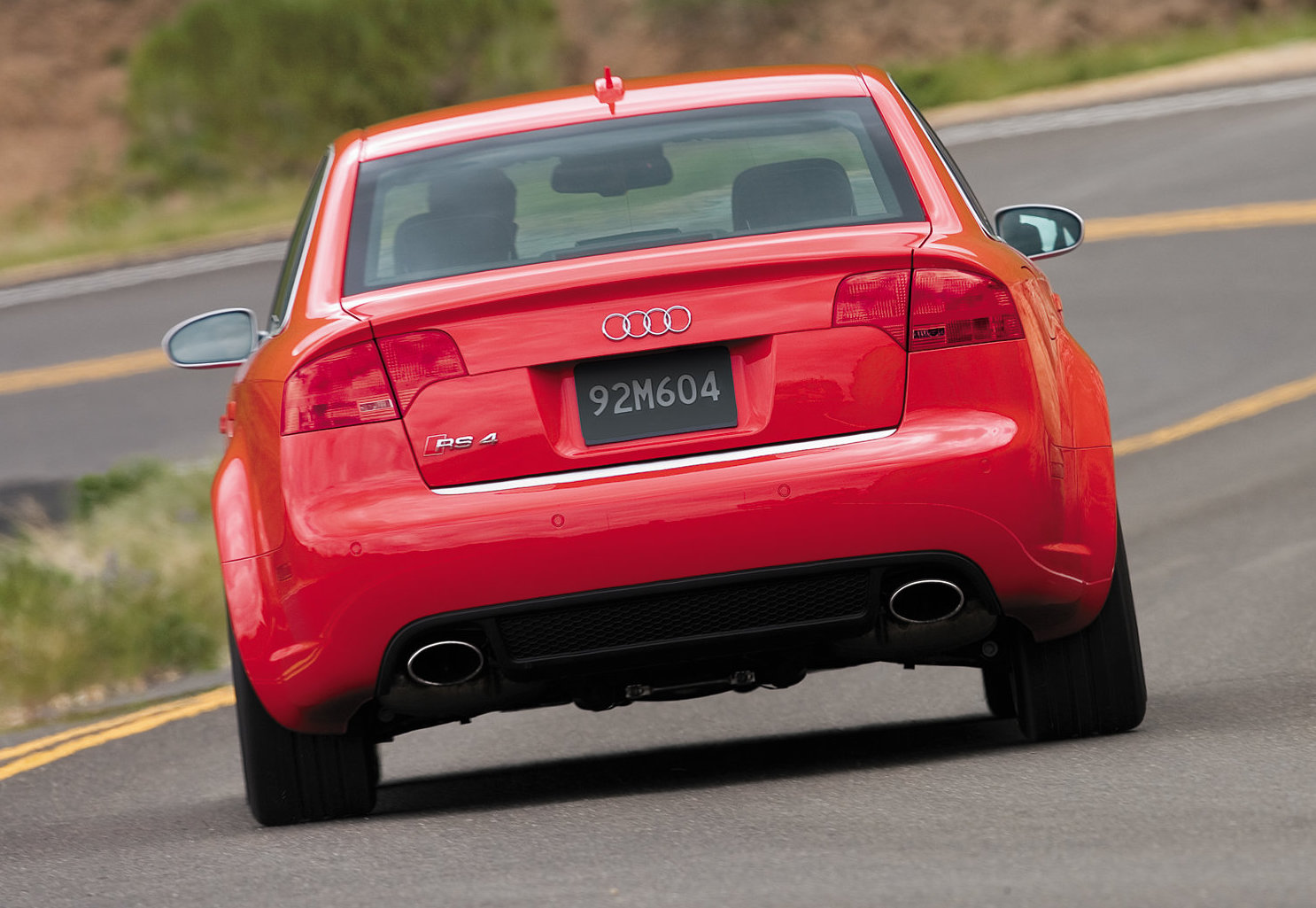 Under the watchful eyes of Audi staff we paced ourselves with the RS4 around the track. After an hour of controlled execution of the new RS4 around the race track we were let loose on the Italian motorway…well actually we were advised to keep to the local speed limits which most of us motoring hacks forget after a few miles in a performance sedan of this nature. We did not fly for 17 hours to drive like a little old lady in Kancil. We wanted to experience Audi's technology to the fullest in handling, power and all out ripping abilities. Simply stated, the RS4 will satisfy most driving enthusiasts for sure. Slipping into the leather clad race driver's seat, you will realize many common points and equipment with other new Audis and features that you would come to expect in an Audi, like top-notch fits and materials, firm leather surfaces, good ergonomics, a sports watch like dials (that look good at night) and a steering wheel borrowed from the latest Golf GTi MK5.
Inside the engine bay and underneath the shapely sedan, the new RS4 deviates in many ways from its predecessors starting with a normally aspirated, high-revving 4.2 litre V-8 (the n/a engine provides continues power from the word 'go' and there is no turbo lag to deal with like in the previous RS) and a Quattro drive train with rear-wheel torque bias. This new direct-injection V-8 is responsive to the slightest prod of the accelerator and manages to whip up torque and power with such ease. With 414 hp, the 2006 RS4 will accelerate from 0 to 62 mph in just 4.8 seconds (we tried to get this time however our joy in piloting this car left us without a doubt of its claimed time). The 4.2-liter pulls cleanly to 7800 rpm; leaving another 450 rpm to play with before the limiter intervenes at 8250 rpm. The torque curve plateaus at 5500 rpm, where 317 lb-ft are on tap and there is still 90% of its awesome power available between 2250 and 7600 rpm.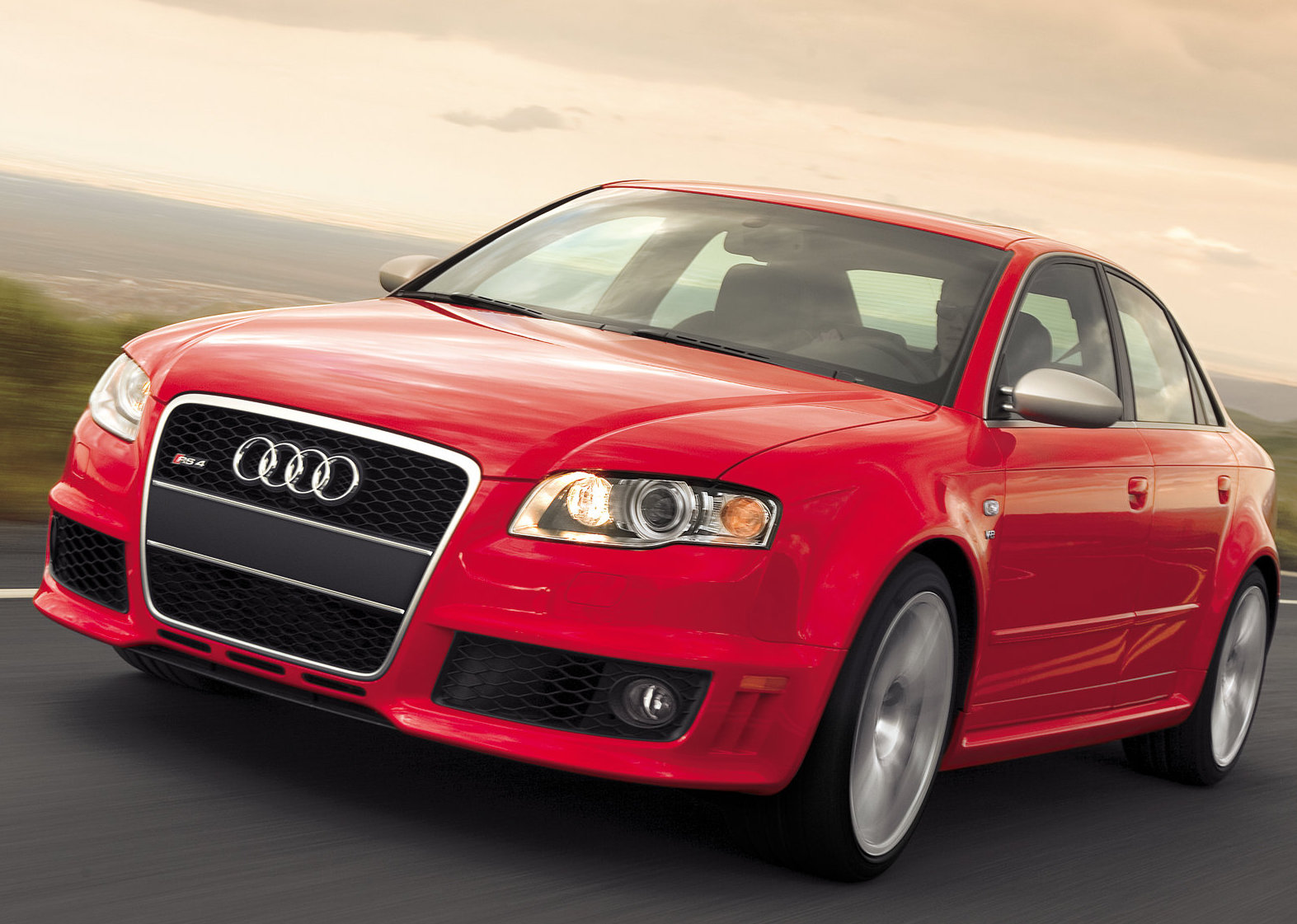 All this power is geared using a six-speed manual shift. The gearbox is quick, light and silky smooth sending torque to all four wheels. With this RS4 the rear wheels get more attention as the Quattro drive train now has a 40/60 front/rear torque split(50/50 before). There is a good reason for the change in torque split. By sending more power to the rear wheels, the front wheels are less burdened and can concentrate on turn-in and braking. You need to drive the previous RS to feel the difference. The RS4 steering is now lighter with more feel, resulting in a more communicative steering wheel.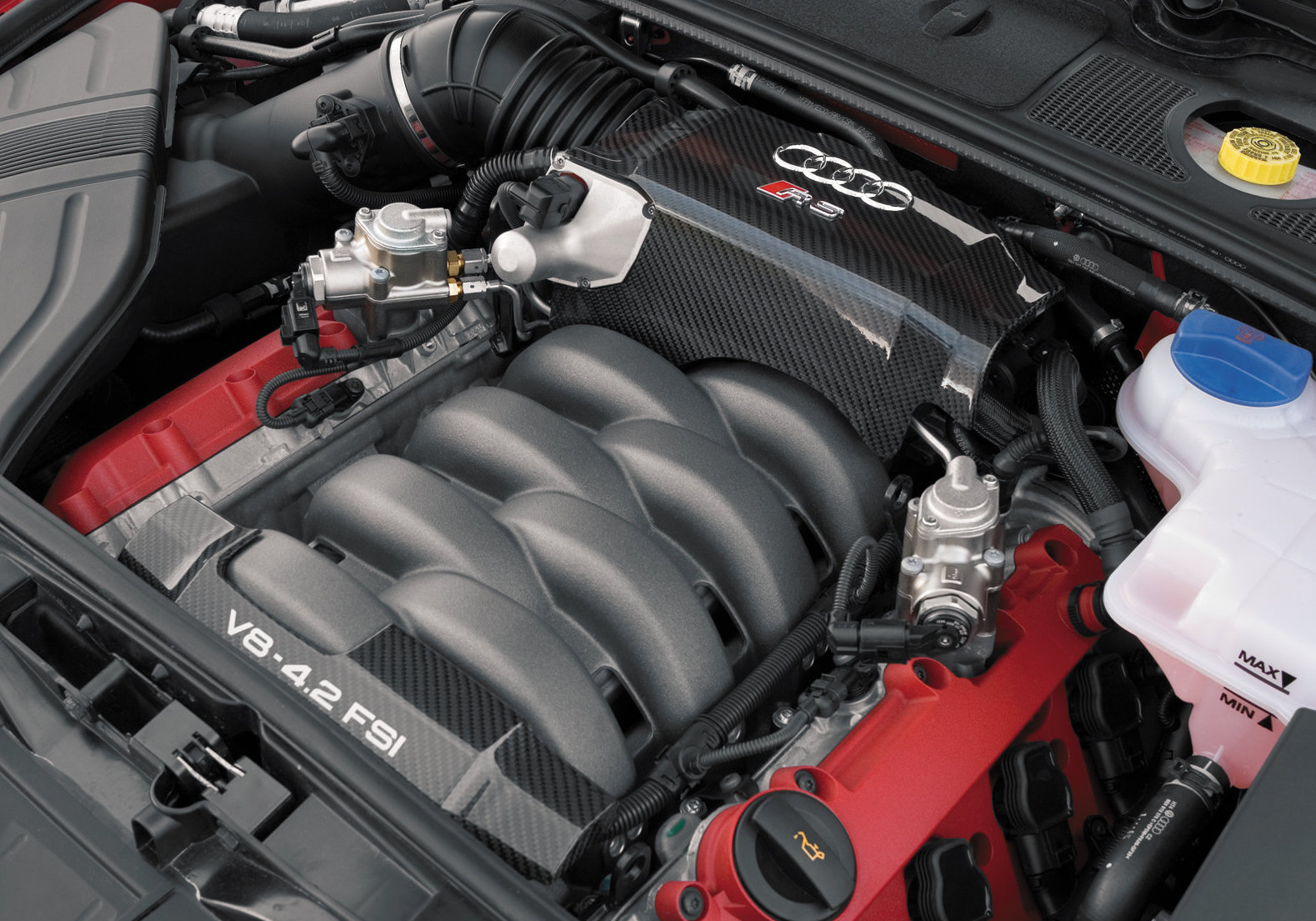 Since this is Audi's flagship performance sedan, the attributes of comfort and city driving pleasures have been set aside somewhat for pure performance. The new RS4 suffers from a harsh ride with the 35-series tires on nineteen-inch wheels picking up all the imperfections on the tarmac. After some miles of speed driving the RS4 the firm race seats will start massaging your body with the reactions from the road surface.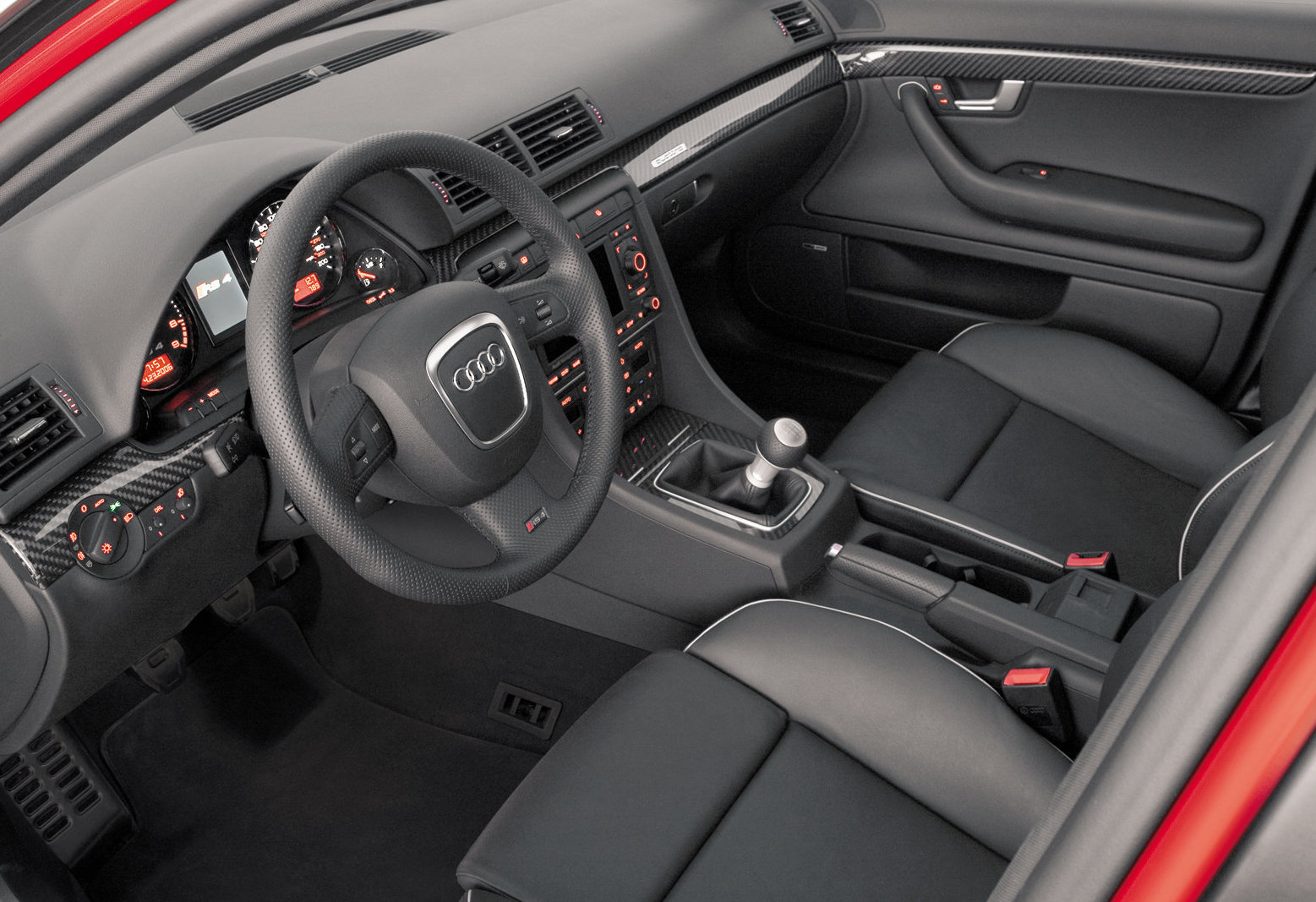 Lowered by 1.2 inches and widened by 1.5 inches in front and 1.9 inches in back, the RS4 maybe be fast and furious but it is not for one with a bad back.  The Dynamic Ride Control (DRC)-introduced in the RS6-has been updated here and effectively suppresses yaw, roll, dive, and squat by diagonally linking the two pairs of dampers hydraulically. This wholly mechanical system provides a confidence-inspiring, ground-hugging cornering attitude that is particularly awesome on smooth tarmac.
The RS4 is however about driving. In a car this powerful there are limits which can be reached that can be expensive to rectify. A level head is required behind the wheel. On the tarmac with plenty of open space, the RS4 can be abused by a silly driver to go sideways into a ditch. This car is a precision machine that deserves a good driver and a stretch of road that doesn't disappoint. If for some reason, you make a mistake that needs immediate help, there are always the monster brakes to rely on. Borrowed from the Lamborghini Gallardo (Audi's sports car division), the huge rotors (14.7 inches front, 12.8 inches rear) bring the RS4 to an abrupt stop with a minimum of fuss and shows little traces of fade. In the wet, the discs are intermittently swept dry to improve response and stopping power. Body roll is nicely controlled with a good trade-off between grip, handling response and plush ride quality. The driving experience is awesome: the handling is sure-footed, predictable and engaging – from the moment of turn-in (which is tight, in rear-drive fashion) to the powered exit where the fat wide rear tyres feel absolutely planted. Audi engineers are quick to point to us that the car's performance can be exploited to the full without exceeding the suspension's design limits. Undoubtedly this has been achieved but it would take an inexperienced driver to test the point on public roads: the envelope is broad enough to reward really experienced drivers without the need to fall off the edge, on principle.
The RS4 owner will find the car generous at speeds, forgiving in corners and rewarding in everyday driving. He will have the surety that the RS4 he is driving is packed with all the best that Audi knows about in engineering and chassis technology that we have seen over the years in their rally and Le Mans winning machines. At the end of the day, here is a car that has enough of a hooligan streak running through it that allows you to experience the thrill of a super-quick, great-handling car whenever circumstances allow, whilst leaving your partner safe in the knowledge that her outfit for tonight's dinner will still be crease-free when you arrive at your destination. That alone may justify it!
As for the exemplary precision and care, AUDI hands that to you on a plate. Despite hefty horsepower, tug-loads of torque and lightning performance, the RS4 is docile when you want it to be. Even beyond the 'docile' envelope, its performance comes almost fully tamed by the race-engineered platform; the remainder is down to your driving ability. Losing control of the RS4 would be like forgetting your underwear in the morning, so intimate is the relationship between this well-tuned car and an equally well-tuned driver. Every input, every nuance of command, meets an equal and opposite – not to mention linear – response that encourages and rewards commitment in a superlative manner that has few equals, at any price.
All in all, we were totally impressed with the RS4. We are certain that Audi's  investment in its super car division Lamborghini has paid off well not only in high Lamborghini sales but also in producing a RS4 that continues to be a sports sedan king some 12 years later.
Finding one today will not be easy but the asking price will be easy on the pocket.