Motorcycles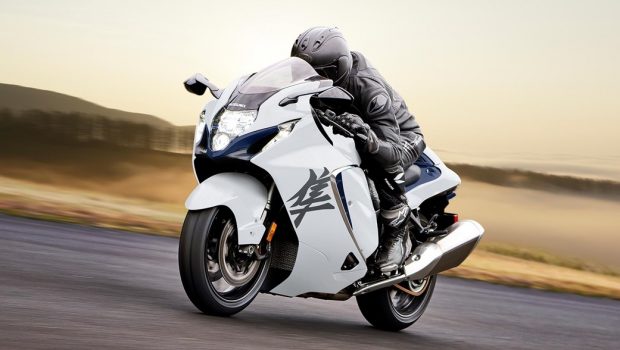 Published on February 6th, 2021 | by Joshua Chin
0
All New Third Generation Suzuki Hayabusa Revealed
The iconic Suzuki Hayabusa superbike is now sleeker, greener but no less meaner than before. 
After 13 long years, Suzuki has finally revealed an all-new Hayabusa. Named after the Japanese term for peregrine falcon, this new third iteration of the iconic Suzuki superbike brings with it sleeker styling, a greener engine and more tech.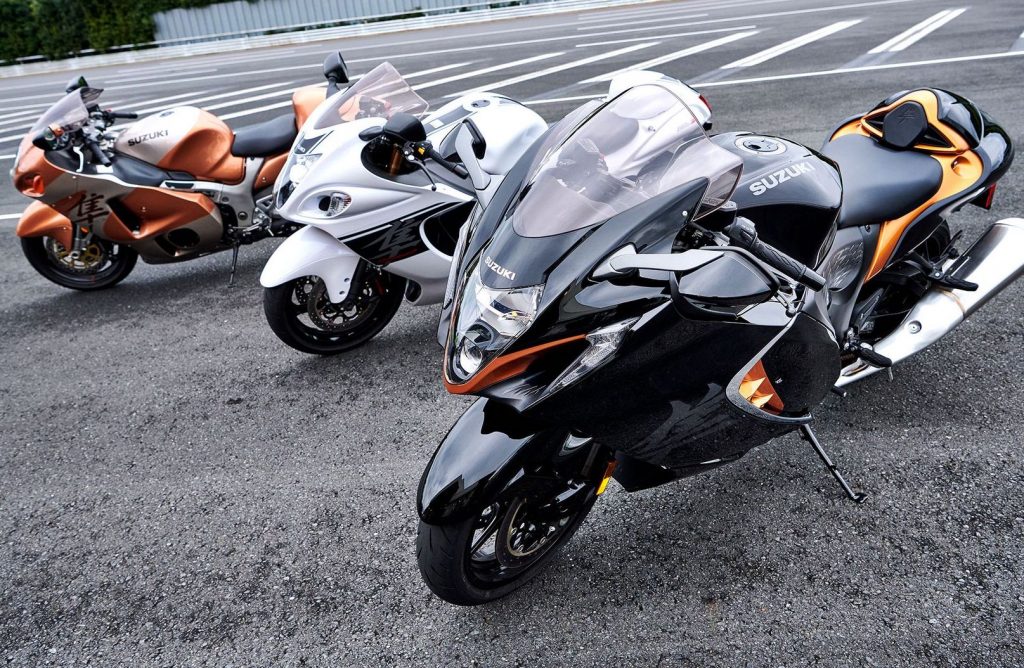 Despite Suzuki claiming that this all-new superbike features more than 550 new parts, this third-gen Hayabusa can be considered more of an evolution rather than a revolution from its predecessor. Take the bodywork for example, it is in effect just a slightly slimmed down and cleaned up exterior aesthetic over the iconic design of the outgoing model, with the biggest design highlight here being that the indicators with integrated position lights are now on the outer edges of the air intake.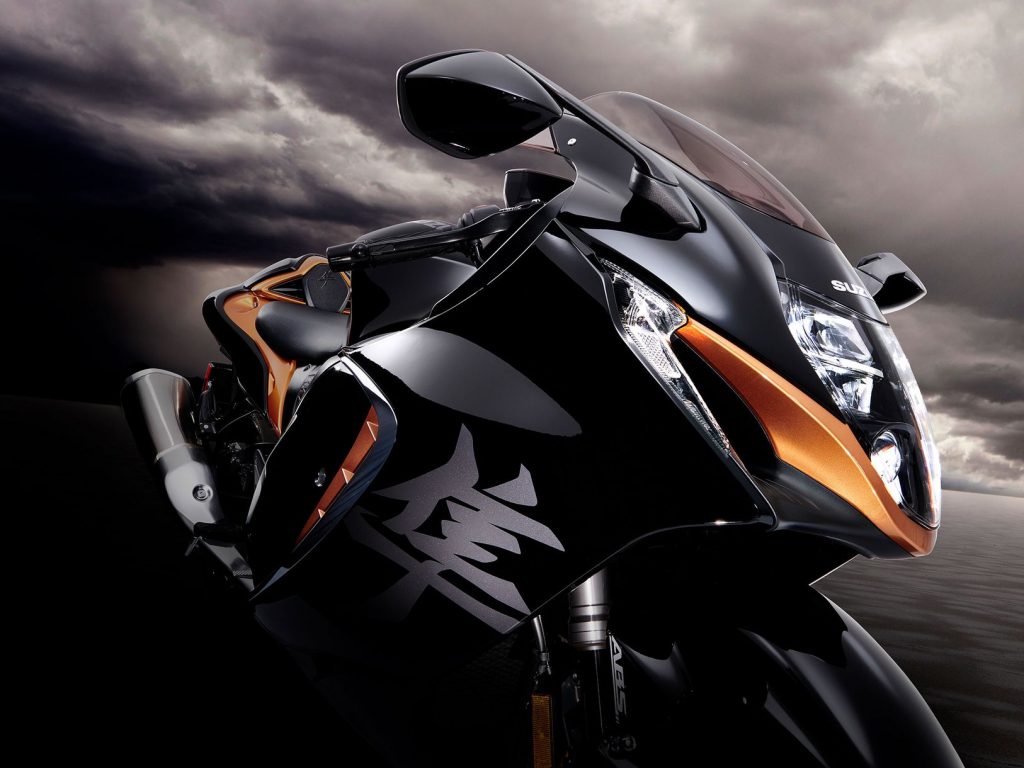 The same can be said about the engine too, as Suzuki has stuck with fettling around with the same 1,340 cc DOHC inline-four instead of putting an all new powertrain in the Hayabusa. Nevertheless, the engine redesign has been rather extensive, with lighter pistons, a new exhaust system, revised cam profiles, redesigned crankcase and combustion chamber being among the major updates. 
Now, the really big news here with this heavily revised engine would probably be that it is Euro5 compliant. Interestingly however, this updated engine did lose a few ponies during this green-ification process, with it now making only 188 hp and 111 lb-ft of torque. Down 6 hp and 3 lb-ft from the outgoing Hayabusa. 
Then again, Suzuki has claimed that this new Hayabusa will still accelerate faster than its predecessor courtesy of improved low- to mid-range power and torque delivery. Thanks to the slipperier body too, this new superbike should be more stable at its 299 km/h top speed.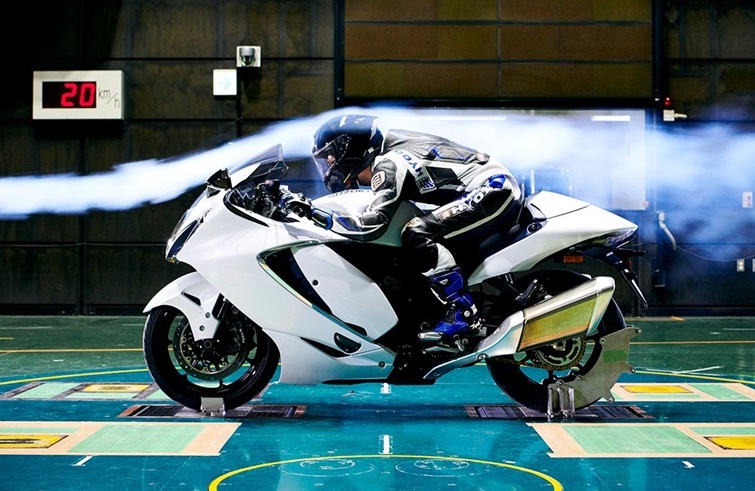 Speaking of stability, the suspension on this new Hayabusa consists of a 43 mm KYB inverted fork up front and a KYB monoshock at the back. Braking meanwhile is taken care of by Brembo Stylema brakes hidden behind the 17-inch seven-spoke wheels wrapped in Bridgestone Battlax Hypersport S22 tyres.
Moving on to the tech front, this is where Suzuki has really pushed the boat out on this new Hayabusa as this third-generation superbike now comes with Suzuki Intelligent Ride System (S.I.R.S.) system of electronic rider aids. This brings with it a whole plethora of features like Bi-directional Quick-shift System, Anti-lift Control, Launch Control and a Motion Track Brake System.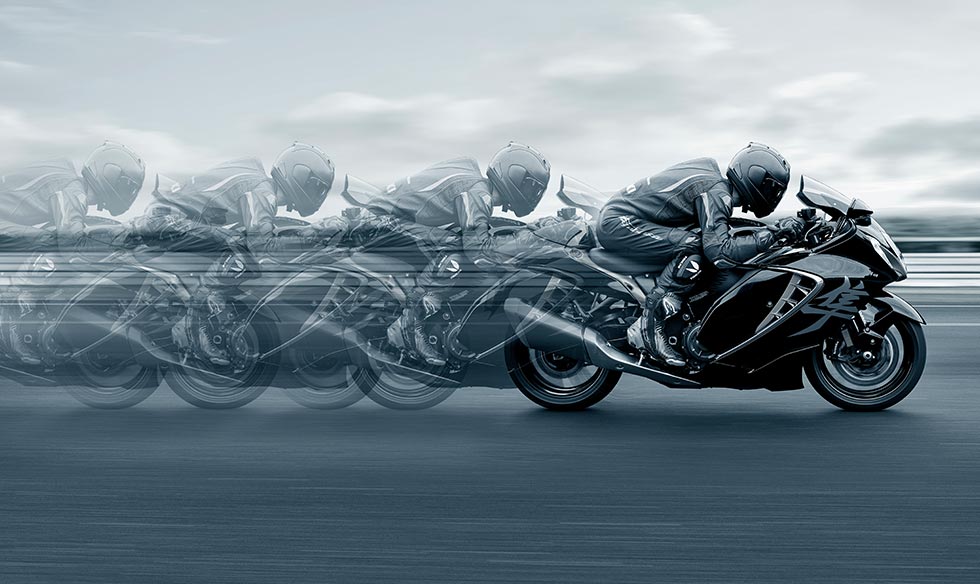 Additionally, this new Hayabusa still retains Suzuki's Drive Mode Selector Alpha (SDMS-a) engine-management system which allows the rider to choose the engine mapping and power delivery for the riding conditions. Other technological niceties fitted as standard to make the riding experience more civilised includes cruise control, hill-hold control and an active speed limiter, not to mention full LED lighting as well as a combination digital TFT LCD and analog display.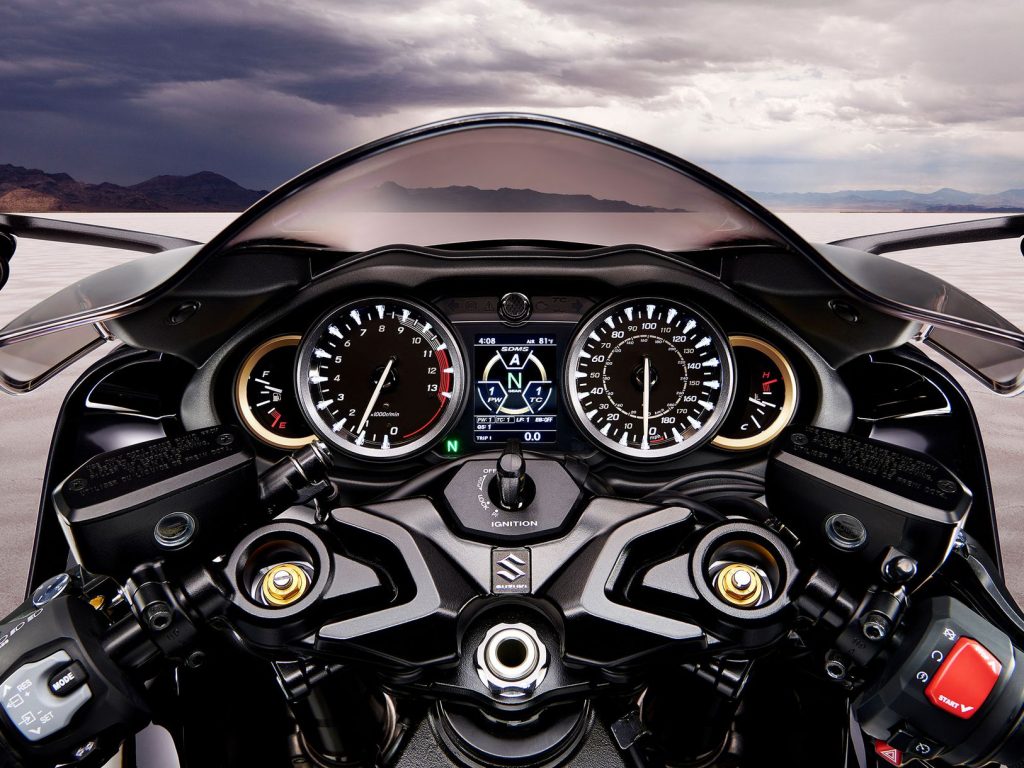 Costing from $18,599 (RM 76,000) in North America, this new Hayabusa certainly doesn't come cheap. In fact, it is actually nearly a full $4,000 (RM 16,300) over the outgoing model. 
To add to that too, Suzuki has yet to confirm when this new Hayabusa will actually arrive in showrooms internationally, Having said that, it shouldn't be long before one of these new superbikes is spotted splitting lanes at an incredulously high speed on the interstate highways.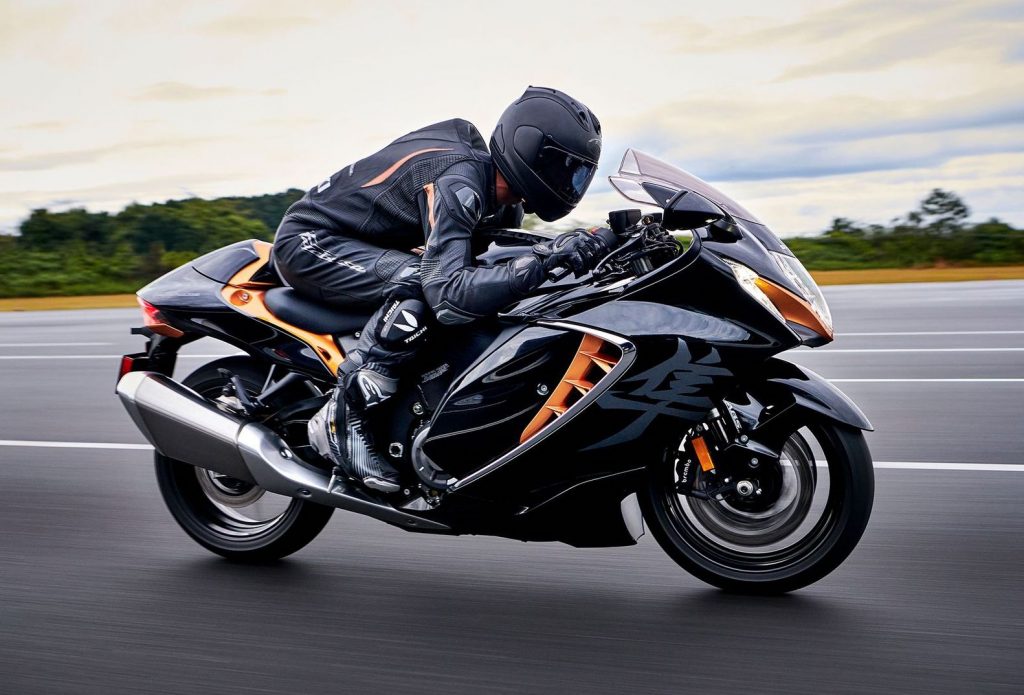 PRESS RELEASE: Suzuki Motor Corporation has made full-model change of its flagship motorcycle, the Hayabusa. The all-new Hayabusa will be sold worldwide, starting from Europe toward the end of February, subsequently followed by markets including North America and Japan.
The all-new Hayabusa is the third-generation model which has undergone a full-model change for the first time in 13 years. Under the product concept "Ultimate Sport", inherited from the very first generation, it has further evolved the unique styling design with outstanding aerodynamic performance and superior riding performance.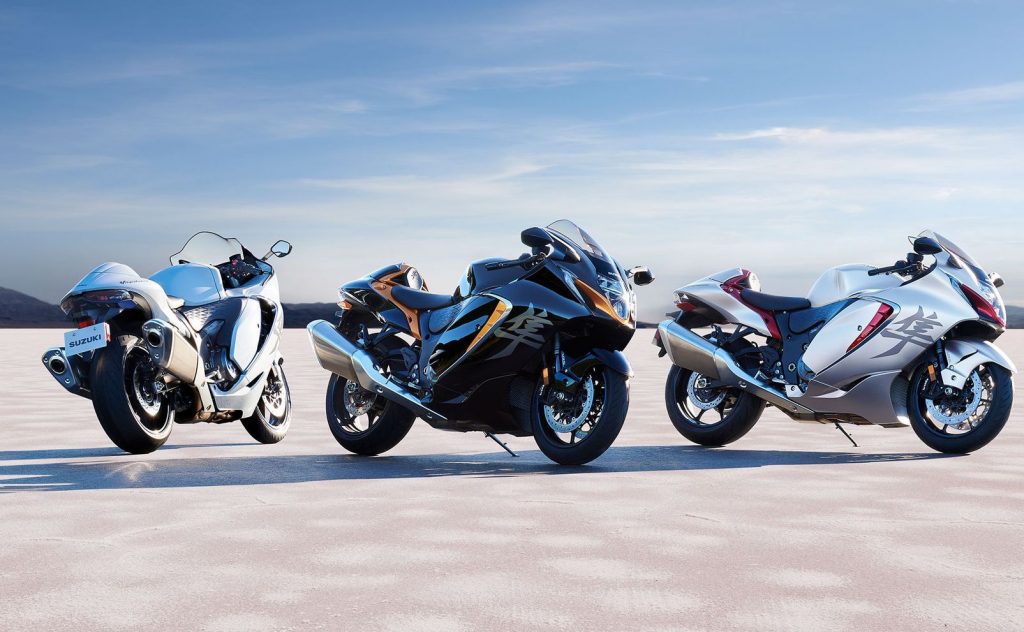 The new and iconic styling design, which is instantly recognizable as the Hayabusa, has a flowing, forward-slanting and aggressive silhouette characterized by its bold surfaces with sharp and edgy lines. The body comes with two-tone colors by adopting different colors for the main body and small parts around the front air intakes, on the side cowlings, and in the rear section. The turn signals with built-in position lights placed on the outer edges of the air intakes are adopted by Suzuki motorcycles for the first time.
The 1,340cm3 in-line four engine features ride-by-wire electronic throttle system and revised intake and exhaust mechanism for enhanced output and torque in the low-to-mid speed range. It meets the Euro5 emission standards (for European specification) introduced on new motorcycles sold in Europe from 2020 while maintaining its best performance in the highspeed range by pursuing top level of aerodynamic performance.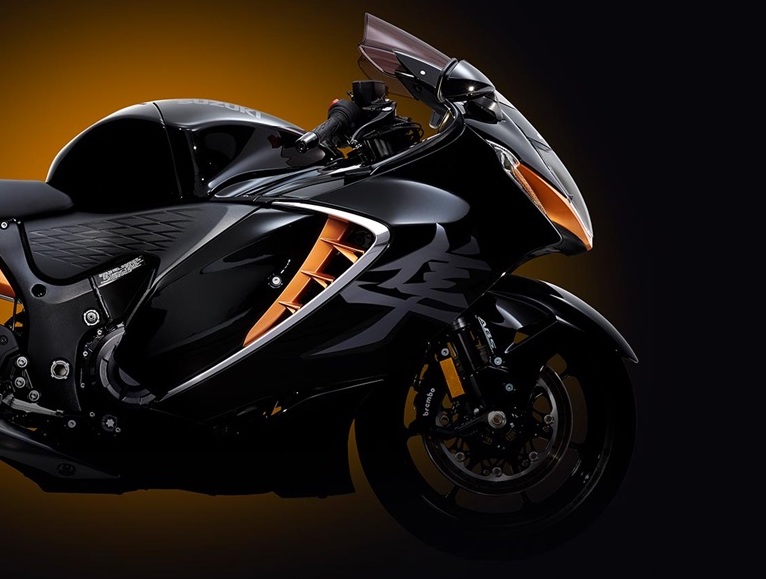 The newly-installed Suzuki Intelligent Ride System (S.I.R.S.) features SDMS-α, which helps riders to select pre-set patterns on 5 different electronic control systems including Power Mode Selector, Traction Control, Engine Brake Control and 2 other controls. S.I.R.S. also comes with Active Speed Limiter, which is the first adaptation for production models in the motorcycle industry*, that allows the rider to set a speed limit the bike should not exceed under certain circumstances. Various mode selections are offered for each electronic control system to better fit varying riding scenes from city riding to touring, racetracks, and better serve for riders' preferences and skill levels.
*Based on Suzuki research as of February 2021.
Main equipment and specification of the all-new Hayabusa
Equipment
S.I.R.S.

(Suzuki Intelligent Ride System)

Overview
Number of modes
Can be turned OFF
SDMS-α

(Suzuki Drive Mode Selector Alpha)

Motion Track Traction Control System, Power Mode Selector, Bi-directional Quick Shift System, Anti-lift Control System, and Engine Brake Control System can be selected from factory presets and user-defined settings
Factory presets: 3

User-defined settings: 3

–
Motion Track Traction Control System
Level of traction control can be selected
10
✔
Power Mode Selector
Output characteristics can be selected
3
–
Bi-directional Quick Shift System
Allows the rider to shift up or down without operating the clutch or throttle
2
✔
Anti-lift Control System
Adds reassurance to riders by helping prevent the front wheel from lifting off the ground when accelerating
10
✔
Engine Brake Control System
Level of engine brake control can be selected
3
✔
Launch Control System
Helps ensure efficient launch and acceleration from a standing start
3
✔
Active Speed Limiter
Allows the rider to set a speed limit the bike will not exceed
–
✔
Cruise Control System
Maintains set speed without operating throttle
–
✔
Combined Brake System
Simply operating the front brake lever provides braking power to the both front and rear brakes
–
–
Motion Track Brake System
Controls ABS depending on leaning angle in corner
–
–
Slope Dependent Control System
Optimizes ABS depending on downhill
–
–
Hill Hold Control System
Prevents vehicle from backing down on a hill when taking off in upward slope
–
✔
Emergency Stop Signal
Rapidly flashes the front and rear turn signals to alert following vehicles if the rider brakes suddenly at speeds of 55km/h or higher
–
–
Suzuki Easy Start System
Allows engine start with a single press of the starter button
–
–
Low RPM Assist
Assists smooth take off
–
–
Specification
Overall length
2,180mm
Overall width
735mm
Overall height
1,165mm
Wheelbase
1,480mm
Curb weight
264kg
Engine type
Four-stroke, 1,340cm3 liquid-cooled, in-line four
Maximum ouput
140kW/9,700rpm
Maximum torque
150Nm/7,000rpm
Fuel efficiency
14.9km/L (WMTC mode)