Automotive
News
Sime Darby Delivers 1,000 BYD Atto3 Cars In Just 100 Days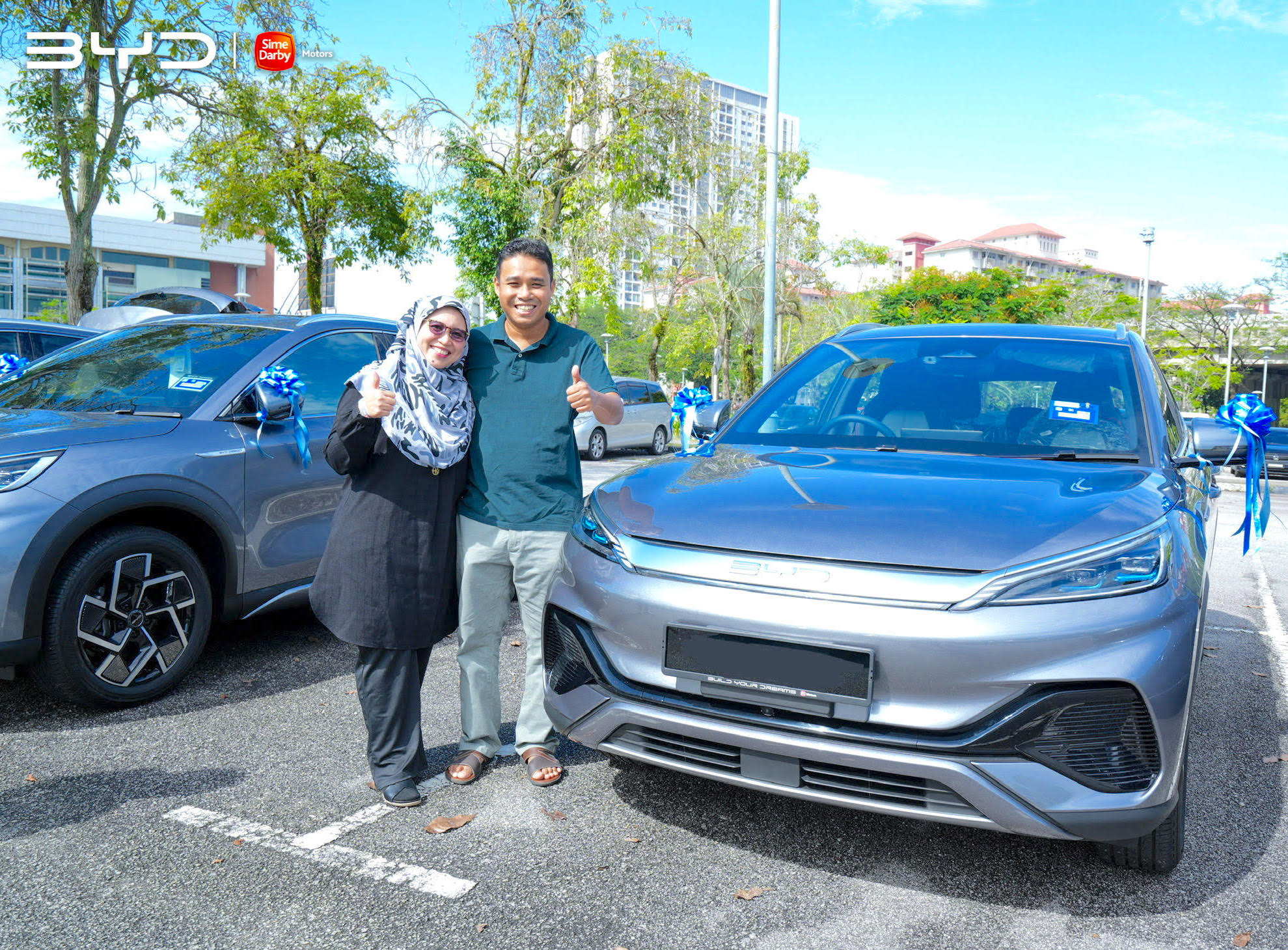 Sime Darby Motors Breaks New Record in Malaysia With BYD Atto3 deliveries.
Held at the Bukit Jalil National Stadium carpark, the special historical moment was celebrated together with the first 1,000 BYD owners in Malaysia at the one-of-a-kind mass delivery event.
This marks another success for Sime Darby Motors, following its delivery of 100 units within the first 10 days of the BYD launch in Malaysia. 
We have test driven this BYD Atto3 recently and cane understand why there has been impressive sales interest.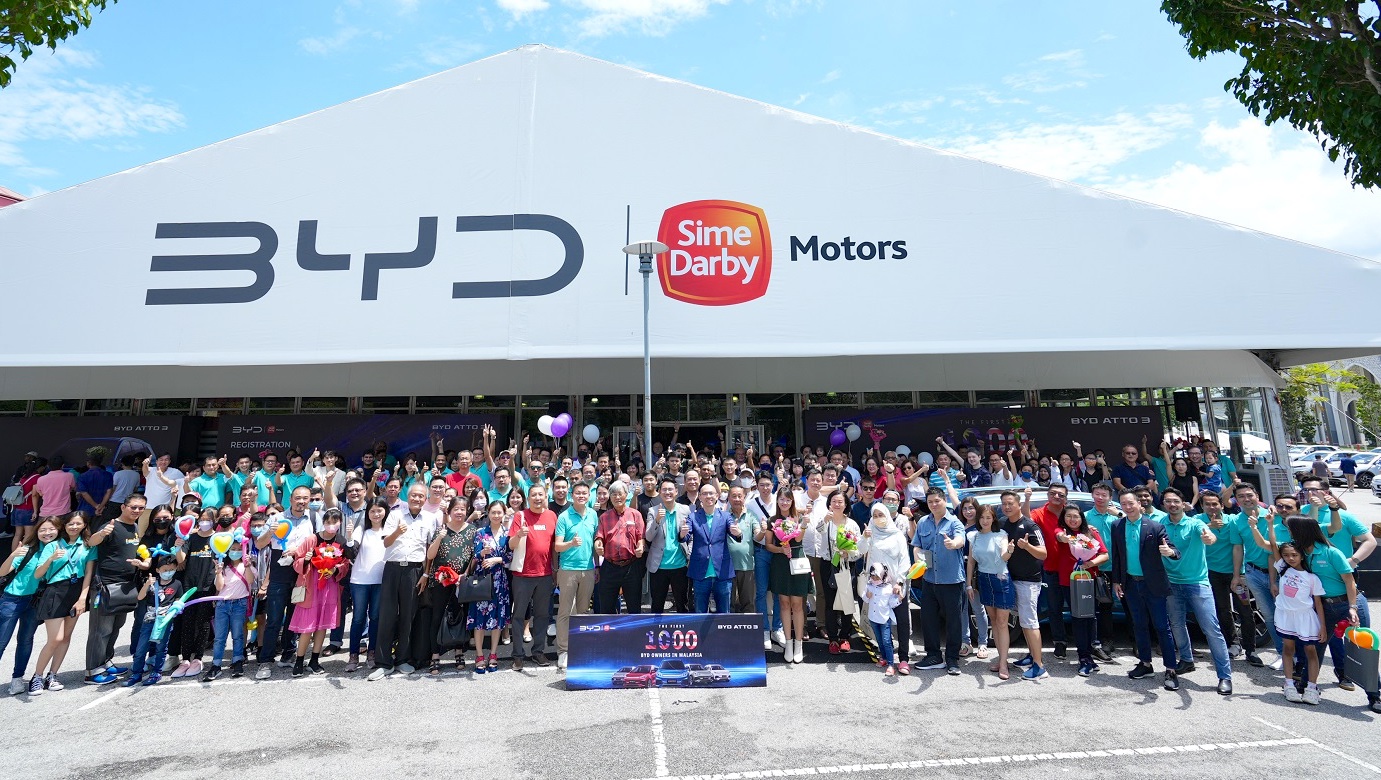 Jeffrey Gan, Managing Director of Retail and Distribution of Sime Darby Motors Malaysia, Hong Kong and Macau, said, "This celebration marks a milestone in Malaysia's electric vehicle (EV) market, setting a precedent that reflects the increasing popularity and acceptance of EV in the country.
We are pleased to sustain the momentum of our BYD ATTO 3 deliveries to customers and today's occasion is a celebration for all the new car owners. We look forward to continue driving EV demand across our market segments."
Commenting on the momentous occasion, Eagle Zhao, Managing Director of BYD Malaysia Sdn Bhd and PT BYD Motor Indonesia said, "Today's achievement of a record-breaking feat is testament to the strong partnership with Sime Darby Motors and we are optimistic on the growth prospects of EV in Malaysia.
We hope the new BYD owners enjoyed their one-of-a-kind experience with us today and we look forward to continue bringing in even better new energy technology and products to Malaysia in the future. This will offer Malaysians the opportunity to revel in the advantage and fun of EV."
In tandem with the impressive delivery of the new vehicles, BYD recently opened its latest showroom at Gurney Plaza, Penang.
Located at a popular and convenient location in Penang, this state-of-the-art showroom offers a comfortable and inviting 1,500 sq ft space for customers to relax, interact with BYD's professionally trained and knowledgeable staff and learn more about the advanced technology offered by BYD.
Customers can take the opportunity to test drive the BYD ATTO 3 during their visit to the showroom.
Located only 6 kilometers away is the BYD after-sales service centre in Sungai Pinang. The service centre which has a built-up area of 20,000 sq ft, provides vehicle maintenance, wear and tear repairs, as well as body and paint services, which create a seamless and convenient facility to cater to customers' after-sales needs.
Available in two variants, the BYD ATTO 3 is priced from RM149,800 for the Standard Range and RM167,800 for the Extended Range, with a choice of five vibrant colour palettes, namely Surf Blue, Parkour Red, Boulder Grey, Forest Green and Ski White.
The BYD ATTO 3 contains state-of-the art features and offers an excellent battery range capable of travelling up to 480km on a single charge.
Built on BYD's cutting-edge technology with the e-platform 3.0, the high-performance EV is equipped with intelligence, efficiency, unparalleled safety standards and stunning aesthetics.
Those interested in experiencing the vehicle first-hand can visit the BYD showroom at Sime Darby Motors City in Ara Damansara, TREC KL in Jalan Tun Razak, Kuala Lumpur, and Gurney Plaza, Penang. For more information, check out http://byd.simedarbymotors.my/ or follow www.facebook.com/BYDCarsMalaysia or www.instagram.com/bydcarsmalaysia/. For any enquiries, contact the customer care number at 1300-38-1888.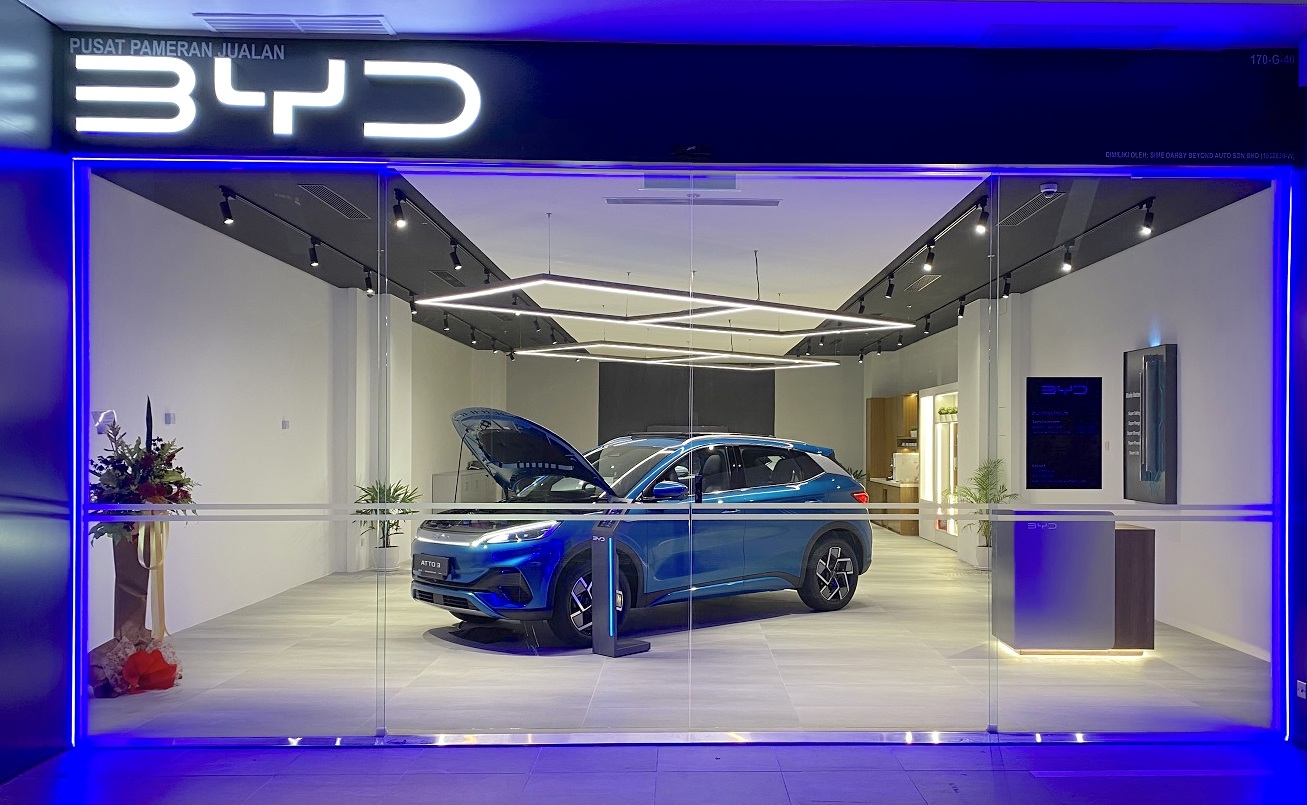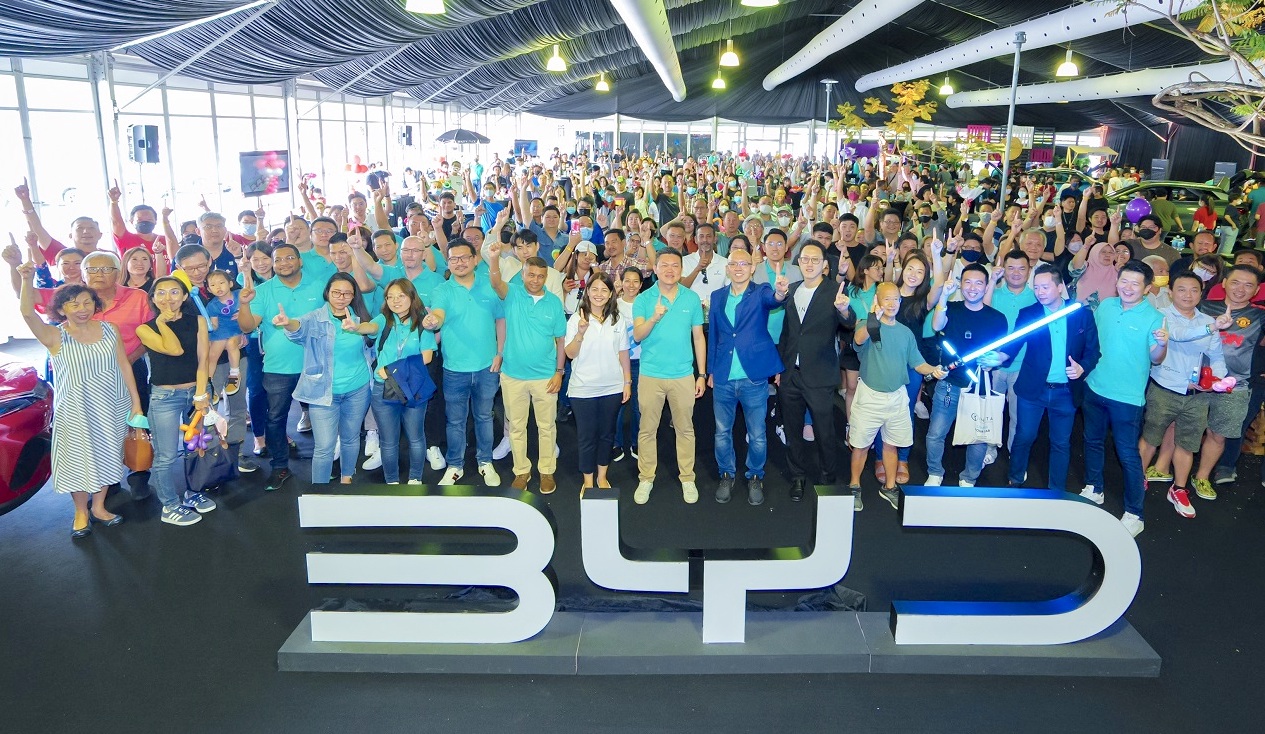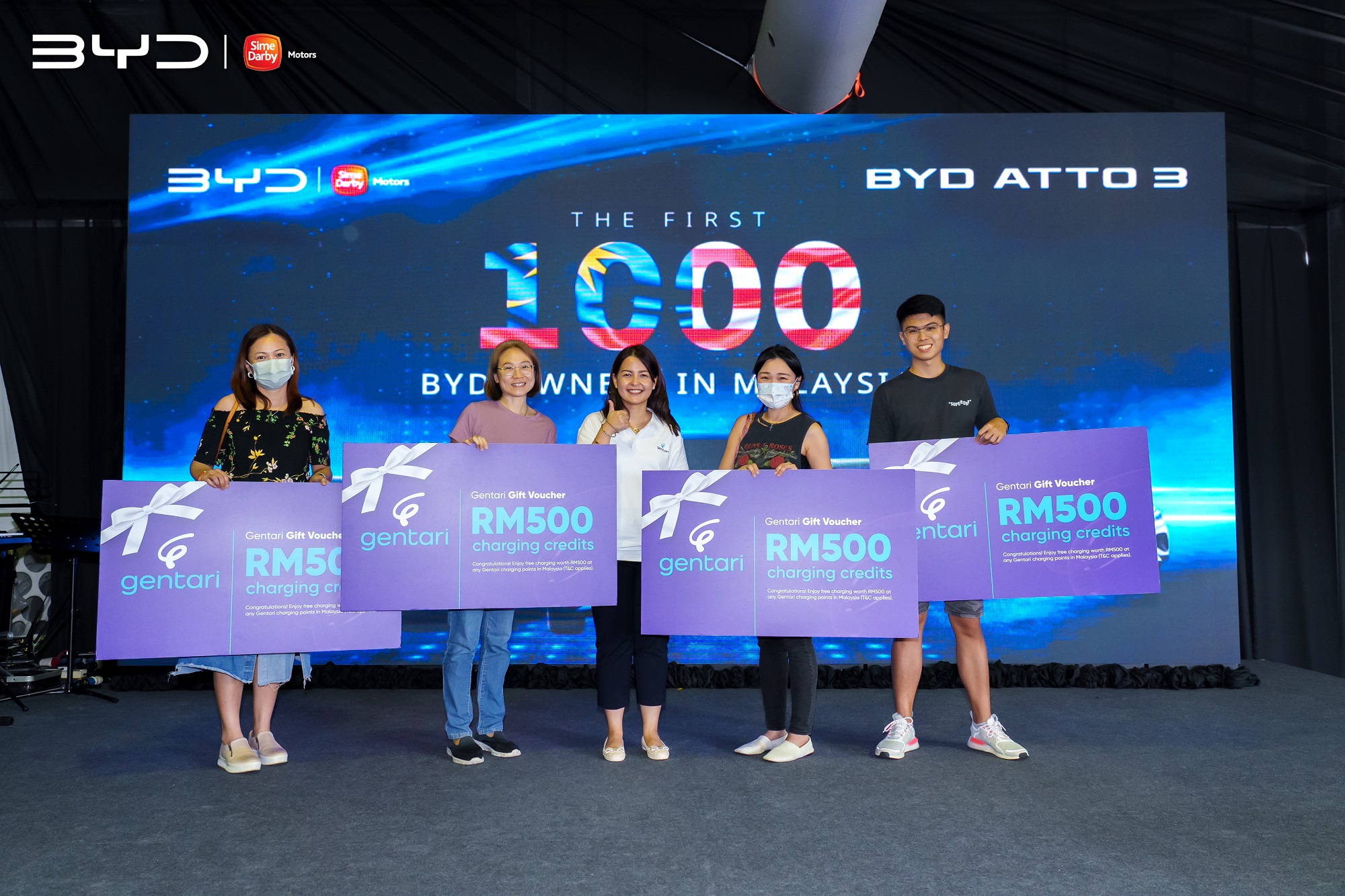 BYD Atto 3 Specifications
Motor: Permanent magnet synchronous motor
Gearbox: Automatic
Driven wheels: front
Maximum power: 201PS
Maximum torque: 310Nm
Maximum speed: 160km/h
0-100km/h: 7.3secs
Battery size: 60.5kWh
Electric range: 480 km
Maximum charging speed (DC): 88kW
Height: 1615mm
Length: 4455mm
Wheelbase: 2720mm
Boot capacity: 440 litres