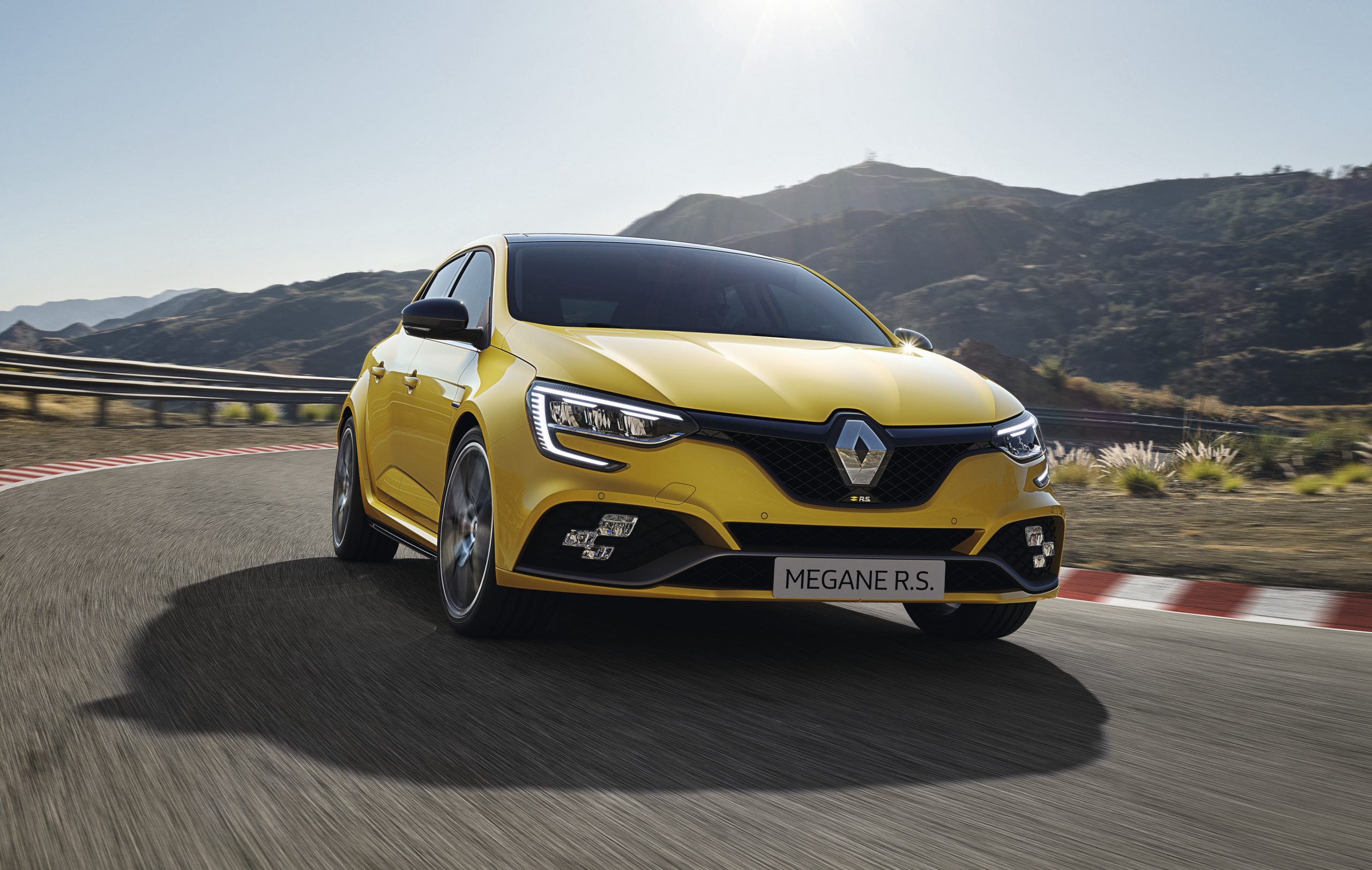 This updated hot Renault Megane adds more power but loses the manual transmission. 
To those looking for a bonafide hot hatch that stands out from the usual German affair, TC Euro Cars (TCEC) may have just the thing for you with its recently facelifted Renault Megane R.S 300 TROPHY.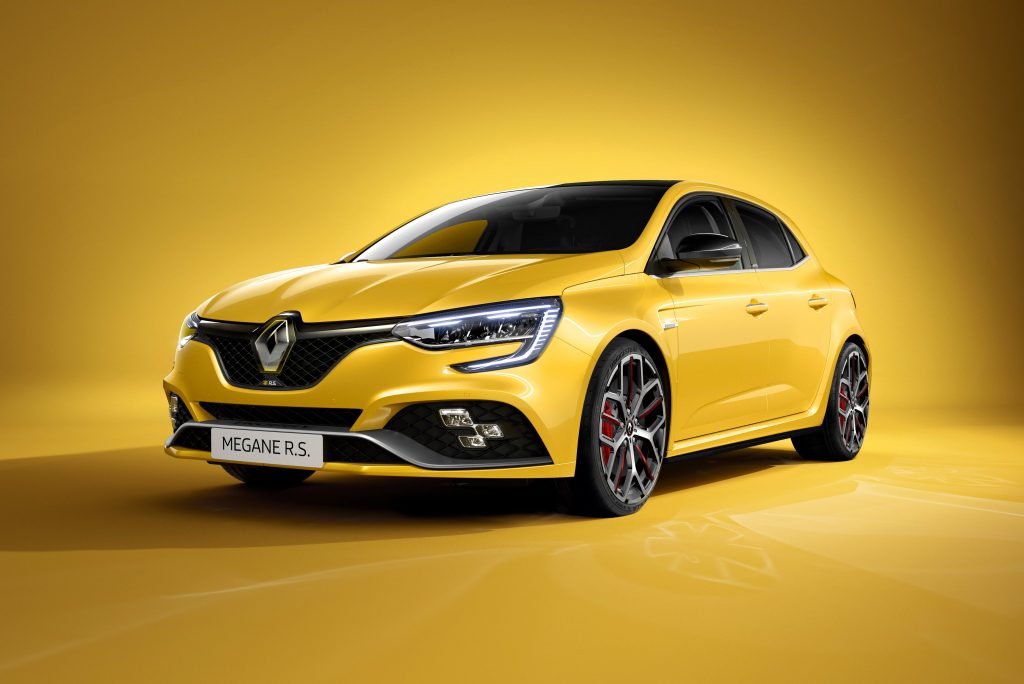 A slightly revised version of the manic French hatchback that once held the front-wheel-drive lap record at the Nurburgring back in 2019, the big news surrounding this updated Megane would be its updated turbocharged 1.8 litre four-pot under the hood. As the name implies, the R.S 300 outputs 300 PS and 420 Nm of torque, which is some 20 PS and 30 Nm more than what was found in the R.S 280 that came before.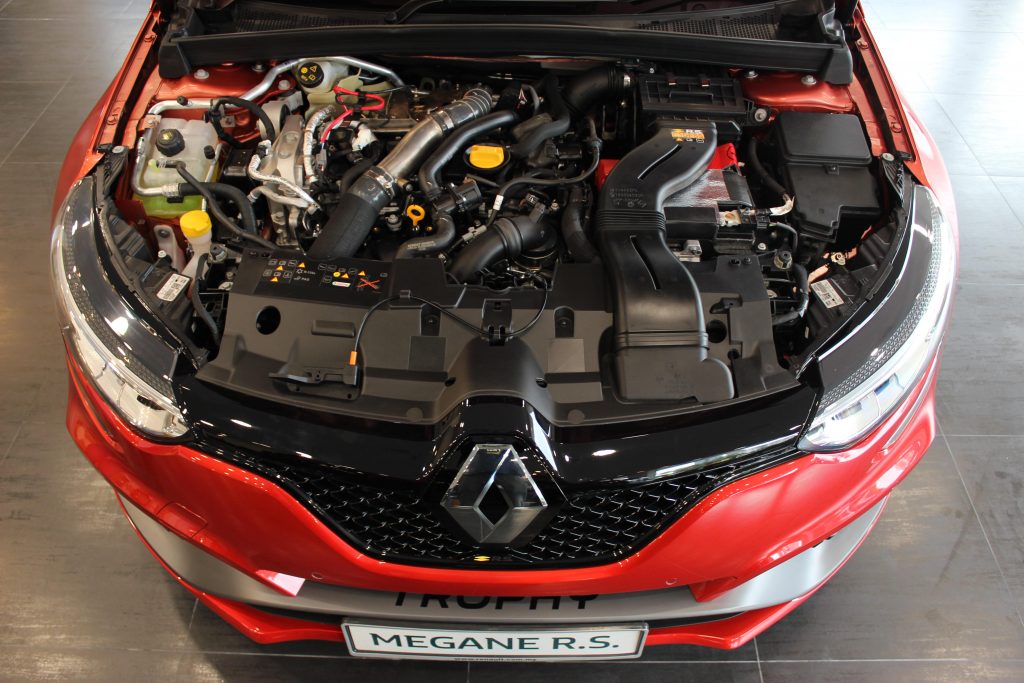 All this additional power though, that incidentally equates to a century sprint time of 5.7 seconds, does come at a cost of the lack of a manual transmission option, with a six-speed Efficient Dual Clutch (EDC) now being the sole gearbox for this facelifted Megane. Nevertheless, this dual-clutch transmission does feature the pre-requisite paddle shifters, as well as Launch Control and Multi-Change Down functionalities when the R.S. Drive mode is switched to Sport or Race.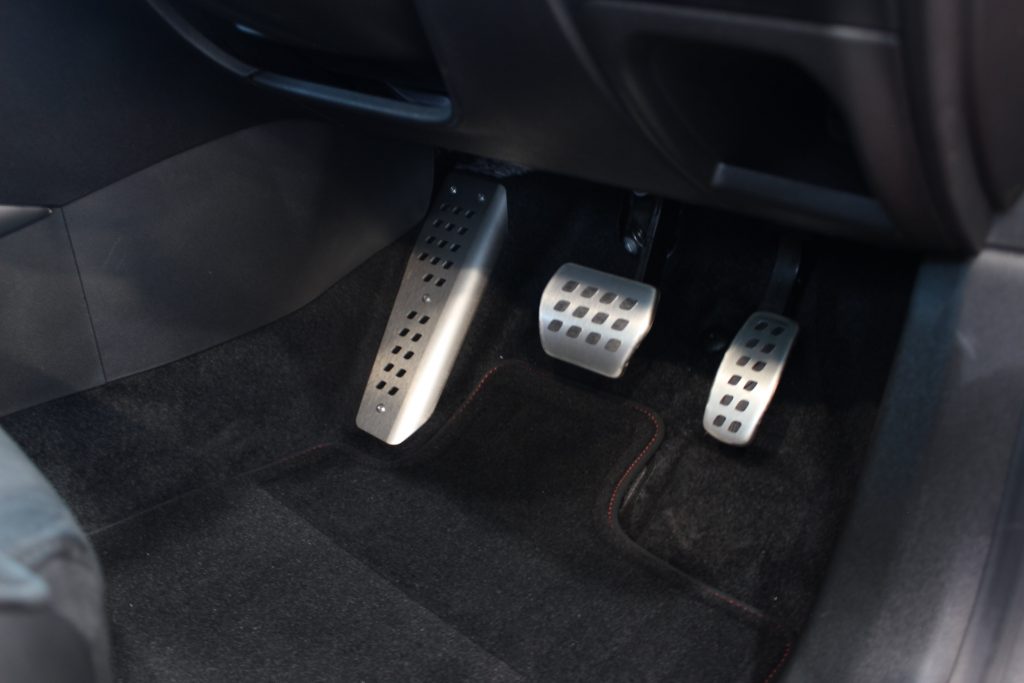 Speaking of sport, the Megane R.S 300 TROPHY does feature a few performance add-ons to its Cup chassis. The highlights of which will be the Torsen mechanical limited slip differential and 4Control four-wheel steering system, though the lightweight bi-material brake discs and four hydraulic compression bump stops at each corner also play its part to further enhance the sporting characteristics of this racy Renault.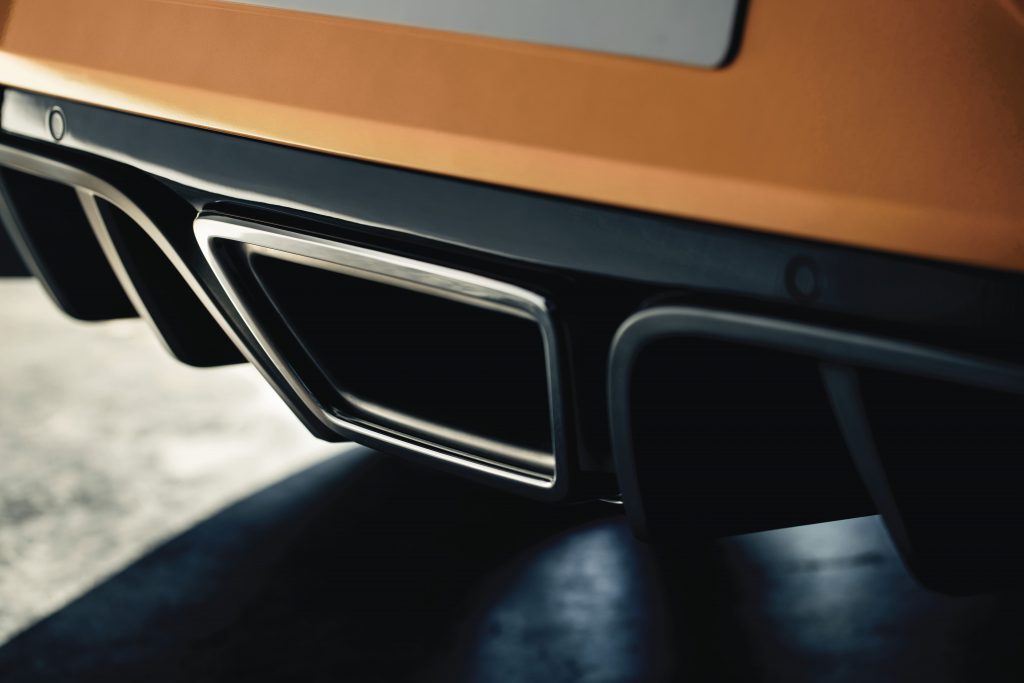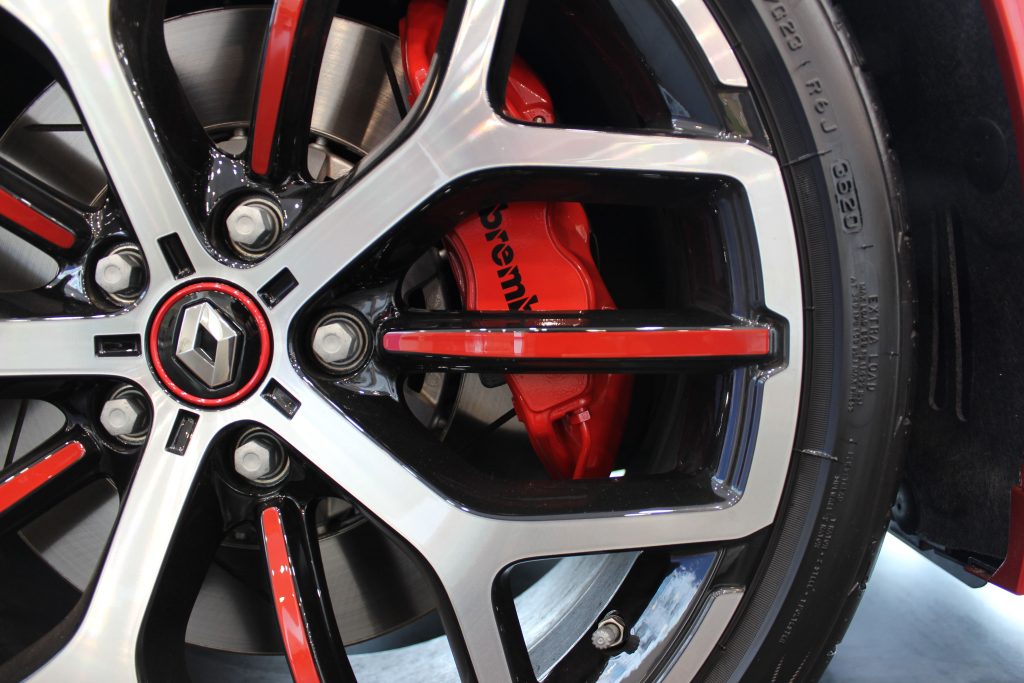 As for the exterior of this facelifted French hot hatch, new R.S. Vision LED light clusters on the front and rear make an appearance. Up front too the Megane gains a new honeycomb radiator grille that incorporates the R.S double diamond logo, in addition to TROPHY stamped F1-style blades incorporated within the front fascia.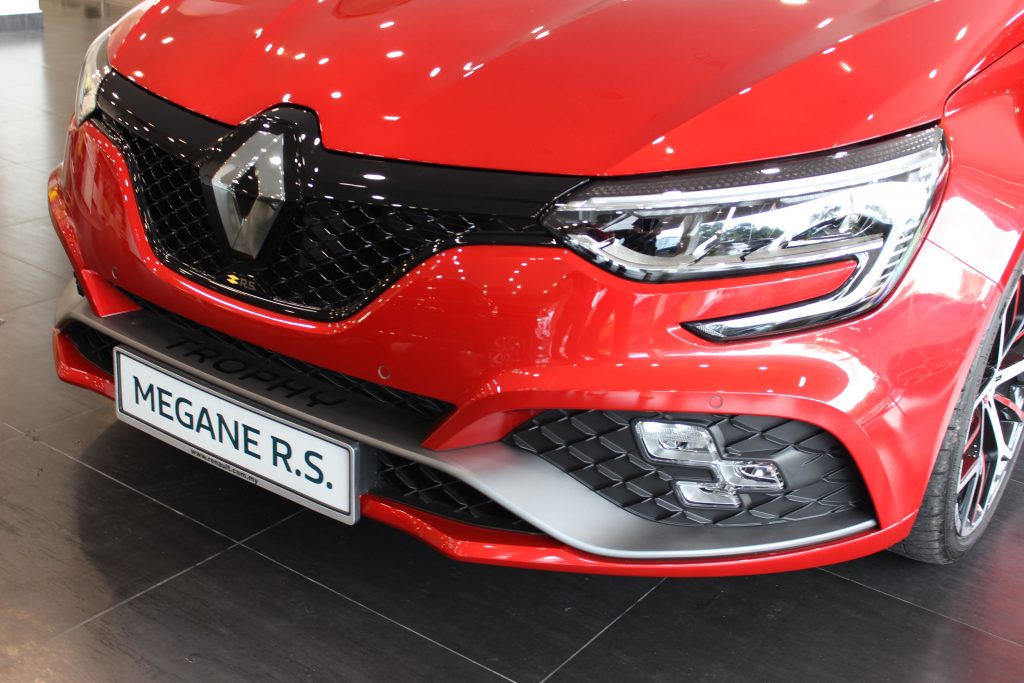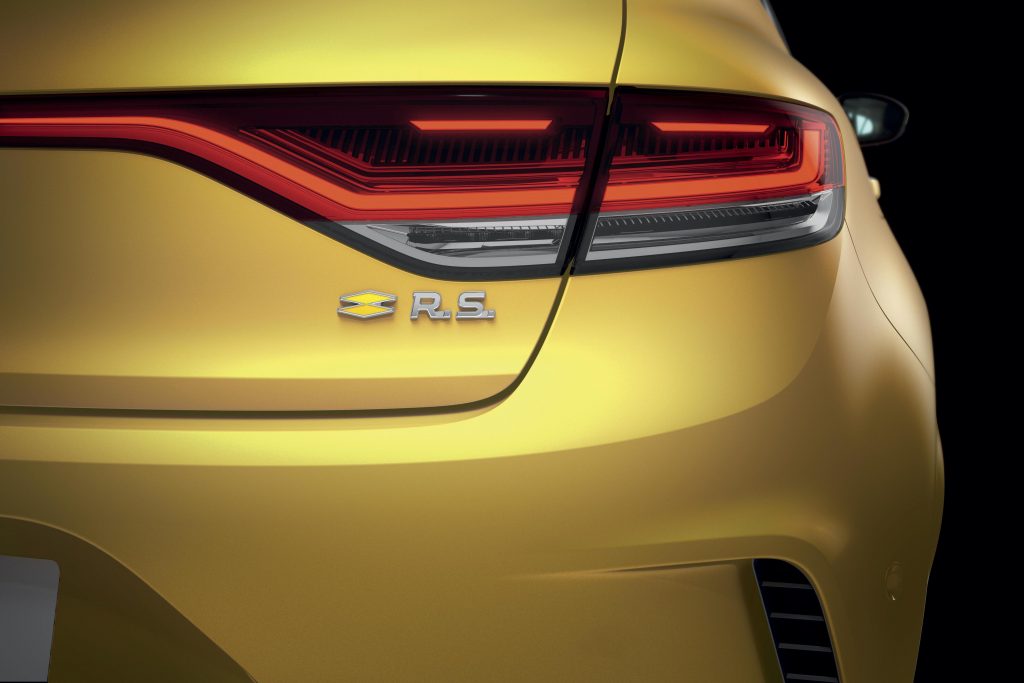 Moving down the side meanwhile, 19-inch diamond-cut Jerez style alloy wheels with red borders add a touch more pizzazz to this sporty hot hatch while complementing its equally red Brembo brake callipers. Though this splash of red here is probably not as striking as the new Flame Red exterior hue option that is now made available in addition to the existing four colour options: Diamond Black, Pearl White, signature Liquid Yellow (additional RM9,000) and Orange Tonic (additional RM9,000).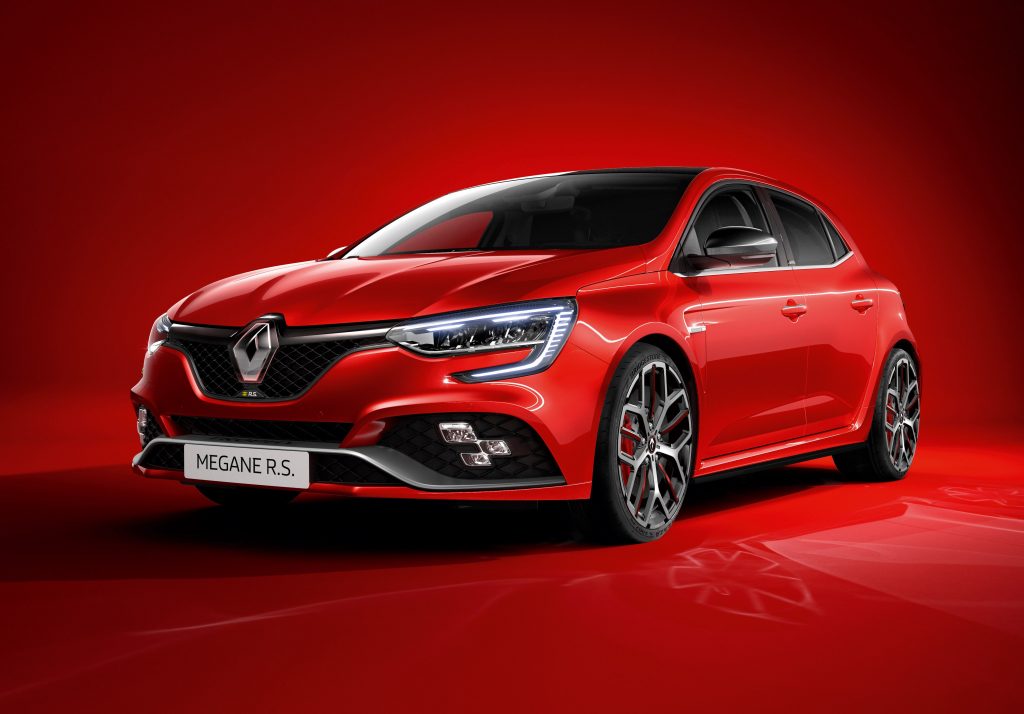 Stepping inside, exclusive R.S. double-diamond stamped leather upholstery and an Alcantara-wrapped steering wheel come as standard on this facelifted hot Megane. A new 7-inch customisable TFT driver's information display and an EASYLINK 7-inch touchscreen with Apple CarPlay and Android Auto integration also make an appearance within the mildly revised dashboard layout too.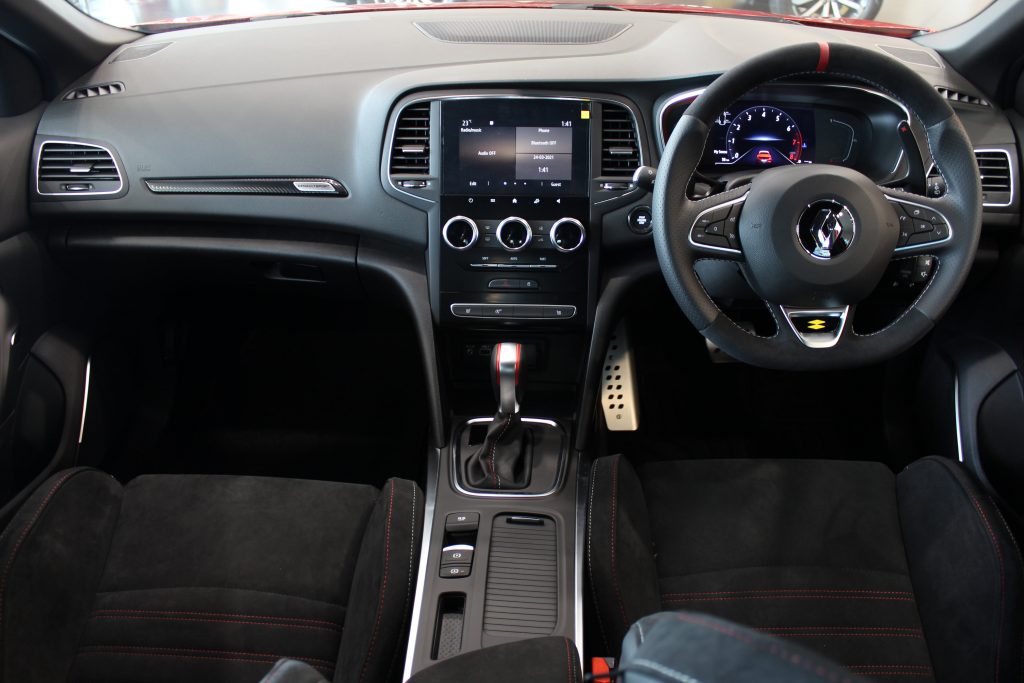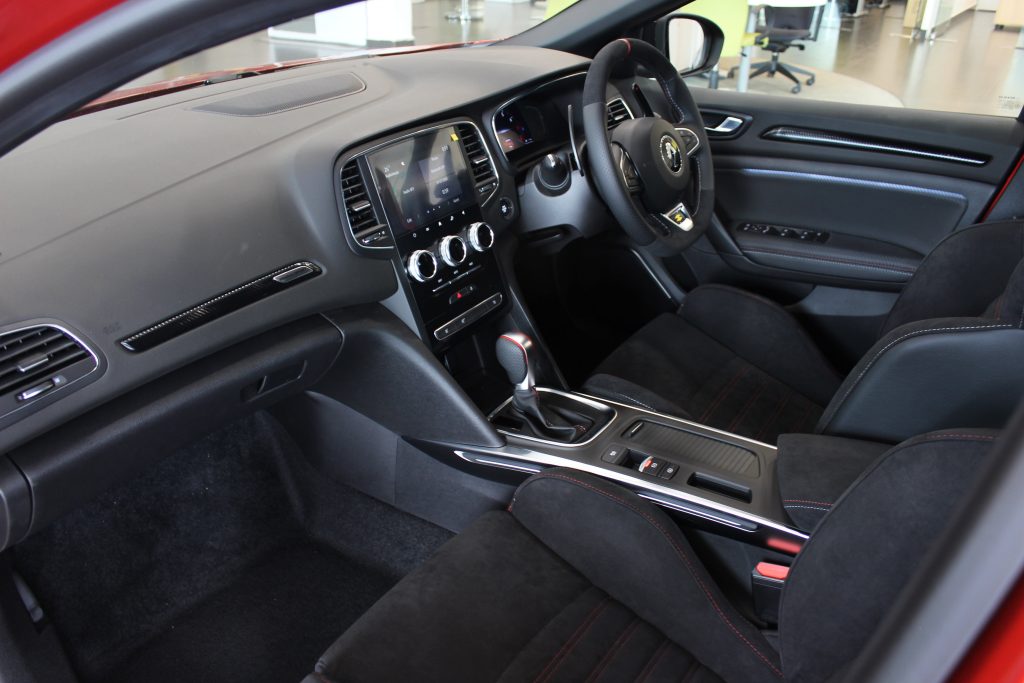 The Renault Megane R.S 300 currently retails for RM 326,476 (inclusive of SST exemption) and comes with a 3-year/100,000 km warranty. Alternately, customers can opt to subscribe to this hot Renault instead from RM 5,200 a month for a three-year plan. 
Like most car subscription terms, this monthly payment is inclusive of road tax, insurance and regular maintenance. Bear in mind though that there is also an annual milage cap of 20,000 km attached with this deal.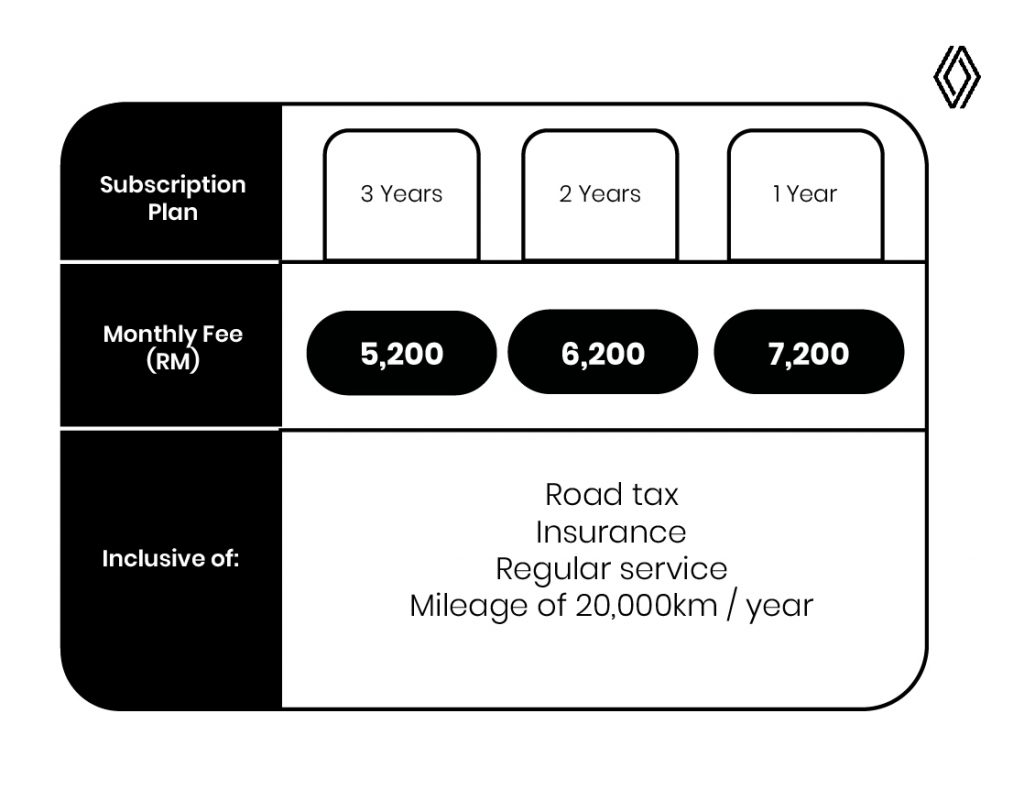 PRESS RELEASE: Those with a need for speed can look forward to even greater performance and a sportier design, as TC Euro Cars ("TCEC") today launched the new facelifted Renault MEGANE R.S. 300 TROPHY. The hot hatch will be available for purchase or subscription, with a variety of plans that suit different budgets.
Designed and built with power and performance in mind, the new Renault MEGANE R.S. 300 TROPHY lives up to its motorsport DNA, most notably with one of its predecessors breaking the world record for the fastest front-wheel-drive car in Nürburgring 2019. However, the new Renault MEGANE R.S. 300 TROPHY is a speedy machine in its own right, boasting a 0-100 km/h sprint time of 5.7 seconds.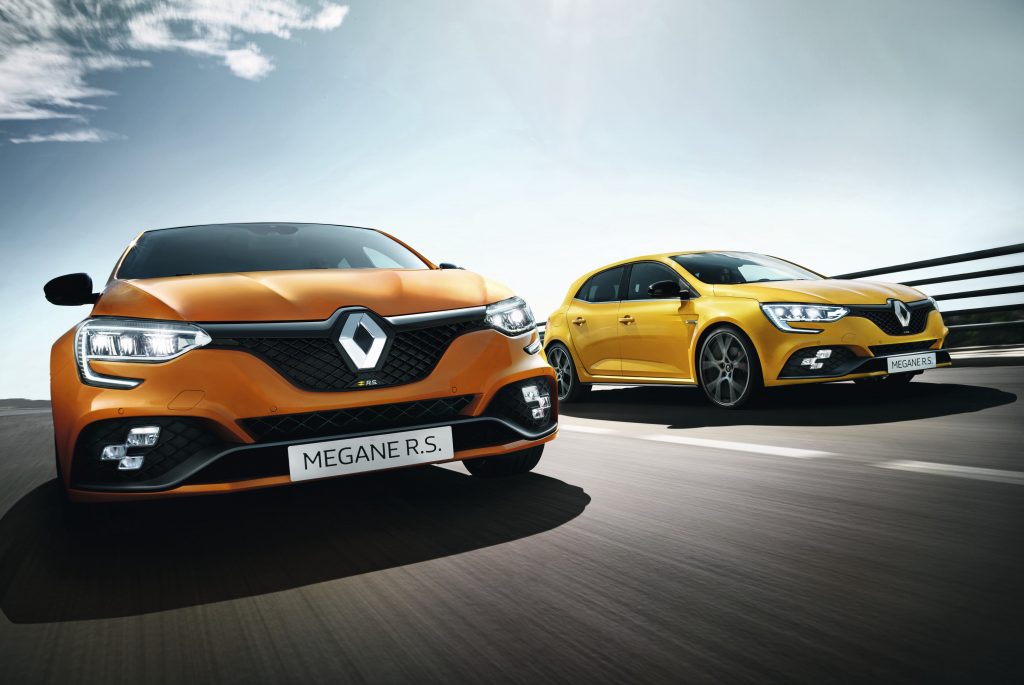 New Features
"The new Renault MEGANE R.S. 300 TROPHY stays true to our commitment to performance, living up to Renault's rich racing heritage. Furthermore, we have made it more accessible by offering both purchase and subscription options for those that appreciate performance in their everyday drive." said Wong Hoe Mun, Chief Executive Officer of TCEC.
Some of the new traits that sets this hot hatch apart are:
Upgraded turbocharged 1.8L Inline-4 engine
New full LED headlamps and revised daytime running lights on the front, plus new rear LED lighting signature
New Flame Red colour with its vibrant finish and unique reflective effects, highlights the sculpted yet elegant profile of the car
Exclusive R.S. double-diamond stamped specific leather and Alcantara steering wheel
Honeycomb radiator grille stamp incorporates R.S. double diamond logo
EASYLINK 7" touchscreen with Apple CarPlay® and Android Auto®
Sportier dashboard with 7" customisable TFT driver's information display
TROPHY stamped F1-style blade
19-inch Jerez wheels, the design of which was inspired by the Renault Sport R.S.01 concept car, featuring a diamond-cut finish with red borders.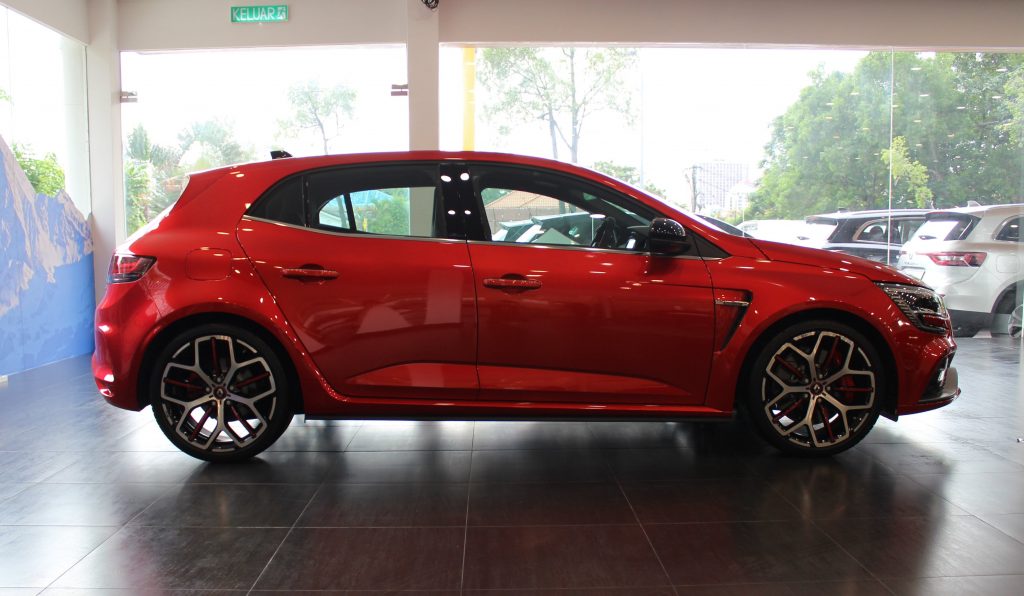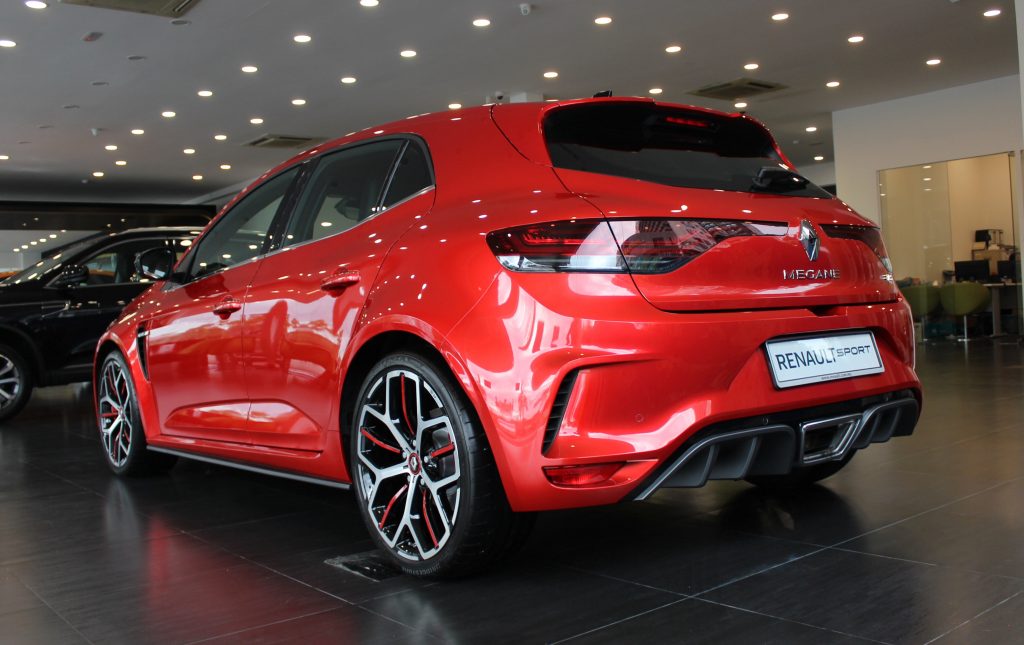 Exceptional Performance
The new Renault MEGANE R.S. 300 TROPHY debuts a brand-new version of the 1.8L turbocharged engine, delivering increased power output of 300PS, courtesy of pioneering technologies that include the ceramic ball-bearing turbocharger and exhaust system.
This direct-injection 1.8-L turbocharged petrol engine is mated to a 6-speed Efficient Dual Clutch ("EDC") gearbox delivering a maximum torque of 420Nm. Like racing cars, the EDC gearbox comes with steering wheel-mounted gearshift paddles. The gearshift performance depends on which R.S. Drive mode is selected, comprising of "My Sense", "Save", "Sport" and "Race" modes.
In Sport and Race mode, the EDC gearbox offers the following functions:
Multi-Change Down: under braking in manual mode, this feature lets the driver drop several gears simultaneously by pressing and holding down the left-hand paddle. The best gear is then selected to exit the corner as efficiently as possible.
Launch Control: the clutch and turbo are pre-loaded, enabling a standing start that is just as quick as in a racing car. In Sport mode, traction control provides the driver with additional support in finding the best possible grip in slippery conditions.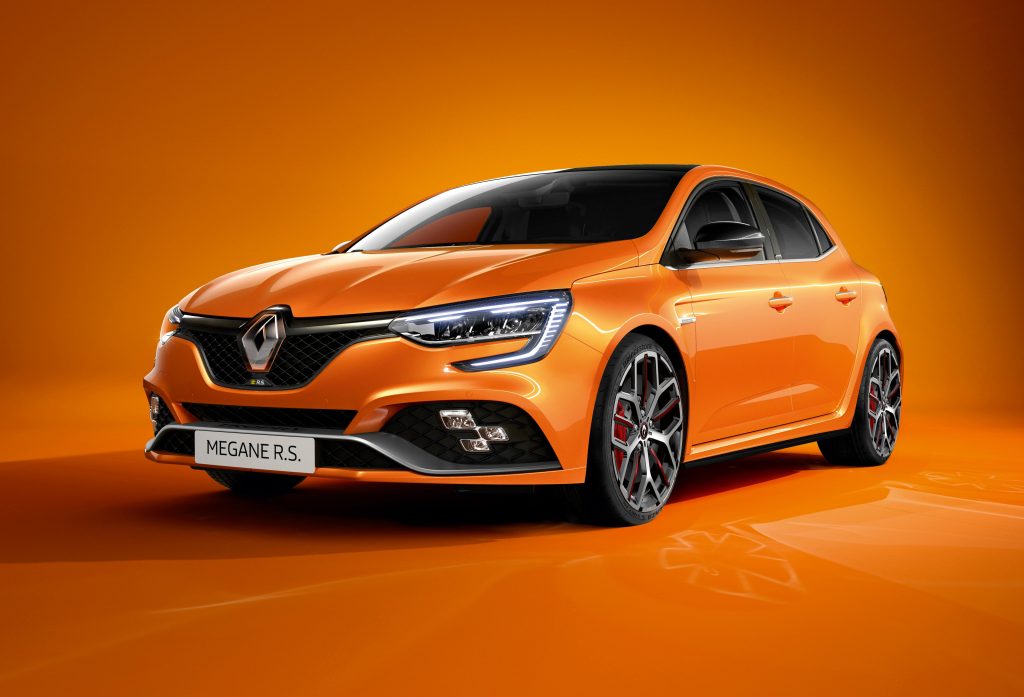 Chassis: The Best of Renault Sport
Built for racing, the new Renault MEGANE R.S. 300 TROPHY is equipped with the Cup chassis that features a Torsen mechanical Limited Slip Differential, the new calibration of which enables more precise entry to corners and improved traction when exiting corners.
It also comes with 4CONTROL; a four-wheel steering system that delivers outstanding agility through tight turns and impressive cornering stability at higher speeds.
At low speeds, the rear wheels turn in the opposite direction to the front wheels, the more direct steering delivering incisive handling and a "playful" side that is unprecedented on a front-wheel drive car.
At high speeds, the front and rear wheels turn in the same direction, meaning the rear wheels are perfectly aligned and the car enjoys increased stability.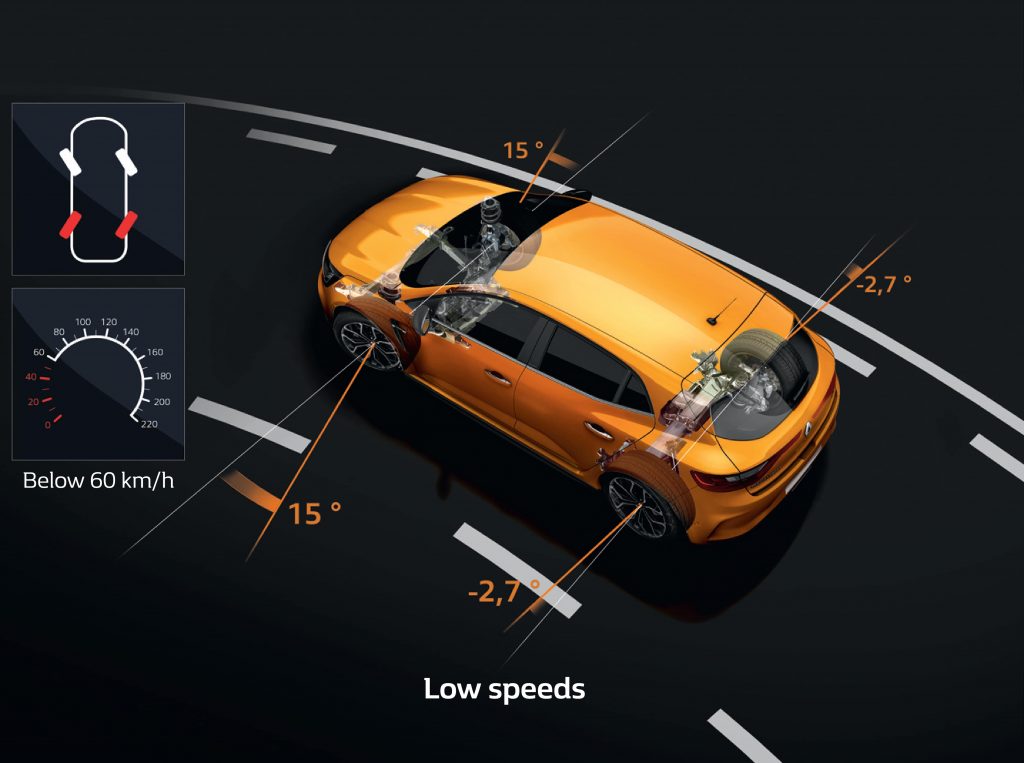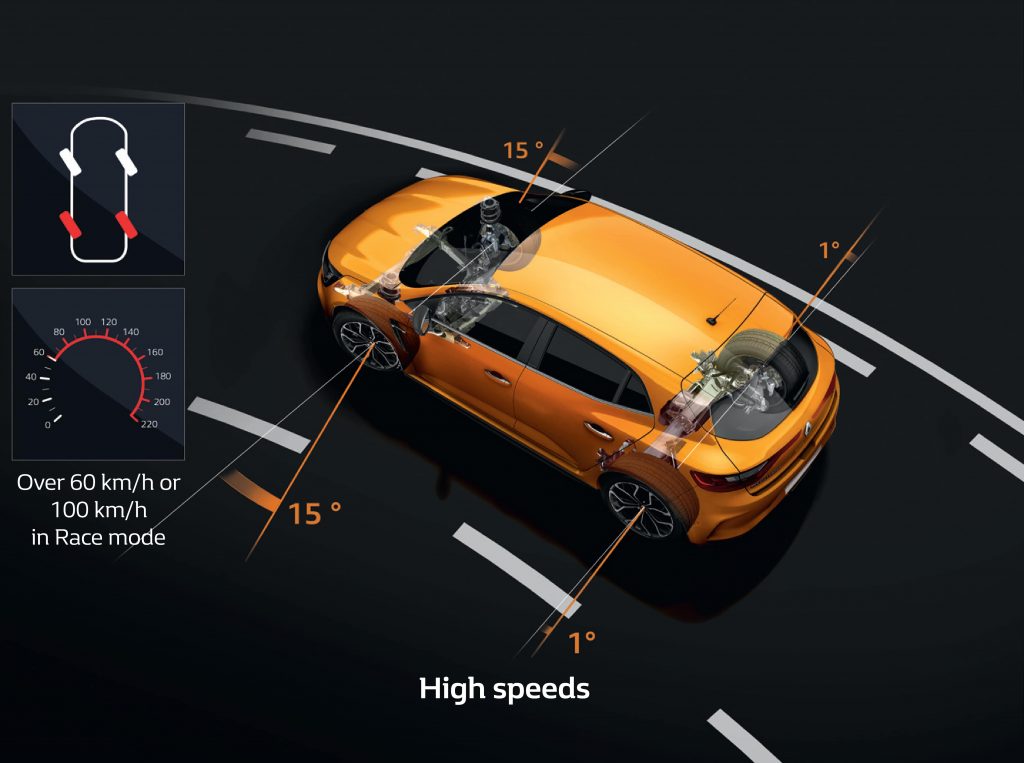 It is also equipped with bi-material brake discs that shave off 1.8 kg of unsprung mass in each corner, while the 4CONTROL 4-wheel steering ensures that the turning circle is not compromised by the differential, making for razor sharp high-speed manoeuvring.
In addition to that, it uses rally inspired technology by adding four hydraulic compression stops to all shock absorbers that allow the car to tackle bumpy roads and optimise tyre-ground contact making driving on an everyday basis efficient and comfortable.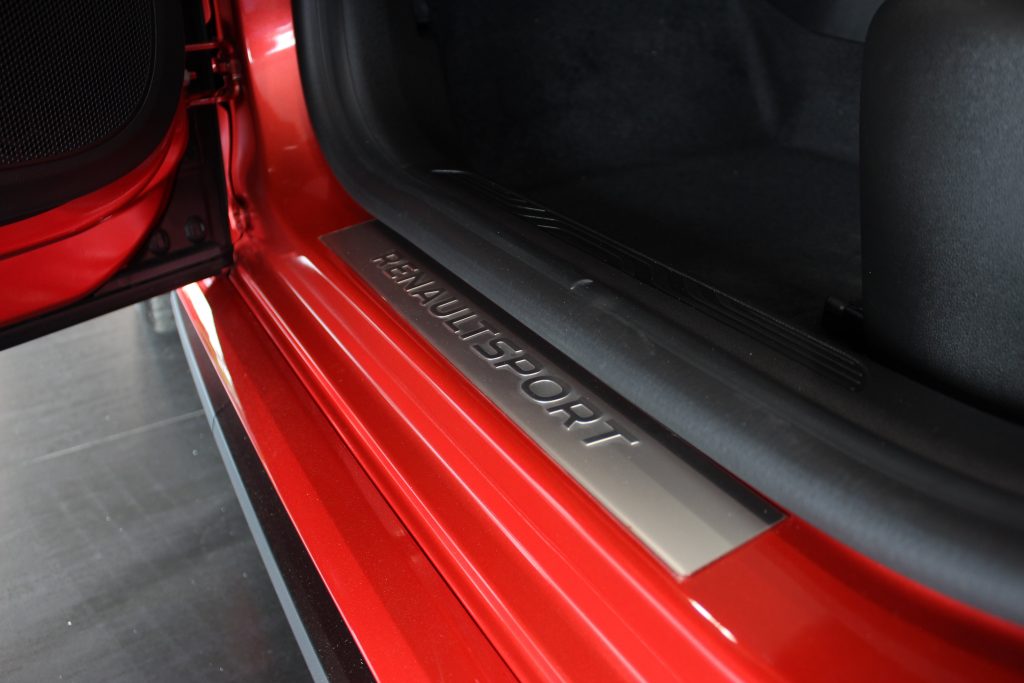 Design: R.S. Spirit Right Down to the Very Last Detail
Exclusive R.S. upholstery, high-end materials, sophisticated finishes and distinctive details emblematic of the Renault Sport identity are some of the distinguishing traits that enthusiasts will instantly recognise. The Renault MEGANE R.S. 300 TROPHY also unleashes your inner racing spirit through the returning details designed for speed at below:
R.S. Vision high-performance lighting, unique in this market segment that combines four functions: sidelights, cornering lights, fog lights and long-range high beam lights.
Rear bumper with a built-in diffuser and the iconic central exhaust that has come to epitomise MEGANE R.S., enhanced by a decorative trim
Narrower rear spoiler to improve aerodynamic performance. Whilst emphasising the width of the car, the vertical vents contribute to aerodynamic efficiency by providing improved lateral airflow
The Brembo brake callipers, painted in striking red on the Cup chassis that are instantly recognisable to enthusiasts
Wing-mounted air extractors, which optimise airflow through the wheel arches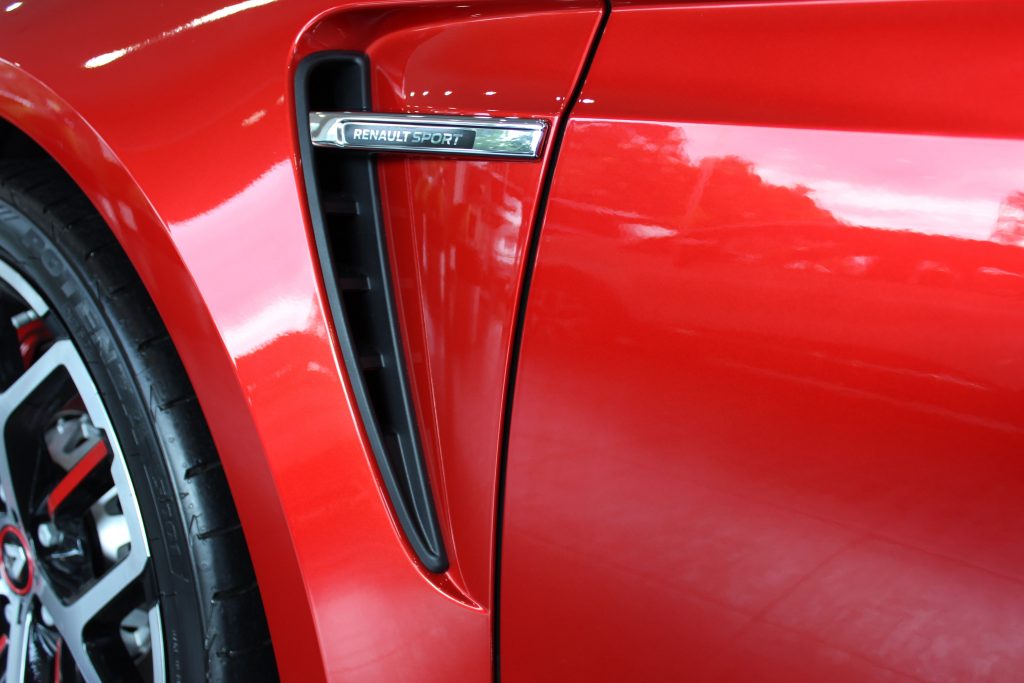 MEGANE R.S. TROPHY: Repeated Excellence
The first MEGANE R.S. TROPHY was introduced in 2005, just nine months after the first MEGANE II R.S. went on sale. After the production version went on sale in 2009, a 265 TROPHY version of the MEGANE III R.S. was introduced in 2011. Based on the Cup chassis, it was fitted with an upgraded engine, with the power output upped from 250hp to 265hp. Its performances made it the quickest front-wheel drive production model on the market, as proven by its lap record of 8:07.97.
The final iteration based on MEGANE III went even further in the quest for performance. As its name suggests, the 275 TROPHY boasted an upgraded engine, with additional power.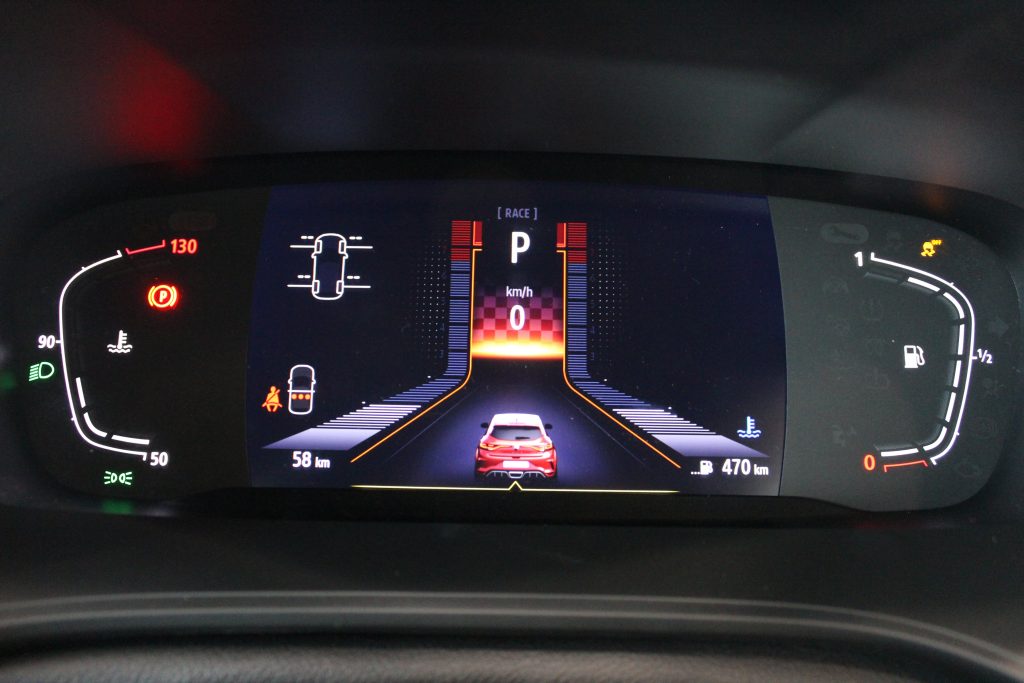 Warranty and Colour Options
The new Renault MEGANE R.S. 300 TROPHY comes with a three-year or 100,000km warranty (whichever comes first).
Besides the new Flame Red colour, the new Renault MEGANE R.S. 300 TROPHY is also available in four colour options – Diamond Black, Pearl White and the signature Liquid Yellow (additional RM9,000) or Orange Tonic (additional RM9,000).
Test drives are available at selected Renault showrooms by appointments only and can be requested via the Renault Malaysia E-Store at www.renault.com.my.
For more information about the Renault MEGANE R.S. 300 TROPHY and Renault Malaysia, please visit www.renault.com.my or call 1800-18-8663 (Monday – Sunday, 8am – 8pm).