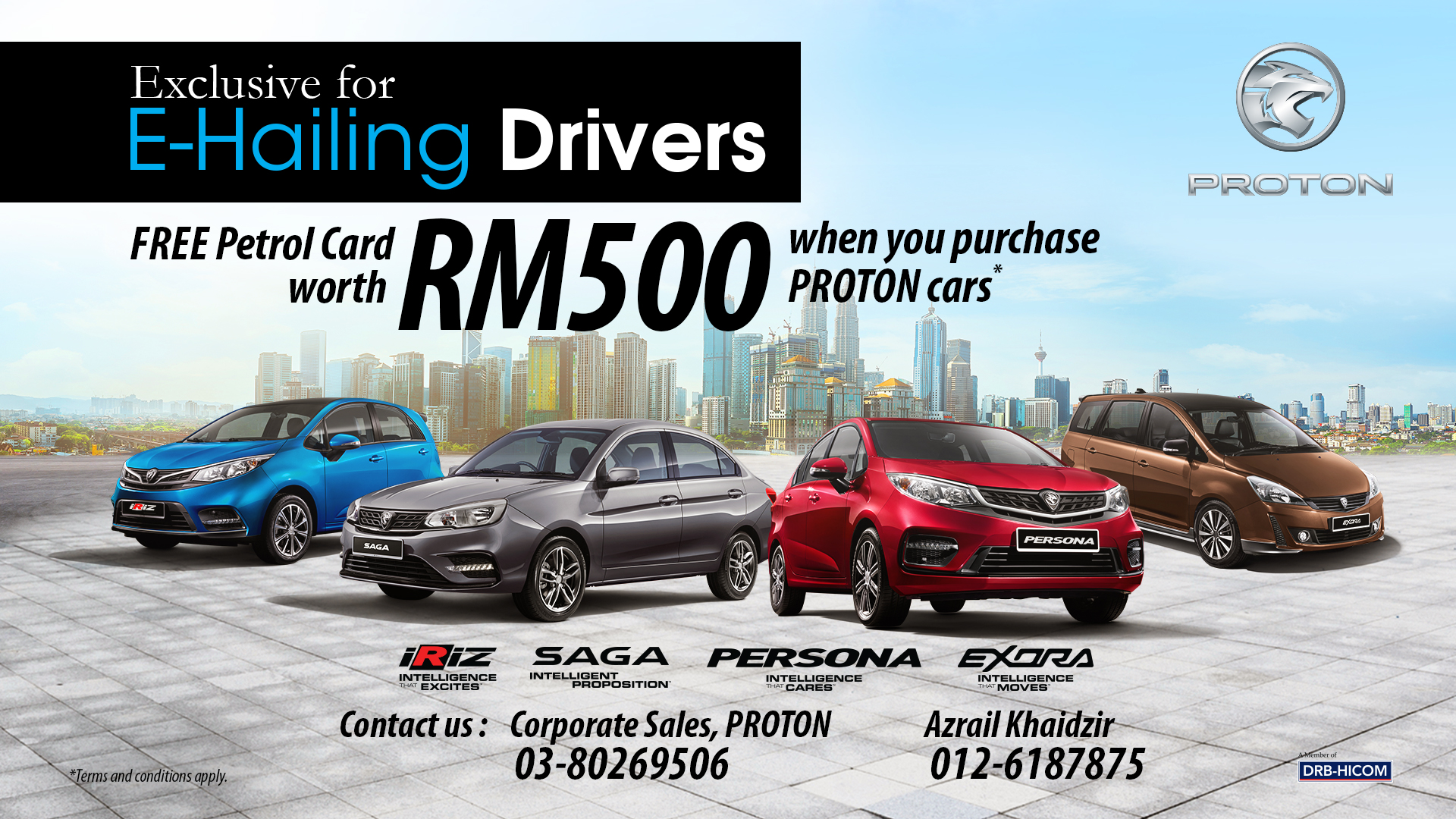 Well, this is the offer that Proton is offering for all its showrooms vehicles right now. At this time, when jobs or uncertain and market conditions are not looking rosy for at least the next eight to twelve months, the decision to purchase a new car should not be because of a FREE petrol card or its same value cash discount, but the need to have new car for transportation to work or for family needs.
As more Malaysians turn to the e-hailing industry as a source of supplementary income, the need for efficient, comfortable and reliable cars to perform such duties has increased. In a move to promote the use of their vehicles within the industry, Proton has unveiled an offer to incentivise car buyers.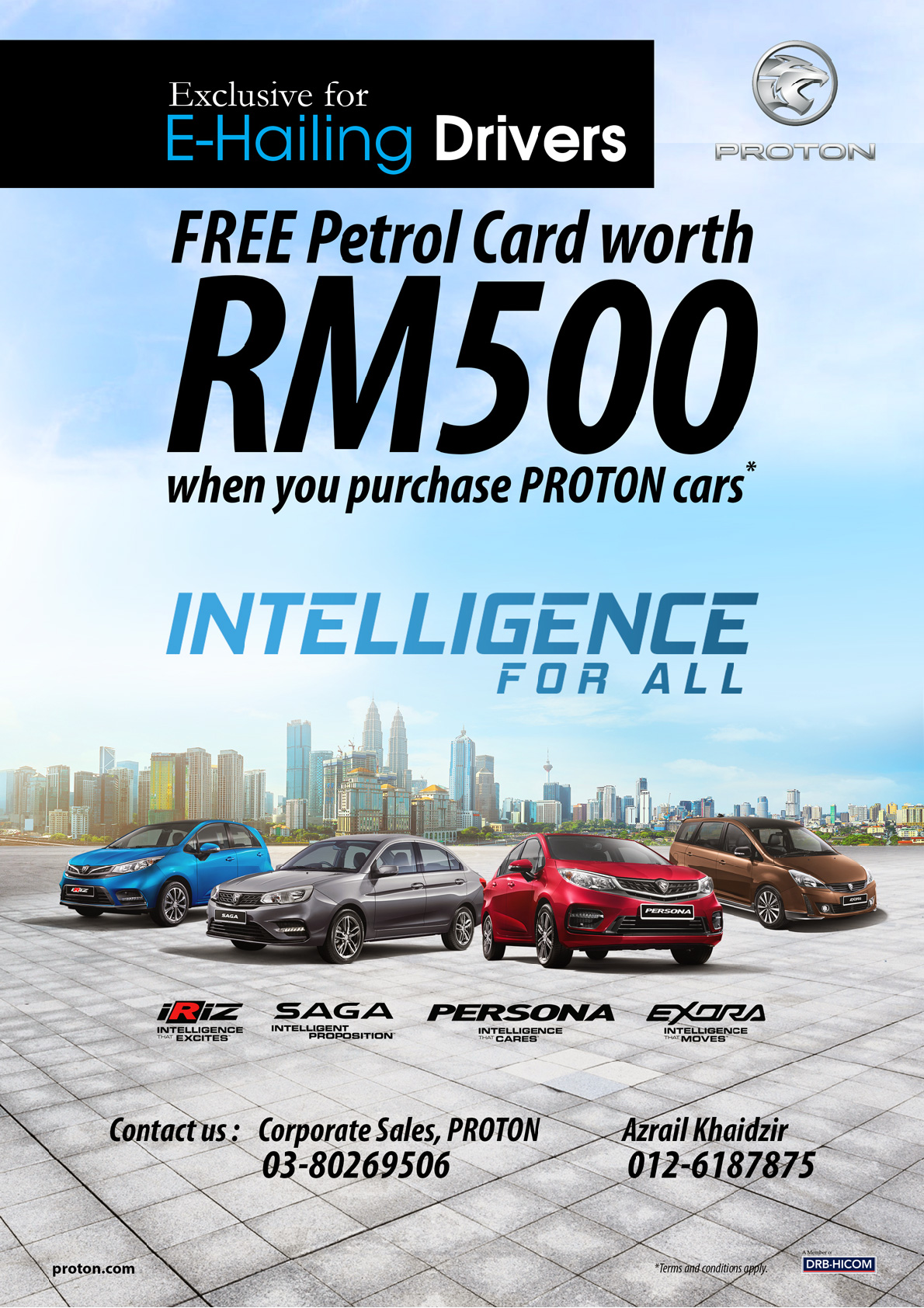 Buyers who purchase a new Proton Persona, Iriz, Exora, Saga or Proton X70 from authorized Proton sales outlets, will now be rewarded with a Petronas fuel gift card worth RM500 or, if they prefer, a price rebate of the same value. In order to qualify, a customer would need to submit a copy of a valid PSV E- Hailing license as proof and register the vehicle under their own name.
In addition to the gift card, additional rebates are being offered on selected models, ranging from RM300 to RM1,500. The promotion will run until 31 December 2020 and is also open to individuals purchasing a car to be used for E- Hailing by a different driver. In this instance, a Letter of Consent stating the purpose of the purchase would be required along with the full name and IC number of the E- Hailing Driver(s) and a copy of their PSV E-Hailing license.
Another possible reason for looking at a new Proton X70 only for now is that Proton has gone a step further by introducing the N95 Cabin Filter in the 2020 Proton X70 that helps to keep pollutants out of the vehicle. Read on to find out how the N95 Cabin Filter differs from the average dust and pollen filter.
A matter of filtration
The N95 Cabin Filter as the name suggests, can remove 95% of particles that are larger than 0.3µm (microns). Additionally, it can remove 98% of PM2.5 dust particulates, which is important to promote respiratory health. In simple terms, the N95 Cabin Filter is more efficient than the average dust and pollen filter, and thus able to remove more contaminants.
Apart from effectively filtering smoke particulates, dust and bacteria; it can help to promote an allergy-free environment by reducing allergens from pets, aphids and pollen. Now, everyone can breathe easy inside the 2020 Proton X70 equipped with the N95 Cabin Filter.
Integrated for higher level of protection
For those who are curious about how and where this filter is installed, the N95 Cabin Filter is an integral part of the air-conditioning system. It can function in both fresh and recirculation modes, as long as the blower fan speed is switched on.
To sum things up, the N95 Cabin Filter offers a higher level of protection against airborne contaminants. It's able to provide you and your passengers with clean air, which is one step ahead in staying healthy and strong in uncertain times like these. That being said, it is unable to kill viruses that linger on surfaces, so it's best to keep those hands sanitised!
"We want to make it easier for the latter group to purchase a Proton to be used for E-hailing. Therefore, if the buyer is the wife and the driver is her husband, we just need valid documentation for verification to approve the purchase," said Fazli Hisham Shukor, Head of Corporate Sales, Proton Edar.
The programme is also designed to ease the decision making process for those new to the industry as well as current drivers who are looking to replace their current cars. For more information, interested parties can either contact the nearest Proton Edar outlet or email [email protected].