Automotive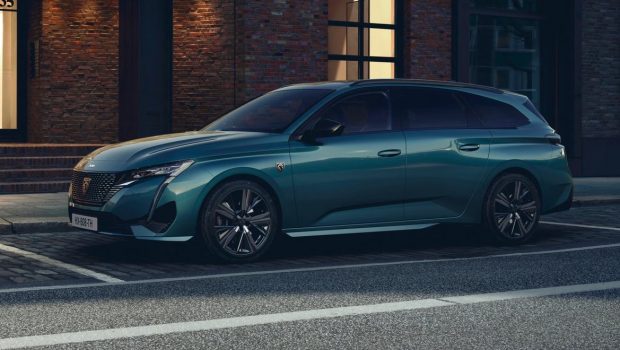 Published on June 22nd, 2021 | by Joshua Chin
0
Peugeot Debuts A Long Roof SW Variant Of Its New 308
The 308 SW is a very sleek-looking compact estate that will sadly not make its way over here. 
While many automakers have long since given up on the station wagon in favour of crossovers, Peugeot however looks to remain steadfast in the estate segment. Such is evidenced by the fact that the French automaker has recently revealed the rather sleek 308 SW, which serves as the smaller sibling to the existing 508 SW in its current lineup.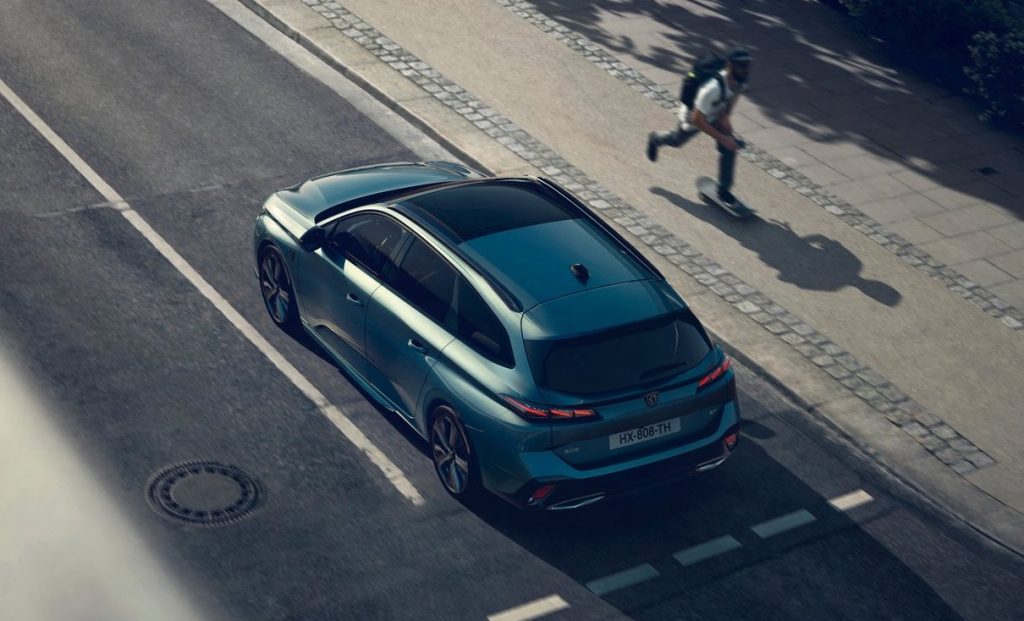 Essentially the long roof version of the newly launched 308, this new SW does nevertheless bring with it much more than just added practicality. That is because in a highly unusual move for this segment of car, Peugeot has decided to completely redesign the rear end of its new compact estate to better set it apart from its hatchback counterpart.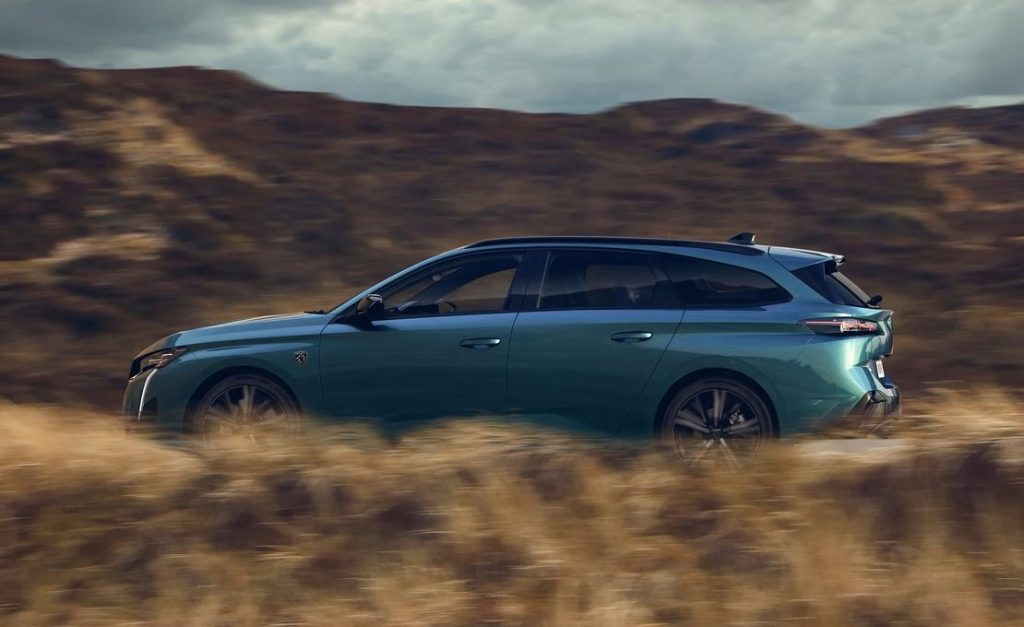 Visually identical from the B-pillars forward to the hatchback on which it is based, the 308 SW nevertheless brings to the table a more sloping roof line, for what Peugeot claims equate to a more dynamic silhouette. Moving round the rear meanwhile, this compact estate also loses the hatchback's black dividing strip between its sharply-styled LED taillights, and in its place instead is an integrated rear spoiler to complement the one above its inclined rear window.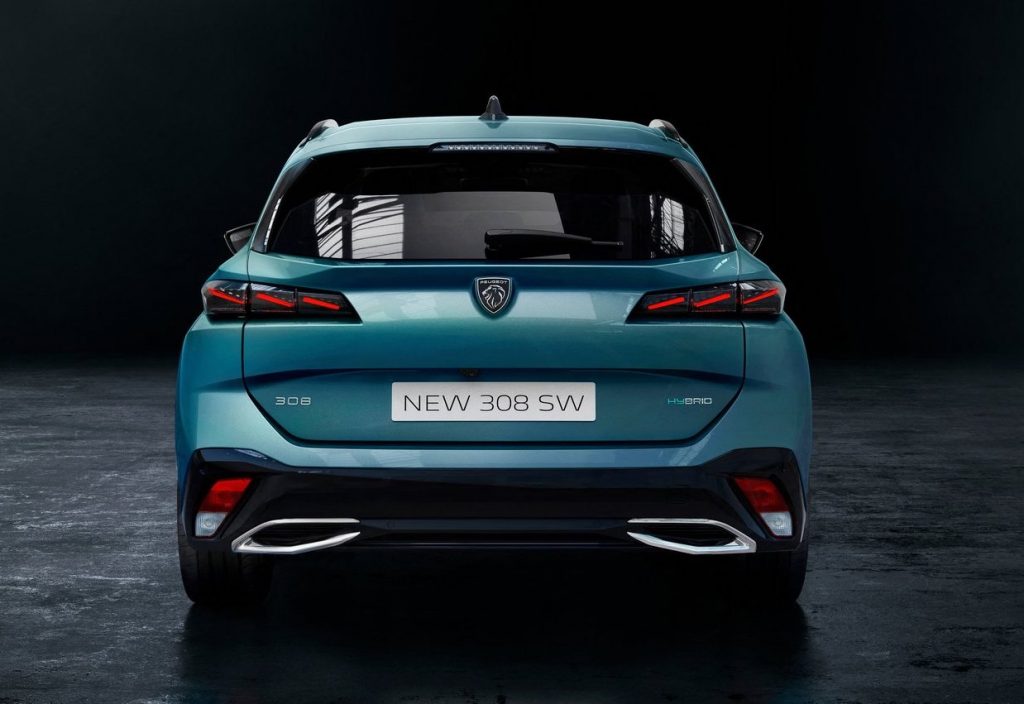 Continuing on the topic of its derrière and talking practicality, the hands-free tailgate opens up to a rather vast load space. The 308 SW boasts a maximum cargo capacity of 608 litres with the seats up, and 1,634 litres with the standard 40:20:40-split rear bench all folded down.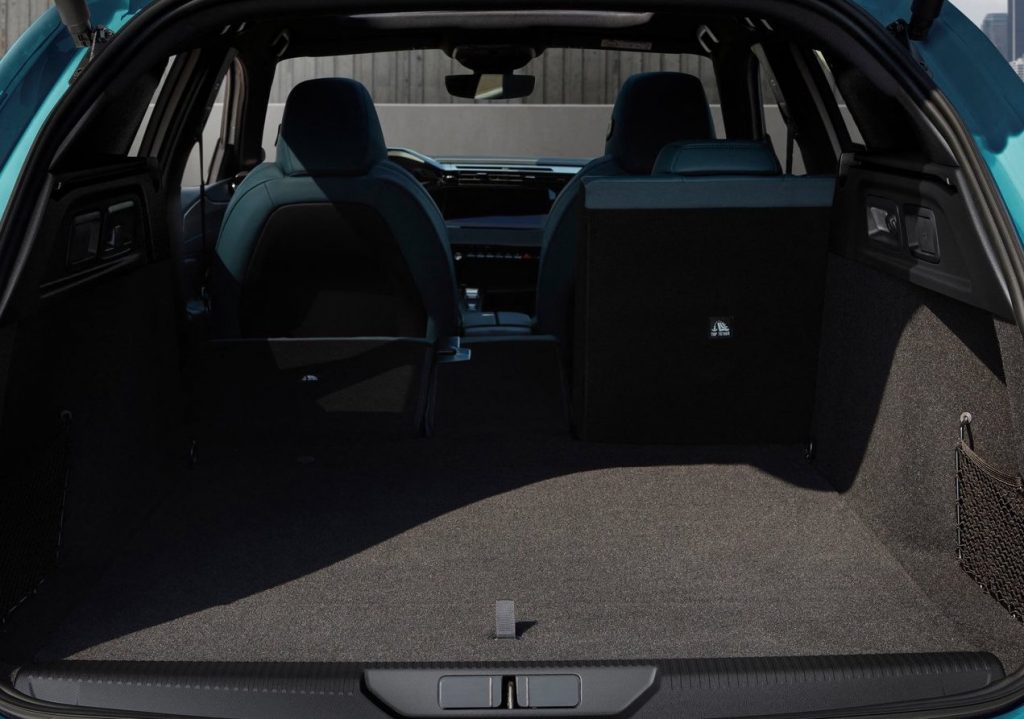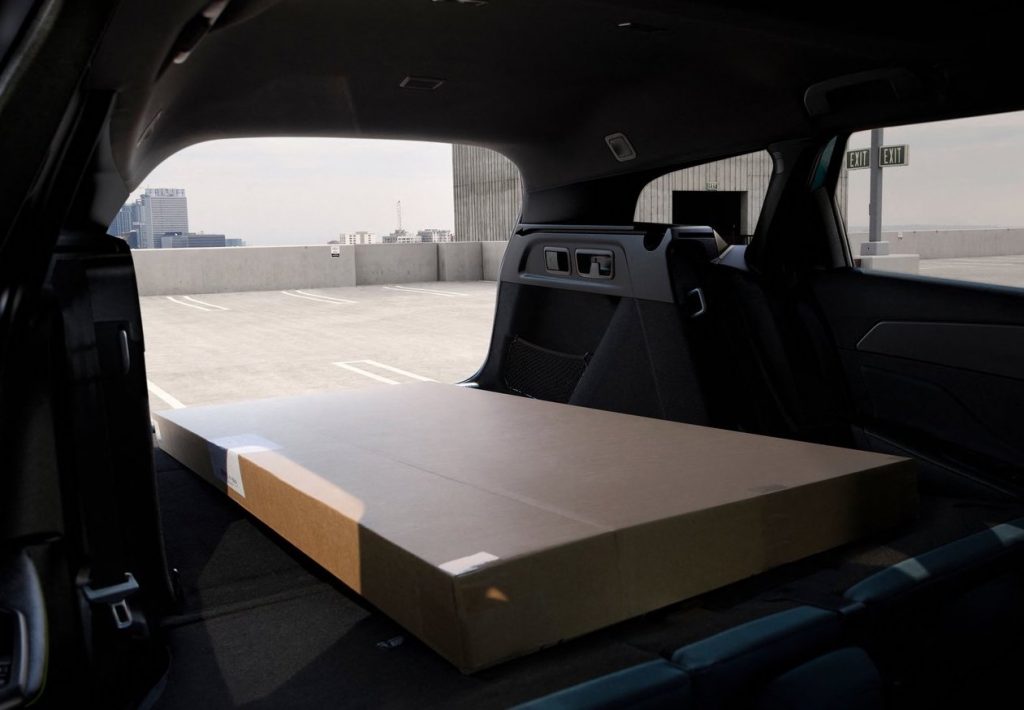 Speaking of the rear seats, there is also an additional 129 mm of leg room courtesy of the 308 SW being 55 mm longer in wheelbase to its hatchback brethren. This is in addition to this compact Peugeot estate growing by 210 mm in its rear overhang too, which therefore enables objects as long as 1.85 metres to be hauled around in it.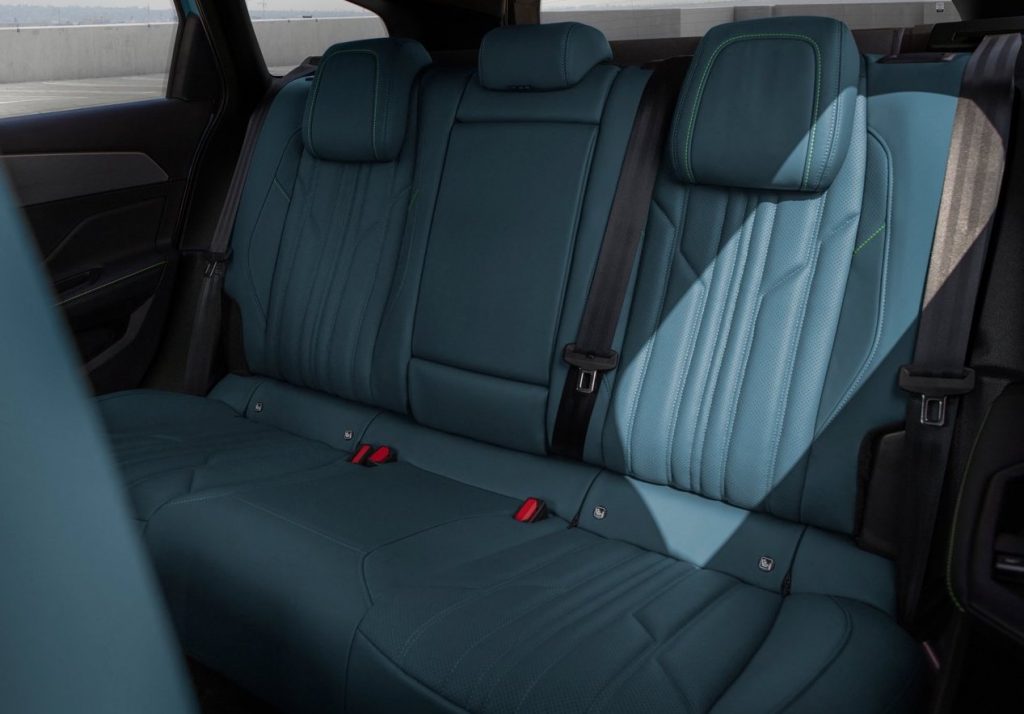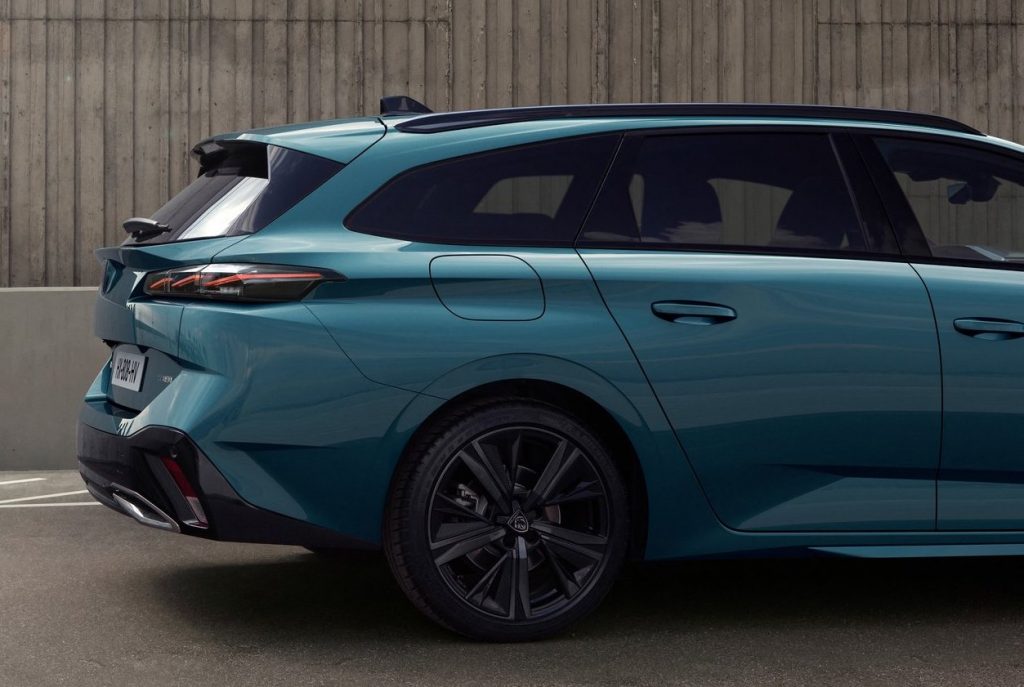 Now moving further forward within the 308 SW, the dashboard is unsurprisingly identical to that of the hatchback. Though this is hardly a bad thing, as this next-gen Peugeot i-Cockpit brings with it a 10-inch central infotainment touchscreen, a 10-inch 3D digital instrument cluster and a compact multifunction steering wheel in what is undoubtably a sleekly designed overall package.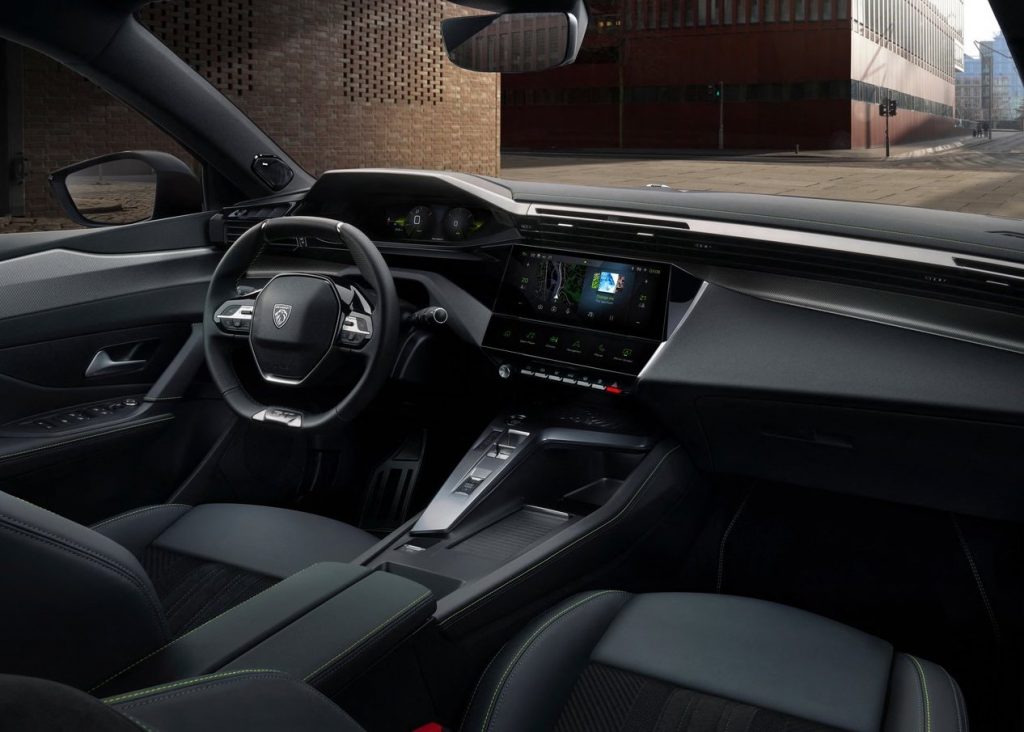 Peugeot has also thrown in its latest active driving suite with this upcoming 308 SW. From mid-2022 onwards, the upcoming Drive Assist 2.0 will add semi-automatic lane change, early speed recommendation and curve speed adaptation functionality to the existing lane departure warning and adaptive cruise control with Stop and Go.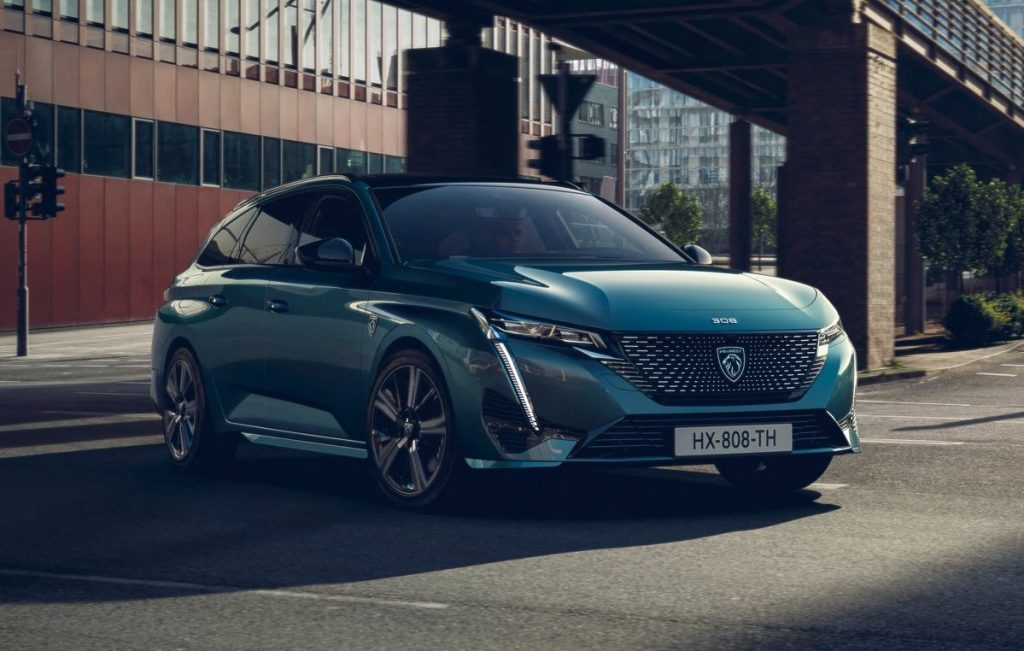 The 308 SW is available with a choice of either a 130 PS 1.2-litre petrol or 1.5-litre diesel engine, or a pair of plug-in hybrid powertrains that come in in 180 PS and 225 PS flavours. All of which drive the front wheels through primarily an 8-speed automatic transmission, with the PHEVs claiming an all-electric range of up to 60 km from a 12.4 kWh battery pack.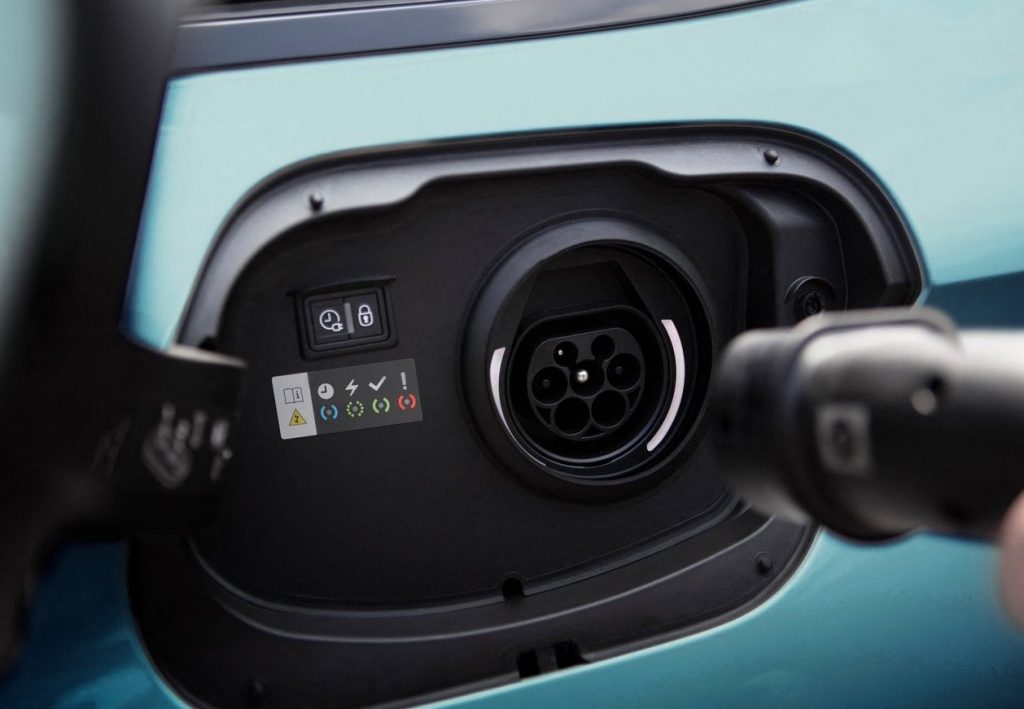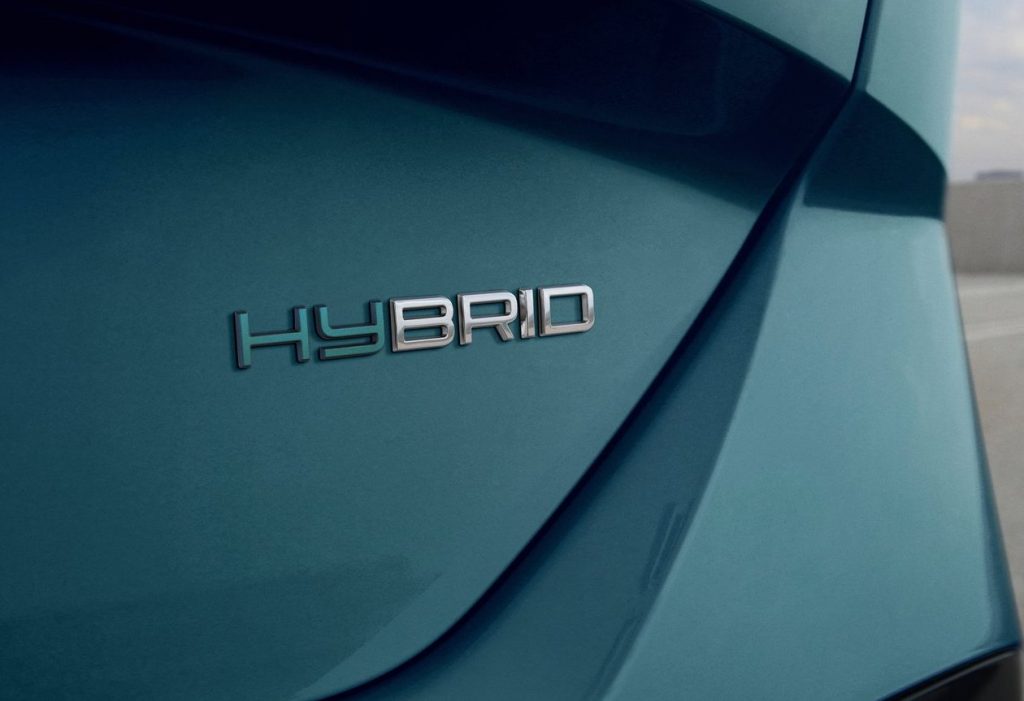 To be manufactured in Peugeot's Mulhouse production plant in France, first deliveries of the 308 SW is expected to occur sometime at the end of the year. Prices has yet been officially confirmed yet by the French automaker, but what is mostly confirmed however is that this compact estate will not be making its way to Malaysia anytime soon.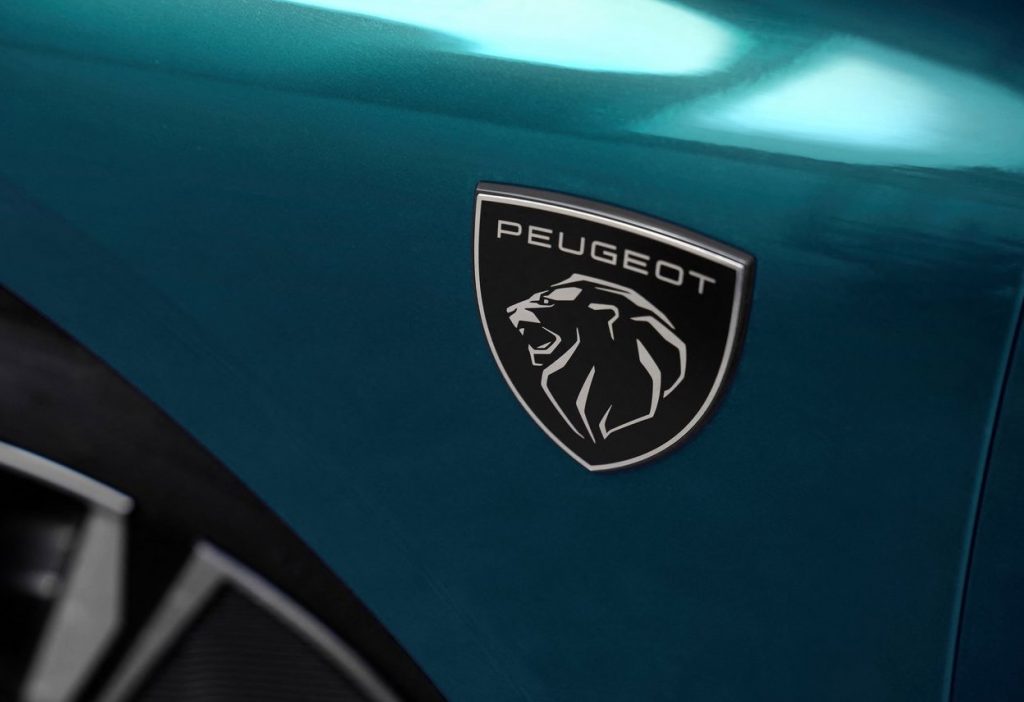 PRESS RELEASE: A silhouette in its own right, the PEUGEOT brand is proud to present the brand new PEUGEOT 308 SW. It has an expressive style with a racy profile and a sophisticated rear end. Efficient and ultra-modern without compromising on the essentials and expectations of customers in the compact estate segment.
The new PEUGEOT 308 SW is a real eye-catcher and offers:
Room for passengers, with a length of 4.64 m and a wheelbase of 2.73 m,
Efficiency, nothing is left to chance, the new PEUGEOT 308 SW is aerodynamically optimised with a Cx of 0.277 and an SCx of 0.618 m, for gains in CO₂ emissions and fuel consumption,
Myriad storage areas entirely dedicated to well-being and practicality. The large central console provides space for the driver and front passenger's everyday items,
Modularity for everyday use thanks to the row 2 seat, which can be split into 3 sections (40/20/40) and is equipped with controls for folding from the boot.
A motorised boot flap for easy access with loaded arms and a two-position boot floor,
Loading volume for all personal and professional activities with a maximum boot volume of 608 litres of water and up to 1634 litres of water with the seat fully folded.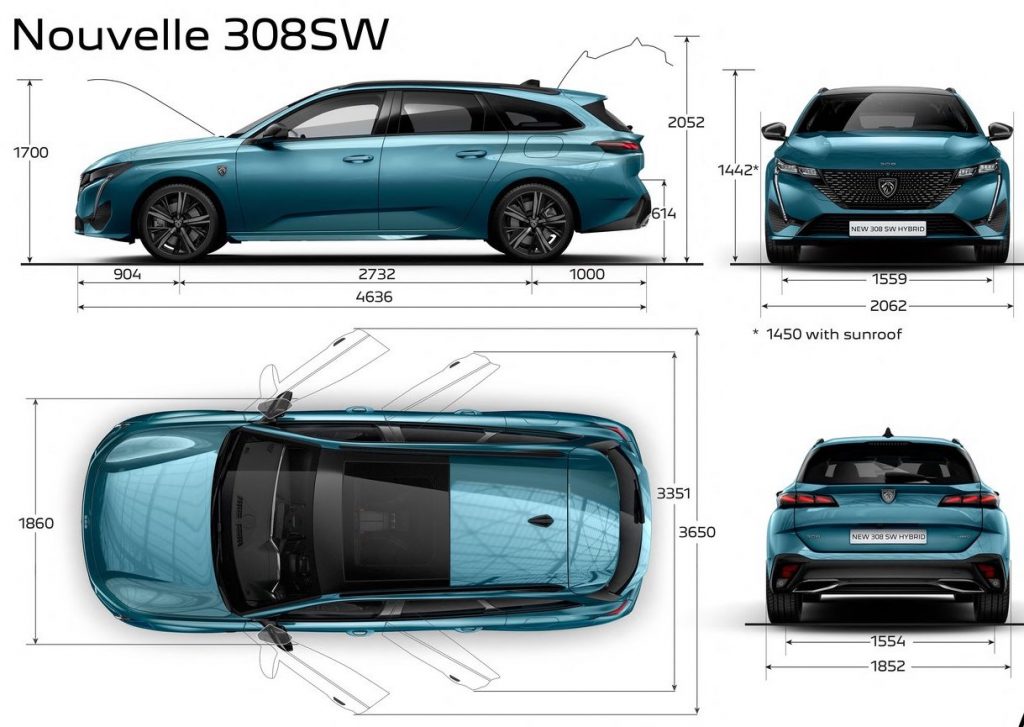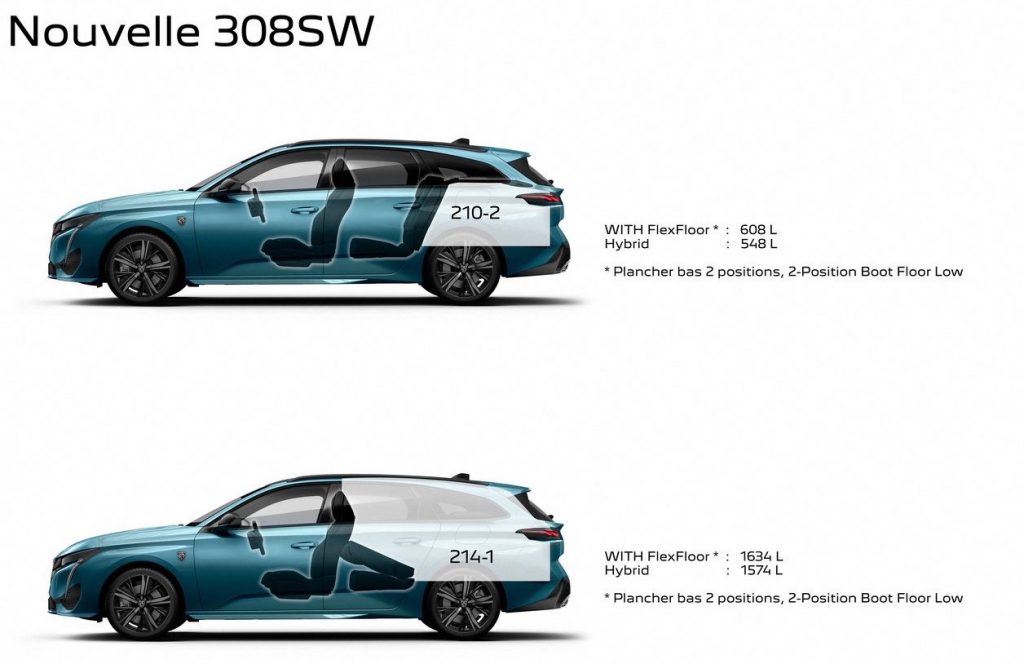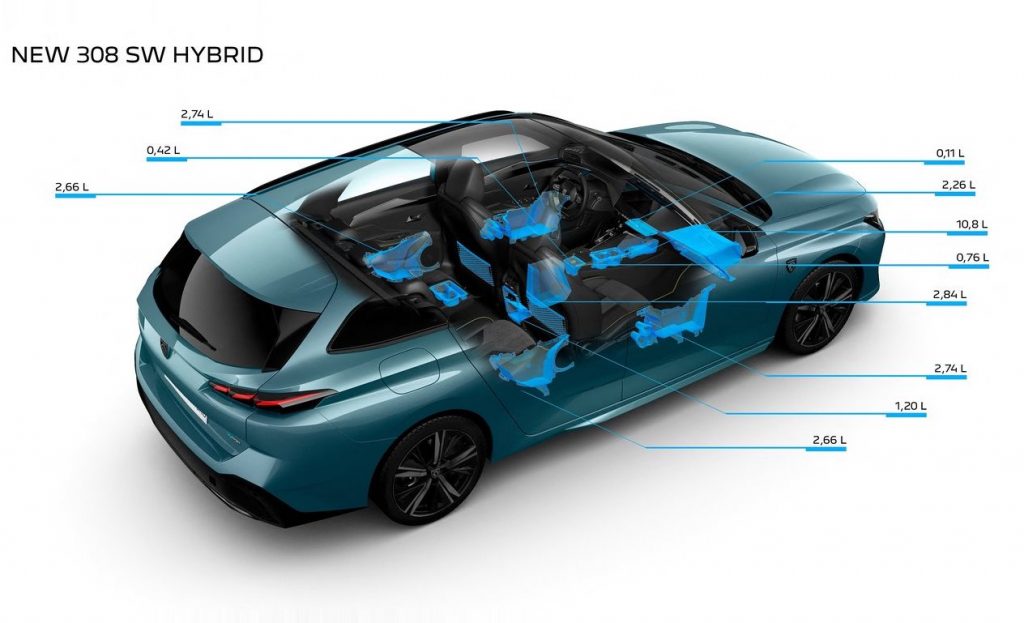 Top of the range and technological, the new PEUGEOT 308 SW, just like the new PEUGEOT 308, comes with a new and improved PEUGEOT i-Cockpit®. A totally new experience with more ergonomics, design, driving pleasure, quality and connectivity:
A new compact steering wheel equipped with integrated controls and which can be heated,
A 3-dimensional digital headset at eye level with a 10-inch digital display,
An innovative 10-inch high-definition central touchscreen with the new PEUGEOT i-Connect® Advanced, an intuitive and connected infotainment system, identical to a smartphone environment.
The new i-toggles replace the physical climate control panel. Each i-toggle button is fully configurable, and is a shortcut to a specific function on the central screen.
Connectivity with four USB C sockets, wireless mirroring and the ability to connect two phones via Bluetooth at the same time.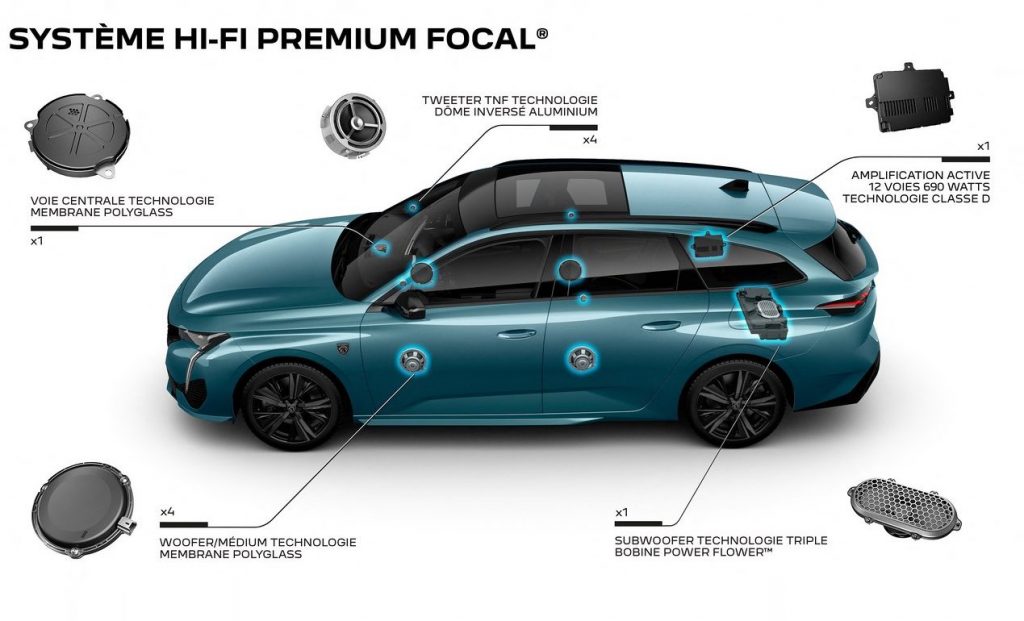 The new PEUGEOT 308 SW has the latest generation of semi-autonomous driving aids, for even greater safety, with the Drive Assist 2.0 pack (available at the end of the year). It consists of adaptive cruise control with Stop and Go function (EAT8 automatic gearbox) and lane departure warning, and adds three new features available on dual carriageways: semi-automatic lane change, early speed recommendation and curve speed adaptation.
The new PEUGEOT 308 SW comes in several types of engine, rechargeable hybrids (HYBRID 225 e-EAT8, HYBRID 180 e-EAT8), petrol versions (PureTech 110 S&S BVM6, PureTech 130 S&S BVM6 and PureTech 130 S&S EAT8) and diesel versions (BlueHdi 130 S&S BVM6 and BlueHdi 130 S&S EAT8).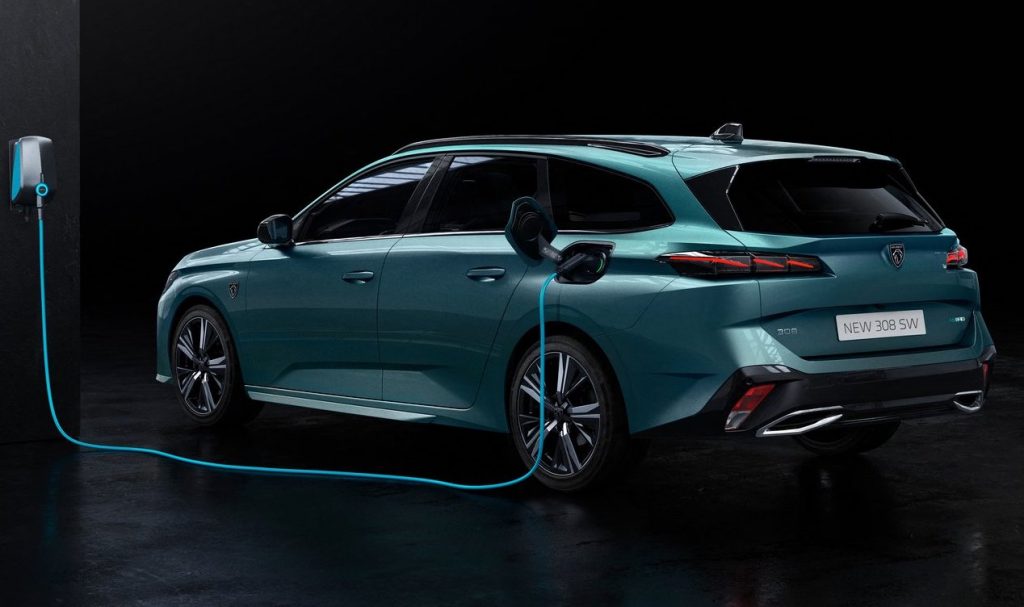 Depending on the country, the new PEUGEOT 308 SW can be purchased on the brand's online sales site, for a 100% digital purchasing experience, trade-in, financing and a choice of delivery location.