Automotive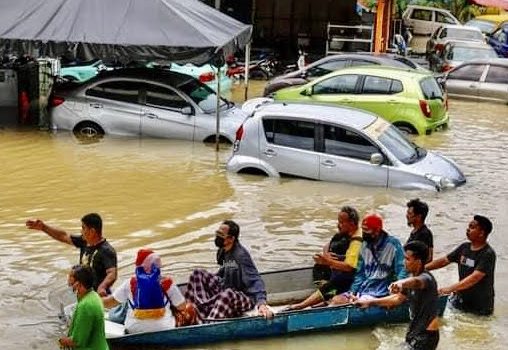 Published on January 14th, 2022 | by Aaron Fernandez
0
Perodua aids flood victims with Discount Voucher initiative
Perodua aims to help recent flood victims by welcoming the government's Keluarga Malaysia Automotive Discount Voucher initiative.
The Keluarga Malaysia Automotive Discount Voucher initiative was introduced by the government with the help of car companies to give a discount to those in need.
So far nearly 20 different automotive companies including Perodua have agreed to this initiative. Vehicle owners are not required to submit an application for the discount voucher.
The voucher in question is reported to be RM1,000 per person and will be provided to Malaysians with damaged cars by the Ministry of Finance in Malaysia.
The automotive discount voucher can be used until the 31 of March 2022.
The discount can only be used to claim against the repair of a private vehicle that suffers water damage from the flood or to replace a vehicle deemed to be a total loss.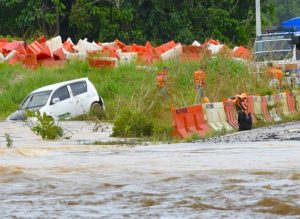 This initiative is part of the Malaysian Family Flood aid program which plans to provide the help needed by Malaysians directly affected by the floods.
Perodua President and Chief Executive Officer, Dato' Zainal Abidin Ahmad shared his gratitude saying, "We thank the government for their swift and generous act in helping flood victims in their time of need and Perodua welcome this new initiative as it further strengthen our efforts to help fellow Malaysians."
As stated by Dato' Zainal, 1,987 different Perodua vehicles have been towed so far and are currently being evaluated at the 200 available Perodua service centres around the country. Perodua has so far repaired 323 vehicles with more to come.
"This voucher initiative, along with other financial assistance under the Malaysian Family Aid program will go a long way in helping everyday Malaysians to quickly recover," said Dato' Zainal.
He said that Perodua has dedicated a new flood repair hub in Shah Alam to specifically help the flood victims.
"Our immediate goal is to repair the flood damaged vehicles as quickly as possible as we understand that our customers truly need their Perodua vehicle for their day-to-day needs," Dato' Zainal also said.
Thanks to Perodua's efforts, many unfortunate Malaysians affected by the floods are getting the help they need.
Perodua launched its Perodua Flood Assist Program on the 19 December 2021. This program grants half the price for all standard Perodua parts, zero labor fee for all part replacements and a free towing service available at any time through Perodua's 1800-88-5555 hotline number.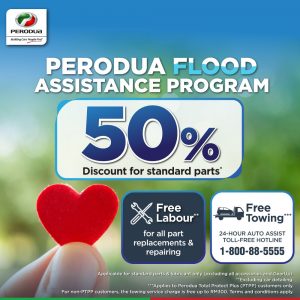 For other general inquiries, customers can call the Perodua Customer Care Line at 1800-88-6600.