Automotive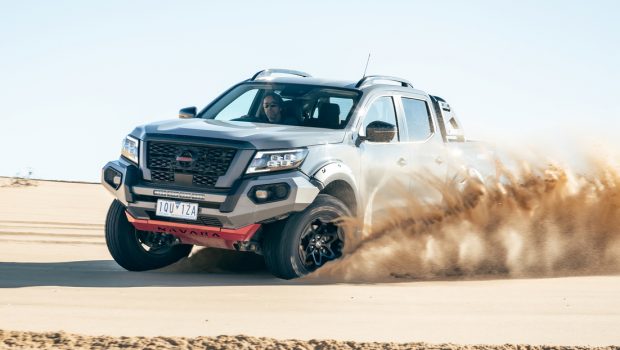 Published on July 3rd, 2021 | by Joshua Chin
0
Nissan Navara PRO-4X Warrior Launched Exclusively In Oz
The Aussies will be the only ones getting what is touted to be the world's toughest Navara to date. 
For the Australians who are looking for an off-road ready pickup right off the showroom floor, there is good news on that front as Nissan has recently revealed a tricked out version of its updated Navara pickup. Dubbed the PRO-4X Warrior by Premcar, this Oz exclusive gains a whole host of upgrades that significantly bumps its off-road and utilitarian prowess.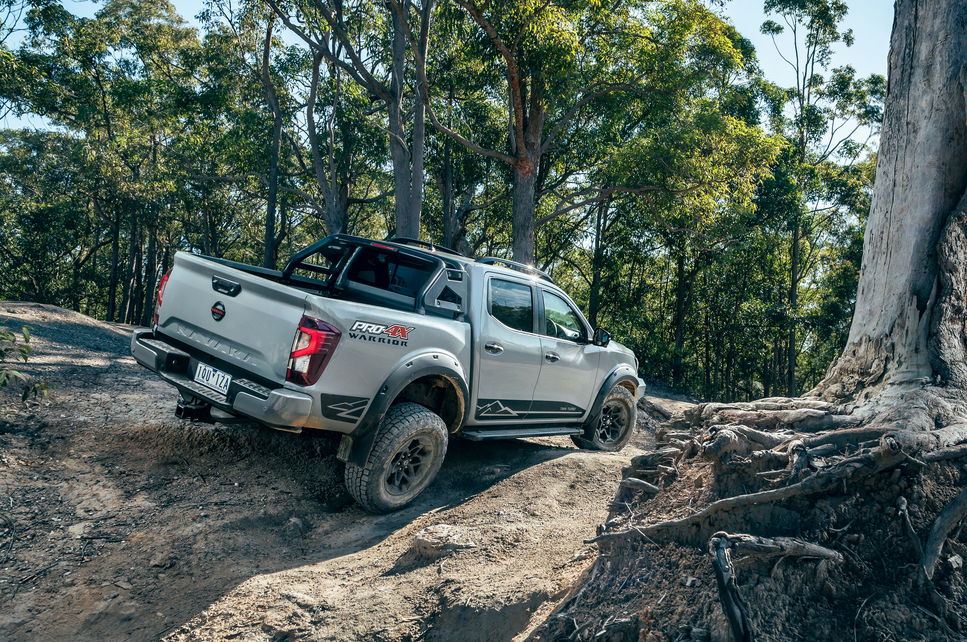 A successor to the Navara N-TREK Warrior that came before, the enhancements done to this new Aussie Nissan ute literally begins from the ground up with a throughly beefed-up suspension setup. A mod that bumps its ride height to a lofty 260 mm (+40 mm over the standard car) and improves its approach angle, from 22º to 26º. 
Complementing the raised suspension meanwhile are a set of chunky 32.2-inch Cooper Discover All Terrain AT3 all-terrain tires wrapped around 17-inch blacked-out alloy wheels, which incidentally adds 30 mm to the track width of the Navara for a more aggressive stance. Though the aggression of this tricked-out Nissan pickup is perhaps more immediately obvious from the new winch-compatible Safari-style bull bar with integrated light bar up front, not to mention the strikingly red bash plate and a 3 mm steel second-stage protection plate further underneath.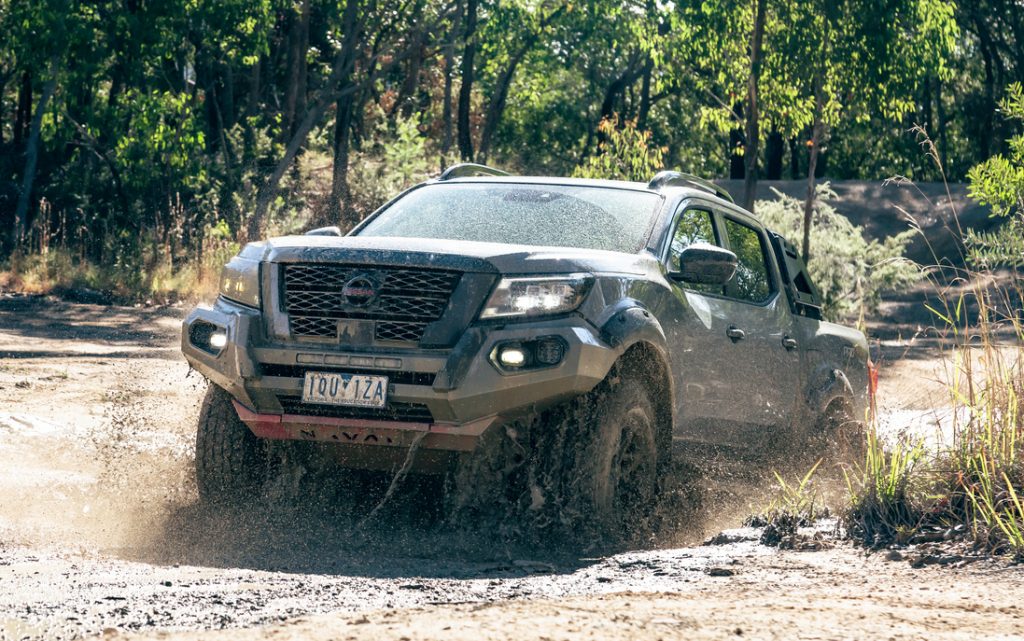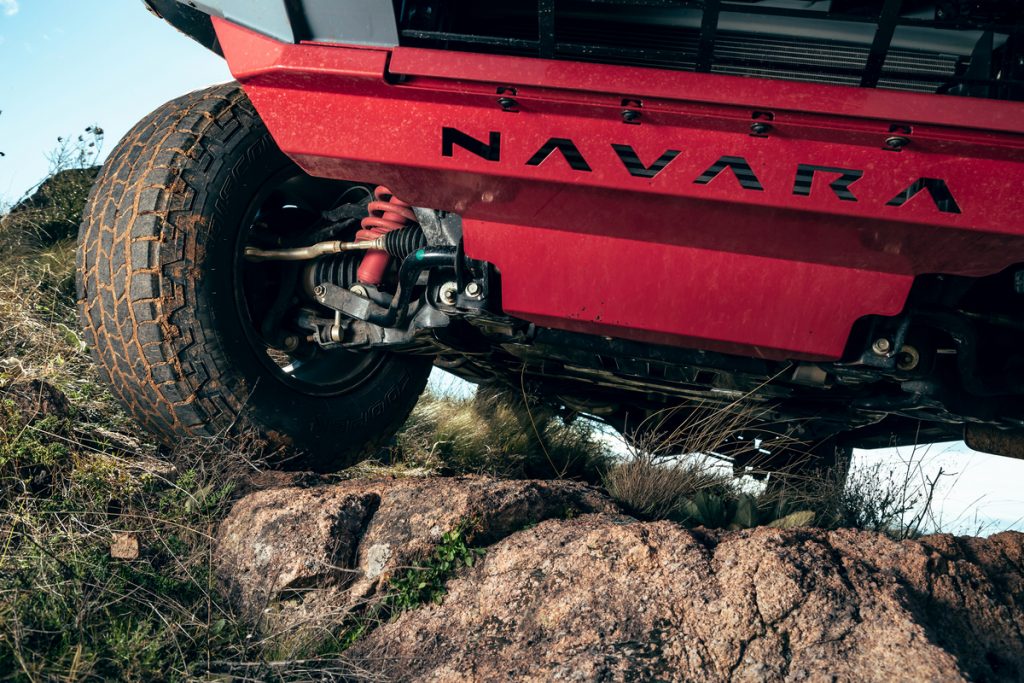 Other notable changes to the Warrior-spec Navara PRO-4X includes the a bespoke new-design fender flares, an alloy spare wheel, as well as a redesigned tow bar and new mounting guide. This off-road ready Nissan ute also benefits from an increased gross vehicle mass (GWM) of 3,250 kg, while retaining the same improved payload and towing capabilities as is standard with its other facelifted brethren.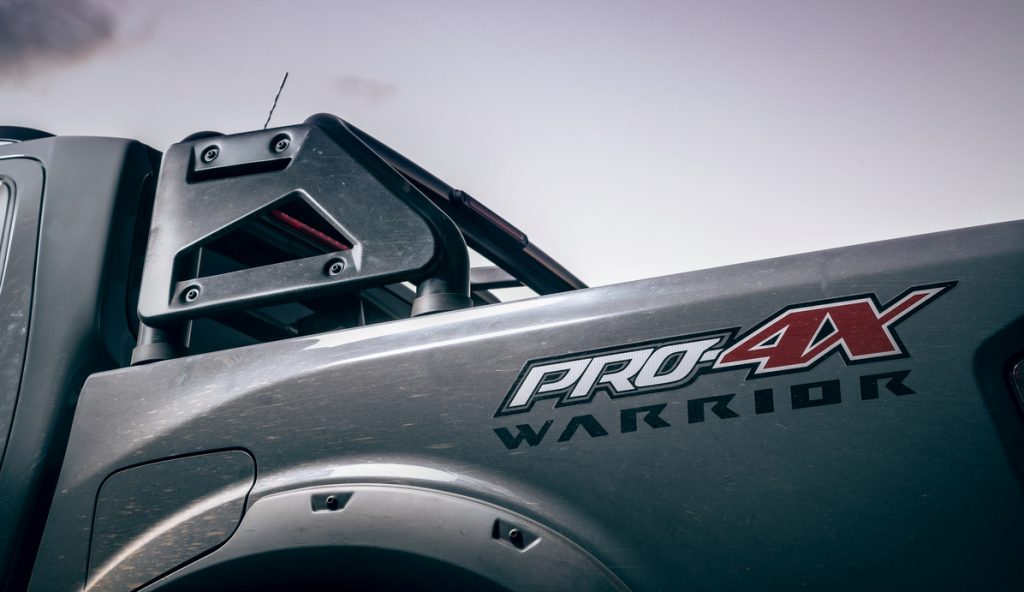 Despite the PRO-4X Warrior's enhanced off-road and utilitarian abilities however, this particular Navara also claims to offer a more compliant ride and better handling on road too. This comes mainly courtesy of the aforementioned revised suspension setup, which includes larger jounce bumpers and modified spring rates as among the plethora of changes done to the way this Nissan pickup handles bumps, lumps and turns when going down the road.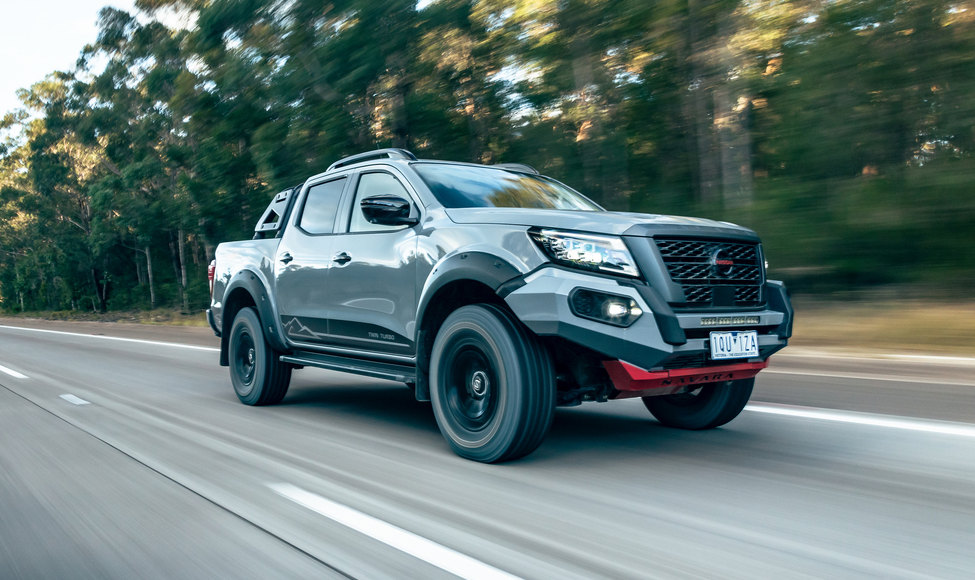 While the suspension was getting all the love though, the powertrain and interior remains largely untouched when the Navara PRO-4X undergoes the Warrior treatment at Premcar. Under the hood therefore still lies a 2.3-litre twin-turbocharged diesel four-pot from before, which sends 189 PS and 450 Nm of torque to all four wheels via either a 7-speed automatic or 6-speed manual transmission. 
Moving on inside on the other hand, the (largely unaltered) cabin of the Warrior brings with it the Navara's standard 7.0-inch digital instrument cluster and its 8-inch central infotainment touchscreen. The suite of active and passive safety aids that come standard with this revised Nissan pickup have also been adapted to work with the off-road enhancements on the Warrior PRO-4X.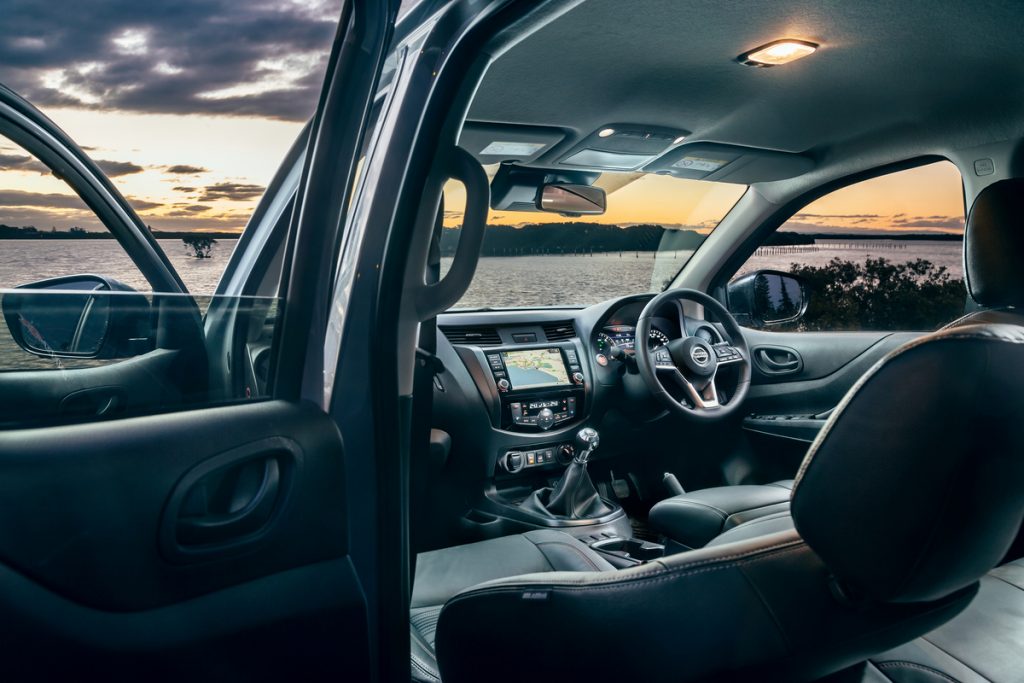 Nissan has yet to reveal how much exactly the new Navara PRO-4X Warrior will cost, though conservative estimates by various Australian publications over there put it to be around the $66,000 (RM 210,000) mark like what its predecessor used to retail for. What is however more officially confirmed is that over 400 registration of interests have already been logged for this off-road ready pickup truck, which represents a not-insignificant chunk of the 1,500 units Premcar plans to produce annually.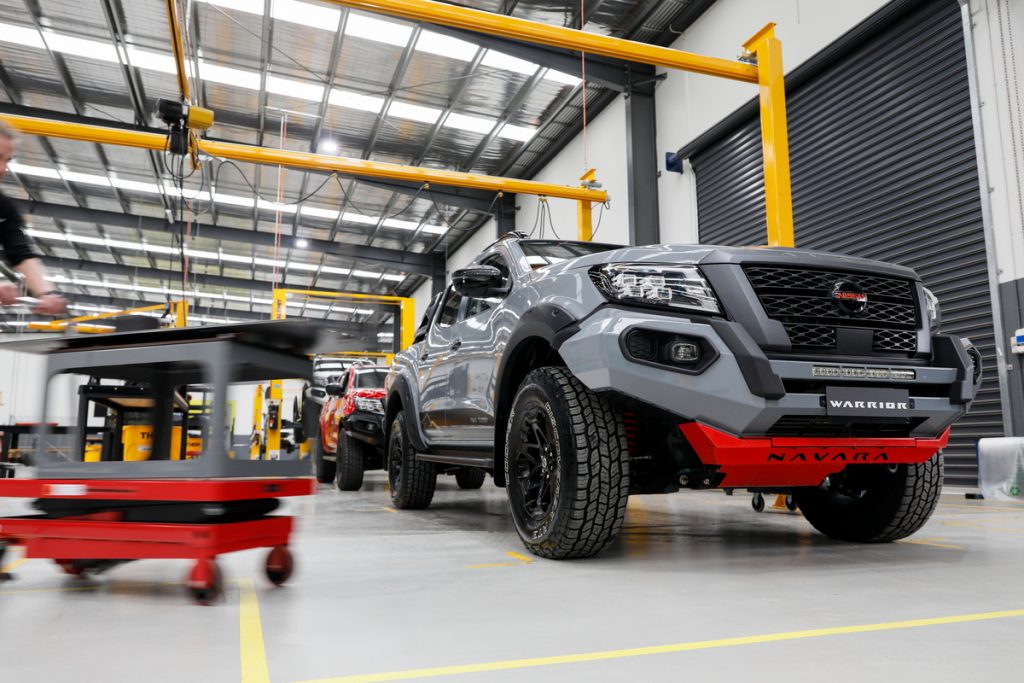 Those who are looking for a more family-friendly alternative to the Navara PRO-4X Warrior though, there are rumours of an off-road ready Nissan Patrol Warrior to be arriving over in Oz some time later this year too. Set to feature a V8 power plant and other associated off-road enhancements, it does sounds like the perfect vehicle to take a tour around the Outback with.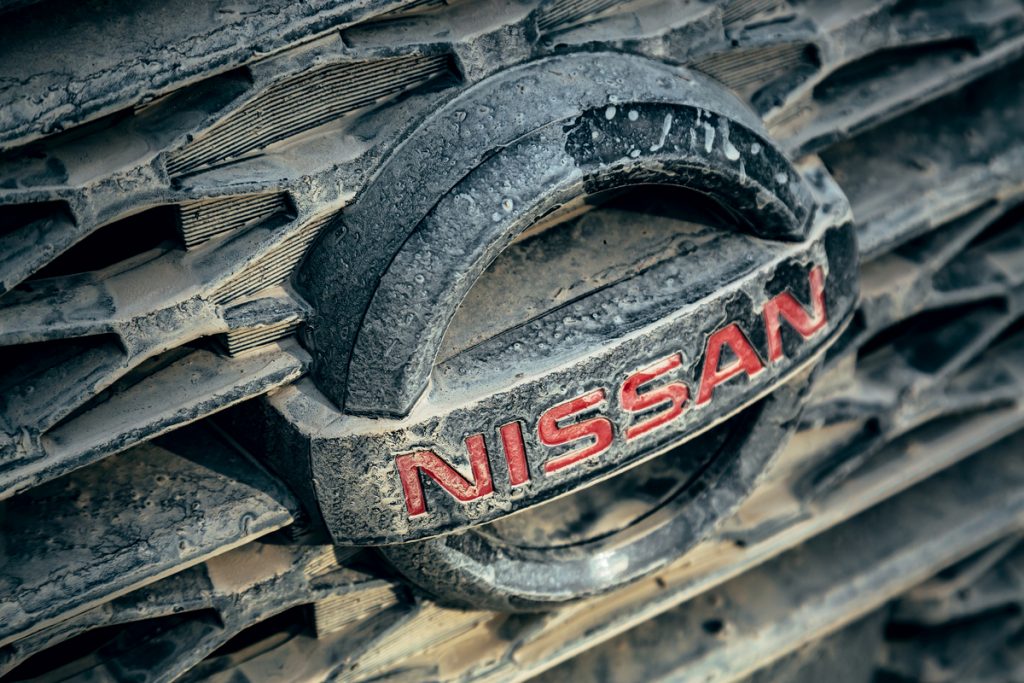 PRESS RELEASE: Nissan has today revealed the new Navara PRO-4X Warrior by Premcar, with the locally developed and tested dual-cab ute to write a new chapter in the Warrior story.
A true Warrior 2.0, the Navara PRO-4X Warrior by Premcar adopts the improvements made by Nissan and the new Navara PRO-4X, and has also reacted to real-world customer feedback to create a unique flagship vehicle that is tailor-made for Australia and Australian conditions.
As part of its development, the Navara PRO-4X Warrior by Premcar has also been put to the real-world test, with a range of performance and durability validations for Australian conditions, including thermal performance, noise vibration and harshness (NVH), as well as on-and off-road testing in Victoria.
Acting as the new halo model to the Navara range, the new Warrior was locally developed by leading automotive-engineering company Premcar at its state-of-the-art facility in Epping, Victoria.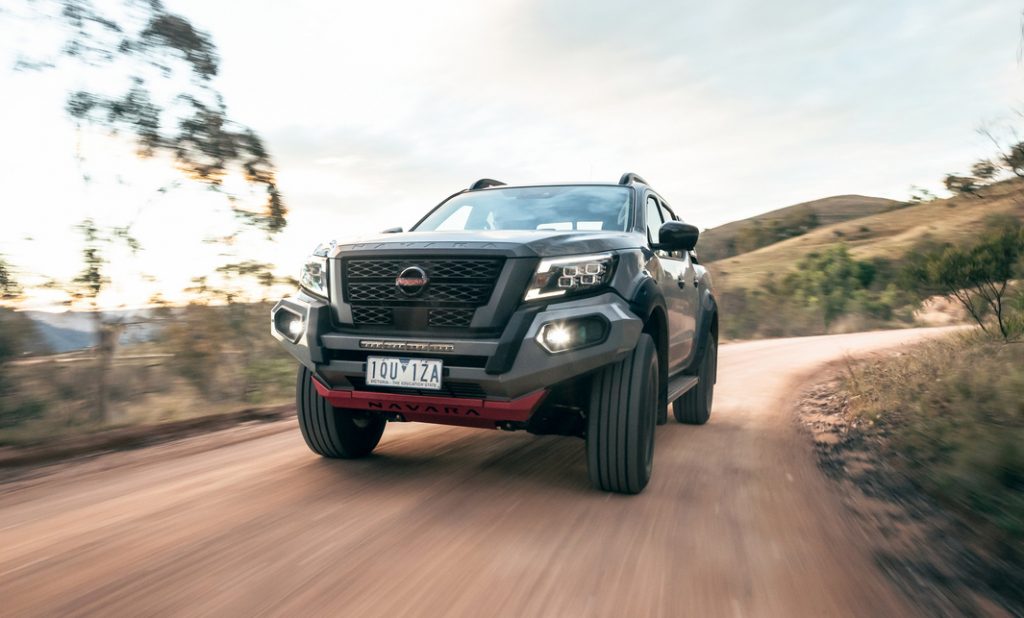 With a long and successful history at the forefront of vehicle re-engineering in Australia, Premcar's Warrior program is now made up of 35 engineers, manufacturing experts and executives, with this talented team set the challenge of further improving the Warrior formula for the PRO-4X.
To do it, Premcar has built on the already-impressive PRO-4X, enhancing its performance and capability with wheel, tyre and suspension enhancements to deliver improved ground clearance, a wider stance and improved ride and handling.
There's also improved capability via the winch-compatible bullbar, Navara-branded bashplate and additional underbody protection, a full-size spare, modified towbar and a GVM upgrade to deliver outstanding payload and towing.
"We set out to create the world's toughest Navara, and that's exactly what we've achieved with this new Warrior," says Premcar Engineering Director, Bernie Quinn.
"This needed to be a vehicle that customers will enjoy on and off the road, delivering comfort and capability no matter the conditions, all while expanding the robustness of the Navara, and enhancing its go-anywhere toughness.
"The result is a Warrior that's tougher, safer and smarter, but no less practical and capable.
"While we were immensely proud of the N-TREK Warrior, there are always learnings and improvements to be made, and this new Warrior improves the formula right across the board."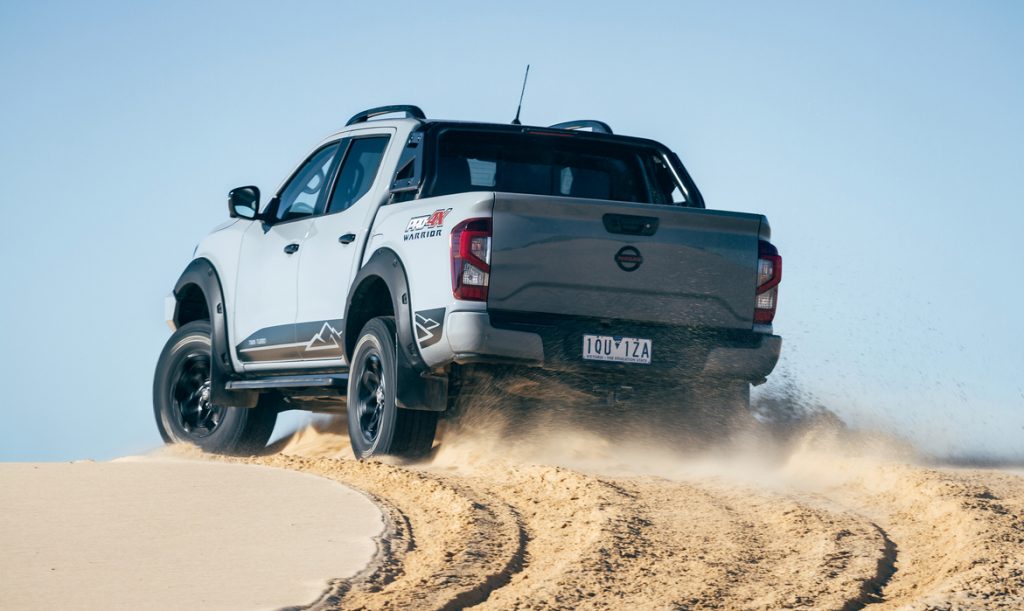 Increased capability that counts
The Navara PRO-4X Warrior by Premcar is a true warrior in every sense of the word, with improved capability right across the vehicle that ensures this tough and rugged flagship can go anywhere, cross everything and climb anything.
It begins with a ride-height increase; by improving ground clearance from 220mm to 260mm, the Warrior immediately improves off-road capability. The approach angle has also improved, from 32 degrees to 36 degrees, and while departure angle remains almost identical – from 19.8 degrees in the PRO-4X to 19 degrees in the new Warrior – the Navara PRO-4X Warrior by Premcar achieves its impressive figure with the fitment of standard bullbar and a full-sized spare tyre with alloy wheel.
The tough upgrades continue from there, with a new winch-compatible, body-coloured Safari-style bulbar with integrated light bar – now standard fit on the Navara PRO-4X Warrior by Premcar – which integrates perfectly with the Navara's extensive safety systems.
A new 'Navara' branded red bash plate and a 3mm steel second-stage protection plate provide absolute peace of mind when off-road, as do the 275 / 70 / R17 Cooper Discoverer All Terrain AT3 tyres.
The tougher rubber offers increased tread depth, and an off-road focused tread pattern setup for 70 per cent road and sand, 30 per cent dirt and mud, and is designed with a scalloped shoulder, high-tensile steel, and whisper groove shields that further reduce road noise.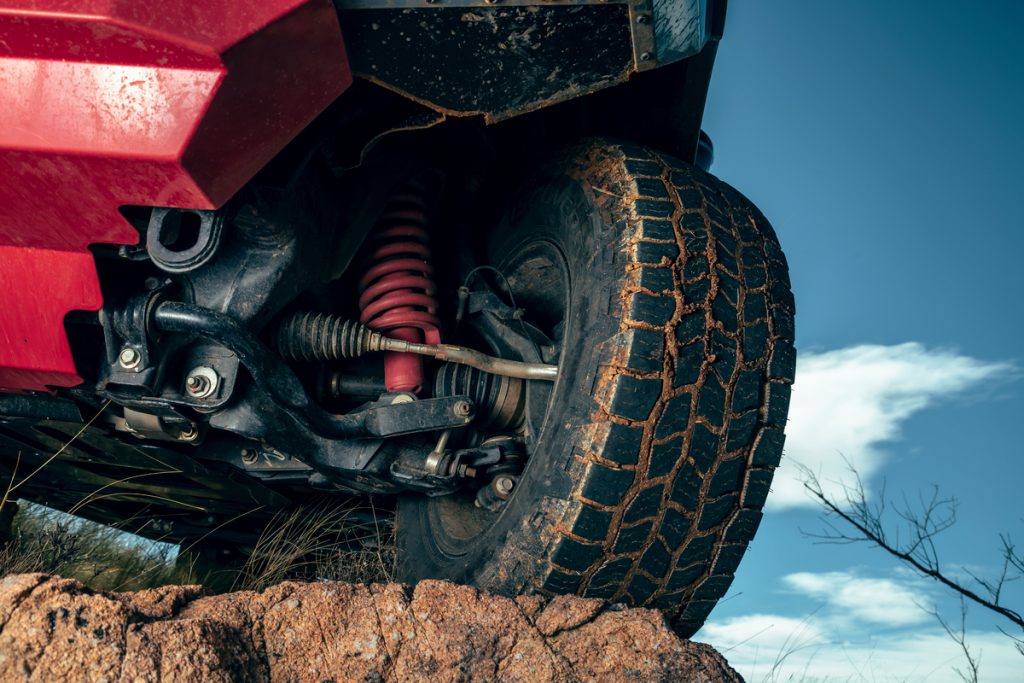 A great ride over absolutely anything
Among the key changes to the new Warrior is a revised suspension setup that not only increases ground clearance but provides a more compliant ride and better handling whether on or off-road.
Modifications to the spring rate deliver better handling by providing more front-end support and less body roll, while the front damper has less low-speed damping to deliver a more compliant ride with increased road isolation.
The high-speed rebound and compression rates at the front have also been increased by around 50 per cent and 100 per cent respectively (over the PRO-4X) to deliver greater control of the wheel and to prevent bottoming or topping out over larger impacts.
The rear dampers' low-speed control has been increased to reduce float in the rear of the vehicle when towing or carrying a load. Rebound damping has also been increased by more than 50 per cent to improve handling stability, while compression damping has also been improved.
The Warrior's new jounce bumper is also now larger and taller and engages the chassis rail earlier in the suspension travel, while delivering a more progressive rate, controlling the wheel movement at maximum suspension travel.
The outcome is a more compliant and softer transfer of energy into the chassis, controlling the wheel and suspension more effectively, and significantly improving the harshness and noise transfer into the chassis and cabin over rough road conditions. 
The vehicle's track has also been widened, from 1570mm to 1600mm, not just giving the new Warrior a wider, tougher stance, but also producing better handling, cornering capability and stability.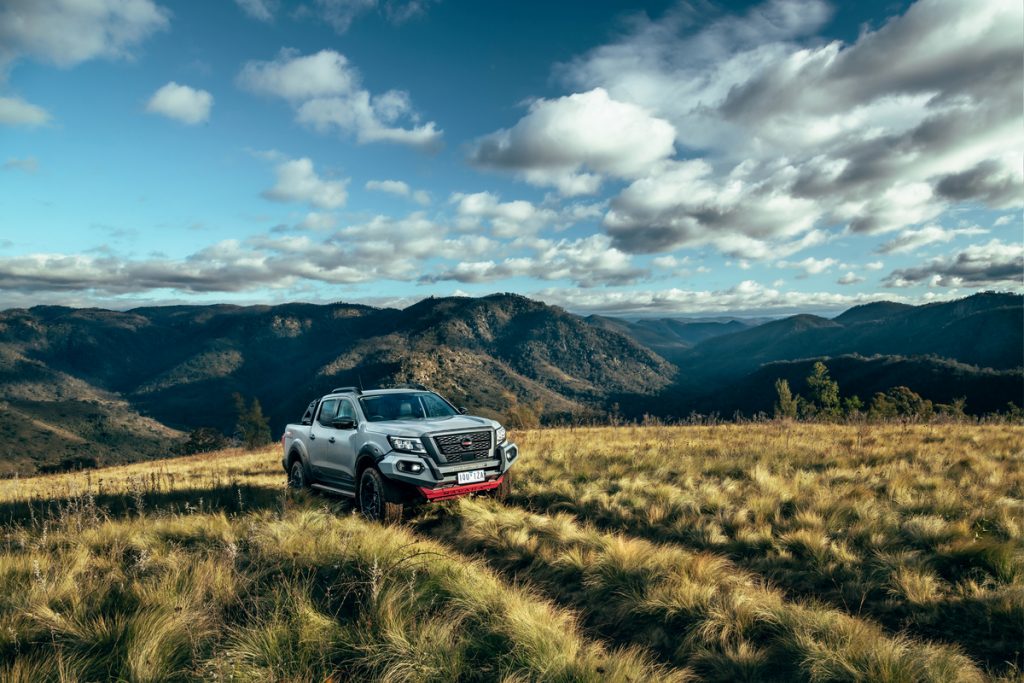 Carry what matters
Premcar has expertly engineered a 100kg GVM upgrade into the new Warrior, now 3250kg, allowing the world's toughest Navara to have a payload of 961kg for vehicles equipped with a manual transmission (952kg automatic).
The Warrior is tested tough, locally
The Navara PRO-4X Warrior by Premcar has undergone a rigorous and extensive local-testing program designed to ensure this tough dual-cab can more than stand up to Australia's unique conditions.
A combination of on-road, off-road and bench testing was designed to replicate the harshest of conditions, with the Warrior's OEM parts and Premcar's equipment changes more than standing up to the challenge.
On-road development drives were conducted on sealed, dirt and gravel roads (both graded and ungraded), while the off-road testing phase was conducted at the Australian Automotive Research Centre (AARC), Toolangi, Narbethong, Walhalla and Big River.
With its tough credentials certified, the testing then moved on to comfort, with a series of engineering tests designed to verify the changes made to the PRO-4X Warrior had no impact on the noise and vibration performance of the vehicle.
Testing was conducted at AARC, as well as on-road, with baseline testing taken at the driver's seat, steering wheel and rear seats, and no NVH degradation was recorded.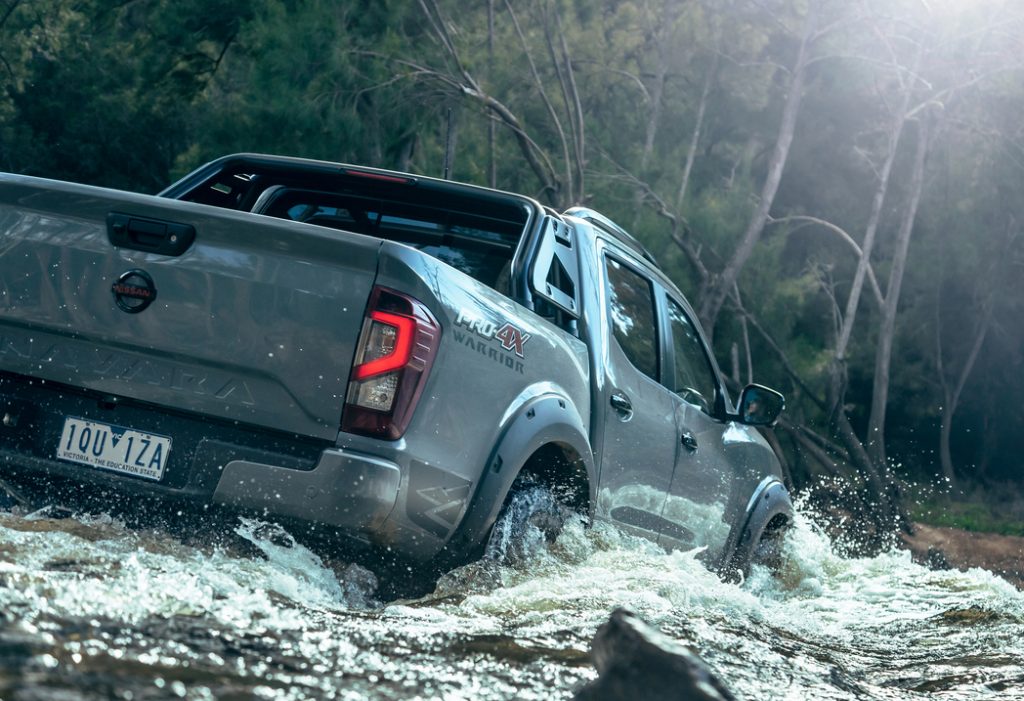 Navara PRO-4X provides strong foundations
The new Navara PRO-4X Warrior by Premcar is based on the 2021 Nissan Navara PRO-4X, and adopts that model's impressive powertrain, technology, safety equipment and refinement.
The engine remains Navara's tested and torque-rich 2.3-litre common-rail four-cylinder twin-turbo-diesel, producing 140kW and 450Nm from as low as 1500rpm. Towing capacity is rated at 3.5 tonnes braked.
Like the rest of the Navara family, the PRO-4X Warrior is equipped with a new 7.0-inch Advanced Drive-Assist instrument cluster display, along with a high-contrast 8.0-inch touchscreen display with Apple CarPlay® and Android Auto™ connectivity.
The newly introduced PRO-4X grade comes with its own distinctive, athletic look with a black Nissan emblem, a black front bumper and black grille, door handles, roof racks and running boards accented by 17-inch black wheels and all-terrain tyres. The PRO-4X takes the design up another notch with lively, red accents, a tint inspired by the colour of magma, contrasted with the dark grille, wheels, and mirror caps.
The Warrior also adopts the Navara's impressive safety equipment, which essentiality create a 360-degree safety shield for the vehicle, helping protect the driver and passengers from potential risks and delivering peace of mind.
Safety systems include Intelligent Forward Collision Warning, Intelligent Emergency Braking, Intelligent Driver Alertness, Lane Departure Warning, Intelligent Lane Intervention, Blind Spot Warning and an Intelligent Around View Monitor, including an off-road monitor, and Rear Cross Traffic Alert.