Automotive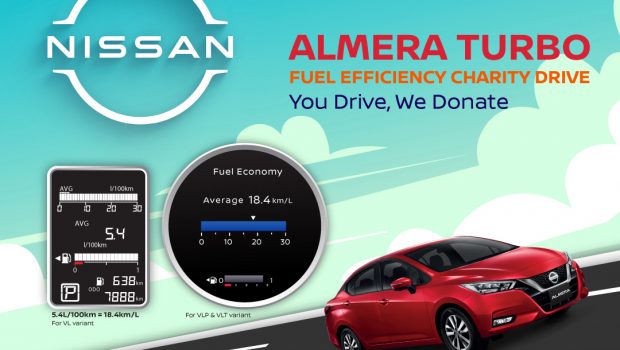 Published on September 3rd, 2021 | by Joshua Chin
0
Nissan Almera Turbo Fuel Efficiency Charity Drive Kicks Off
Nissan Almera Turbo owners can now also do some good while saving fuel. 
Edaran Tan Chong Motors (ETCM), the official distributor of Nissan vehicles in Malaysia, has recently announced the commencement of the Almera Turbo Fuel Efficiency Charity Drive campaign. 
A fun challenge that encourages all owners of the Almera Turbo to help make a positive impact on the lives of people who faced sudden hardship as a result of the ongoing Covid-19 crisis while highlighting the fuel efficient nature of this new compact sedan, ETCM has pledged to donate to a charity organisation RM 1 for every 1 km/l in the average fuel economy result shown on the car's display meter that has been sent in by participants of this charity drive. 
And there is actually something for participants to gain out of this event too, as the 20 highest fuel economy entries will be taking home a Nissan GT-R NISMO Lego set. The subsequent 30 best results meanwhile will receive a special edition Nissan Duffle Bag, while the warm feeling of helping others in need on the other hand is of course a reward that all participants will receive by participating in this event.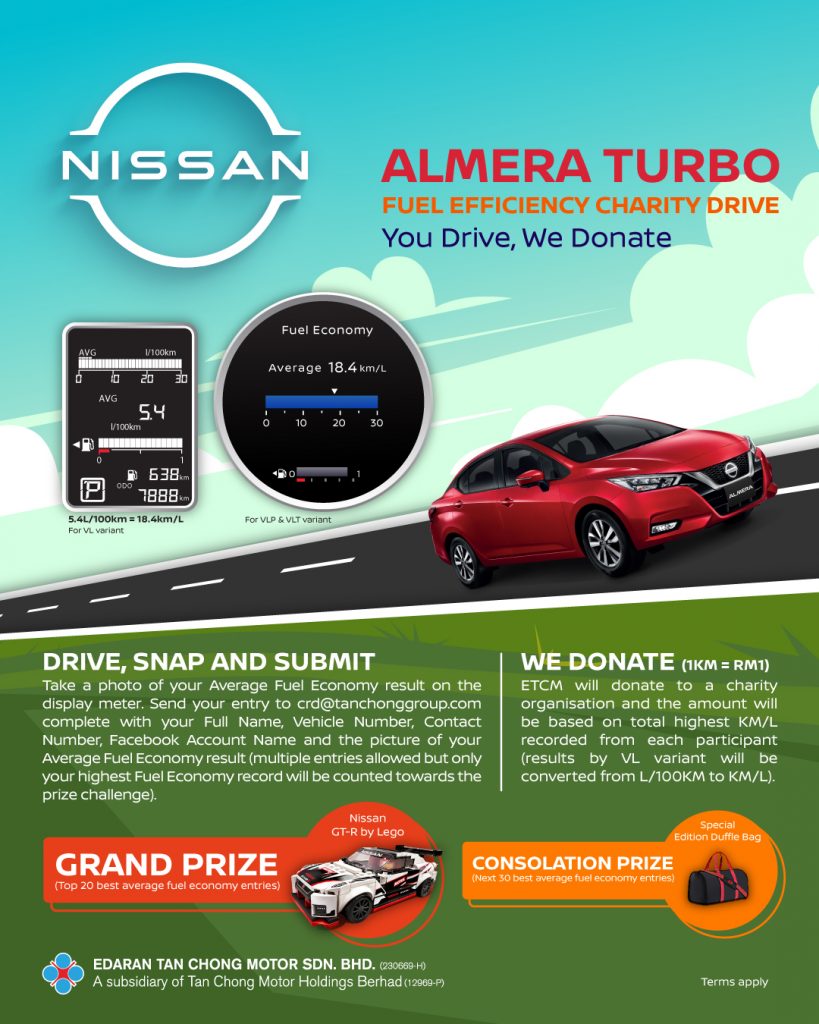 Now as for how to join this event, all it takes is 3 simple steps: 
Take a photo of your Average Fuel Economy result from the Almera Turbo's display meter
Email your entry with Full Name, Vehicle Number, Contact Number, Facebook Account Name and Average Fuel Economy result picture to [email protected]

 

ETCM will donate 1 km = RM 1 to selected charitable organisations and the amount will be based on total highest KM/L recorded from each participant (results by VL variant will be converted from l/100 km to km/l)
Participants are allowed to submit multiple entries, but only the highest fuel economy result will be counted for both prize challenge and donation). This campaign will be running from the 1st to 30th September 2021, with the updated results being shared on the Nissan Malaysia Facebook page.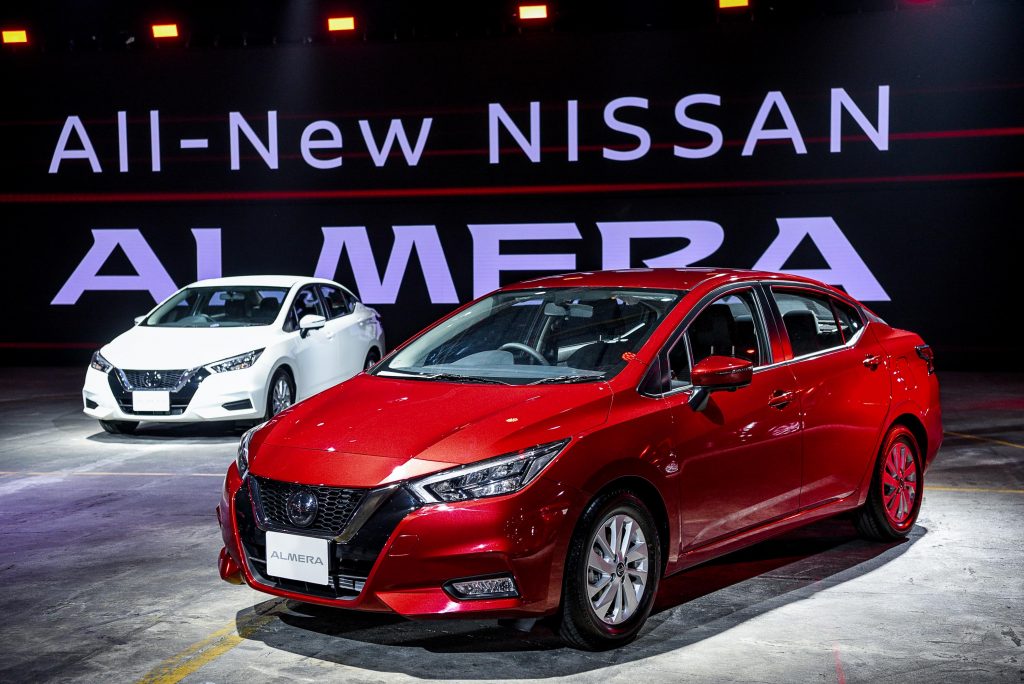 The Nissan Almera Turbo has been officially claimed to achieve a mightily impressive 18.4 km/l (aka 5.4 l/100 km) courtesy of its fuel-efficient 1.0-litre turbocharged three-cylinder and XTronic CVT powertrain package. Though there are nevertheless some more ways in order to stretch that figure further, with just a few lightning fuel-saving tips listed below: 
Remove all excess weight from your car. Every extra kilo of unwanted heft means more that fuel is being burnt to lug all that weight around.

 

Check your vehicle's tyre pressure and ensure that they properly inflated. Under-inflated tyres have a larger surface area in contact with the road, which hence increases drag as well as the fuel bills.

 

Service your car regularly. A healthy engine is also a fuel-efficient one.

 

Drive as smoothly and as slowly as possible. A light right foot and minimal time on the brakes will perhaps have the biggest positive impact in the resulting fuel efficiency figure.