Automotive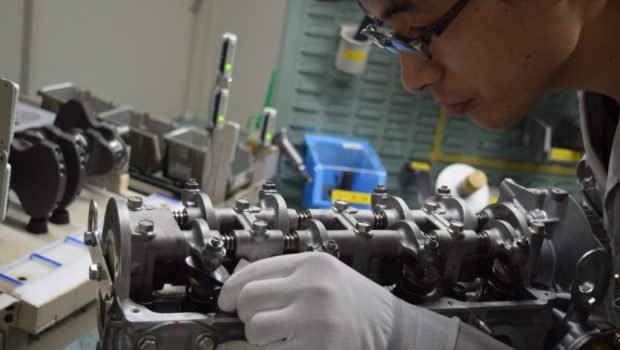 Published on May 20th, 2020 | by Hammer
0
Mazda Miyoshi still makes some engines by hand, like AMG
The production is not as large as AMG and they are not running a large operation, but still, Mazda has these highly skilled engineers putting together engines for select customers and for restored classic cars.
You probably never heard of Mazda having a factory where engines are 'made by hand' till today. Unlike the performance engines that come from AMG, this is a factory where a handful of skilled dedicated engineers rebuild classic Mazda engines and also produce engine parts for small volume Mazda vehicles. Very select Mazda owners from around the world have been using their services and we would like to visit this factory one day to see the kind of work being done and the engines being rebuilt.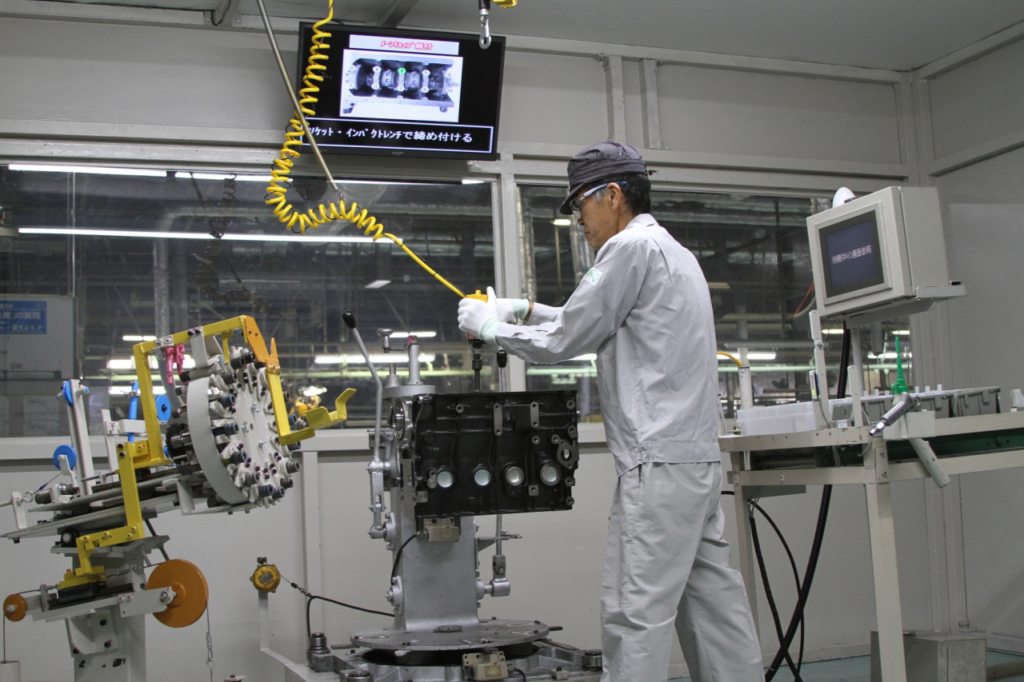 PRESS RELEASE: Keeping yesteryear's cars and trucks on the road, the Mazda's Miyoshi Proving Grounds plays home to a little-known factory that's tasked with preserving the past. Staffed by just a dozen workers, the factory in the Japanese countryside proves much more important than its modest size would suggest.
Initially established in 1974 as an engine plant dedicated to building diesel engines, the Miyoshi plant is tucked away in a lush region just over 40 miles north of Mazda Japan's headquarters.
Today, the factory is used to produce engines in small volumes. The factory's mechanics see the engine production process from the very first step to the very last: They manufacture the parts, assemble them, and then pack and ship the engine and repair parts to customers all over the world.
The plant produces engine parts mostly for older model cars, such as the first generations of the MX-5 Miata and MPV minivan. Much older models, like the Titan commercial truck sold more than 30 years ago, are also supported by engine parts the Miyoshi plant makes.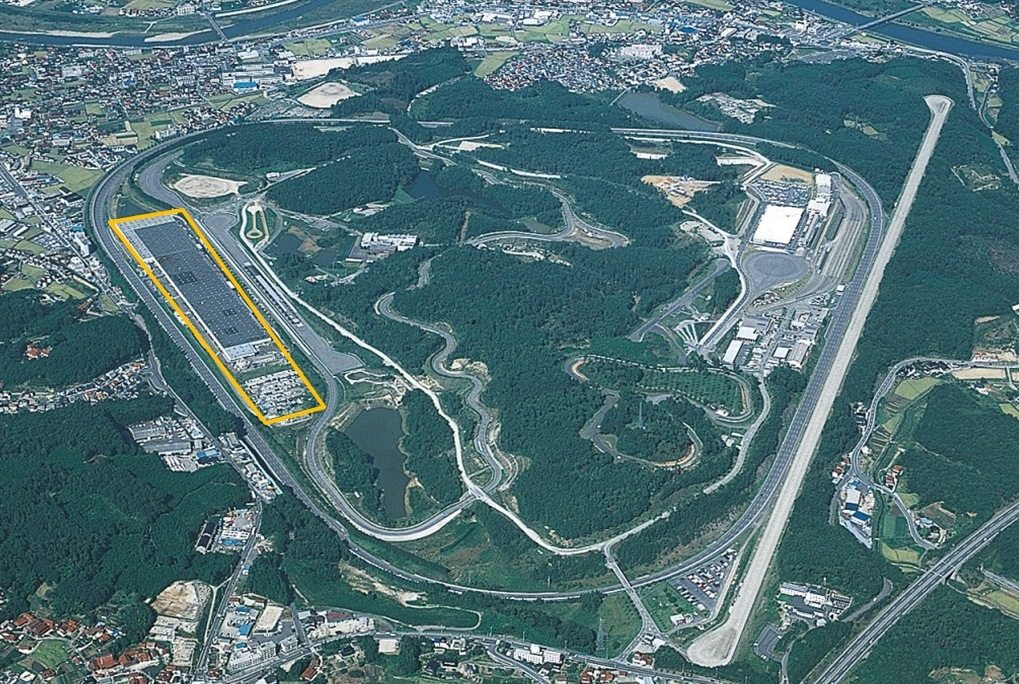 OLD PARTS, NEW LIFE
Most of the production lines in the Miyoshi plant are second-hand, transferred from the Hiroshima engine plant. Miyoshi keeps these old production lines in operation to support customers who enjoy driving Mazda cars for as long as they possibly can.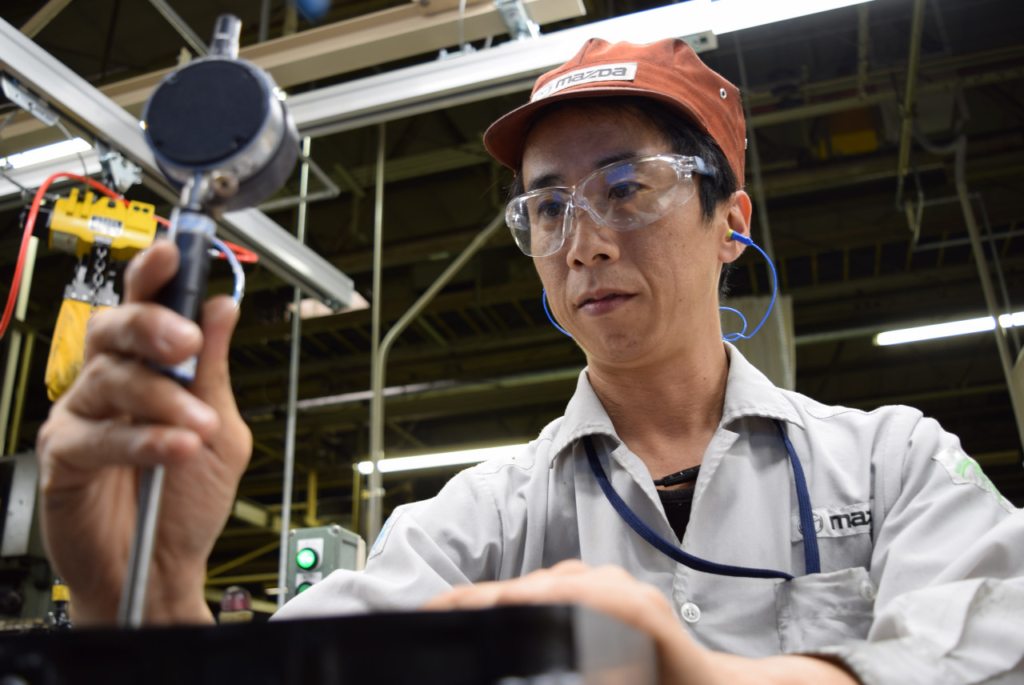 Miyoshi is very particular about quality. The manufacturing lines may be old and production volumes may be negligible, but the plant aims to deliver high quality nonetheless. It's like retirement when a production line gets transferred to Miyoshi. At the plant, the line gets revamped for a second life so it can continue to manufacture high-quality engines.
"In my career, I have launched four assembly lines, including new and transferred ones," said Shinji Uenaga, a dedicated machining engine parts expert with 25 years of experience.
The first step in preparing a transferred line for its new life at Miyoshi is cleaning dust and dirt accumulated during its operation in Hiroshima. Then comes a complete checkup. Maintenance workers inspect secondhand lines in detail, confirm the function of each individual part, and spend lots of time restoring the parts until the line is like brand-new.
The old lines' hydraulic control systems require robust maintenance to be able to do precision work, so the hydraulic circuits are overhauled and cleaned before getting a clean bill of health to get to work—not unlike removing a buildup of cholesterol in a person's arteries to increase blood circulation.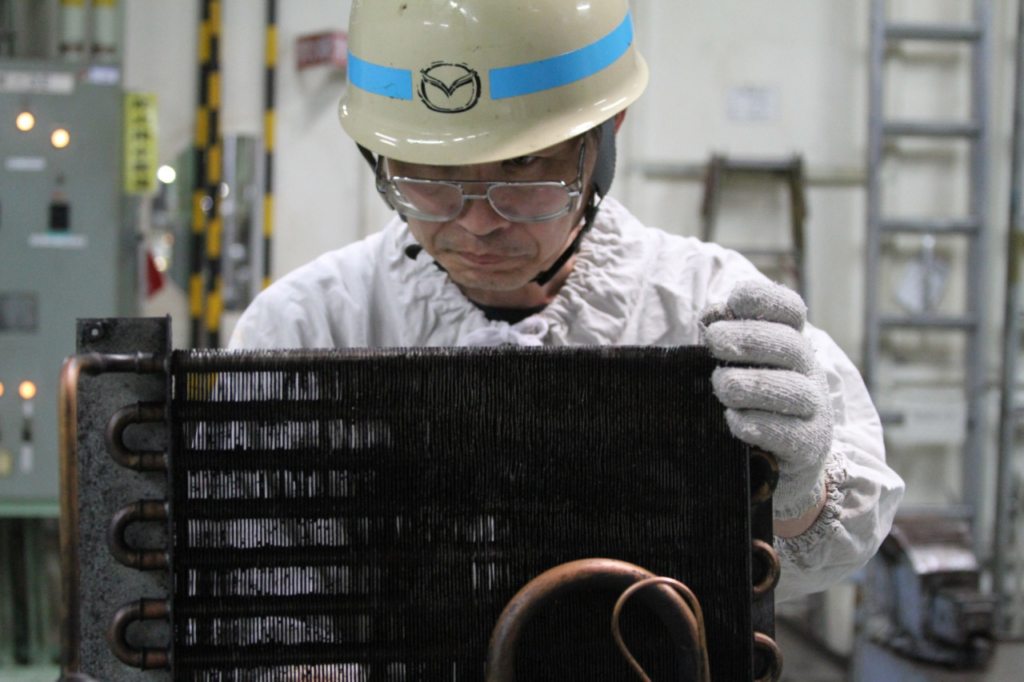 After the equipment is refreshed, the machine is reprogrammed from scratch. And then the painstaking quality check begins. Equipment precision levels are inspected in every process of the line, before the line is approved to start the real work.
BUILT BY HAND
Hisao Takahashi, one of the highly skilled workers in engine assembly, discusses what is special about the engine assembly at the Miyoshi plant.
"There are two features in engine assembly at Miyoshi," he said. "First, most of the parts assembly work is done manually here. In general, in state-of-the-art plants, the parts installation and tightening are mostly automated. But, at Miyoshi, the job is done by hand. We have 12 highly seasoned workers who assemble engines one by one, by hand."
"Secondly, we employ a cellular manufacturing system. When you think of engine production, you may think of an assembly line where many workers are assigned and assemble products that are carried by conveyor belt. In cellular manufacturing, one worker assembles one engine, doing all the assembly work from the start to completion by himself."
MAZDA ENGINES
A Miyoshi employee might spend two hours to assembling about 400 parts to build one unit of an engine—work that isn't possible without great experience and skill. To best utilize the unique expertise of everyone working at the Miyoshi plant, they've deployed a work navigation system that integrates each employee's skills and know-how, adding instructions and information for relevant assembly processes. This data is made available for everyone, creating an easy way to share information and improve the quality of everyone's work.
"It's not that we build engines for super cars in a tiny volume," Takahashi said. "Still, workers exert skills they have mastered, and take charge of the assembly of the engine they are assigned to from start to end. The worker confirms the quality on his own, and gives assurance to the customer for his or her precious engine. The job requires strong concentration and commitment, but also brings a sense of accomplishment."
WHAT MATTERS MOST
Mr. Yuji Suga, who's in charge of machining of engine parts, and Mr. Tatsuhiro Maeuchi, who assembles engines, have the following to say.
"All the plant members are born in northern area of Hiroshima, like Miyoshi and Shobara city. It makes us feel like a family; everyone knows everyone well. We think we have the strongest love for the plant among all the Mazda sites. All the members here are driven to produce products at a level we can be proud of. We express it by saying, 'Made in Miyoshi.' We always target to hit the central value in the specification standard range for machining accuracy. For the engine assembly, we make efforts every single day to elevate the level of work to keep high quality in a stable manner. We never compromise and stick at it until we feel confident enough to say, 'this work will cause no problem.' I want people to know about the work we do in Miyoshi."