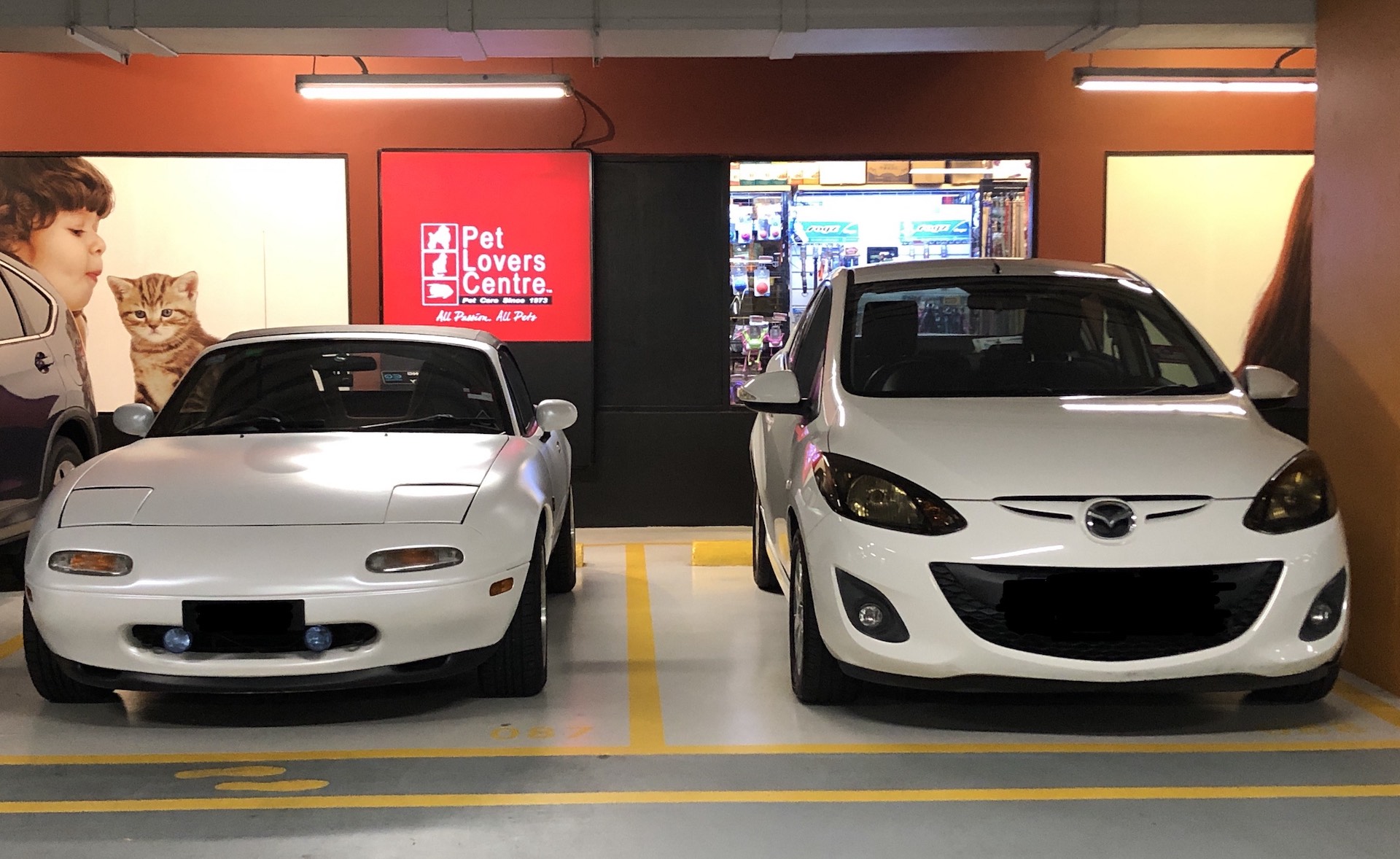 Here are two very different Mazda cars, one is the modern classic 1989-1995 Mazda MX5 and the other is the recent Mazda premium compact car the Mazda2 which was launched in 2011-2015.
The 1989 MX5 is worth anywhere between RM50,000 to RM75,000 today depending on its condition and mileage. The 2011 Mazda2 sedan or hatchback was a 1.5L car sold brand new at a price of RM82,000 plus and was fully imported from Japan. It came with good safety features, a multi-function steering wheel and a very European driving feel.
Also known as the Demio in Japan, this compact Mazda was built for a global market and its selling price was high when new and today its is worth anywhere between RM18,000 and RM25,000 for the 2011 to 2013 model. Most first owners would have used it as a daily commuter car and maintenance would have been carried out under warranty at Bermaz and then probably at an independent workshop as most Mazda2 owners are not racers or tarmac racers. Buying the right used unit could mean sensible ownership for the next few years.
But if you need some excitement in your daily commute and don't need space for 3 passengers and lots of luggage then a used 1989-1995 Mazda MX-5 should be considered. Already a modern classic and with limited numbers in the country, this is a car that is rising in used value year after year.
Part of the Mazda MX-5 ownership appeal is the low running costs as running mechanical parts are relatively easy to source and priced easy on the pocket. The really pricey parts are its brake pads and suspension system. The best appeal of this Mazda roadster is its easy soft-top operation which can be executed with an easy two latch system from the edges of the front windscreen. No expensive mechanicals or motors.
Yes, the Mazda2 is more than half the asking price of the roadster and finding a used roadster for sale at a decent price is not easy. But the Mazda2 will deliver family friendly commuter driving at a very low entry point and its depreciation of RM60,000 plus over 7-8 years leaves very little more to be lost.
The MX-5 roadster can and will only appreciate in value and the fun never stops. The choice is yours and with the Mazda2 you can buy one now and with the roadster you will to be patient.