Automotive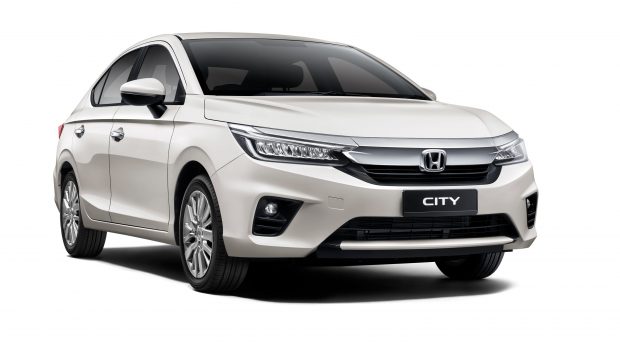 Published on November 19th, 2020 | by Joshua Chin
0
All New Honda City Receives 9,000 Bookings To Date
The latest generation City looks to be another smash hit for Honda Malaysia. 
Despite these turbulent economic times, it would seem that many people are still in the market for a new car as Honda has just announced that close to 9,000 bookings have been received to date for its latest City compact sedan. 
Officially launched over a month ago, these healthy booking numbers for the new City is a good indication that it will yet be another sales success for the Japanese automaker locally. Honda has announced that of the high number of bookings made to date, a staggering plurality originate from the Central region of Malaysia, which account for 44% of total bookings. The Northern and Southern region meanwhile account for 22% and 19% respectively, with the remaining 15% of City bookings appearing to come from East Malaysia.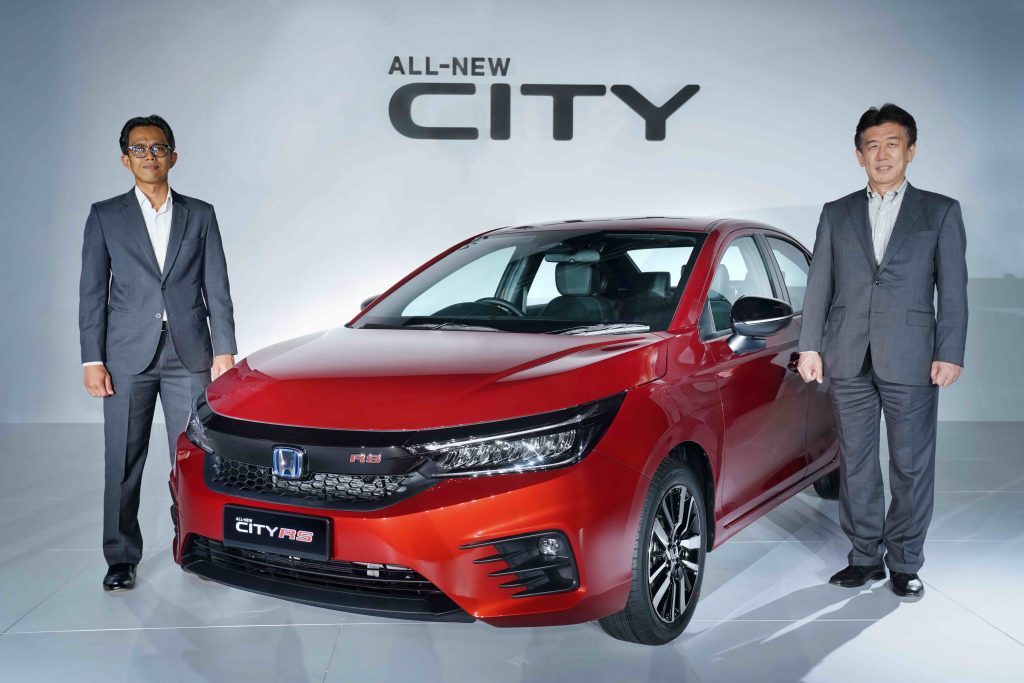 What is perhaps more surprising about these booking figures released by the manufacturer however is that of the 9,000 customers who have placed their names down on the City's order books, 54% of them went for the V variant, which is currently the highest-spec City to date, until the City RS is launched early next year that is.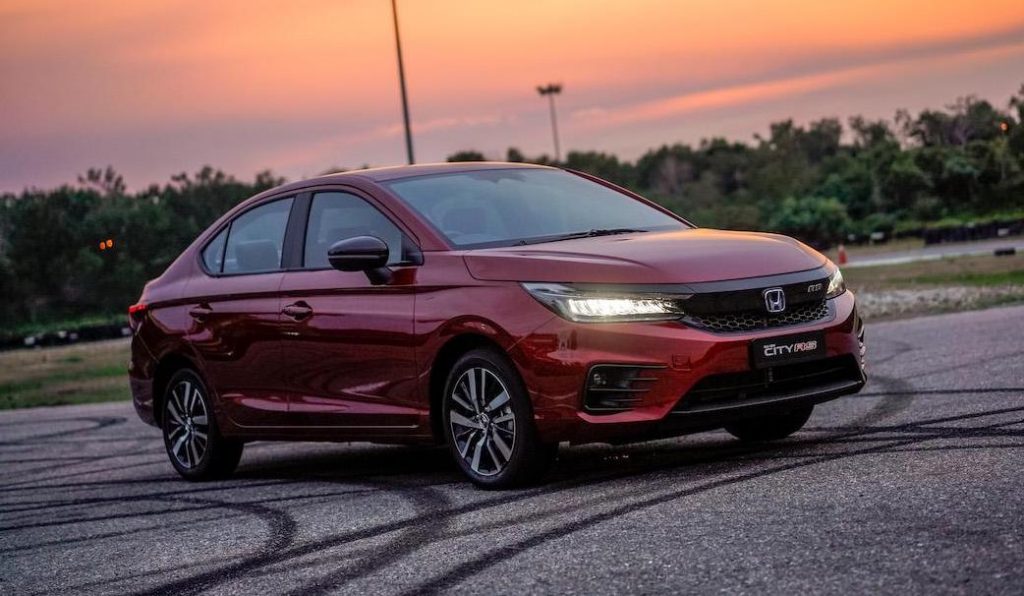 Interestingly too is the fact that the most popular colour among these early bookings is the Platinum White Pearl, with over 28% of new City bookings chosen in that colour. These two aforementioned facts therefor leads to the simple conclusion that Malaysians don't mind paying for the luxury, but still insist on going for conventional and sedate colours. Presumably for the all-important resale value I suppose. 
Honda has proudly announced that over 2,400 units of these brand new models already being delivered to customers nationwide, with plenty more steadily being rolled out to customers from its Melaka in the near future. So look forward to seeing more of these sharp new compact sedans on Malaysian roads pretty soon.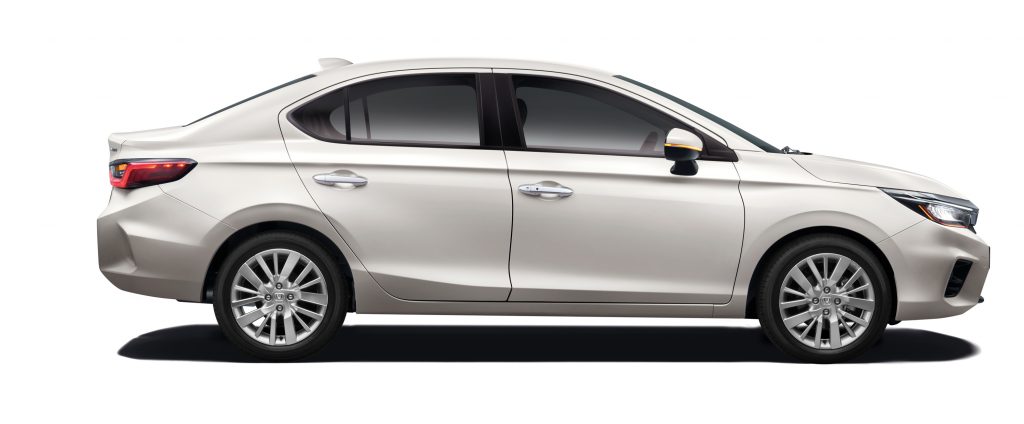 PRESS RELEASE: Honda Malaysia (or the Company) today announced that the 5th Generation All-New City which was launched just a month ago has recorded close to 9,000 bookings to-date. Amongst the three variants launched, the V variant emerged as the most popular variant capturing 54% of total bookings received. Since its launch, the All-New City received high demand from customers in the Central region, which contributed the highest number of bookings at 44% of the total bookings, followed by Northern region at 22% and Southern region at 19% respectively. In terms of colour, the Platinum White Pearl colour appears to be the favourite among customers, representing 28% of the overall sales for the All-New City. To-date, more than 2,400 units of the All-New City have been delivered to customers nationwide.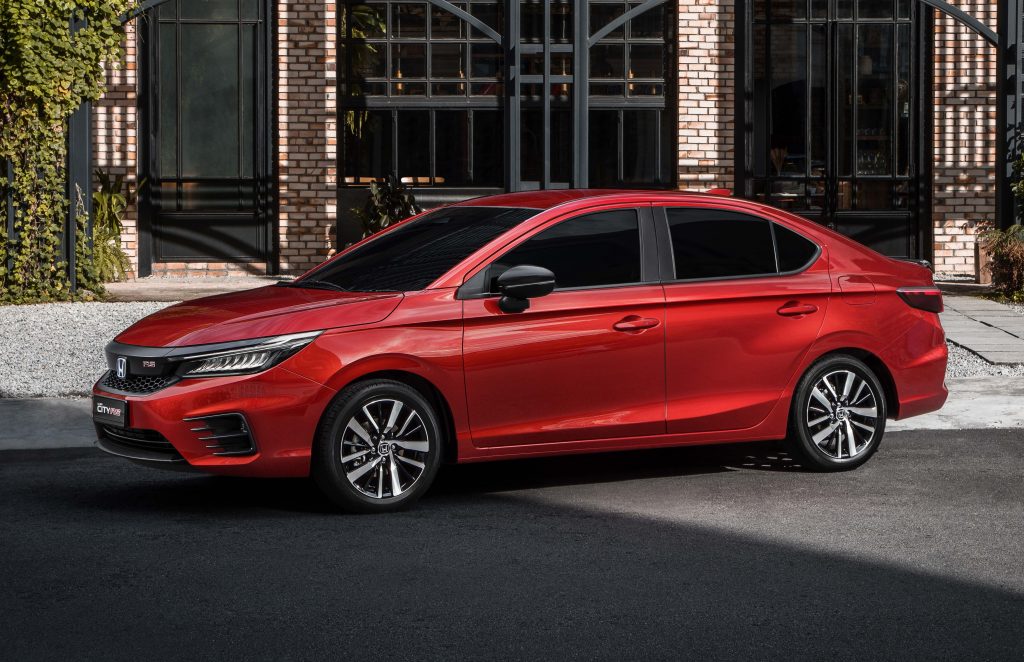 Honda Malaysia Managing Director and Chief Executive Officer, Mr. Toichi Ishiyama said,
"The 5th Generation All-New City is very well received in the market and the bookings has increased by an additional 80% within a month of its official launch. This outstanding Honda model continues to capture the hearts of Malaysians be it working adults, young executives or young families. We are very grateful to have received positive feedback from Honda customers and we would like to thank our customers for their continuous support. Many customers also took the opportunity to purchase their new car during the sales tax exemption period. The attractive pricing of the All-New City in addition to the advanced features are plus points which resulted in the encouraging bookings received. As we are still undergoing Conditional Movement Control Order (CMCO) period, our nationwide dealerships remain compliant with all necessary guidelines and Standard Operating Procedure (SOP) set by the Government which was put in place since we started operations in May 2020 to ensure the safety of our customers and Honda associates. Customers who are interested to test drive may visit their nearest Honda authorised dealerships to do so."
The outstanding All-New City was designed to project ambition and confidence. The design is further complemented with features such as New LED Headlights with LED Daytime Running Lights (DRL), New LED Fog Lights and New LED Taillights which has given the V variant its top spot in terms of popularity amongst the three variants of the All-New City. To top it off, the V variant also comes with 16-inch Alloy Wheels to add to the stylish appearance.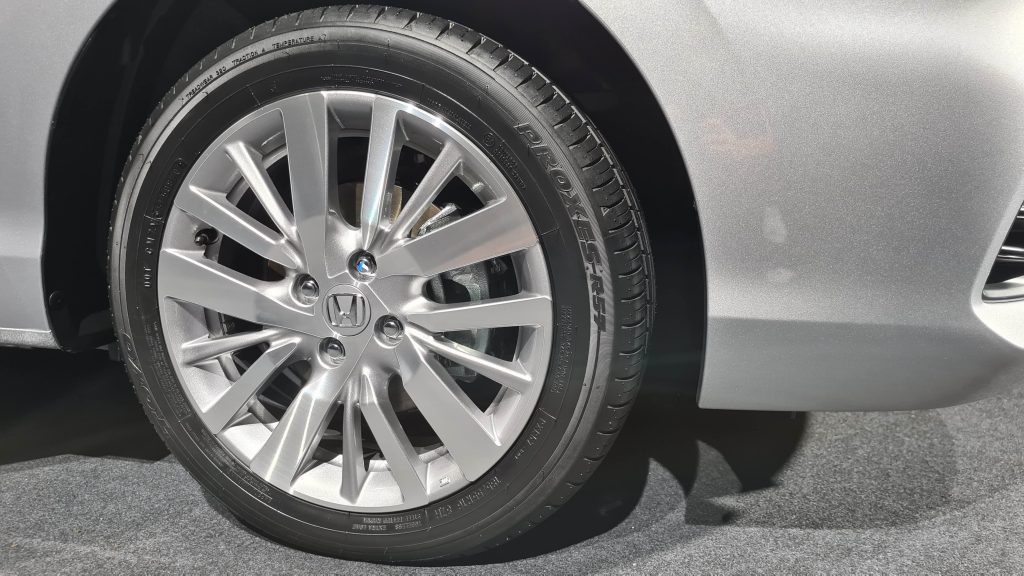 The All-New City is offered in four variants, the RS e:HEV, V, E and S. The Petrol variants (V, E and S) are powered by the new 1.5L DOHC i-VTEC powertrain which provides an ideal balance of performance and fuel efficiency. Coupled with Continuous Variable Transmission (CVT), this new powertrain is able to produce up to 121PS, which is the highest in its class and a maximum torque of 145Nm. Meanwhile, the RS e:HEV variant will be powered by an intelligent Multi-Mode Drive (i-MMD) powertrain. The i-MMD powertrain is revolutionary as it is able to deliver 109PS and a best-in-class high torque of 253Nm. The All-New City (V and E variants) is also equipped with Paddle Shifts for a fun and exciting driving experience and first in segment advanced Remote Engine Start feature.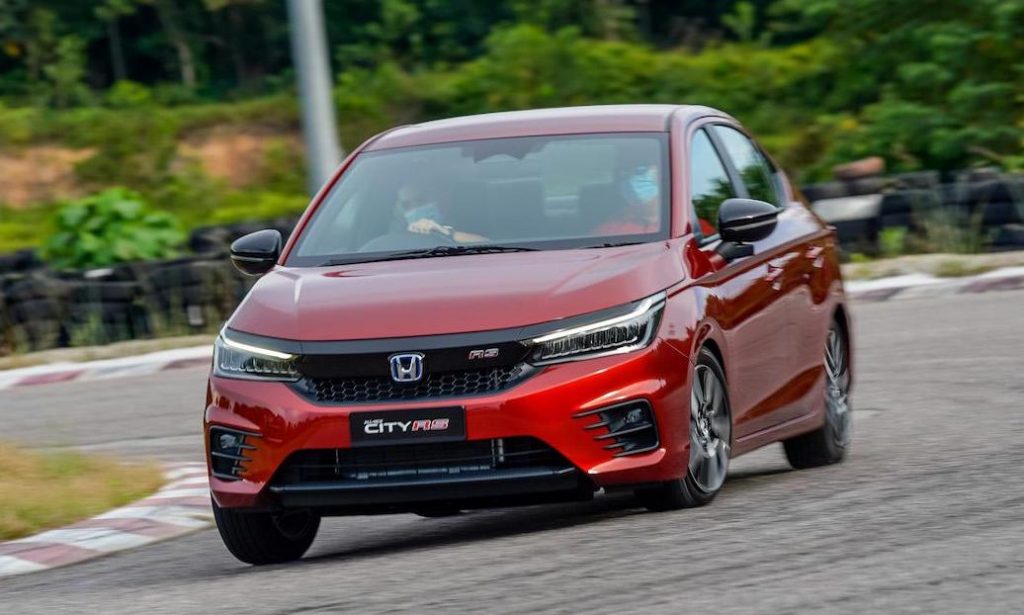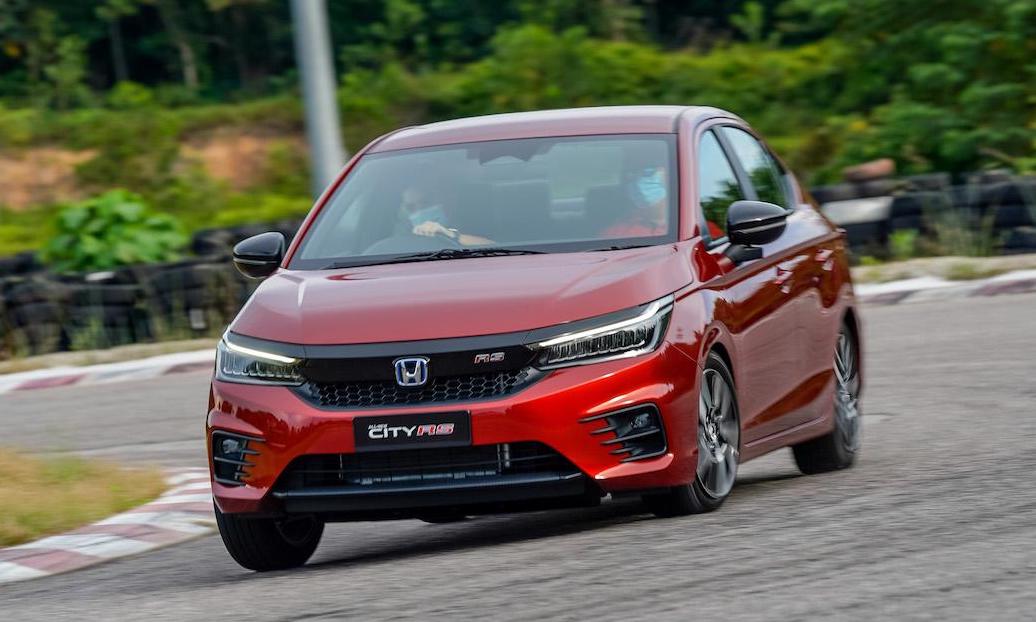 In terms of cabin space, passenger legroom has been expanded and Rear Air Conditioning Ventilation now comes standard across all variants for added comfort. The interior styling of the All-New City emphasizes high-quality textures and functional approach, trimmed with Leather Seats and Ivory highlights at inner areas. Additionally, the V and E variants are also available with an 8-inch Display Audio with Apple CarPlay and Android Auto Connectivity.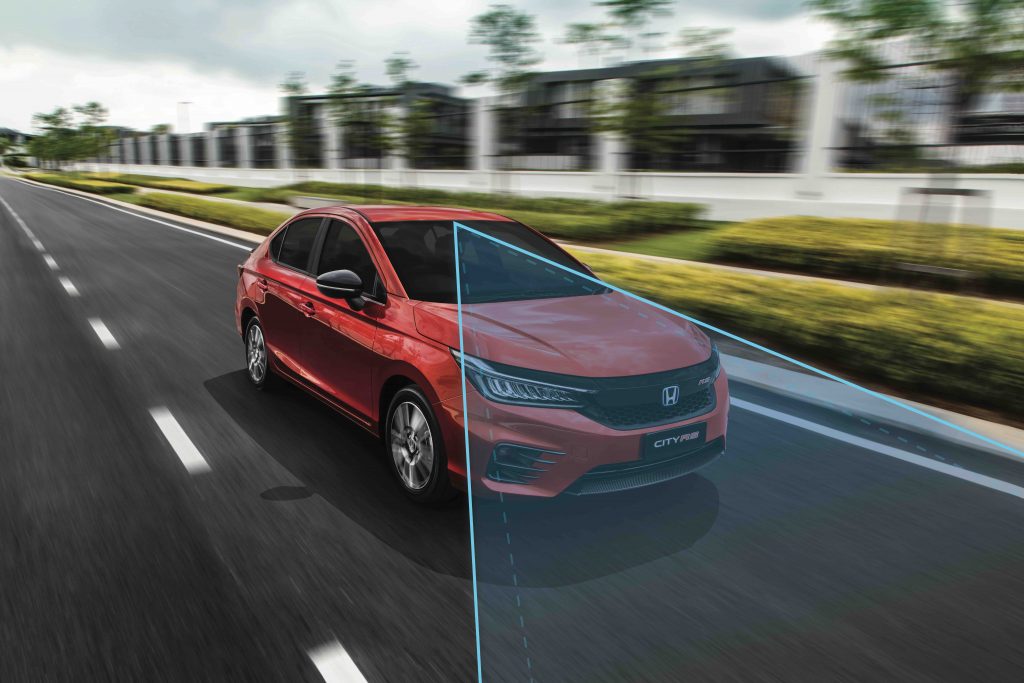 In terms of safety, the V variant is equipped with Six Airbags and Honda LaneWatch. Other standard safety features include Vehicle Stability Assist (VSA), Anti-lock Braking System (ABS), Electronic Brake Distribution (EBD), Brake Assist (BA), Emergency Stop Signal (ESS), Hill Start Assist (HSA), Rear Seat ISOFIX I-SIZE Type and New Rear Seatbelt Reminder. Meanwhile, Reverse Sensors with Multi-angle Reverse Camera are also offered in V and E variants.