Motorsports
Trending
GR Vios Sprint Cup
The Vios Sprint race delivered as promised at Sepang over the weekend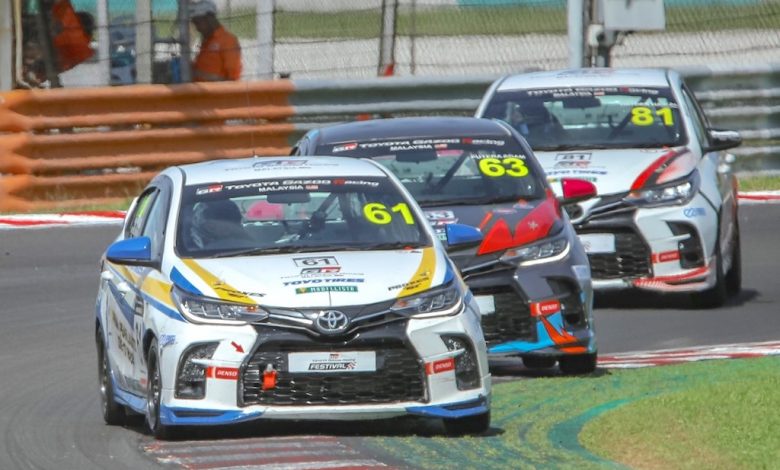 Race 2 of the GAZOO Racing Vios Sprint Cup at the Sepang International Circuit came down to a nail-biting finish with no less than 4 contenders vying for the top three podium positions and with the lead exchanging hands several times with five laps to the chequered flag.
The one-hour race also began in dramatic fashion. With up to five cars abreast on the main straight, an incident heading into the very first corner of the race saw Kulim Top Wheel's Foo Yung Chieh being sent into the barrier which brought out the safety car for two laps.
At the restart, Axle Sports' Timothy Yeo retained the lead from pole position for 6 laps before conceding the lead to Prima Pearl TD Racing's Mitchell Cheah, with Laser Motor Racing's Jwan Hii in third position.
Yeo was also the first to pit for a mandatory driver and tyre change, and with team mate Hayden Haikal taking on the next stint, the team rejoined in 11th position but still with the advantage of already having stopped.
Cheah meanwhile, stayed out for an extra 5 laps before making his pit-stop to allow Mika Hamiki to get into the driver's seat. His stop gave the opportunity for Laser Motor Racing's Putera Adam to inherit the lead, just barely ahead of a charging Hayden, with a second Axle Sports' car led by Inigo Anton in third.
But just as we thought the race would be decided by these three contenders, Mika caught everyone by surprise by exiting the pit ahead of the three-fighting contenders to retake the lead in the race.
With five laps remaining, everything however changed, with Hayden catapulting himself ahead of Putera Adam for second place and then Mika for the lead. He went on to win by a margin of 1.5 seconds. And in a final corner scramble for the remaining two top podium positions, Inigo emerged
the beneficiary of second spot ahead as Putera Adam and Mika battled into the last corner. Putera Adam eventually crossed the finish line in third place with Mika having to settle for fourth position.
"It was an incredibly intense race. I saw the carnage occurring behind me and I just took advantage of that to try to build a healthy lead ahead of our scheduled pit-stop," said 26-year-old Yeo who completed only six laps to hand over the reins to Hayden.
"Hayden had a lot more pace than me over the weekend and we decided that he would drive a greater part of the stint."
For 18-year-old Hayden, Race 2's win made up for missing out on the podium in Race 1.
"The strategy to pit early worked in our favour and when I came out of pit lane, I could see Mitchell just ahead of me. That made my task easier instead of having to chase him down for several laps.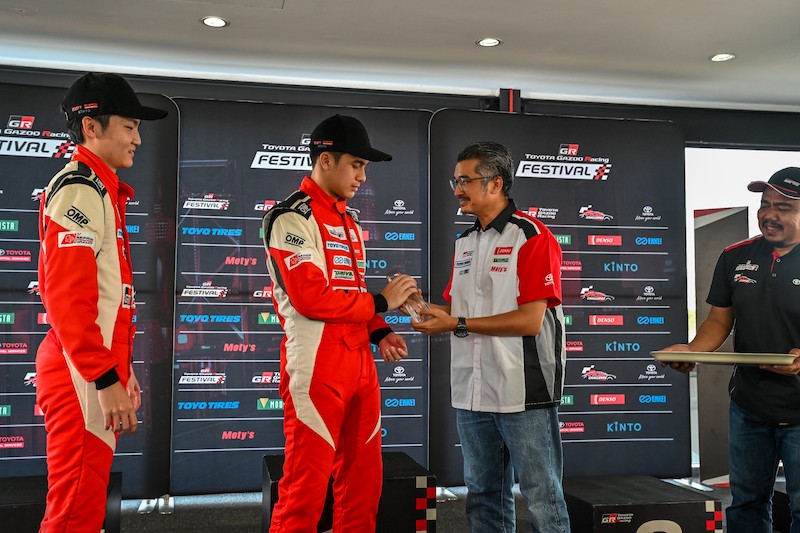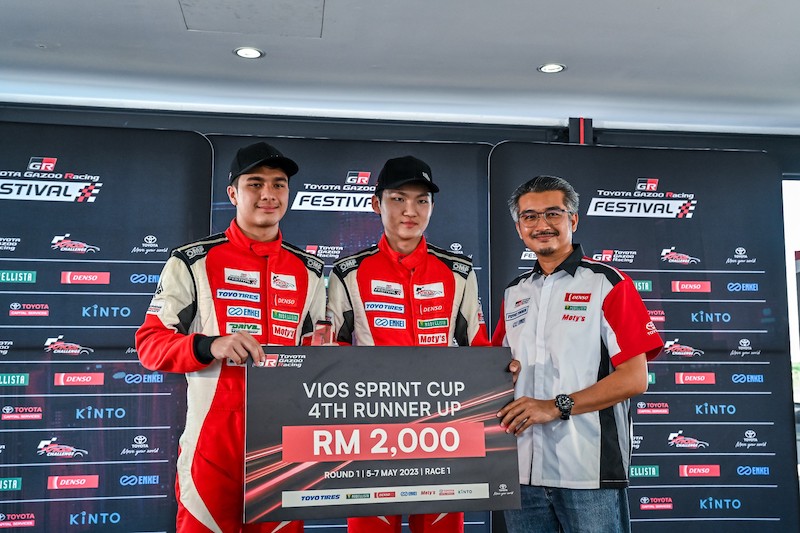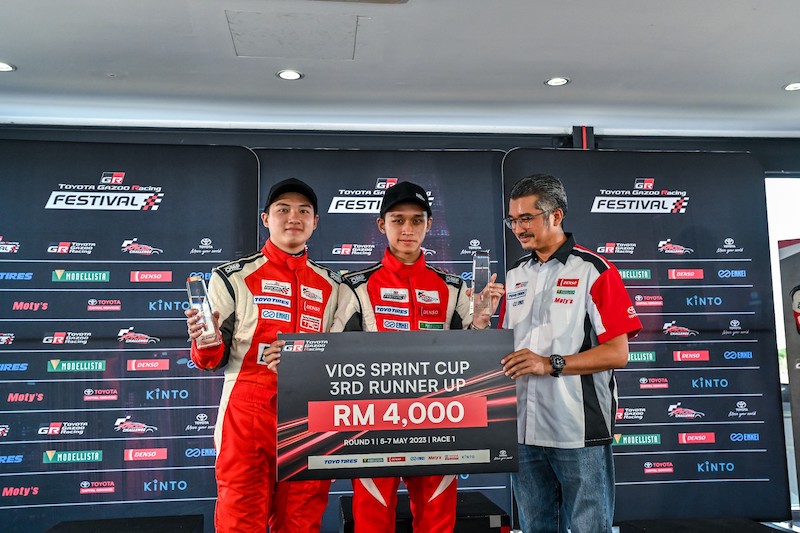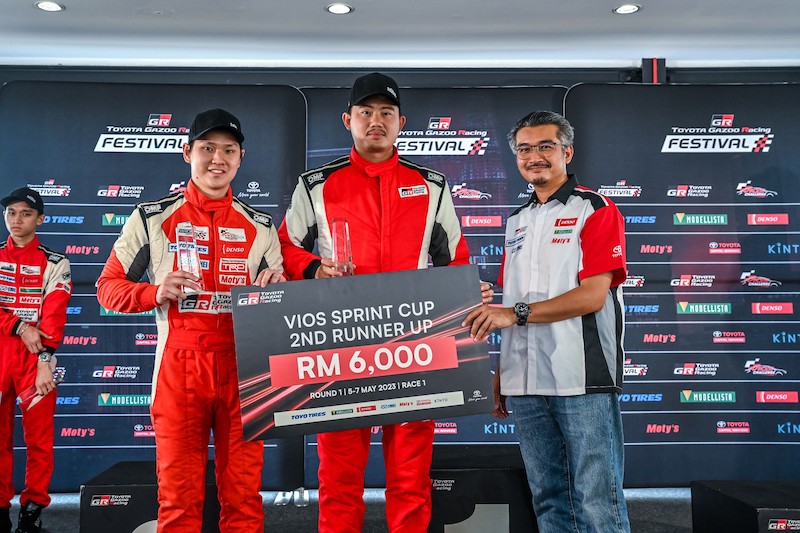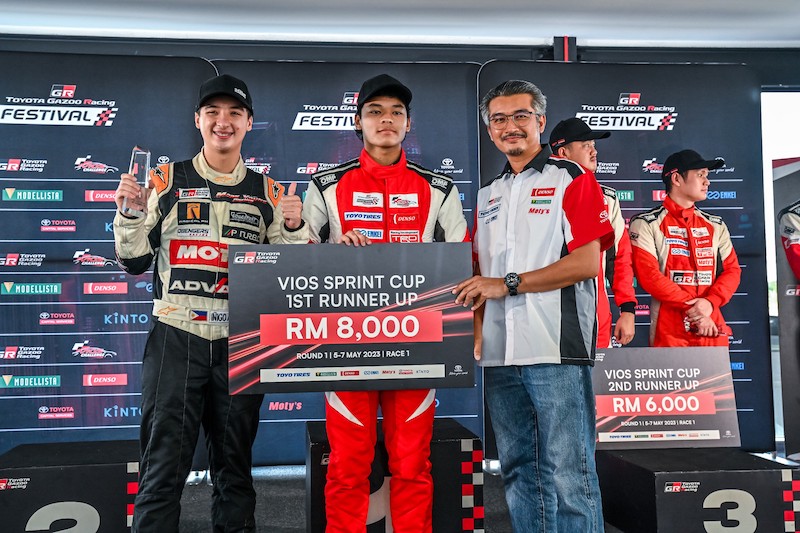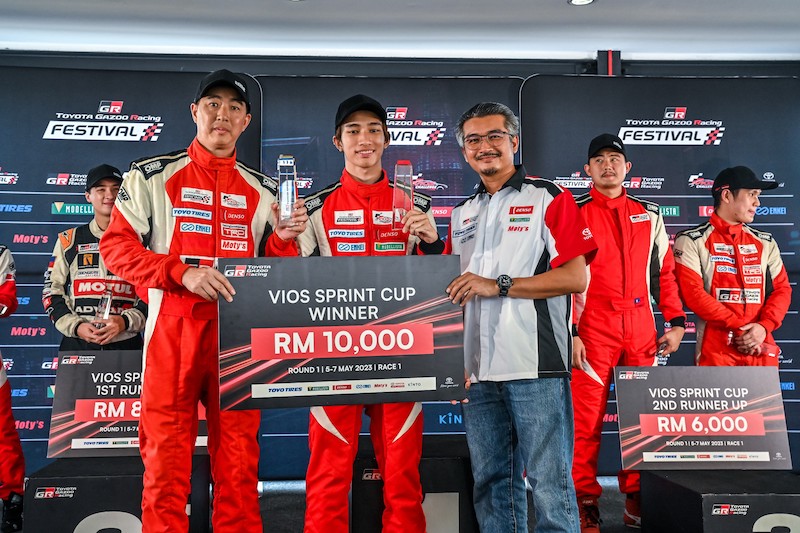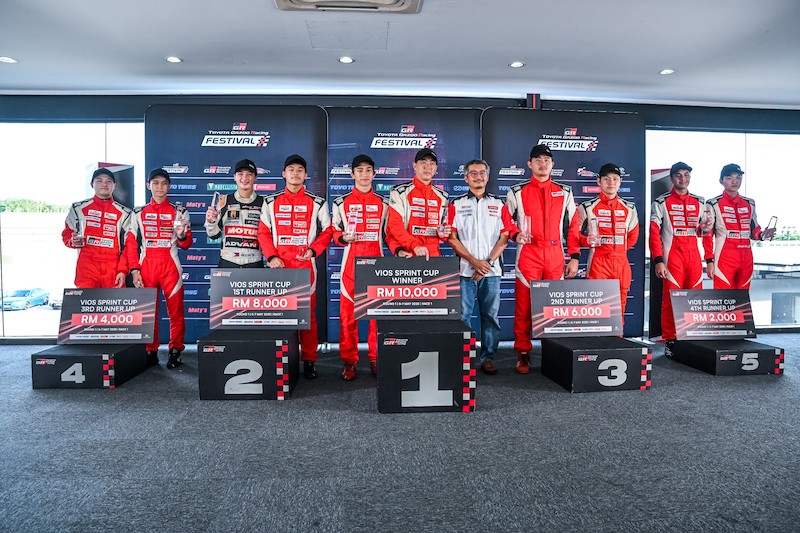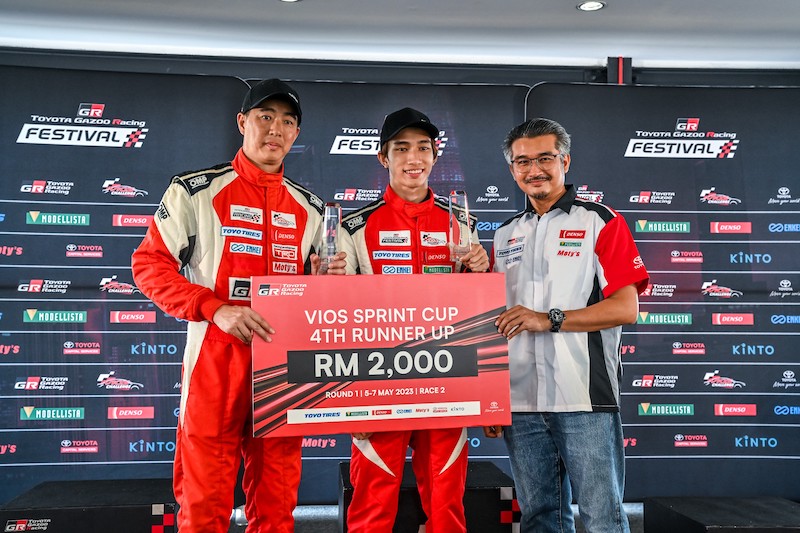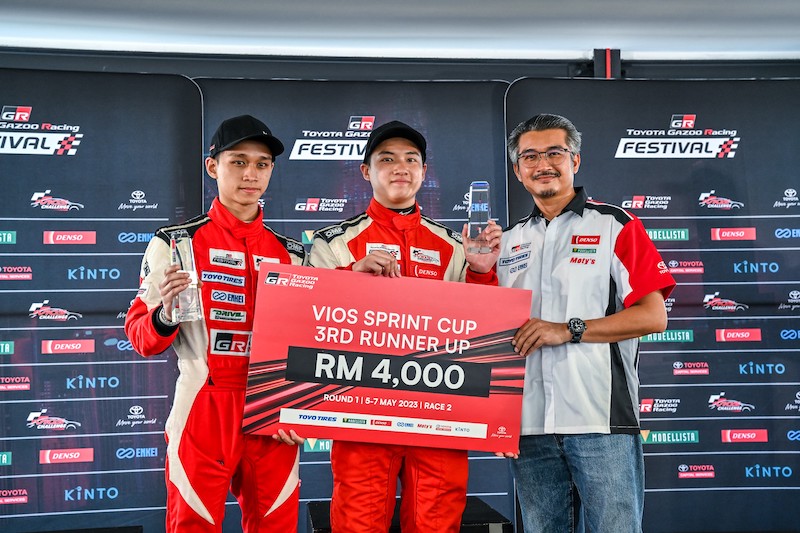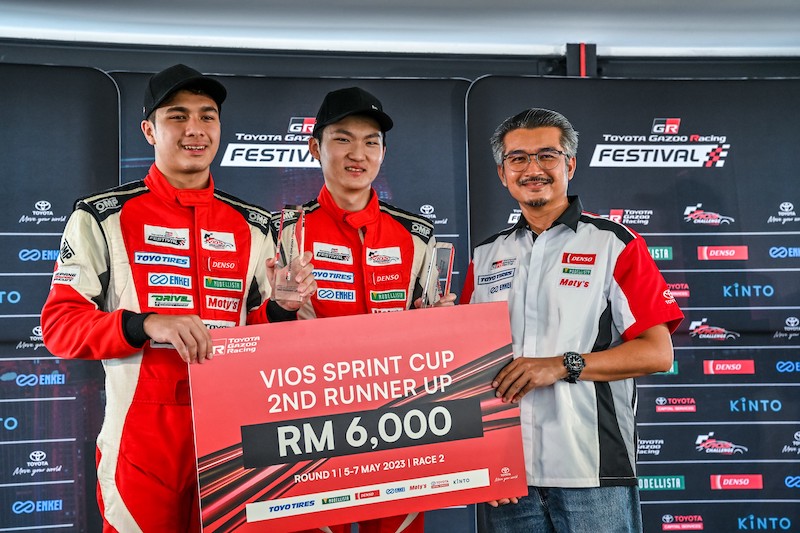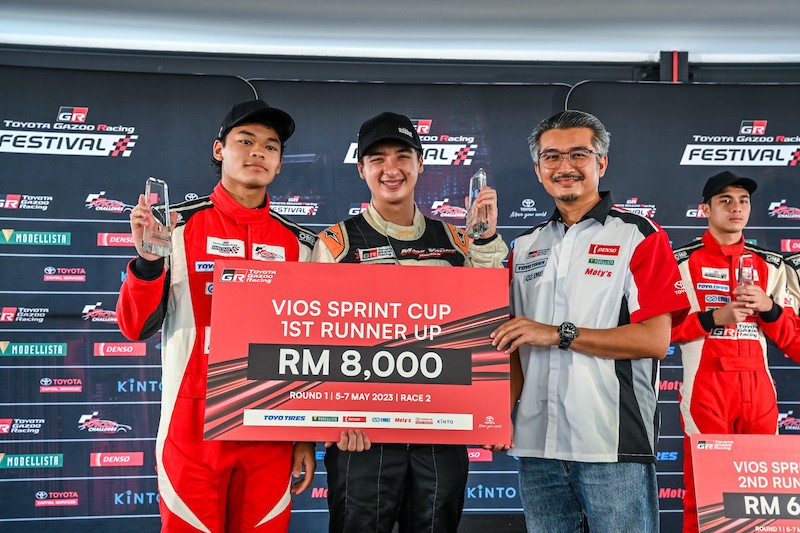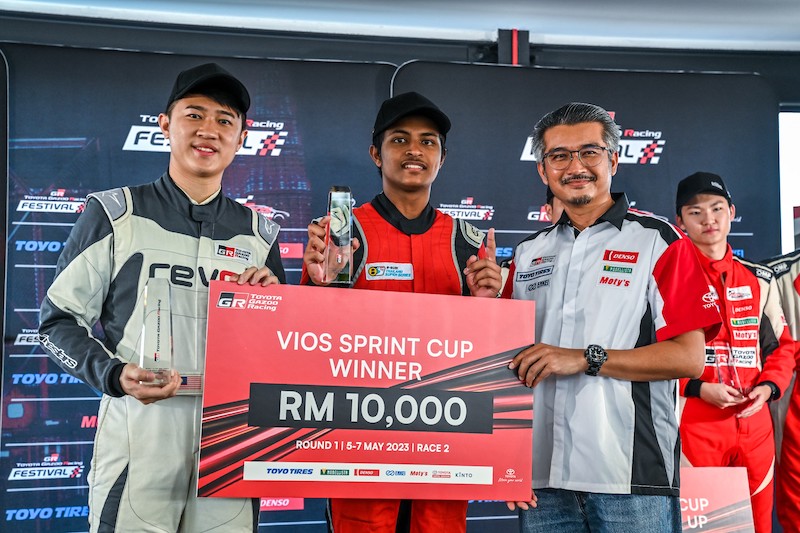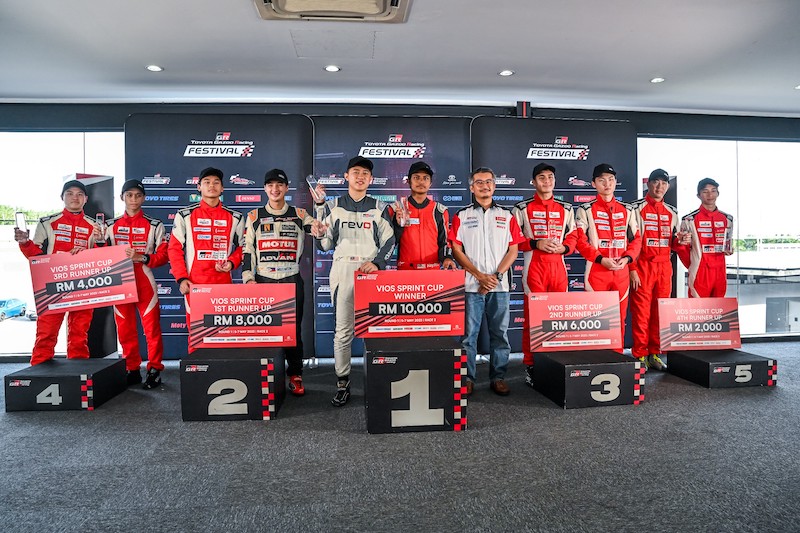 Towards the end of the race, I just had to be patient. I knew I had better pace and after Putera made a slight mistake I seized the opportunity to push ahead," said Hayden who made his way from third to second and subsequently, the lead.
The GR Vios Sprint Cup is a one-make series and with everyone competing in identically-prepared race cars, the emphasis in on race craft, driving skills and experience.
The overall champion in each of the two races at the GR Vios Sprint Cup is awarded RM10,000 cash, followed by RM8,000 for the first runner up, RM6,000 to the third place winner, and RM4,000 and RM2,000 for the fourth and fifth place winners respectively.
With 20 cars and 40 drivers competing, the GR Vios Sprint Cup also saw the participation from a wave of younger drivers, including present and former recruits of the GAZOO Racing Young Talent Development Program. More than half of the field was dominated by not only younger but more assertive drivers.
"The younger drivers are not only getting quicker but they are also very assertive around the track. You can say that it's becoming a lot harder for us older or more experienced drivers," said S&D Tama Motorsport's Tom Goh.
"But this is the evolution of racing and it's great to see a new and more competitive generation of drivers coming up the ranks largely thanks to Toyota's efforts."
The GR Vios Sprint Cup will feature 2 rounds this year with Round 2 scheduled for 23-25 June, also to be held at the Sepang International Circuit. For more information, log on to www.toyota.com.my or UMW Toyota's Facebook page.
RACE 2 RESULTS
HAYDEN HAIKAL/TIMOTHY from YEO AXLE SPORTS
INIGO ANTON/ARIFF AZMI from AXLE SPORTS
PUTERA ADAM/JWAN HII from LASER MOTOR RACING