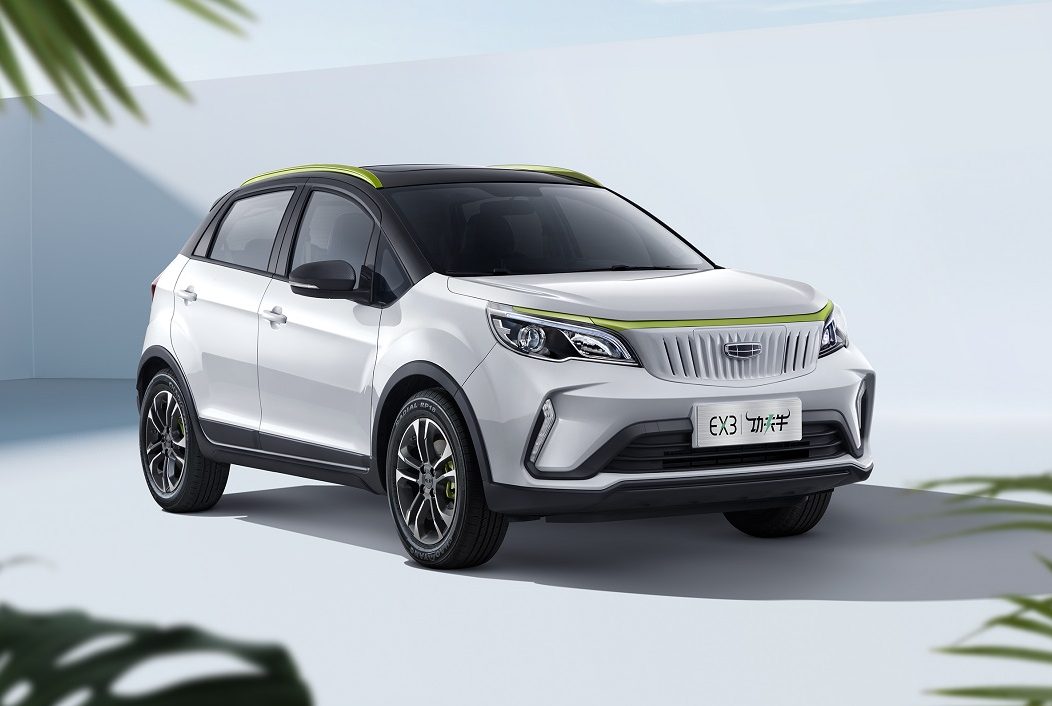 Could this new Geometry EV be arriving locally as a Proton any time soon?
While the Geely Auto Group has been in the news lately with a slate of new high-end electric car launches that rivals the likes of Tesla, the Chinese auto giant has nevertheless also not forgotten about its customer base with more modest means. Hence perhaps the reason why therefore its Geometry sub-brand has recently revealed its new EX3 crossover, which is dubbed to be the conglomerate's 'most affordable EV to date'.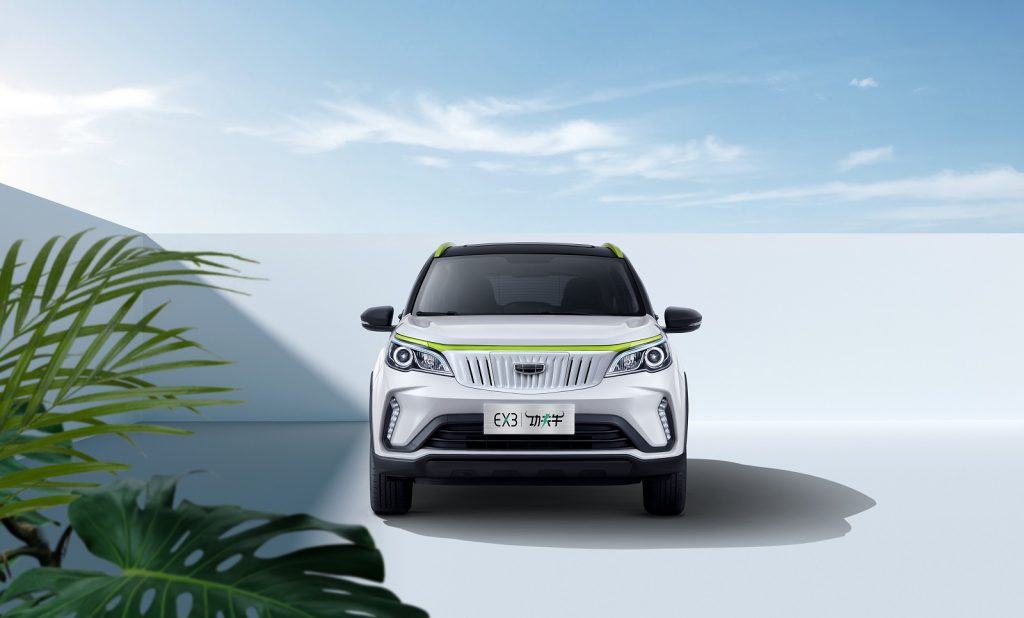 Retailing over in China for just 59,700RMB (RM 39,000), this new EX3 is has been claimed by its maker to be 'one of most affordable five seater EVs' in its home market. Cheap it may be however, but this new Geometry e-SUV does rather surprisingly pack quite a few features that are typically not to be associated with an electric car of this price point. 
Take its powertrain for instance, the EX3's 70 kW electric drive motor that outputs a more-than-reasonable 180 Nm of torque is certainly a pleasant surprise for an EV that costs less than RM 40k. Though perhaps more impressive with this new Geometry in this particular department will be its rather substantial NEDC-claimed range of 322 km on a single charge, which is yielded from its 37.23 kWh battery pack.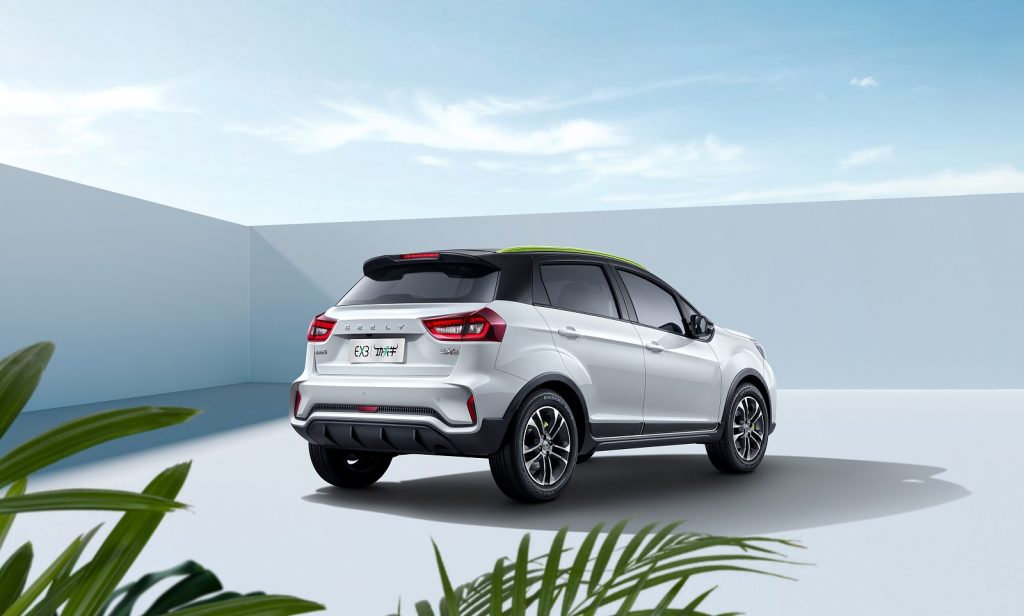 These batteries can also also be topped up rather quickly by way of a high-speed DC charging system, that apparently can be topped up from 0% to 80% in under half an hour. And just to extend its life and maximise its performance in all conditions, these power packs are kept at a chilly 20 ºC through a liquid-cooled temperature control management system. A feature not typically found in cars of this price point. 
Now moving onto the outside of the EX3 and touching first on its dimensions, the 4,005 mm length by 1,760 mm width by 1,575 mm height with a wheelbase of 2,480 mm makes this Geometry to be about the same size as an Ativa. Substantially larger than the Perodua compact crossover however would be the Geometry's cargo capacity of 500 litres (that is about 140 litres larger than the aforementioned Ativa), and can be further expanded to 1,050 litres with rear seats folded down.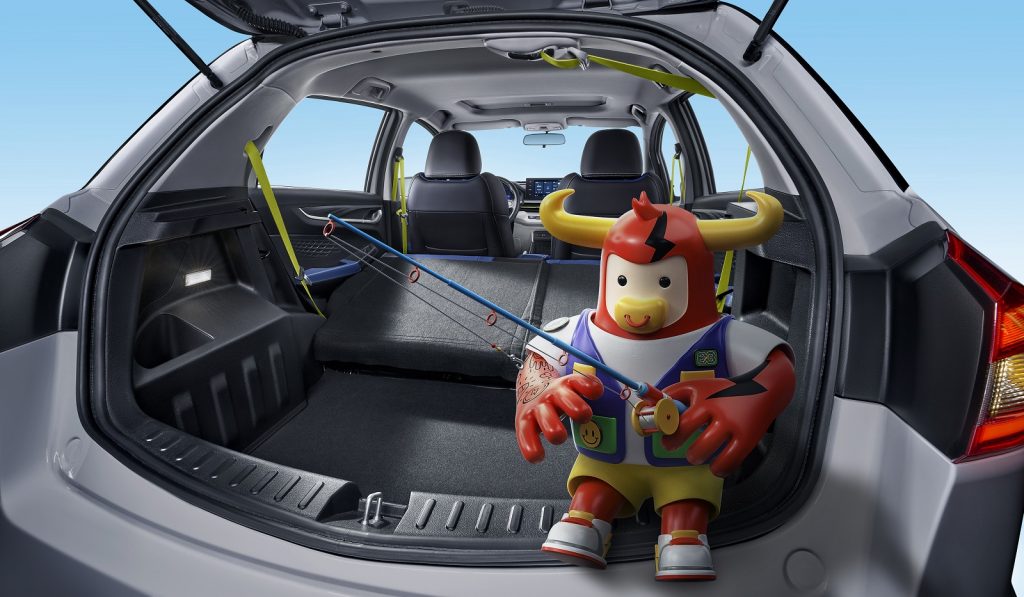 A big boot too isn't the only trick up the EX3's sleeve, as Geometry is also touting for its new e-SUV to come with up to 26 storage compartments within the cockpit to further enhance its practicality. As for gadgets within meanwhile, a 10.25-inch fully digital instrument cluster and an 8-inch floating central infotainment screen connected to Geely's G-link system are among the tech toys found within this compact crossover's funky blue-and-black cabin that is topped with lime green accents.
In continuing on the topic of tech and touching on the safety side of things a bit more, this Geometry comes as standard with twin airbags, ABS + EBD, a Tyre Pressure Monitoring System (TPMS) as well as reversing sensors and cameras. The EX3 also features high-strength steel front and rear anti-collision bars with tensile strength above 590MPA, for added impact protection in the event of an accident.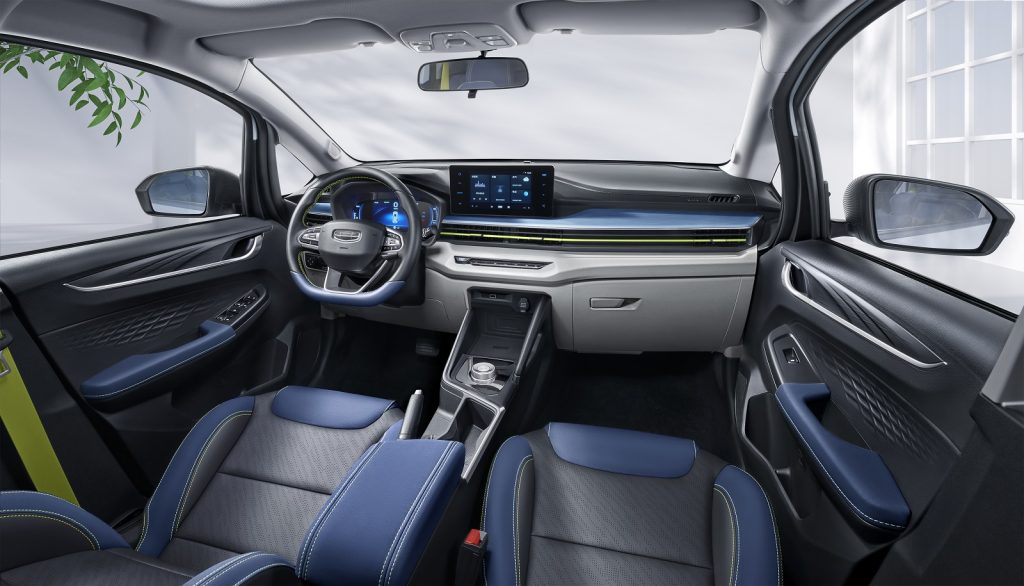 Customers in China can currently already pre-order the EX3 through the Geometry App with a 300RMB (RM 195) deposit, with deliveries expected to begin over the coming months. This Chinese e-SUV is also slated by its makers for the export markets too, which does raise the interesting question as to whether it could perhaps bear a Proton badge over here in the near future(?)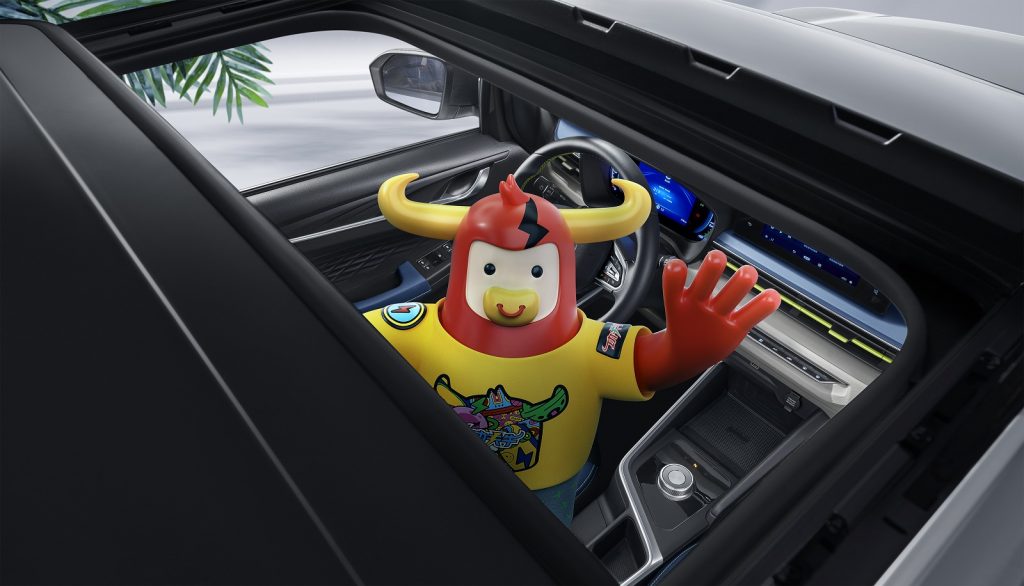 PRESS RELEASE: Geometry, the pure electric brand from Geely Auto Group showcased its most affordable EV to date with the launch of the EX3 crossover.
The Geometry EX3 offers users 322km of range under the NEDC cycle, thanks to a 37.23kWh battery which can be charged from zero to 80% in less than 30 minutes with high-speed DC chargers. The vehicle is also designed to be readily able for charging by plugging into a normal household 220V socket. The EX3 is equipped with a 70Kw e-motor that provides 180Nm of torque and a highly efficient regenerative braking system, putting it on par with traditional gasoline vehicles in terms of performance.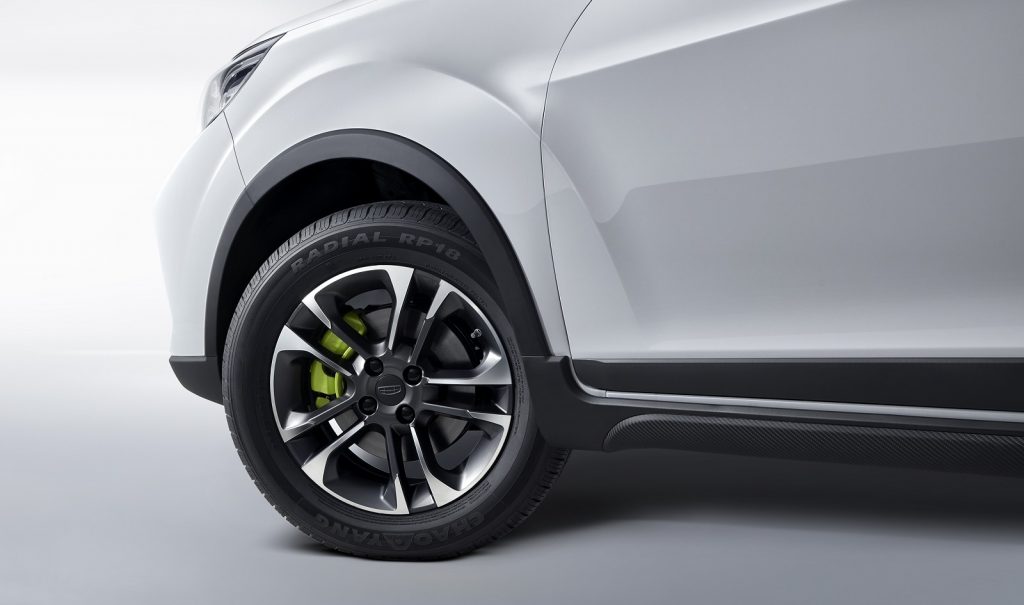 SAFETY FIRST.
When developing the EX3, Geely Auto Group R&D engineers put the vehicle through Geely's most stringent of testing regimes which include several hundred individual tests on the full vehicle and electric drive systems before taking it to market. Safety equipment on the Geometry EX3 includes dual airbags, reversing sensors and cameras, Tire Pressure Monitoring system as well as ABS + EBD. The model also comes standard with high-strength steel front and rear anti-collision bars with tensile strength above 590MPA.
The EX3 adopts a liquid cooled battery temperature control management system which allows the vehicle to safely charge at high speeds and operate efficiently in hot and cold temperatures. The internal temperature of the battery is kept at 20°C to maximize its performance in all conditions and extend battery life.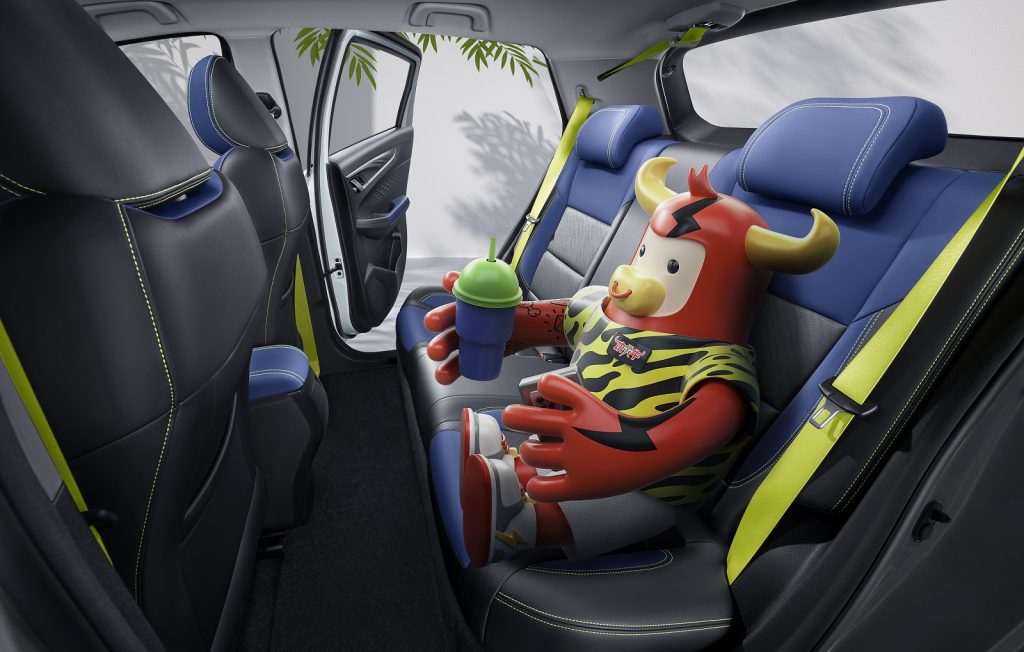 YOUTHFUL DESIGN
The EX3 at 4005mm long x 1760mm wide x 1575mm high with a wheelbase of 2480mm offers class leading interior space designed to fit five comfortably with room to spare. Maximizing space utilization, its 26 storage compartments allow occupants to store all their things with ease. In addition, the EX3 offers 500L of luggage space expandable to 1050L with rear seats folded.
Aesthetically, the interior design was developed with young consumers in mind. Adopting a two-tone black and blue colour scheme with visually impactful fluorescent highlights, a stylish, clean, and sophisticated atmosphere is created. Suede-like soft touch materials applied liberally throughout the interior and ergonomically designed seats provide occupants with a more comfortable ride experience.
Intelligence is brought to the cockpit with a digital 10.25inch LCD instrument screen and 8 inch floating central infotainment panel. The EX3 comes with Geely's G-Link system providing mobile device mirroring, native QQ music, Autonavi navigation, Ximalaya radio, voice control, in-car Wi-Fi, and other smart applications.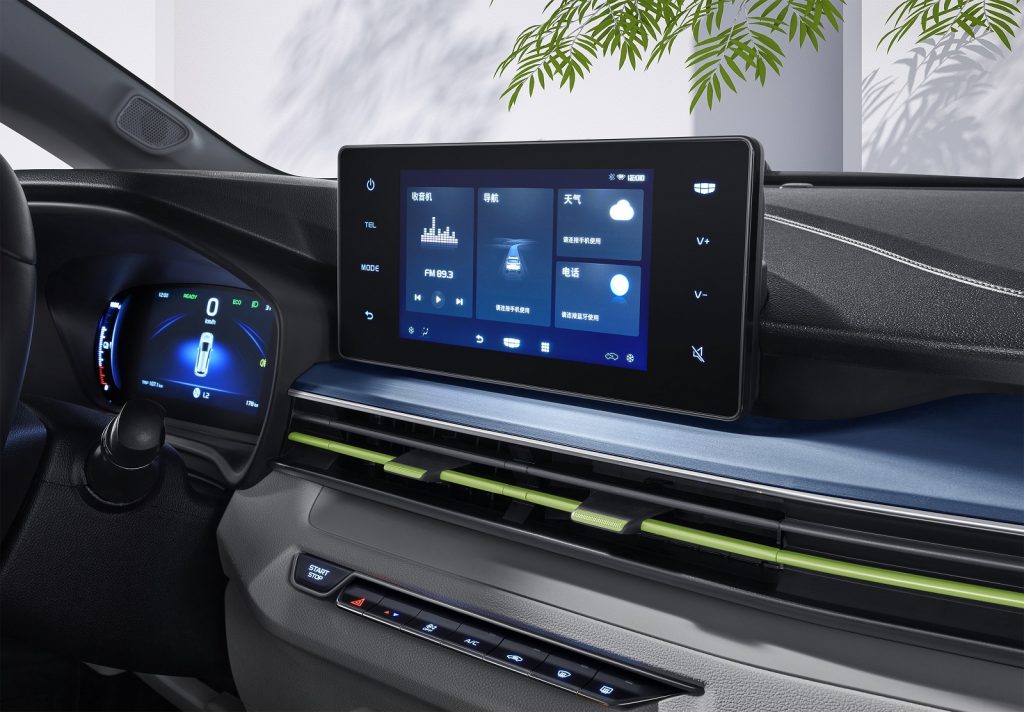 SALES
The Geometry EX3 will be first available at Geometry dealers that cover over 20 cities across China and will look to export markets in due course. Users within China are able to order the EX3 via the Geometry App with a 300RMB deposit.
The Geometry EX3 will be one of the most affordable five seater EVs in the Chinese market with presale estimated price from 59,700RMB (approximately $9,200USD)