Automotive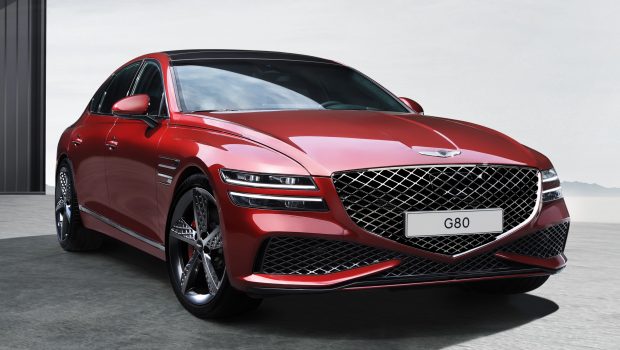 Published on July 5th, 2021 | by Joshua Chin
0
Next-Gen Genesis G80 Sport Previewed Ahead Of Launch
This new-look Genesis mid-sized sedan adds a slightly souped-up variant to its lineup. 
When Genesis first launched its first-generation G80 back in 2017, the keener drivers who are interested in this South Korean sedan could look forward to a sportier Sport variant within its lineup. So it should come as no surprise to anyone then that the up-and-coming luxury marque has released a similarly sporty trim level with its all-new second iteration, that first debut early last year. 
Still sticking with the G80 Sport moniker, this sporty offering within the Genesis lineup is however only actually set to debut 'in the third quarter of 2021'. Though as with nearly all its exciting products that are to come out of the Hyundai Motor Group these days, the luxury arm of the South Korean auto conglomerate just couldn't help themselves but give the world a rather comprehensive look of what is to come with this (slightly) souped-up sedan.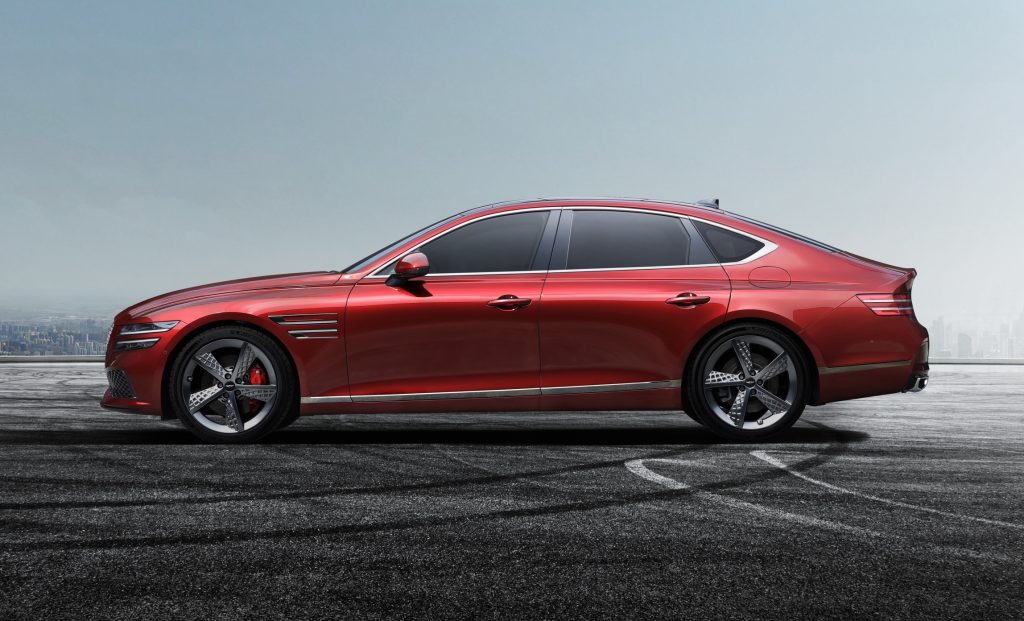 So starting with the exterior of the G80 Sport first, black headlight surrounds and a 3D wing-shaped front bumper complements the variant-exclusive dark gloss chrome diamond-shaped front grille. Dark gloss chrome also makes an appearance too on the side mouldings of this sporty sedan, along with the new 20-inch dark sputtering G-Matrix Pattern alloy wheels with either black or red brake calipers hidden behind it. 
Moving further round the rear meanwhile, a dark gloss chrome strip complements the sportier rear bumper and diffuser combination with integrated twin-pentagonal exhaust tips. And in rounding off the 'Athletic Elegance' of the new G80 Sport's exterior, it is to be available too in an exclusive Cavendish Red colour seen here.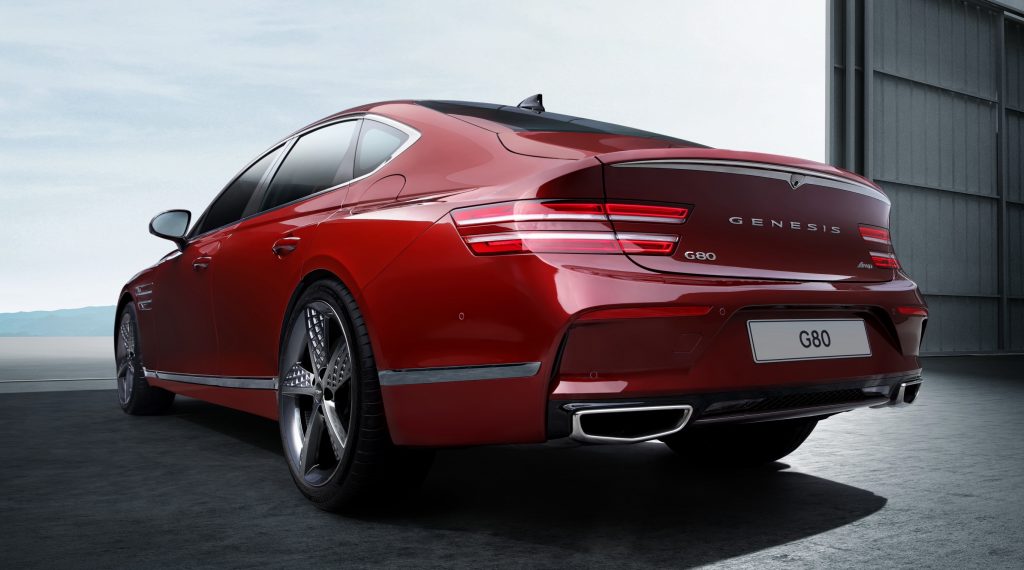 Now continuing on inside the G80 Sport, a custom three-spoke sports steering wheel replaces the regular variant's floating twin-spoke design. A selection of exclusive dashboard garnishes (real aluminum, real carbon, or a diamond-patterned hybrid weaving pattern), seat quilting (diamond or V pattern) and even interior upholstery colour options (black monotone with grey stitching, black monotone with red stitching, or Sevilla red) has also been made available to be specced by prospective buyers of this South Korean sports sedan.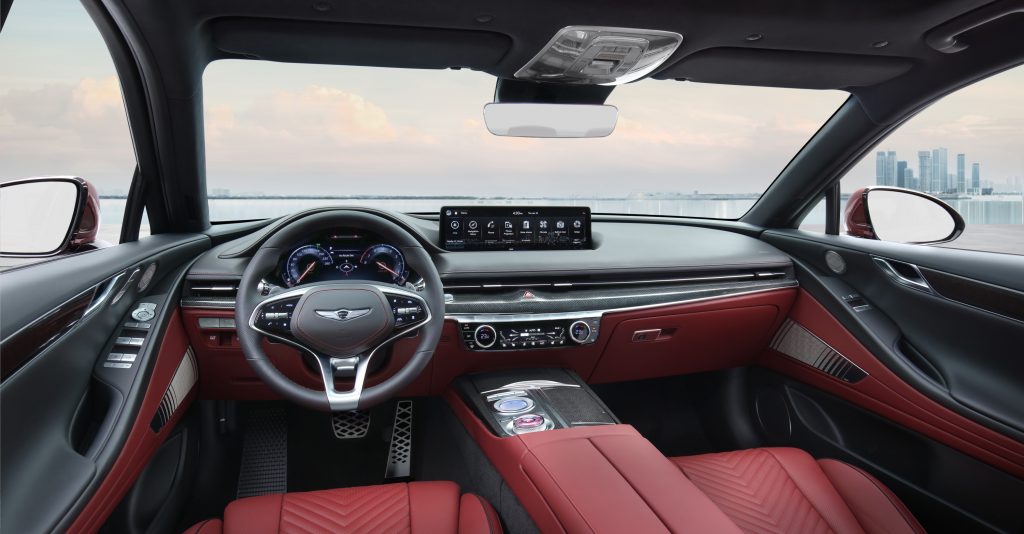 As for what lies under the hood of the new G80 Sport meanwhile, Genesis has unfortunately remained rather tight lipped on this topic thus far. It has however stated that Rear Wheel Steering (RWS) will be offered, and it will most likely feature a (possibly tweaked) version of the current 3.5-litre twin-turbocharged V6 that is currently offered in its standard siblings. 
More information regarding the new Genesis G80 Sport should be available in due course, before its imminent global launch come September time. For us Malaysians however, the chances of seeing this sporty South Korean sedan over here is unfortunately slim to none.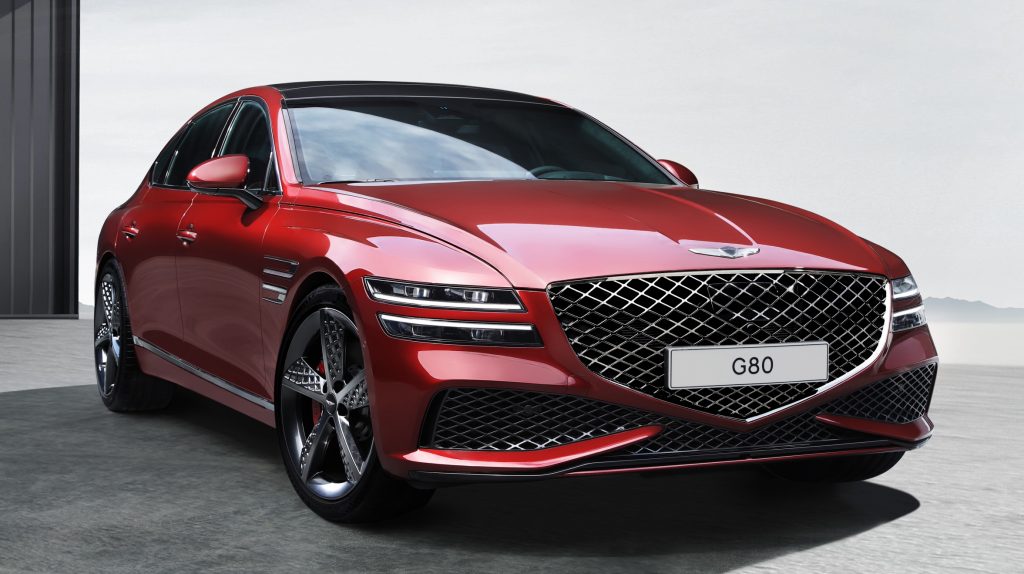 PRESS RELEASE: Genesis today unveiled images of the Genesis G80 Sport, the next evolution in its G80 lineup that adds dynamic design elements to its already popular midsize luxury sedan.
The G80 Sport builds on the existing G80's foundation of luxurious design and innovative features, while offering a more athletic exterior design that evolves from Genesis' design identity of 'Athletic Elegance,' with newly added interior and exterior features that set it apart.
The G80 Sport will also feature an exclusive new color: 'Cavendish Red.' The name is inspired by a cliffside on the north coast of Prince Edward Island in Canada, while the color was drawn from the area's famous red cliffs.
Several unique design features set the G80 Sport apart from base models. The car's front end will feature an exclusive design that can only be found on the G80 Sport, along with a radiator grille in dark glossy chrome, and a three-dimensional wing-shaped front bumper that accents the intake grille. Black bezels around the headlamps also highlight its sporty design.
A stunning profile reveals dark glossy chrome applied to all side moldings for a distinctive feeling of athletic luxury. G80 Sport models will also come with the exclusive 20-inch dark sputtering alloy wheels with their G-Matrix Pattern and two additional caliper colors offered in black and red.
The rear features a horizontal line that gives the G80 Sport a spacious look, while a unique bumper design contributes to its powerful and aggressive appearance from the back. Genesis has adjusted the color of the trunk lid molding too, while adding a new diffuser design to the reimagined bumper.
Three exclusive color options have been added for the interior, including black monotone with a choice between gray or red stitching, and Sevilla red.
Inside, the G80 Sport receives the Sport model specific three-spoke steering wheel, and the dashboard garnish comes in three different designs including Sport-exclusive real aluminum, real carbon, and a diamond-patterned hybrid weaving pattern, which will debut for the first time ever in the G80 Sport. Customers will also be able to choose new G80 Sport-exclusive seat quilting designs based on their choice of a diamond or V pattern.
In particular, the G80 sport offers Rear Wheel Steering (RWS) available for maximizing driving stability.
"The Genesis G80 Sport delivers the best value to customers who want to enjoy the perfect balance of 'Athletic Elegance' from the G80 combined with a more dynamic driving experience," said Genesis official. "Detailed specifications will be released when the vehicle is launched in the third quarter of 2021."