Automotive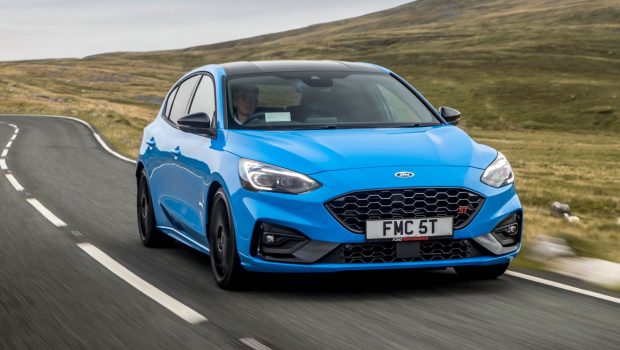 Published on August 25th, 2021 | by Joshua Chin
0
Ford Focus ST Edition Nets Nurburgring-Tuned Suspension
A host of other performance upgrades have too been added to this hot Ford Focus. 
While the Focus ST was already a hot hatch of some acclaim, those who are seeking for that little bit more out of their Blue Oval compact cars can now turn to the newly launched ST Edition. Much like its standard spiced-up sibling however, this latest fun Ford is unlikely to be arriving over here in Malaysia any time soon.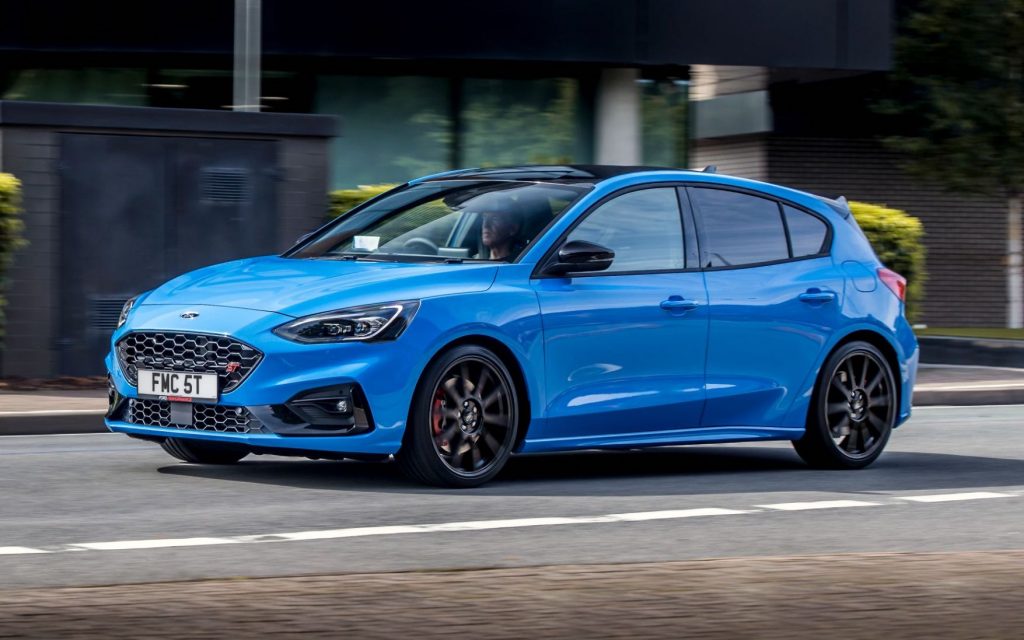 Before dwelling too much on that unfortunate fact though, let's just instead focus first on what has been added to this hot hatch to make the Blue Oval marque tout for it to be 'the most agile Focus ST to date'. And chief among those enhancements made to back that bold claim up is the standard fitment of some Ford Performance suspension, which has said to been extensively tested and developed at various locales including the notorious Nurburgring Nordschleife.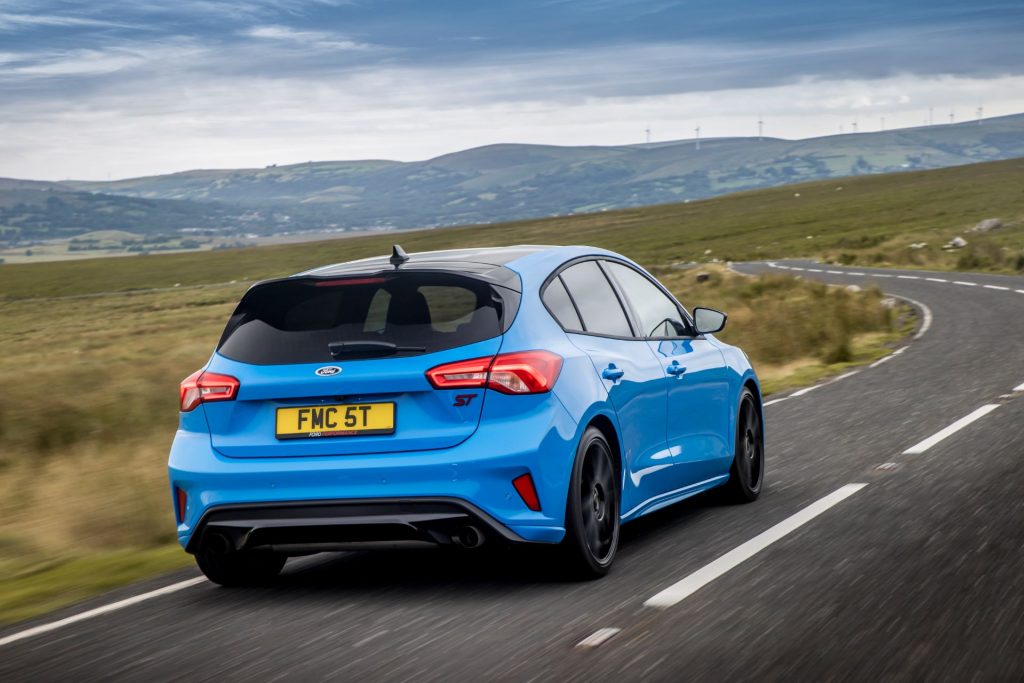 Packing a custom two-way adjustable coilover suspension system produced by motorsport specialists KW Automotive, the Focus ST Edition now comes with dampers that feature 12 jounce and 16 rebound settings to allow the driver greater control in the corners. Its blue powder-coated stiffened springs (by 50%) too has been lowered by 10mm at the front and rear, with a further adjustment of 20mm available for an even meaner stance.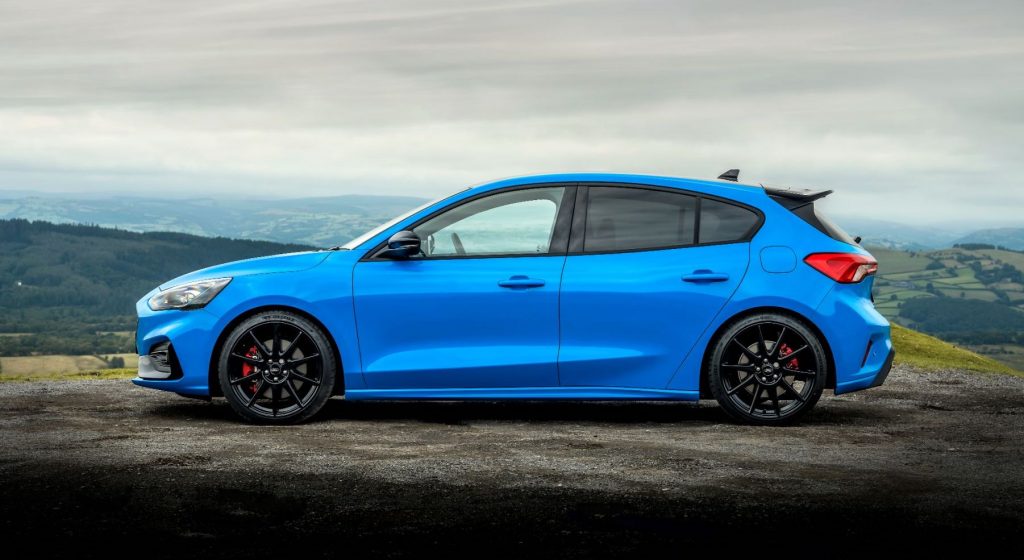 In continuing further on the topic of stance also, the ST Edition Focus comes as standard wearing a set of black-painted lightweight 19-inch alloy wheels shod in Michelin Pilot Sport 4S tyres. This theme of black is then further continued on its exterior by way of a black roof panel and black edging for ST badges, in addition to other various gloss black trimmings that add that little bit more pop to the exclusive Azura Blue paintwork.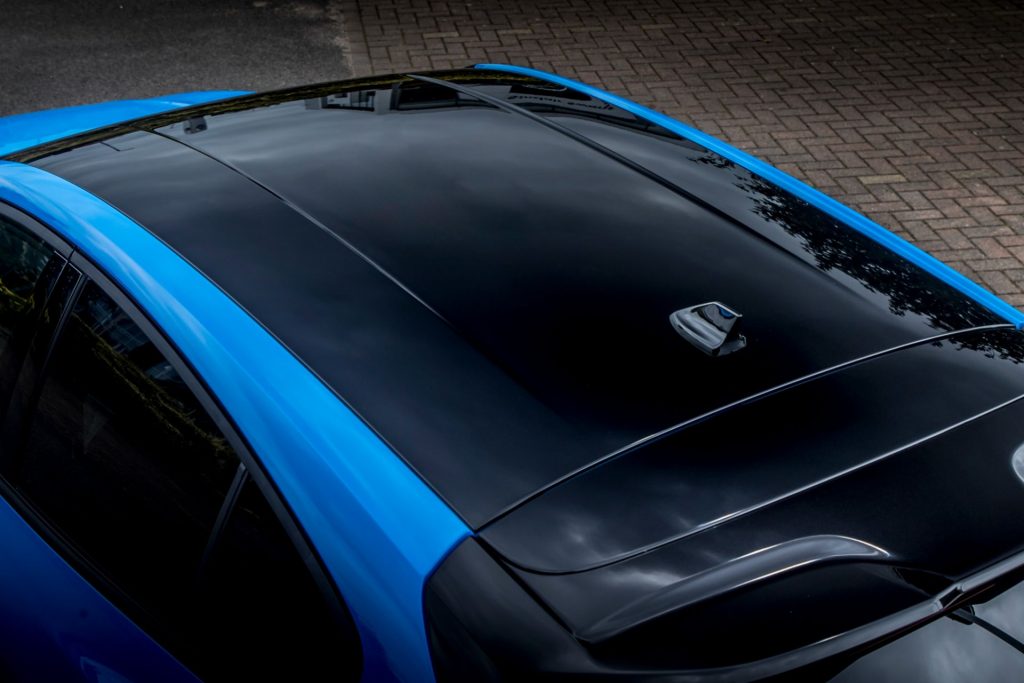 Moving on inside meanwhile, this slightly more hardcore Focus is slightly differentiated from its standard ST sibling through red lettering on the start stop button and a set of shiny Ford Performance sill plates. Part-leather Recaro sports seats edged with contrasting blue stitching are also standard here, with the same effect used too on the leather ST steering wheel, gear lever gaiter, centre console knee pads and floor mats.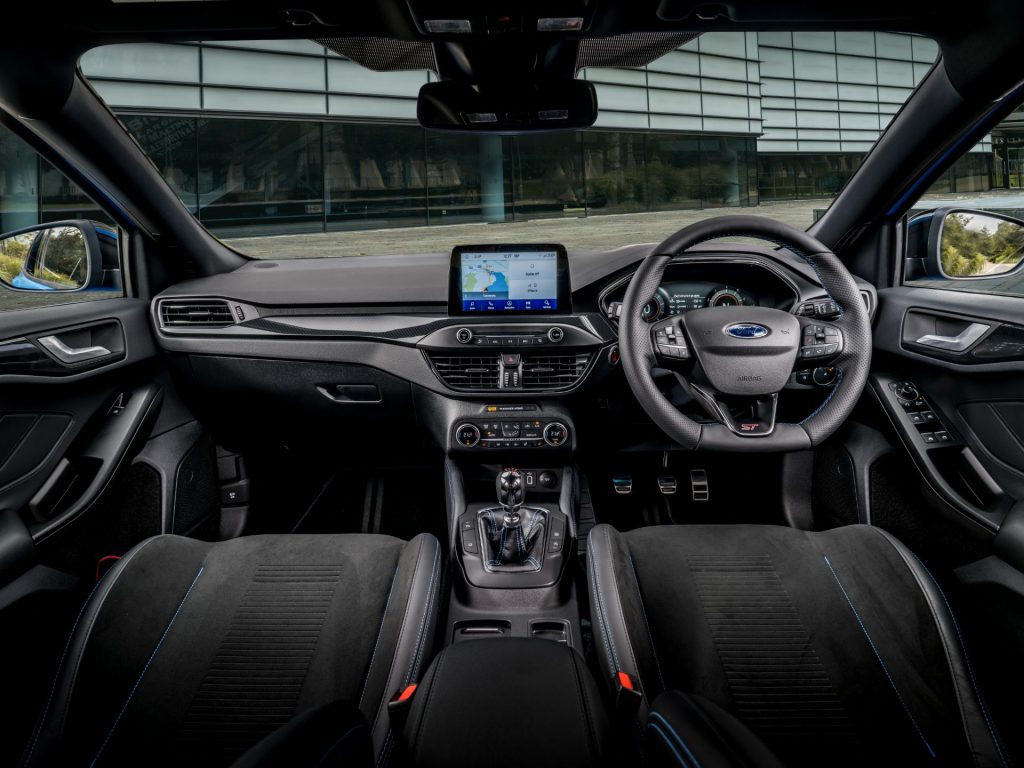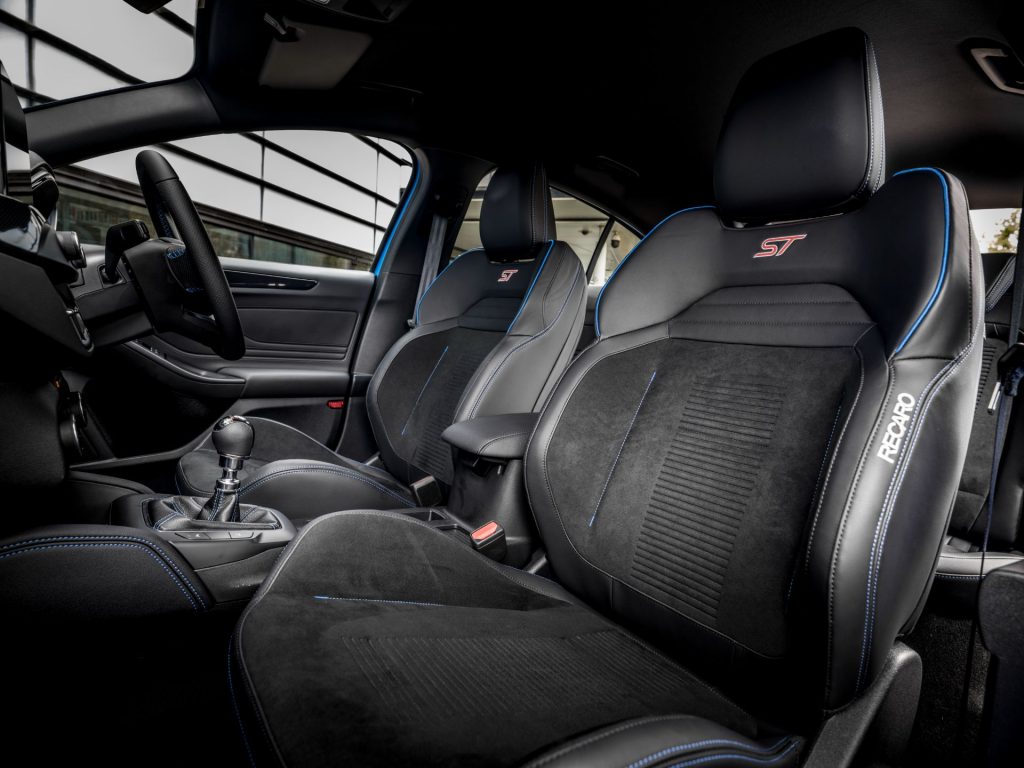 Now moving onto what lies under the hood on the other hand, the 2.3-litre boosted EcoBoost four-pot from the standard ST has (somewhat disappointedly) been carried over wholesale over in this hotter Focus variant. Outputting the same 280 PS and 420 Nm of torque, the ST Edition manages to crack the century sprint in 5.7 seconds and charge onwards to a top speed of 250 km/h (155 mph).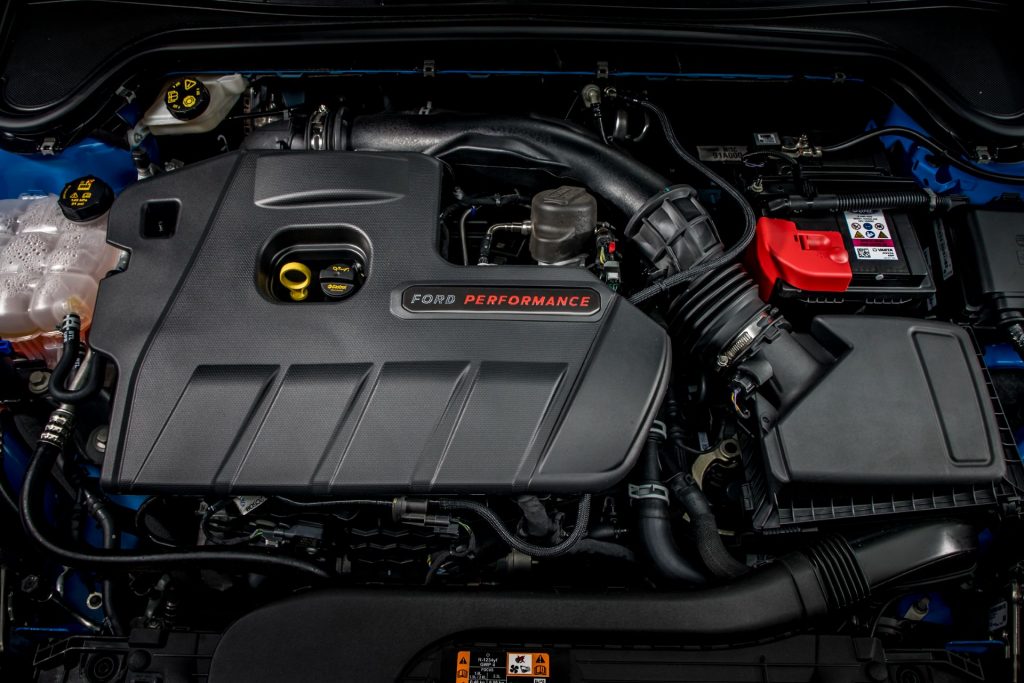 Speaking further still what has been brought over from the stock ST too, this ST Edition has retained the same electronic limited-slip differential system with hydraulically activated clutches as well as its performance brakes that measure 330 mm up front and 302 mm at the rear. Missing though on this hotter Focus is the option for a 7-speed dual-clutch transmission, with the sole gearbox option on these hotter hatches being a six-speed manual.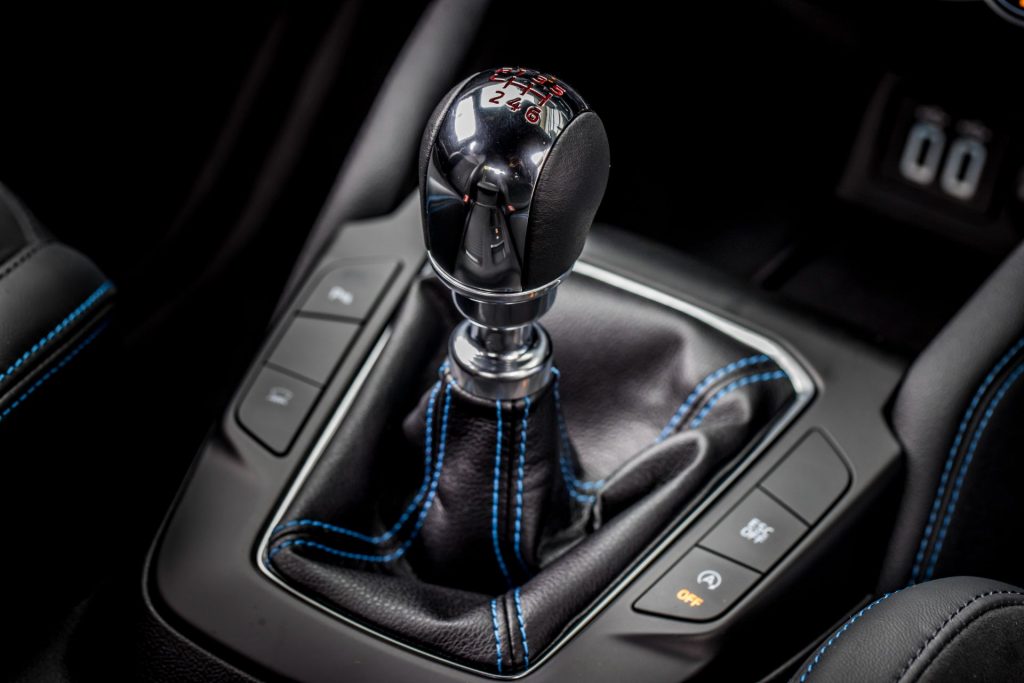 Already available to order in selected European markets exclusively as a five-door hatchback, the Focus ST Edition retails in the UK from £35,785 (RM 207,000). With Ford Malaysia shifting its focus away from passenger cars in recent years though, it is a shame then that the realistic chances of this Megane RS rival landing locally are unfortunately slim to none.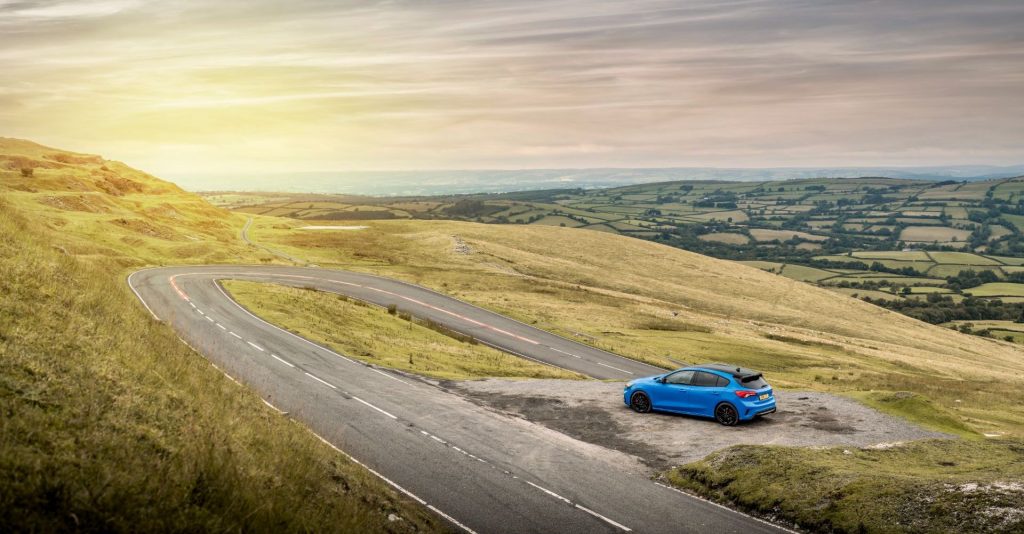 PRESS RELEASE: Ford today announced a new, special edition version of the Focus ST five-door hot hatchback that enhances driving dynamics with upgraded suspension and light-weight wheels for ultimate road and track driving experiences, alongside unique exterior and interior specifications
The Focus ST Edition is available to order in selected European markets, including the UK priced from £35,785. The most dynamic version yet of the fourth generation Focus ST offers true driving enthusiasts the opportunity to tailor the driving dynamics to their personal preference using a Ford Performance-tuned adjustable coilover suspension system.
Cornering responses and driving dynamics are further enhanced with standard flow-formed alloy wheels that reduce unsprung weight, and Sports Technologies including a hydraulically-activated electronic limited-slip differential (eLSD) and selectable Drive Modes, including Track Mode, contributing to an even more rewarding and confident Focus ST driving experience.
Ford Performance has developed the Focus ST Edition exclusively in five-door hatchback body style to ensure the lowest possible weight for optimised control and precision, and with the 2.3‑litre EcoBoost petrol engine and six-speed manual transmission, for maximum driver engagement.
A unique exterior is distinguished by an Azura Blue finish unavailable elsewhere in the Focus line-up, eye-catching high gloss black detailing and a distinctive black roof. Interior enhancements include part-leather Recaro sports seats, blue detail stitching and a red ST starter button.
"The new Focus ST Edition takes the hot hatchback to a new level of handling precision and control," said Stefan Muenzinger, Ford Performance manager, Europe. "Not only does it offer increased poise and responsiveness for the enthusiast, but also gives the ability to tailor the feel and handling balance of the car to the customer."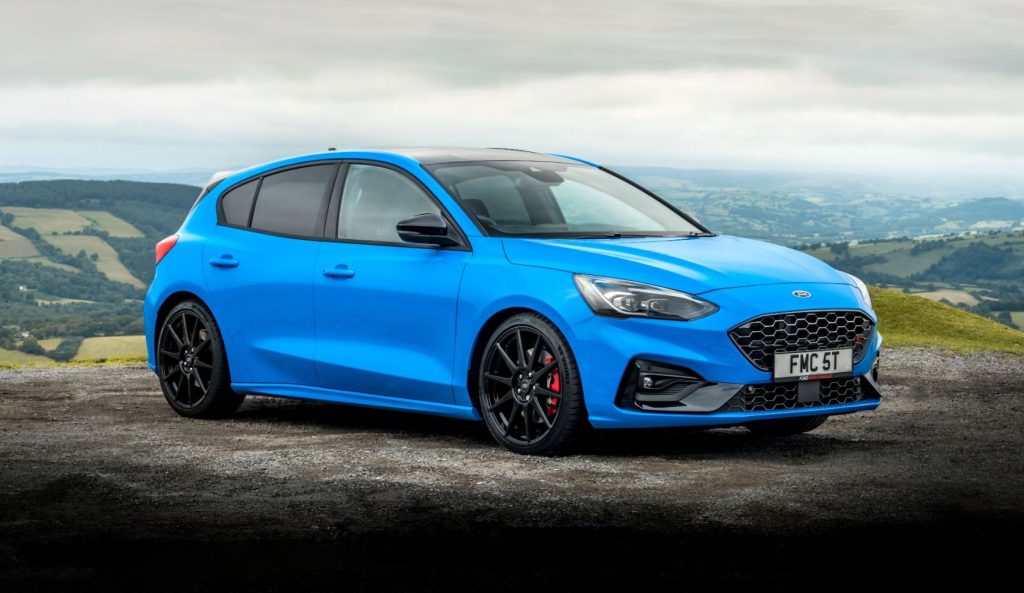 Precision and control
The Focus ST Edition will arrive with customers featuring a factory chassis configuration that has been extensively tested and developed by Ford Performance, including at Germany's Nürburgring Nordschleife.
Fine-tuned to optimise balance and control through corners while working hand-in-hand with the vehicle's high-performance powertrain, the chassis also offers drivers the flexibility to further tailor suspension settings to their specific driving style or environment.
The two-way adjustable coilover suspension system, produced by motorsport specialists KW Automotive, features twin-tube stainless steel damper housings and powder-coated springs, with a distinctive Ford Performance Blue finish. Focus ST Edition's ride height is lowered 10 mm front and rear compared with the standard Focus ST, with a further adjustment of 20 mm available to the customer. Spring rates are increased by more than 50 per cent compared with the standard Focus ST.
Twelve jounce settings – the degree of upward damper movement allowed as the wheel contacts a bump in the road, and 16 rebound settings – the speed at which the damper returns to position after an upward movement, give Focus ST drivers an even greater degree of control over cornering responses.
The Focus ST Edition is also supplied with a technical document providing recommended suspension settings for a variety of driving conditions – including a dedicated setting for the Nürburgring – to help performance driving enthusiasts fine-tune their driving experiences.
The lightweight 19-inch alloy wheels, equipped as standard with Michelin Pilot Sport 4S tyres, reduce unsprung mass by 10 per cent at each corner of the vehicle. The wheels are constructed using a flow forming process, which compacts the aluminium alloy to retain tensile strength and increase shock resistance while using less material. Able to more effectively follow the profile of rougher road surfaces and reduce the demand on the Focus ST Edition's dampers and springs, the lightened wheels improve tyre contact with the road for enhanced grip and responses.
The Focus ST Edition continues to utilise sophisticated Sports Technologies to enhance performance, including an innovative eLSD that uses hydraulically activated clutches to redistribute up to 100 per cent of the available torque to the wheel with more traction to counteract wheelspin. Faster-acting and more precise than a conventional mechanical LSD, the system can pre-emptively adjust torque based on inputs from engine and vehicle sensors.
The 2.3-litre EcoBoost all-aluminium engine uses a low-inertia twin-scroll turbocharger alongside an optimised air intake and exhaust system to deliver 280 PS of power at 5,500 rpm and 420 Nm of torque from 3,000 rpm to 4,000 rpm. Anti-lag technology inspired by the Ford GT supercar and F-150 Raptor pick-up also delivers even faster power delivery in Sport and Track drive modes.
Acceleration from 0-62 mph takes 5.7 seconds, with standing start performance supported by flat-shift capability that holds the throttle open when the clutch is disengaged during upshifts through the six-speed manual gearbox. The Focus ST Edition can reach a top speed of 155 mph.
Drivers can also use selectable Drive Modes 2 to adjust eLSD, throttle mapping, electronic power-assisted steering (EPAS) and electronic stability control (ESC) characteristics to match the driving scenario. A dedicated Track mode provides the sharpest responses and the most freedom within the ESC system for the maximum driver feedback and engagement.
As with the standard Focus ST, an optimised steering knuckle design; responsive, two turn lock-to-lock EPAS; and performance braking system with 330 mm front, 302 mm rear discs and optimised fade resistance support enthusiast driving on track.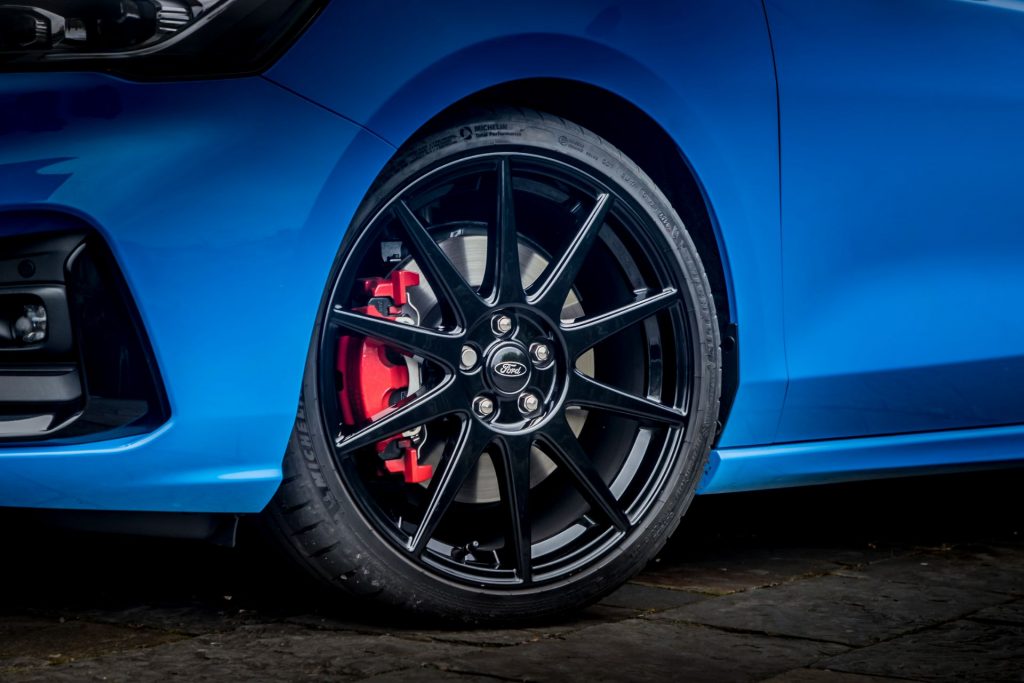 Distinctive design
The Focus ST Edition's practical five-door hatchback body benefits from exclusive features and specification inside and out.
The unmistakeable Azura Blue exterior paint colour contrasts with High Gloss Black detailing on the upper grille, front bumper wings and door-mirror caps, as well as the rear roof spoiler and rear diffuser panel. The roof panel is also finished in high gloss black and is complemented by ST badges edged with a black surround.
Inside, the Focus ST Edition's standard part-leather Recaro sports seats are edged in Ford Performance blue stitching, with the same effect used on the leather ST steering wheel, gear lever gaiter, centre console knee pads and floor mats. The engine start button is also finished with sporty red lettering to complement the ST badges.
The Focus ST Edition joins the existing, Ford Performance-developed Focus ST line-up that offers five-door and wagon body styles, 280 PS 2.3-litre EcoBoost petrol and 190 PS 2.0-litre EcoBlue diesel engines, and a seven-speed automatic transmission option for the EcoBoost petrol.