Automotive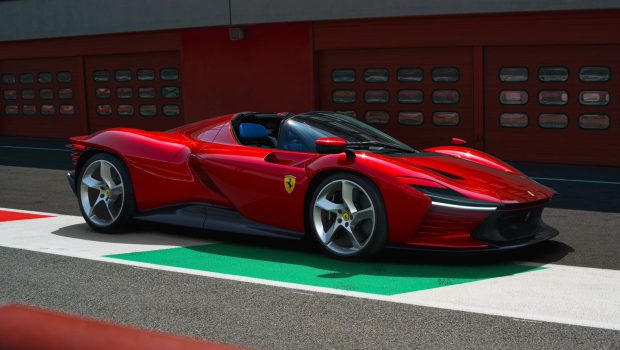 Published on November 22nd, 2021 | by Joshua Chin
0
Ferrari's Daytona SP3 Pays Homage To Its Racing Heritage
Only 599 Daytona SP3s will be made, and all of them have been spoken for already. 
While all Ferraris are special in their own right, there are nevertheless some that are more special than others. And it really does not get any more special than its Icona series, of which this Daytona SP3 is the latest addition.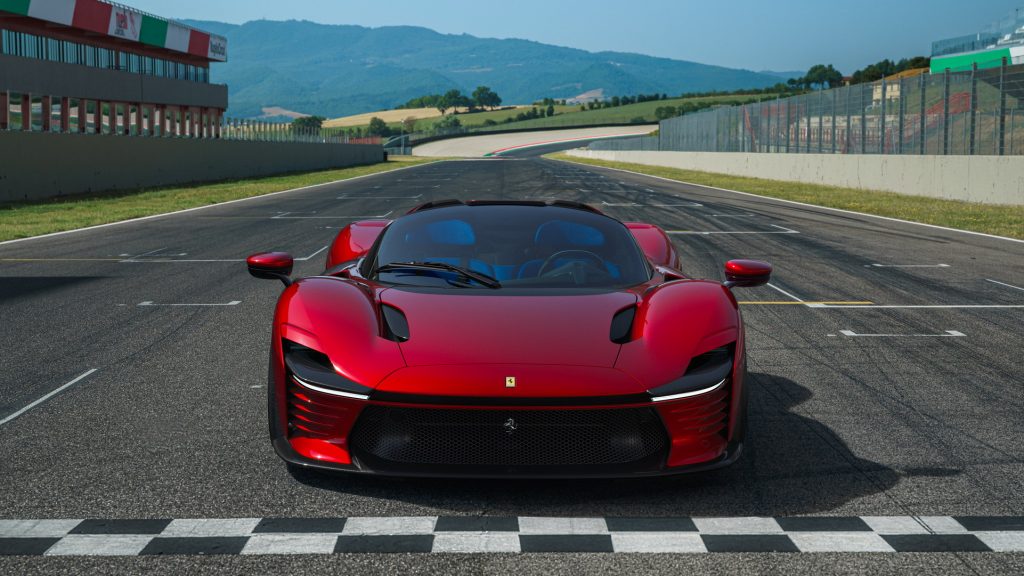 Following on from the Monza SP1 and SP2 that were revealed previously back in 2018, the Daytona SP3 marks Ferrari's latest efforts to reinterpret its classic designs for the modern age. Though this retro-inspired prancing horse has quite a bit more to offer than just a pretty body, as its mid-mounted V12 also currently holds the none-too-small accolade of being the most powerful production engine to ever come out of Maranello.  
Touching more on its pretty body first though and starting at the front, the Daytona SP3's cresting front fenders and proper wing-mounted side mirrors makes it all but clear that this is a Ferrari that pays tribute to the prancing horse's racing cars of the past. It's name is after all a celebration of the automaker's stunning 1-2-3 result in 1967's Daytona 24 Hours race, which saw it finally recoup some motorsports glory back after suffering a humiliating Le Mans defeat at the hands of Ford the year prior.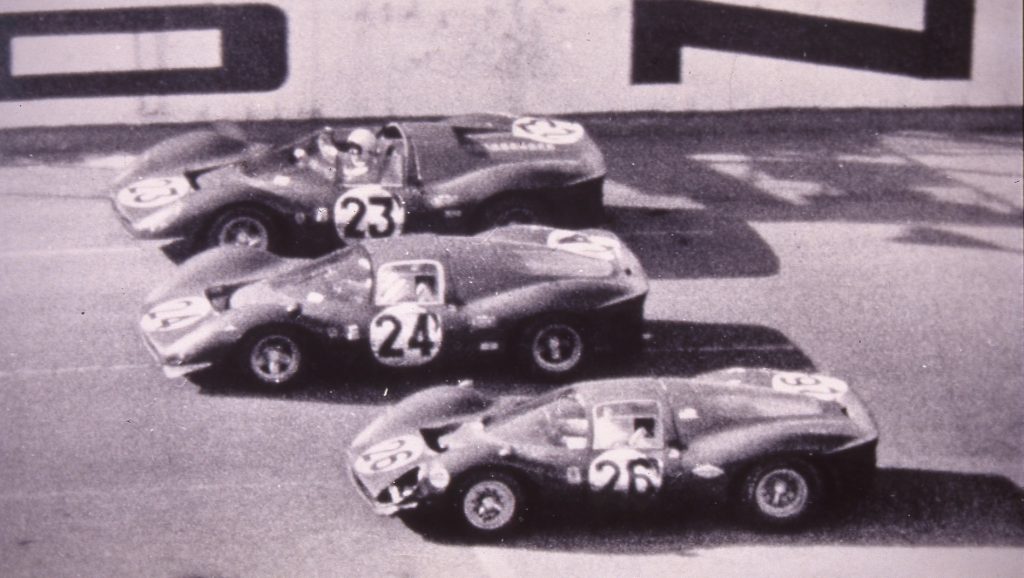 Having said that however, there are also some throwbacks to its more iconic road-biased models thrown in too. The eye-lid mechanism on its LED headlights for instance are as likely to be as close as it'll ever get in seeing the return of pop-up headlights in the modern era, and the dramatic strakes on its rump has more than a hint of the 80s-licious Testarossa to it. 
Now with this being a modern Ferrari, aerodynamics has of course also played a key role in the sculpting of this beautiful body. Such is the reason why the Daytona SP3 has a wraparound windscreen and a prominent lip spoiler up front, in addition to a F1-esque barge-boards beneath those butterfly doors down its pinch-waisted side and a rather distinct rear bumper-cum-diffuser element found beneath its twin trapezoidal exhaust pipes round its rear.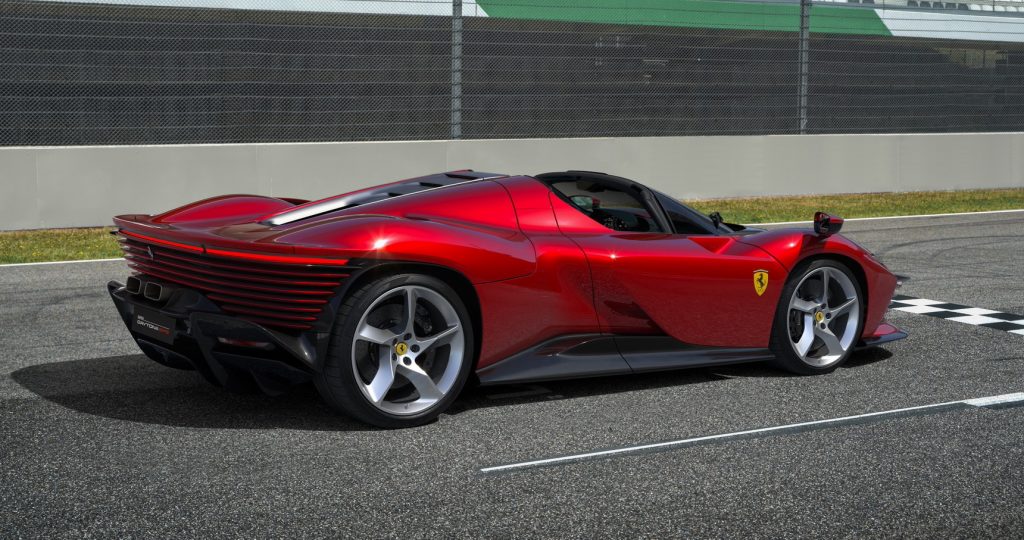 It is therefore thanks to all these aero bits-and-bobs that enables Ferrari to claim that the Daytona SP3 has the highest level of passive aero efficiency in its lineup, with it generating 230 kg of downforce at 200 km/h. A feat that can be easily achieved in just 7.4 seconds if need be, thanks to its F140HC V12 that pumps out a whopping 829 hp and 697 Nm of torque. 
A close relative to the 6.5-litre naturally-aspirated unit currently residing in the 812 Competizione, Ferrari has however redesigned the pistons and fitted titanium con rods to the V12 of the Daytona SP3. A 3% lighter crankshaft and sliding steel finger followers on its valve springs has also made its way onto this engineering masterpiece, which in turn has hence bumped power up by 10 hp from what is being produced by its common counterpart, while enabling it to rev even quicker to its stratospheric red-line of 9,500 rpm too.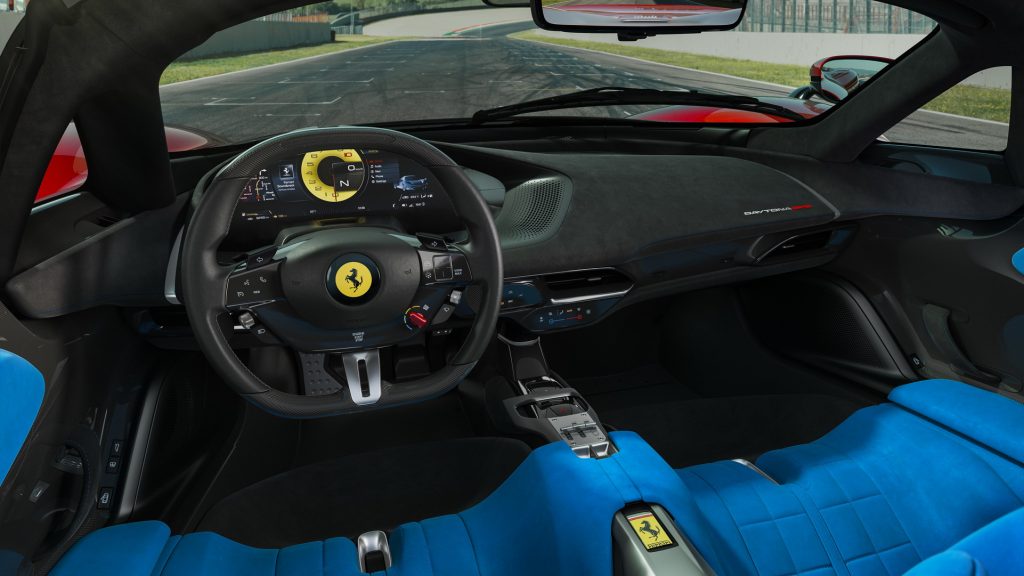 More impressively actually is the fact that Ferrari claims that the Daytona SP3 could have been made even faster, but 830 hp was nevertheless decided to be the ultimate goal for particular prancing horse project. In any case, a century sprint time of 2.85 seconds and a top speed in excess of 211 mph is not to be considered slow by any means. 
And in just rounding off the spectacular figures with this car, the amount of dough needed to slot oneself into those bucket seats (that are fixed directly to its carbon fibre tub) is apparently to carry a pre-tax price tag north of €2 million (RM 10 million). To add to that, even if money is not an issue, you will nevertheless be hard-pressed to get one of these Daytona SP3s into one's collection. That is as Ferrari has announced that this particular prancing horse will only be made in a limited run of 599 units, and all have reportedly been spoken for already.