Motorcycles
News
Ducati Malaysia Extends Its 'Stay Safe, Ride Free' Campaign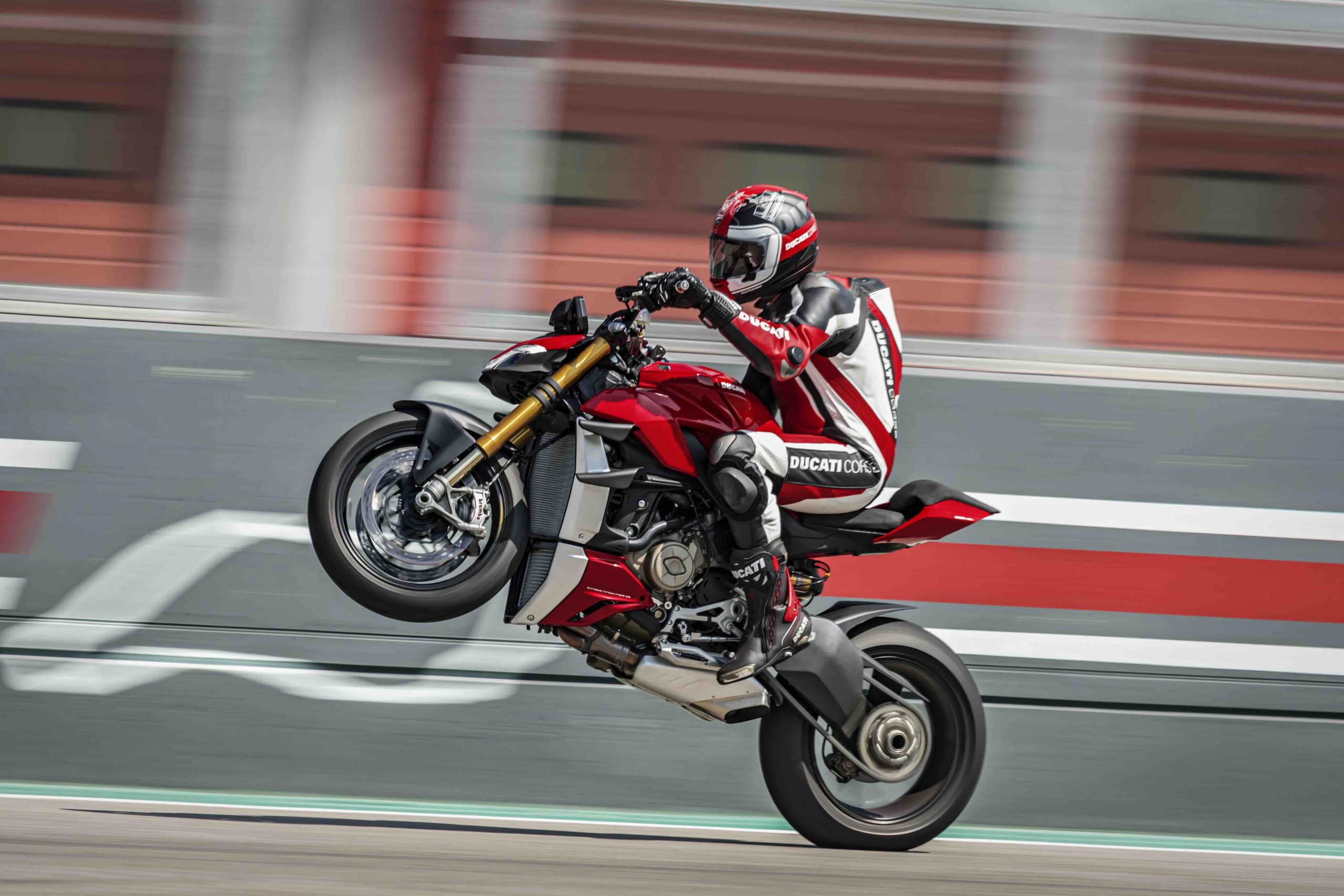 A whole host of goodies are still up on offer with the Ducati Malaysia 'Stay Safe, Ride Free' Campaign. 
Ducati Malaysia has recently announced an extension to its 'Stay Safe, Ride Free' promotional campaign. Continuing throughout the Chinese New Year season till the 28th of February 2021, this extension to the promotion that began in January means that customers of this Italian motorcycle marque can now enjoy even more exciting privileges in the coming weeks ahead.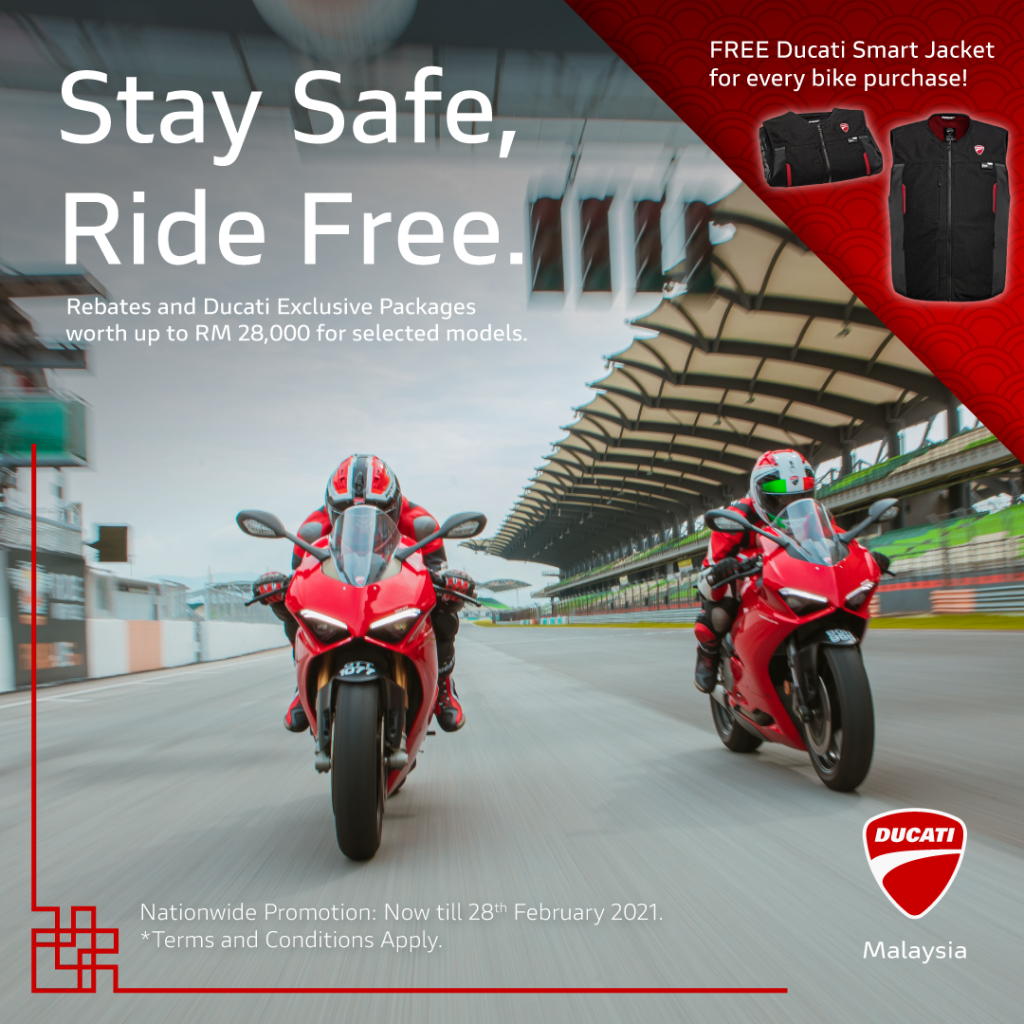 Perhaps the biggest news with this promotional campaign will be the highly attractive ownership packages now available with selective Ducati models. With rebates and exclusive packages worth up to RM 28,000, there could be no better time than the present to treat oneself to a new bike for the (lunar) new year. 
On top of that, the purchase of a new Ducati during this period will also come with a free Ducati Smart Jacket. Typically priced at RM 4,300, this rather expensive jacket that comes with its own built-in airbag is now a complimentary inclusion as part of the 'Stay Safe, Ride Free' campaign, for safer riding when out on the open road.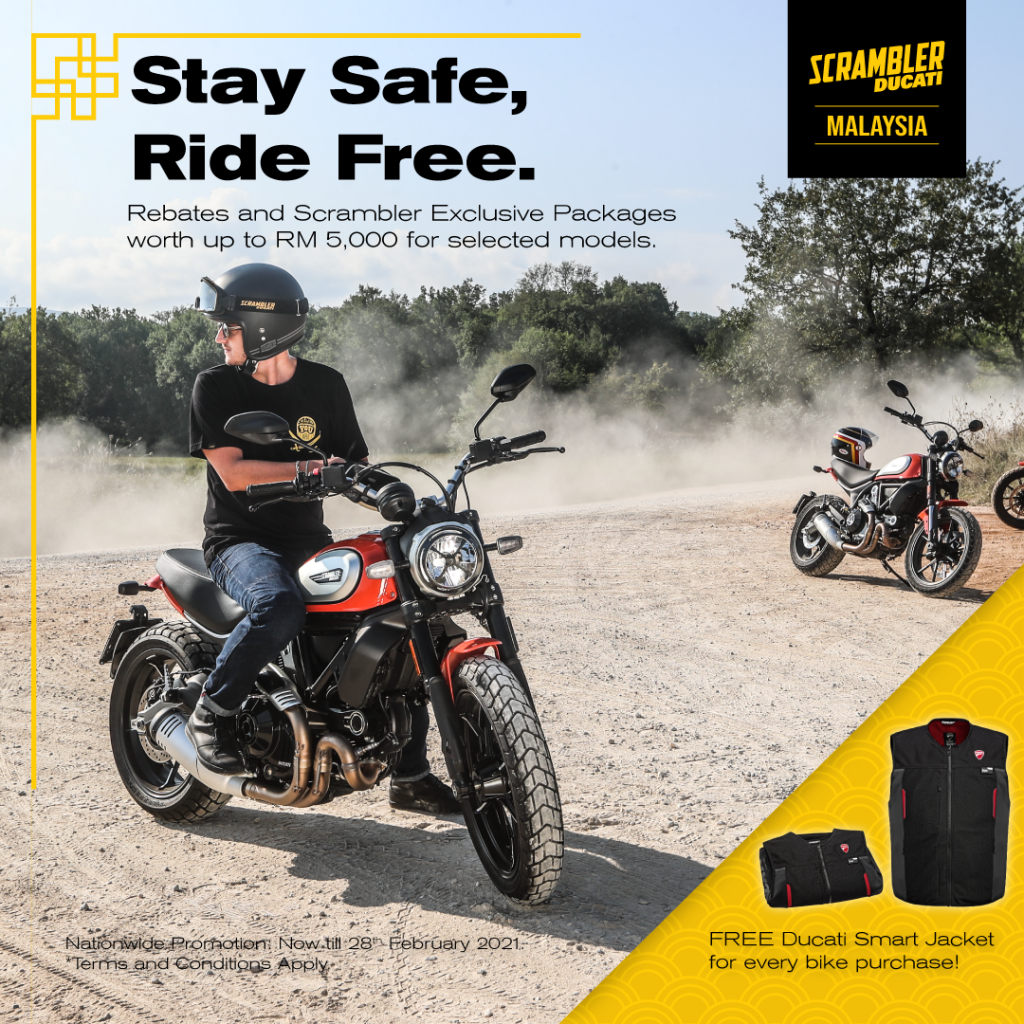 To fans of the marque or MotoGP fans meanwhile who aren't yet ready to splash some cash on a new bike just yet, don't fret as Ducati is also running an online lucky draw where anyone can win an amazing array of prizes ranging from official GP gear to top-shelf Ducati merchandise. To qualify, just spend a minimum of RM210 at Ducati Malaysia's Facebook store. The winners of the lucky draw will be announced through social media.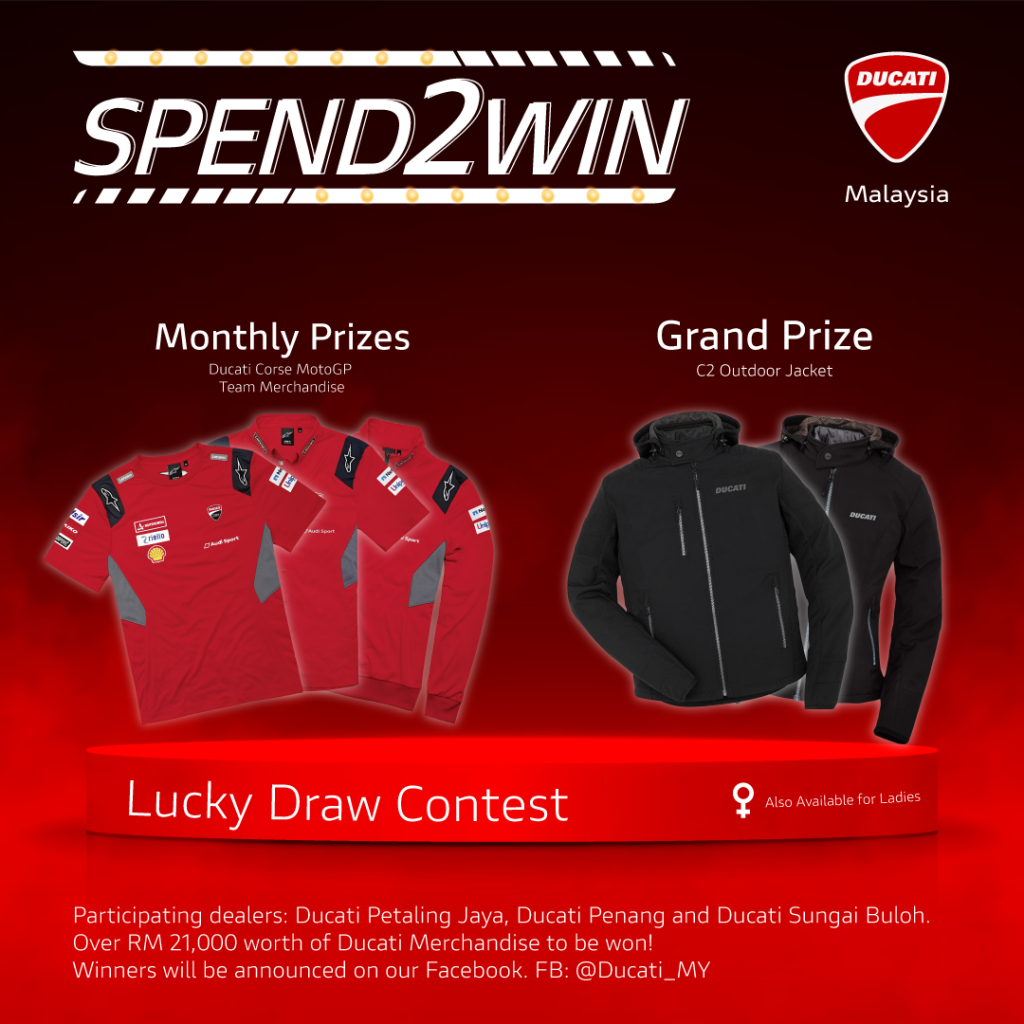 Lastly, for existing Ducati owners in Malaysia who wish to service their super bikes or scramblers during this time of lockdown, but are unable to do so due to the MCO distance restrictions, Ducati Malaysia is currently offering its Ducati On Demand services whereby they will come pick up your bike and deliver it back to you once the service is completed. The cost of this convenient service is RM 100 for locations within the Klang Valley, with varying rates applicable to other regions.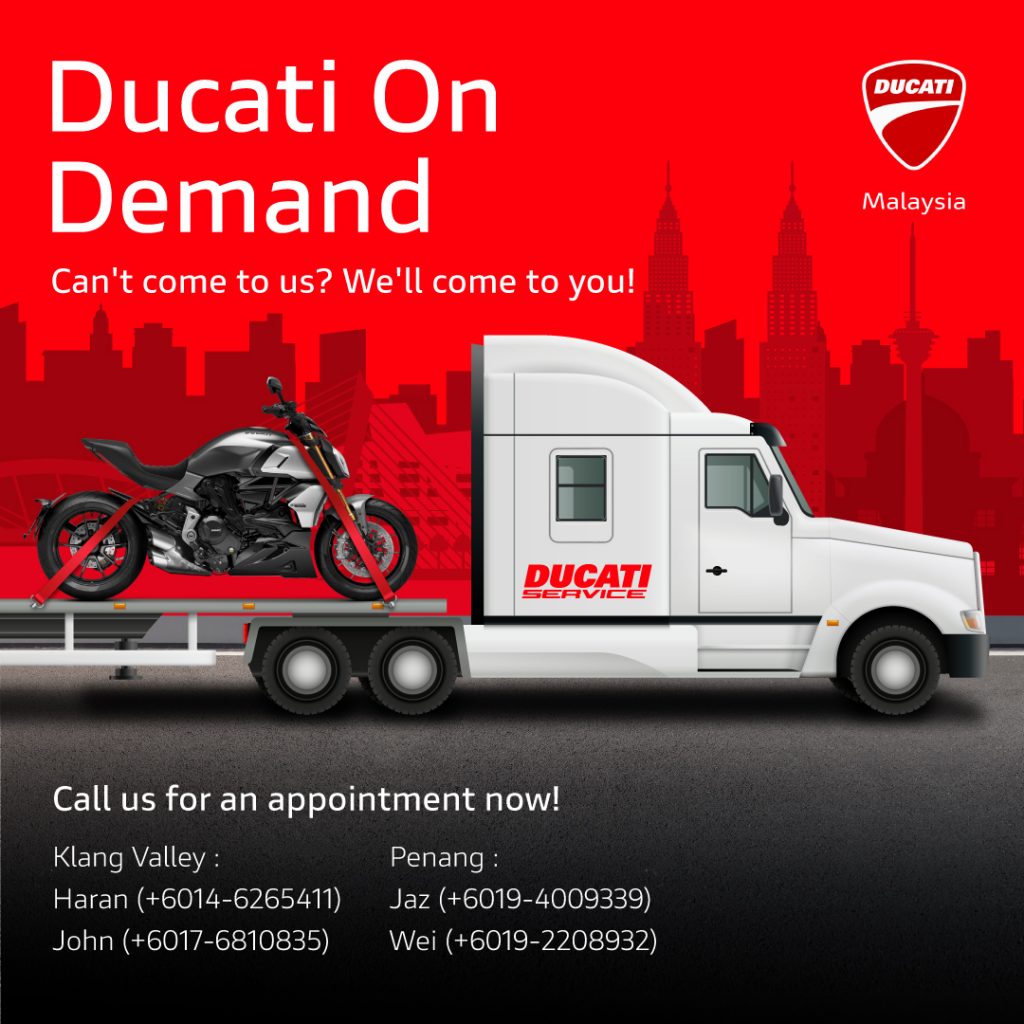 Further information regarding the aforementioned promotions can be found in the press release below. 
PRESS RELEASE: As the on-going battle with COVID-19 continues, Ducati Malaysia seeks to keep the love of riding strong and bring joy to Ducati fans around Malaysia, and it is looking to do so while ensuring the total safety and wellbeing of its customers. 
It was through this objective that the Stay Safe, Ride Free campaign, which was initiated in January 2020, now continues throughout the Chinese New Year season, bringing with it an exciting assortment of privileges for Ducati customers to look forward to at Ducati Centres nationwide in Petaling Jaya, Sungai Buloh and Penang.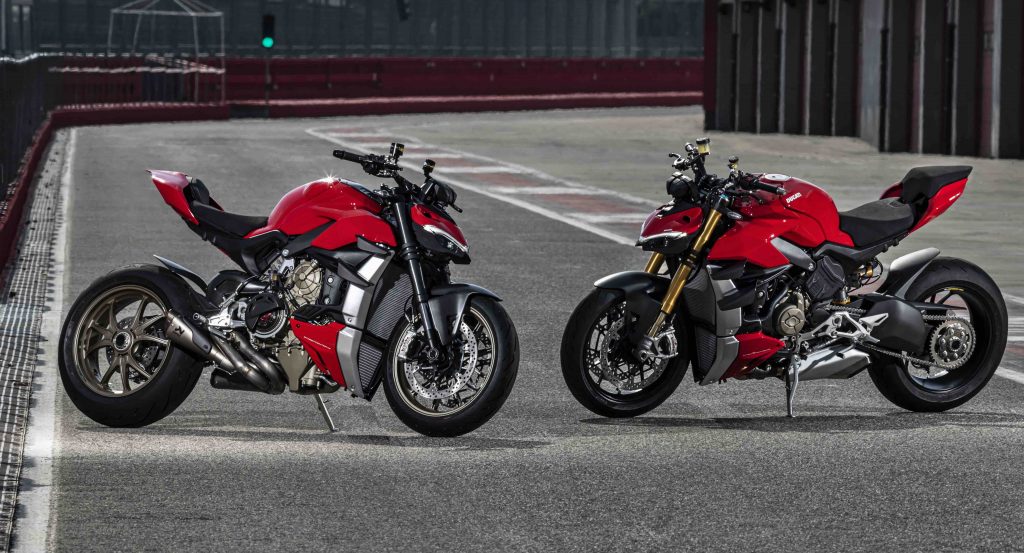 1) A thrilling range of bikes with the most incredible offers
Ducati Malaysia has assembled highly attractive ownership packages for a selected range of bikes, all of which can be safely discovered via Ducati Malaysia's social media platforms. The features and inclusions of these ownership packages were tailor-made to further maximize the satisfaction, value and peace of mind of owning a Ducati or Ducati Scrambler model. 
2) The innovative and safe Ducati Smart Jacket worth RM4,300 with every bike purchased
Where a face mask provides necessary protection on a daily basis, the remarkable Ducati Smart Jacket arrives as an innovative method of essential protection on any ride. This incredible piece of riding gear features a built-in airbag, easy activation with no cables and enhanced protection of vital body parts while riding. Priced at RM4,300, Ducati Malaysia has included the Smart Jacket as a complimentary inclusion with every bike purchased as part of the Stay Safe, Ride Free campaign. 
3) Lucky Draw with rewards worth up to RM1,999.00
To further reward Ducati customers for their incredible support, a Lucky Draw with amazing rewards – from official GP gear to top-shelf Ducati merchandise – will be offered with any purchase worth RM210 and above in a single receipt via Ducati Malaysia's Facebook store. Participants will also submit their entries digitally and winners will be announced via social media as well. This online-focused process has been applied to ensure that customers can enjoy their participation and potential rewards from the safety and comforts of their own home. 
4) Ducati On Demand: Bike pick-up and delivery service
All Ducati Centres adhere strictly to SOPs and requirements to ensure the safety and wellbeing of all visitors, including owners looking to send their bikes for servicing and maintenance works. For those who remain out of the permitted travel range or are simply unable to make the journey, Ducati Malaysia has introduced Ducati On Demand, a service that offers safety-focused pick-ups and deliveries of bikes that require a visit to the Ducati workshop. The service is priced at RM100 for locations within the Klang Valley, with varying rates when the service is required in other locations. 
For more information on Ducati On Demand, kindly contact: 
Klang Valley: Haran (+6014 6265 411) or John (+6017 6810 835)

 

Penang: Jaz (+6019 4009 339) or Wei (+6019 2208 932)

 
To receive timely updates and for more information about the Ducati brand, products and events, follow Ducati Malaysia on Facebook or Instagram.