News
DS cars arrive in Malaysia……starting with the Crossback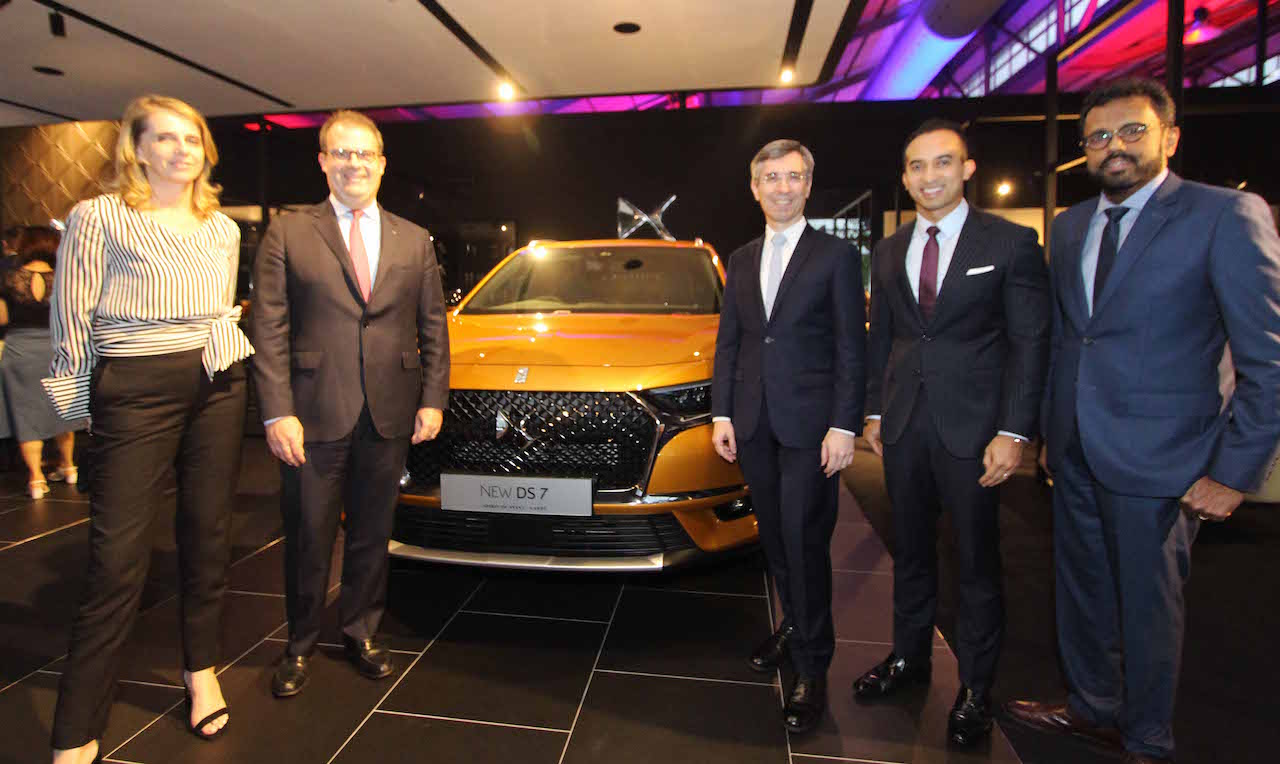 Naza Euro Motors Sdn Bhd, the sole distributor for DS cars in Malaysia has just officially launched the new DS Store Petaling Jaya, marking the first of its kind in Malaysia and Southeast Asia. The flagship outlet was inaugurated in the presence of  Yves Bonnefont, CEO of DS Automobiles and Dato' Samson Anand George, Group CEO, Automotive Group, Naza Corporation Holdings.
Weaving the excellence of French savoir-faire in a luxurious and modern space, the DS Store Petaling Jaya emphasises on the refined world of DS Automobiles, replete with its distinguished Corporate Identity in mind and French know-how in the premium segment. The design concept is based on DS Automobiles' signature design philosophy for its outlets in key global markets, taking inspiration from the DS Spirit of Avant-garde as well as innovation and state-of-the-art features, only available in a DS vehicle.
The warm black, carmine red and champagne colours iconic to the DS brand adorns its walls and floors of the store, exuding a designer ambiance with great precision and creativity. At the centre of it all is the première appearance of the DS 7 CROSSBACK, which captivated guests and business partners alike at the event. With a total floor space of 3,230 sq ft, the new DS Store Petaling Jaya has the capacity to display three cars at any one time and offers 3S facilities for the convenience of DS owners. The outlet will serve as a one-stop centralised hub for DS owners and prospective customers to experience the very best of what DS Automobiles has to offer.
Dato' Samson Anand George, Group CEO, Automotive Group, Naza Corporation Holdings said, "The new DS Store Petaling Jaya is the first to be introduced in Malaysia and in Southeast Asia. It is designed to provide premium service and the best in customer experience. The DS Store is about inviting visitors to immerse themselves in the values of the DS brand and gives visitors sophistication at their fingertips to configure, personalise and view their new DS."
"With DS Automobiles' fervent support and vision to continue accelerating DS brand development in Malaysia, we plan to invest RM5 million for marketing, operations and such in 2019, on top of the initial investment of RM2 million to set up the flagship store," added Dato' Samson.
Present to officiate the new DS Store launch was Yves Bonnefont, CEO of DS Automobiles, who commented, "Each DS Store embodies DS Automobiles universe and is inspired by parisian luxury boutiques with its very own atmosphere. It is designed to place the customer at the centre of the brand experience."
DS Automobiles is a world-renowned French premium brand known for its exclusive and exceptional customer experience through outstanding products and exacting standards of service that are distinctively theirs. The new DS Store Petaling Jaya will offer a new approach to customer experience for French know-how and high-end automotive products.
A dedicated Customer Lounge welcomes discerning customers to configure, personalise and purchase their finest DS in-store, guided by a DS Advisor. The car exhibition area gives pride of place to a flagship model from the DS collection. Also on display is a large collection of DS lifestyle products inspired by DS Automobiles' distinctive brand values of French expertise in opulence, refinement, personalisation and advanced technology.
A virtual reality experience at the VR Zone adapts the advanced technology of DS Virtual Vision,  giving visitors a peek into the latest DS models where they can virtually view, explore, customise and interact with the cars in an almost realistic manner.
DS Automobiles currently has 450 DS Stores worldwide and continues to pique the interest of premium car enthusiasts globally.