News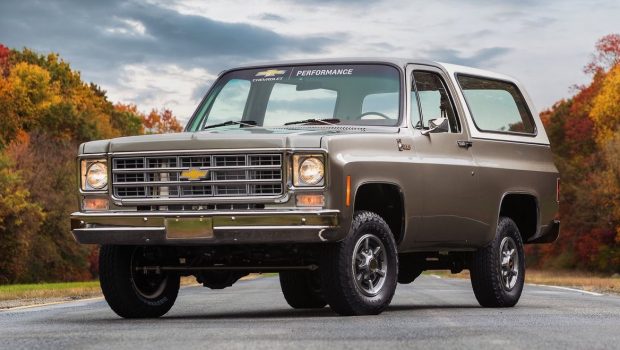 Published on October 31st, 2020 | by Joshua Chin
0
Chevrolet Previews eCrate EV Conversion With K5 Blazer-E
The future for engine swaps looks to be electrifying as Chevrolet enters the EV crate powertrain market. 
As the automotive world is slowly but surely the way of electricity, the thought of transplanting one's retro ride with a new EV heart is no longer a far-fetched fantasy, but instead a common reality. 
This has become such a burgeoning aftermarket scene that even the OEM firms are aiming for a slice of that EV resto-modding pie too. The latest of which being GM, who will soon be offering a factory crate EV powertrain alongside their burbling V8s in the form of its Chevrolet Performance Electric Connect and Cruise Package.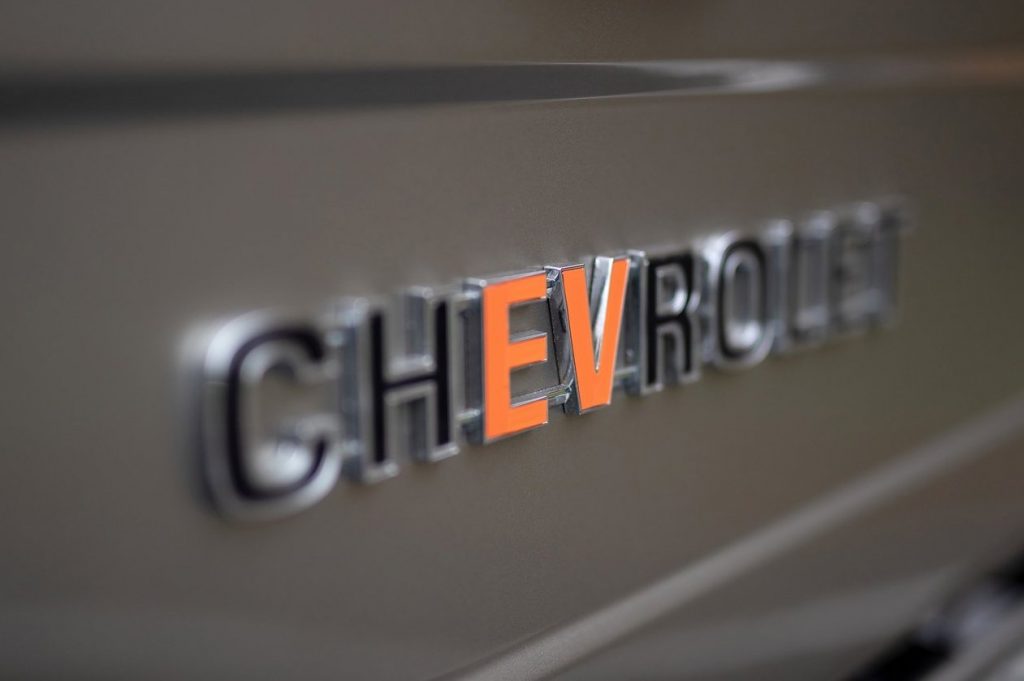 First previewed in the previous 2 SEMA shows with the Chevrolet eCOPO Camaro in 2018 and then the Chevrolet E-10 last year, the American automotive giant has debuted its most complete electric conversion package to date at the 2020 SEMA360 virtual show with its all-electric K5 Blazer-E concept. Thus marking the home stretch for its eCrate conversion to enter the aftermarket. 
GM claims that this new eCrate conversion package it will soon offer will be mainly based off factory components from its Chevrolet Bolt electric hatchback. As such, for what began life as a 1977 K5 Blazer with its original 175 hp 400 cubic inch V8 mated to a three speed automatic transmission, this K5 Blazer-E has been given a new electrified heart courtesy of a Bolt EV motor that outputs 200 hp and 360 Nm of torque.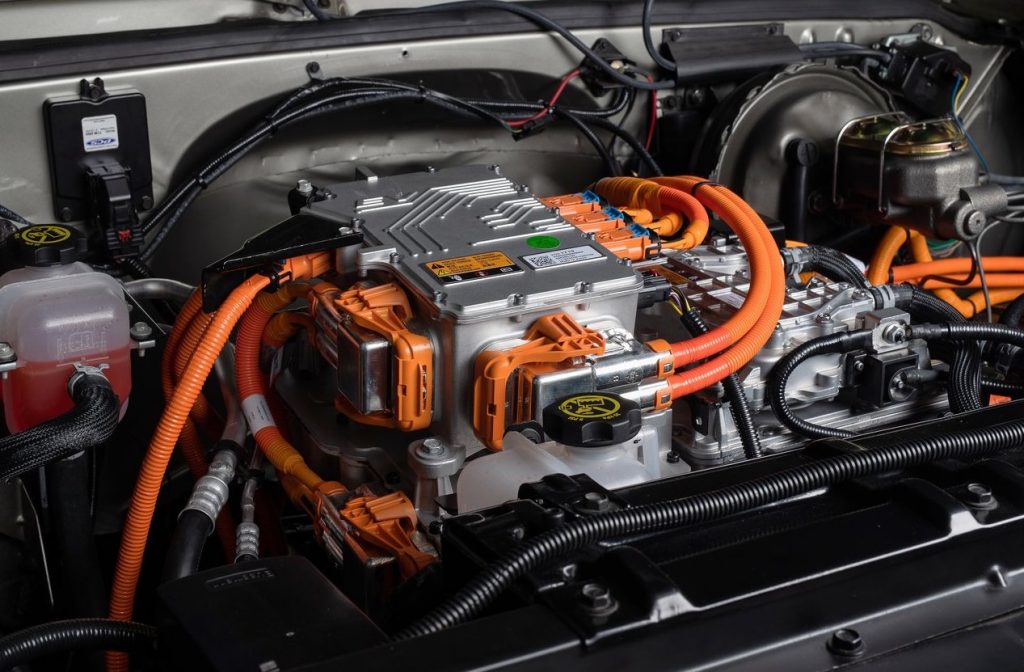 The battery pack too is derived from the Bolt. Installed right on the cargo bed of this two-door retro American SUV, this 400 V lithium-ion battery pack delivers 60 kWh of usable electrical energy to the sole electric motor mounted in the engine bay, where the burbling V8 used to be.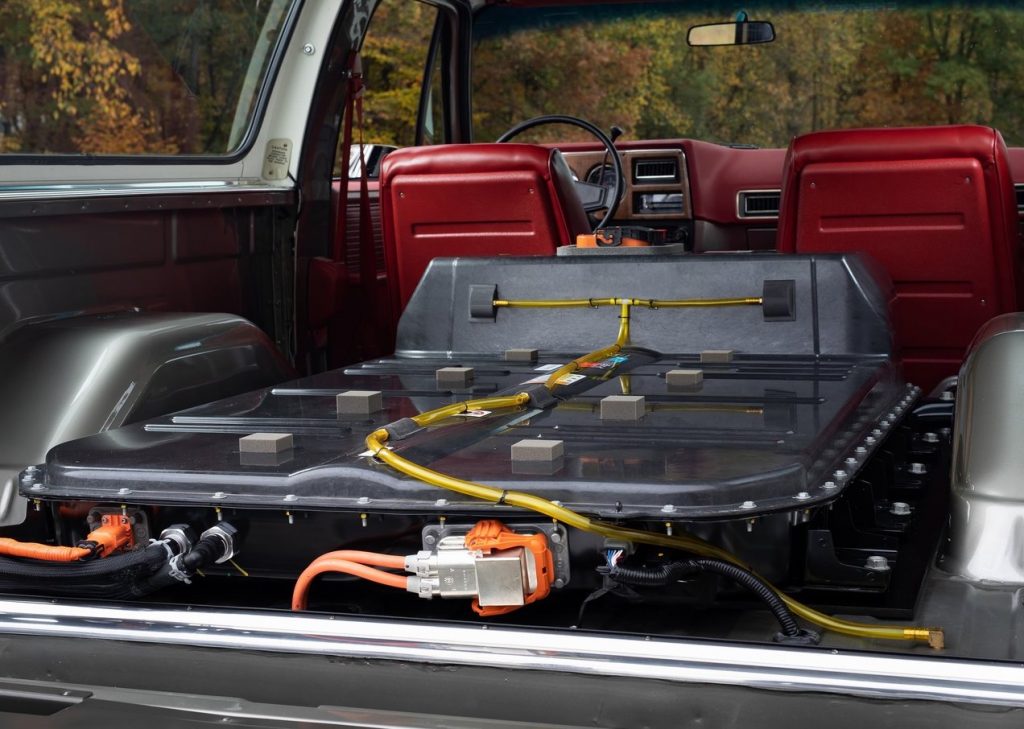 Moreover, as factory Bolt production controllers and wiring harnesses are also used in this conversion, many of the Bolt's electric drive features are found on the K5 Blazer-E too. Such as 'shock protection, battery heating and cooling, battery-overcharge protection and even regenerative braking.'
What is bespoke on this eCrate kit showcased by the K5 Blazer-E though is the Chevrolet Performance electronically controlled four-speed automatic transmission, along with an electric power steering kit and an electric controller to send make the vintage analog Blazer gauges operational. A new electric brake pump is also fitted to provide vacuum to the stock brake system.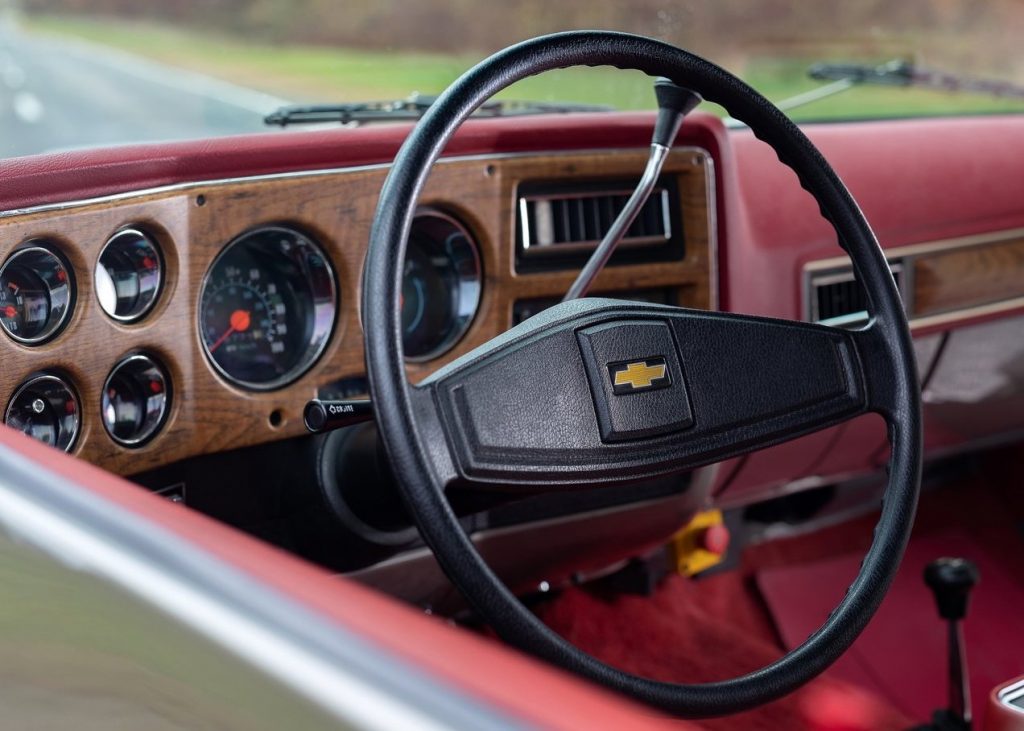 On the topic of stock components, the Blazer not only continues on its stock braking system, but the rest of the drivetrain components likes its transfer case, driveshaft and axles date back to 1977 too.
While this particular K5 Blazer-E is unlikely to make it into factory production any time soon, this 60-kWh Electric Connect and Cruise package found within it is set to enter the aftermarket sometime in the latter half of next year. To those who crave for more power, GM is also working on higher performance variants with its new Ultium battery technology.  Modular eCrate options are also on the card for the future. 
So soon enough, the distinct V8 burble from the hot rods of days gone by will instead be replaced the high pitched whine of zero-emissions electric motors. Such is the march of progress.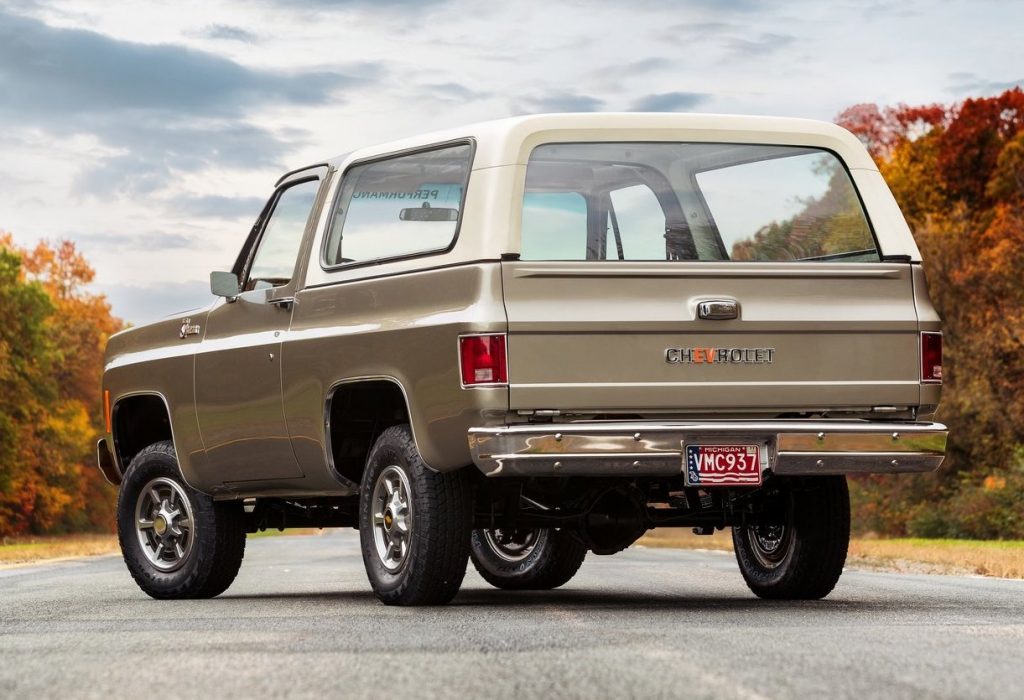 PRESS RELEASE: At SEMA360, Chevrolet will showcase a 1977 K5 Blazer converted to all-electric propulsion. The K5 Blazer-E is a functional proof of concept of the upcoming Electric Connect and Cruise package Chevrolet Performance plans to sell in the second half of 2021.
During the virtual event, Chevrolet Performance will survey SEMA members interested in building their own electric projects to help finalize Chevrolet's initial eCrate offering.
"As GM introduces a new fleet of electric vehicles, it creates an exciting opportunity to bring EV technology to the aftermarket," said Jim Campbell, GM U.S. vice president of Performance and Motorsports. "Our vision is to offer a comprehensive line of Connect and Cruise systems from Chevrolet Performance – delivering a solution for every customer ranging from LSX V-8s to eCrate conversions."
Building the K5 Blazer-E
Chevrolet first previewed the eCrate conversion concept with the Chevrolet eCOPO Camaro in 2018, followed by the Chevrolet E-10 in 2019. Learnings from those vehicles helped inform Chevrolet's Electric Connect and Cruise strategy.
The new K5 Blazer-E retains as much of the stock Blazer as possible and approximately 90 percent of the new parts installed for the eCrate package are factory components from the Chevrolet Bolt EV.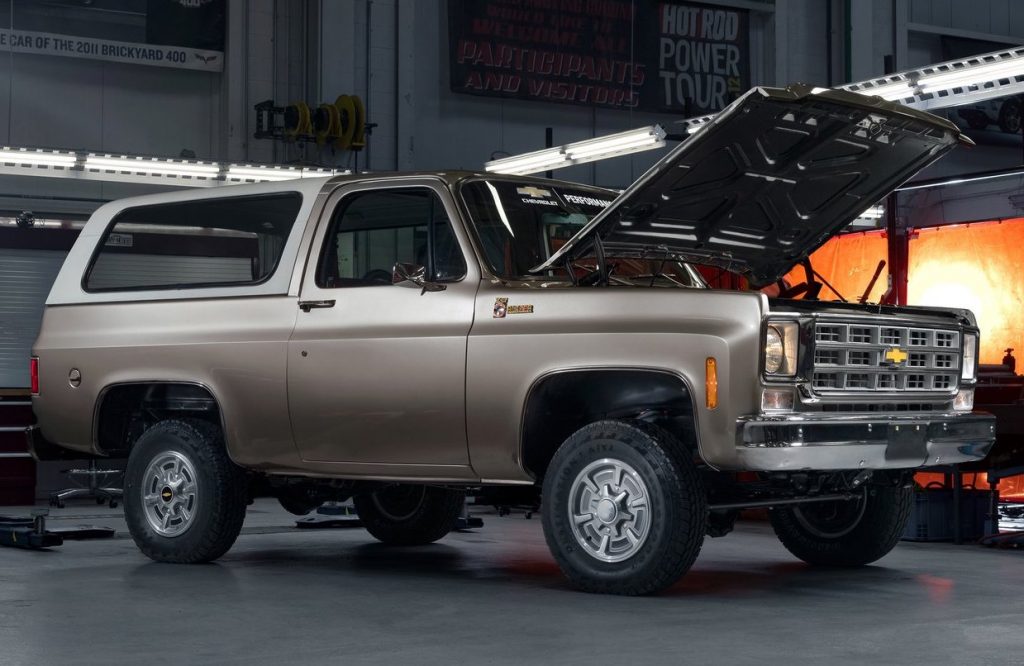 To convert the 1977 K5 Blazer, the team first removed from the Blazer the original 175-horsepower 400 cubic-inch V-8, three-speed automatic, fuel system and exhaust. Then, the team installed a Bolt EV electric motor, delivering 200 horsepower and 266 lb-ft of torque, paired with a Chevrolet Performance electronically controlled four-speed automatic. The rest of the Blazer drivetrain remains untouched, including the transfer case, driveshaft and axles.
Power is supplied by a 400-volt Bolt EV battery pack with 60 kilowatt-hours of usable energy installed in the cargo area. Using production controllers and wiring harnesses preserves many Bolt EV features, including shock protection, battery heating and cooling, battery-overcharge protection and even regenerative braking.
The aftermarket components include an electric power steering kit, an electric pump providing vacuum to the stock brake system, and an electronic controller to drive inputs to the vintage Blazer gauges – such as displaying the battery's state of charge on the original fuel gauge.
eCrate Installer Certification Program
To prepare for the eCrate launch, Chevrolet Performance is certifying Electric Connect and Cruise installers. Participating Chevrolet dealers and aftermarket companies will receive the training, tools and equipment needed to work with high-voltage systems and charging stations to service customers' vehicles.
Lingenfelter Performance Engineering in Brighton, Michigan will be the first company to pilot the training and certification program. This experience will help inform the certification process for future installers.
The 60-kWh Electric Connect and Cruise package, expected to be available in the second half of 2021, includes:
60-kWh battery pack
200-horsepower electric motor
DC-to-AC power inverter to drive the electric motor
DC-to-DC power converter to power low-voltage systems
Wiring harnesses, controllers and water pumps for battery heating and cooling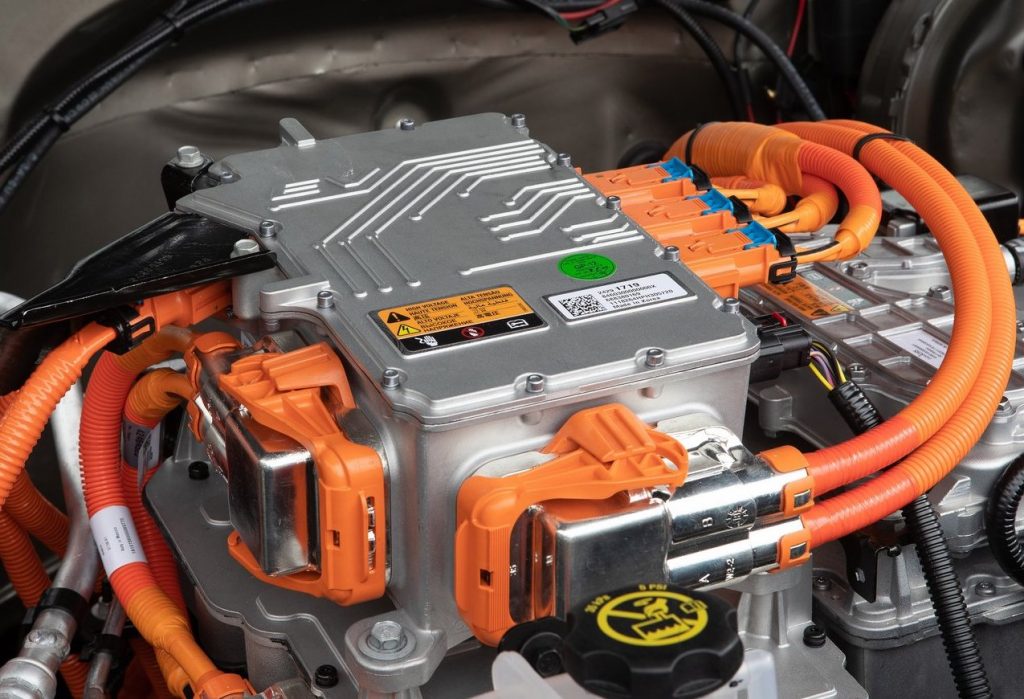 Chevrolet Performance is also evaluating additional eCrate packages with higher-performance options and new battery configurations to fit a wider range of aftermarket applications. Longer term, the team will work to integrate GM's modular Ultium battery system technologies.
"Minutes after Chevrolet showed the E-10 concept, customers started calling to ask how soon they could build their EV project," said Russ O'Blenes, Chevrolet director of engineering, Performance and Racing. "The K5 Blazer-E demonstrates what is possible for customers who want to convert their vintage truck to a daily driver with the instant torque and unique driving experience of an EV. For customers who want more extreme performance, the modular eCrate system will have virtually limitless applications."