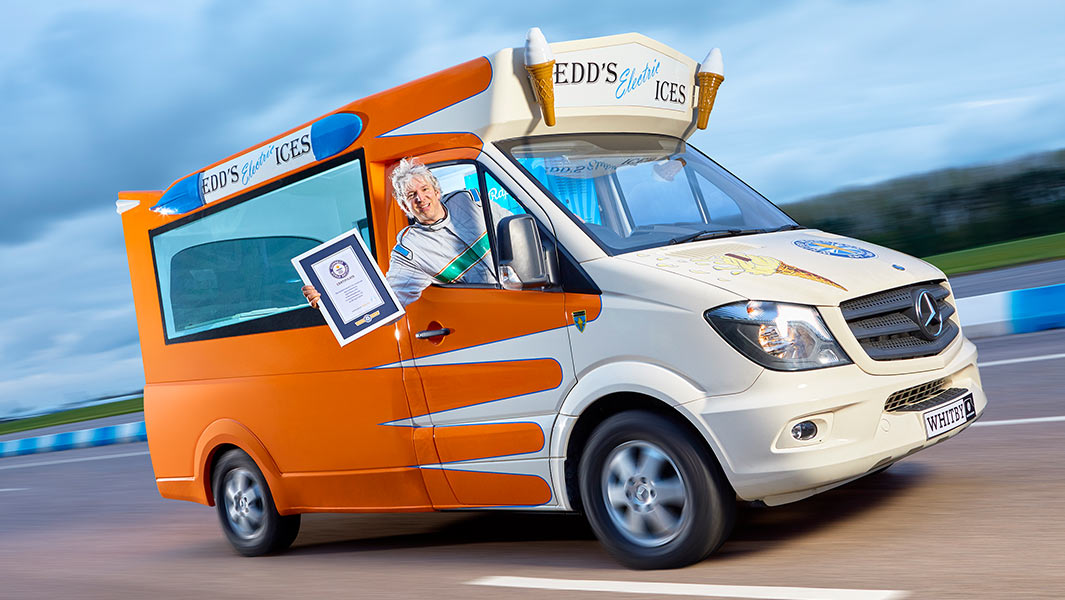 The new record now stands at a blazingly fast 119 km/h. 
There is a new king of speed in the electric ice cream van world and it is this orange and white Mercedes Sprinter you see here. Edd's Electric Ice has set the Guiness World Record for the fastest electric ice cream, reaching a top speed of 118.964 km/h (73.921 mph).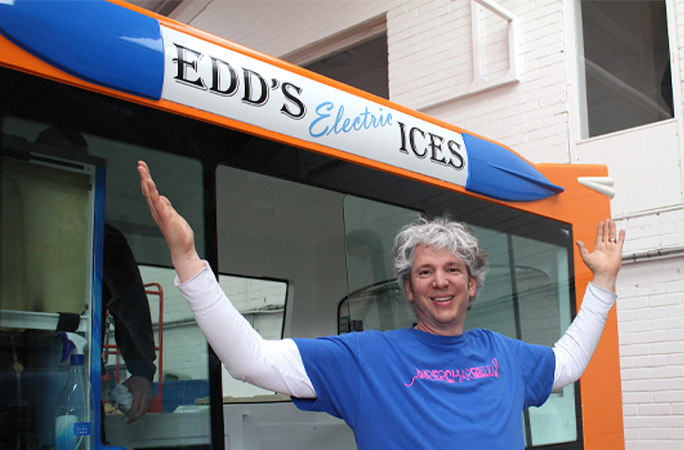 This wacky top speed record was the culmination of a two year long development process and it was set on the 17th of March 2020. 
If the Edd in Edd's Electric Ice rings a bell, this record was indeed set by Edd China who some people might know him of being the (former) other half of the car flipping duo off British television program, Wheeler Dealers. Besides being a TV personality though, Edd is also a well-known tinkered and engineer. And is the brains behind the other wacky motorised world records like the world's fastest office and was previous record holder of the world's fastest sofa.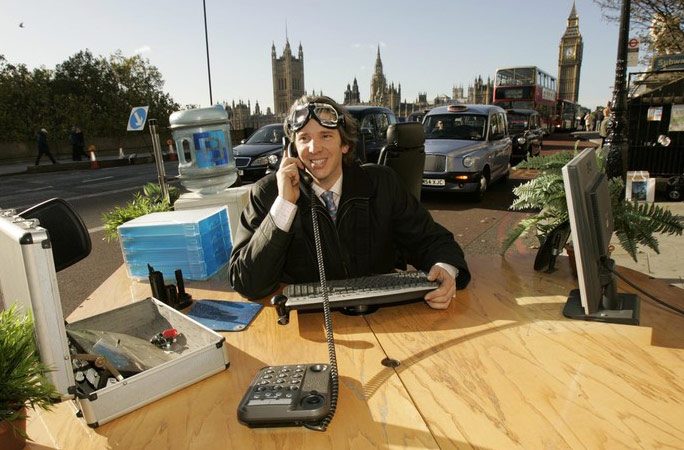 To create the world's fastest ice cream van, Edd has collaborated with British ice cream van manufacturers, Whitby Morrison, to convert a previously diesel-powered Mercedes Sprinter-based Amalfi ice cream van to run on fully electric propulsion.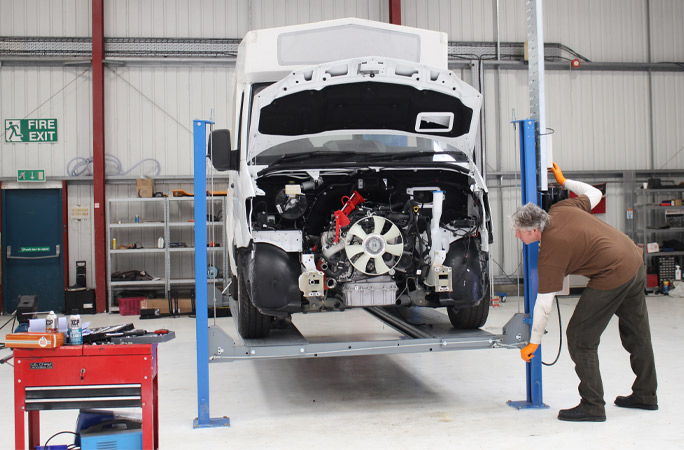 The conversion is harder than one might think. This is because the soft-serve ice cream machine within the ice cream van runs off the power from the engine, so that had to also be converted to run on a separate electric motor, thus complicating the conversion procedure. However, to qualify for the record, the soft-serve machine must still be operational. 
Still contained within the ice cream van too are the fully-functioning freezers and chillers for other sorts of ice creams and frozen treats. 
One previous attempt was made for the record by Edd, but unfortunately the charging circuit blew up before the run. Happily though on its second outing, Edd's Electric Ice managed to clinch the record by (just) exceeding the 70 mph minimum speed requirement.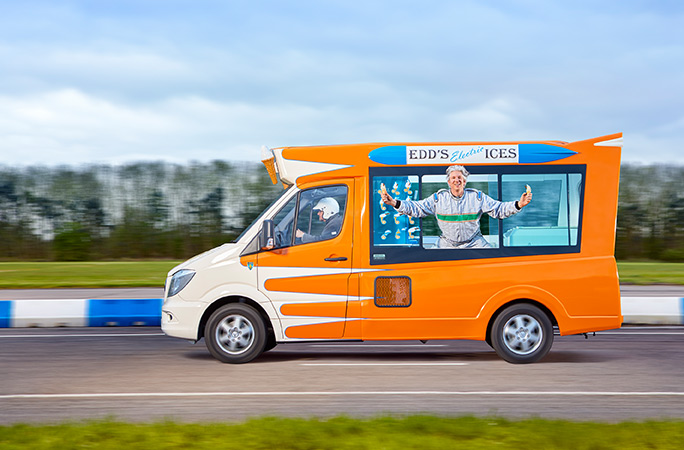 Some might rightly say that why didn't someone just put a Tesla powertrain underneath an ice cream van shell to easily smash the record. Well, the main reason for this custom powertrain conversion is actually so that current ice cream vans in the UK can be converted from diesel power to electric. 
Edd realised that ice cream vans are being banned in some London boroughs because of tightening emissions regulations that restrict entry of these older, more polluting diesel vans. Thus, this retrofit conversion was developed to continue to bring childish delight back to the people living in those areas.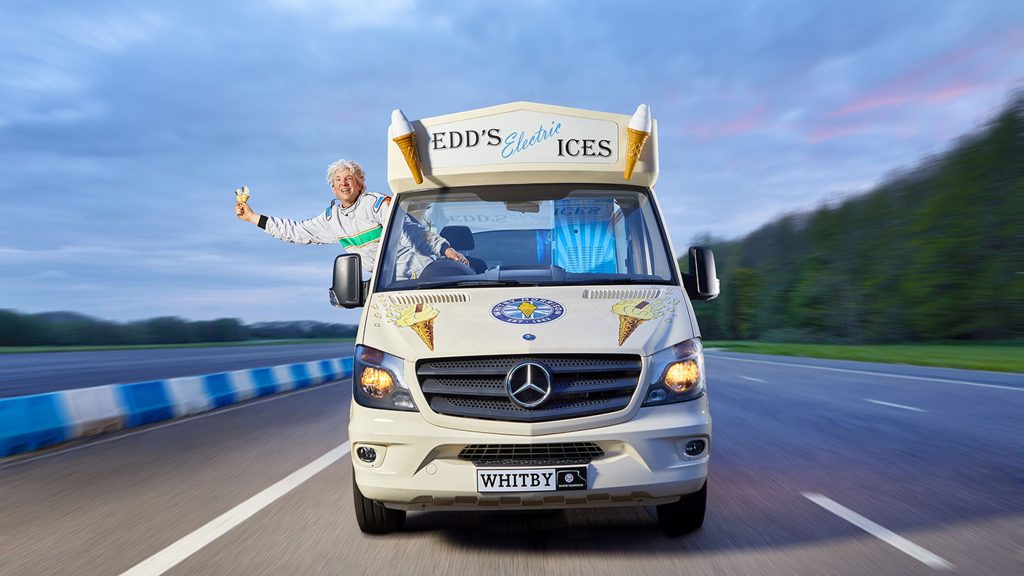 With this achievement stamped in the record books, Edd is looking forward to smash the record on the world's fastest shopping trolley. A record that currently stands at 70.4 mph. He hopes that with an EV powertrain, his next record breaking attempt will not only be successful, but also street legal too.