Automotive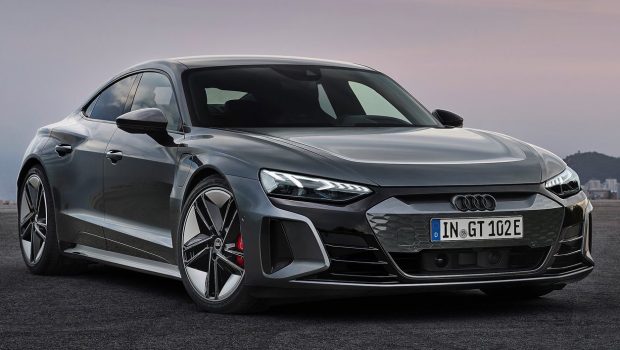 Published on February 10th, 2021 | by Joshua Chin
0
Audi e-tron GT Unveiled, A Porsche Taycan In A Sharper Suit
Sharing the same EV platform as the Taycan, Audi's e-tron GT is set to take on the Tesla Model S. 
After many teasers and much hype, Audi has finally unveiled its new e-tron GT. While not the first full EV to wear the four rings (the original e-tron e-SUV still exists remember) this all-electric four-door sports car however is set to be the German automaker's flagship for its future all electric offensive.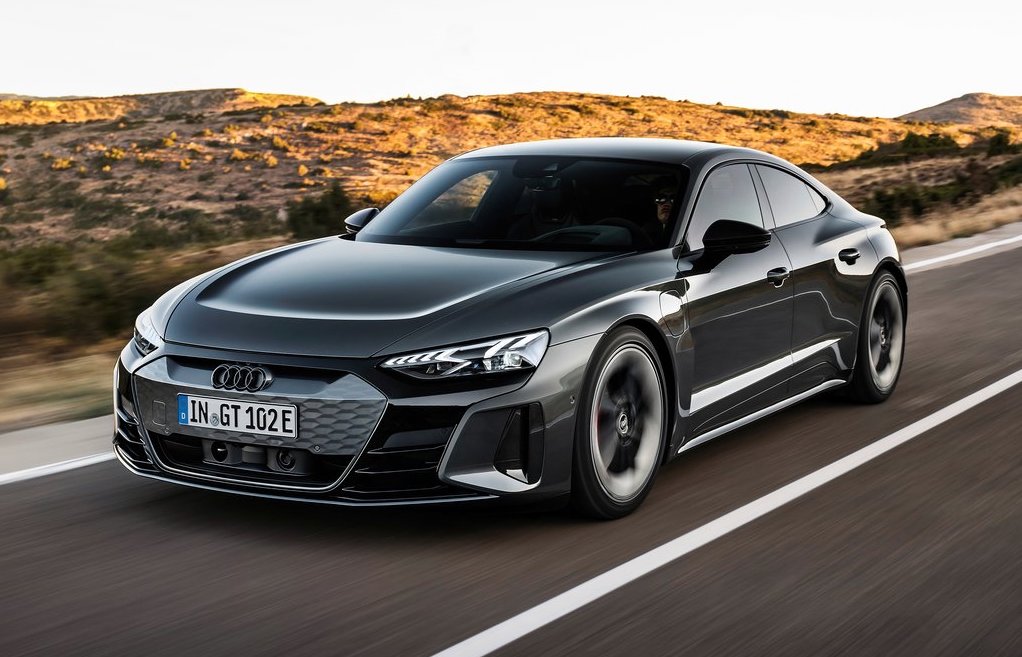 The reason this particular model claims the title as the automaker's flagship EV is because the e-tron GT is essentially a Taycan underneath. Sharing the same J1 all-electric platform as the aforementioned Porsche, it could therefore be said that this new Audi is essentially sharper/meaner-looking alternative to its all-electric Stuggart stallion. 
Speaking more about the e-tron GT's looks, as compared to the Taycan's flowy organic lines, this new EV instead brings Audi's blockier, muscular exterior aesthetic into the modern age. What this mean is that while the traditional Audi design elements like large honeycomb-patterned grille up front and the full-width LED light bar out the back, all these features have just been tweaked slightly to give it a slightly more futuristic vibe.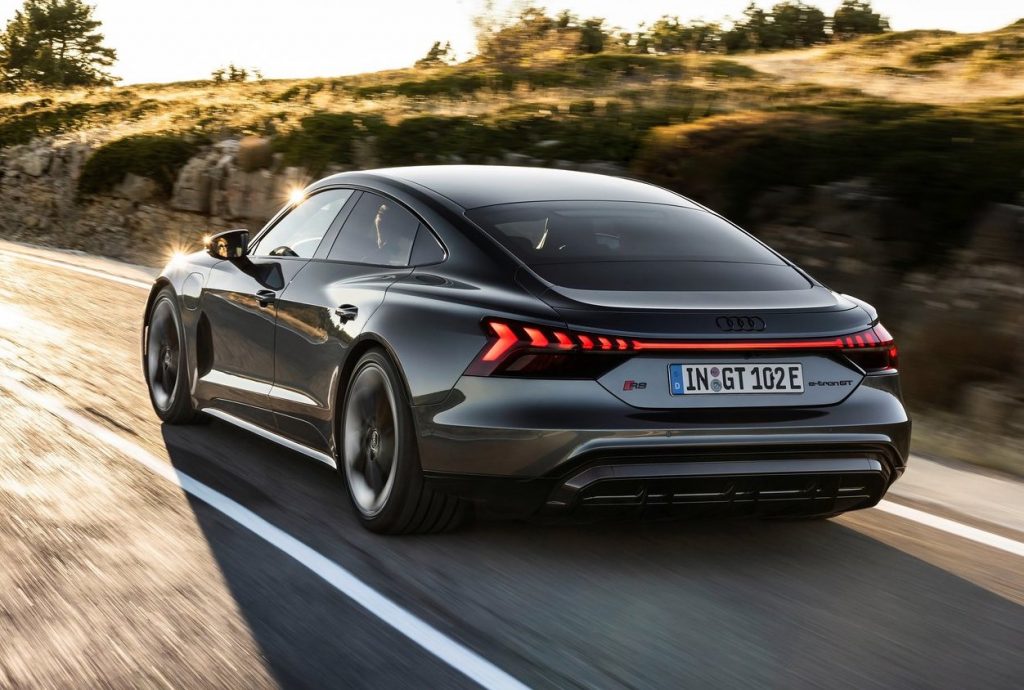 To add to this cyberpunk aesthetic, the Audi also sits slightly longer and marginally taller than the Porsche too. Nevertheless, even with these sharp lines and marginally larger body, the e-tron GT still manages to cut through the air cleanly thanks to impressively Cd factor of just 0.24 (though the Taycan is still slightly better with a 0.22 Cd).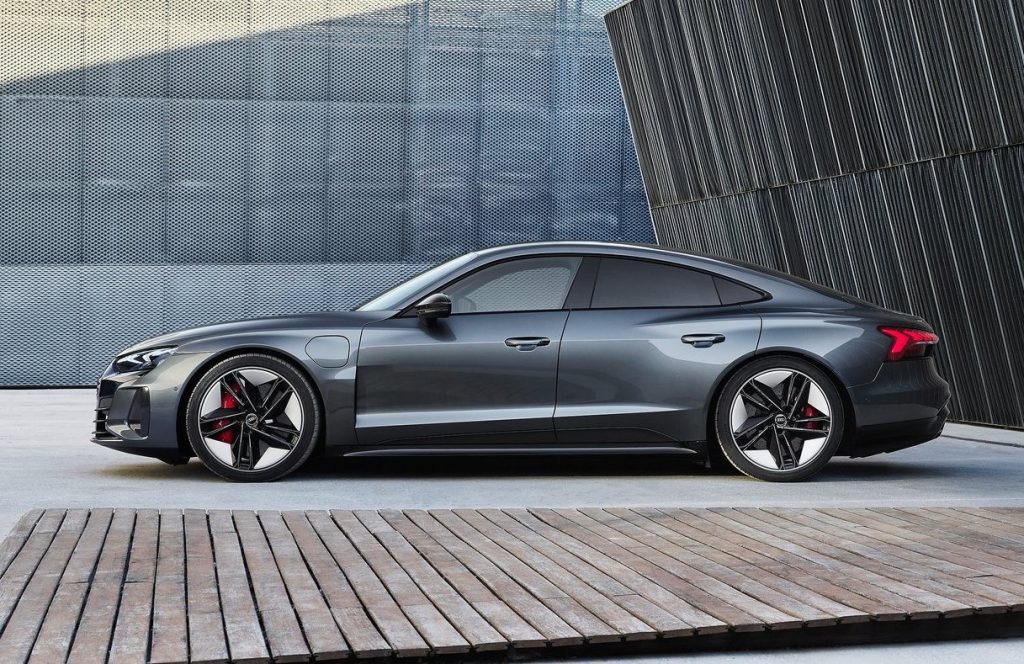 Now on the topic of what exactly propels the e-Tron GT down the road, there are currently two variants available at launch with this all-electric four-door fastback. The first of which is the more vanilla e-tron GT quattro, with the latter being the hotter RS e-tron GT.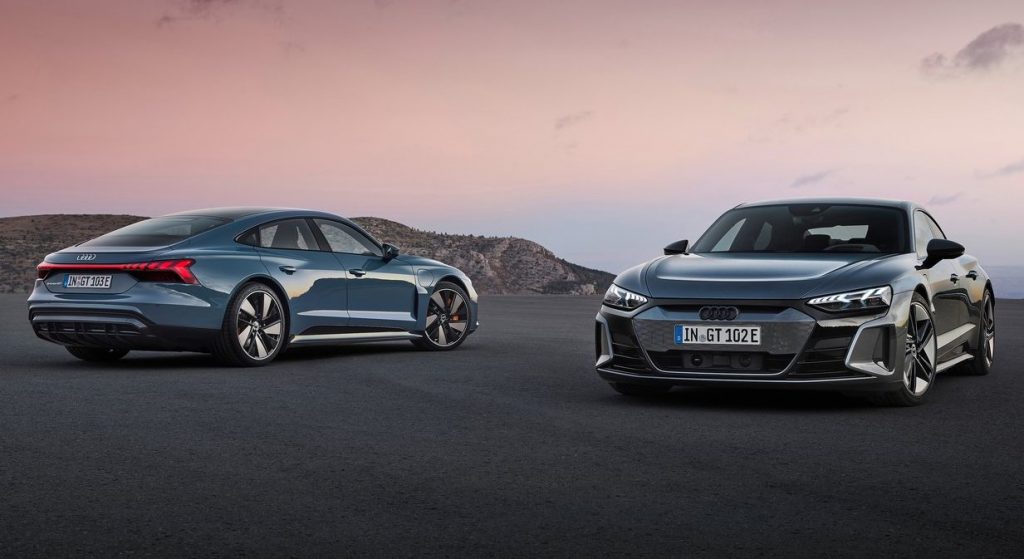 Starting with the details of the e-tron GT quattro first, this twin motors of this base model outputs a total of 469 PS and 630 Nm of torque. A figure which jumps to 523 hp and 640 Nm when launch control is activated, hence netting a century sprint time of 4.1 seconds and a top speed of 152 mph (245 km/h). 
Moving onto the more powerful RS e-tron GT, this particular variant here makes an even healthier combined power output of 590 hp and 830 Nm of torque, which then increases to 637 hp and on overboost. This all hence equates to a 0-100 km/h in just 3.3 seconds with launch control engaged, and an electronically-limited top speed of 155 mph (250 km/h).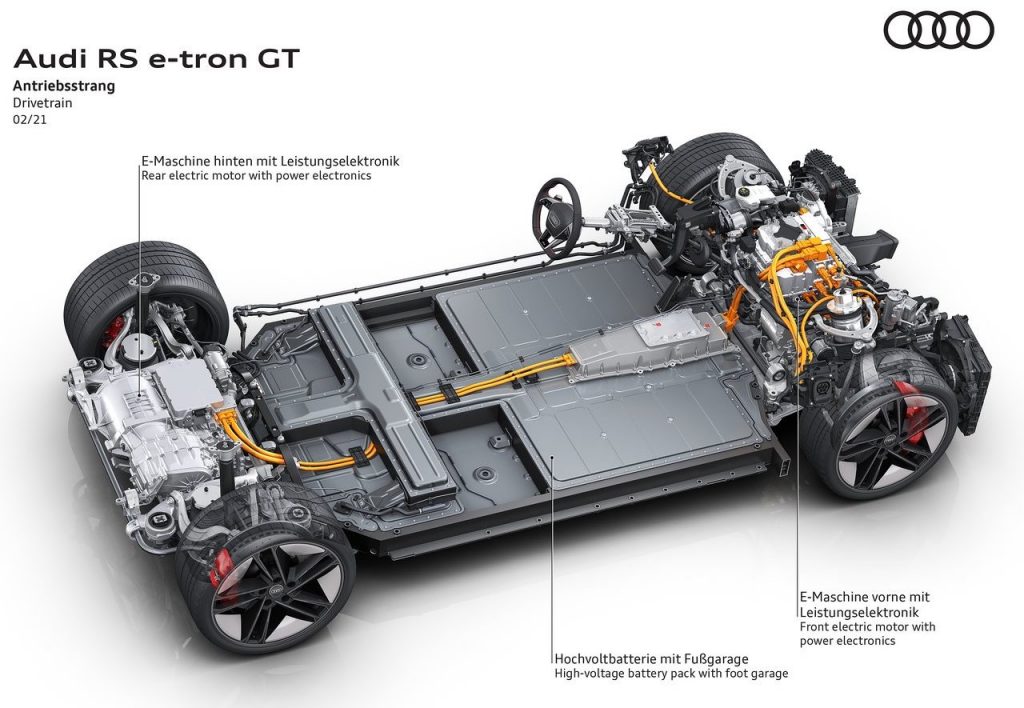 As for the rest of the drivetrain of both these all-wheel drive e-tron GTs, the highlights here include a two speed transmission in the rear motor (the same as what is found in the Taycan), aluminium double wishbone suspension, rear locking differential, as well as giant 420 mm disk brakes with 10-pot callipers. Optional on the Audi meanwhile are four-wheel steering, three-chamber active air suspension and carbon ceramic brakes.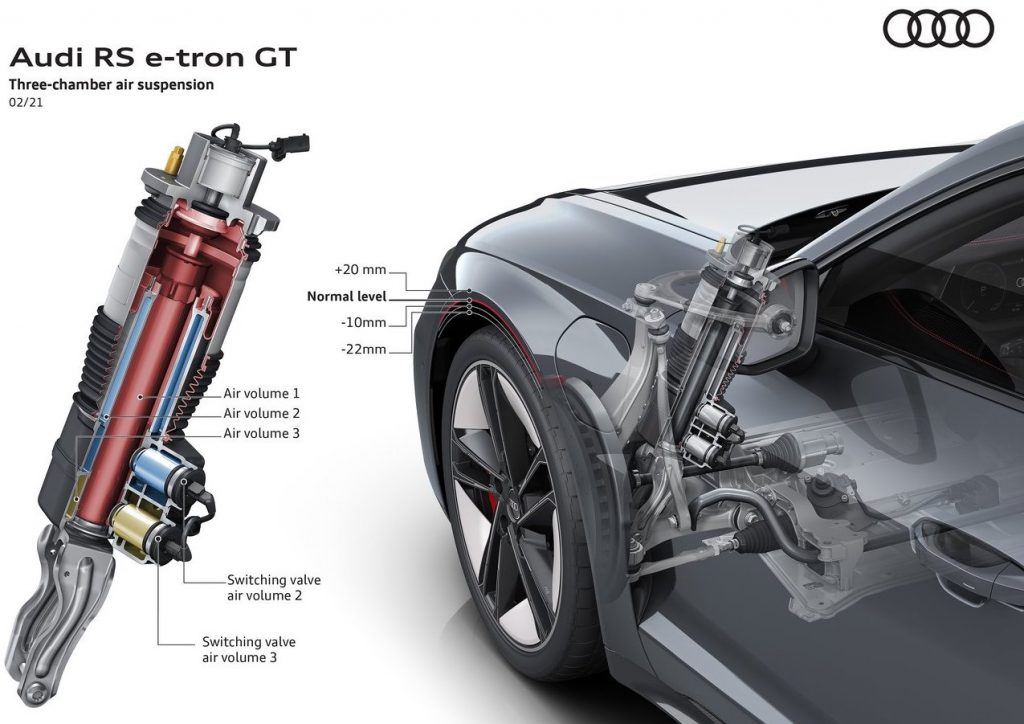 Switching tack to talk about the topic of efficiency, Audi expects the e-tron GT Quattro and the RS e-tron GT to manage 487 km and 472 km respectively on a single charge from both their 93 kWh battery packs. Topping up these batteries from 5% to 80% on the other hand could be done in just 22 minutes, thanks to the 800 V electric architecture that supports 270 kW DC fast charging.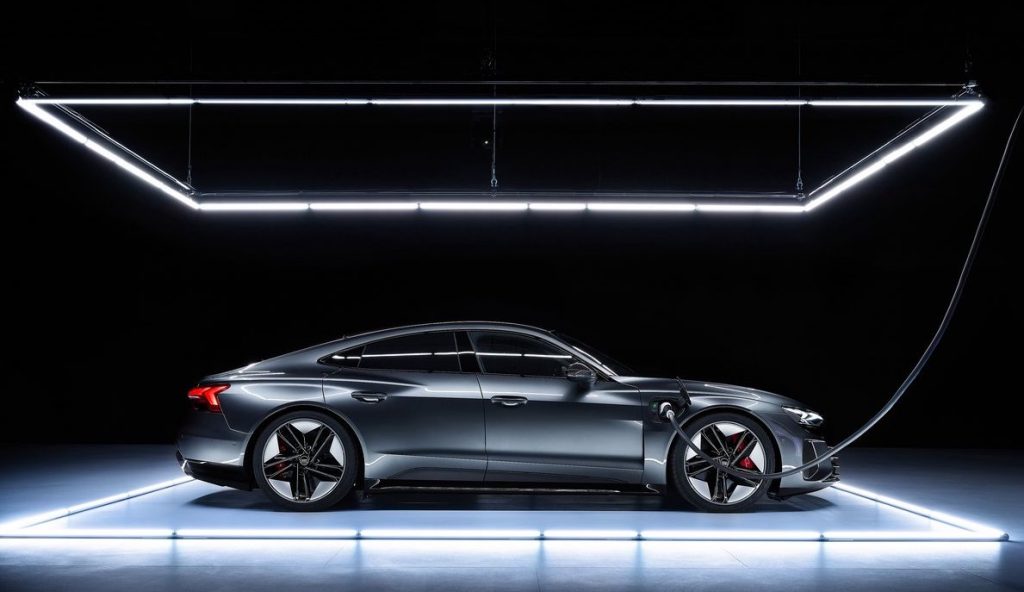 Stepping inside, the angular cabin design follows on from the exterior of the e-tron GT. As for in-car tech, a 12.3-inch Audi Virtual Cockpit Plus digital instrument cluster is standard, as is the 10.1-inch MMI touch display powered by Audi's 3rd generation modular infotainment platform (MIB 3).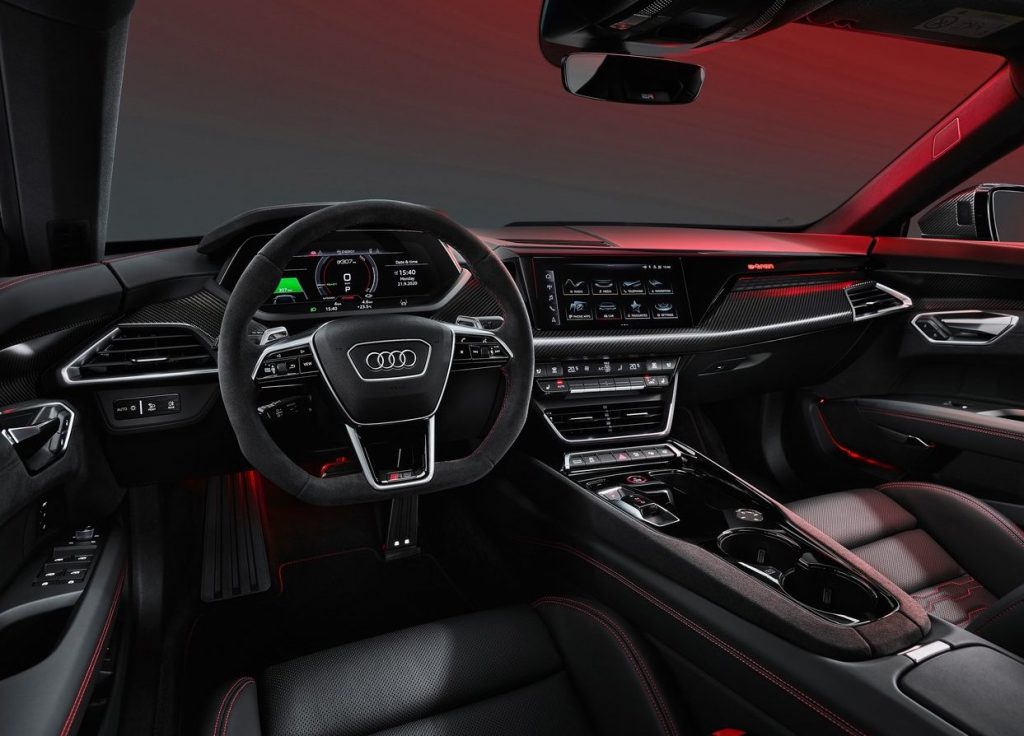 Being all green and eco too, while the e-tron does come with (synthetic) Dinamica leather as standard, Audi is also offering the seats to be trimmed in Kaskade. A material that is made of recycled selvages, and is said to resemble wood.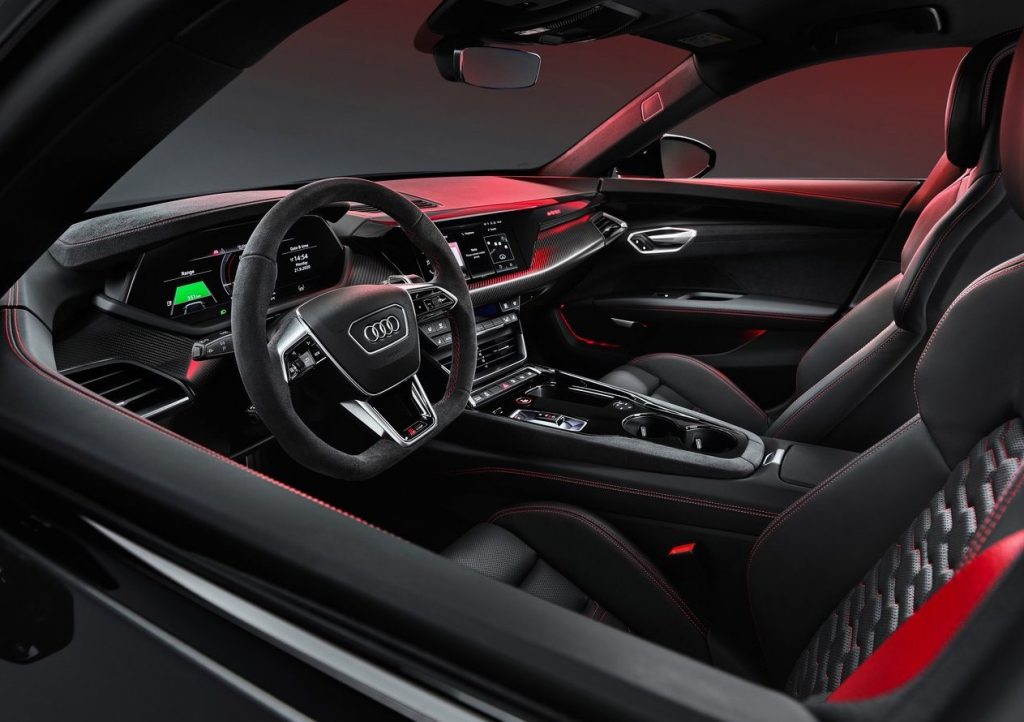 Built at Audi's Neckarsulm smart factory alongside its R8 halo car, the e-tron GT is set to cost from €99,800 (RM 489,000) and €138,200 (RM 677,000) for the quattro and RS respectively. There has thus far been no word yet on when this particular all-electric Audi will make it here, though our neighbours from across the causeway could expect to see it in dealerships by the third quarter of this year.