Reviews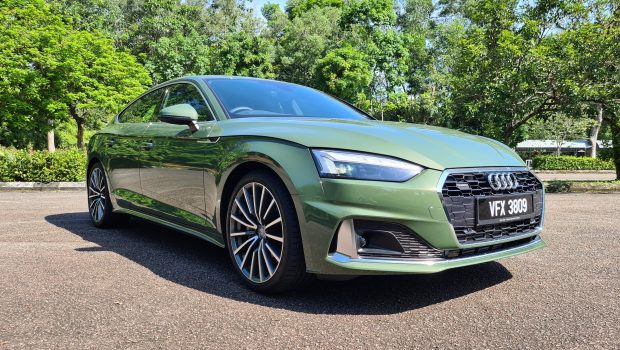 Published on April 11th, 2021 | by Joshua Chin
0
First Drive Impressions: Audi A5 Sportback 2.0 TFSI Quattro
How does this sleek Audi A5 Sportback stack up against its other sporty compact exec rivals?
If you are currently in the market for a compact executive saloon with just that tad bit more pep, there is actually a surprising amount of choice out there right now. 
On the more conventional side of things, the typical choices will be the likes of the BMW M340i xDrive and the Mercedes-AMG C43. Looking a little bit further left-field meanwhile, there is also 400+ hp Volvo S60 T8 PHEV and the extremely underrated Kia Stinger GT to consider. 
So how then does the Audi A5 Sportback fit into this rather crowded segment here? With its facelifted version recently landing locally, what would make buyers looking for a fast four door say yes to the four rings above all its other rather competent competitors?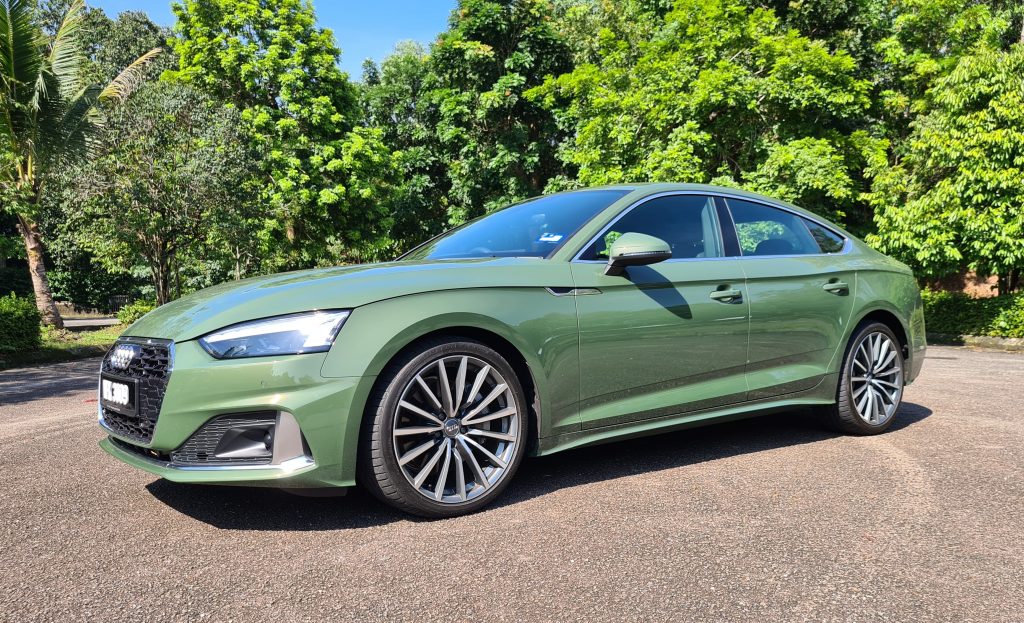 What the Audi A5 Sportback DOESN'T have going for it:
Styling
Well keeping things interesting and kicking off with the list of negatives on this A5 Sportback first, the styling of this recently refreshed Audi isn't exactly one of its strong suits. 
Granted, beauty is in the eye of the beholder and most of its competitors aren't exactly the most jaw-droppingly gorgeous cars out there too. However when compared to the prior iteration of A5 especially, it would seem that this new model here seems to have lost its way somewhat in the design department at least.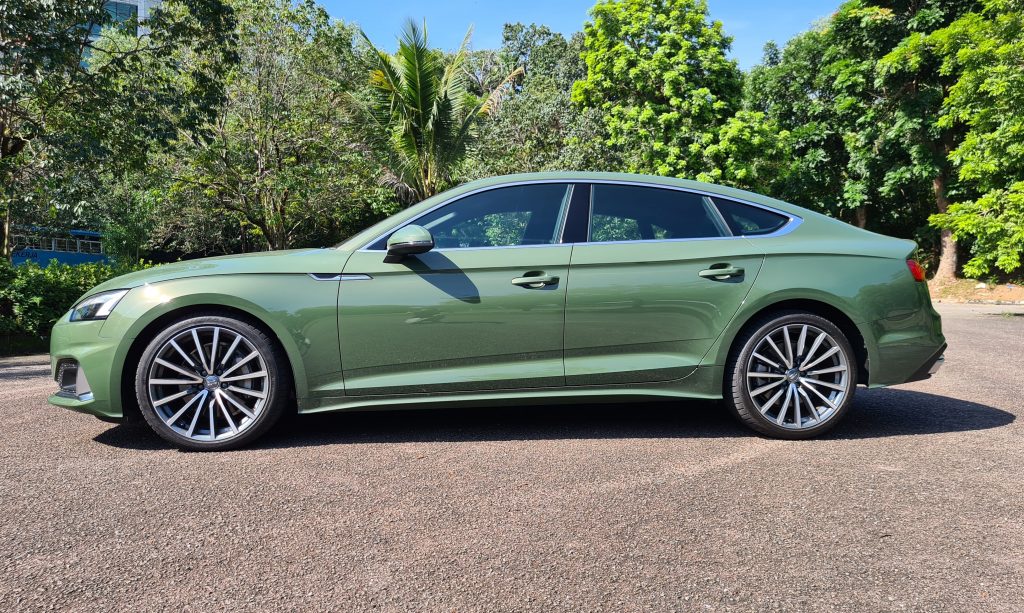 Despite the gorgeous olive green paint job that looks stunning on this example tested here, the jury is still out on that large hexagonal front grille which makes the A5 look as if it is gopping at something. Moving down the side, its fastback silhouette too on this Sportback sits may seem as if its sits just a tad too high in some eyes, thereby making it look like its arse is just a bit too blobby and bulbous as opposed to its more svelte three-box sedan rivals. 
Having said that, the A5 does claw back some styling points with those trick Audi LED light clusters up front and out the back with its dynamic turn signals. Those frameless doors and 19-inch multispoke partly-polished alloys too look particularly neat, and did I already mention the striking green exterior hue that is available?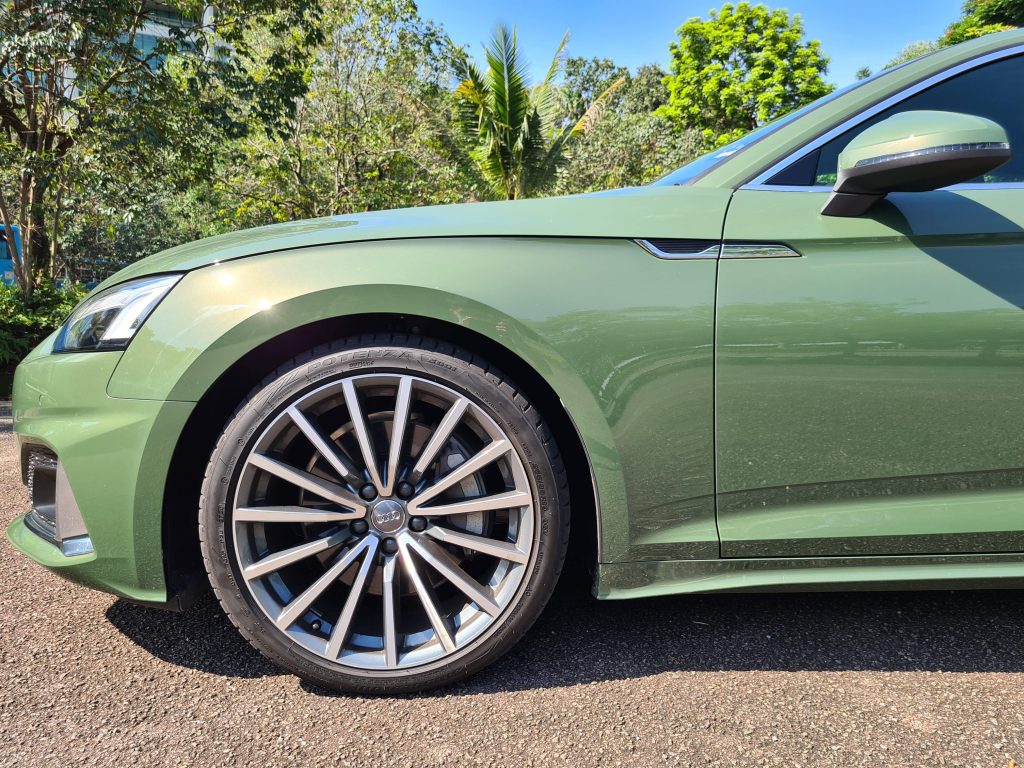 Features
Moving on to more objective nit-picks with this A5 Sportback, this five-door Audi is found to be somewhat lacking on the kit front. Particularly for a car that retails from RM 350k+.
Now just being absolutely clear here, the Audi is not exactly a bare-bones car. Far from it in fact, as the A5 Sportback comes with all the typical luxury accoutrements to be expected in this class of car like tri-zone climate control, electric leather seats, a leather-wrapped multi-function steering wheel, keyless go and an electrically operated tailgate.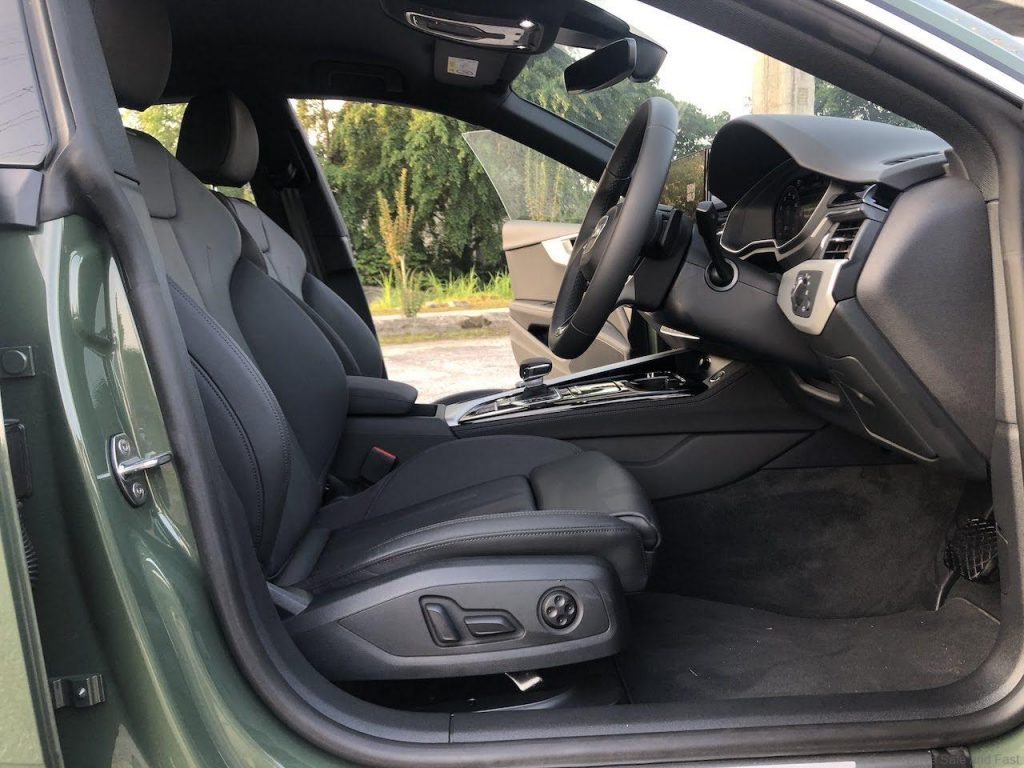 Then again though, even in this top-spec Advanced variant tested here (which incidentally costs RM 376,900), the A5 Sportback just lacks a few little odds and ends that should be expected in this segment (and price bracket) of car. Like a 360º surround view camera and a blind spot monitor for instance. 
And continuing on the topic of safety kit, adaptive cruise control and other associated active driver aids like autonomous emergency braking are also conspicuously missing from the list of standard equipment on the A5 Sportback. Though it is worth highlighting that Audi Active Lane Assist and a Tire Pressure Monitoring System (TPMS) is included, as are 6 airbags and the usual passive safety aids.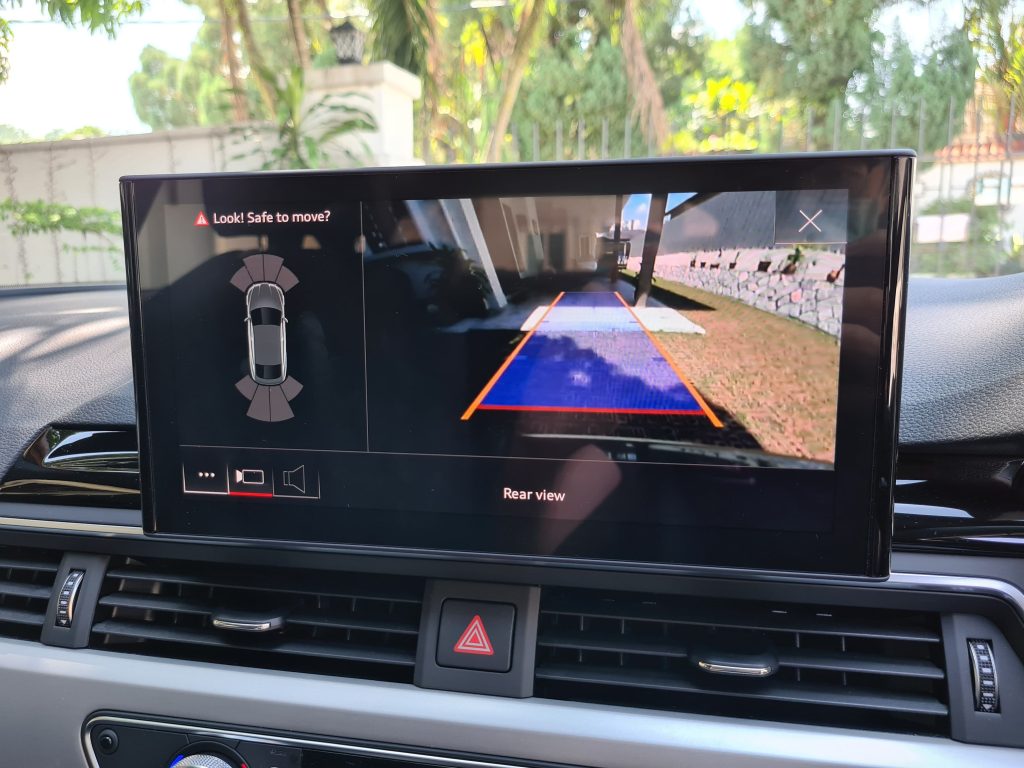 On Paper Performance
Continuing on the subject this Audi lacks, the 249 hp and 370 Nm of torque output by its 2.0 litre EA888 turbocharged four-cylinder does look to be comparatively outgunned by the turbocharged V6s of the similarly priced C43 AMG and M340i. Both of which incidentally pump out roughly almost 150 hp and 150 Nm more than A5 Sportback. 
Furthermore, mated to a 7-speed S-tronic dual-clutch transmission that sends power to all four wheels ala quattro, the Audi's century sprint time of 5.6 seconds on its own doesn't seem all that slow either. Compared to the AMG-lite and M-lite competitors of the C-Class and 3-Series however, which both claim 0-100 km/h times that are roughly a full second faster than the A5 Sportback, the more spirited driver's heart might very well be wavering towards the Bavarian bruiser or the Stuggart stallion, instead of this Ingolstadt alternative.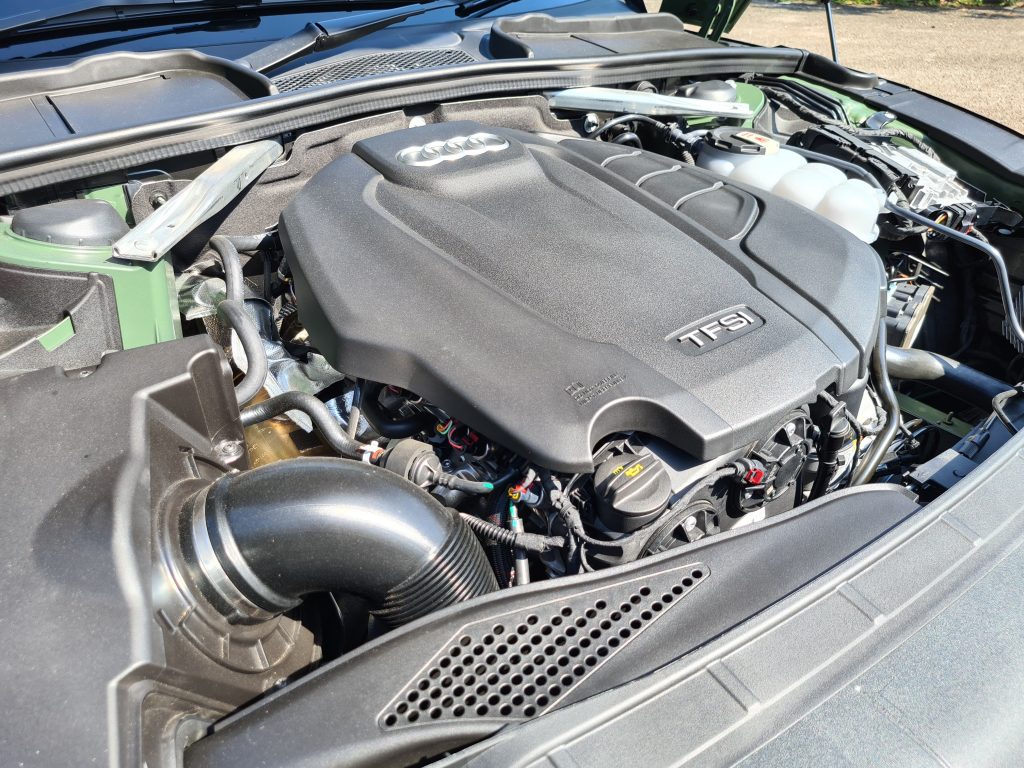 What the A5 Sportback DOES have going for it:
Driving Dynamics
After saying how the Audi is down on paper when compared to the Bimmer and the Benz though, this all sort of changes when actually driving the A5 Sportback on actual roads. 
Kicking things off with the way the A5 Sportback's performance first, while it is perhaps down on power as compared to the Bimmer and the Benz, this deficit really isn't noticeable in the real world. That is because while out on the road, the Audi still manages to pulls like the proverbial train when giving it the beans.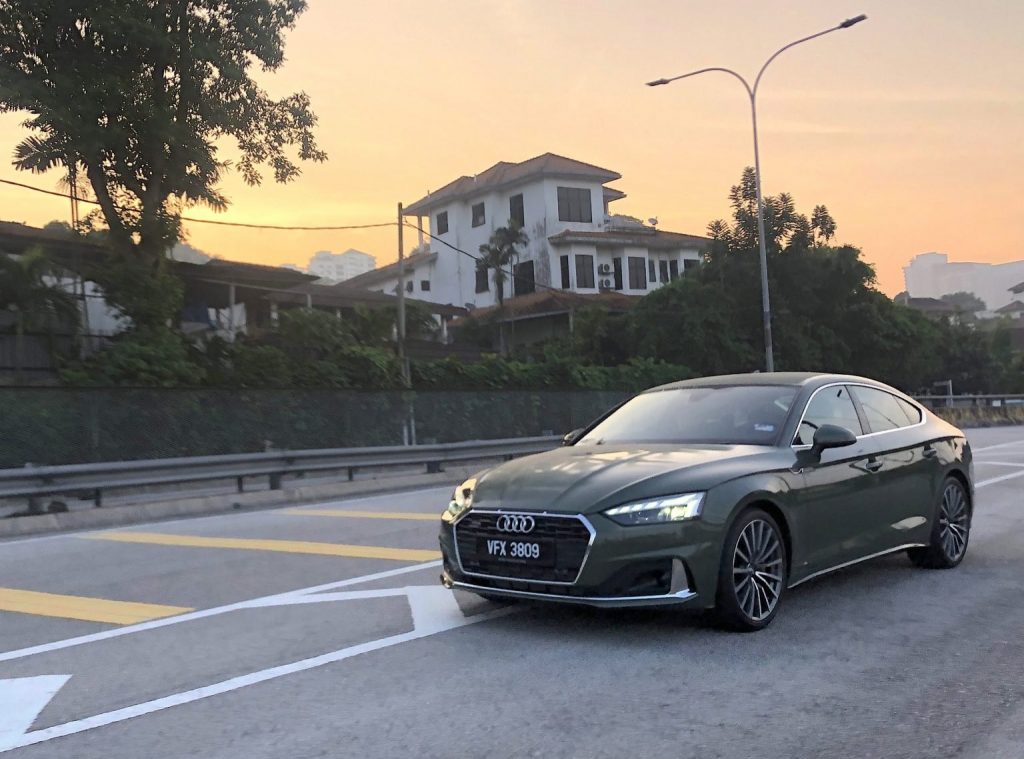 It is also when giving it the beans that opens the doors to yet another one of the Audi's party tricks, which is its remarkable ability to shrink around you. Making it feel like you're driving something smaller and nimbler akin to the size of a TT, instead of the mid-sized five-door fastback it really is. 
Rather impressively too is the Audi's ride quality. Despite riding on passive non-adjustable 'Sports suspension', the A5 still manages to provides enough confidence to be able throw it into a corner with gusto (partly thanks to Quattro too), while simultaneously supple enough ride on even the bumpiest, nastiest stretches of Malaysian roads.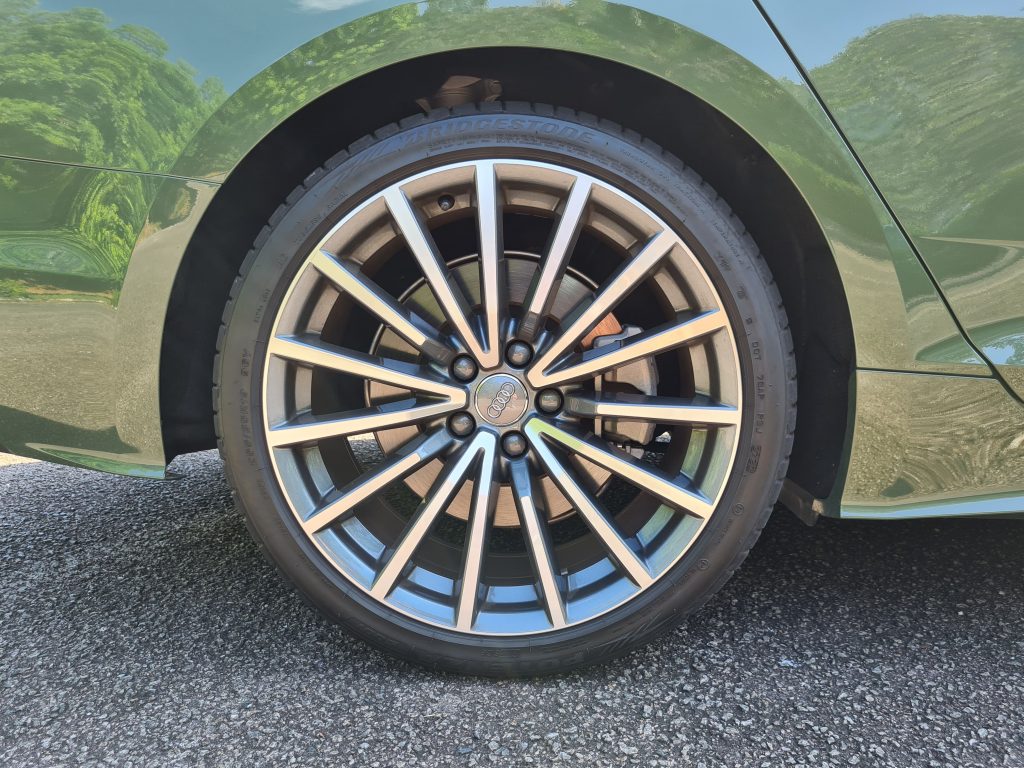 Quality and Practicality
Expanding on the ride quality and talking more on the subject of quality in general, this department is probably where the Audi shines best. A quiet and refined driving experience with minimal wind, tire or road noise intruding to within the cabin adds to the overall feeling of Germanic solidity given off by this fully-imported A5 Sportback. 
Sure, the dashboard design may look a tad straight-edged and it may be lacking a few tech goodies (as indicated by some obvious blank buttons on the console). Then again though, what is present within the cabin of the A5 Sportback is nice to see, nice to touch and just feels well put together overall. 
Being a fastback too, the Audi has that slight advantage on the practicality front when compared to the conventional three-box saloon body styles of its competition. Featuring a nice wide opening hatch for the easy loading of items into the boot, as well as offering that slight bit more headroom for the vertically-endowed rear seat passengers.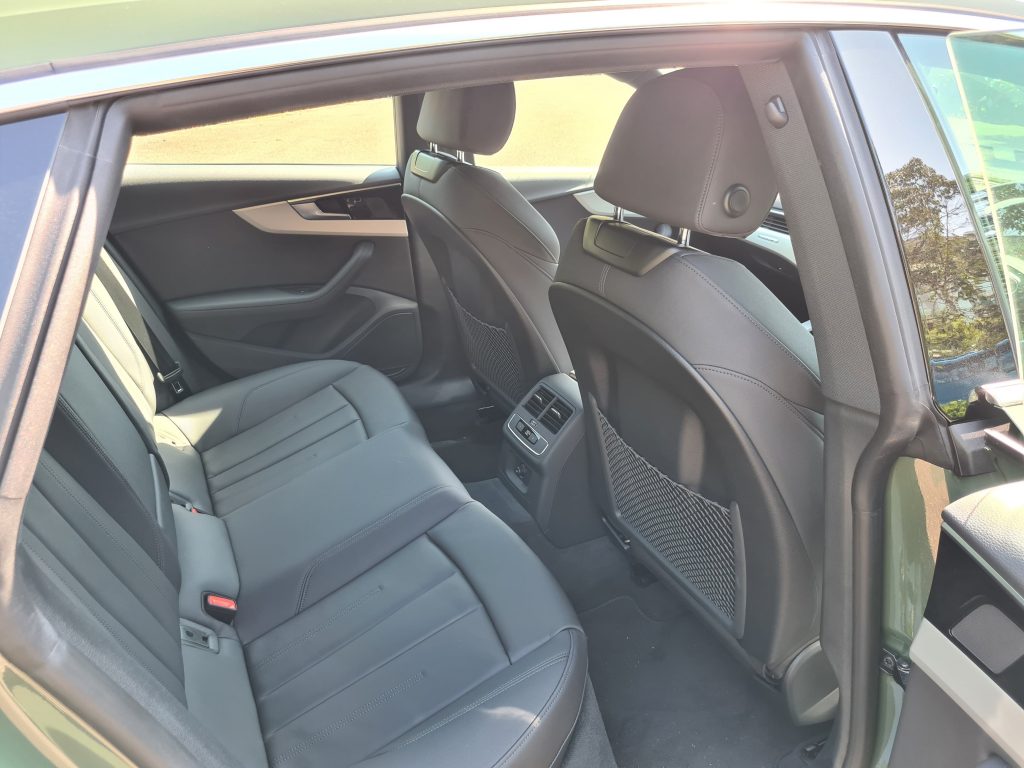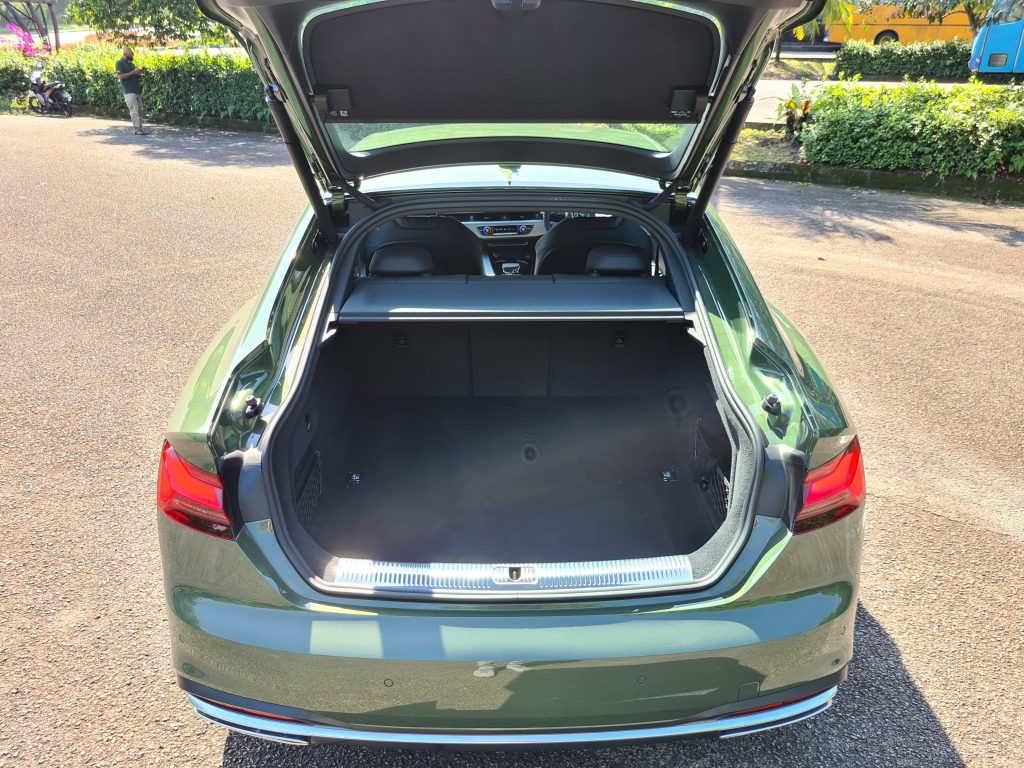 Rarity
One final point going for the A5 Sportback will be its rarity on Malaysian roads. Both the Mercedes and the BMW are a dime a dozen these days, but it will not be everyday you'll see another one of these Audis coming the other way. 
Furthermore, while the same rarity point could be made for the aforementioned Kia and Volvo, the four-ringed automaker will undoubtably be perceived by many as a step above in premium-ness on both those brands. It has to be said however that the A5 Sportback premium-ness comes at a cost as the Audi is a good chunk of change more (around RM 90k on the Volvo and around RM 60k on the Kia) than both those rather competent alternatives.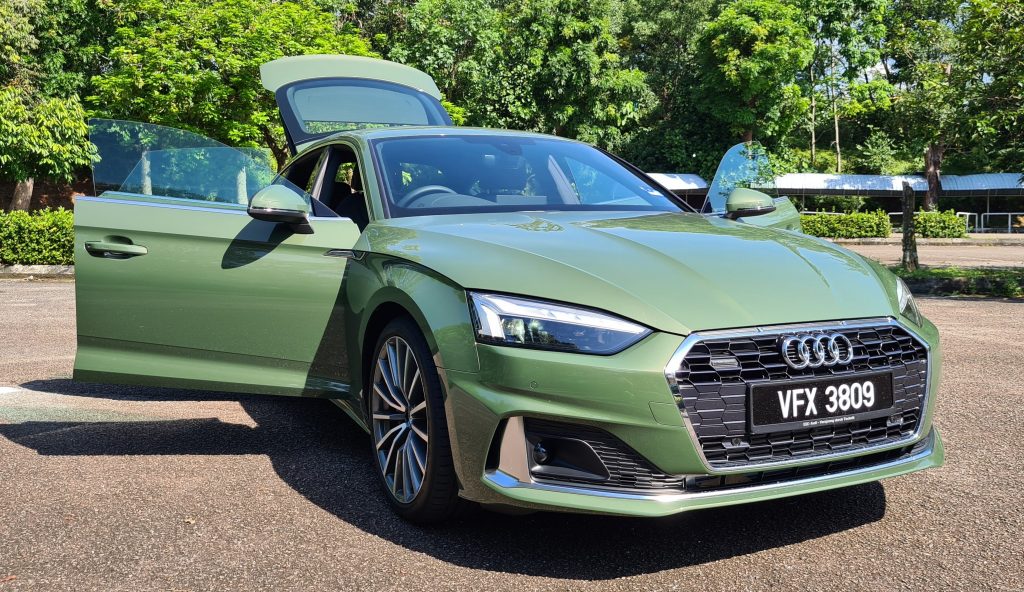 Final Thoughts
In summary then, though it may not look the best (to some people) and lacks a few toys within, the extremely well-built A5 Sportback does nevertheless provide a quiet and refined driving experience that is paramount in this segment of car. As well as a speedy one, of course. 
The sticking point with this Audi however boils down mainly to its steep price tag. Mainly due to the fact that this A5 Sportback comes fully imported from Ingolstadt, the high price is hard to reasonably justify when there are other options out there that give a similar feel but for a lot less money. 
Truth be told too, this particular Audi is actually more in line with the likes of the turbocharged four-pot Mercedes C300 AMG Line and BMW 330i M Sport. However both these locally assembled models are some RM 90k cheaper than the A5 Sportback, which in turn nudges closer to the V6-powered C43 and M340i that are incidentally just a bit too out of reach for this particular four-ringed offering over here.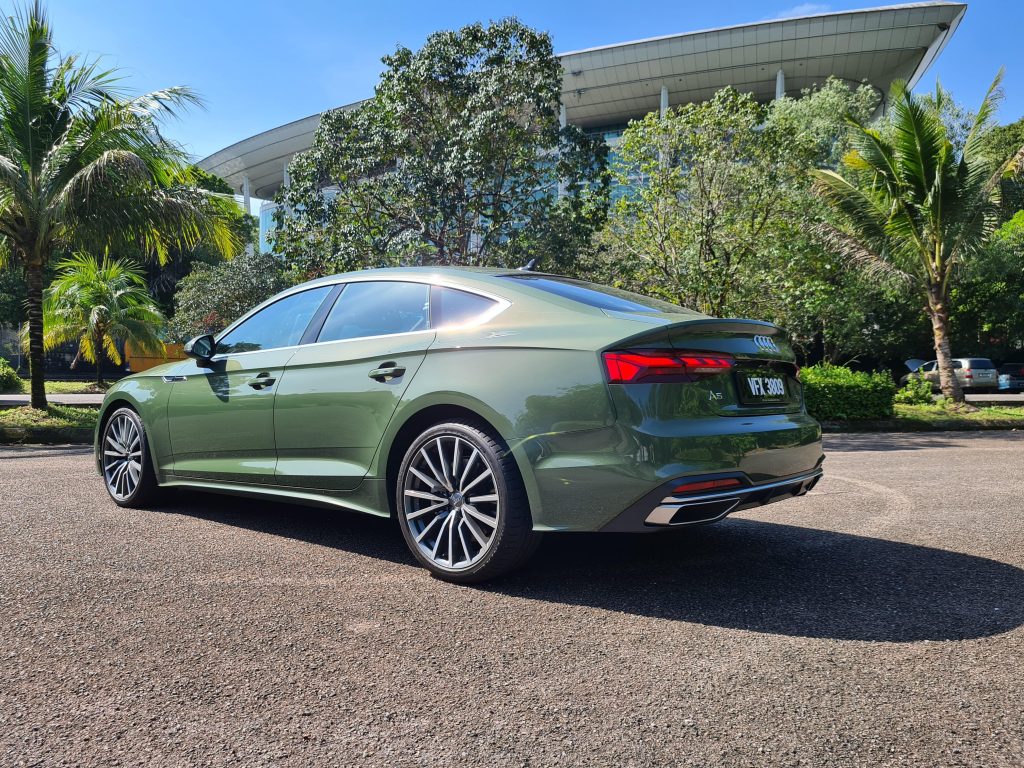 Audi A5 Sportback Advanced 2.0 TFSI Quattro Technical Specifications
Engine: direct fuel-injection turbocharged 4-cylinder petrol 
Displacement: 1,984 cc
Transmission: 7-speed S tronic dual-clutch transmission
Max Power: 249 hp @ 5,000 – 6,000 rpm
Max Torque: 370 Nm @ 1,600 – 4,500 rpm
0 – 100 km/h: 5.6 seconds
Top Speed: 250 km/h
Price: RM 376,900 (inclusive of sales tax)