Automotive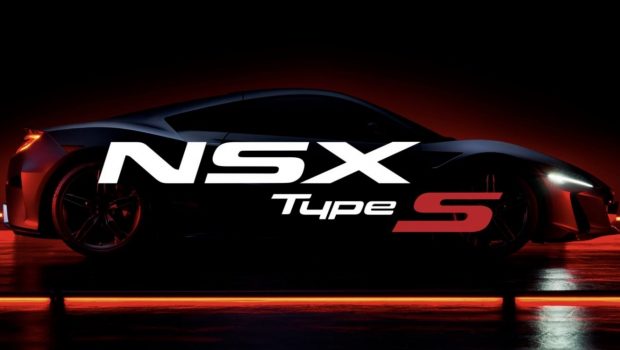 Published on August 3rd, 2021 | by Joshua Chin
0
Acura NSX To Be Sent Off With Limited Run Type S Variant
Production for the mid-engined hybrid NSX is set to end come December 2022. 
Honda, or more accurately Acura, has recently announced that the NSX will not be long for this world any more. In fact, the Japanese automaker has stated that its flagship supercar will not be living past the 2022 model year. 
There is nevertheless a silver lining to this unfortunate news however, as Acura is to be sending off its electrified supercar with a bang. And that bang will come in the form of a limited-run of Type S NSX-es, which has just been teased for reveal at the Monterey Car Week on August 12th.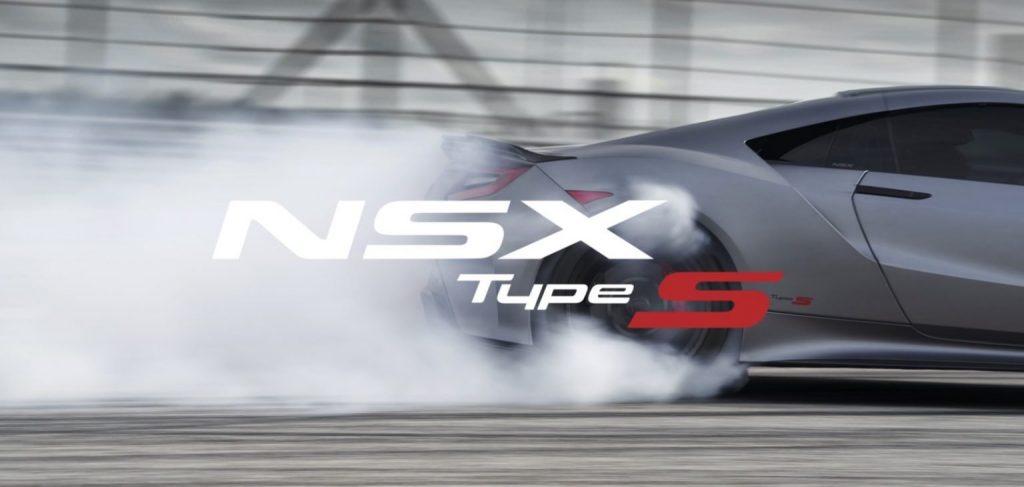 Now as it is just a teaser, there has not really been much concrete information as to the enhancements made to this swan-song for the second-generation NSX. All that has promised thus far by the automaker is that the Type S will raise 'the already impressive performance of Acura's cutting-edge electrified supercar to new levels, delivering more power, quicker acceleration, sharper handling and a more emotional driving experience.'
Reading between the lines therefore, it is reasonable to expect then that the standard car's twin turbocharged 3.5-litre V6 and tri-motor hybrid powertrain will be souped-up somewhat in order to achieve those claims. Already outputting a healthy 573 hp and 645 Nm of torque in its stock form currently, it would probably be a surprise if Acura didn't tweak it to pass the 600 hp mark in the Type S.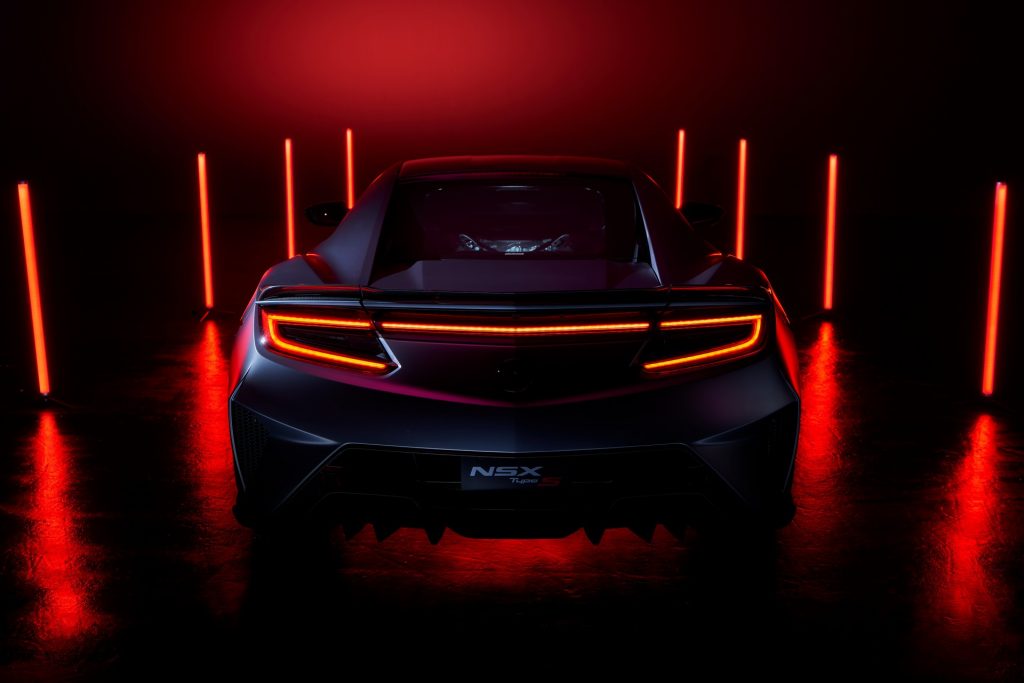 Speaking of other reasonable expectations for the Type S too, Acura will more than likely have been fettling around with NSX's stock suspension setup in an attempt to sharpen up its handling. Its standard Sport Hybrid SH-AWD system and its world's only production 9-speed Dual Clutch Transmission (DCT) will probably have also been tweaked somewhat, in order to better handle the extra power coming from the middle of this swan-song supercar. 
Continuing on the topic of its mid-engined layout meanwhile, the few official teaser images reveal there to be a red engine cover for the Type S — an obligatory feature for all hot Hondas. Teased too on these last-of-the-line NSX-es are a more aggressive rear diffuser, various matte and gloss black exterior trim pieces, as well as an individually numbered commemorative badge denoting each of the 350 units to be produced.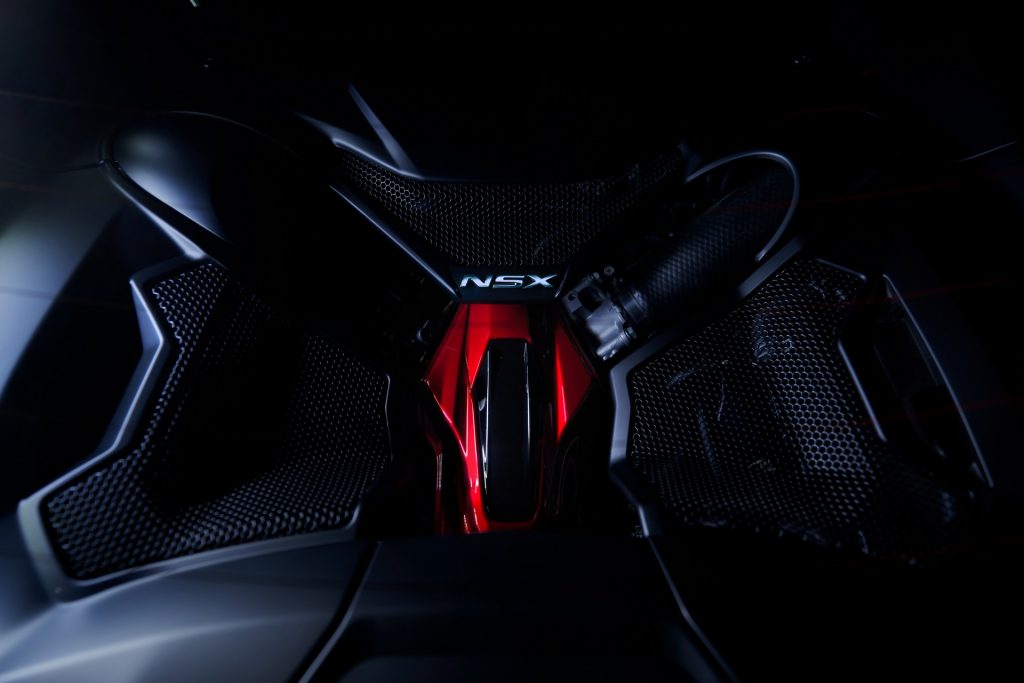 Yes, Acura has confirmed that they will only be making 350 of these NSX Type S models. 300 of which will be allocated to the United States where it is to be produced — at Honda's Performance Manufacturing Center in Marysville, Ohio — with only 30 to be exported back to Honda's homeland of Japan. Further official information on the specs and pricing of these NSX Type S supercars will be available during its full reveal on the 12th of August, with pre-bookings also open during that time too.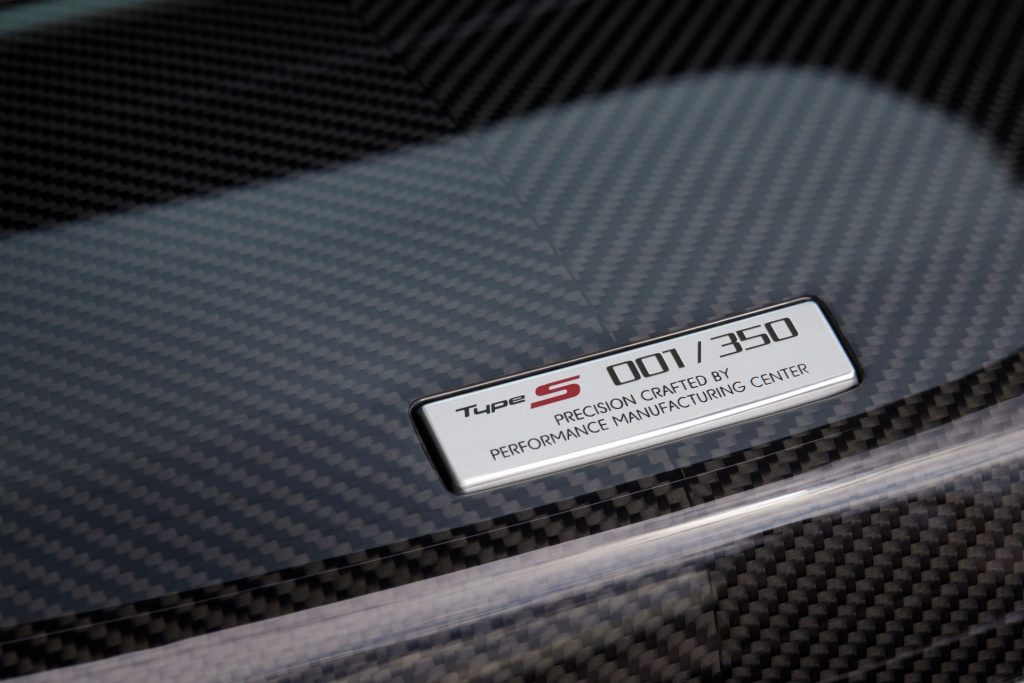 What will however likely remain be a mystery even then is the fate of the NSX nameplate moving forward. Though with Acura promising previously to continue pursuing sports cars into the electrified era, the gap between the current and next-generation may not be as long as the decade long hiatus that separated the outgoing model from its predecessor.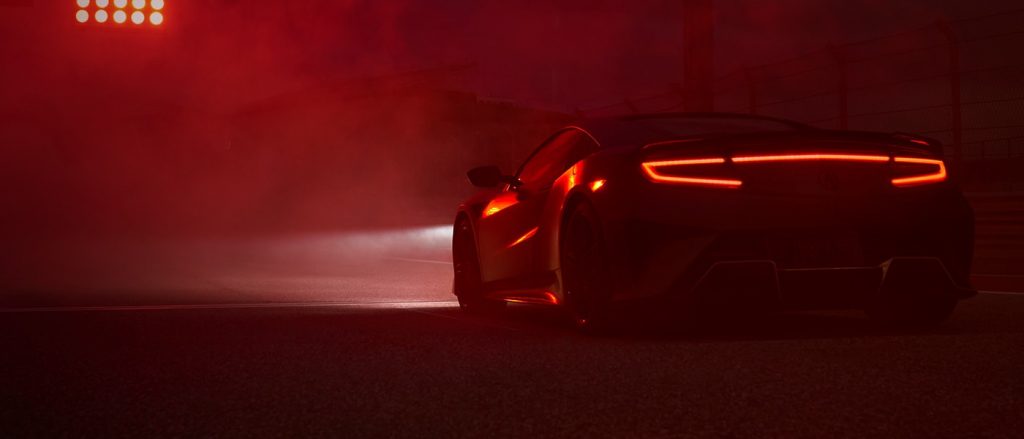 PRESS RELEASE: Acura today shared the very first glimpse of the best performing road-legal NSX ever, the limited-production 2022 NSX Type S supercar. A result of the brand's unyielding commitment to Precision Crafted Performance, the NSX Type S raises the already impressive performance of Acura's cutting-edge electrified supercar to new levels, delivering more power, quicker acceleration, sharper handling and a more emotional driving experience.
Every 2022 Acura NSX produced at the Performance Manufacturing Center in Ohio will be a limited-edition Type S model powered by an enhanced version of the supercar's twin-turbo V6 and Sport Hybrid SH-AWD® system. In celebration of the final year of NSX production, just 350 of these exclusive supercars will be available worldwide, with only 300 offered in the United States, marking the first time an NSX Type S has been sold outside of Japan. The limited run supercar will be available for customer orders beginning August 12 at www.Acura.com/Type-S.
While the NSX is celebrating its final year of production, Acura will continue to pursue sports cars in the electrified era. "Acura is a performance brand, a company of enthusiasts, and we will continue moving forward, actively investigating what the next generation of sports cars should be in an electrified era." said Jon Ikeda, Vice President and Acura Brand Officer.
Like its predecessor, the second-generation NSX pushed the boundaries of engineering and recalibrated the expectations of sports car dynamics. The NSX was the first supercar to utilize three electric motors to enhance all aspects of the driving experience. NSX introduced multiple industry firsts including the use ablation casting in the supercar's multi-material space frame, as well as the world's first and only production 9-speed Dual Clutch Transmission (DCT) for a passenger automobile.
Following its launch in 2016, the NSX was named the Road & Track "Performance Car of the Year" and an Automobile Magazine "All Star" winner. Reaffirming its lead in the market, NSX was voted the "Best Hybrid Performance Car" by Motor Trend in 2020.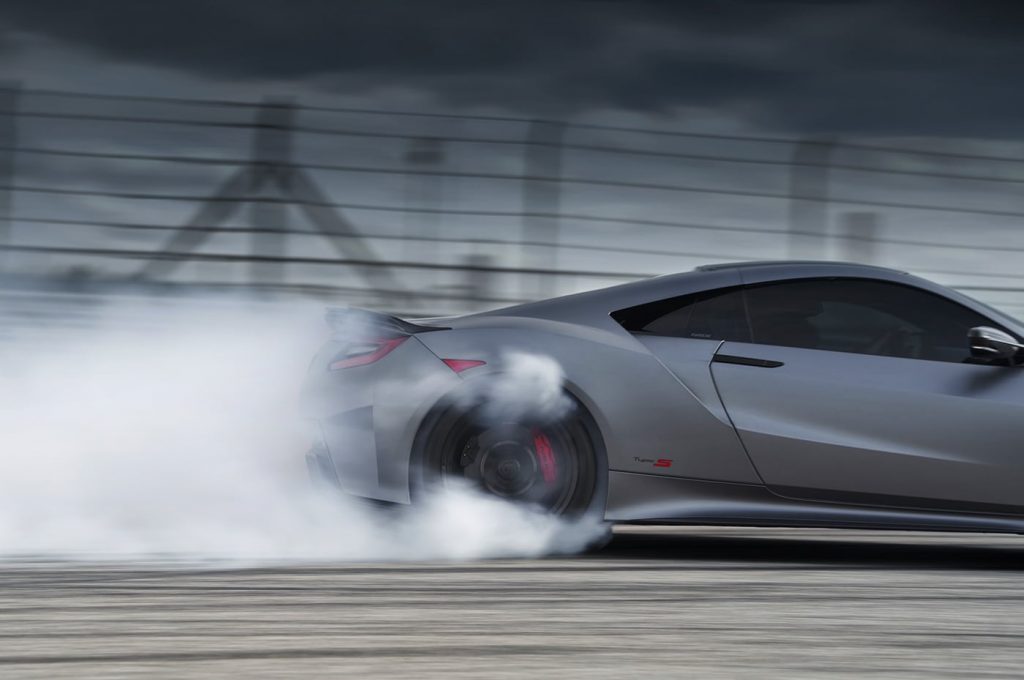 The second-generation NSX has also dominated on the racetrack, with the NSX GT3 Evo winning the 2019 and 2020 IMSA WeatherTech SportsCar Championship titles in the GTD class, and the 2019 Super GT driver's and manufacturer's championships in the GT300 class in Japan. NSX also currently holds the Hybrid record in the Time Attack 1 division of the Broadmoor Pikes Peak International Hill Climb, set in 2020 by James Robinson, and the production vehicle record at the Grand Prix of Long Beach street circuit, set in 2019 by Peter Cunningham.
"NSX has played a critical role in reestablishing Acura as a performance brand and the return of Type S," said Emile Korkor, Assistant Vice President, Acura National Sales. "We've seen tremendous enthusiasm in the market and we aren't done yet; there's more to come as Type S becomes the pinnacle expression of performance across the Acura lineup."
With total production capped at 350 units, the one year run of NSX Type S is destined to join the ranks of unique and collectable first-generation models, such as the 1999 NSX Zanardi Edition (51 produced) and Japanese Domestic Market variants like the NSX-R (483 produced between 1992 and 1995), NSX Type S (209 built between 1997 and 2001) and NSX Type S-Zero (30 total between 1997 and 2001). To date, second-generation NSX sales total more than fifteen hundred units in the U.S and over twenty five hundred globally.
NSX Type S is the third Type S variant Acura has debuted this year, joining the new TLX Type S sport sedan and the upcoming MDX Type S three-row SUV, as the brand pushes the performance of its products to new heights.
More information on the limited production 2022 NSX Type S, including full photography, specs and pricing, will be available at Acura.com/NSX beginning August 12.