Automotive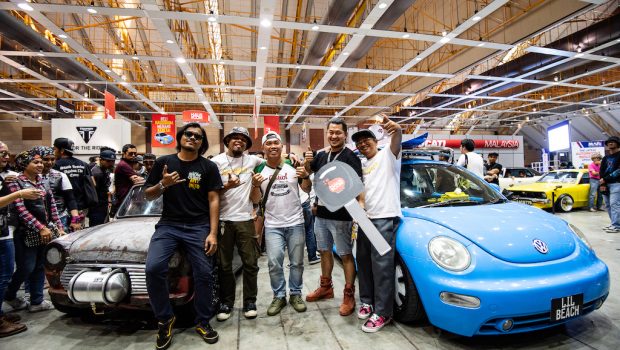 Published on July 29th, 2019 | by Hammer
0
Biggest celebration of Kustom Kulture in Malaysia grows even bigger  
The 8th Annual Art Of Speed (AOS 2019) was held at the Malaysia Agro Exposition Park, Serdang (MAEPS) from 27 – 28 July 2019. It was another successful year for Malaysia's premier Old-Skool & Kustom Kulture event, with a crowd attendance of over 55,000 across both days.
The Event
The showcase of customized vehicles from overseas – which have been a featured attraction of Art Of Speed over the years – is continued at AOS 2019. This year's featured vehicles include:
HEIWA MOTORCYCLE (JAPAN) with their BMW R9T Custom, which was commissioned by BMW Motorrad.
MOON OF JAPAN 1961 Ford Falcon Sedan Delivery "PANTASTIC".
HOT DOCK CUSTOM CYCLES (JAPAN) with their 1948 FL Harley-Davidson Custom "StG Nautilus". The bike was awarded "Grand Champion" at S&S 50th Anniversary "World's Largest Build-Off" in 2008.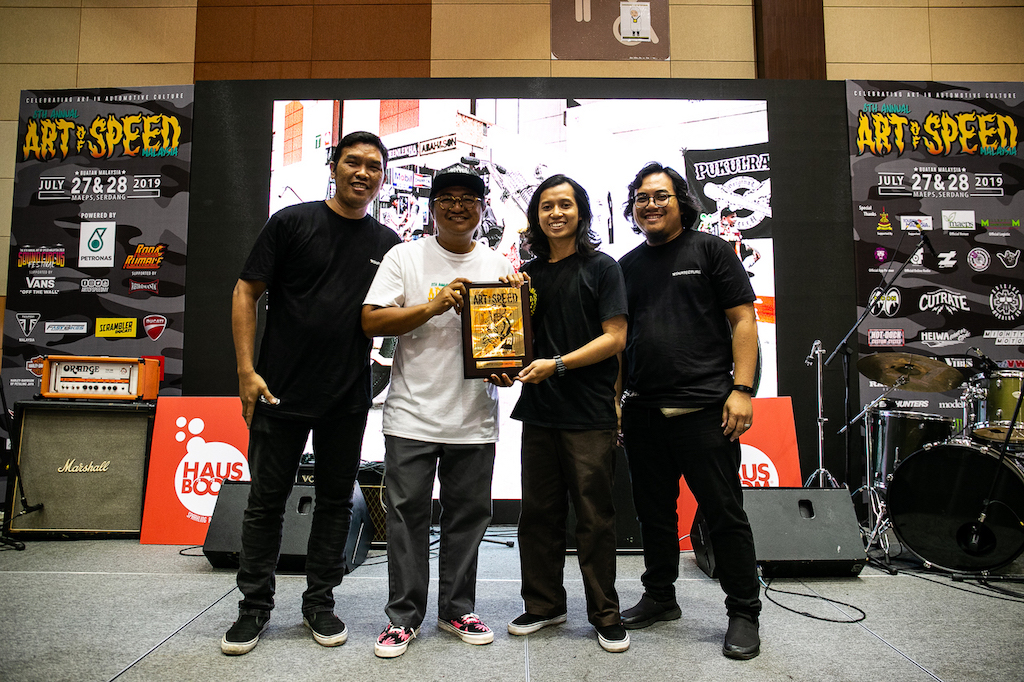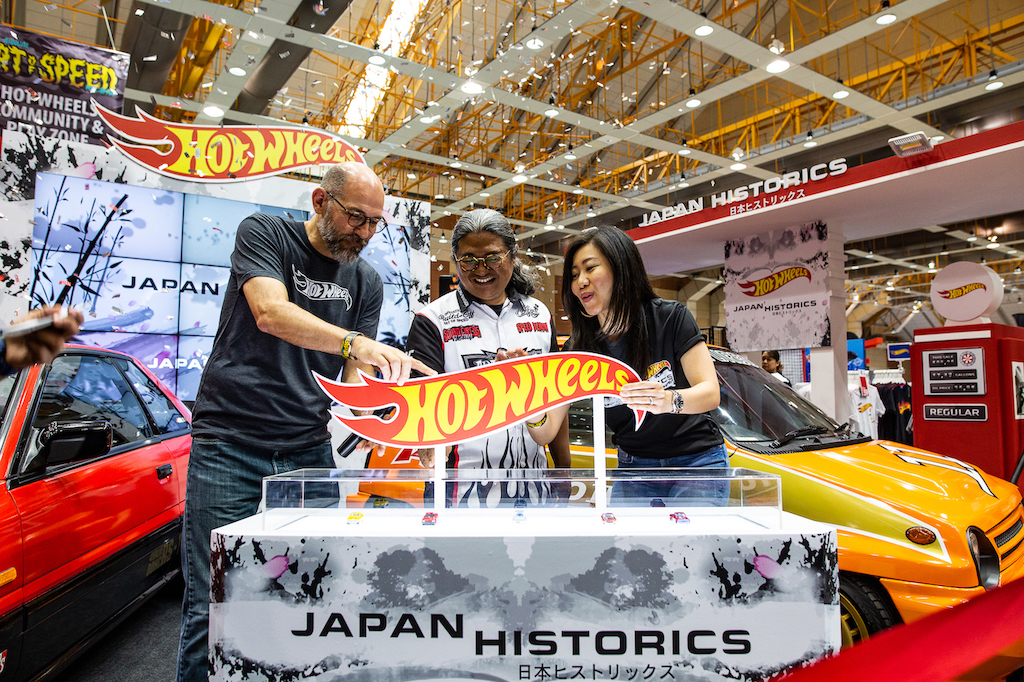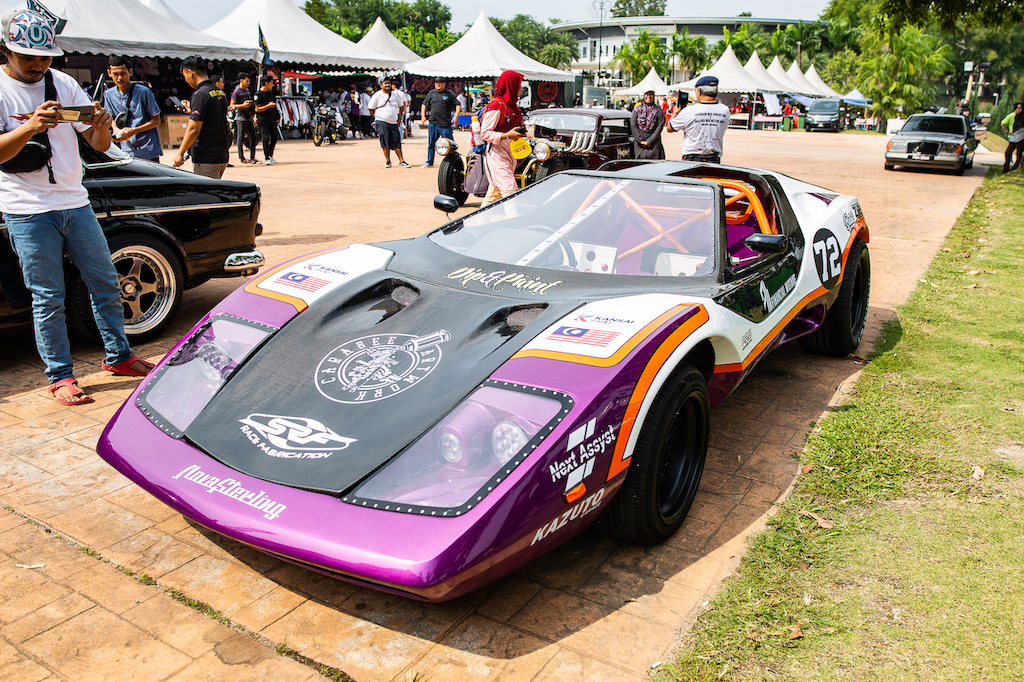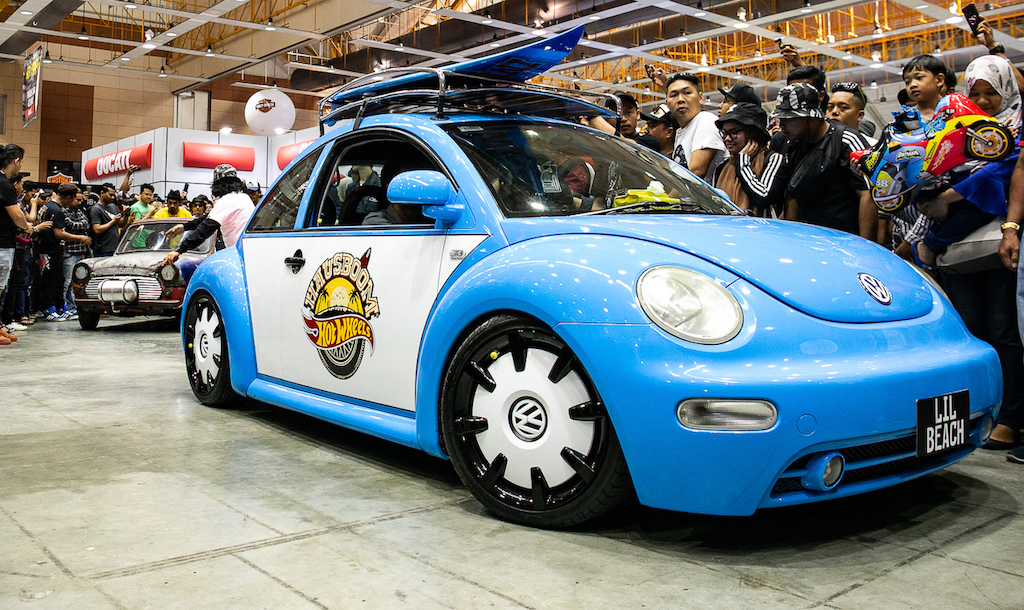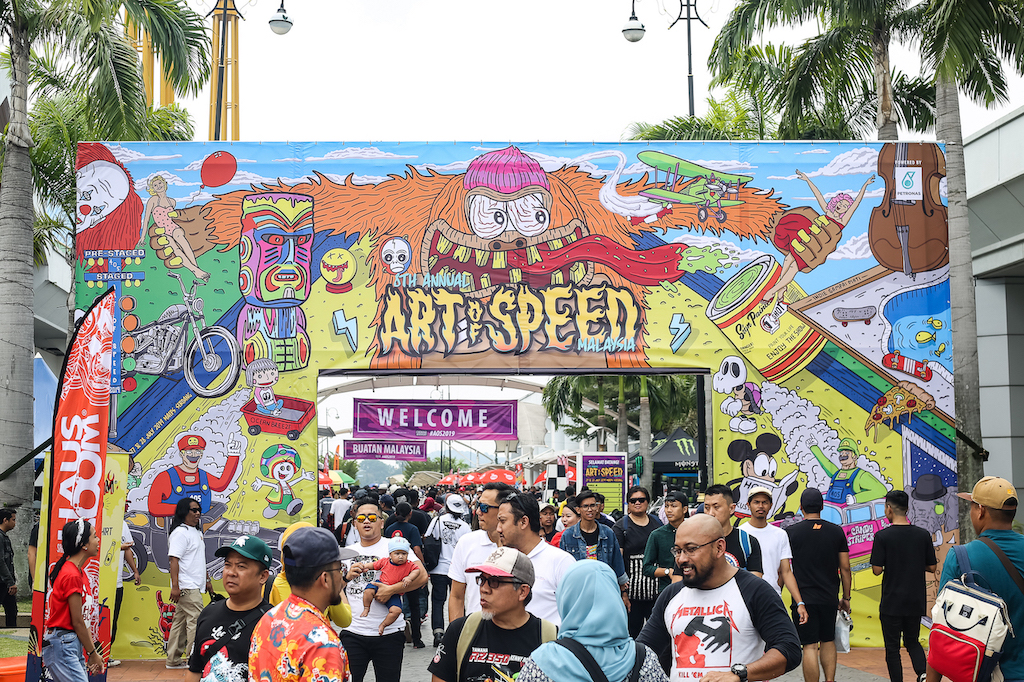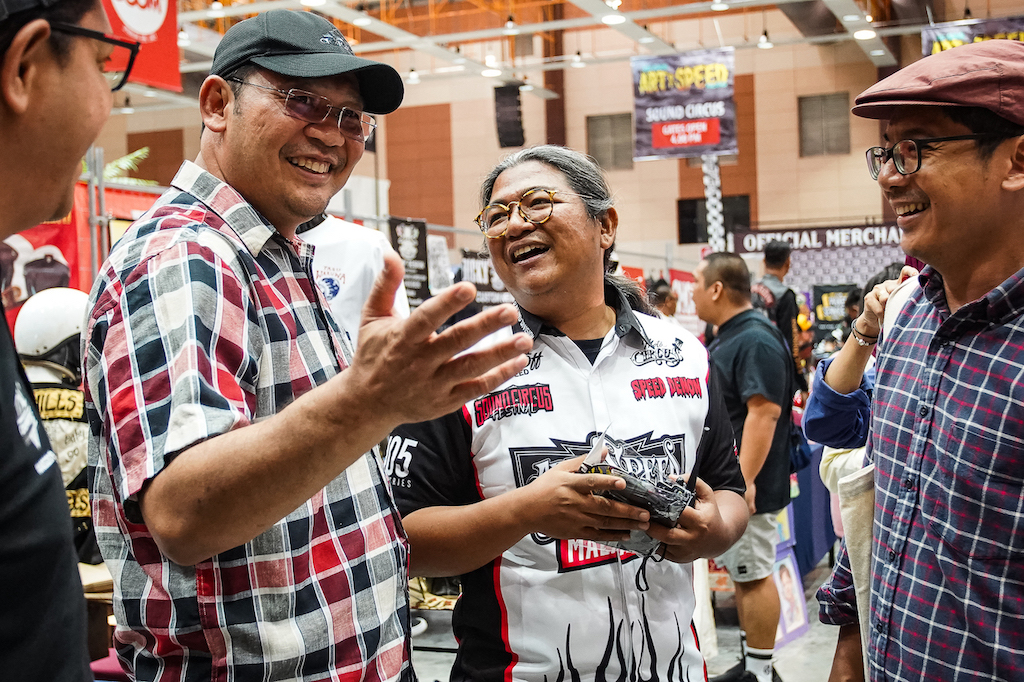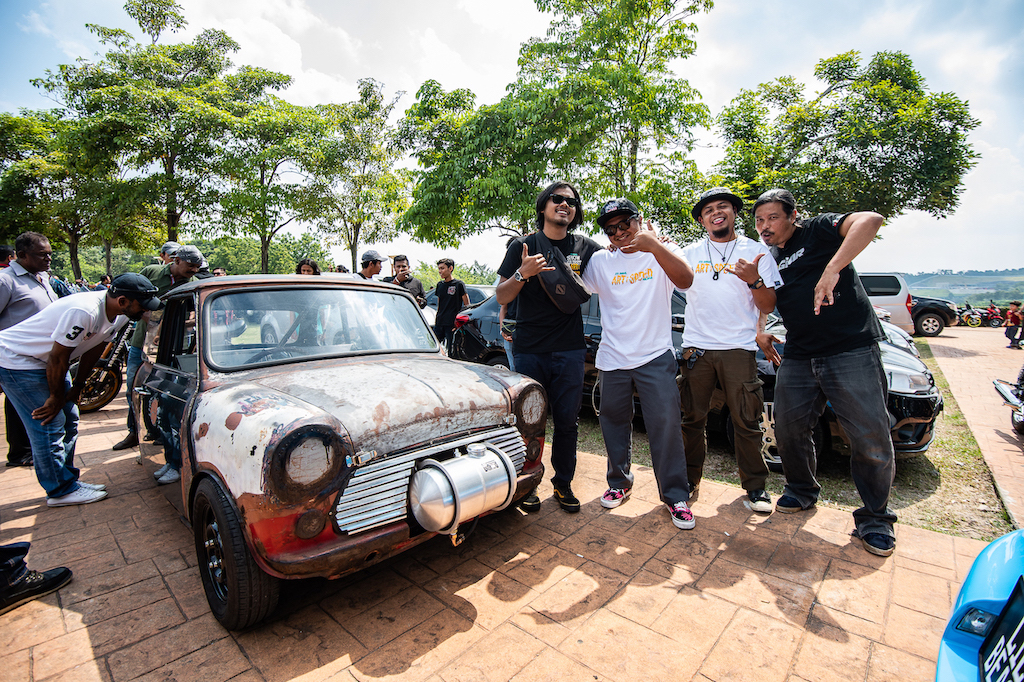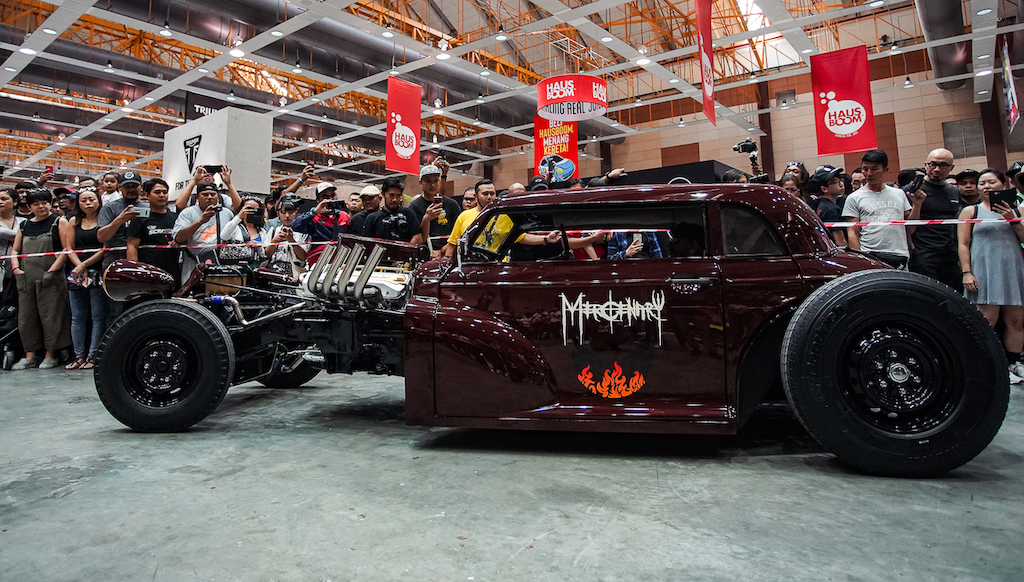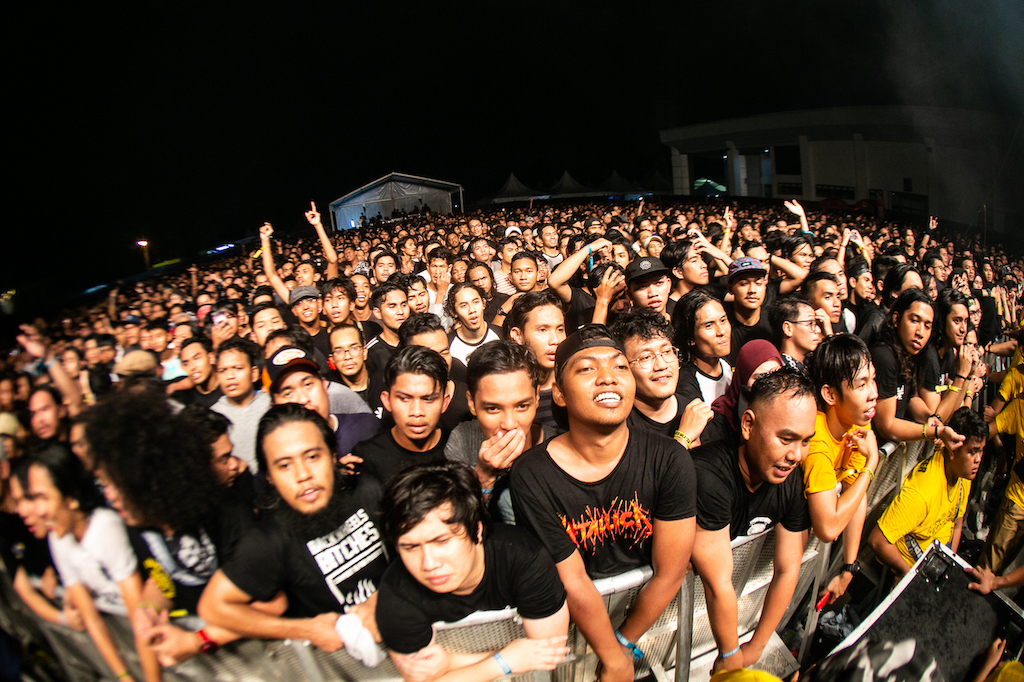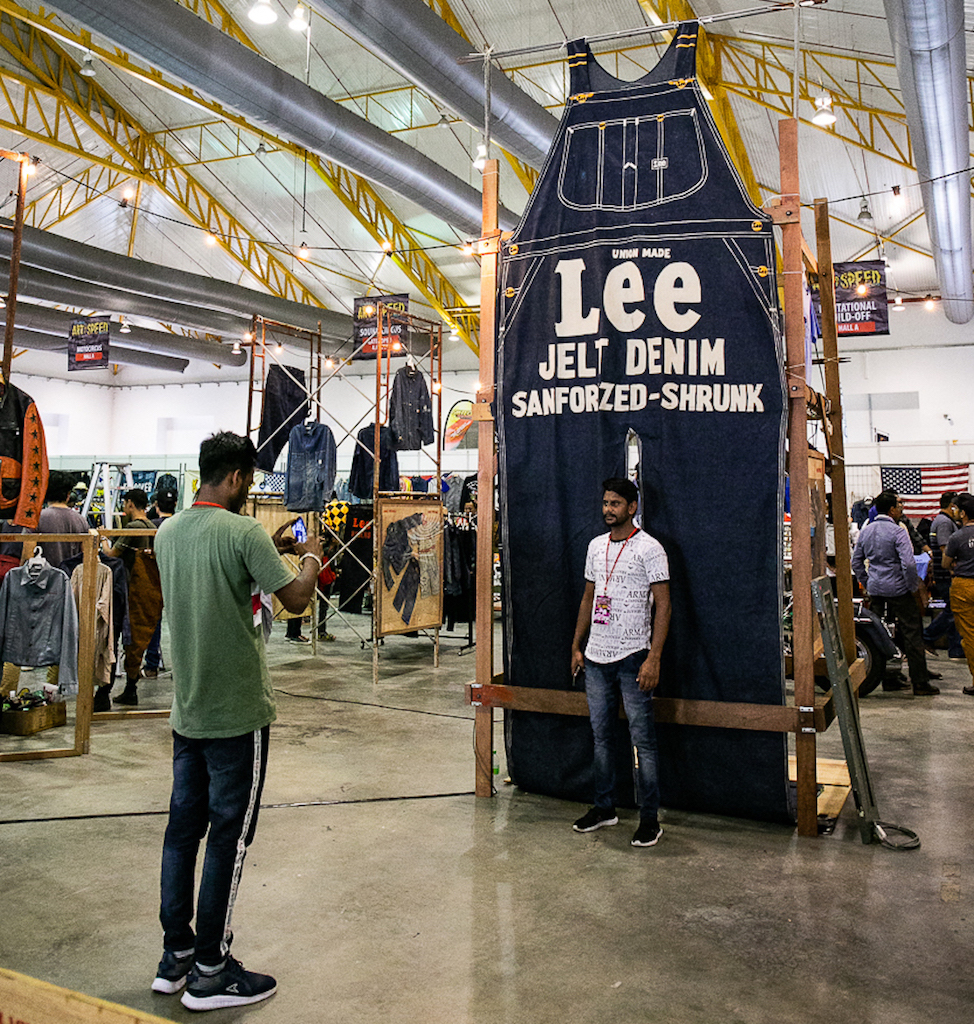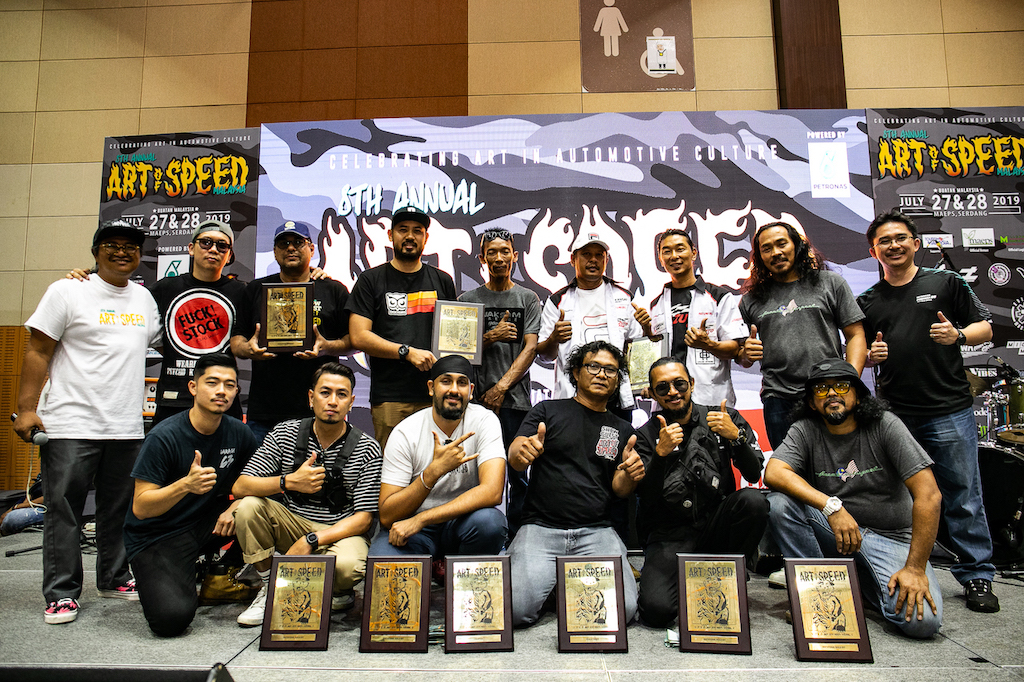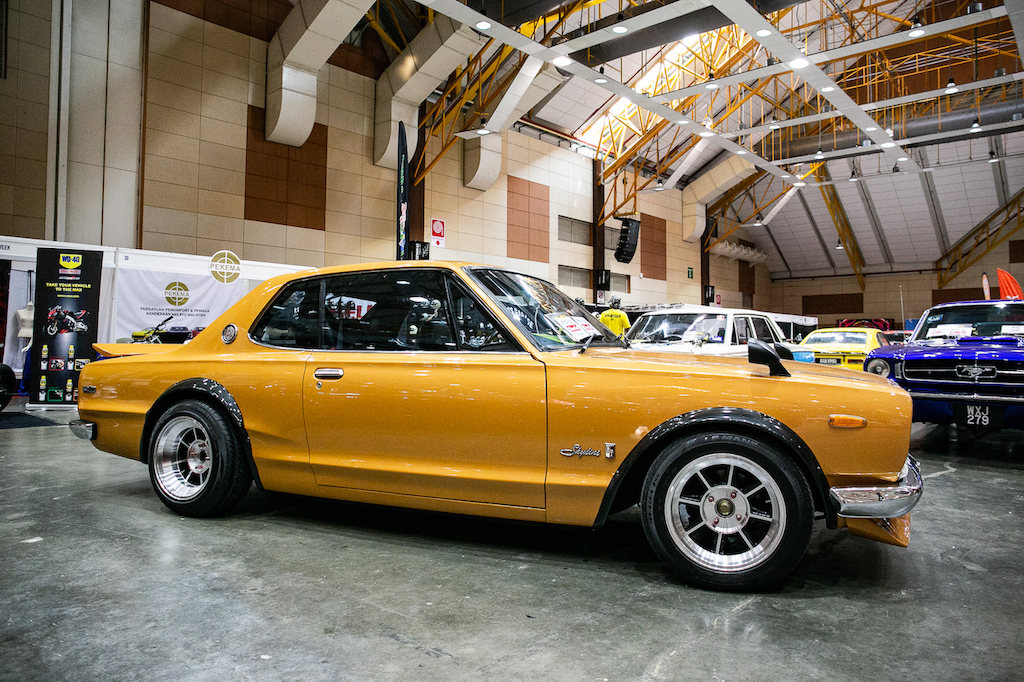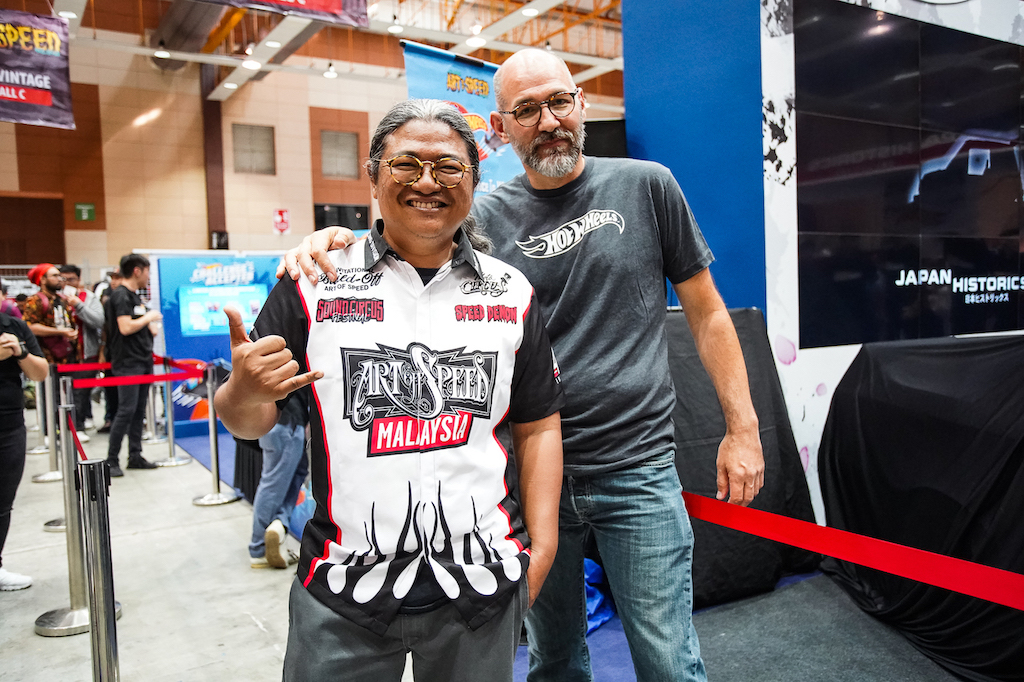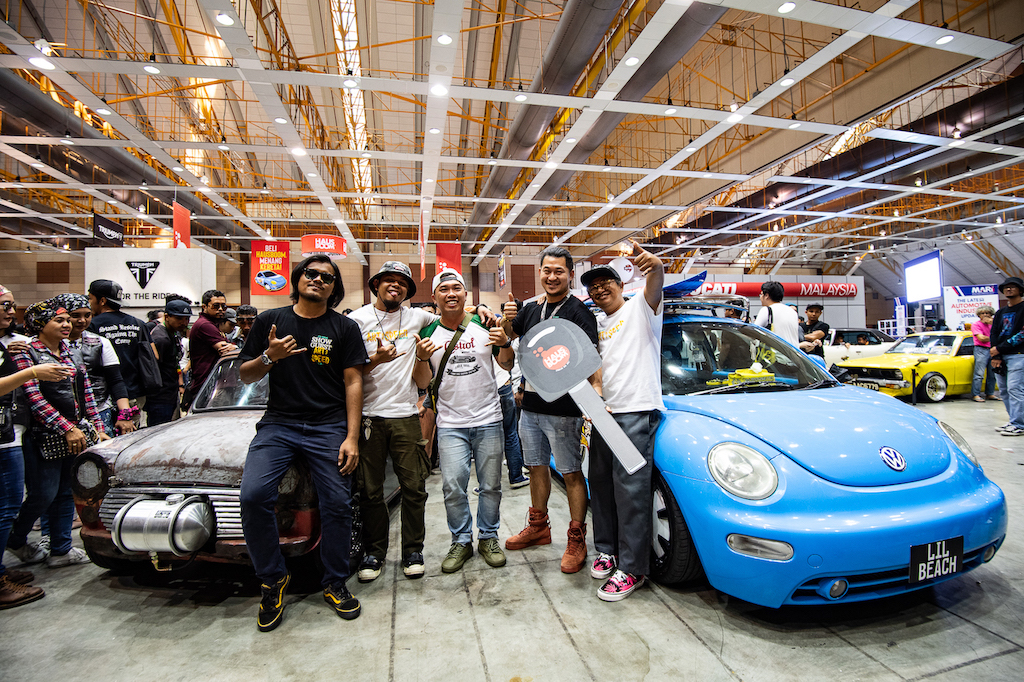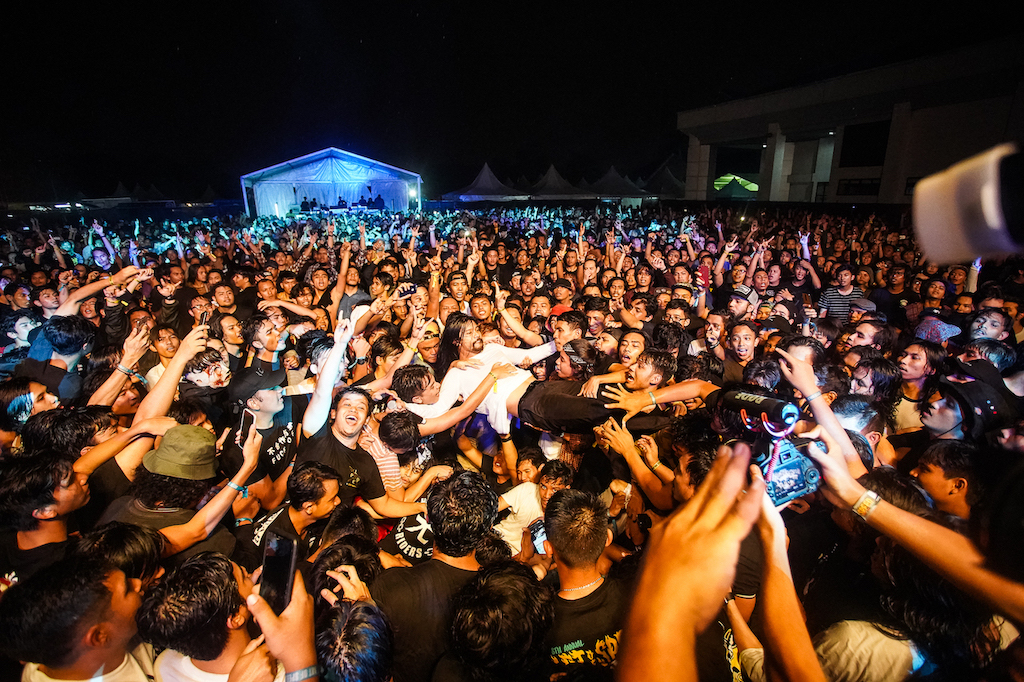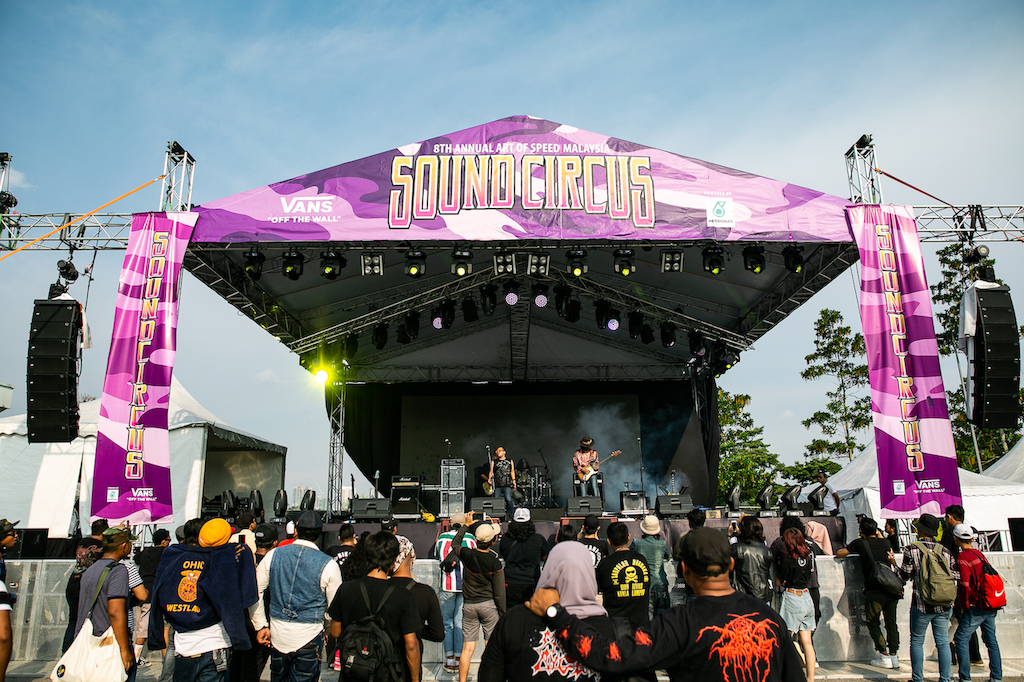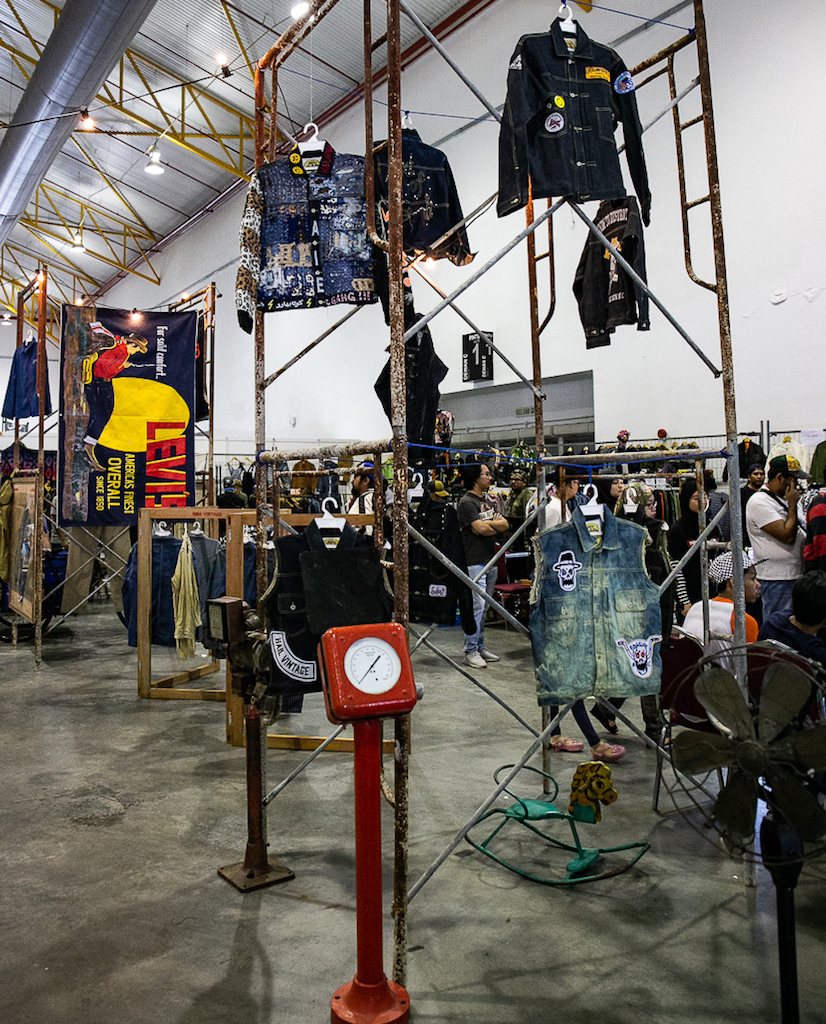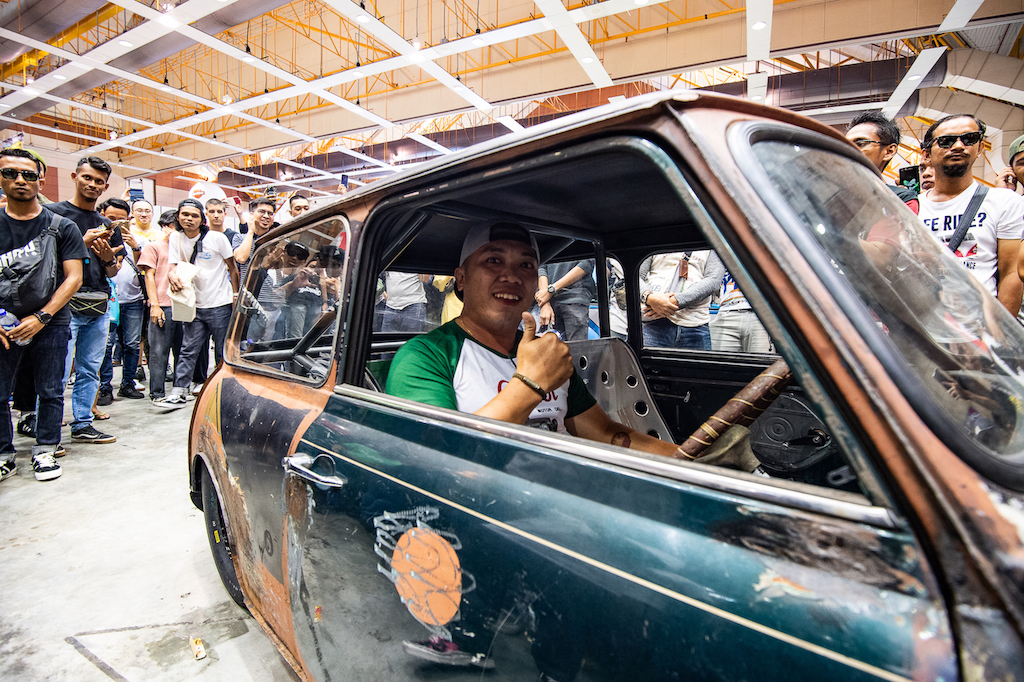 The People
Another Art Of Speed tradition is the ever-growing attendance of international guests which car and bike enthusiasts are given the chance to meet every year. This year's distinguished guests include:
Shige Suganuma, Hiro "Wildman" Ishii & Masakazu "PAN" Sumi from MOONEYES
Oliver Jones Grayson a.k.a. The Cutrate; USA (Winner of Born Free 2019)
Shaik Ridzwan a.k.a. The Mighty Motor; USA
Geoffrey Douglas Baldwin from Return of the Café Racers; Australia
Chris Cooper from Fuel Tank; Australia
Matthew Everingham from Speedhunters.com; Australia
Marlon Slack from Pipeburn; Australia
Makoto Watanabe from Chopper Journal Magazine; Japan
Makoto Ukai from Model Cars & Let's Play VW Magazine; Japan
Daisuke Katsumura & Satoshi Furuuchi from Kousoku Yuen Magazine & Street VW Magazine; Japan
Kanda Manabu from Kalifornia Look Magazine, Japan
Yasuo Sekijima from Vibes Magazine; Japan
Kengo Kimura from Heiwa Motorcycles; Japan
Keiji Kawakita from Hot Dock Custom Cycles; Japan
The Nash from Burnout Magazine; Japan
Daisuke Sakon from Kustomstyle; Japan
Kenichiro Kaneko from Truck Masters Show; Japan
Kenji Hasegawa from Orion Ace; Japan
The Bell; Japan
Makoto M&K Custom Signs; Japan
Ken Takano from Ken's Art Kustom Garage; Japan
Jeffrey Chang from MOONEYES Taiwan
Lou Nozaki from Beetle Helmet; Japan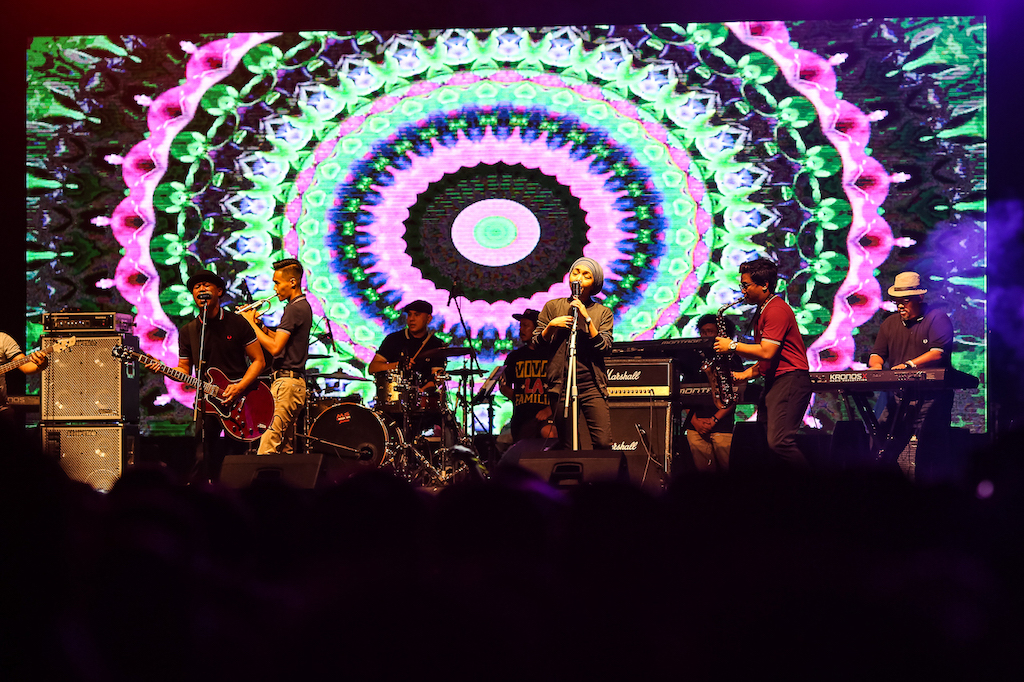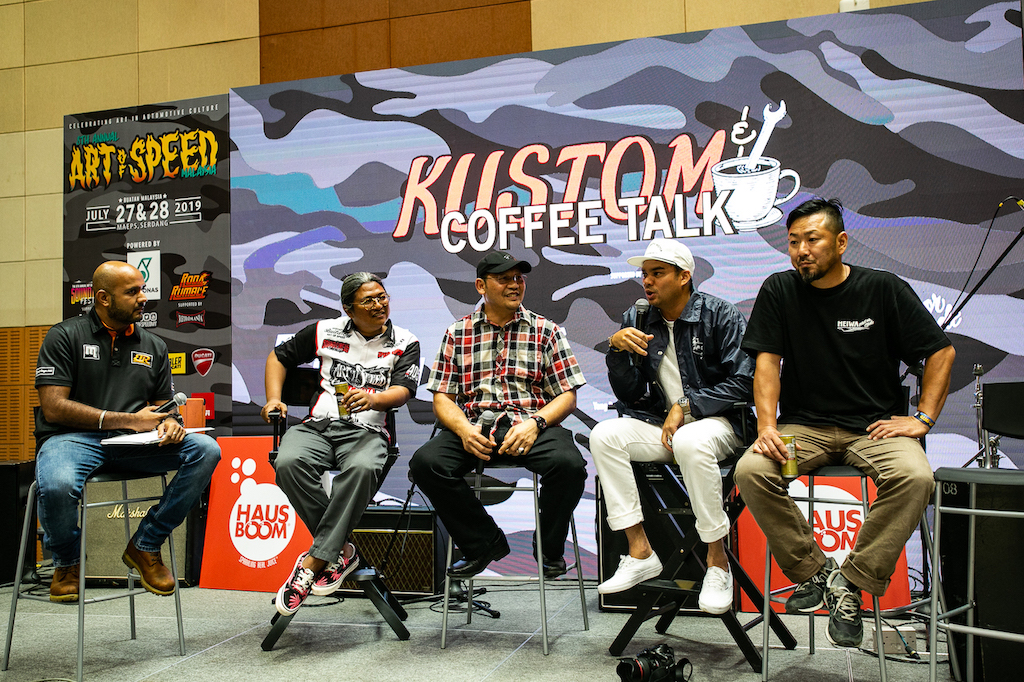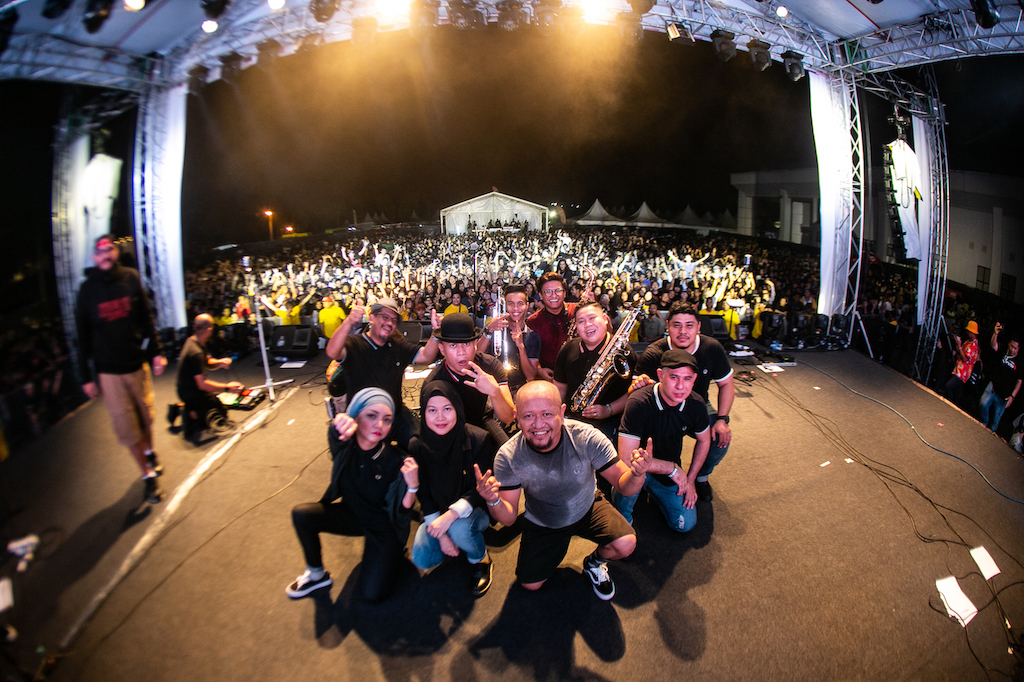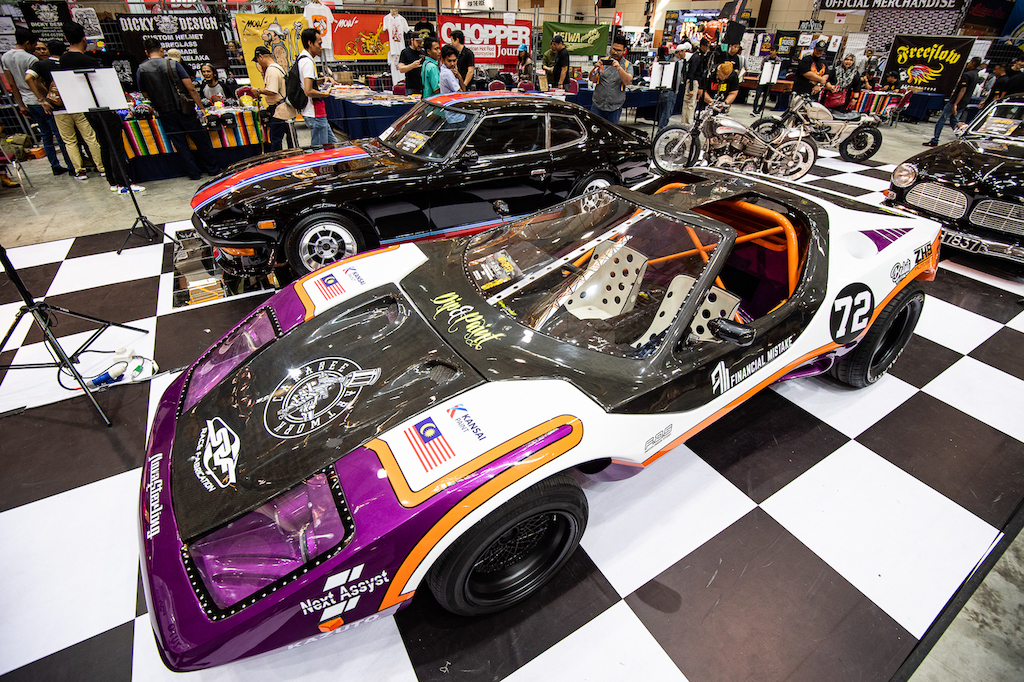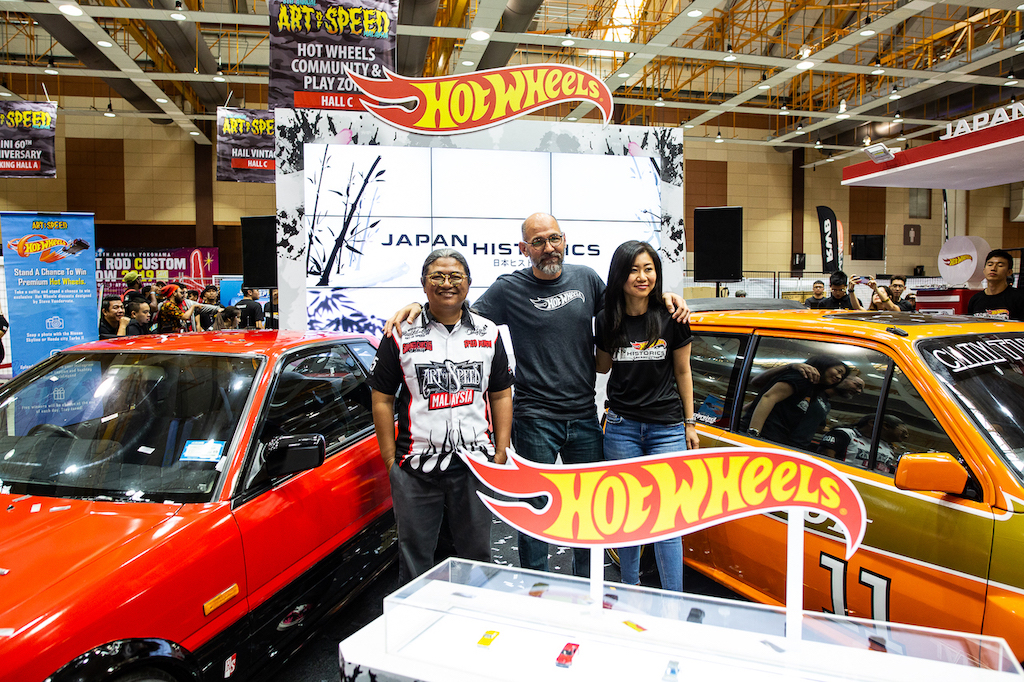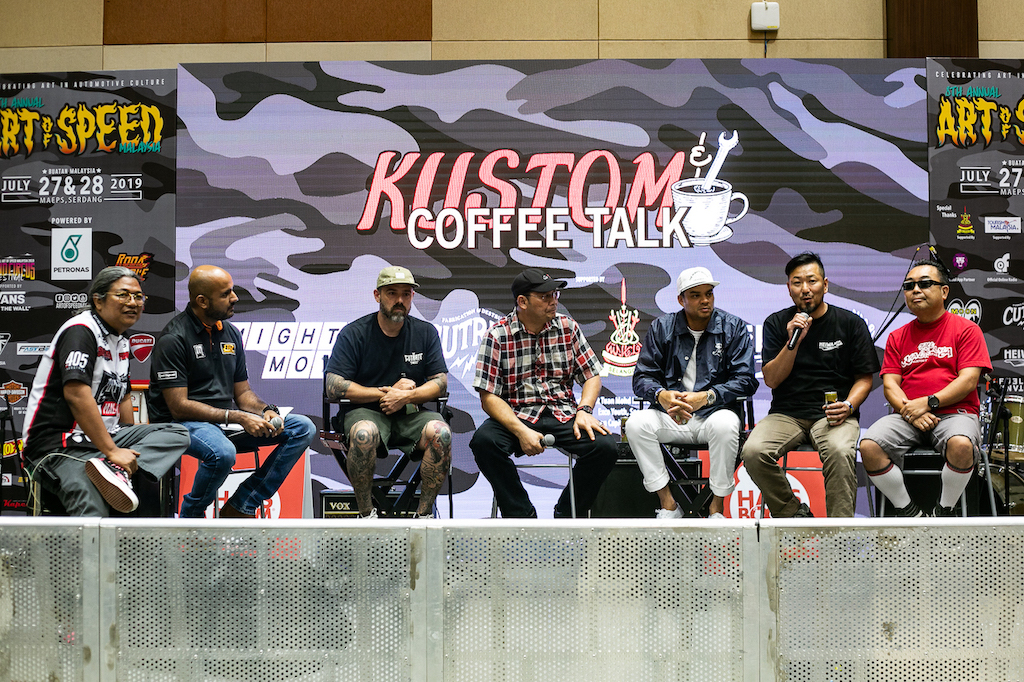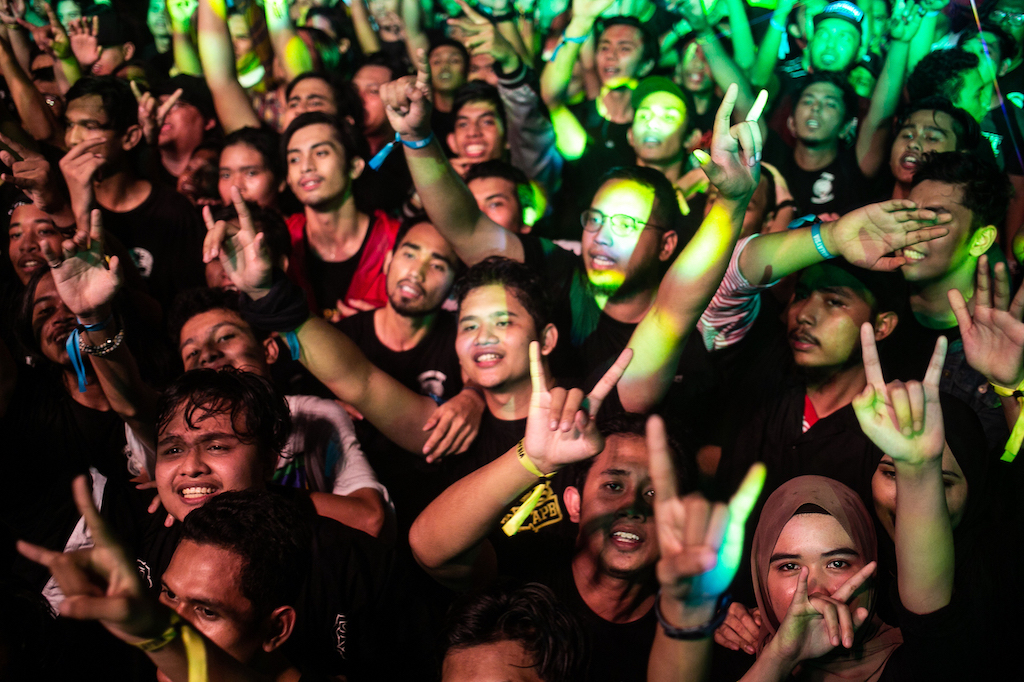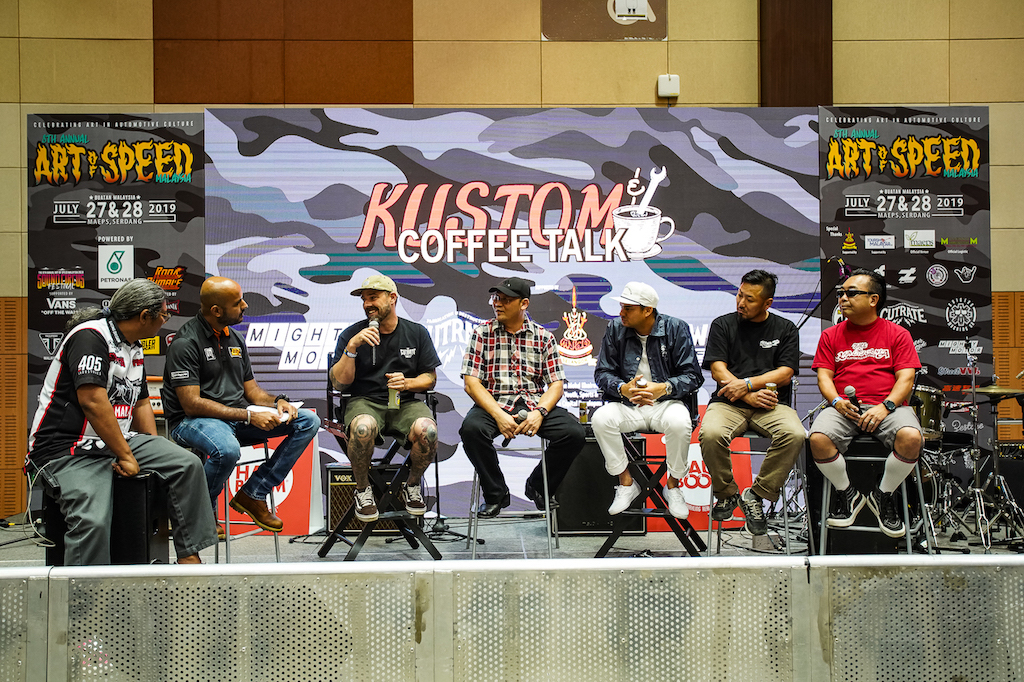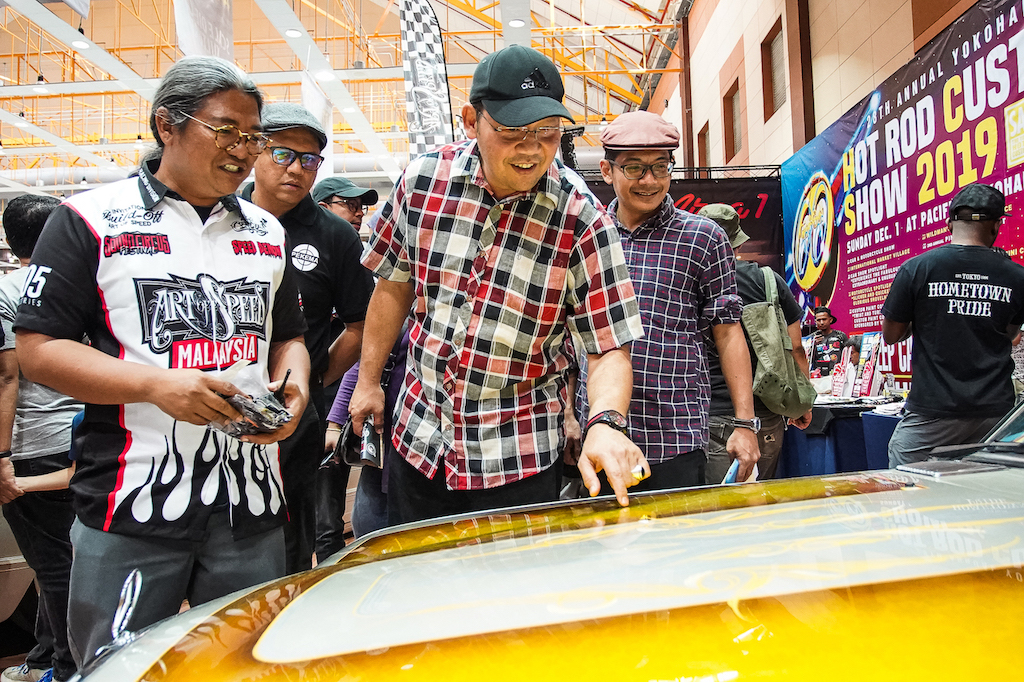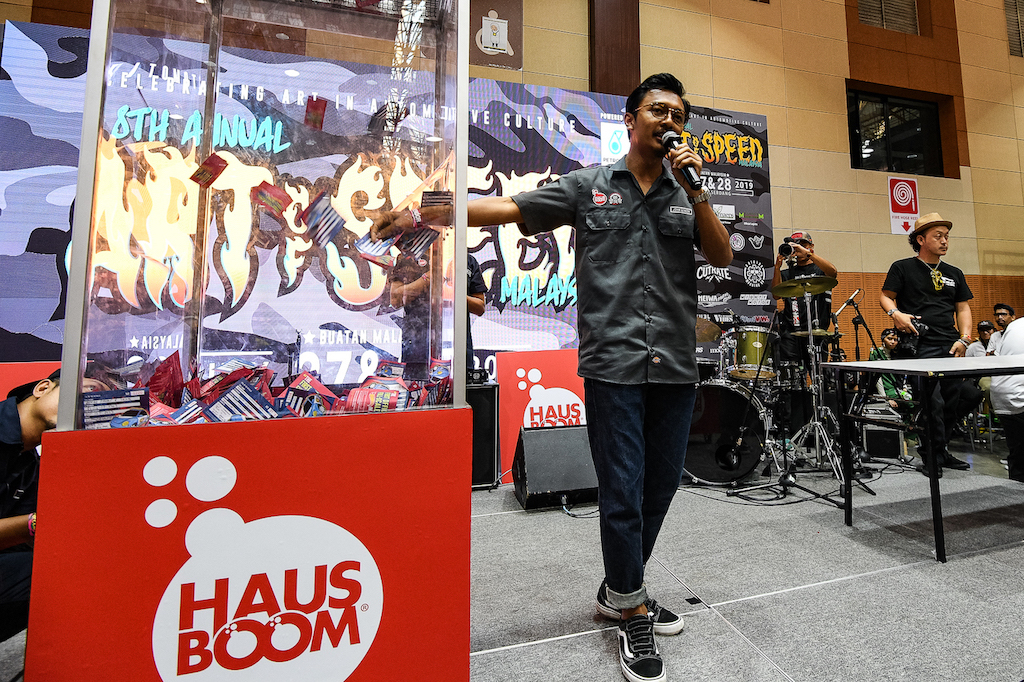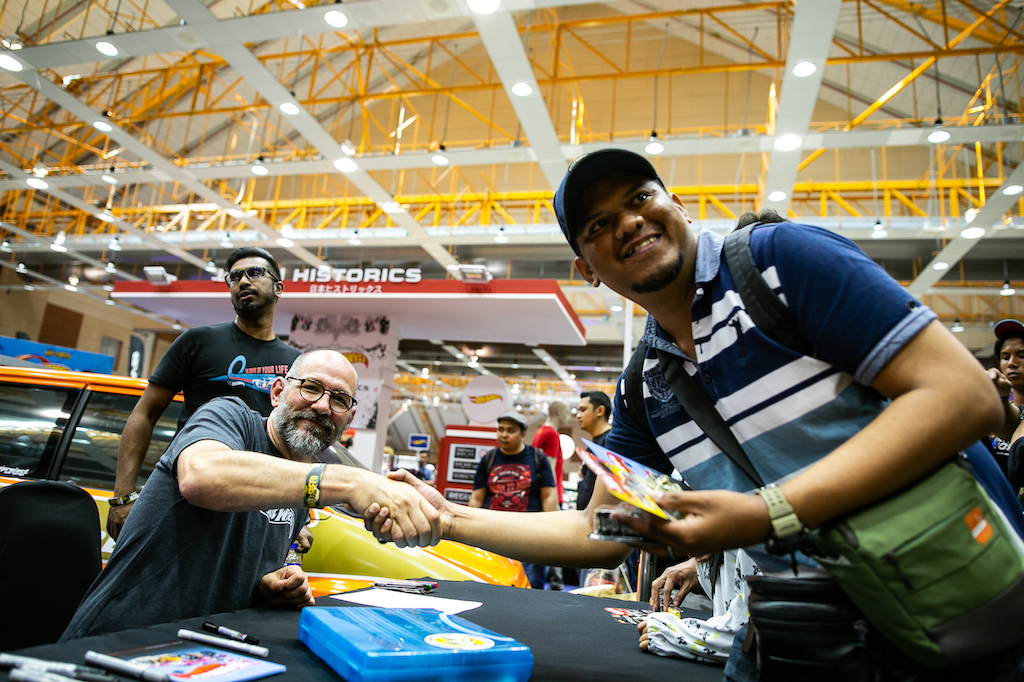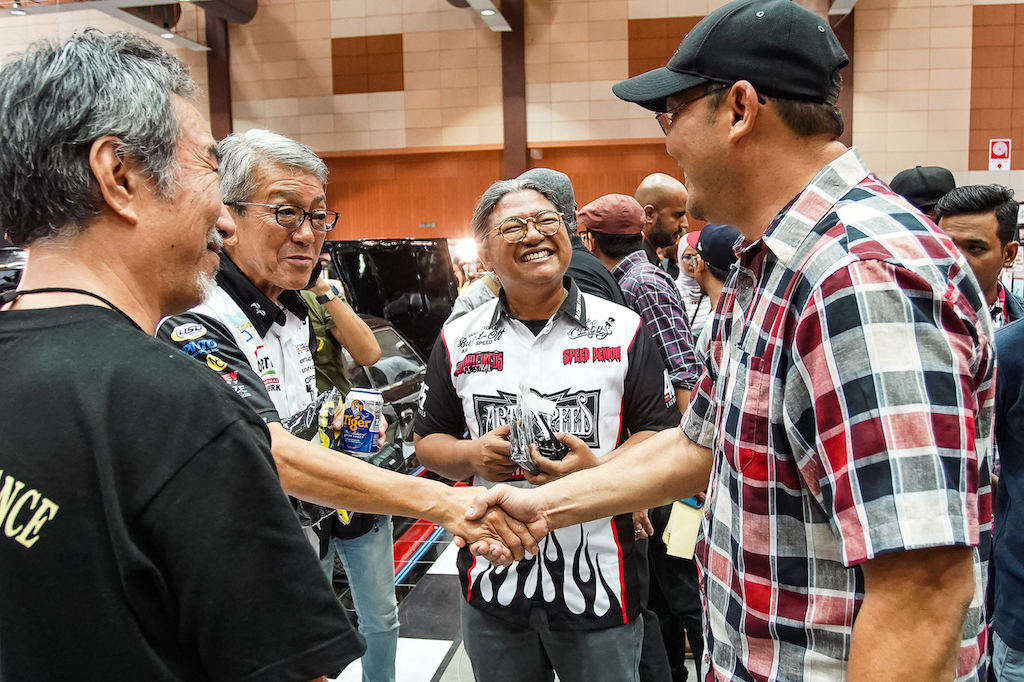 The Build
This year's Art of Speed Invitational Car Build Off 2019 powered by PETRONAS featured 7 talented builders competing for a RM10,000 cash prize (jury selection) & RM5,000.00 cash prize (public choice). The overall jury pick winner was awarded to The Classic Garage from Johor Bahru, while the public choice was awarded to Carazee Artwork from Klang.
The Toys
As with previous years, Hot Wheels makes a huge presence at Art Of Speed and at AOS 2019 they really brought it up a notch. Making his first appearance in Malaysia is Steve Vandervate, Global Hot Wheels Lead Designer (Premium and Collector Segments), and during AOS 2019 he launched the Japan Historics 3 series "Legendary Japanese Cars" which is set for release in 2020. Present at the Hot Wheels booth were a life-sized Nissan Skyline R31 and Honda City Turbo II along with a showcase of the prototype of the diecast.
There were also featured collaborations with Hot Wheels, available only at AOS 2019. First off was the limited-edition diecast collectible by PETRONAS in collaboration with Hot Wheels & Krome Bandits. Hausboom, in collaboration with Hot Wheels, also presented an official 1:1 scale New Beetle Gen 1 at AOS 2019, which was given away to lucky winner; Eric Lim from Kuala Lumpur.
Shoes?
Other activities at the show included the VANS showcase tribute to their "Era" shoes called "Black Rainbows" and skate clinic, Hail Vintage and NoEqual NEAT Fest in Hall C, and the popular Kustom & Koffee Talk which was hosted by Keshy Dhillon from Bikesrepublic.com and featured overseas panelists Oliver Jones from The Cutrate, Shaik Ridhwan from The Mighty Motor USA and Kengo Kimura from HEIWA Motorcycles Japan.
Launch?
Harley-Davidson FXDR 114 was also launched at AOS 2019. The new model focusing on top-end performance paired with enhanced agility marks the new wave of Harley-Davidson bikes for the Malaysian market.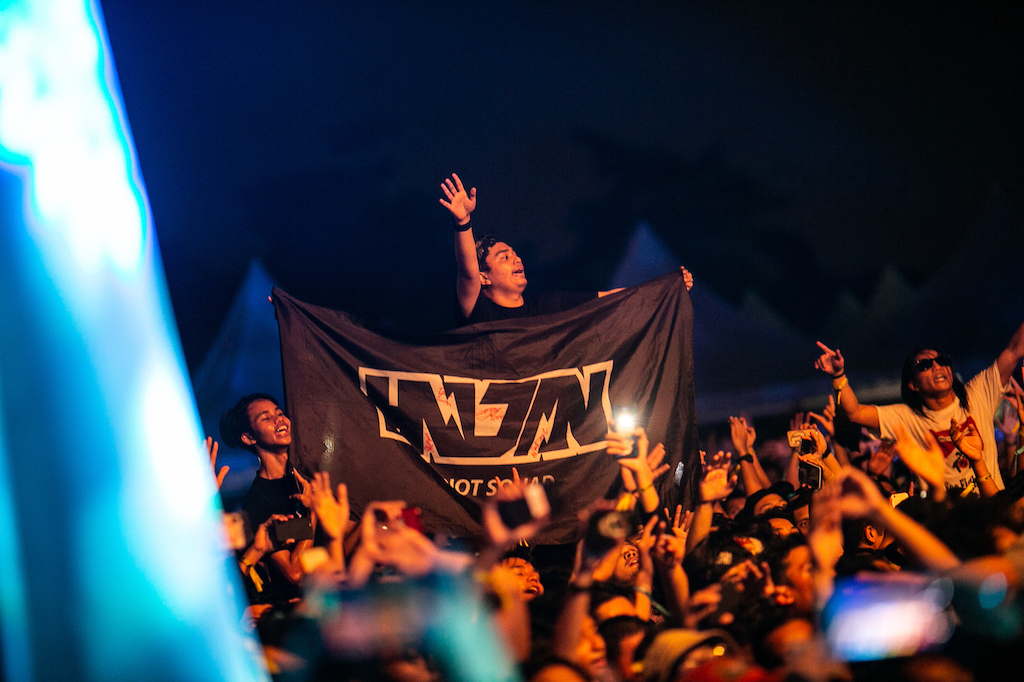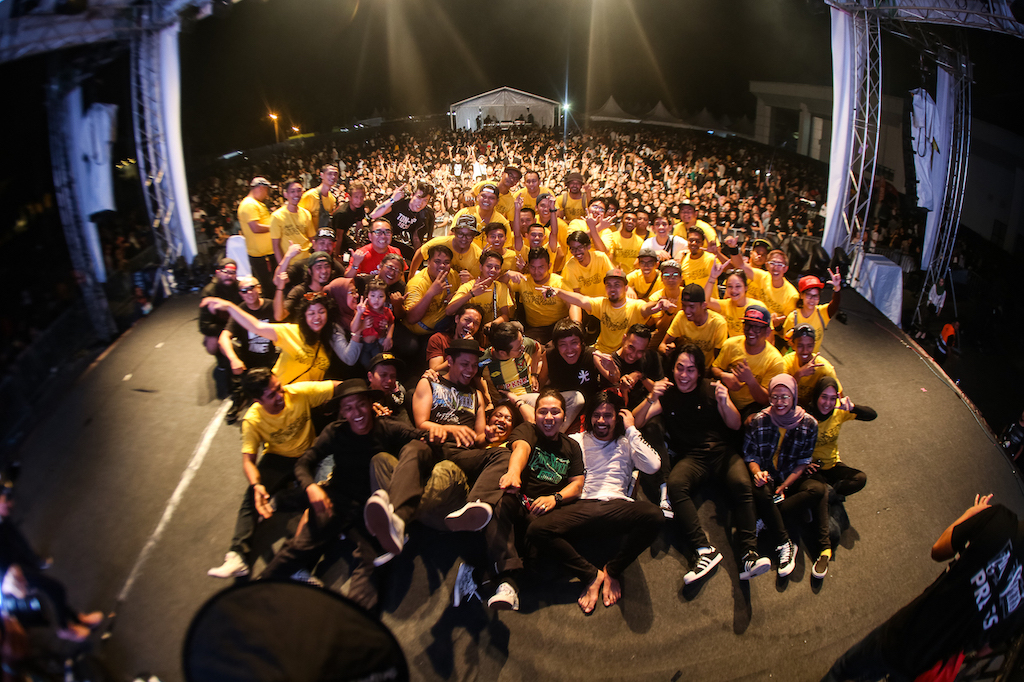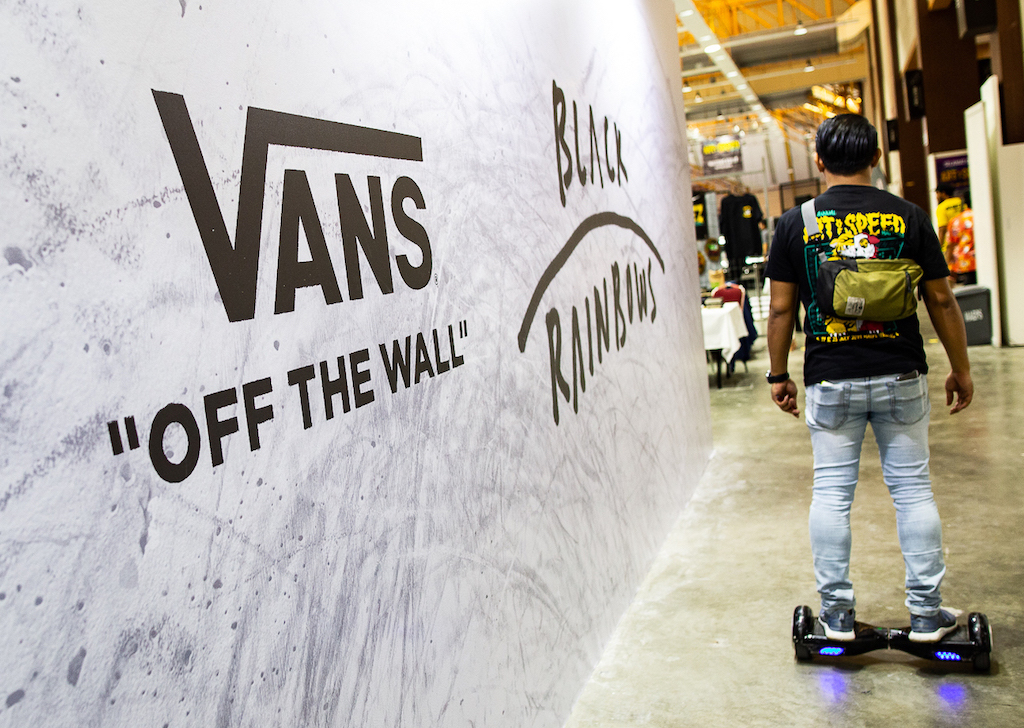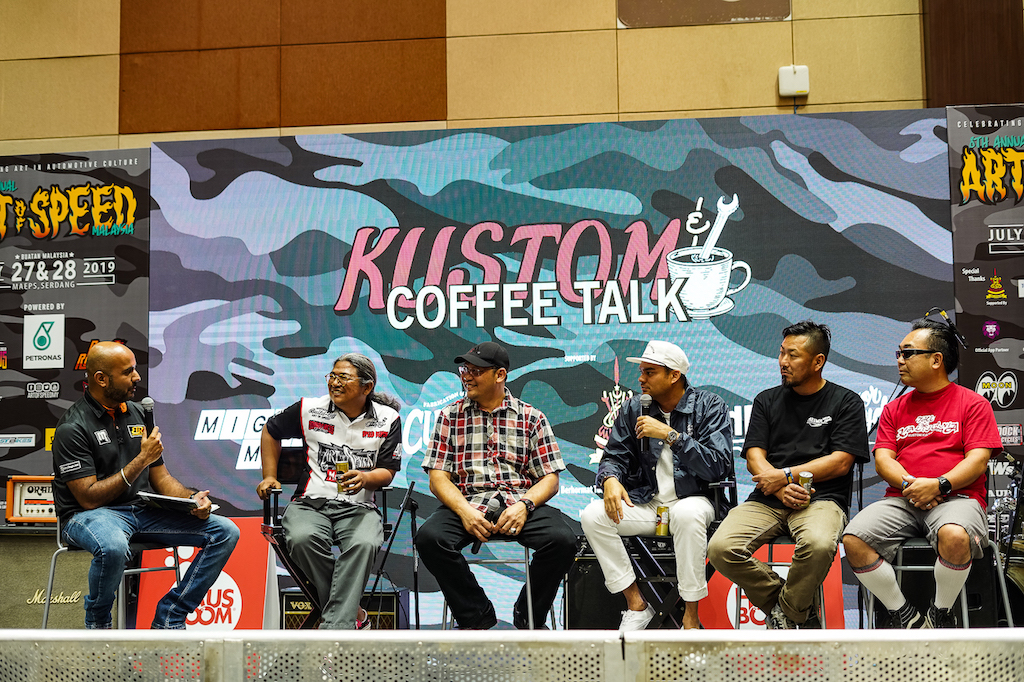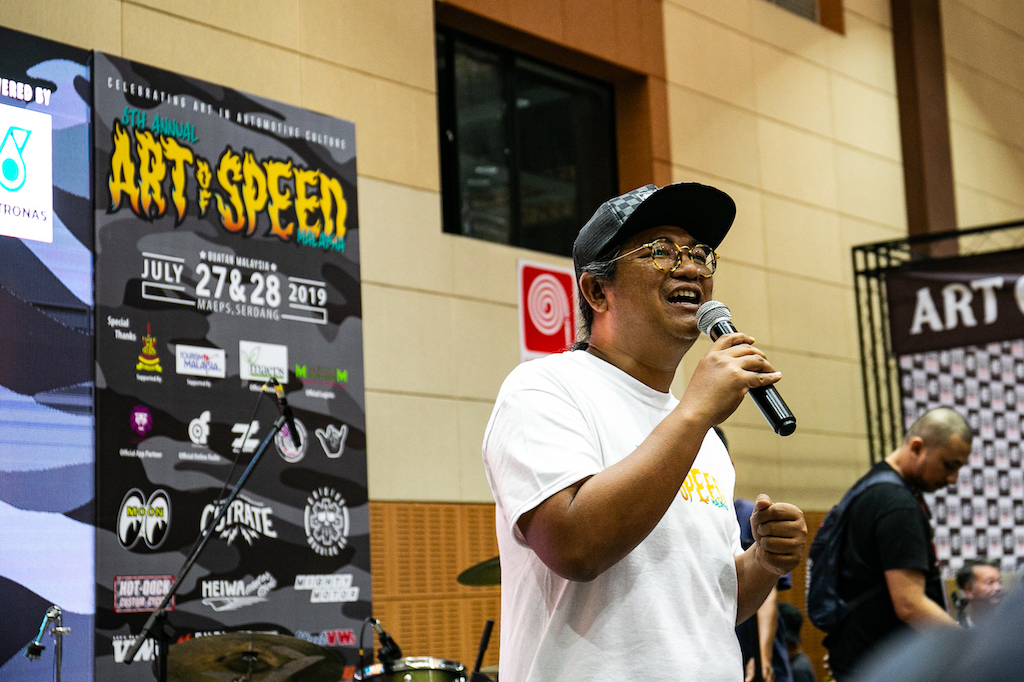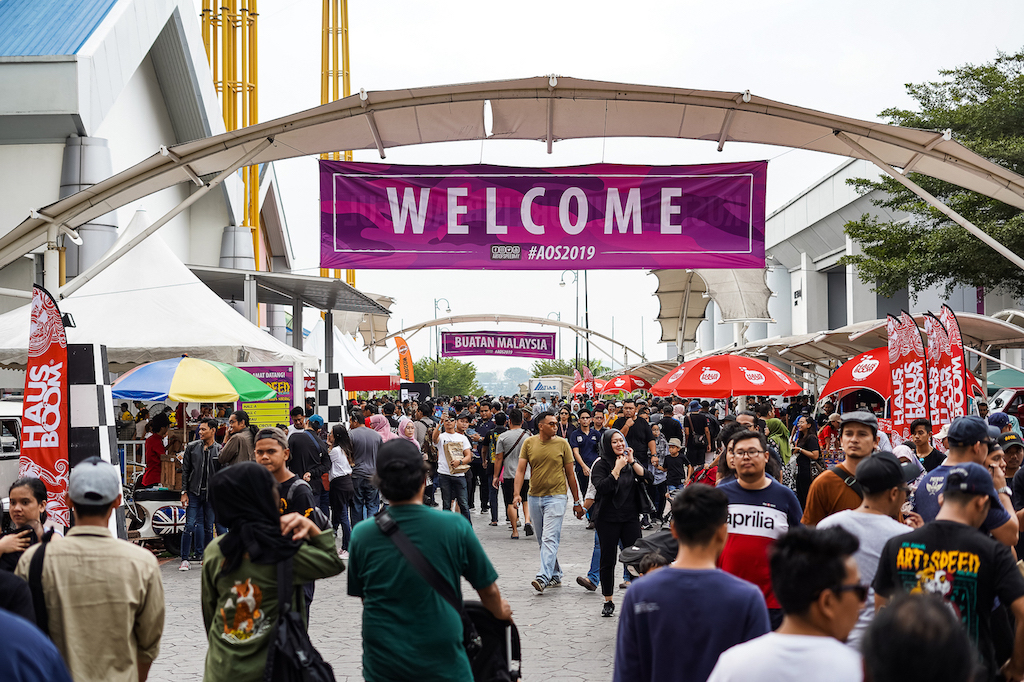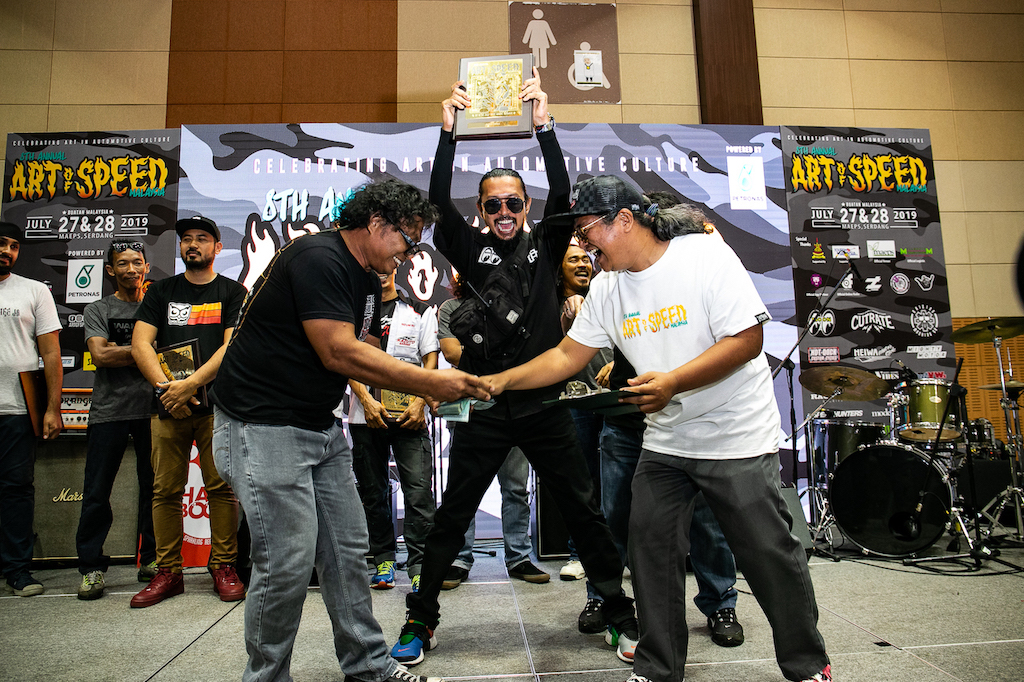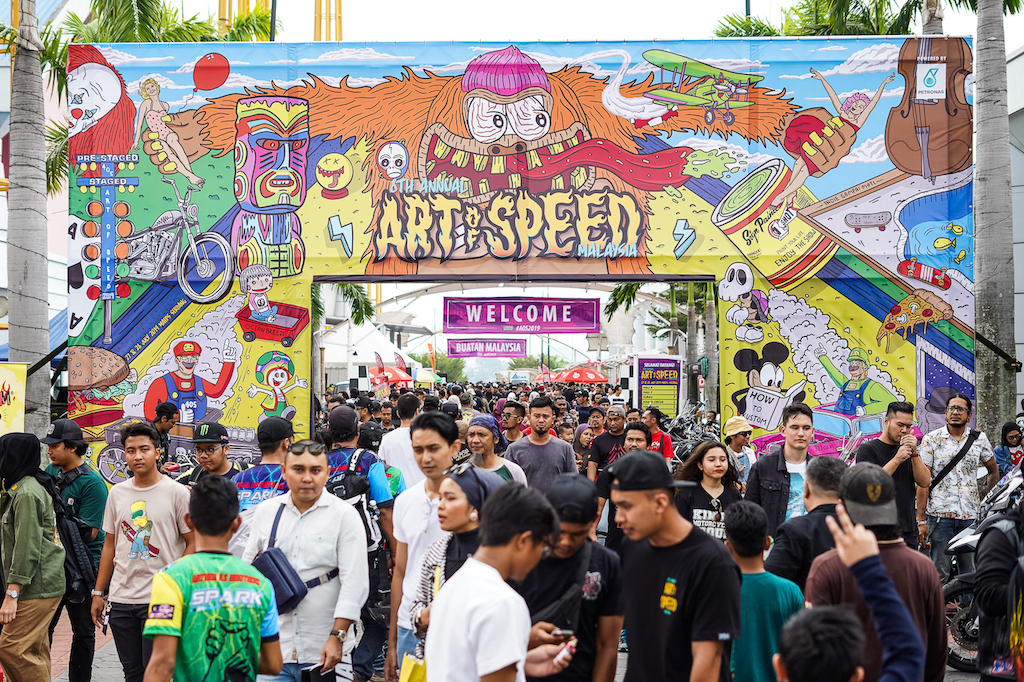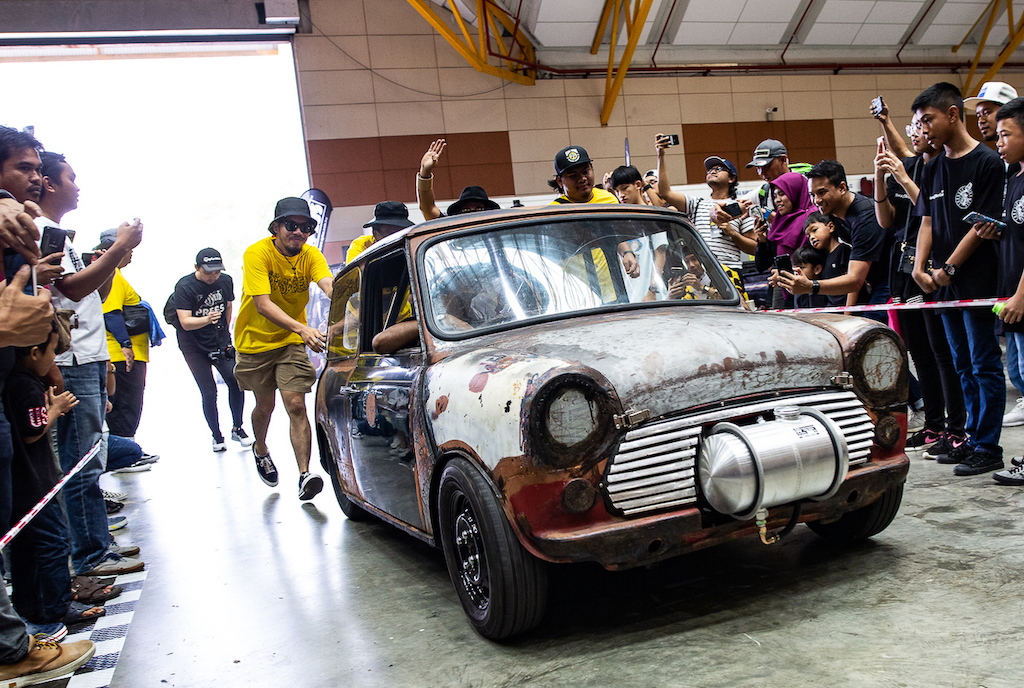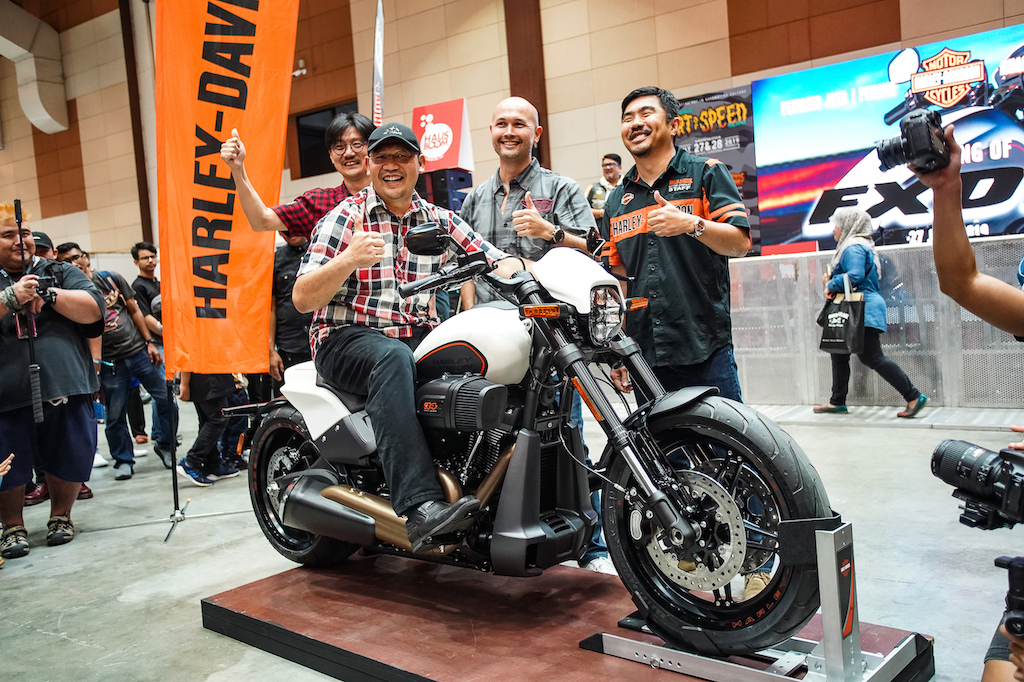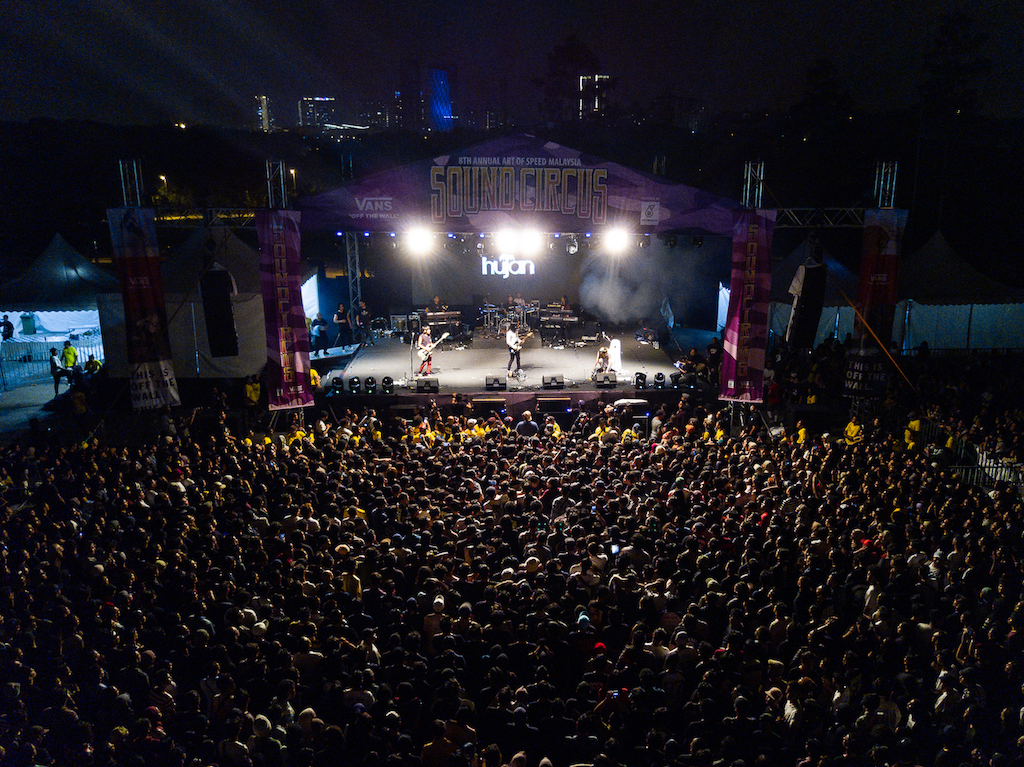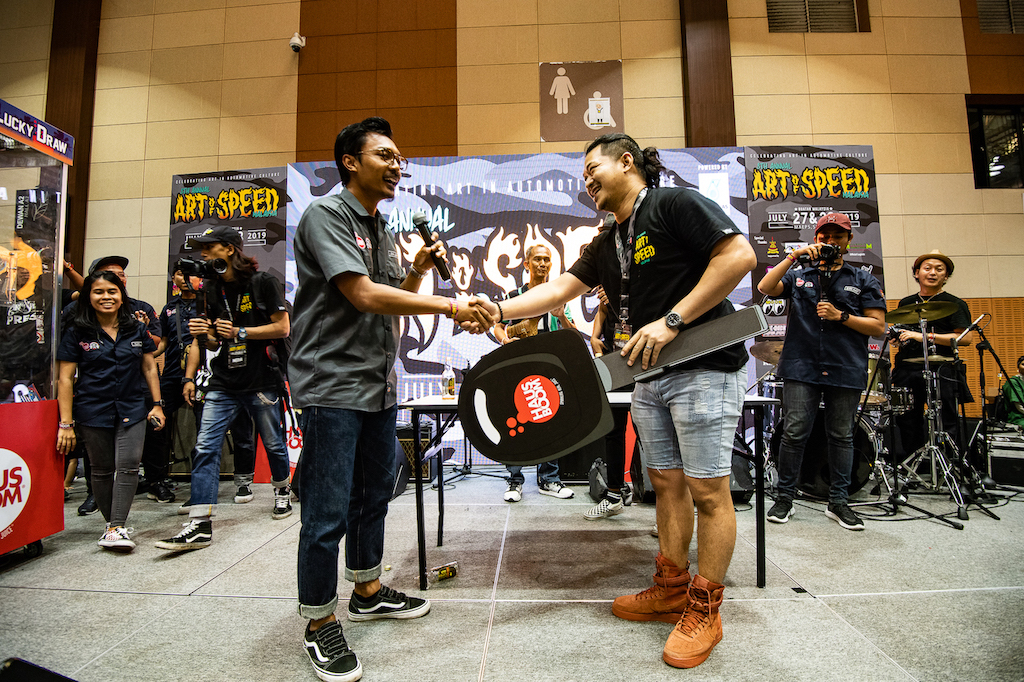 Other AOS 2019 activities included:
Roda Rumble 2019 – Two Wheels Gathering & Outdoor Festival supported by Retro Mania
Food Park featuring Food Trucks, Outdoor Marketplace & Vintage Flea Market
Strider Race for kids organized by Strider Kids Malaysia
MINI 60th Anniversary Malaysia Celebration
Scale Dicast Culture gathering (Hall C)
Hot Wheels Club Malaysia Custom Contest & Play Zone (Hall C)
Best Of British vintage bike showcase by The Return of The Café Racer & Triumph Motorcycles Malaysia. (Hall A)
Malaysia Automotive, Robotics & IoT Institute showcase (Hall A)
Special Forum with YB Tuan Mohd Khairuddin Othman, the Exco for Youth, Sports & Human Capital Development for the State of Selangor sharing initiatives by the state government
Another milestone achievement for Art Of Speed is the Sound Circus concert, which was moved outdoors for AOS 2019 in order to accommodate an ever-increasing music fanbase. The Sound Circus line-up featured Hujan as the main headline together with Bittersweet, Masdo, Gerhana Ska Cinta, Kapow and many others on Saturday concert. Sunday's line-up featured Asheed Def Gab C, Kid Search and headline, and Blues Gang.
Prizes
Last but not least was the lucky draw giveaway on Sunday and the big prize for AOS 2019 was ONE (1) unit Mini Cooper fully customized by FNG Works with a Suzuki Hayabusa engine. This year's lucky winner of the giveaway was awarded to Tham Wei Ping from Bayan Lepas, Penang.
The winners of Best of Show motorcycle and automobile categories will win package trips to the 28th Annual MOONEYES Yokohama Hotrod and Custom Show this coming December as the Guests of Honour.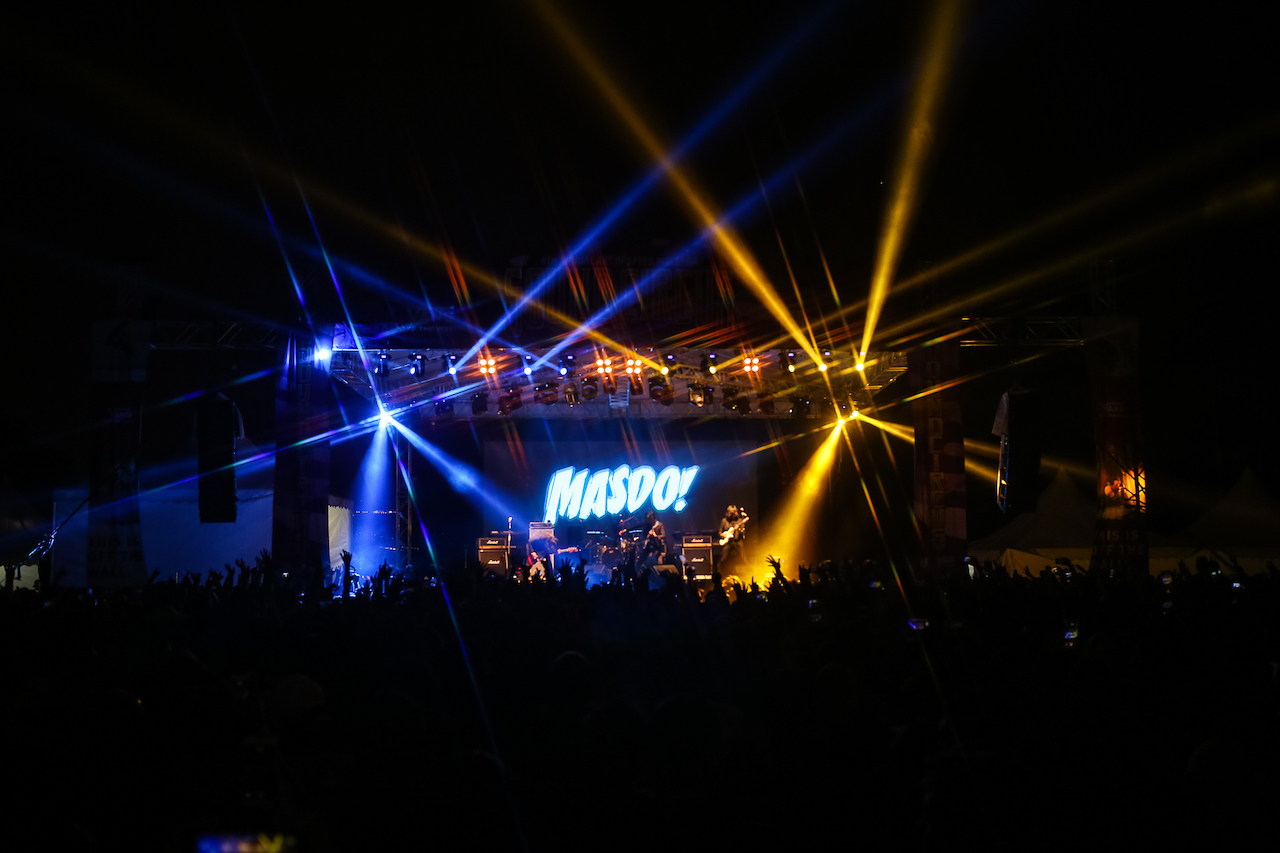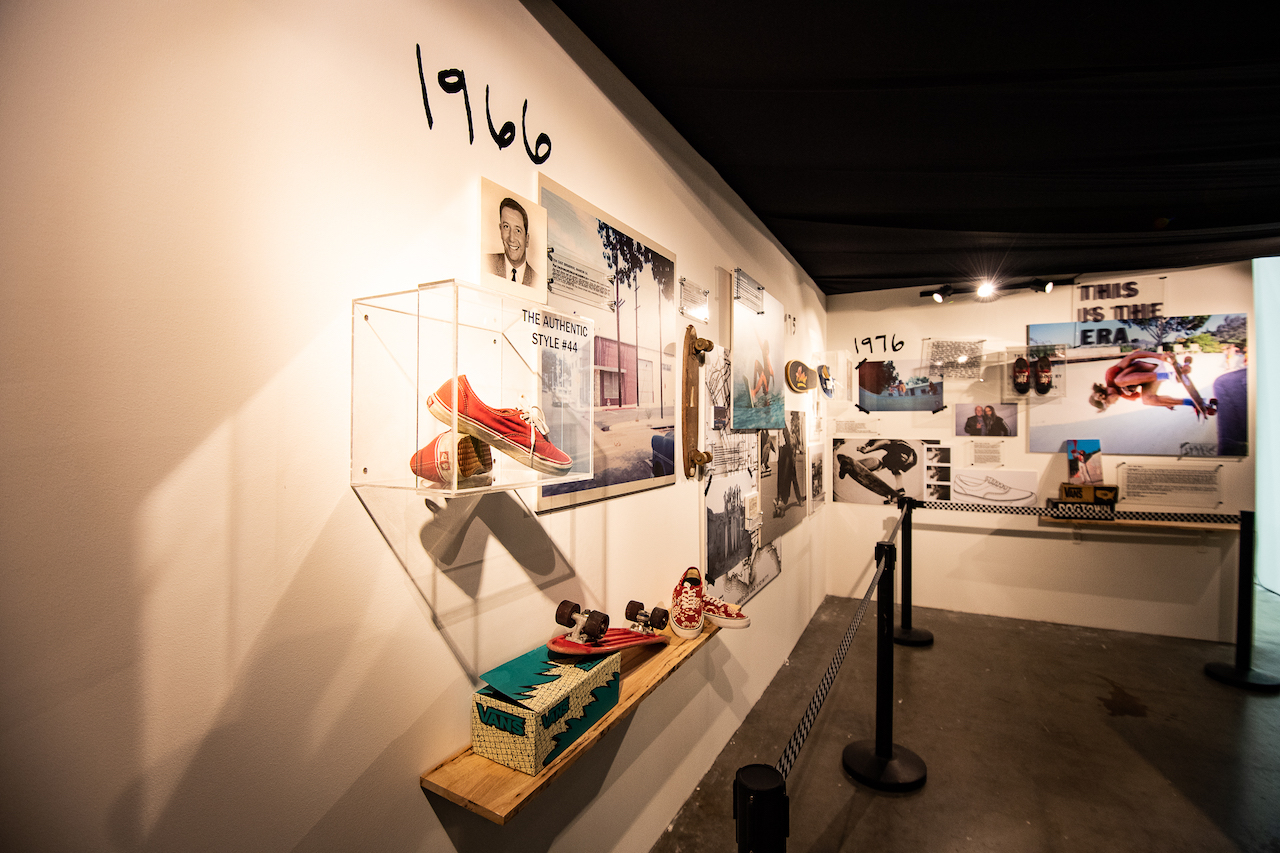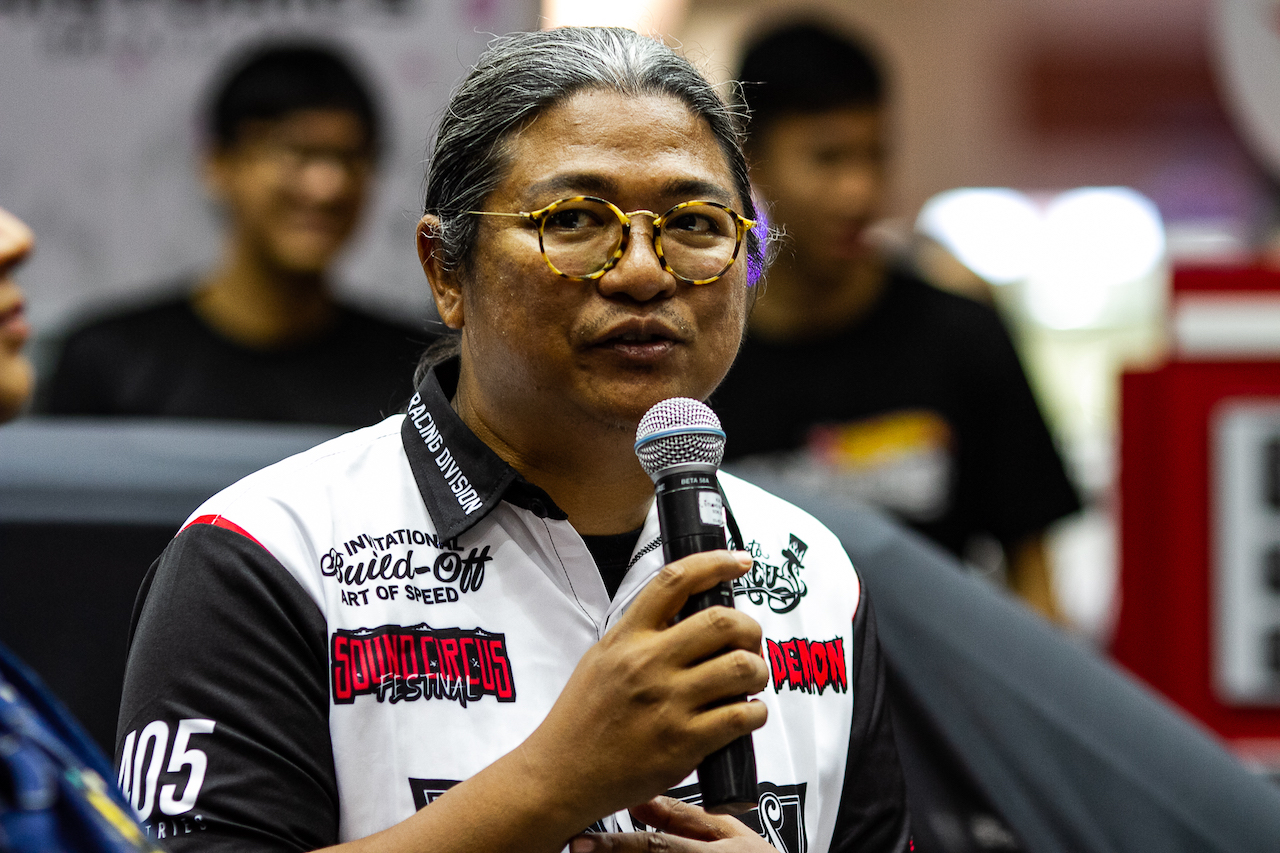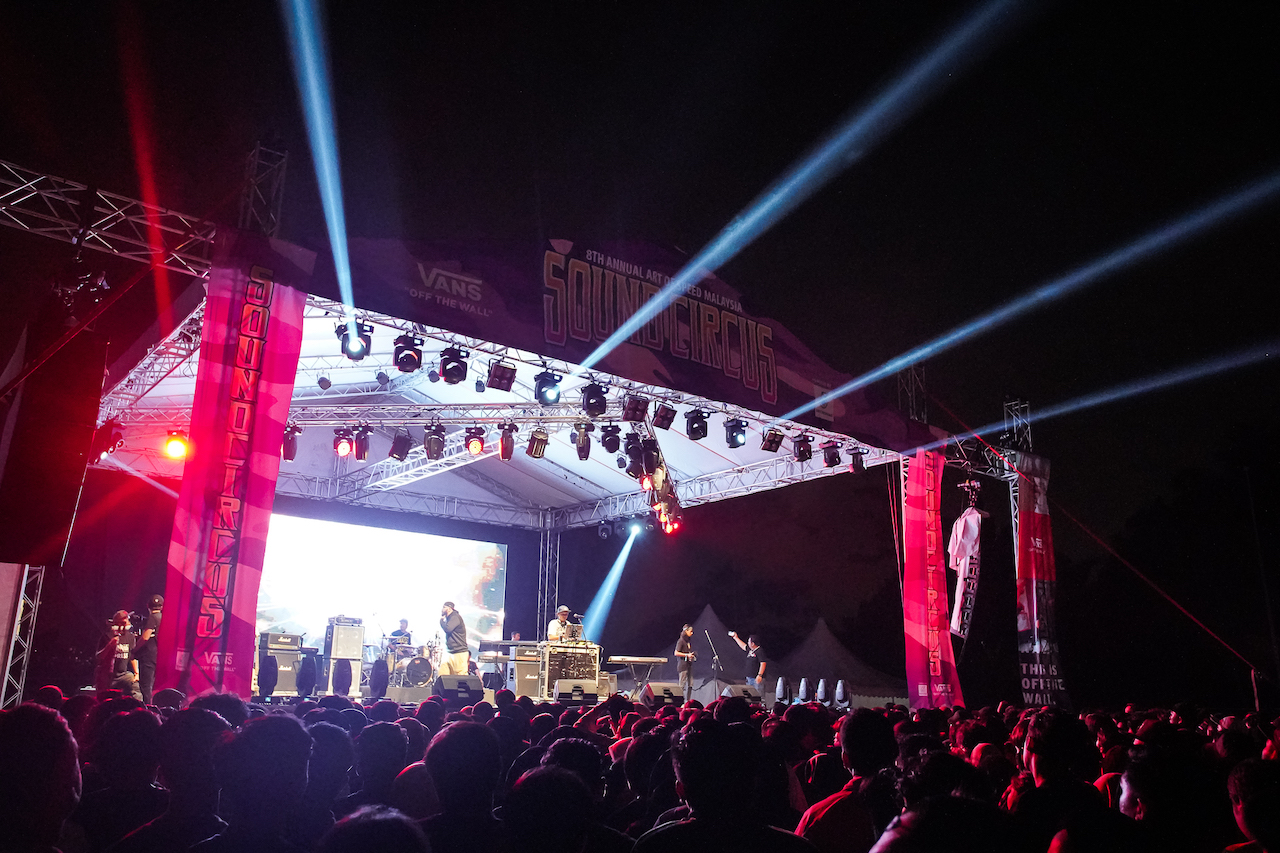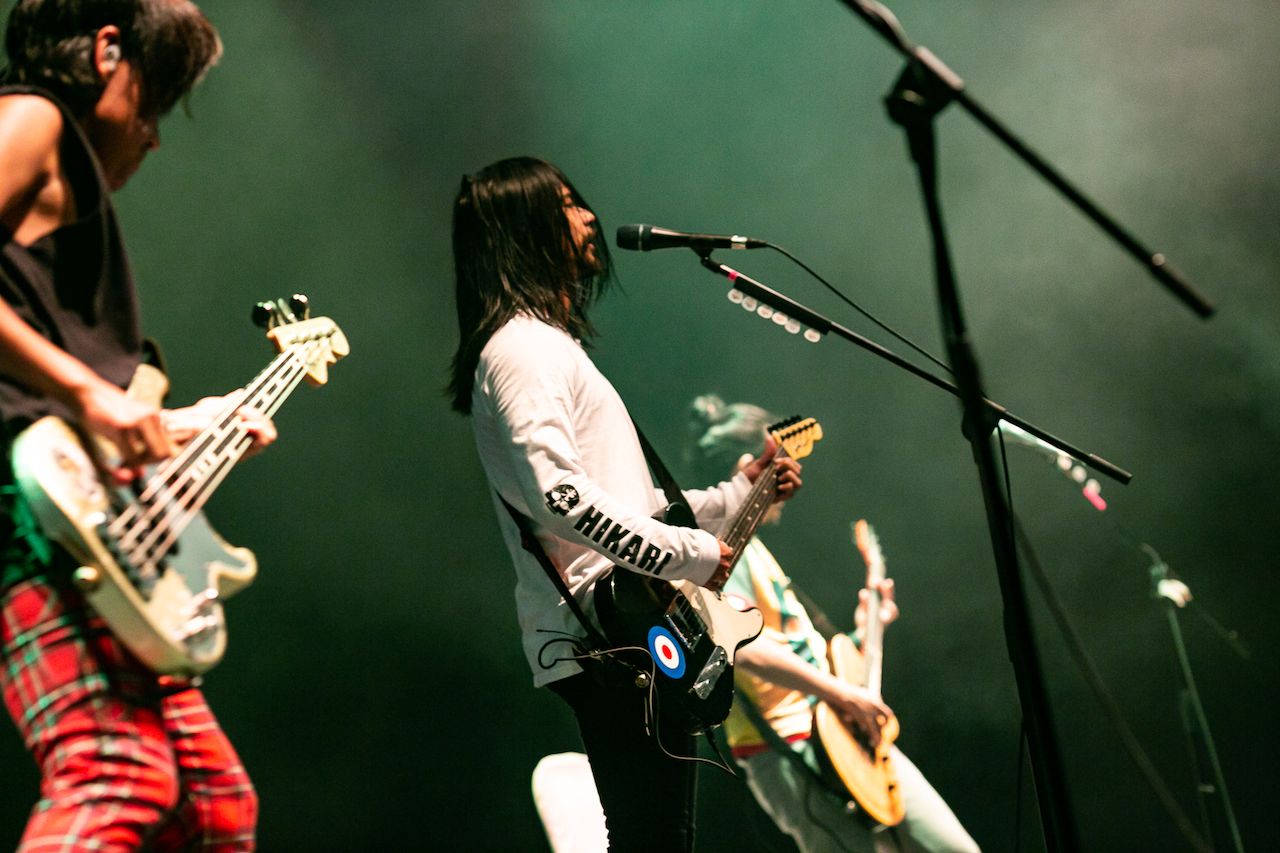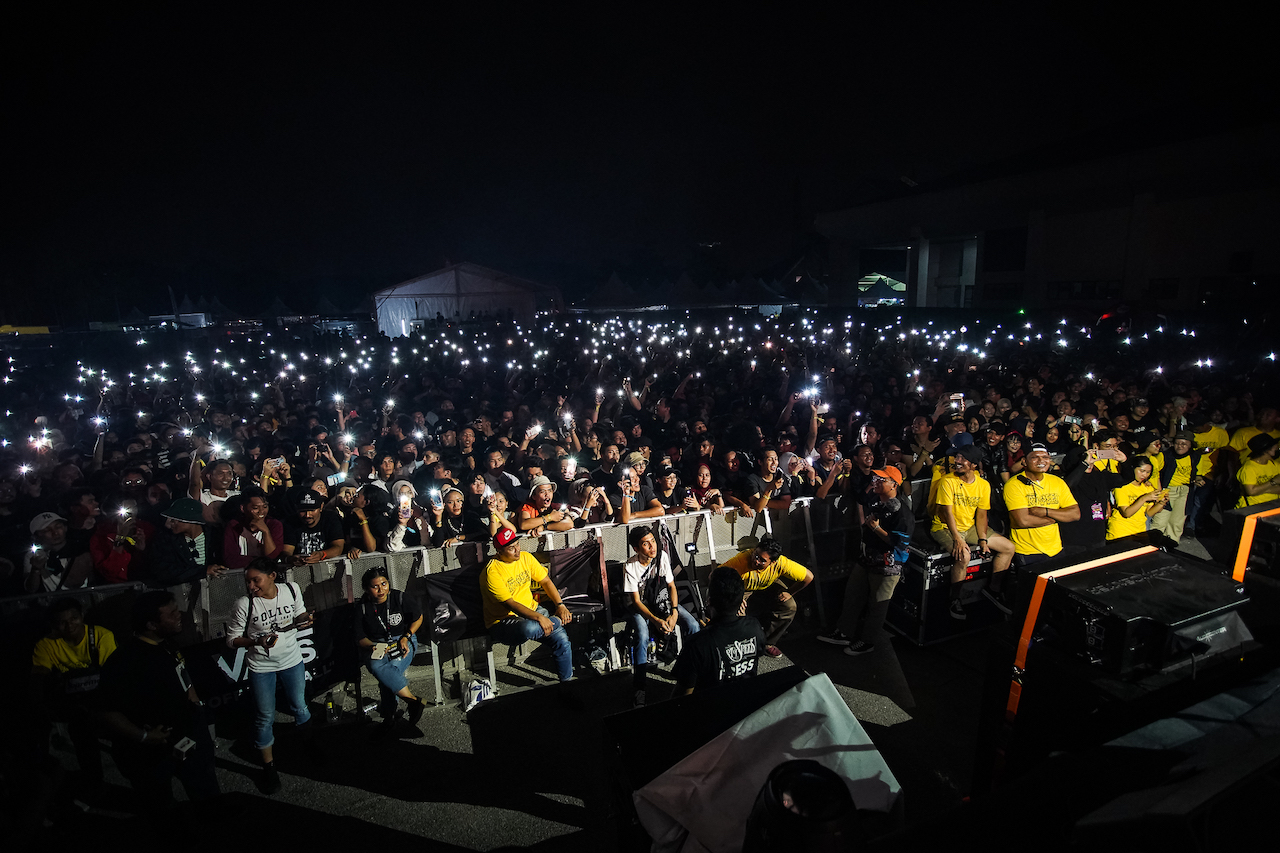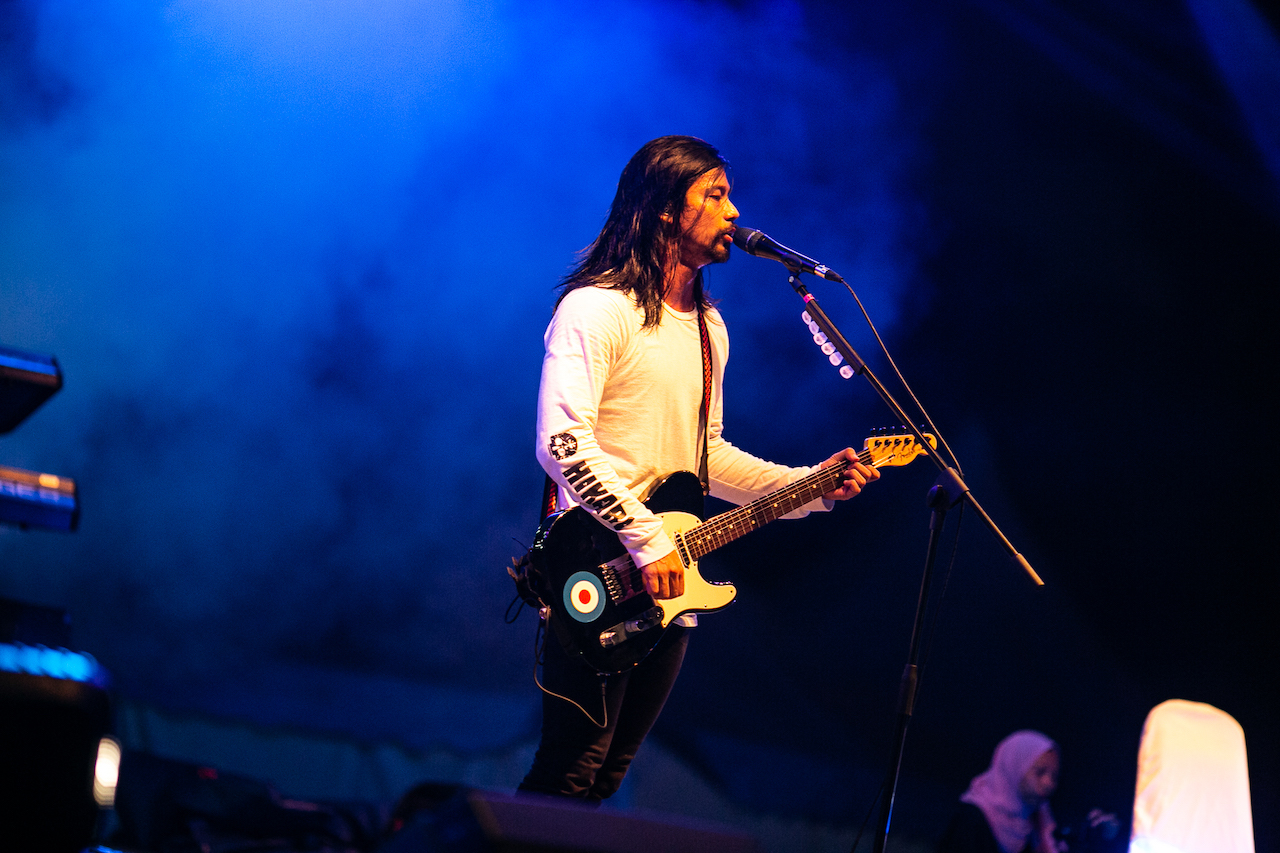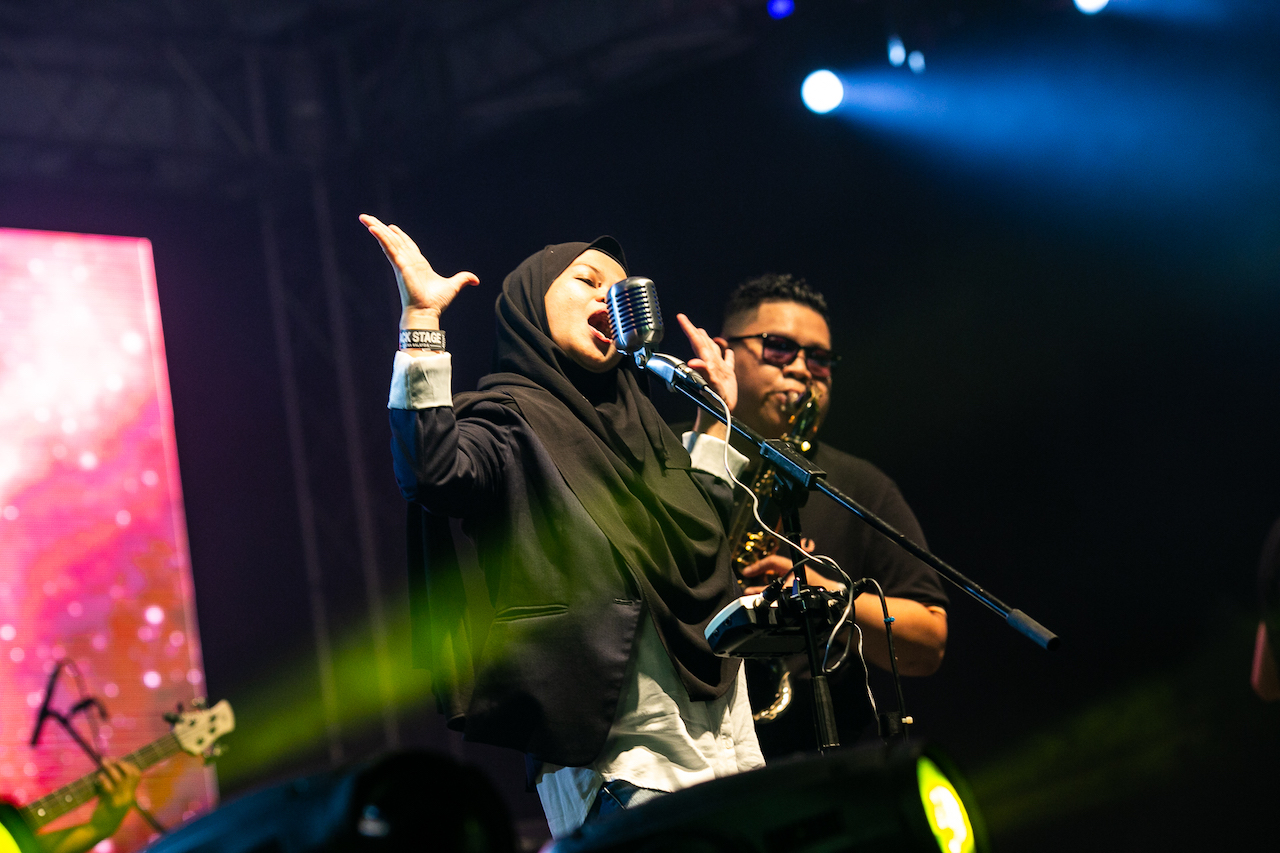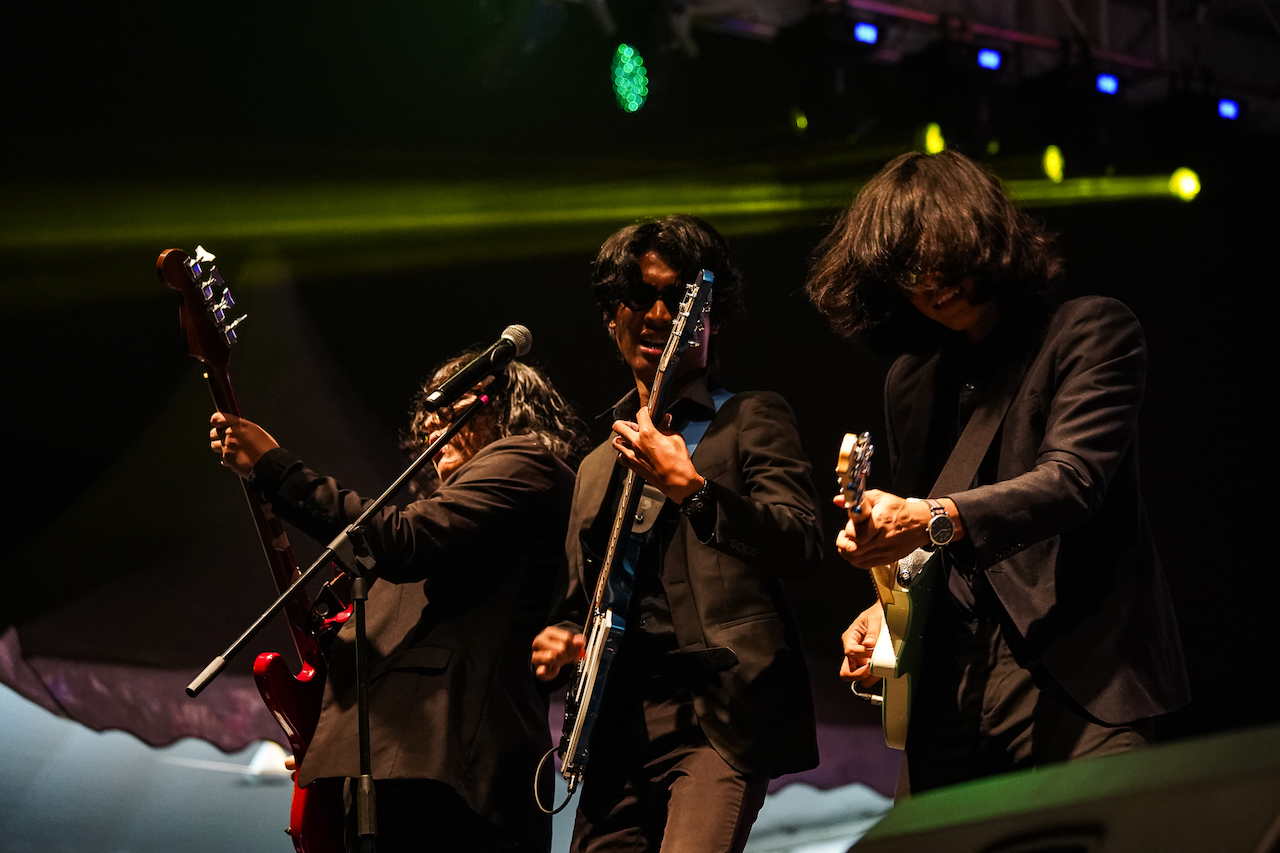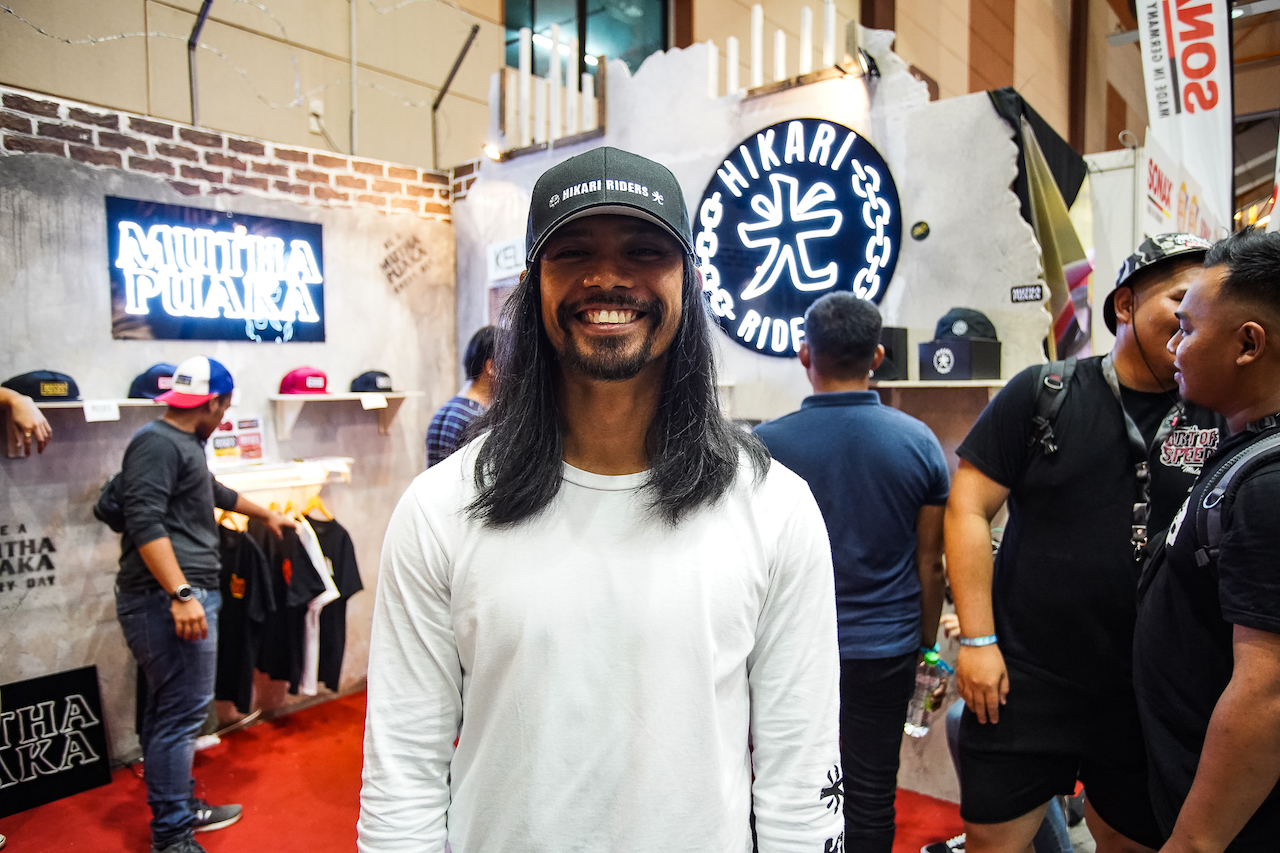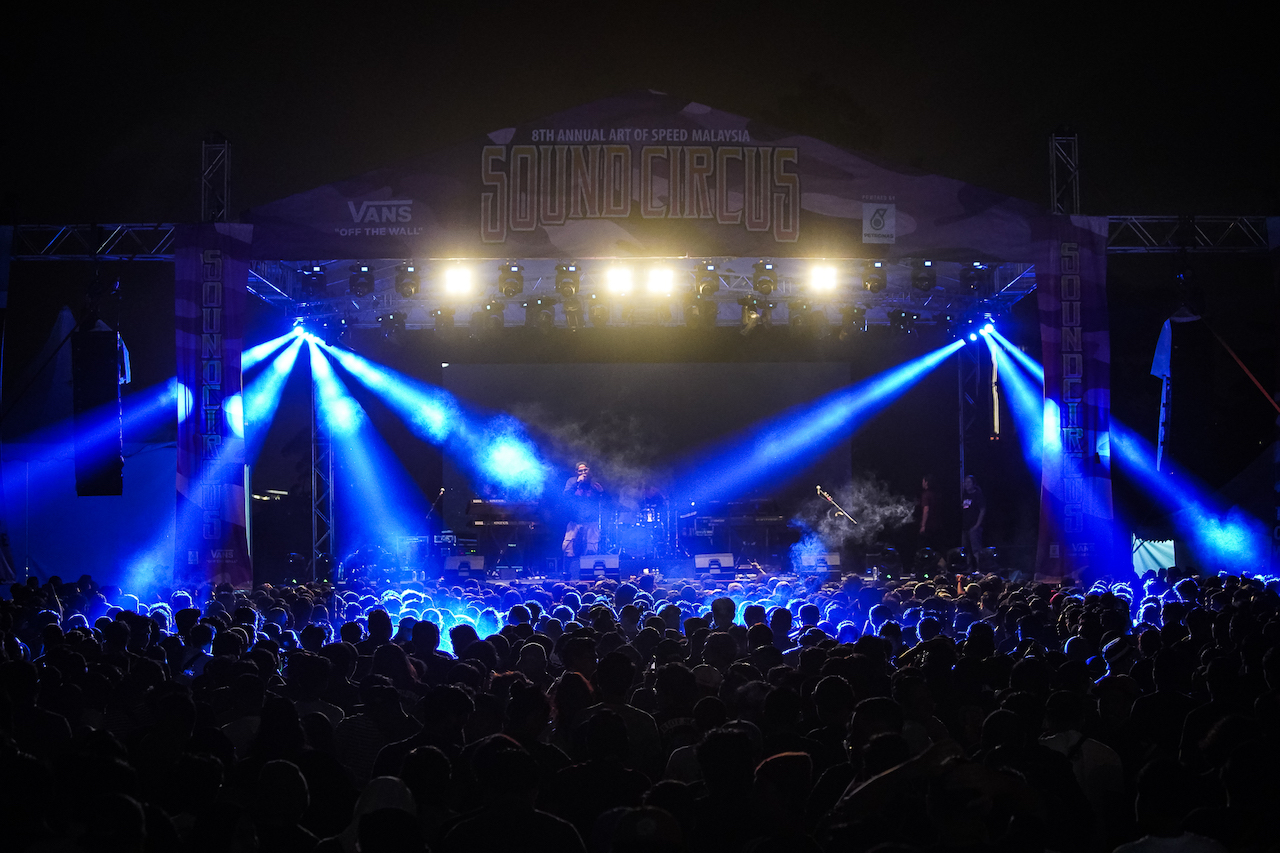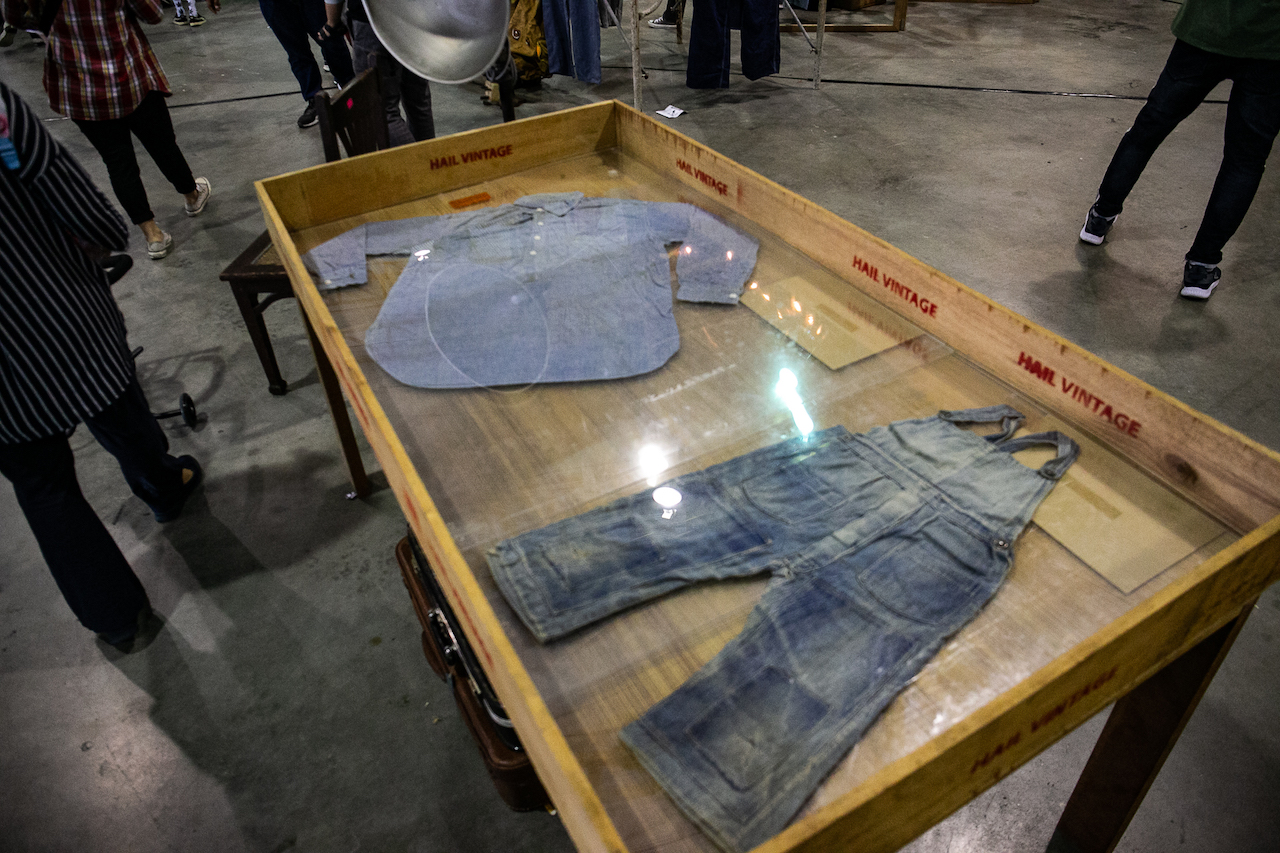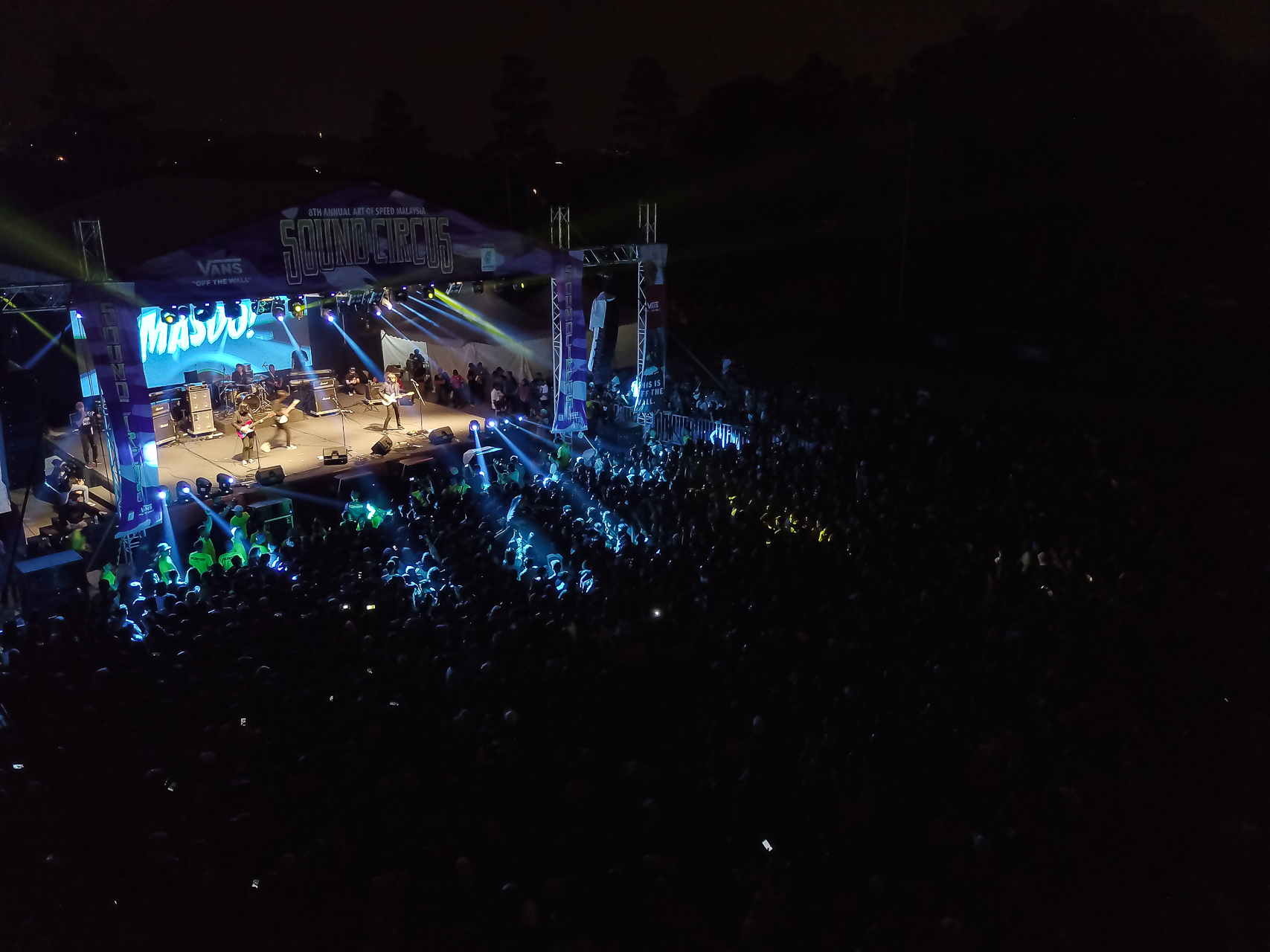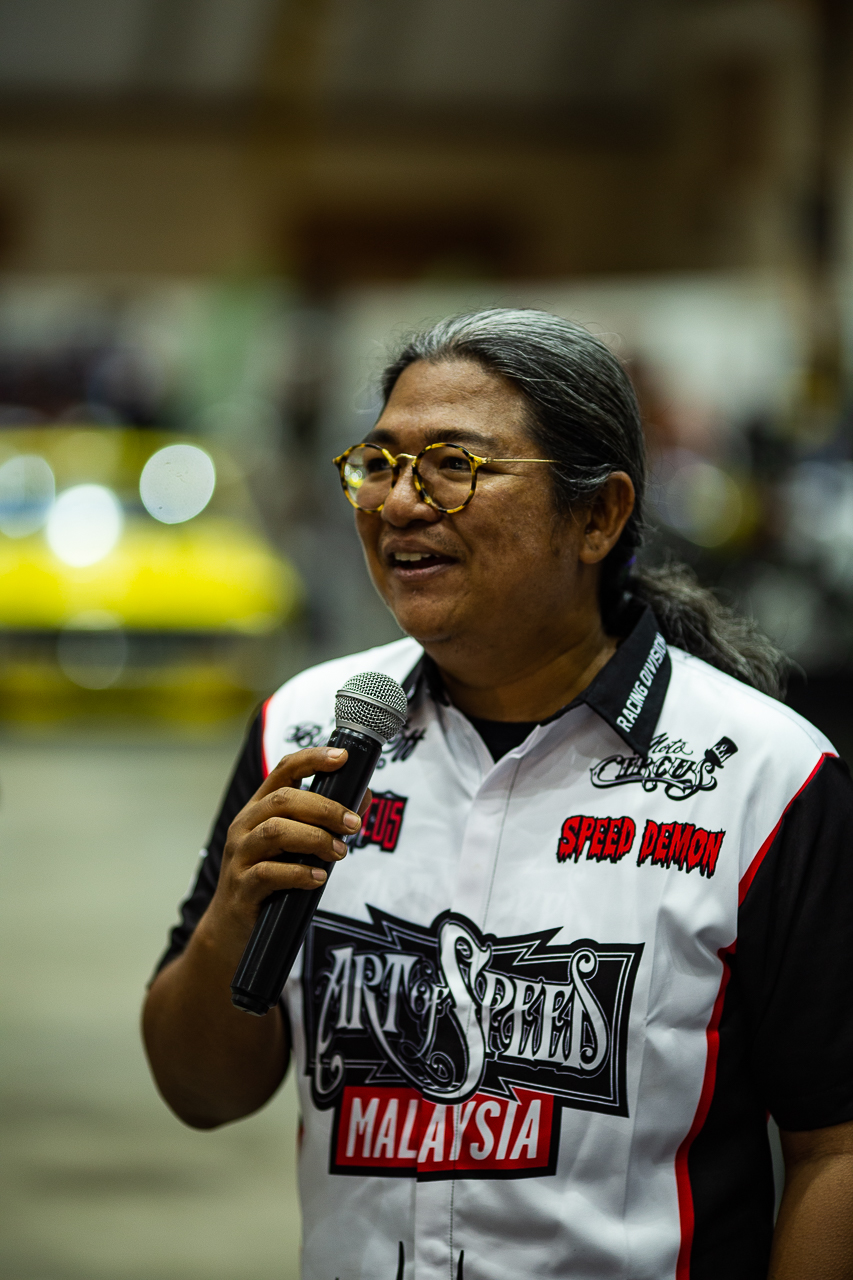 List of AOS2019 winners:
BEST OF MEGA CAR & MOTORCYCLE CLUB GATHERING
OSBMX
BEST MARKETPLACE
BLACK RAINBOWS by HOUSE OF VANS
BEST DISPLAY MOTORCYCLE
NODIE CYCLES
BEST DISPLAY CAR
BWB
AOS Invitational Car Build Off
Jury Award
THE CLASSIC GARAGE from Johor Bahru, builder Ravinder Singh.
Morris 1964 custom hot rod, Mercedez 5.0ltr V8 engine.
Public Award
CARAZEE ARTWORK from Klang, builder Ajie.
Volkswagen Nova Sterling Kitcar, 1972
Best Of Show Automobile
FAROIB AUTOSPORT, Skyline KGC10, Hakosuka 1971 (Malaysia)
Best Of Show Motorcycle
MOHD NASIR MORNI, Honda EX5, 1995 (Malaysia)
 Invited Guest Pick
Shige Suganuma – MOONEYES PICK
Winner : MOHD FAUZAN
Daisuke Sakon – KUSTOMSTYLE PICK
Winner : GO TOGO
Kenichiro Kaneko – TRUCK MASTERS PICK
Winner : JALIL JAMALUDDIN
The Nash – THE NASH PICK
Winner : YOGARAJ
Ken Takano – KEN'S ART CUSTOM GARAGE PICK
Winner : MIZZDENI 405 INDUSTRIES
Keiji Kawakita – HOT DOCK CUSTOM CYCLES PICK
Winner :  AZRIY AHMAD
Kengo Kimura – HEIWA MOTORCYCLE PICK
Winner :  RUSTY FACTORY
Makoto Watanabe – CHOPPER JOURNAL PICK
Winner :  MOHD ASYRAFF MOHD ZIN
Matt Everingham – SPEEDHUNTERS.COM PICK
Steve Vandervate – HOTWHEELS PICK
Winner :  KEAN YAP
NOEQUAL PICK
Winner :  FAROIB AUTOSPORT
Marlon Slack – PIPEBURN PICK
Kenji Hasegawa – ORION ACE PICK
Winner :  FNG WORKS
MAKOTO PICK
Winner :  SOFYAN
THE BELL PICK
Winner :  MOHD FAUZAN AZIM
Kanda Manabu – KALIFORNIA LOOK PICK
Winner :  LEBAI GAME
Chris Cooper – FUEL TANK PICK
Daisuke Katsumura – KOUSOKU YUEN MAGAZINE PICK
Winner :  EIDEN SOH
Geoffrey Baldwin – THE RETURN OF CAFÉ RACER PICK
Winner :  AB GARAGE
Oliver Jones – THE CUTRATE PICK
Winner :  RUDY NORMAN GTB
Christian Coujin – COUJIN PICK
Winner :  ISMAIL IBRAHIM FAROIB AUTOSPORT
Shaun Guardado – SUICIDE MACHINE COMPANY PICK
Winner :  AHMAD MUNIR
GG – MOONEYES TAIWAN PICK
Bomb – BANGKOK HOT ROD CUSTOM SHOW
Winner :  ZUL
Jeffrey Chang – JEFFREY'S FINISHING TOUGH PICK
Lou Nozaki – MC HAL HELMET PICK
Winner :  NO DIE CYCLES
Shaik Ridzwan – THE MIGHTY MOTOR PICK
Winner :  MOHD NASIR MORNI & AHMAD
Yasuo Sekijima – VIBES MAGAZINE PICK
Lou Nozaki – BEETLE HELMET PICK
Winner :  FAIZAL GIMME SHELTER
Makoto Ukai – MODEL CARS MAGAZINE PICK
Gussan – 2% PICK
Winner :  ABD RASID
AOS2019 Show & Shine winners
Lowrider Category
Best of 12", 16" & 20" Wheel Lowrider
Winner :  ZAINUDDIN B ZAKARIA (MALAYSIA)
Best of 24", 26" & Open
Winner :  AIZAD ZAFARI (MALAYSIA)
Best of Classic BMX
Winner :  JAA  COLA (MALAYSIA)
OPTIONAL CATEGORY
BEST PAINT
Winner :  AIZAD ZAFARI (MALAYSIA)
BEST FABRICATION
Winner :  AIZAD ZAFARI (MALAYSIA)
Automobile Category
BEST OF GERMANS (CLASSIC)
Winner :  SOFYAN (MALAYSIA)
BEST OF ITALIANS (CLASSIC)
Winner :  LUCA SUINO (ITALIAN)
BEST OF BRITISH (CLASSIC)
Winner :  CALVIN NAI (MALAYSIA)
BEST OF JAPANESE (CLASSIC)
Winner :  FAROIB AUTOSPORT (MALAYSIA)
BEST OF RETRO JAPANESE 4 DOOR SEDAN
Winner :  STANEX (MALAYSIA)
BEST OF USA/MUSCLE
Winner :  YOGGARAJ (MALAYSIA)
BEST OF SWEDISH
Winner :  CARAZEE ARTWORK (MALAYSIA)
BEST OF MODERN CLASSIC
Winner :  ALEX TAU (MALAYSIA)
BEST OF RADIKAL (CLASSIC & MODERN)
Winner :  CK NAGA (MALAYSIA)
BEST OF WAGON
Winner :  MEOR AZRI B ISMAIL (MALAYSIA)
BEST OF VAN
Winner :  MUHAMMAD NUR ZAKWAN (MALAYSIA)
BEST OF VW TYPE1
Winner :  NYIUR GARAGE (MALAYSIA)
BEST OF VW BUS/VAN
Winner :  KELFOLKS (MALAYSIA)
BEST OF VW AIR-COOLED RESTOMOD
Winner :  MOHD FAUZAN (MALAYSIA)
BEST OF TYPE3, KARMANN, TYPE34 & EARLY PORSCHE
Winner :  FAROIB AUTOSPORT (MALAYSIA)
BEST OF RAT LOOK
Winner :  ELDEN SOH (MALAYSIA)
OPTIONAL CATEGORY
BEST PAINT
Winner :  YOGGARAJ (MALAYSIA)
BEST INTERIOR
Winner :  CALVIN NAI (MALAYSIA)
BEST ENGINE BAY
Winner :  CALVIN NAI (MALAYSIA)
Motorcycle Category
BEST OF OPEN CLASS
Winner :  FAZRUL IZHAM (MALAYSIA)
BEST OF CHOPPER
Winner :  ZUL RUIZZ (MALAYSIA)
BEST OF BOBBER
Winner :  FAIZAL HAMIDON (MALAYSIA)
BEST OF CAFÉ RACER
Winner :  FNG WORKS (MALAYSIA)
BEST OF MODIFIED HARLEY-DAVIDSON incl. SPORTSTER, SOFTAIL & PROSTREET
Winner :  BEAUTIFUL MACHINES (MALAYSIA)
BEST OF CLUB STYLE
Winner :  – NO WINNER –
BEST OF CUSTOM BAGGER
Winner :  CUSTOM WHEELS GARAGE (MALAYSIA)
BEST OF JAP STYLE & TRACKER
Winner :  ARUL / ALOY (MALAYSIA)
BEST OF RESTORED CLASSIC SCOOTER
Winner :  ABD RASID
BEST OF STREETCUB CUBSTYLE
Winner :  MOHD NASIR MORNI (MALAYSIA)
BEST OF RESTORED RETRO SCRAMBLER
Winner :  AHMAD FAUZY & ABDUL  KARIM (MALAYSIA)
BEST OF RESTORED CLASSIC CONTINENTAL & AMERICAN
Winner :  WAK DOYOK (MALAYSIA)
BEST OF MODIFIED CLASSIC CONTINENTAL & AMERICAN
Winner :  FUAD BANJAROS MC (MALAYSIA)
BEST OF CUSTOM STREET BIKE
Winner :  RUDY NORMAN GTB
OPTIONAL CATEGORY
BEST PAINT
Winner :  BOB IRON HEAD MG (MALAYSIA)
BEST FABRICATION
Winner :  MATTHEW CHONG (MALAYSIA)
BEST ENGINEERING
Winner :  FAZRUL IZHAM (MALAYSIA)