Automotive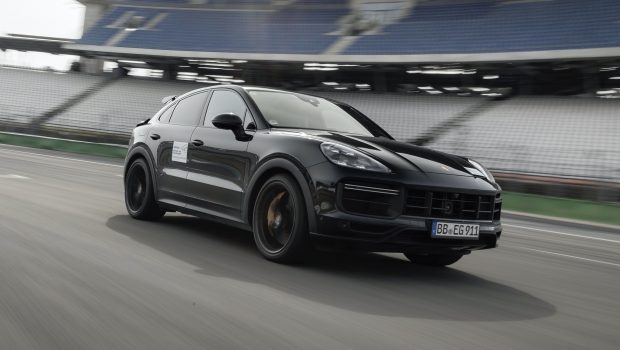 Published on May 20th, 2021 | by Joshua Chin
0
Porsche Teases Upcoming 631 hp Cayenne Turbo Coupe 
This will most likely be the new quickest and fastest Cayenne variant when it debuts. 
When it comes to super-SUVs, the Cayenne is widely considered to be the one that started it all. First debuting all the way back in 2002, it could certainly claim credit for being the car that eventually spawned the likes of the Urus from Lamborghini, the DBX from Aston Martin and even the purportedly upcoming Purosangue from Ferrari. 
It is these flashier alternatives however that have sort of taken the initial shine of the Cayenne, as buyers slowly graduate to these faster, more exclusive super-SUVs. So perhaps in an attempt then to win back some of these customers, Porsche is currently cooking up a 631 hp variant of its Cayenne Turbo Coupe.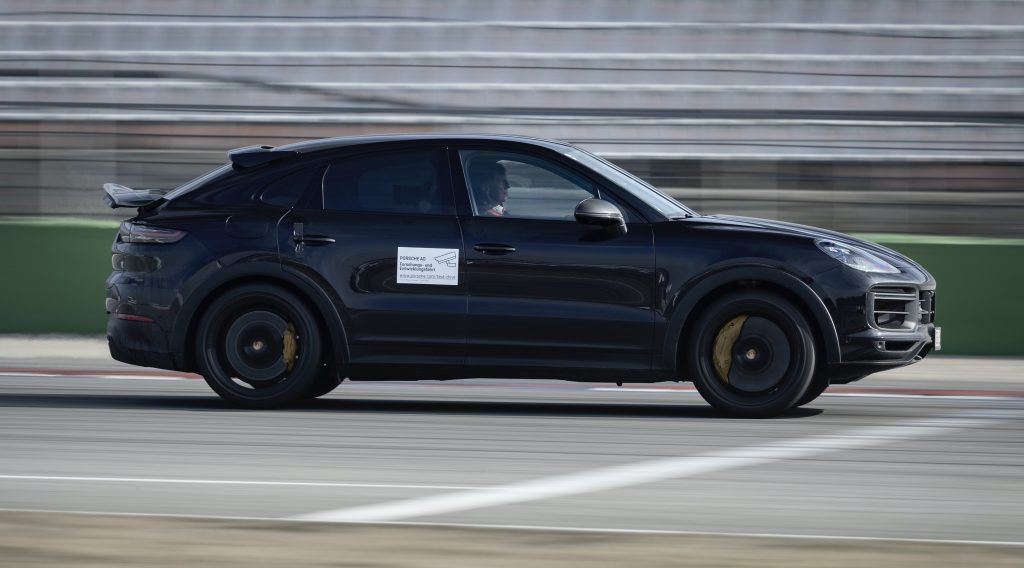 Set to launch alongside the general Cayenne facelift later this year, the main thing to note right off the bat is the fact that this headline 631 hp figure still doesn't actually make it the fastest version of Porsche's super-SUV to date. That is because the Turbo S E-Hybrid currently on sale today delivers 40 hp more from its twin-turbocharged 4.0-litre V8 and electric motor combination. 
Having said that, this new as-yet-unnamed variant is still noteworthy of discussion, as Porsche is aiming this particular spec of Cayenne to be the one that offers the best possible combination of performance and dynamics. To that end then, this specific trim level will gain some extra sporty goodies that like larger (and wider) 22-inch wheels wrapped in bespoke Pirelli P Zero Corsa tyres.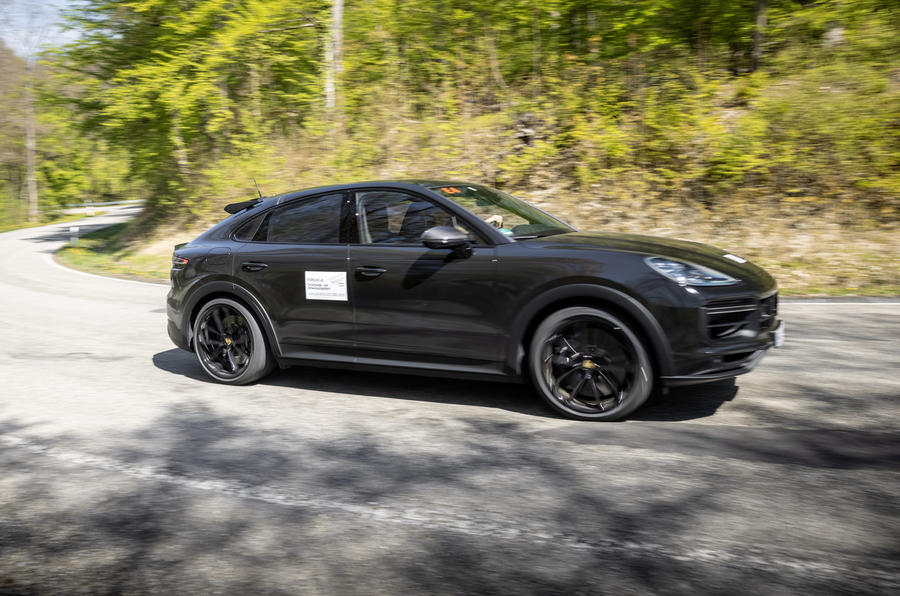 Other discernible distinctions from the outside includes the fitment of a carbon fibre roof and carbon ceramic brakes, not to mention various other carbon-accented aerodynamic enhancements such as the more pronounced lip spoiler up front and more prominent spoiler and diffuser out the back. The handling too has been said to tweaked somewhat from its standard counterparts, with Porsche supposedly dropping the ride height by 7 mm, increasing the stiffness of the air suspension by 15% and adding 0.45º of negative camber for a larger contact area between the tyres and the road. 
Now moving back under the hood of this upcoming flagship meanwhile, despite not being the most powerful Cayenne out there, it nevertheless will still hold the crown for being the most powerful purely-petrol Porsche SUV. A feat that comes courtesy of some more fettling that has been done to its 4.0-litre twin-turbo V8, bumping its power and torque figures by some 89 hp and 80 Nm from before, to the claimed 631 hp and 850 Nm it is claimed to pump out in this upcoming trim.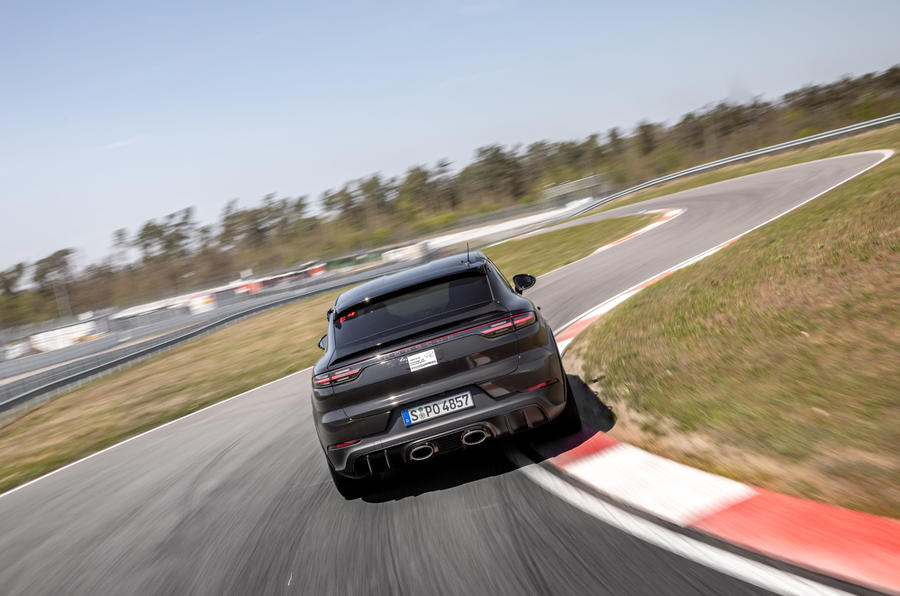 Paired with a titanium exhaust system featuring twin pipes that exit centrally out the back therefore, as well as a host of revised software for the engine, 8-speed automatic transmission and all-wheel drive system (that is now apparently more rear-biased), unofficial performance figures for this sporty Cayenne is reported to stand at 0-100 km/h in 3.4 seconds with a top speed of 300 km/h. Making this variant then even quicker and faster than its 671 hp PHEV brethren, which manages the century sprint 0.4 seconds slower and maxes out at just 295 km/h. 
Set to be available in only a four-seater, more information about this upcoming Cayenne and its general facelifted range should be trickling out in the near future. Till then however, below is the story from Porsche about Walter Rhorl taking a pre-production prototype for a quick spin round the Hockenheimring.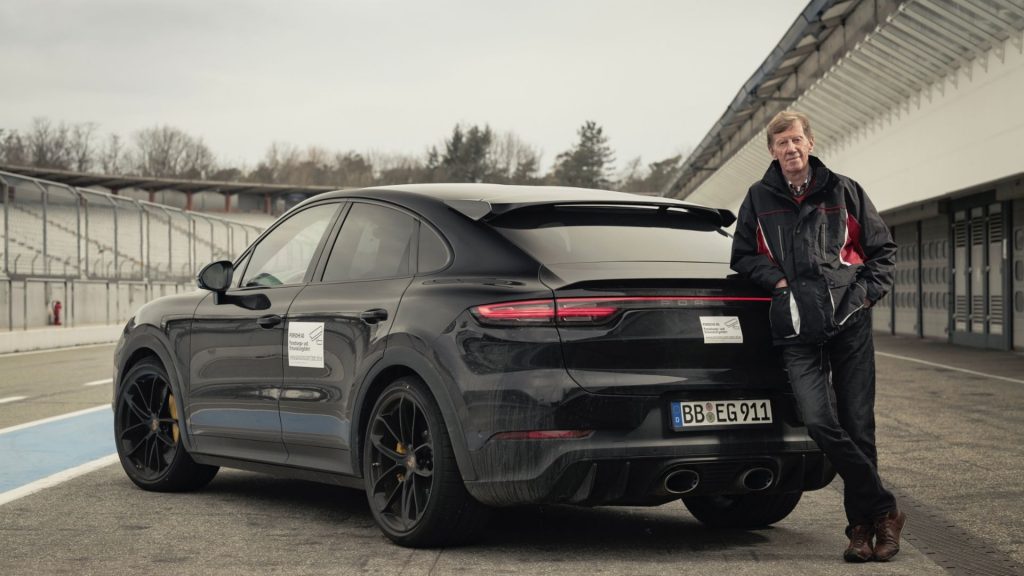 PRESS RELEASE: The two-time World Rally Champion and Porsche Brand Ambassador completed numerous test laps in the high-performance SUV on the Grand Prix circuit of the Hockenheimring. In his assessment of its driving dynamics, he described the new Cayenne as a "great leap forward compared to everything that has gone before. This car redefines the meaning of the term SUV". The sort of performance you expect in a Porsche combined with a high degree of everyday usability and variability – these are the things that the Cayenne has stood for ever since it made its debut in 2002.
Especially dynamic highlights in the model's initial years included the first Cayenne Turbo S, which had an outstanding power output for 2006 of 383 kW (521 PS), and the GTS models, which were specifically tuned for sportiness from 2007. "They were off-road vehicles that could be driven like sports cars – a real sensation at the time," says Röhrl, when looking back at the first Cayenne generation, which had the internal designation 'E1′.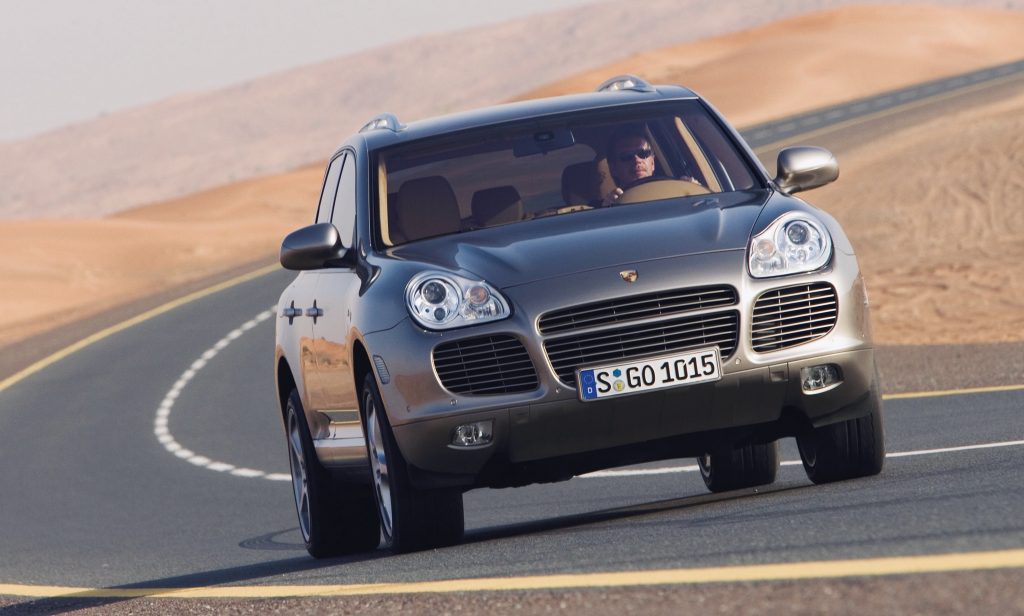 Focus on exceptional on-road performance
With the new model, which is currently undergoing final testing and optimisation as part of development to series production maturity, Porsche aims to underline its claim to best-in-class performance once again. The focus for this derivative has been on exceptional on-road performance without neglecting driving comfort and everyday usability. It is based on the current Cayenne Turbo Coupé, but has been designed and developed even more single-mindedly to provide the ultimate in terms of longitudinal and lateral dynamics.
Alongside a host of other enhancements for all chassis and control systems, the Porsche Dynamic Chassis Control active roll stabilisation system makes a major contribution to the stable handling of the new Cayenne model with a new, performance-oriented set-up. "The PDCC always keeps the body balanced and level even during very spirited cornering," explains Porsche test driver Lars Kern, who has accompanied development of the high-performance model right from the start.
Its handling is also improved by its comprehensively revamped front axle: "Compared with the Cayenne Turbo Coupé, the front rims are now half an inch wider, and negative camber has been increased by 0.45 degrees in order to provide a larger contact area for the 22-inch sports tyres newly developed especially for this model," says Kern, who recently invited Walter Röhrl to Hockenheim for the test drives.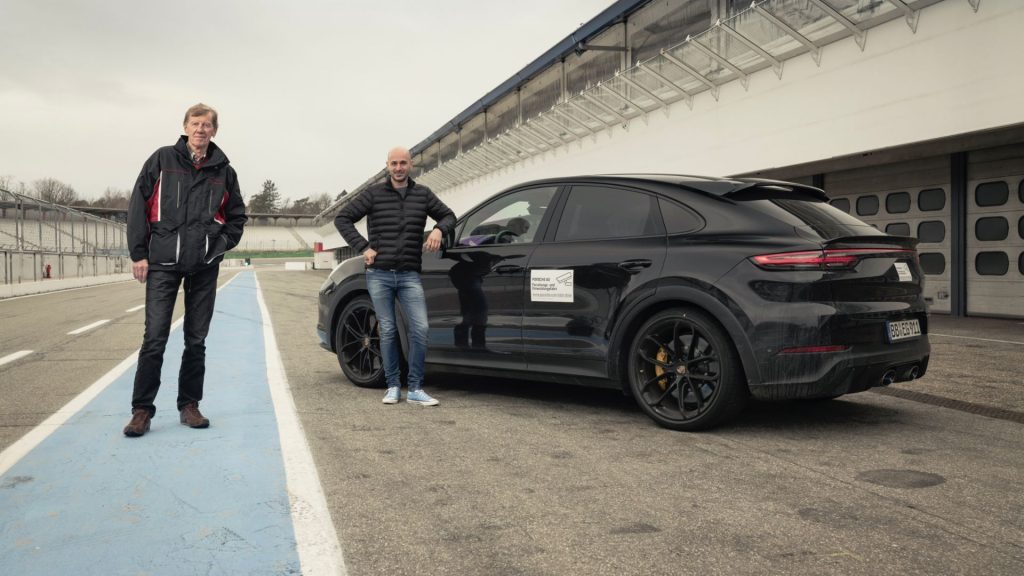 New Cayenne with outstanding driving dynamics potential
While the visual highlights of the new Cayenne were still largely hidden under black camouflage, Röhrl was already able to gain an in-depth impression of the outstanding driving dynamics potential of the new Cayenne model. Accompanied by the emotive sound of the new titanium exhaust system, which is equipped with centrally positioned tailpipes, the brand ambassador drove lap after lap on the Hockenheimring and was very impressed afterwards: "The car remains incredibly stable even in fast corners, and its turn-in behaviour is extremely precise. More than ever, you have the feeling that you are sitting in a compact sports car rather than in a large SUV."