Here comes a brand new Lotus sports car to tickle high income Malaysians. Called 'Emira' which means princess in ancient Turkish language, this all new Lotus sits on a revised Evora platform.
Meanwhile, the Lotus Evora was launched when Lotus was still owned by Proton (Yes they sold it 6 years ago to Geely) and there were 4 versions released over a few years, the last version being the Evora Sport 410 for RM640,999 (for a manual version).
With a host of high-performance carbon fibre components as standard, and sharing the 410hp supercharged engine with the track-bred 3-Eleven, the Lotus Evora Sport 410 accelerates from 0-100km/h in 3.9 seconds on its way to a top speed of 290km/h. The Evora 3.5L engine delivered 410hp at 7,000 rpm and 410Nm of torque at 3,500 rpm.
Lotus Emira Rivals
Meanwhile, in case you were wondering, the nearest rival to the Emira and the car Lotus engineers and marketers were targeting is the segment best seller, the Porsche Cayman GT4 which arrived in Malaysia in July 2020. Priced at RM999,000 it has been a global best seller.
Powered by a new 4-litre engine which produces 414hp and 420Nm of torque, it has a 0-100km/h acceleration time of just 4.4 seconds and a top speed of 300km/h.
Then there is the Jaguar F-Type. Yes, this is a low volume sports car, but still a direct rival. Priced from RM575,800, this F-Type Is powered by a 2.0-litre turbocharged Ingenium engine good for 300bhp and can accelerate from 0-100km/h in just 5.7 seconds and achieve a top speed of 250km/h. The engine's high maximum torque of 400Nm is generated from just 1,500rpm.
We also have a Japanese rival, the Toyota Supra 3.0L which is priced at RM611,880. Its BMW sourced engine delivers 388bhp and 500Nm of torque engine works with a 8-speed ZF automatic, allowing for an acceleration time from 0 to 100 km/h time of 4.1 seconds.
Finally, there is the RM684,800 BMW M4 Competition Coupe which arrived in December 2020. Powering the M4 Competition Coupe is BMW's 3.0-litre twin-turbo inline-six engine with an output of 510bhp at 6,250 rpm and 650Nm of torque from 2,750 to 5,500 rpm. The TwinPower Turbo unit is mated to an eight-speed M Steptronic transmission, which drives the rear wheels. The 0 to 100 km/h sprint time is identical to the M3 which is just 3.9 seconds.
Lotus Emira Drive
Meanwhile, lets see what this new Lotus provides. Get in and after a few minutes you realize that the Emira is a very well put together sports car that has enough luxury touch and feel points in the cabin to challenge much more expensive rivals from Germany.
From ignition the engine is quiet and composed and there is little drama. Snaking in city traffic the audio notes from the engine is more from the supercharger working.
The ride quality is very good even on the rather unsettling roads around Petaling Jaya. No matter the road surface, there was no skipping when it got a little unsettled in mid-corner.
The combination of a quick and direct steering and well defined suspension means you are getting all the feedback you could ask for whilst enjoying a composed ride.
When traffic reduces and the roads open up, switch to 'Track' mode and you will be surprised to learn that feedback is delivered with immediate effect, too. Weaving in and out of traffic can be fun with its precise steering inputs and quick reaction to turns. Just flick left and right with eyes on the mirrors and you will see many road warriors (from AMG tuned hatchbacks to well known GTi's) trying to chase you.
This might be one of the most exciting driver's cars ever to come from Hethel. The mid-range punch is almost immediate and the only power lag if any comes from the driver's indecisiveness to go forward ….. fast.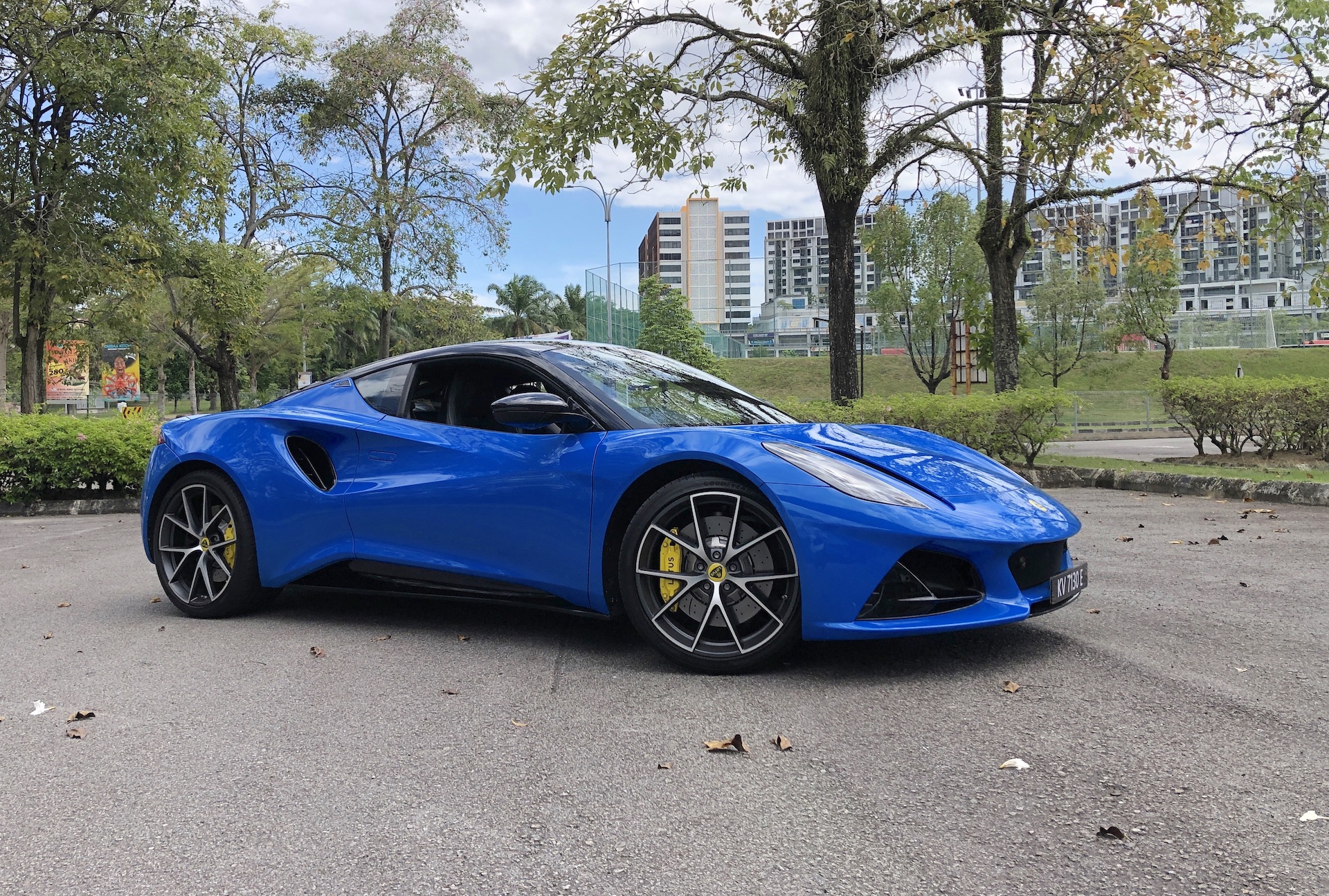 Lotus Emira Conclusion
With a wide range of rivals that are priced from RM575k to RM999k, this Emira is the most expensive and also the newest on the list.
In the looks department, the above mentioned rivals have a more 'common' design language, whereas the Emira can be mistaken for a supercar in the same segment as the much more expensive to buy and own McLaren Artura, Lamborghini Huracan, Ferrari 296, Aston Martin Vantage and even the Mercedes AMG GT.
Take a test drive and be smitten as we were.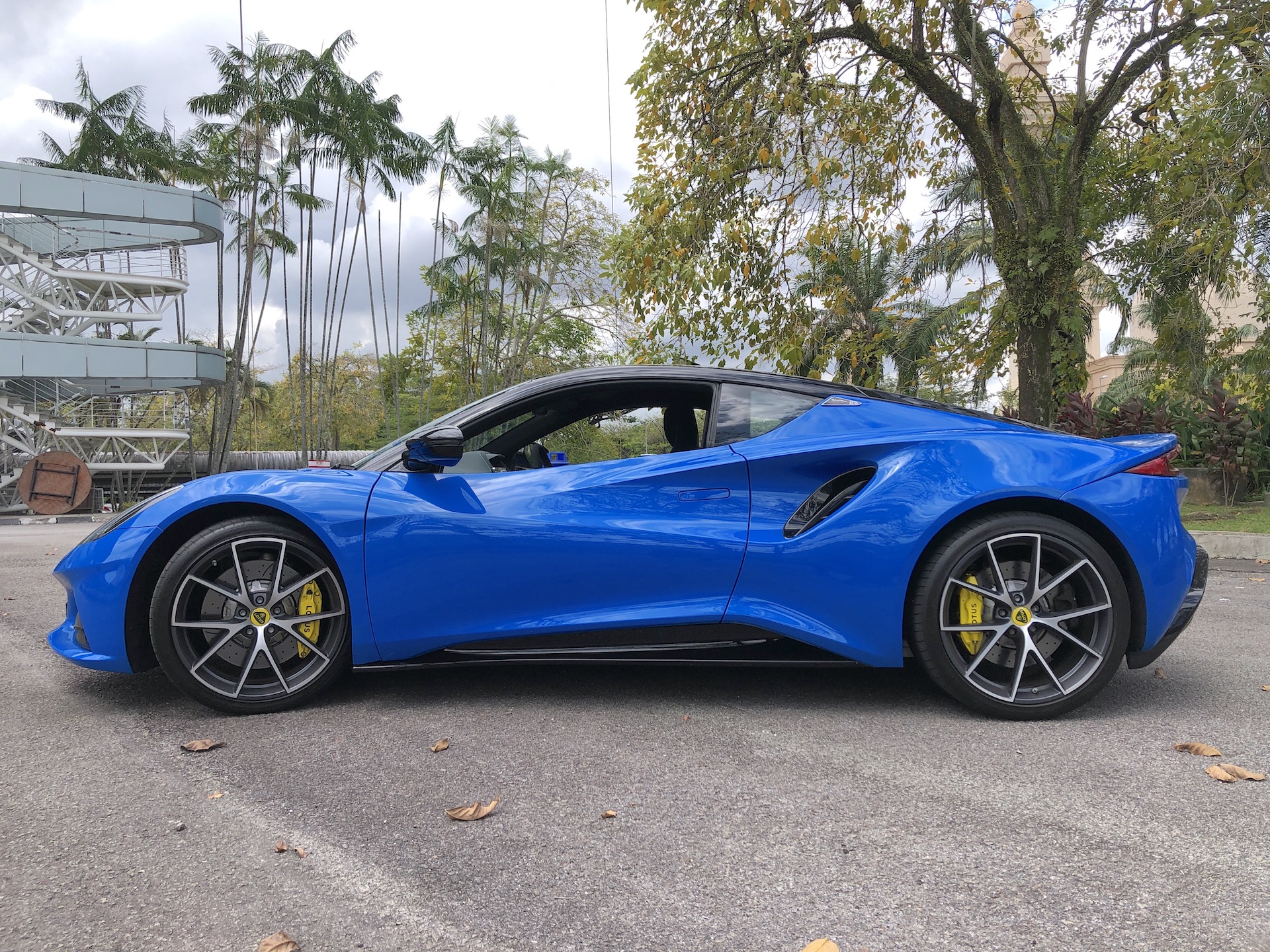 Lotus Emira Specification
Engine: V6-cylinder DOHC 24-valve dual VVT-I Supercharger
Capacity: 3,456cc
Max power: 400hp @ 6,800rpm
Max torque: 420Nm @ 4,500rpm
Transmission: 6-speed manual
0-100km/h: 4.3secs
Top speed: 290km/h
Selling Price: RM478,800 Duty Free and RM1,205,800 Duty Paid