Automotive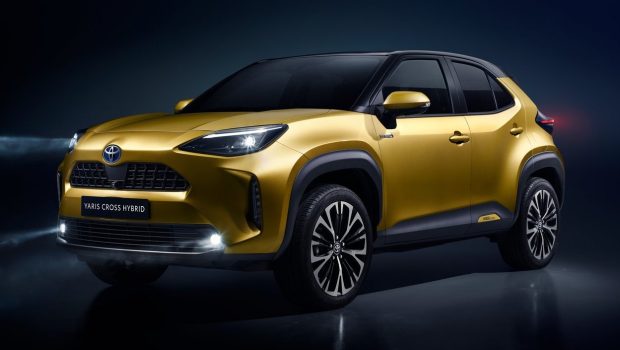 Published on March 30th, 2021 | by Joshua Chin
0
Toyota Yaris Cross Adventure Unveiled For Europe
European buyers of the Yaris Cross have the option of this slightly more rugged Adventure variant. 
When SUVs and crossovers first entered the market, it was pitched to the motoring masses as the go-anywhere type vehicle that can basically go wherever their current sedans, estates and MPVs can't. There is nevertheless one problem with all these jacked-up cars these days however, and that is the fact that nearly all of them can't really go-anywhere due to the lack of all-wheel drive. 
The new Yaris Cross however is one of the few rare exceptions to this point as it does have variants that send drive to all four of its wheels. So perhaps in recognition of its (slightly superior) off-road capabilities then, Toyota has thus decided to reveal an Adventure variant of this compact crossover.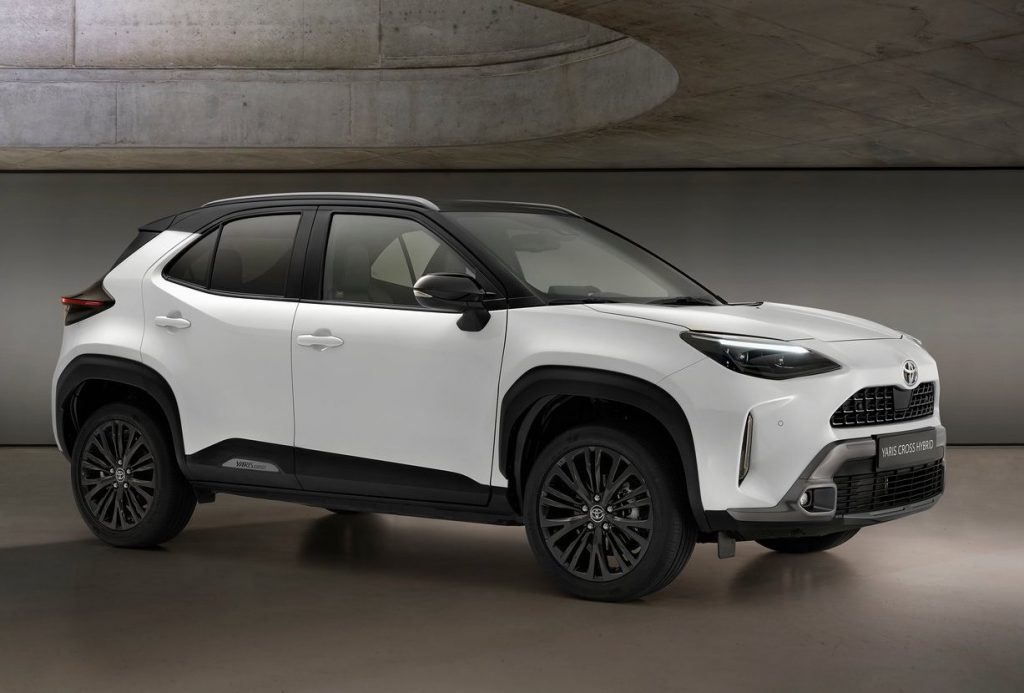 Now it is perhaps worth pointing out right off the bat that this particular Adventure variant (seen here in white) does not actually have any actual adventure-type equipment added on to the standard car in making it more adventure-ready. What this particular trim of Yaris Cross does gain instead though is a more rugged look courtesy of a new chunkier bumpers up front and round the back that are complete with skid plates at both ends, dark grey 18-inch alloy wheels and a set of silver roof rails.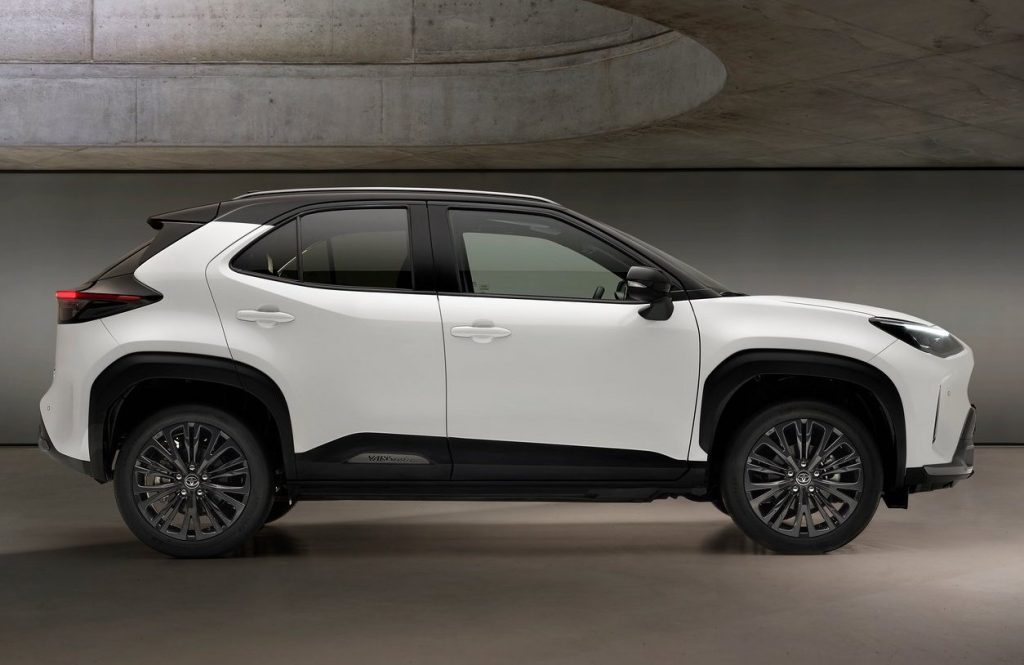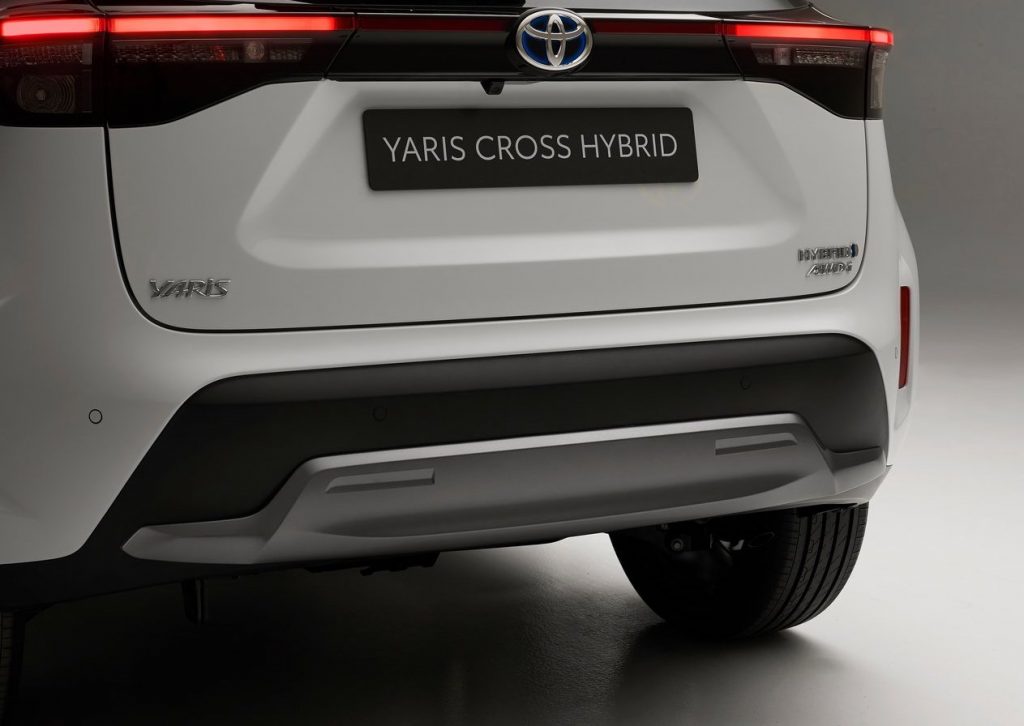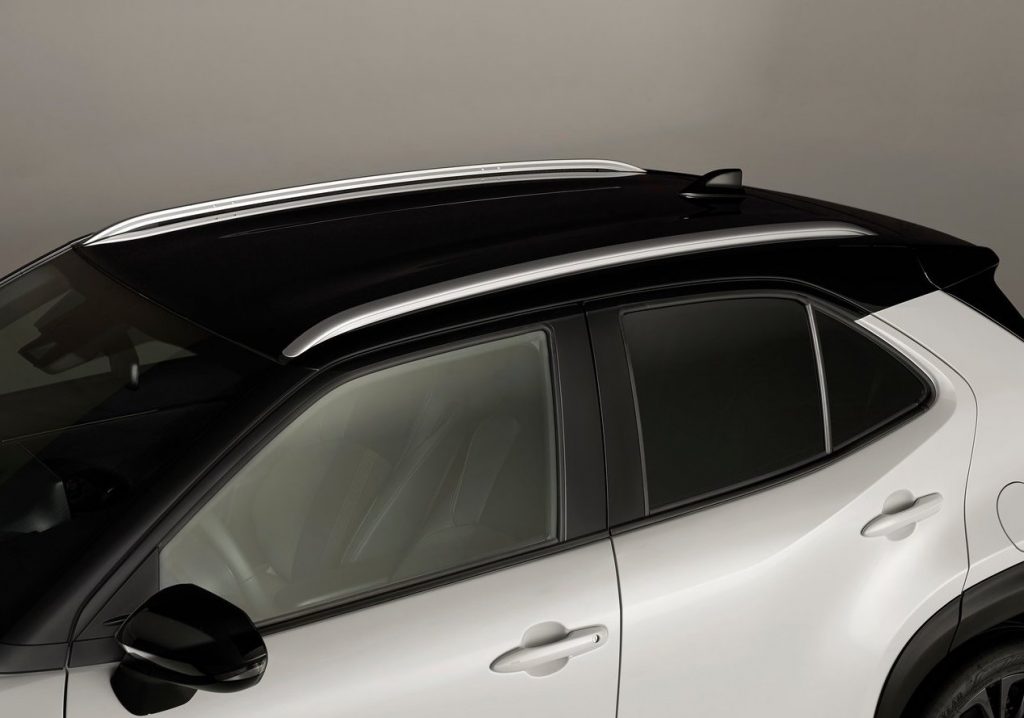 On the inside meanwhile, the Yaris Cross Adventure brings with it a piano black interior accent pieces, a black headlining as well as a leather steering wheel and gearshift gaiter. Unique 'Adventure grade' leatherette upholstery and a Warm Gold deco line that stretches across the instrument panel and inner door mouldings also make an appearance on this particular trim of Toyota compact crossover.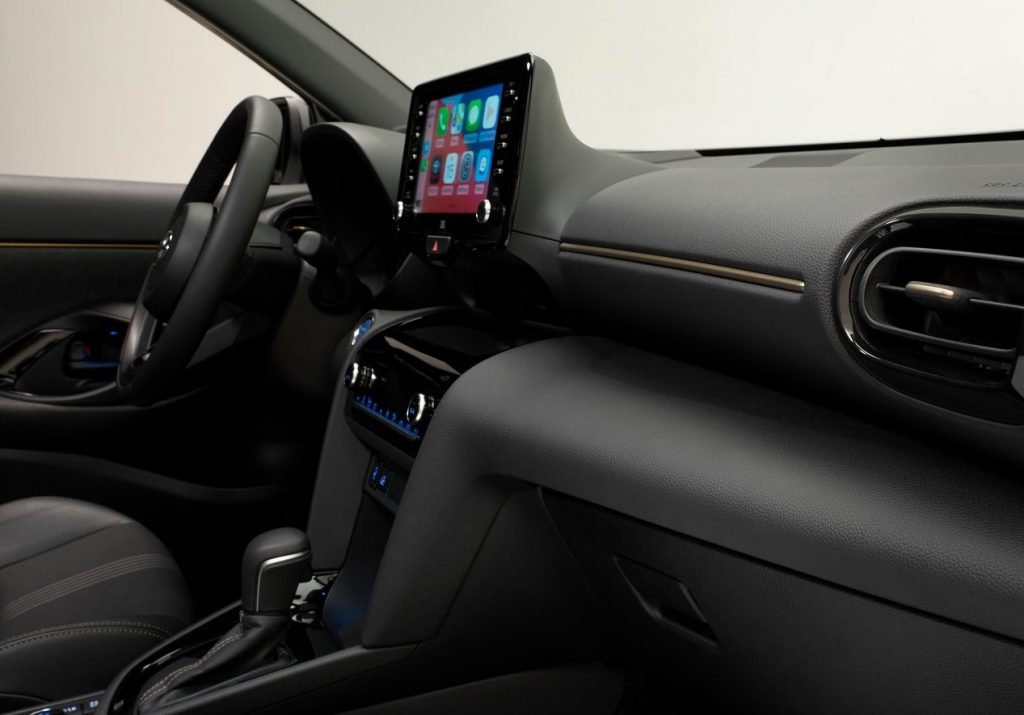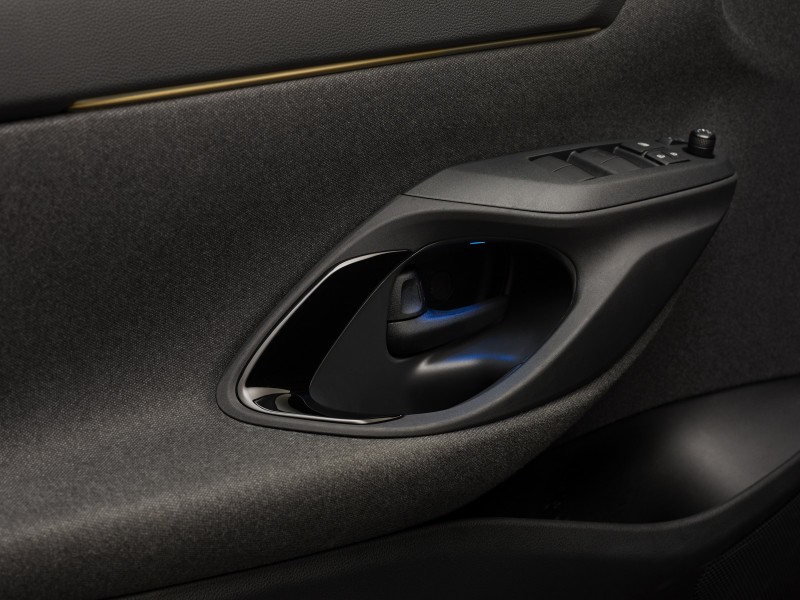 Speaking of trim, there is actually one trim level up from the Adventure in the form of the flagship Yaris Cross Premiere Edition. This particular variant (seen here in yellow) brings with it bespoke 18-inch machined alloy wheels, exclusive leather seat upholstery, as well as other neat tech features like a powered back door with kick sensors, a heads-up display and the option of various bi-tone colour combinations.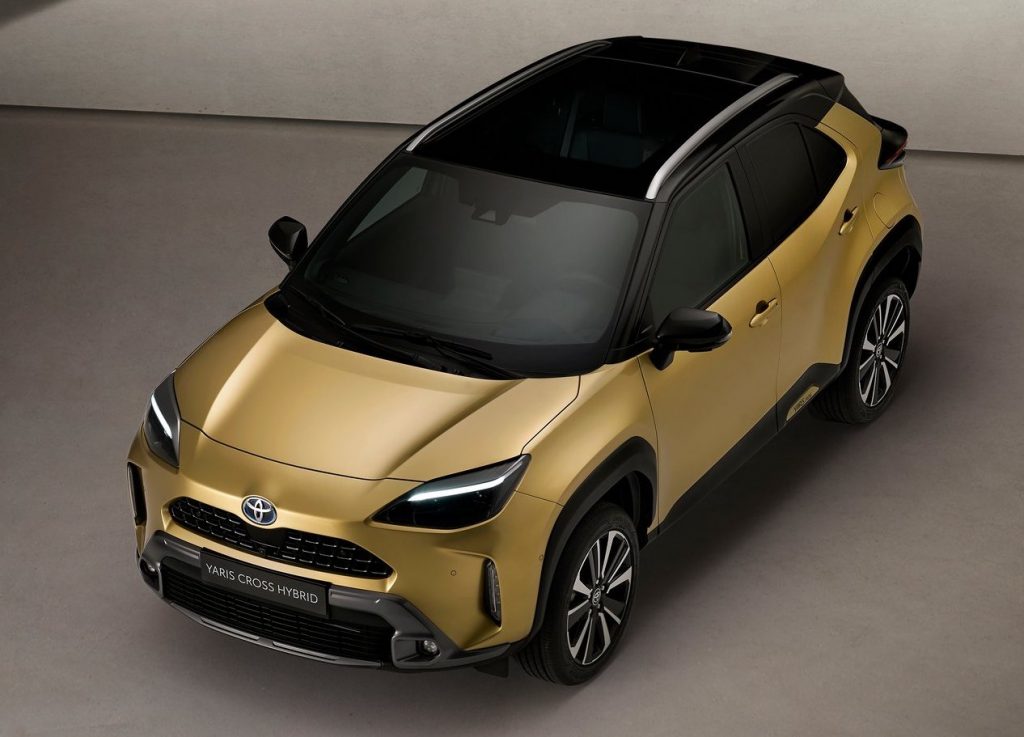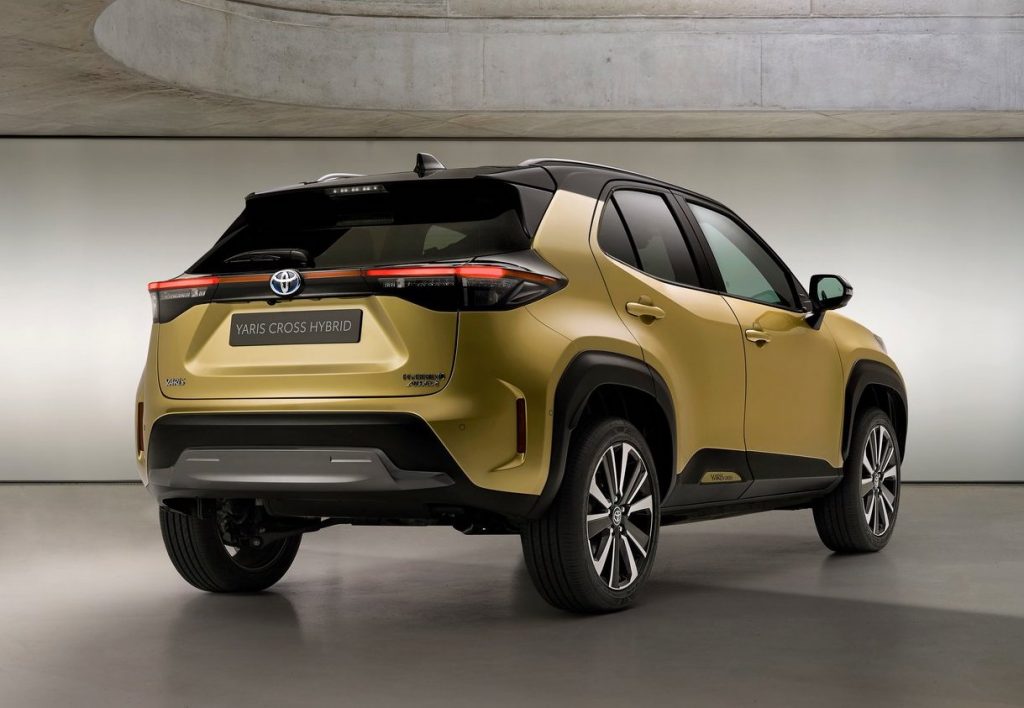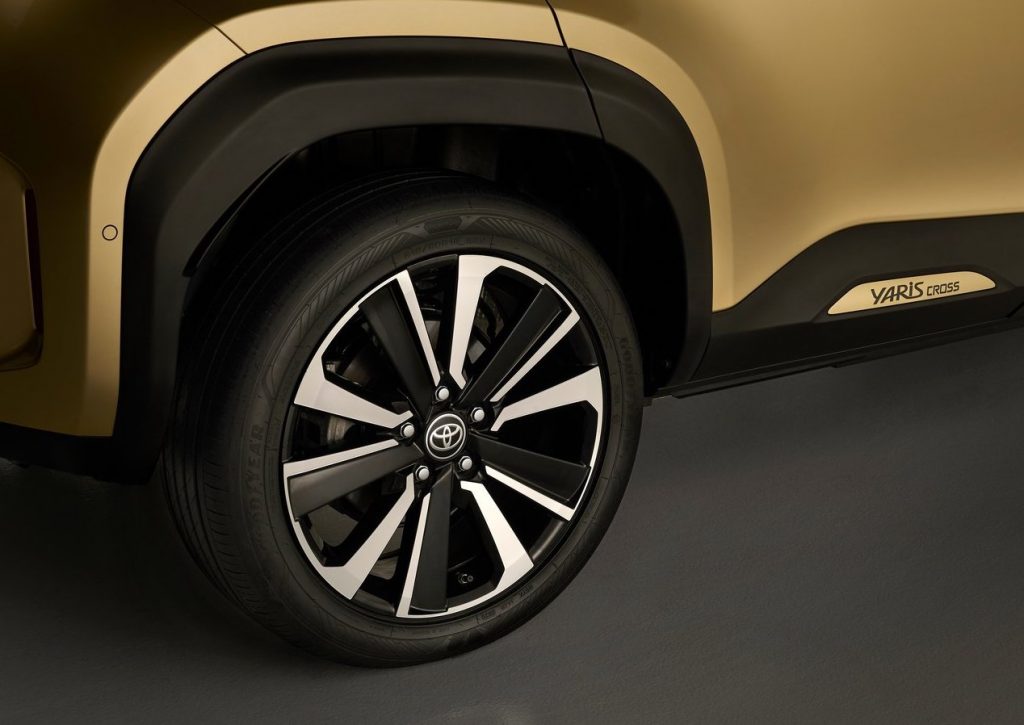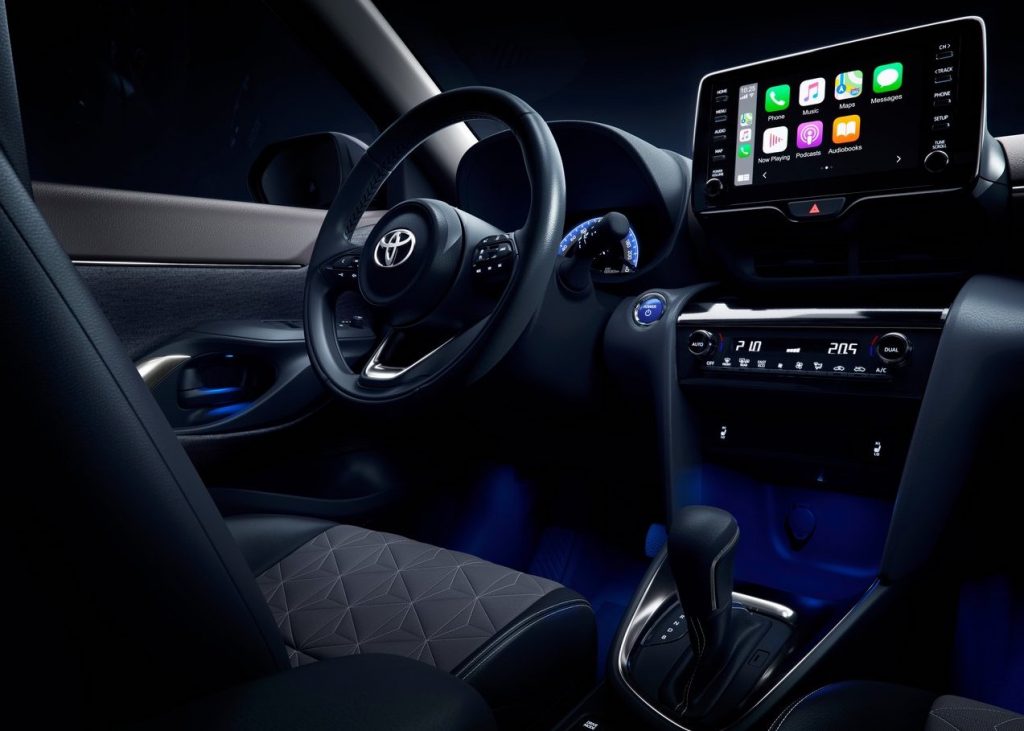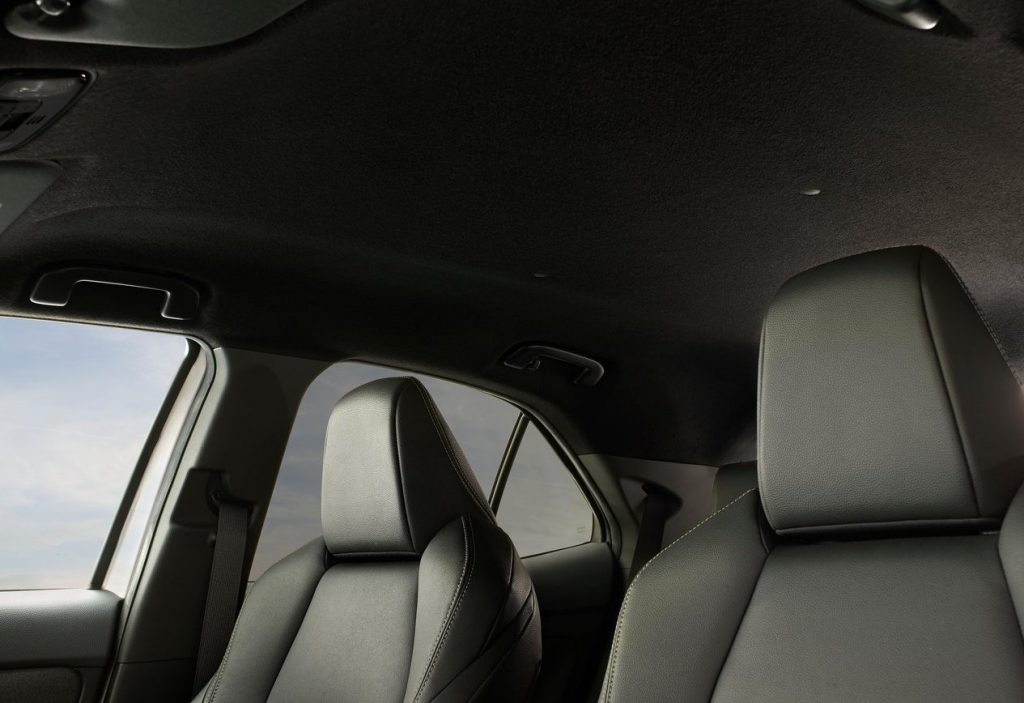 Much like the name suggests, the Premiere Edition will only be on sale for the first 12 months only. The Adventure variant on the other hand, and the rest of the Yaris Cross range, will actually also only go on sale over in Europe come September 2021, with pre-orders only open from the second quarter of this year. 
To be made in Toyota's French factory in Valenciennes, the European market car is much the same as the spec-wise as its Japanese-market equivalent. This means that the Yaris Cross will sit on the same TNGA-B platform as the Yaris hatchback, and will be powered by the same 1.5 litre three cylinder Hybrid Dynamic Force powertrain that sends power to all four-wheels via Toyota's electric, intelligent all-wheel drive system (AWD-i).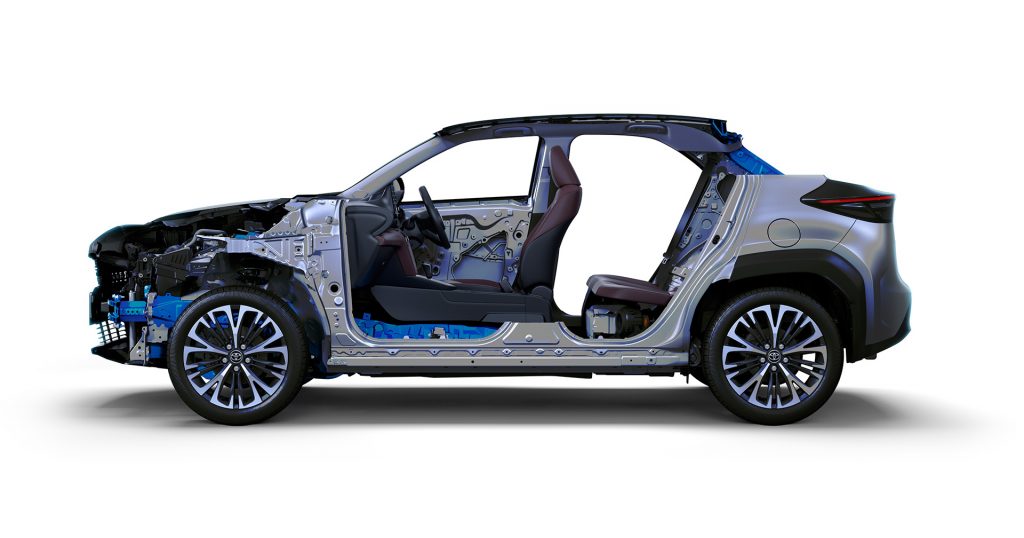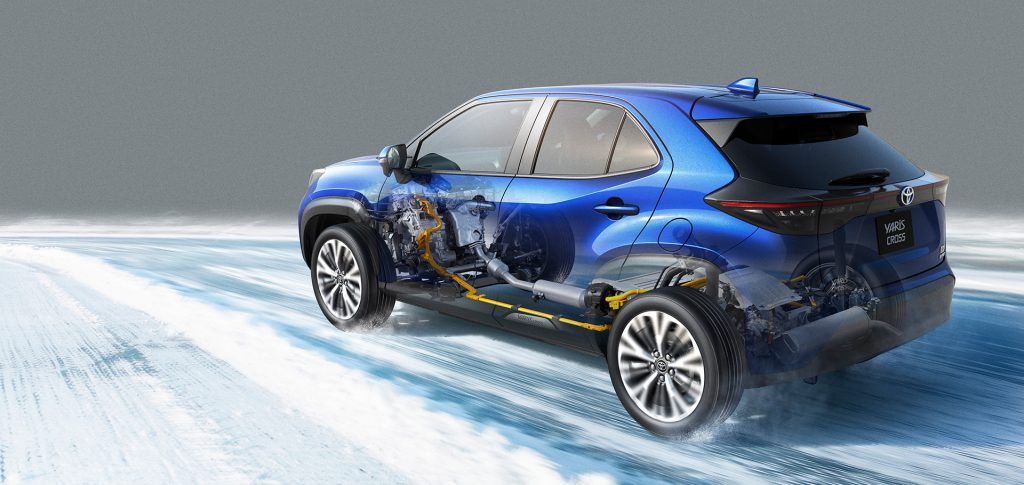 As for kit to be found within this Toyota compact crossover, the Yaris Cross is available with a 9-inch central infotainment display with Toyota Smart Connect integration. A raft of active driver aids are available too in the form of a 360º surround view camera, Blind Spot Monitor, Rear Cross Traffic Alert with Automatic Braking, Intelligent Clearance Sonars with Automatic Braking as well as Toyota Teammate Advanced Park semi-autonomous parking.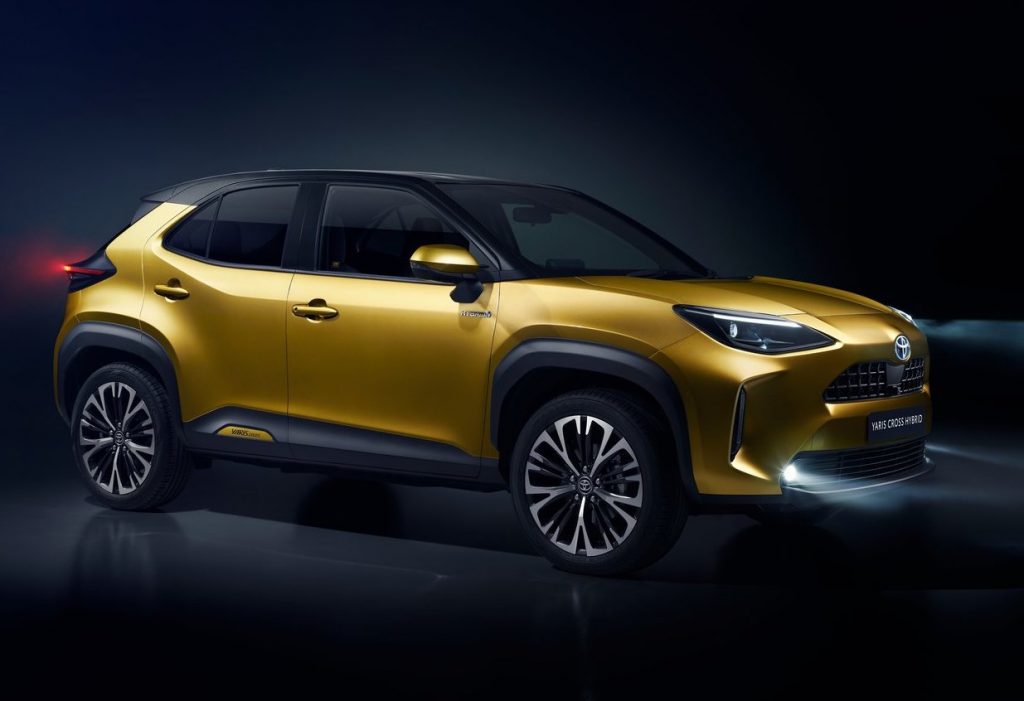 PRESS RELEASE: The all-new Toyota Yaris Cross displays its authentic SUV quality with the Adventure grade, revealed for the first time today.
This version of the all-new hybrid B-segment SUV has a distinctly different character from the Elegant version, shown at the model's world premiere in 2020. The Adventure grade emphasises the car's suitability for life beyond urban streets, for time spent exploring and enjoying the great outdoors and open roads.
The new model's essential ruggedness can be seen in the front under-run and a lower bumper protection plate at the rear. The specification also includes a set of silver roof rails as standard and 18-inch alloy wheels with a dark grey finish.
In the cabin the Yaris Cross Adventure's sense of purpose is expressed in piano black trim details and a black headlining. The supportive leather-like seats are upholstered in an Adventure grade design and there is a deco line across the black, soft-touch instrument panel and inner door mouldings, finished in Yaris Cross' signature Warm Gold colour. Leather is used for the steering wheel and shift lever gaiter.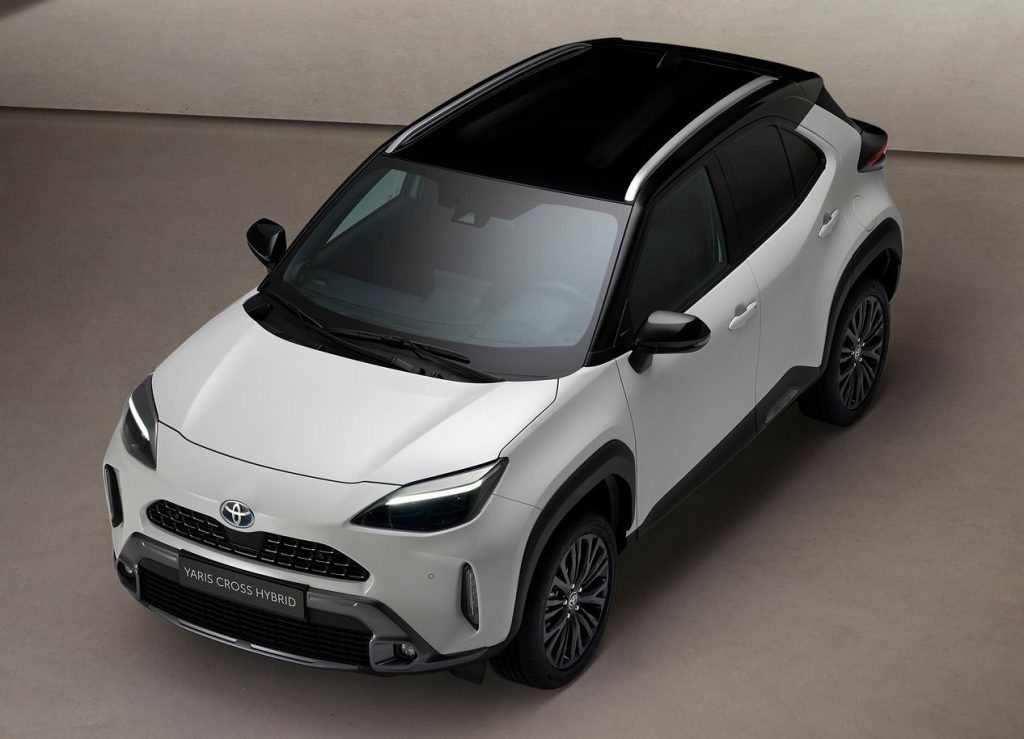 Yaris Cross Premiere Edition
The Premiere Edition is the ultimate Adventure grade with exclusive leather seat upholstering and dedicated 18-inch machined alloy wheels. The grade will be equipped with powered back door with kick sensors, head-up display and available in bi-tone colour combinations as standard. The limited series Premiere Edition will be available for the first 12 months of sales and open to pre-launch reservations.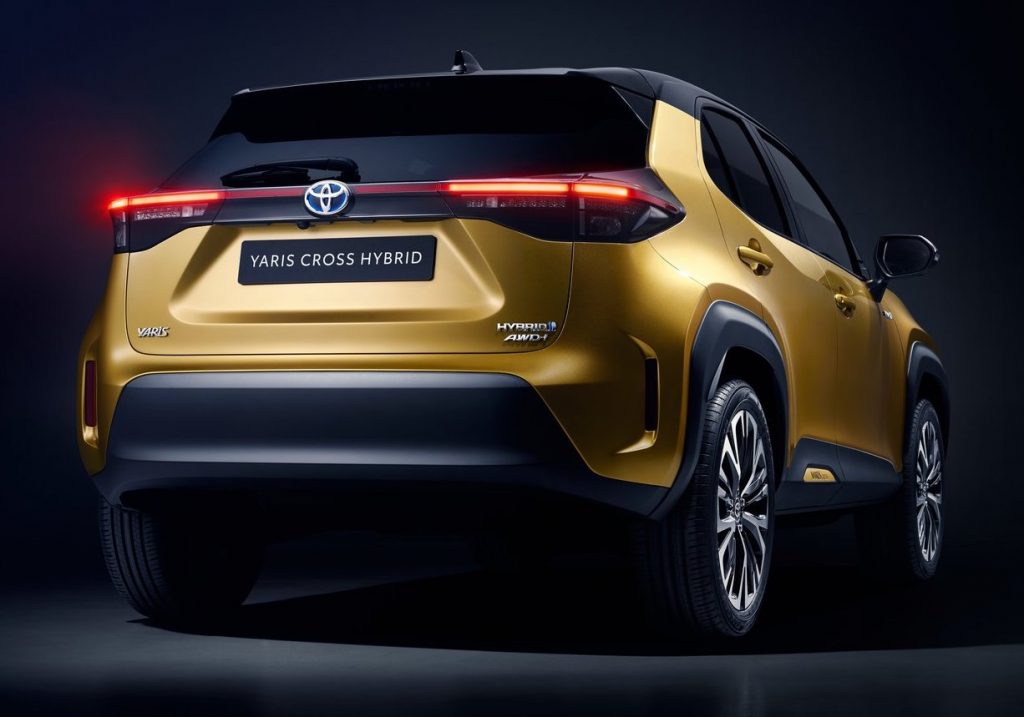 Yaris Cross – All Urban, All SUV
Although built on the same GA-B platform—part of the modular Toyota New Global Architecture (TNGA) platform—as the new Yaris hatchback, Yaris Cross has a higher driving position and increased ground clearance, true to its genuine SUV status alongside Toyota's RAV4–the world's original and best-selling recreational SUV–and Toyota C-HR compact crossover. The platform gives the car an essential high body rigidity, low centre of gravity and a well-balanced chassis; ensuring agile, nimble and sure-footed handling and excellent ride comfort.
The hybrid powertrain is also available on all versions of the Yaris Cross, based on the 116 DIN hp 1.5-litre Atkinson cycle fourth generation system which debuted in the new Yaris hatchback. The system's exceptional efficiency is expected to deliver CO2 emissions of around 100 g/km in the front-wheel drive Yaris Cross, and less than 110 g/km in the AWD-i models.
Mid+ and above grades of Yaris Cross feature front and rear LED lights, including sequential turning lamps in the rear, and robust side sill and wheel arch mouldings. The side mouldings have a Yaris Cross badge insert either in silver and Warm Gold depending on vehicle colour.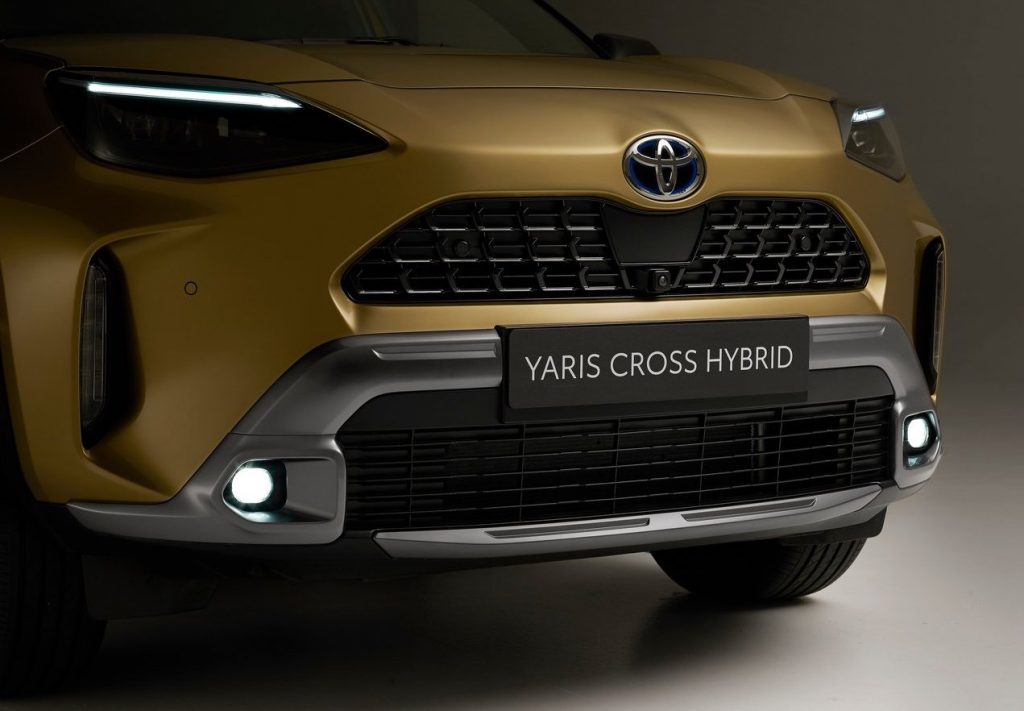 Intelligent All Wheel Drive
Yaris Cross is the only compact hybrid SUV to offer the intelligent all-wheel drive system (AWD-i) which automatically switches from front-wheel-drive to all-wheel-drive depending on road conditions, offering customers an enhanced layer of safety. Furthermore, the intelligent all-wheel-drive system comes standard with a manually-selected mode switch for Trail and Snow modes to enhance vehicle stability in tricky road conditions.
The electric, intelligent all-wheel drive system (AWD-i) is compact and lightweight, so it doesn't compromise the Yaris Cross' class-leading fuel economy, yet gives it the extra traction to take rough and slippery surfaces in its stride.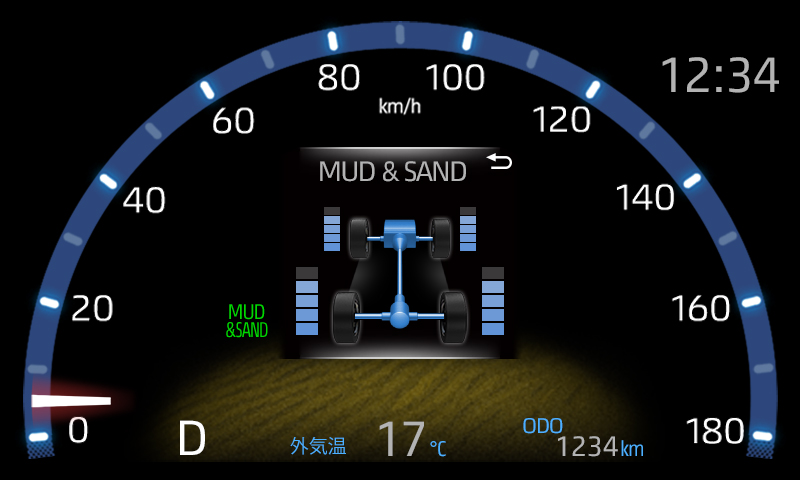 Toyota Smart Connect
Yaris Cross offers customers seamless wireless mobile device connectivity through Toyota Smart Connect, featuring industry-standard cross-device support for the first time on a core Toyota model. Centred on the large 9-inch high-definition multimedia display, navigation is a breeze with cloud-based live map updates, real-time traffic information and road events, and points of interest searches online. Via the MyT smartphone app, Yaris Cross owners can send journey plans and manage onboard climate controls before getting in the car, as well as locking and unlocking the car remotely.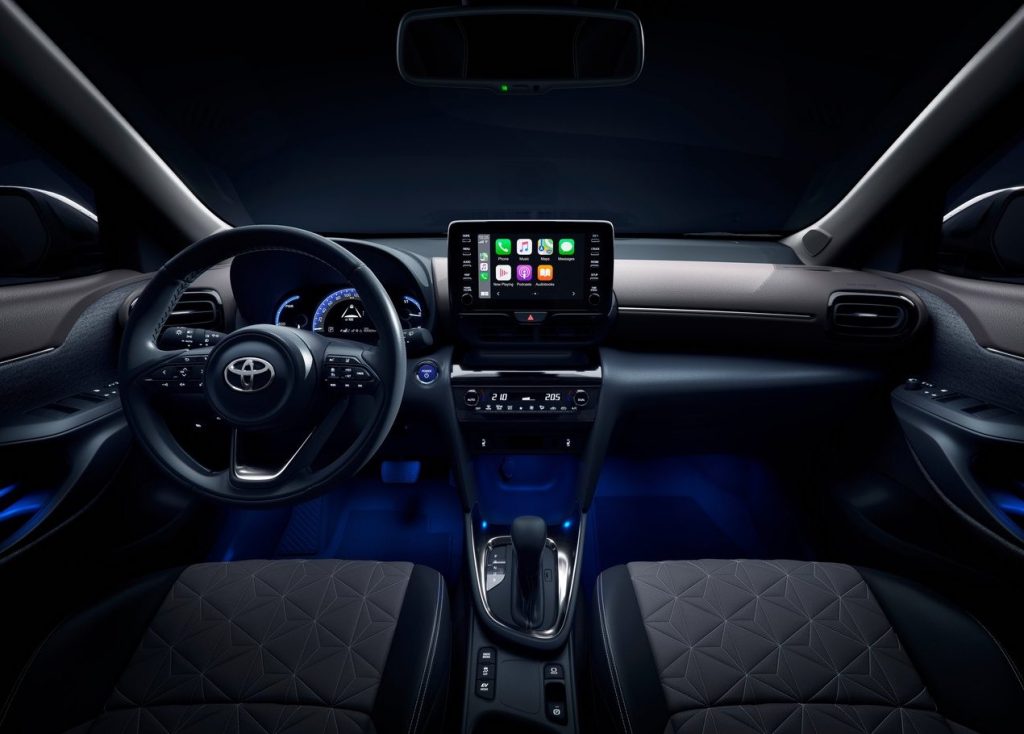 Toyota Teammate Advanced Park
Toyota Teammate Advanced Park provides an additional level of safety and convenience in busy urban environments to guide drivers into parking spots with the intuitive controls found on the high-definition multimedia display. The advanced semi-automated parking feature ensures smooth parking and fewer manoeuvres using the onboard 360° panoramic camera to guide the car safely into place without additional steering, accelerator and brake inputs from the driver. In addition to the 360° Panoramic Camera, the advanced semi-automated parking system comes standard with the combination of Blind Spot Monitor, Rear Cross Traffic Alert with Automatic Braking and Intelligent Clearance Sonars with Automatic Braking which further enhance the safety and convenience for drivers in busy urban roads.
Toyota Smart Cargo
With practicality and versatility for the customer in mind, Yaris Cross features a kick-activated powered back door and the flexibility of the cargo deck board which can be adjusted in height or split into two to offer secure underfloor storage or increased luggage space on demand. The capacious load compartment can be extended with the 40:20:40 split folding rear seat system, allowing each rear seat to be individually folded, to accommodate skis, mountain bikes or a week's holiday luggage with the ability to secure the cargo with fixation rings.
Designed for European customers and manufactured in Europe at Toyota's factory in Valenciennes, France, the new Yaris Cross will be available to order in early Q2 of 2021, ahead of the official sales start in September.