Automotive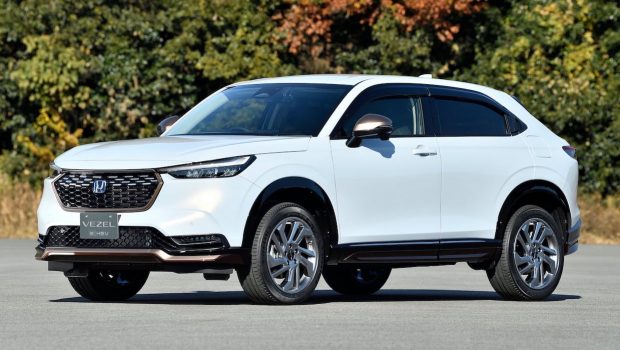 Published on February 18th, 2021 | by Joshua Chin
0
All-New Honda HR-V Unveiled: Goodbye Cute, Hello Macho
The Honda HR-V has sharpened up for the modern age. 
Honda has recently unveiled its third-generation HR-V. Presumably aiming to follow on from the massive success of its outgoing predecessor, this new Japanese compact crossover has brought with it a sharper exterior and interior design to bring it bang up to date with its modern day competition. 
Starting with its exterior, this all-new Honda has is certainly a more imposing looking car than its cutesy predecessor. This is especially true when looking directly from the front, as the new the large hexagonal slatted grille flanked by sharp LED headlights gives the new HR-V a meaner, more aggressive face than the current car. 
Moving onto the side, a flatter, blockier side profile and chunkier plastic-clad arches gives the new HR-V a more SUV-like appearance as compared to its rounded predecessor. A handy thing considering this compact Japanese crossover has actually sort of stepped into SUV territory already by growing some 12 cm in length over the outgoing model.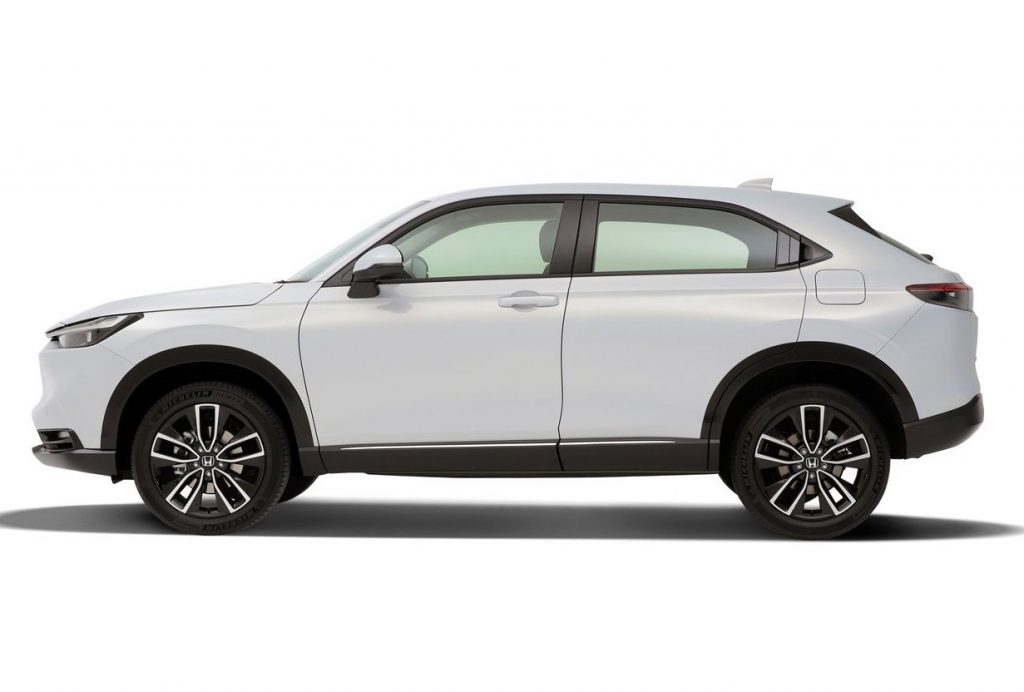 Speaking of the outgoing model, there are still some carry-over design quirks from the old car, like the rear door handles that integrated into the doorframe for instance. In fact, the rear third quarter of this new Honda crossover, complete with that signature HR-V sloping roofline, does indeed look to be rather similar to the car that is still currently on sale. 
Nevertheless, the exterior similarities with the old model soon die down again when looking squarely at the back. That is because this new HR-V continues the aggressive design direction of the front with a mean-looking LED rear light signature, complete with a full-width light bar and a more pronounced number plate indent.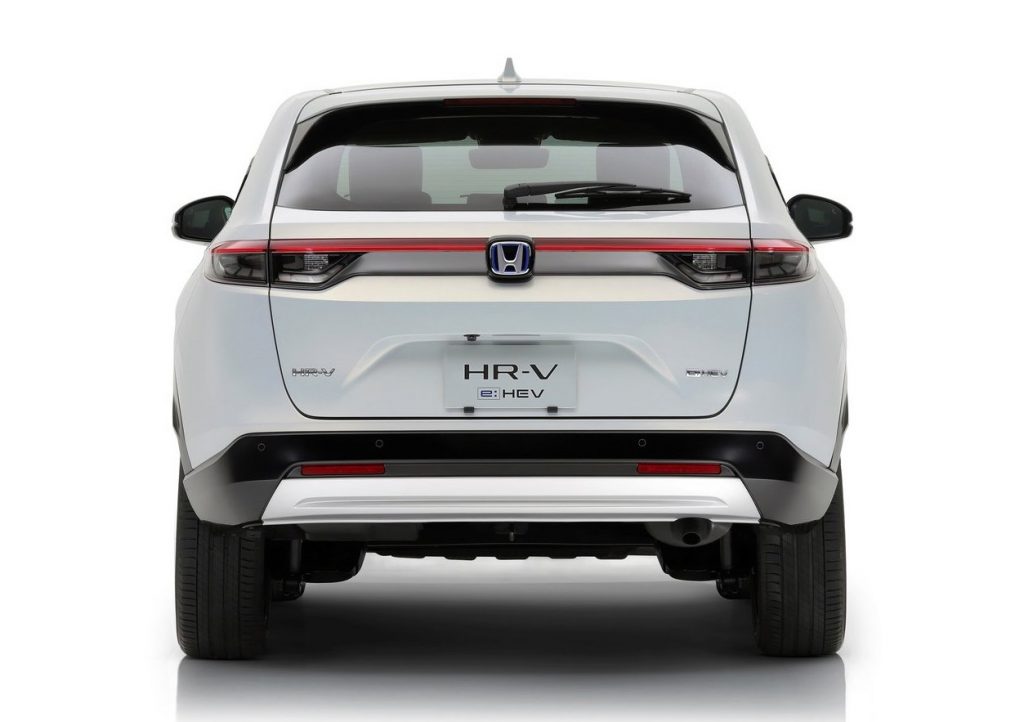 To add to that, this new Honda also gains some added shiny brush guards both front and rear. Just for that added amount of bling, not to mention a touch more macho-ness to the overall exterior design. 
Stepping inside the new HR-V, Honda has taken some design cue from its upcoming Civic in this department courtesy of its minimalist (read: rather straight) dashboard layout topped off with a central floating 9-inch infotainment touchscreen. That said, some old HR-V cues have been retained in this new car too such as the padded dashboard, not to mention full-width air vents on the passenger side dashboard.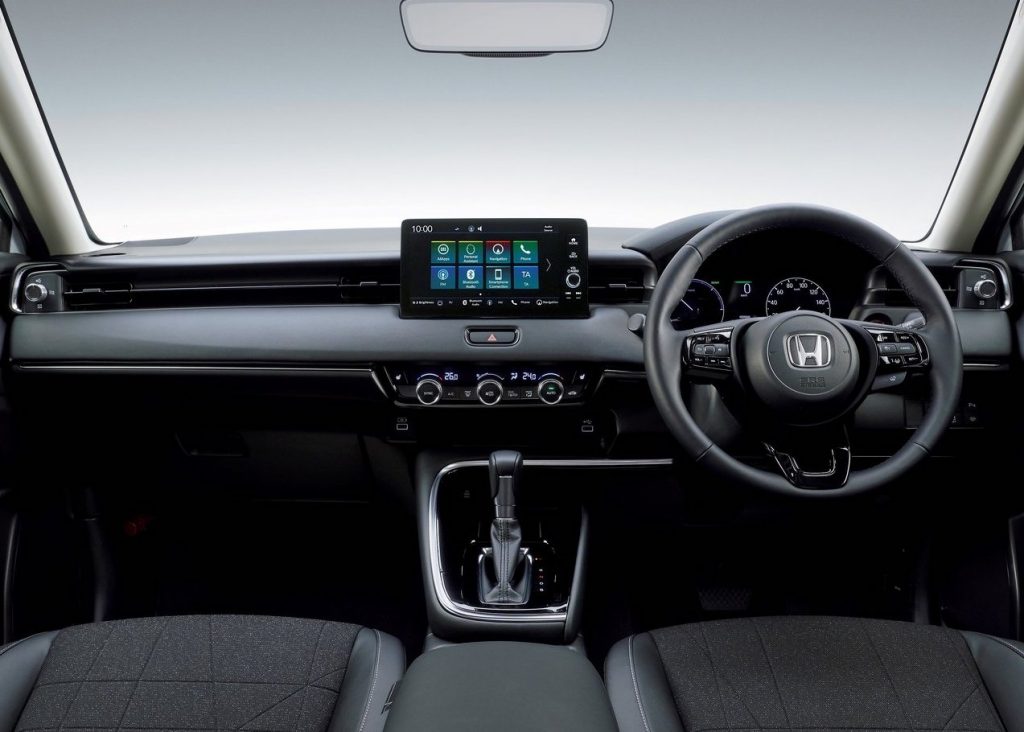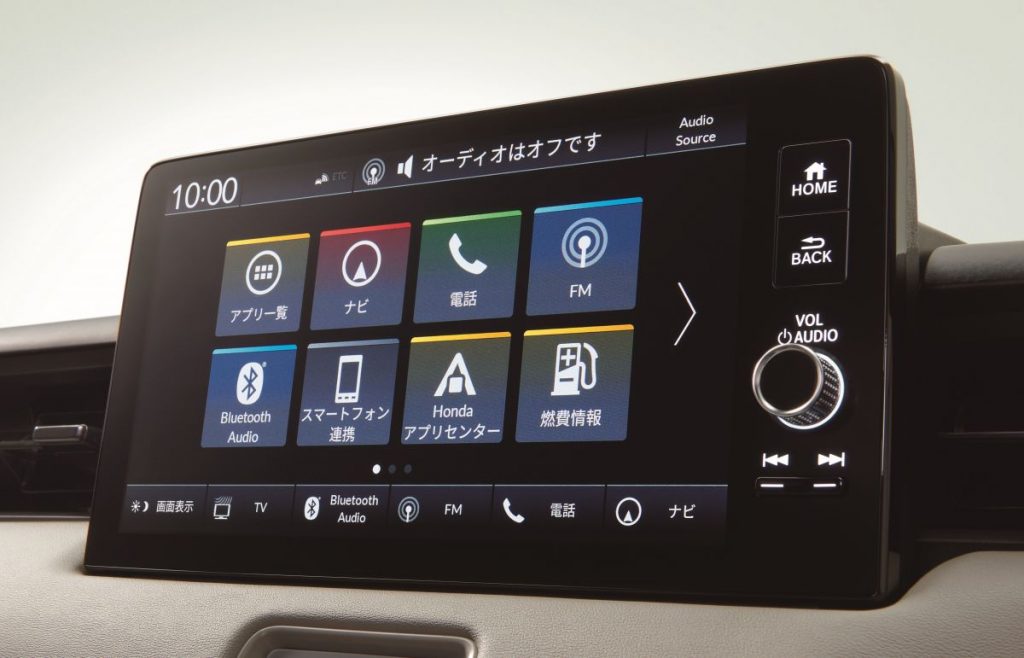 On the topic of the air-vents, Honda has made big claims about 'a new air diffusion system that creates a curtain of fresh air beside and above passengers, flowing from unique L-shaped vents positioned in the top corners of the dashboard.' So expect the new HR-V to be a rather cool place to be then.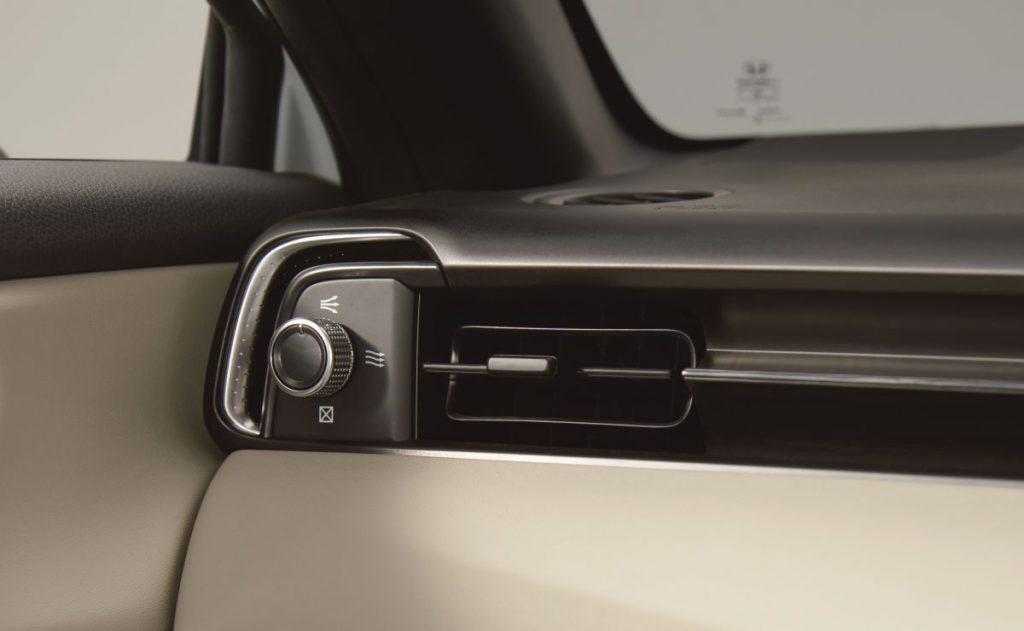 Continuing on the topic of the interior, this new Honda comes with all the kit that one could possibly need from a modern compact crossover. These include a panoramic sunroof, wireless charging as well as a full suite of Honda Sensing active driver aids.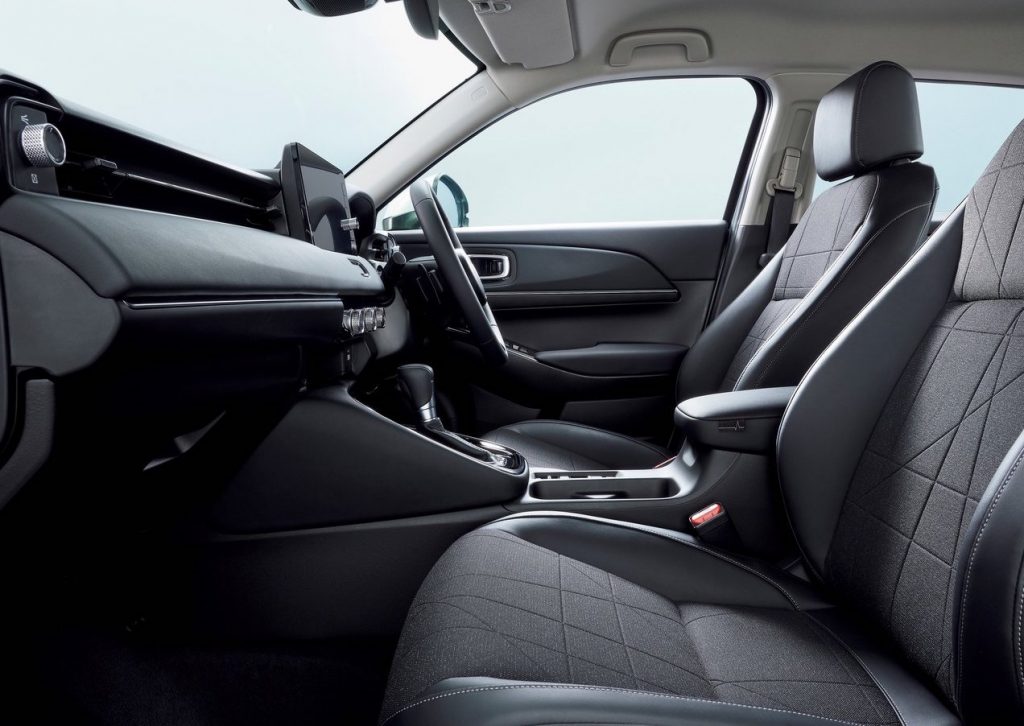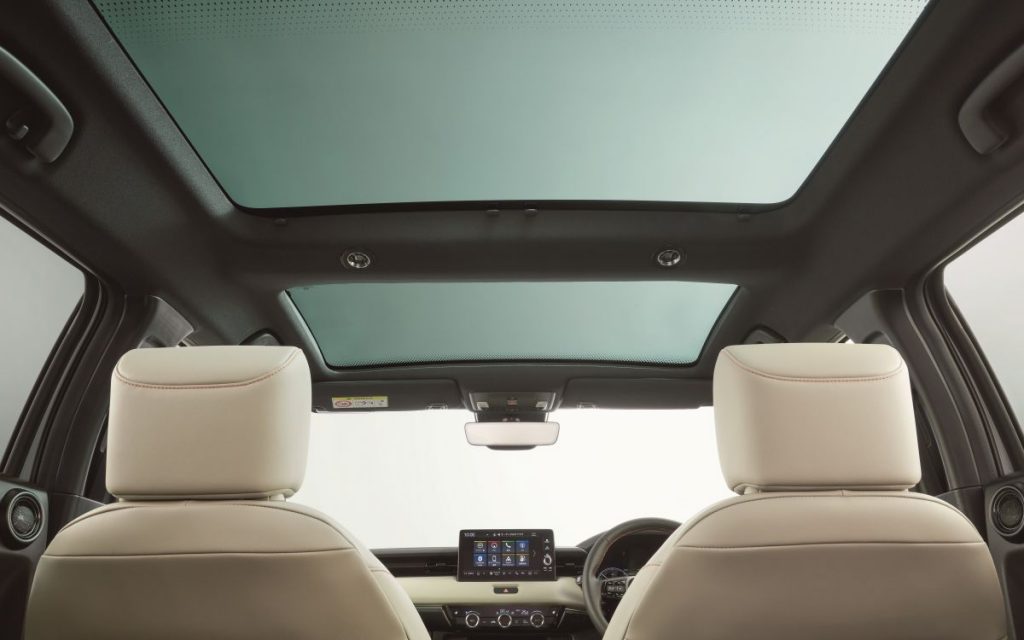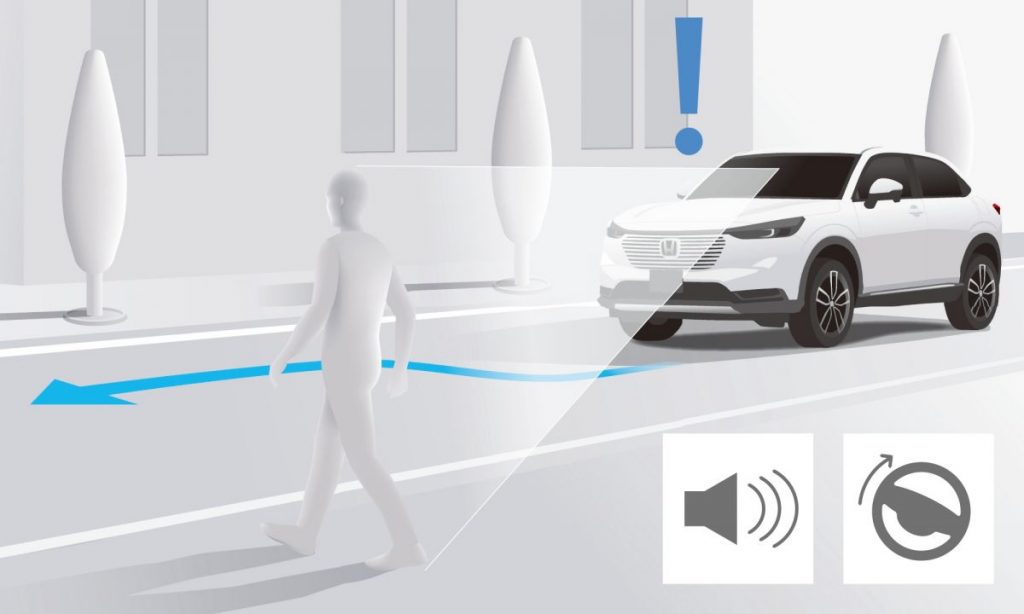 Now touching on practicality for a moment, Honda has maintained that despite the redesign, this new HR-V still retains its predecessor's class-leading interior space, with four adults able to sit in maximum comfort. Moreover, Honda's infinitely useful Magic Seats are still to be offered in this next-gen Japanese crossover.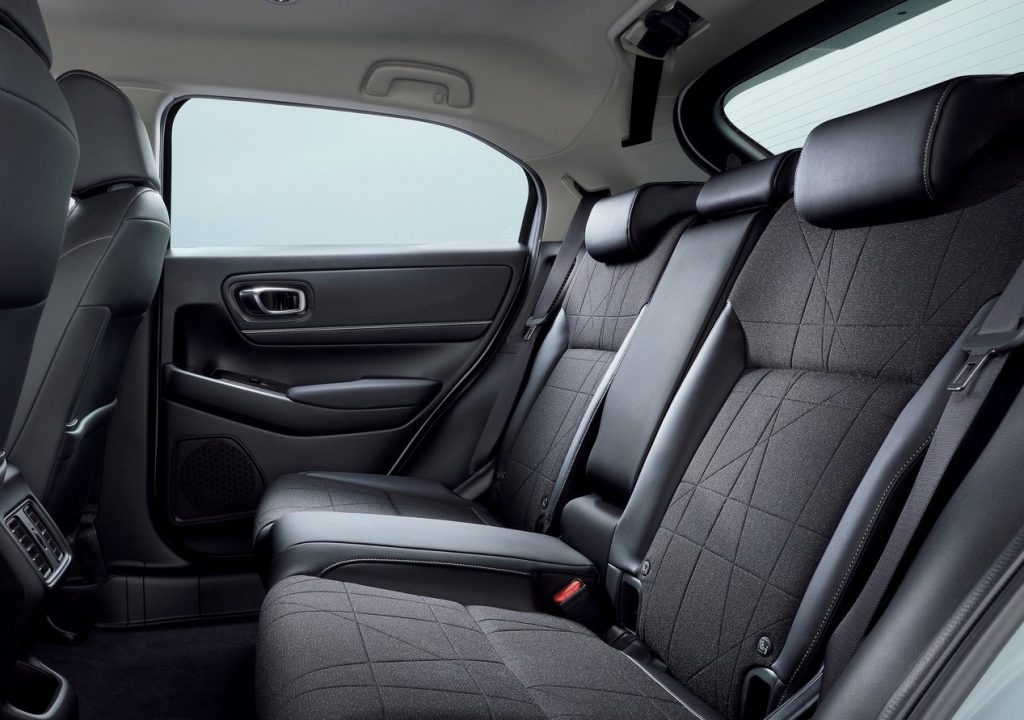 As for what lies under that new flatter hood, the only powertrain that has been confirmed for the new HR-V is a dual-motor e:HEV hybrid powertrain, for which Honda claims is both 'powerful and responsive'. No further details have been divulged thus far regarding the exact specs of this powertrain, though it is expected to be the same 108 PS/253 Nm 1.5 litre four-pot hybrid mated to a CVT as found in the new Jazz. 
Furthermore, this compact crossover is also expected to feature a range of more conventional petrol, and perhaps even diesel, power plants which would drive either solely the front or all four wheels. 
Set to go on sale in Japan in April (as the Vezel) before hitting the European market later in the year, this new HR-V will most likely land in Malaysia some time after that. So the question then would be whether this new Honda compact crossover going to be good enough to reclaim its crown as the king of its segment over here?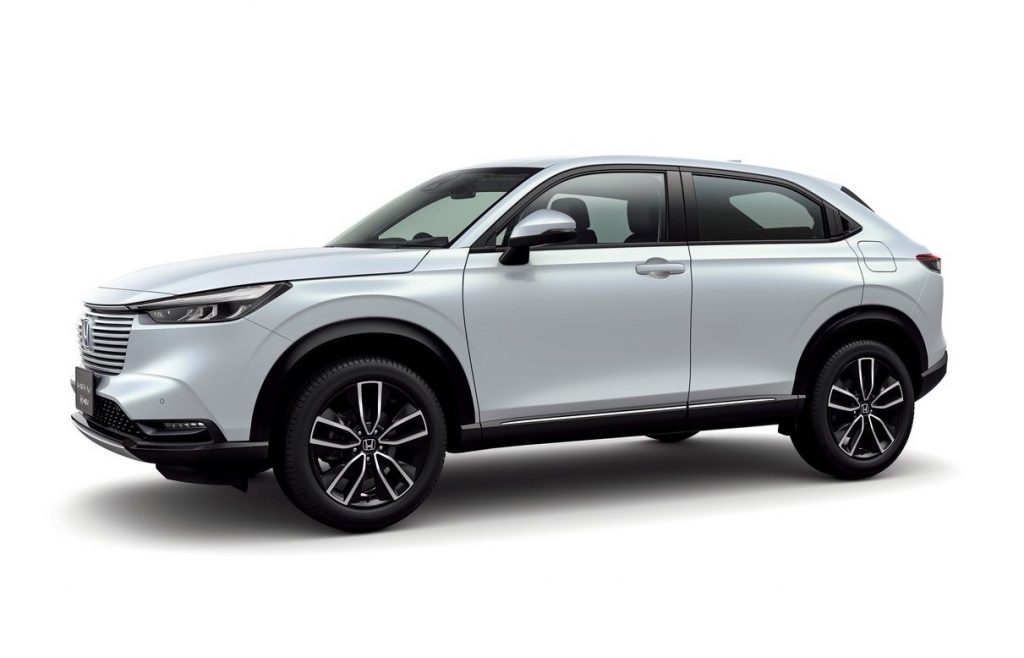 PRESS RELEASE: Honda has unveiled the latest generation of its popular Honda HR-V compact SUV, available with a powerful and responsive two-motor e:HEV powertrain as standard for the first time. The all-new Honda HR-V delivers exceptional hybrid efficiency and advanced safety and technology features, all incorporated into a bold and sleek coupe-inspired form designed to enhance the class-leading interior space and comfort the nameplate is known for.
Available in Europe from late 2021, the new Honda HR-V is the latest model in Honda's line-up to wear the e:HEV (hybrid electric vehicle) badge, following the refreshed CR-V and all new Jazz that launched in 2020. It expands Honda's electrified line up as the brand moves further towards its goal of electrifying all of its European mainstream models by 2022.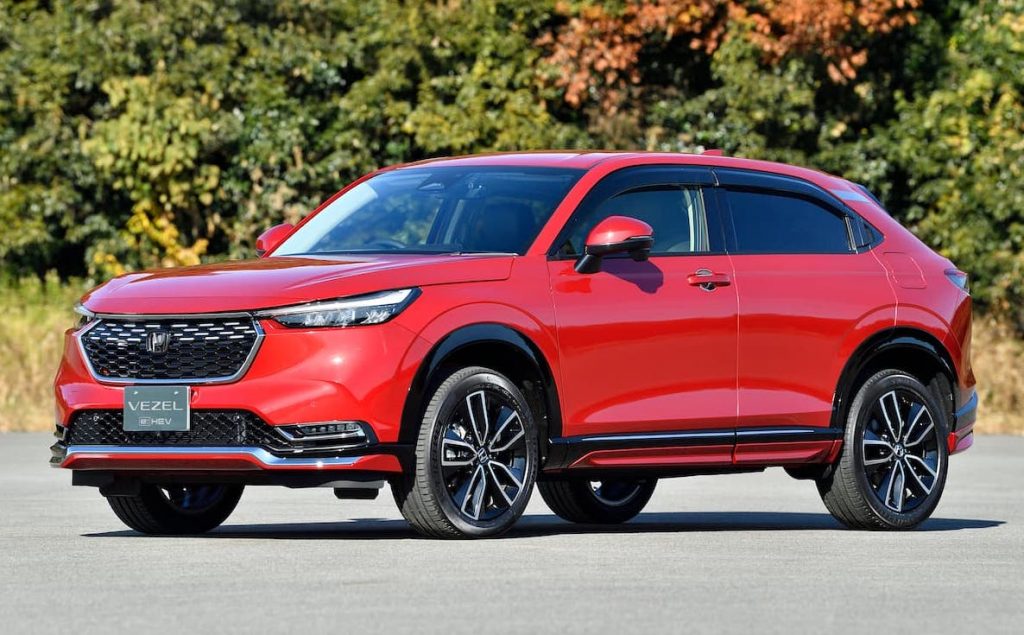 Premium SUV styling
The next-generation HR-V e:HEV achieves a distinctive SUV presence in a compact coupe-inspired design. The new model embodies the brand's seamless, clean, modern design philosophy seen in other recent new Honda models, that follows the key concepts of function and beauty.
The design includes a new bold integrated grille, while the body shape incorporates a long bonnet and sharper, more vertical sides to ensure there is no impact on interior space. The bonnet centre is low and flat, with a shoulder line that flows to the base of the A-pillars, projecting a sense of stability and security that further enhances the SUV aesthetic.
Exceptional space, comfort and utility
The all-new Honda HR-V achieves a compelling combination of premium SUV styling and exceptional spaciousness thanks to the clever packaging of its hybrid drivetrain components. As a result, the HR-V retains its predecessor's class-leading interior space, with four adults able to sit in maximum comfort.
As with the exterior, the spacious interior has a solid, premium SUV feel, but with contemporary fabrics and soft-touch materials. The modern minimalist aesthetic, which is initiated by the horizontal sweep of the instrument panel, is the result of an uncluttered interior and dashboard, with each element carefully positioned to contribute to the sense of space. The feeling of airiness and space is elevated by a new air diffusion system that creates a curtain of fresh air beside and above passengers, flowing from unique L-shaped vents positioned in the top corners of the dashboard.
Thanks to Honda's compact, integrated powertrain technology and centre tank layout, the all-new Honda HR-V also retains the versatile Magic Seats that offer both 'fold-flat' or 'flip-up' seat flexibility, depending on cargo space required.
The all-new Honda HR-V e:HEV will be available in Europe in late 2021.