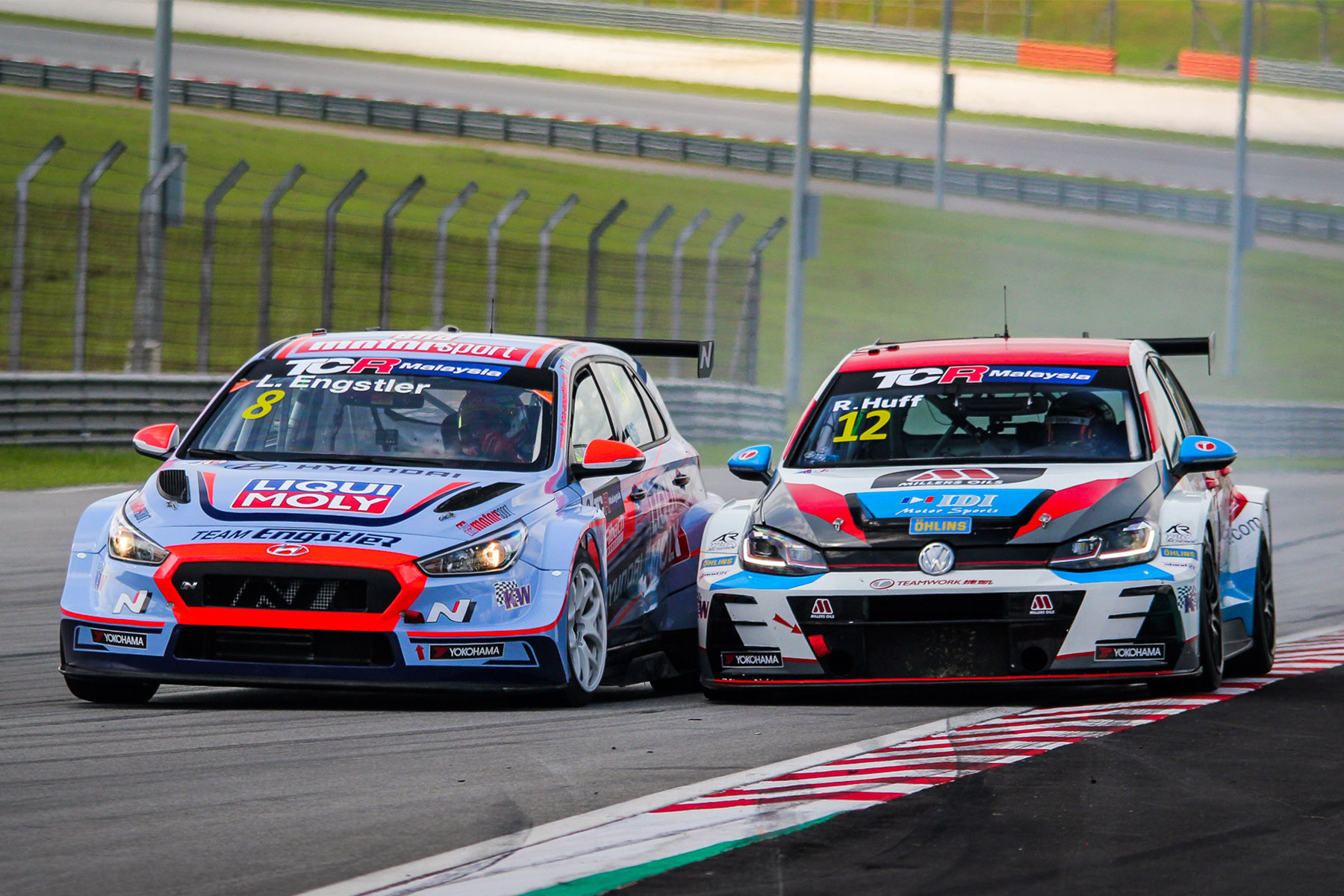 Reigning TCR Asia Series champion Luca Engstler opened his 2019 account in fine form during the maiden event of the new TCR Malaysia Championship at Sepang International Circuit, the Liqui Moly Team Engstler teenager weathering a storm from first, 2012 World Champion Rob Huff, and then torrential rain in race two to claim back-to-back wins in his Hyundai i30N TCR and take a strong points lead into the second event in just six days time.
Engstler had topped the timesheets in pre-race testing at Sepang, then both practice sessions clear of late TeamWork Motorsport entry Huff, who despite having been involved with the Hong Kong-based team for many years, had never raced a TCR car for them, although the 'King of Macau' was well versed with the Volkswagen, having campaigned one for Sebastien Loeb Racing in WTCR last season (placing eighth for the season with two wins).
By qualifying though in the 'cool' of the night under lights at Sepang Circuit, Huff delivered, claiming the top time in both sessions to have pole for the opening race, Engstler though not far behind, Huff's best time in the end just 15 one thousandths faster than Engstler's TCR Asia Series record breaking pole time from April 2018.. It was a sign of what was to come..
Round#1/2 – 2019 TCR Malaysia Championship (19-20 January, 2019)
Race#1 (11-laps)
1. 8. Luca Engstler (GER) – Liqui Moly Team Engstler Hyundai i30N TCR
2. 12. Rob Huff (GBR) – TeamWork Motorsport Volkswagen Golf GTi TCR +1.804
3. 17. Martin Ryba (SVK) – Brutal Fish Racing Team Volkswagen Golf GTi TCR* +9.539
4. 65. Douglas Khoo (MAS) – Viper Niza Racing Seat Cupra TCR* +10.178
5. 3. Kai Jordan (GER) – Liqui Moly Team Engstler Volkswagen Golf GTi TCR* +12.528
6. 4. Adam Khalid (MAS) – Liqui Moly Team Engstler Volkswagen Golf GTi TCR* +13.529
7. 9. Henry Kwong (HKG) – Liqui Moly Team Engstler Volkswagen Golf GTi TCR* +19.331
8. 7. Michael Choi (HKG) – Prince Racing Honda Civic FK8 TCR* +29.469
9. 2. Kenneth Lau (HKG) – Prince Racing Honda Civic FK8 TCR* +29.513
10. 23. Gary Cheung (HKG) – Maximum Racing Honda Civic TCR* +38.994
DNF. 27. Theo Coicaud (FRA) – Liqui Moly Team Engstler Hyundai i30N TCR – 4-laps
DNF. 51. Paul Ip (HKG) – KCMG Honda Civic FK8 TCR* – 4-laps
DNF. 97. Charlie Kang (KOR) – Indigo Racing Hyundai i30N TCR* – 3-laps
*TCR Cup
Race#2 (11-laps)
1. 8. Luca Engstler (GER) – Liqui Moly Team Engstler Hyundai i30N TCR
2. 97. Charlie Kang (KOR) – Indigo Racing Hyundai i30N TCR* +12.608
3. 3. Kai Jordan (GER) – Liqui Moly Team Engstler Volkswagen Golf GTi TCR* +18.646
4. 4. Adam Khalid (MAS) – Liqui Moly Team Engstler Volkswagen Golf GTi TCR* +19.168
5. 12. Rob Huff (GBR) – TeamWork Motorsport Volkswagen Golf GTi TCR +27.079
6. 51. Paul Ip (HKG) – KCMG Honda Civic FK8 TCR* +32.356
7. 65. Douglas Khoo (MAS) – Viper Niza Racing Seat Cupra TCR* +33.508
8. 17. Martin Ryba (SVK) – Brutal Fish Racing Team Volkswagen Golf GTi TCR* +36.151
9. 9. Henry Kwong (HKG) – Liqui Moly Team Engstler Volkswagen Golf GTi TCR* +46.645
10. 7. Michael Choi (HKG) – Prince Racing Honda Civic FK8 TCR* +47.816
11. 2. Kenneth Lau (HKG) – Prince Racing Honda Civic FK8 TCR* +63.771
DNS. 27. Theo Coicaud (FRA) – Liqui Moly Team Engstler Hyundai i30N TCR
DNS. 23. David Lau (HKG) – Maximum Racing Honda Civic TCR*
*TCR Cup