Cars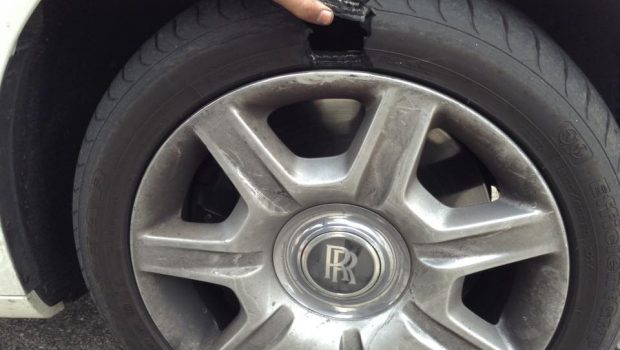 Published on January 6th, 2019 | by Hammer
0
Rolls Royce driver not loving his car
Rolls-Royce Motor Cars comes fitted with Goodyear Efficient Grip Run-On-Flat tires and there is a reason for this. This performance tire features:
– Run-On-Flat technology that allows for driving up to 50 miles on a deflating or deflated tire at a top speed of up to 50 mph.
– 24 months of Road Hazard coverage to protect your investment.
– Ultra Wet Traction with wide circumferential grooves to help evacuate water from beneath the tread.
– Variable tread block angle and arrangement for a quieter ride.
– Better rolling resistance to reduce fuel consumption.
So, we found it quite surprising when this Rolls Royce driver decided to replace his damaged Goodyear Efficient Grip Run-On-Flat tire at a back yard tyre shop.
To be precise, a non official Goodyear tyre retailer which means he was looking for quick cheap fix to avoid being penalized by the car owner or he does not love his Roller.
Looking at the brake dust on the wheels, we take it that this car is not loved daily.
Looking at the tow truck crew, this Roller owner does not love his car as a car like this should be on a flat-bed.