News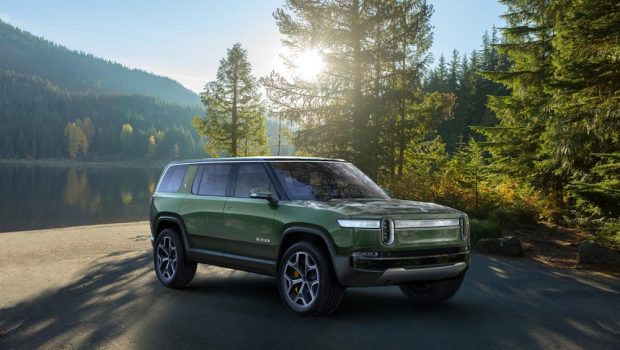 Published on December 2nd, 2018 | by Hammer
0
Rivian Electric SUV, no right hand drive version yet
This is the R1S, an all-electric 7-passenger SUV. Rivian plans to launch this R1S SUV with the larger 135 and 180 kWh battery packs first, bringing the smaller 105 kWh later in production. Charging rates are available up to 160 kW in DC fast charging as well as Level 2 11 kW charging at standard stations.
The R1S has three battery pack options: 105 kWh, 135 kWh, and 180 kWh. Each offers more range than the last, but the largest pack reduces passenger volume by two (from 7 to 5), eliminating the third row in favor of more batteries. The all-wheel drive system is powered by four motors at 147 kW per wheel with total output ranging from 300 kW to 562 kW, depending on battery pack chosen. Range is estimated at 240 to 410 miles per charge.
These battery packs are made to be protected from and withstand hard off-road use and the daily rigors of a user's drive needs. Rivian has developed adaptive control algorithms that learn the driver's normal driving behaviors, adapting the battery management systems to optimize charge and battery life using that information.
The R1S weighs 44 pounds (20 kg) less than the R1T (pickup truck launched a few days earlier) and its 198.4-inch overall length is 17.1 inches shorter than the truck. The SUV's width, track, and height are all the same as their pickup truck.
Utility is the apparent goal of the R1S designers, with storage, cargo, and seating space being focal points. A front luggage area ("trunk") in the R1S hosts 11.6 cubic feet (330 liters) of storage under a powered hood. The lift-gate and small tailgate on the SUV provide access to an undisclosed amount of cargo space, with folding second and third rows to add more as needed. An integrated roof rack can be added with options for bicycles, tents, and cargo storage bins. The racks are made to detach and fit in the trunk when not in use.
Connectivity is another point that Rivian mentions for its truck and SUV. A connected car platform utilizes a high-speed Ethernet backbone in the vehicle that accepts granular, over-the-air updates for vehicle software. A cloud ecosystem for data exchange and processing allows for machine learning and data service connections for in-vehicle and mobile use.
Rivian says that the R1S has been designed to achieve top scores in crash testing. Pricing for the R1S will begin at US65,000 and deliveries will begin in late 2020. No right hand driver versions are planned at this time for the UK and Asia