Automotive
News
New Peugeot E-3008 Debuts With Up To 700 km Of Electric Range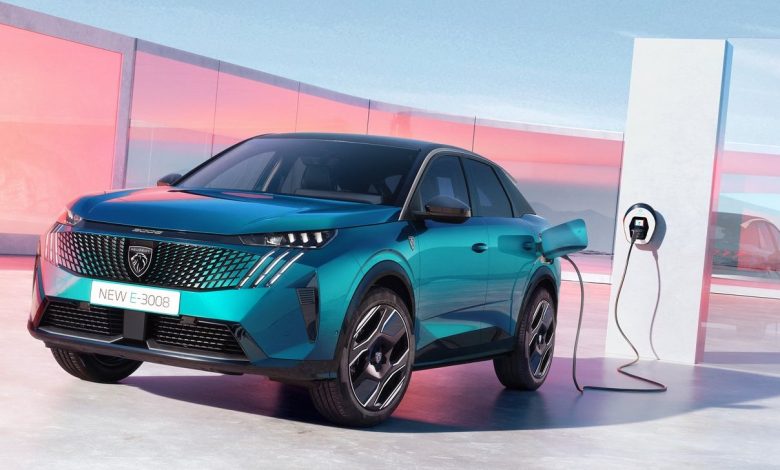 This next-generation Peugeot crossover will be the first to use Stallantis' STLA Medium EV platform. 
Peugeot has recently revealed its next-generation E-3008, and the big news here is that this compact crossover will be the first to be based upon Stellantis' ground-up STLA Medium modular EV platform. 
The reason this is particularly notable is due to the fact that this particular platform is aimed by Stellantis to be underpinning up to 2 million cars annually, shared between the members under its giant automotive umbrella of course. Set to be underpinning everything from future Fiats to coming Citroens, this newly previewed E-3008 therefore has a quite a lot riding on its shoulders.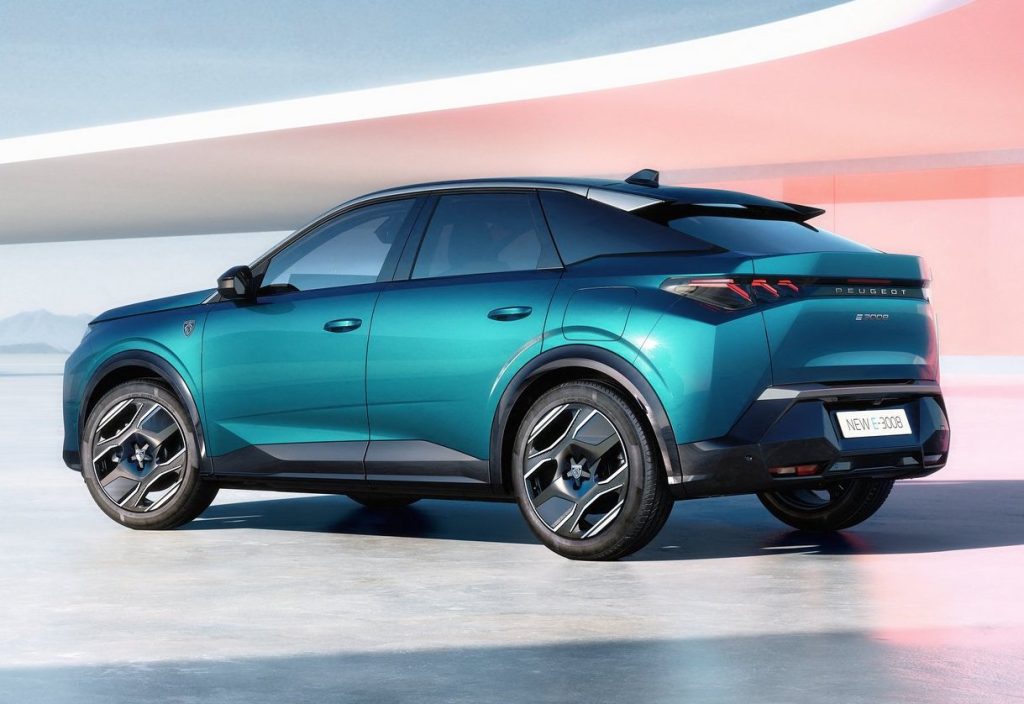 Fortunately for Peugeot however, the E-3008 on paper at least seems to be a rather competent compact crossover. Starting first with its exterior design, this new iteration gains a more angular aesthetic over its predecessor. Its new frameless front grille for instance is now flanked by more sharply-styled version of the automaker's three claw light signature, thus giving it a more aggressively sophisticated face. 
This new iteration of Peugeot's best-selling model has also gained a more distinctive rear end design too, complete with a steeply raked rear windscreen that almost moves the E-3008 into crossover-coupe territory. It remains to be seen though how much of a detriment this raked roofline will be on practicality, especially when considering a frunk is still missing from this compact crossover.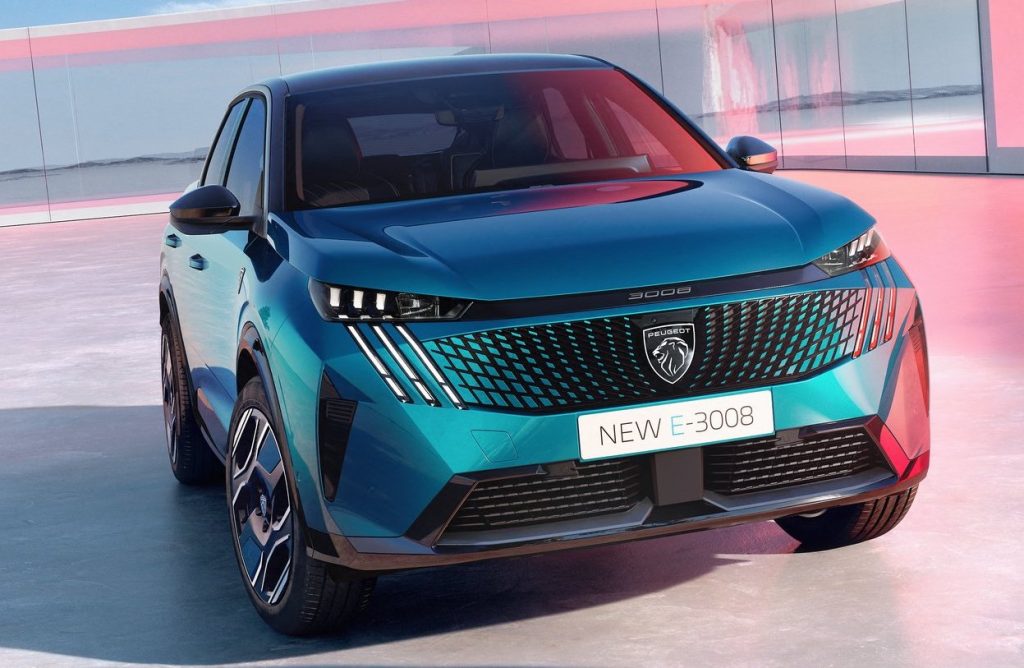 On the subject of practicality however, this new larger platform on which the E-3008 is based nevertheless means that passengers will at least have more space within the cabin. Though the thing that is truly large in this French compact crossover is its massive i-Cockpit 21-inch curved widescreen display, which dominates the dashboard acting as both a digital instrument cluster and infotainment screen. Other notable interior highlights of this Peugeot includes the typical small orthogonal steering wheel, another smaller central screen that acts as a row of customisable touch-sensitive buttons (for which the automaker dubs i-Toggles) as well as orthopaedic front seats with optional ventilation and massage functions.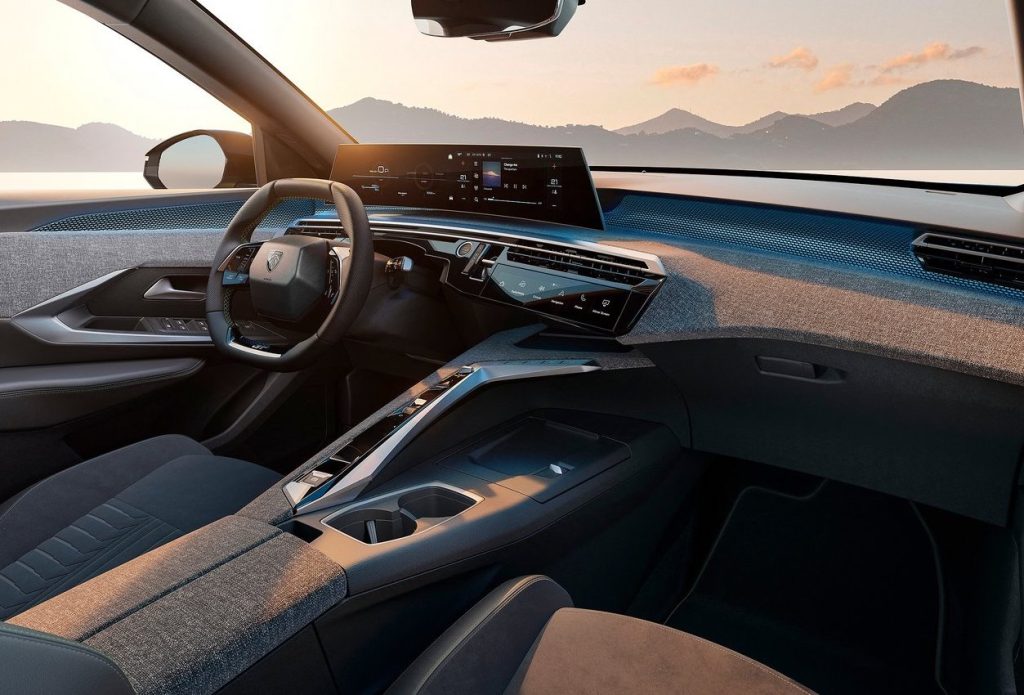 Now onto the powertrain details, this Peugeot features all the highlights touted by Stellantis' new STLA Medium platform. The single-motor long range variant for example quotes the headline 700 km of range from its 98 kWh battery pack, while the smaller 73 kWh battery also on offer is supposedly able to manage up to 525 km on a single charge. 
Interestingly though, the 525 km range figure provided for the smaller battery variants is true for both the 170 hp single- and combined 320 hp dual-motor models, thus pointing to the possibility of a motor-disconnect system being standard on the twin-motor E-3008s. Also worth highlighting is that the option of two motors is not to be available with the larger battery variant.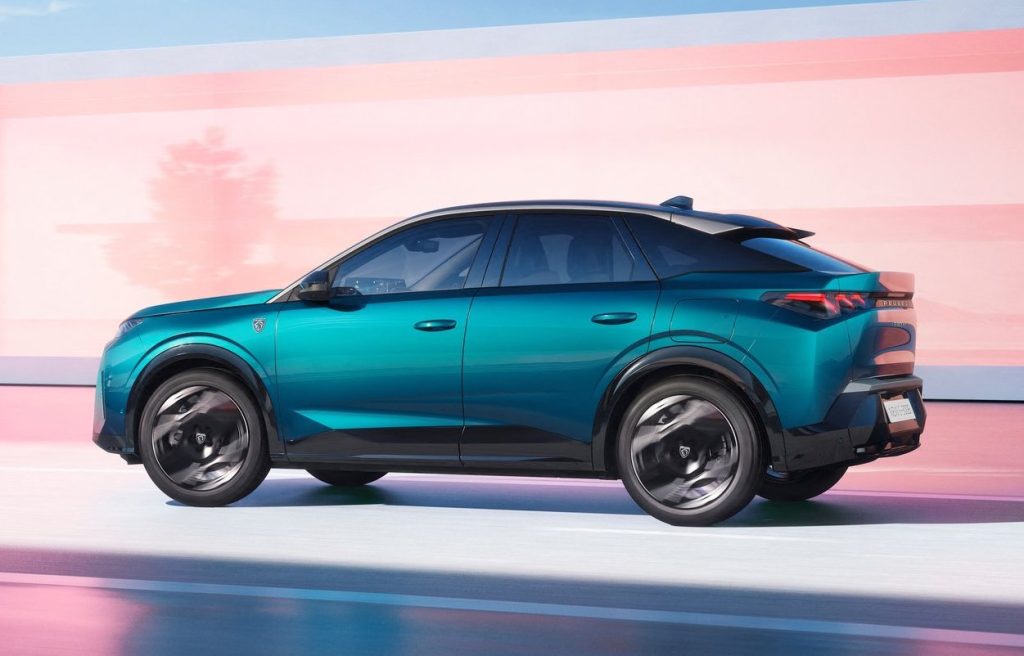 What is nevertheless available with this E-3008 is an optional 22 kW three-phase AC charger, replacing the standard 11 kW onboard unit. As for DC charging meanwhile, this compact crossover can charge at a rate up to 160 kW, which apparently translates to a 20% to 80% top up in around 30 minutes. The STLA Medium platform also brings to this Peugeot a standard on-board heat pump, vehicle-to-load (V2L) functionality and V1G smart charging capability. 
Built in France, the E-3008 is set to arrive in Europe first come early 2024. And if EVs aren't your thing just yet, just know that Peugeot will soon also be launching this compact crossover with a range of mild and plug-in hybrid powertrain options too.