News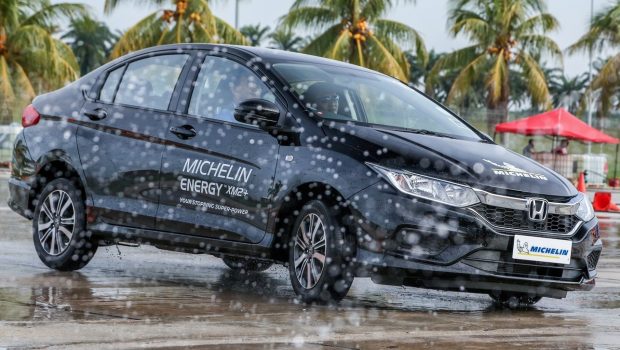 Published on June 20th, 2019 | by Hammer
0
Michelin launches a tyre for mass market cars priced below RM100k
Michelin has just launched the new Energy XM2+ tyre for the Malaysian market. Targeted at budget-conscious compact car owners, this new tyre range is designed for fitment to small and mid-size passenger cars (crossovers like the soon to arrive X50 and Aruz could also use them). Cars like the Honda City, Perodua Myvi, Nissan Almera, Toyota Vios and Proton Persona.
Featuring a new full-silica rubber compound, the Energy XM2+ provides shorter wet braking distances by 1.5 meters when brand new, and by 2.6 meters when worn (claims by Michelin), compared to the average of other premium tyre manufacturers.
The tyre also offers longer mileage (Michelin claims) that outlasts other premium tyre manufacturers by 25%.
According to Pascal Nouvellon, Managing Director of Michelin Malaysia, Singapore, Indonesia and Brunei, the '+' sign on the sidewall denotes the rubber compound upgrade that is behind its braking superiority while the green 'X' marking of its that is carried over, indicates optimized fuel savings.
In Malaysia, the new Energy XM2+ is now available at Tyreplus and all Michelin authorized dealers across the nation in 32 sizes, from 14- to 16-inch diameter. Visit your preferred and trusted tyre dealer and get their price and of course, their advice before investing in any new tyre. The longevity test was conducted by China Automotive Technology and Research Center Co.,Ltd (CATARC) (an independent 3rd party), on Michelin's request, in September 2018 in TianJin, China, on dimension 205/55 R16 91V on Volkswagen GOLF 7 comparing MICHELIN Energy XM2+ versus Premium Competitors (figures represent the average of 5 other premium brands). Longevity test run in average real usage with 20,000 km run and estimated longevity at the depth of Tread Wear Indicator.