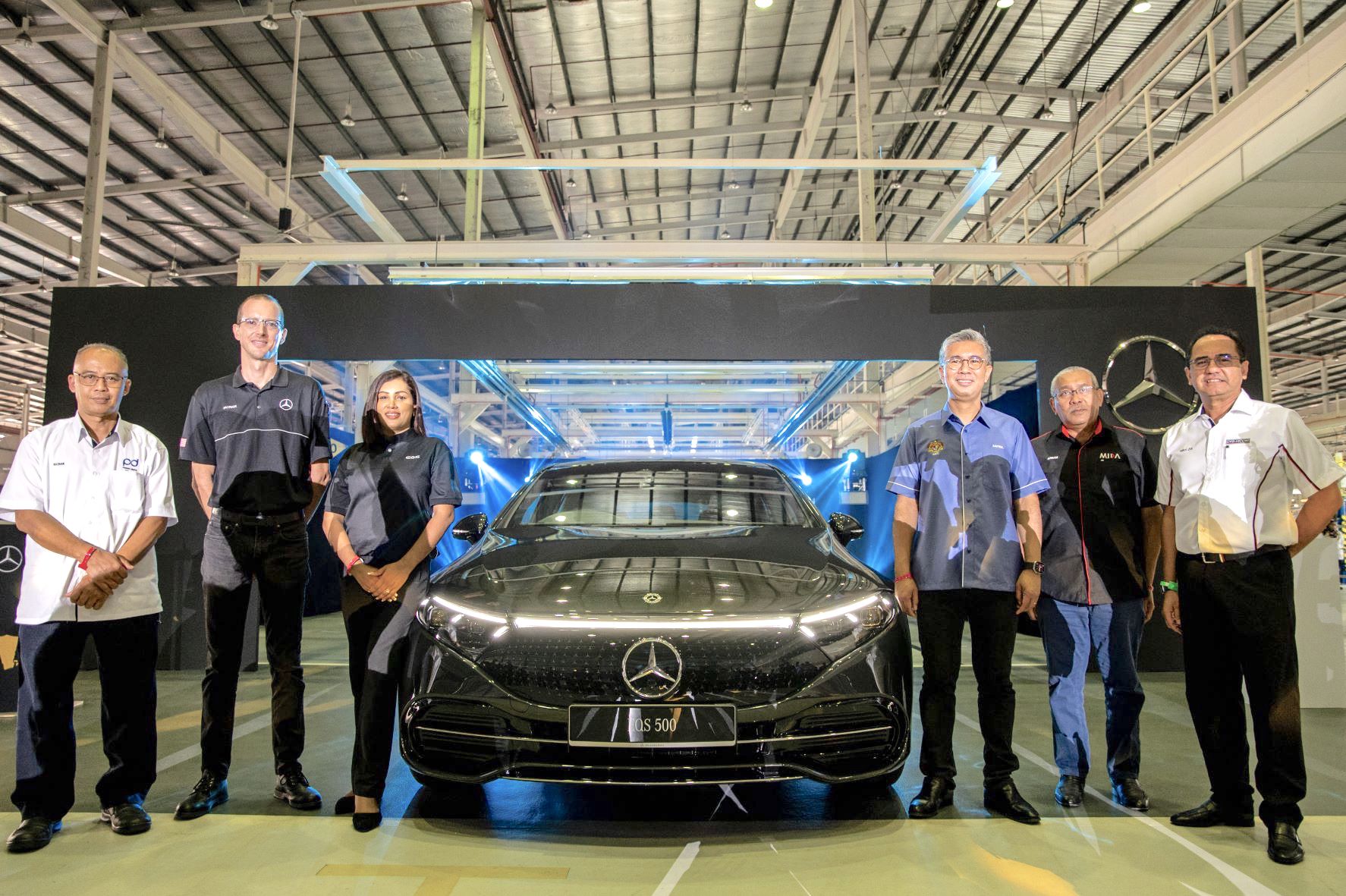 Following the successful launch of the EQS mid last year, Mercedes-Benz Malaysia has just started production run of their all-electric flagship model EQS 500 4MATIC at its production plant in Pekan, Pahang.
The event this morning was graced by Minister of International Trade and Industry YB Senator Tengku Datuk Seri Utama Zafrul Tengku Abdul Aziz at Mercedes-Benz Production Plant in Pekan, Pahang.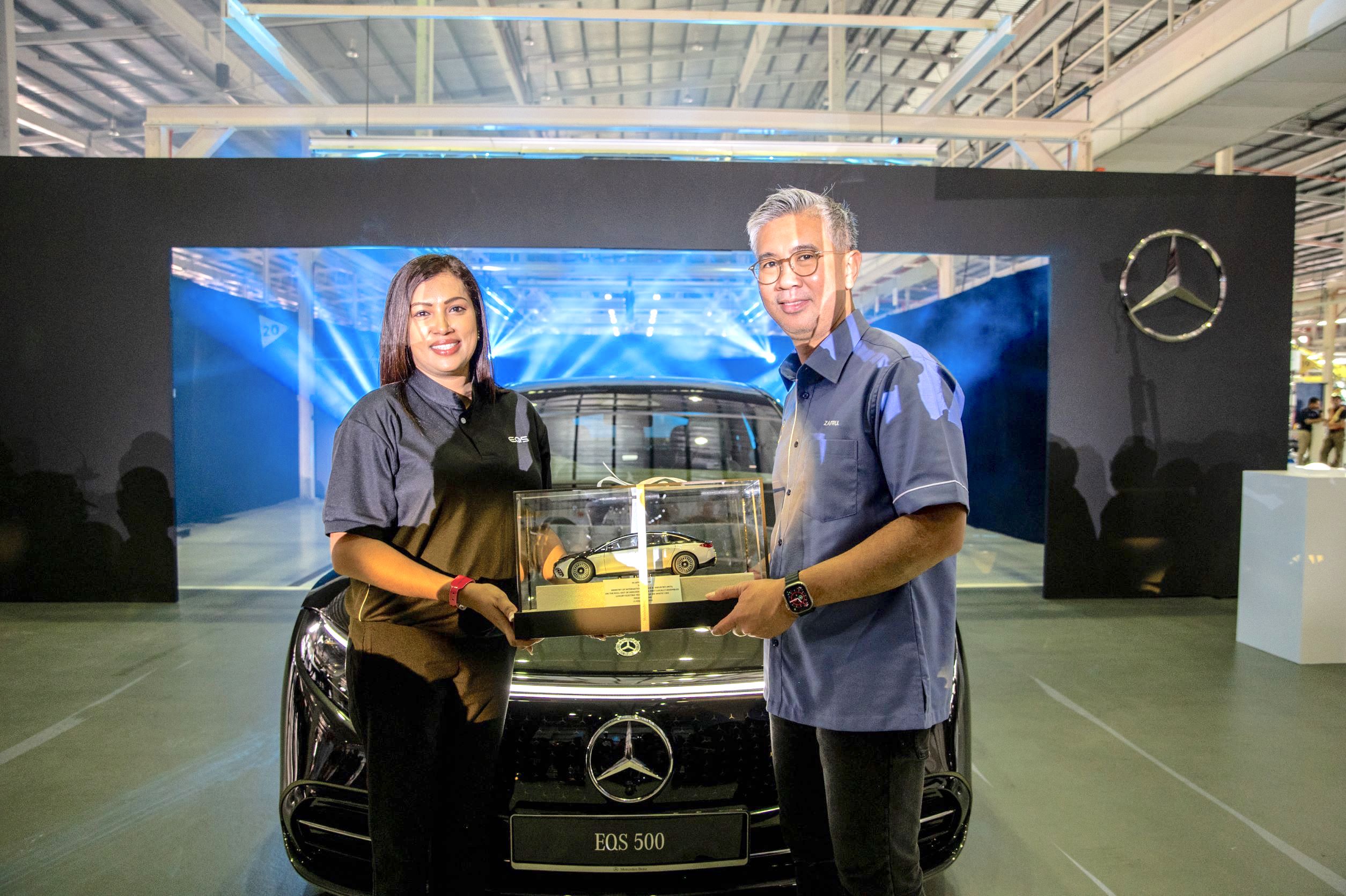 Sagree Sardien, CEO & President, Mercedes-Benz Malaysia said, "Mercedes-Benz has reached a new milestone with the roll out of its first locally-assembled electric vehicle EQS 500 4MATIC.
This supports our global business strategy of offering our customers a comprehensive EQ range and contributing to a higher EV adoption in Malaysia. As a company, we are committed to our sustainability vision and "Lead in Electric" by evolving our fleet of new passenger cars to be CO₂-neutral over the entire life cycle by 2039, to support our introduction of all-electric vehicles by end of the decade, wherever market conditions allow.
On that premise, we continue to create a holistic ecosystem of electric mobility, not just via our products, but alongside our services, technologies and innovations, to ensure our customers can enter the electric future."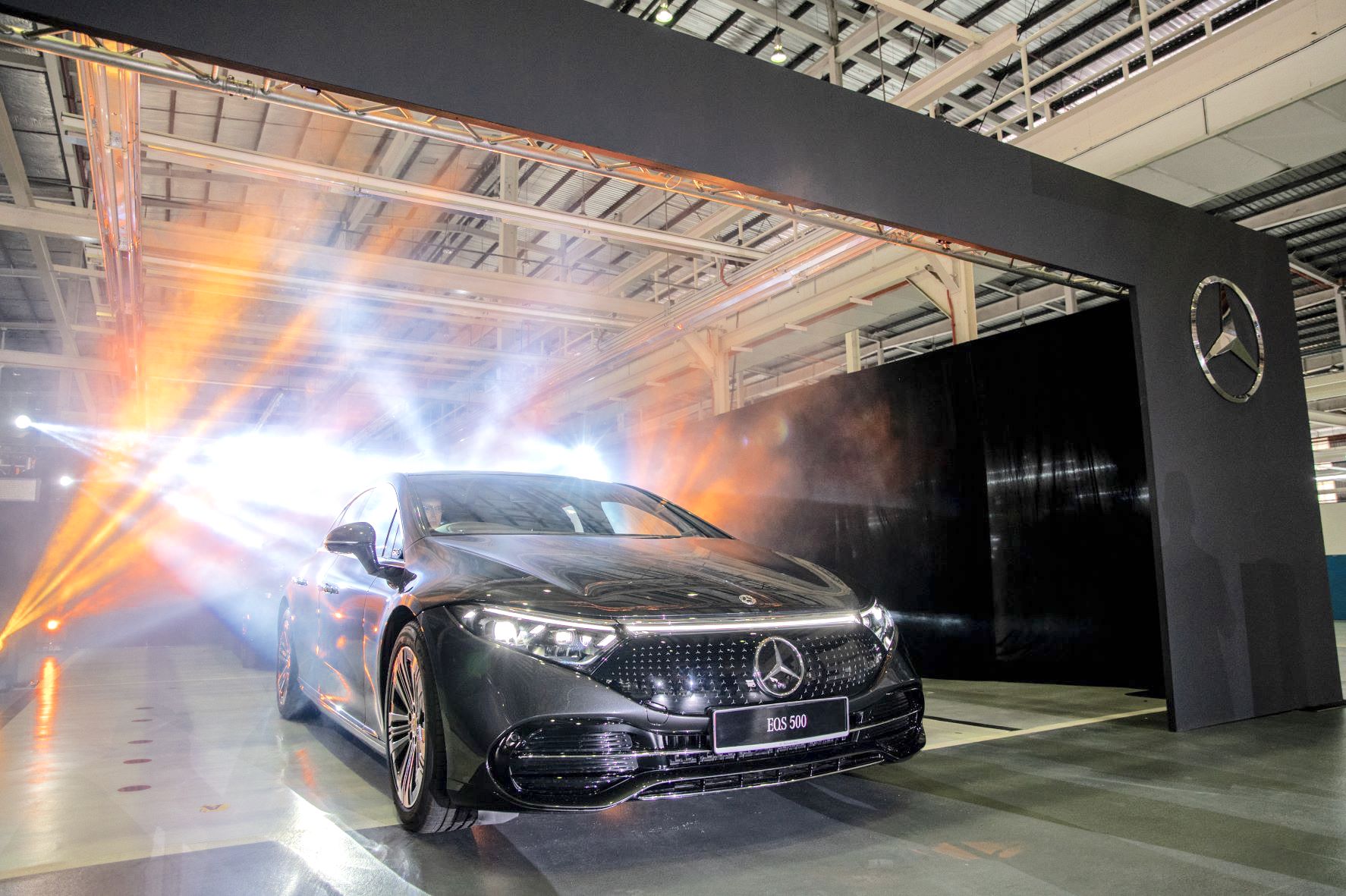 The EQS 500 4MATIC
The EQS is the first all-electric luxury sedan from Mercedes-EQ to be based on the modular architecture for the luxury electric vehicle segment, fusing luxury, technology, design, functionality and connectivity, designed to delight both drivers and passengers.
The EQS 500 4MATIC is the first all-electric luxury saloon to be fully assembled locally. The EQS 500 4MATIC embodies progress in its most exclusive form. A coupé-like silhouette, the muscular shoulder area and reduced lines in a seamless design define the character of the innovative luxury saloon.
The EQS 500 4MATIC is thus the pioneer of a completely new generation of vehicles: fully electric, fully digital and uncompromisingly luxurious. Available as a sole variant, the EQS 500 4MATIC is rated at 330 kW (WLTP combined electrical consumption: 21.3 – 17.6 kWh/100km; CO2 emissions: 0 g/km) capable of accelerating from 0-100km/h in just 4.8 seconds with the addition of a second electric motor.
The EQS 500 4MATIC offers an impressive range of 696 kilometers (WLTP).
The EQS 500 4MATIC now features Electric Art line exterior, which emphasises the progressive design language with elegant chrome trim elements and 20-inch 5-spoke light-alloy wheels. It is also equipped with the iconic Mercedes-Benz patterned radiator grille and panoramic sliding sunroof that allows ample light to brighten the cabin emphasising the intricate interior design.
With a distinctive light signature and state-of-the-art DIGITAL LIGHT headlamps, the EQS demonstrates its technological leadership even in the dark. The two-part tail lights are connected by a light strip – a feature that characterises all Mercedes-EQ vehicles.
With a lot of meticulous detail work and on the basis of the purpose design, the aerodynamicists in close cooperation with the designers were able to achieve a new Cd benchmark of 0.20. This makes the EQS the most aerodynamic production car in the world.
The Electric Art interior impresses with exquisite materials and top-quality workmanship. The EQS 500 is equipped with Mercedes-Benz's signature ambient lighting paired with comfort seats and velour floor mats. The roof liner in black fabric, multifunction steering wheel in nappa leather, galvanised steering-wheel gearshift paddles, and anthracite linestructure lime wood trim are a perfect blend of comfort and luxury.
Drivers are provided with both alternating current and direct current charging options. Direct current charging (200 kW) at rapid charging stations from 10 to 80 percent only needs approximately 31 minutes while alternating current charging (11 kW) at public charging stations or the Mercedes-Benz Wallbox from 10 to 100 percent will take approximately 10 hours.
The luxury electric sedan comes with Driving Assistance Plus Package which includes Active Distance Assist DISTRONIC, extended automatic Re-start in traffic jams, Active Lane Keeping Assist, Active Steering Assist, Evasive manoeuvre support, PRE-SAFE® impulse side, and rear sensors for the lane departure assistant. These features promote driver and passenger safety which are important elements at Mercedes-Benz.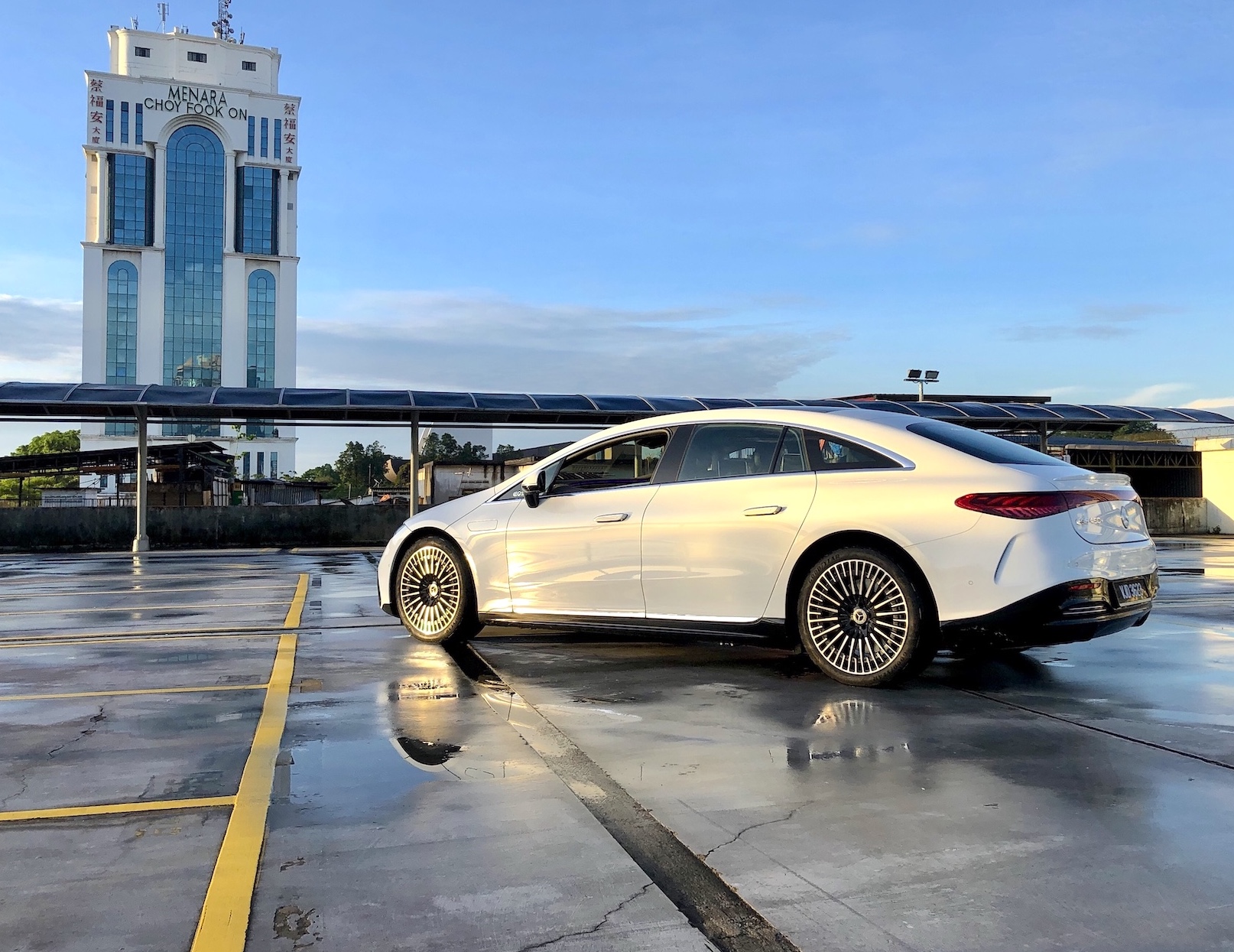 The inclusion of URBAN GUARD vehicle protection provides drivers with a peace of mind when parked. It consists of an anti-theft alarm system together with an interior monitoring system accessible via the Mercedes me app. The EQS 500 4MATIC is equipped with 360-degree camera and Active Parking Assist which provides drivers with a clear view of their surroundings when parking. The projection of the Mercedes-Benz brand logo next to the open side doors will be an attractive eye-catcher.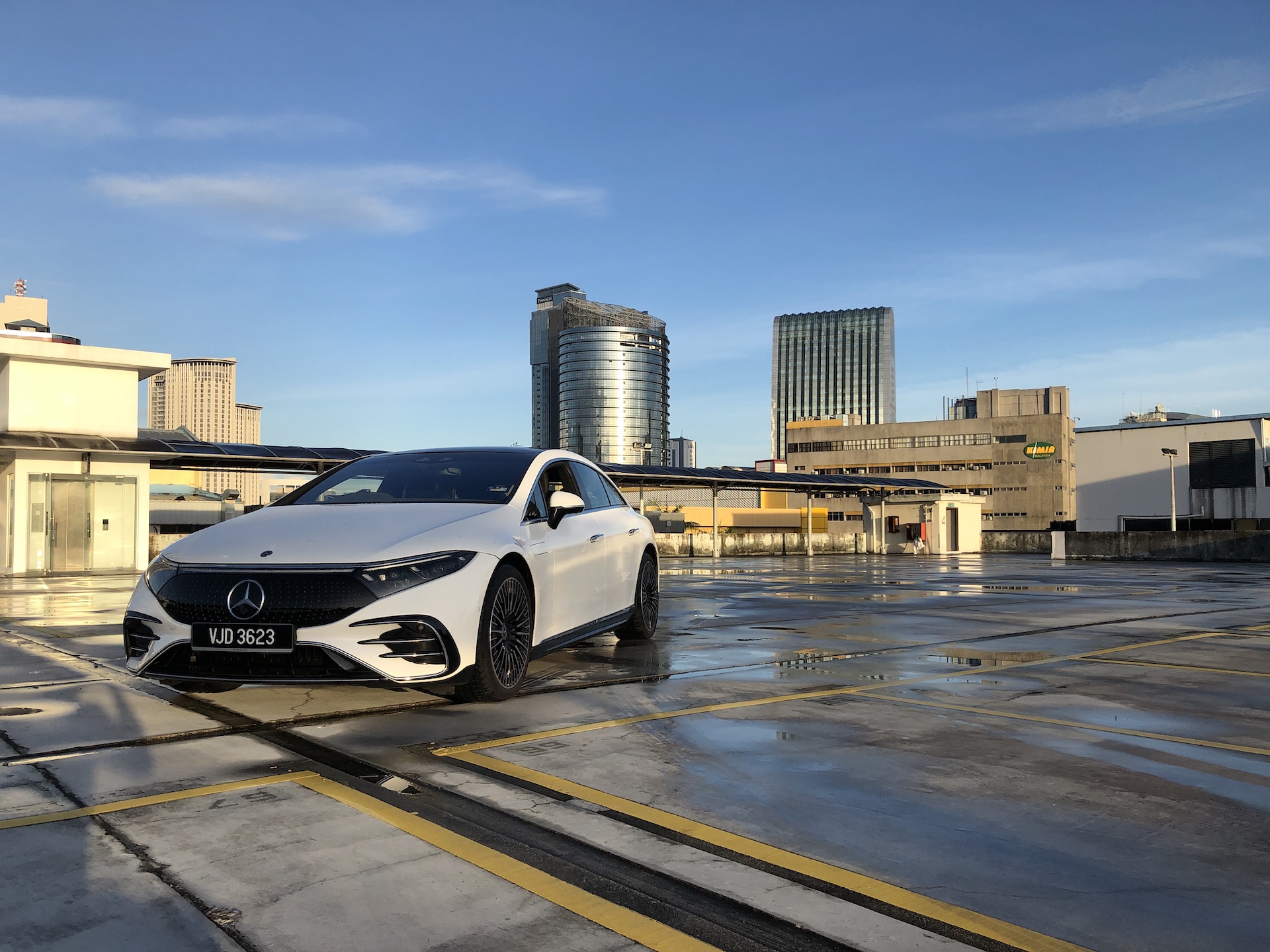 The futuristic and iconic MBUX Hyperscreen will be standard in the all-new EQS 500 4MATIC. As if cast from a single mould, 3 displays seamlessly blend together beneath a glass panel, creating one large surface. It houses the MBUX multimedia system and OLED technology for the central- as well as passenger display.  A fingerprint scanner is ergonomically located below the central display storing personal settings and dat such as recent destinations and addresses.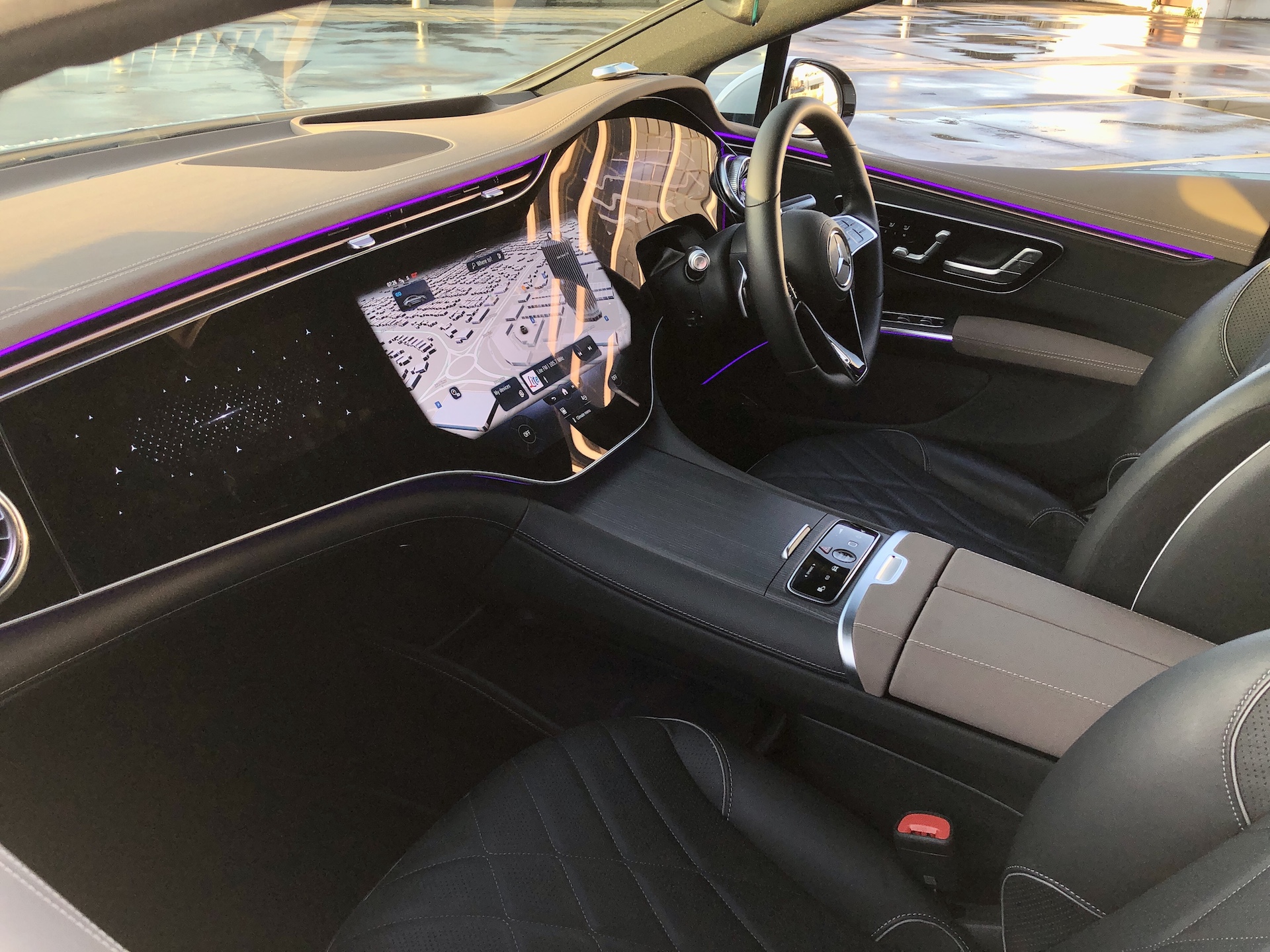 Further reducing the carbon footprint with green power
As part of its "Ambition 2039" initiative, Mercedes-Benz is working on offering a carbon-neutral new vehicle fleet in 2039, partly including offsets.
The company aims to go all electric by the end of the decade where market conditions allow. In many areas, the brand is already thinking about tomorrow today: the new EQS is designed to be correspondingly sustainable. The vehicles are produced in a carbon-neutral manner, and resource-saving materials such as carpets made from recycled yarn are used.
This is because Mercedes-Benz considers the entire value chain, from development and the supplier network to its own production. Mercedes-Benz AG has had its climate protection targets confirmed by the Science Based Targets Initiative (SBTI).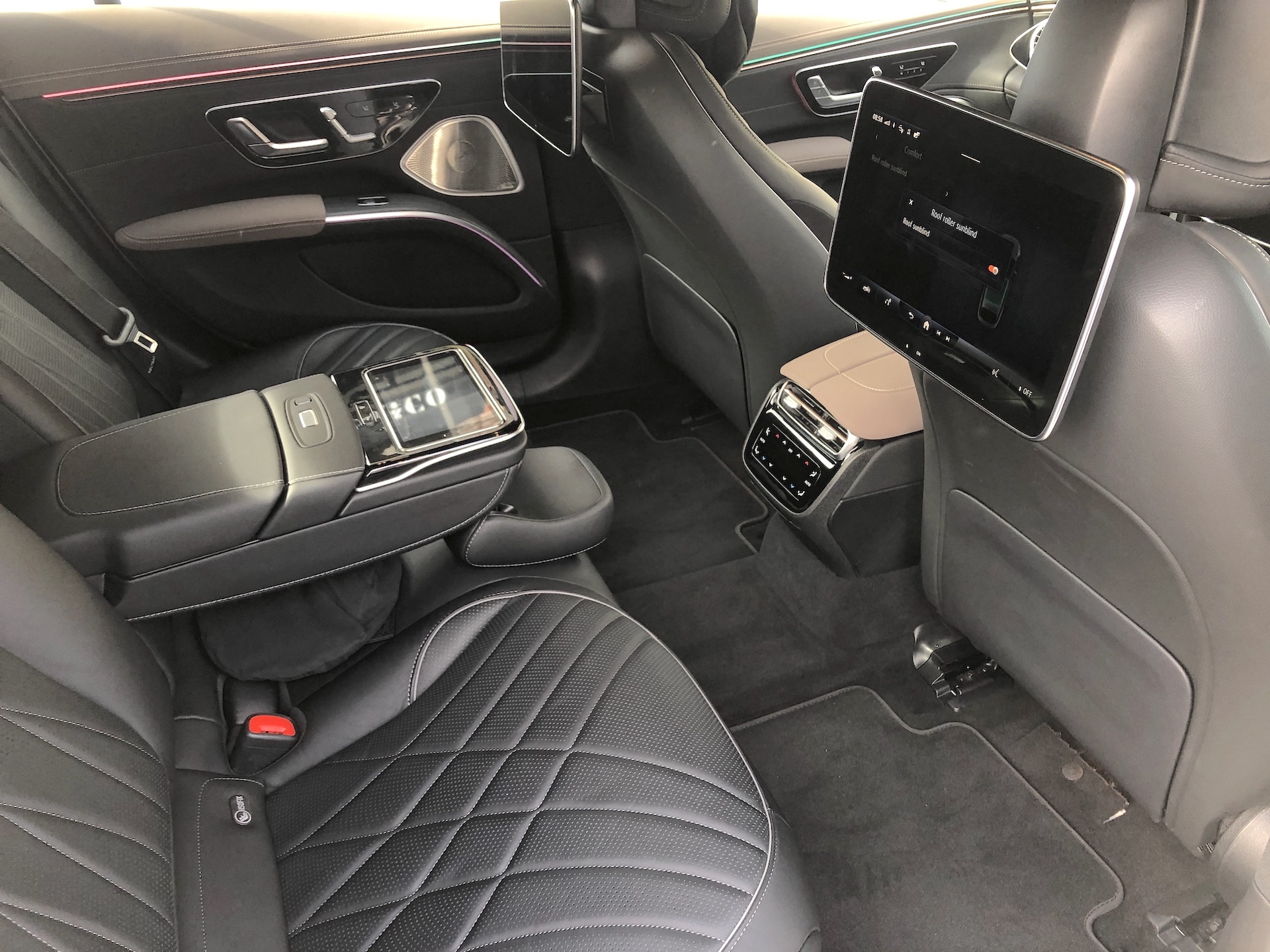 About the Mercedes-Benz Production Plant, Pekan
Mercedes-Benz Production Plant in Pekan was established in 2004. As of 2022, the plant takes ownership of the 90% ratio of Mercedes-Benz vehicles in the country, and also produces its best-selling model, the C-Class for the Phillippines market. It produces a total of nine models including vehicles from its brands Mercedes-AMG and Mercedes-EQ.
Spread over a total land area of 200 acres, the plant is equipped with advanced technology and automated production facilities, a commitment from Mercedes-Benz for cutting-edge technologies and modern processes in production.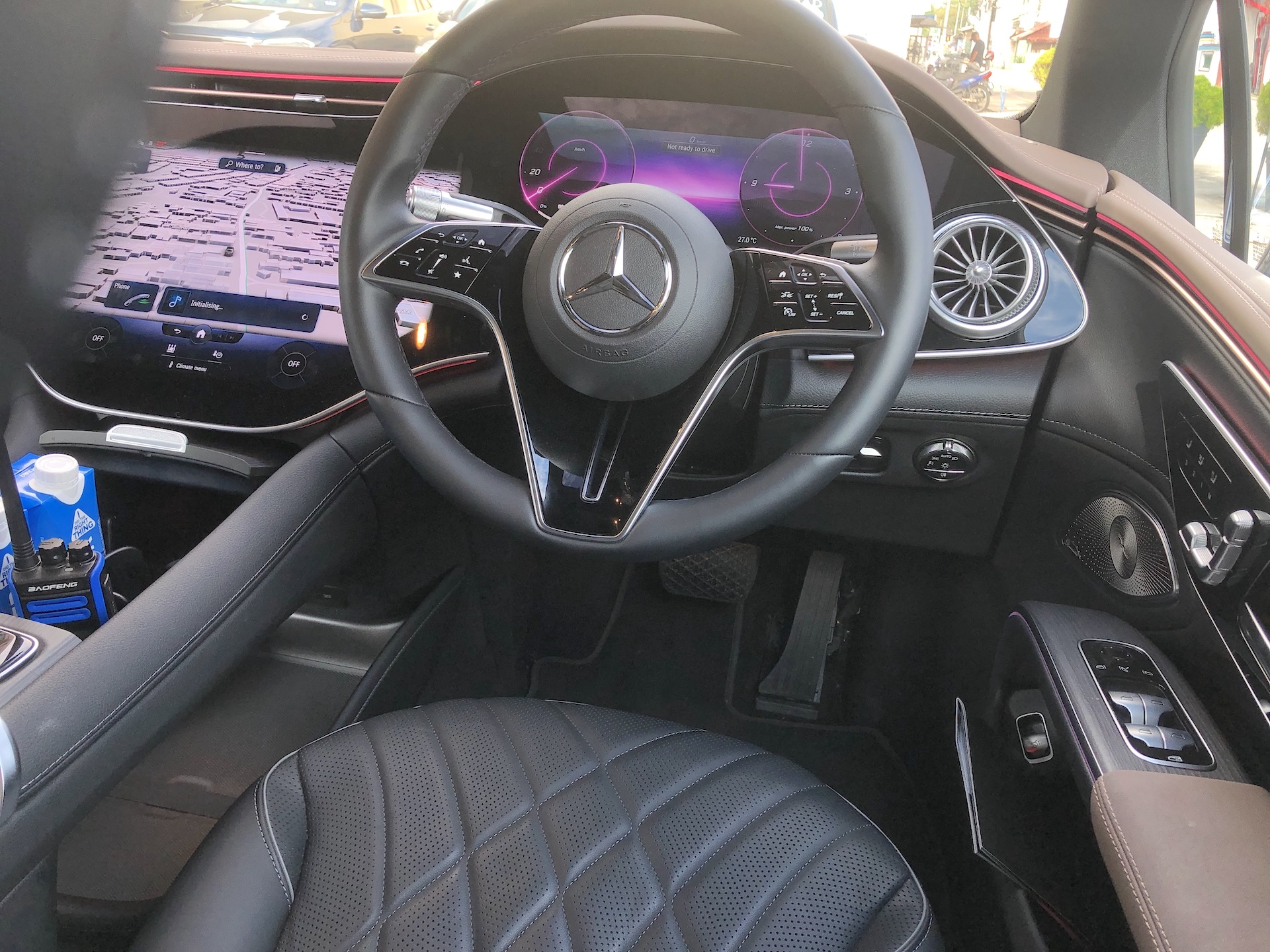 The EQS at a glance:
| | |
| --- | --- |
| Model | EQS 500 4MATIC |
| Rated Output | 330 kW [449 hp] |
| Rated Torque | 828 Nm |
| Acceleration 0-100 km/h | 4.8 sec |
| Top speed | 210 km/h |
| HV battery – usable energy content | 108.4  kWh |
| Electr. Range (WLTP) | 580 – 696 km |
| Electr. Consumption (WLTP) | 21.3 – 17.6 kWh/100km |
| AC charging time 10%-100% SOC (11kW) | 10 hrs |
| DC charging time 10%-80% SOC (200kW) | 31 min |
| Kerb weight/payload | 2.615 kg/445 kg |
| Recommended Retail Price* with 0% Sales Tax | RM 648,888 |
*On the road without Insurance