News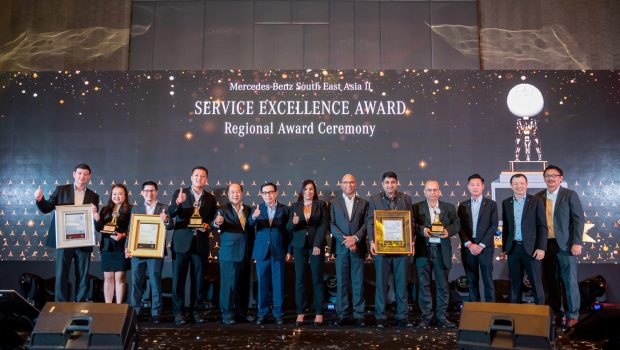 Published on May 29th, 2022 | by Aaron Fernandez
0
Mercedes-Benz Regional Service Excellence Awards have been given out
Mercedes-Benz recently held its Regional Service Excellence Award Ceremony at the Four Seasons Hotel, Kuala Lumpur. This event is held annually to honour the commitment of dealer partners and service personnel in the region. Out of the total of 35 awards, Hap Seng Star managed to bag a total of 9 awards and earning the top spot in the Champions League and Super League categories. The top service advisor award was also given to four Hap Seng Star dealerships.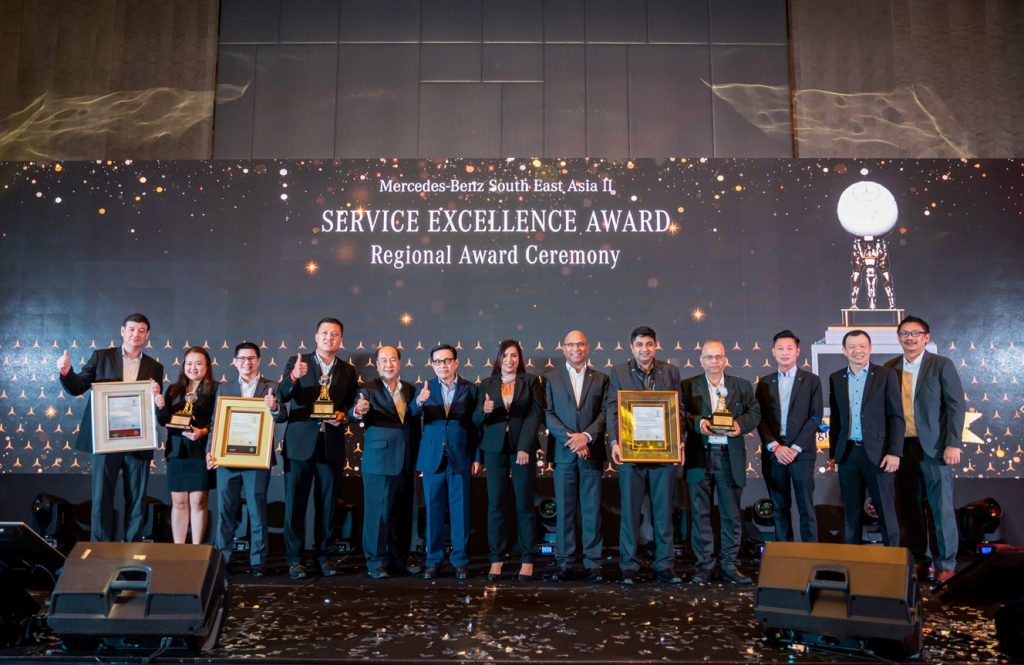 Edmin Naidoo, Vice President of Customer Services, Mercedes-Benz South East Asia II said, "With these awards, we recognize the commitment, dedication and passion of our retailer colleagues in living up to the three-pointed star's brand promise. Their pursuit to excel in offering our customer's a five-star experience is a long-term effort and we are glad that our colleagues continuously strive to ensure we meet and exceed the expectation of our customers. We congratulate all the winners, and applaud their unwavering commitment for flying the Mercedes-Benz flag high, and we will continue to strive and work closely with our retail network to further raise the bar on customer experience levels."
PRESS RELEASE
Mercedes-Benz celebrated its dealer partner network in a Regional Service Excellence Award ceremony held at the Four Seasons Hotel, Kuala Lumpur. The event was attended by over 650 attendees both physically and virtually including attendees from the Mercedes-Benz HQ in Germany and Mercedes-Benz South East Asia II region comprising 49 dealer partners across six countries.
The third installation of this prestigious regional award ceremony is part of Mercedes-Benz efforts to appreciate, recognise and motivate Retail Service Personnel who attained significant achievements in the Customer Satisfaction Program by delivering the Best Products, the Best Service and the Best Customer Experience to Mercedes-Benz owners.
Mercedes-Benz presented a total of 35 awards across four categories in the Regional Service Excellence Award Ceremony, which were Top Service Advisor Awards, General Distributor Awards and both the most coveted Top 3 Super League and Champion League Award for the respective countries in the region. Winning dealers and personnel received trophies, medals, and certificates to honour their dedication and hard work.
The highlight of the evening were the recipients of the Mercedes-Benz Champions League Award which was presented to Hap Seng Star Sdn Bhd (Bukit Tinggi), PT. Panji Rama Otomotif Gandaria from Indonesia and Cycle & Carriage Industries, Eunos from Singapore; while the Super League Award which was presented to Hap Seng Star Sdn Bhd (Kuching) and PT. Hartono Raya Motor Bali from Indonesia. These dealerships excelled across all the touchpoints to achieve the highest overall score in service excellence and customer satisfaction in the region.
This Mercedes-Benz Regional Service Excellence Award program was conceived with the aim to recognize and motivate retail service personnel who have a direct impact on our customer's ownership experience. With over 2,063 service personnel in the region, this program continuously raises the bar and standards of service excellence where performance evaluations are done on both a regional and global scale.
Below is the full list of winning dealerships in the region:
Category
Country
Dealership
Champions League
Malaysia
Champion
Hap Seng Star Sdn Bhd (Bukit Tinggi)
1st Runner Up
Hap Seng Star Sdn Bhd (Melaka)
2nd Runner Up
Cycle & Carriage Bintang Berhad (Johor Bahru)
Indonesia
Champion
PT. Panji Rama Otomotif Gandaria
1st Runner Up
PT. Dipo Angkasa Motor
2nd Runner Up
PT. Mercindo Autorama Mampang
Singapore
Champion
Cycle & Carriage Industries, Eunos
Super League
Malaysia
Champion
Hap Seng Star Sdn Bhd (Kuching)
1st Runner Up
Hap Seng Star Sdn Bhd (Kota Kinabalu)
2nd Runner Up
Hap Seng Star Sdn Bhd (Setia Alam)
Indonesia
Champion
PT. Hartono Raya Motor Bali
1st Runner Up
PT. Hartono Raya Motor Surabaya
2nd Runner Up
PT. Kedaung Satrya Motor
General Distributor Award
Philippines [CATS Motors Inc. (Greenhills)]
Top Service Advisor Award
Malaysia
·        Alagesan A/L Krishnan (Cycle & Carriage Bintang, Petaling Jaya)

·        Chong Kim Choy (Cycle & Carriage Bintang, Johor Bahru)

·        Gordon Lee Jaw Shyang (Hap Seng Star, Kota Kinabalu)

·        Harishan A/L Viswanathan (Cycle & Carriage Bintang, Batu Caves)

·        Muhammad Hafiz Bin Nor Azlim (Hap Seng Star, Melaka)

·        Stewart Tan Kok Loong (Hap Seng Star, Setia Alam)

·        Syahmi Bin Marzukhi (Cycle & Carriage Bintang, Alor Setar)

·        Tan Boon Chieong (Cycle & Carriage Bintang, Johor Bahru)

·        Tan Liang Ching Twinkle (BR Jaya)

·        Tee Yi Tong (Hap Seng Star, Bukit Tinggi)

Singapore
·        Selvaraju S/O Subbiah (Cycle & Carriage Industries, MB Center)

·        Francis Aw Lai Hee (Cycle & Carriage Industries, Eunos)

·        Joe Goh Choon Beng (Cycle & Carriage Industries, Pandan Loop)

Indonesia
·        Luthfitaris Haidiazi Soehartono (PT Panji Rama Otomotif Gandaria)

·        Muhammad Solihin (PT Mercindo Autorama Mampang)

·        Sulistyono (PT Hartono Raya Motor Surabaya)

Brunei
·        Mohammad Azizan Zaini (Jati Transport)
Philippines
·        Hansel Calicdan (CATS Motors Inc, Greenhills)
Sri Lanka
·        Amantha Yapa (Diesel & Motor Engineering)

·        Sahinda Wasalathanthrige (Diesel & Motor Engineering)

·        Shelton Wijerathne (Diesel & Motor Engineering)