Automotive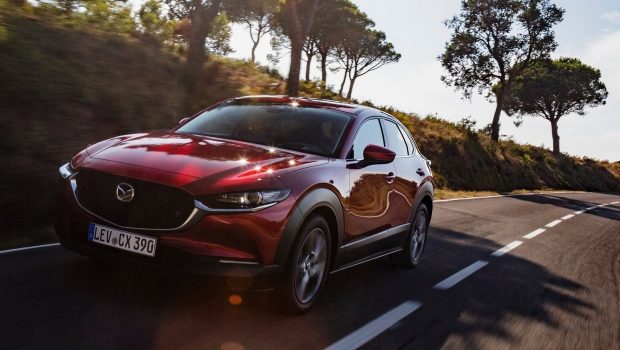 Published on March 30th, 2020 | by Hammer
0
Mazda Skyactiv-X wins the Paul Pietsch Award 2020
With the new Skyactiv-X engine technology, Mazda presented a revolutionary world first that sets standards in terms of fuel consumption and emissions. The Skyactiv-X engine with Mazda M hybrid technology is more efficient and cleaner than a comparable diesel engine.
For this, Mazda is now receiving the Paul Pietsch Award 2020. Each year this International Paul Pietsch Award is given for innovative technological developments in the automotive sector. This year Mazda wins the award for its Skyactiv-X technology.
The world's first production petrol engine with compression ignition made its debut in the new Mazda3, where it is available for both the five-door and the four-door Mazda3 Fastback. The engine has also been available for the new Mazda CX-30 since September 2019.
The Skyactiv-X engine is the first series gasoline engine to initiate the combustion of an extremely lean fuel-air mixture like a diesel engine by means of compression ignition. In contrast to conventional gasoline engines and comparable to a diesel engine, an extremely high compression (16.3: 1) is used. First, a very lean mixture is compressed. At the start of the work cycle using high-pressure injection, a tiny cloud of fuel is then sprayed around the spark plug and ignited with a spark. The resulting small additional pressure and temperature increase is sufficient to also stimulate the surrounding homogeneous lean mixture for self-ignition, which can burn cleanly and very efficiently in this way.
Skyactiv-X technology thus combines the efficiency of a diesel engine with the joy of turning and performance of a petrol engine. The engine is supported by a standard hybrid system. Mazda M Hybrid technology uses a belt-driven starter generator that replaces both a conventional alternator and a starter in one component. The starter generator is coupled to a 24 volt lithium-ion battery. In this way, it can recover and store energy ("recuperate") when decelerating or pushing. In addition to the direct support of the drive, the electrical consumers of the vehicle are supplied in this way without burdening the internal combustion engine.
The revolutionary Skyactiv-X engine technology combines the efficiency of a diesel engine with the joy of turning a gasoline engine.
In conjunction with the standard Mazda M Hybrid mild hybrid system, the Skyactiv-X engine ensures great driving pleasure with excellent environmental properties and very low fuel consumption. The result is impressive. 
About The International Paul Pietsch Award 2020
The award for innovative technical developments in the automotive sector was awarded from 1989 to 2012 as the Paul Pietsch Prize on behalf of the co-founder of Motor Presse Stuttgart and was renamed the International Paul Pietsch Award in 2013. Prerequisites for the nomination of an innovation are series maturity and understandable utility for customers in the areas of environment, comfort, safety and economy.