Motorsports
The Rotary Mazda 787B Won At Le Mans 30 Years Ago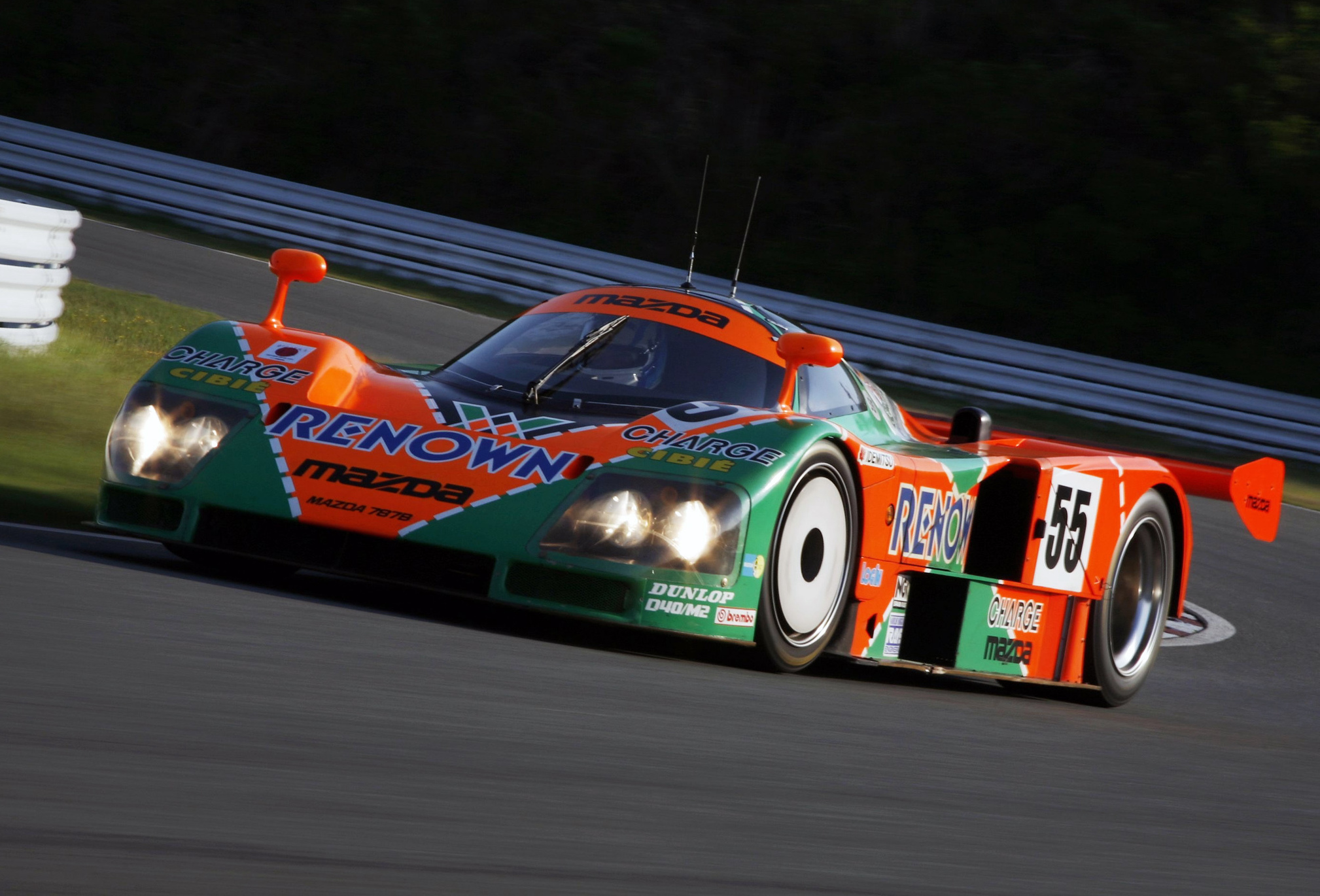 This first-ever Japanese car to win at Le Mans remains the only rotary-powered car to do so too. 
For those who are reading this as it comes straight off the press, you might still be able to catch the tail end of the 89th running of the 24 Hours of Le Mans. A race that — bar any unfortunate incident — looks to be Toyota's taking, with both their GR010 Hybrids currently running 1st and 2nd with 5 hours still left on the clock at time of writing. 
And if Toyota does eventually manage to triumph again this time round, they will once again be extending its lead as the most successful Japanese automaker to have competed in Le Mans. Having already clinched the crown at this endurance event three times prior already, from 2018 to 2020. 
Despite Toyota's utter dominance in Le Mans in recent years however, they are not actually the first Japanese automaker to have successfully nabbed a place on the top step of the podium at what is the world's oldest sports car endurance race. That is because it was instead Mazda who managed this astonishing feat first some three decades prior, with its quad-rotor 787B bringing it home for them back in 1991. 
More notably too is perhaps the fact that Mazda's victory marked the first time a rotary-engined car has won overall at Le Mans. A win that was made all the more significant when considering the spinning Dorito powertrain was effectively banned with the regulation changes came into effect the year later, which in effect further cemented the legacy of its 787B as the only non-piston powered car to ever come out on top at the Circuit de la Sarthe.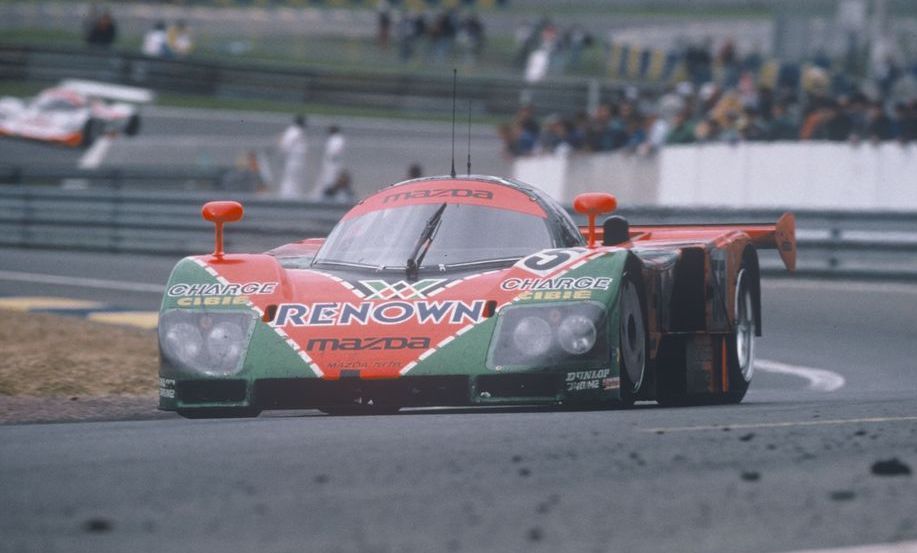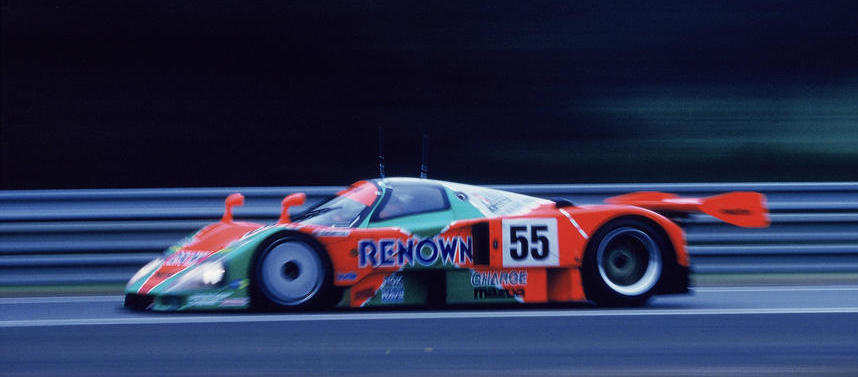 Like all great motorsports stories though, no one at the time would have actually believed that Mazda would even come close to a podium. This is especially when considering that the highest of the four 787s fielded by the Japanese automaker lined up in 19th position on the grid, which was well behind the Peugeots and Mercedes way up front that were tipped to be the favourites for the race win. 
Having experienced a host of mechanical maladies when it first debut in 1990 too, Mazda didn't really also have a track record for reliability with its newly developed rotary race car. In fact, the best showing for the Japanese automaker after a decade-long campaign at Le Mans before then was a lowly 7th with its 757 in 1987.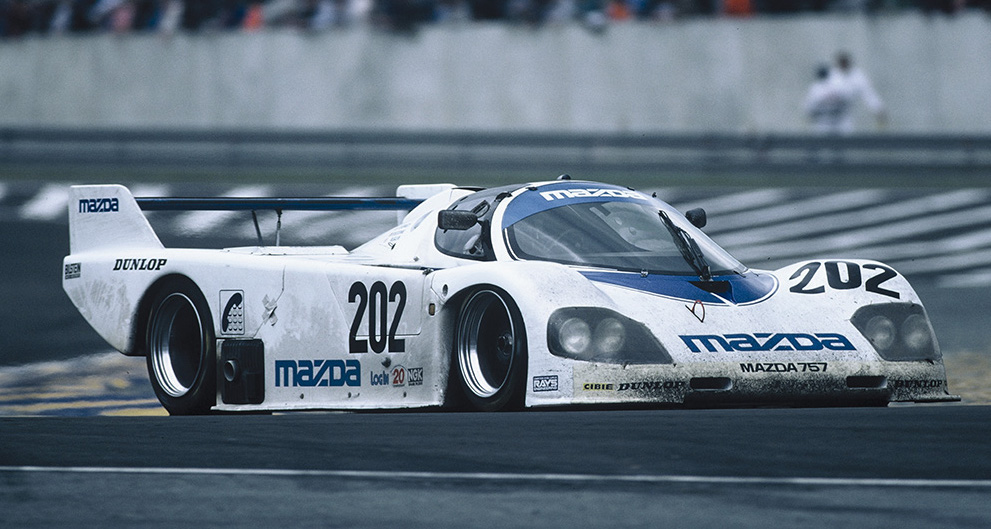 Miraculously for Mazda however, there were several key factors that all came together then to enable its Renown-liveried #55 787B in crossing the line first after completing 362 laps on that iconic French circuit. The most technical of which was perhaps to be the huge overhaul that was performed on its quad-rotor RB26 engine, which apparently touted some 80 improvements over what came in its rather lacklustre showing from the year prior.  
Coming complete with three spark plugs per rotor and a new-fangled telescopic intake runner setup to negate the low-end torque failings of a traditional rotary, this new-and-improved power plant therefore managed to pump out a more-than-healthy 690 hp and 607 Nm of torque in its already detuned for reliability race trim. It didn't make too bad a sound in the process as well, with its brutal banshee-like howl at full throttle a noise that still makes petrolheads go light in the head even 30 years on.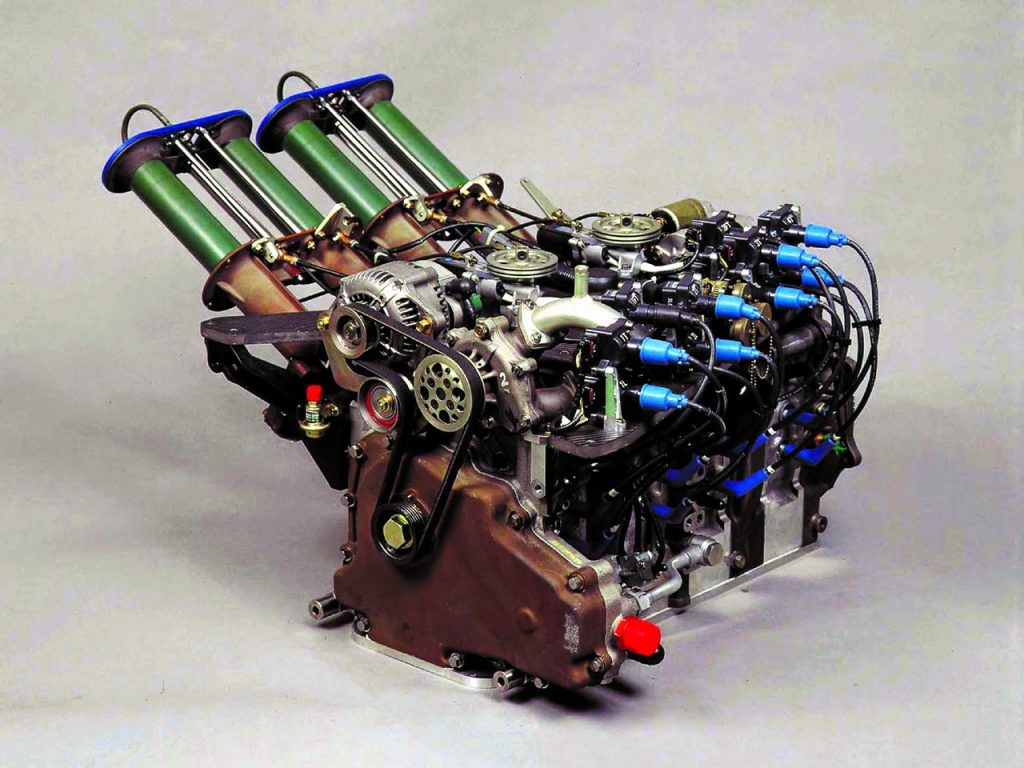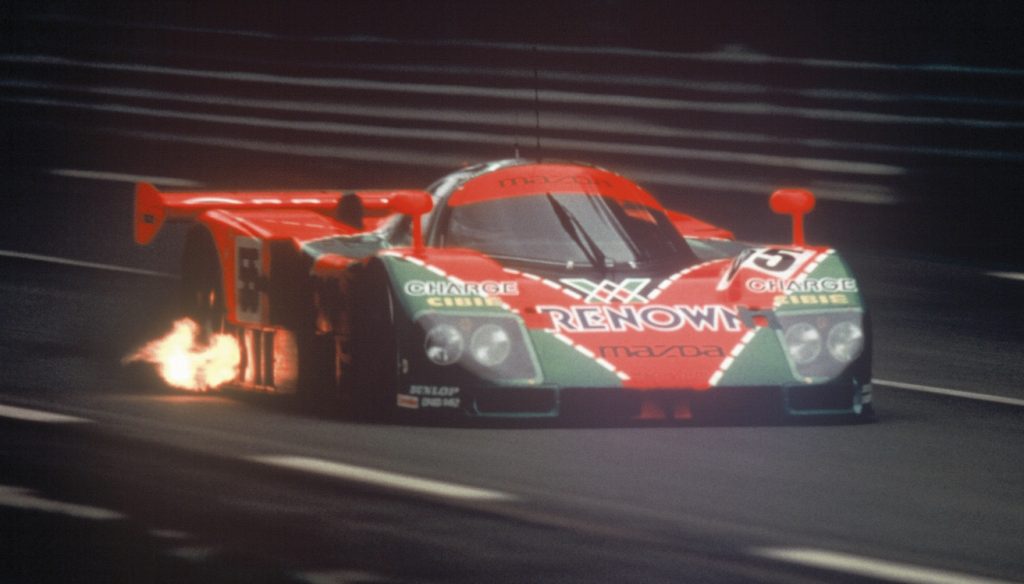 Now monstrous engine aside, Mazda had incidentally also lucked out when it came to the race weights of its 787Bs too. With the Japanese automaker exploiting a loophole in the regulations that cannily allowed these naturally-aspirated rotary race cars to take to the track at a featherweight 830 kg, which was some few hundred kilos less than its other ballasted championship contenders from Jaguar and Porsche. 
Though the weight advantage was far from the only good fortune experienced by the automaker during that time, as lady luck seemed to be have been smiling down on Mazda throughout the two fateful days of 22 and 23 June 1991. Such is evidenced by the fact that all of its other competitors one-by-one began to fall by the wayside (either due to mechanical maladies or driver error), which therefore saw the plucky orange-and-green 787B take the lead from the three dominant Mercedes Benzes that were initially ahead with two hours to go and eventually crossed the line with a two lap advantage over the second place Jaguar.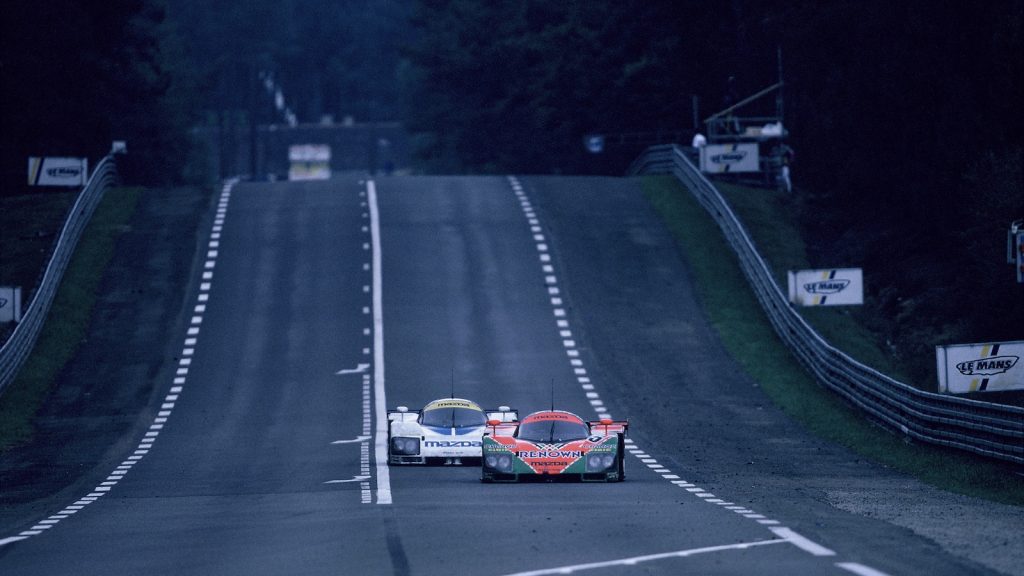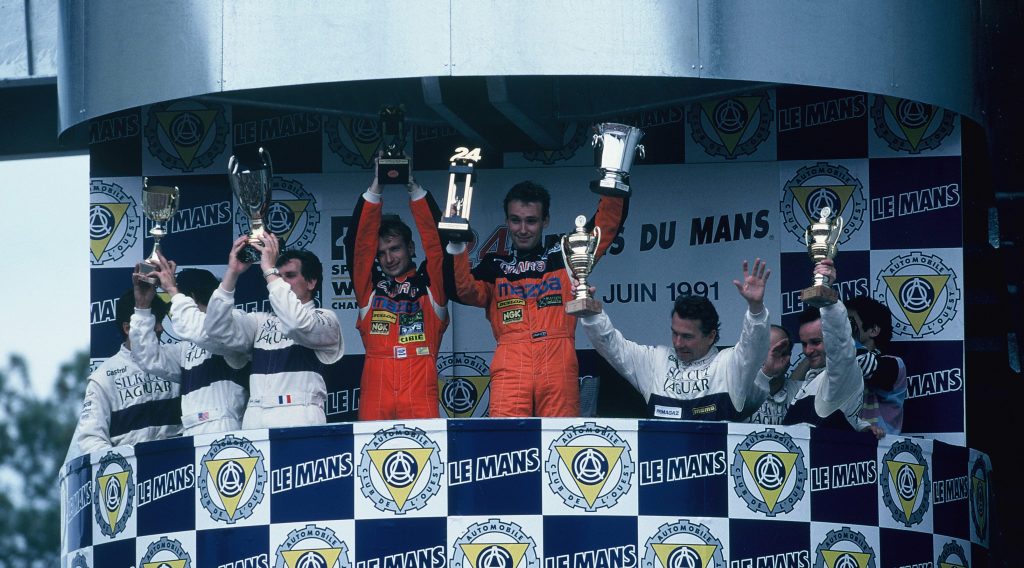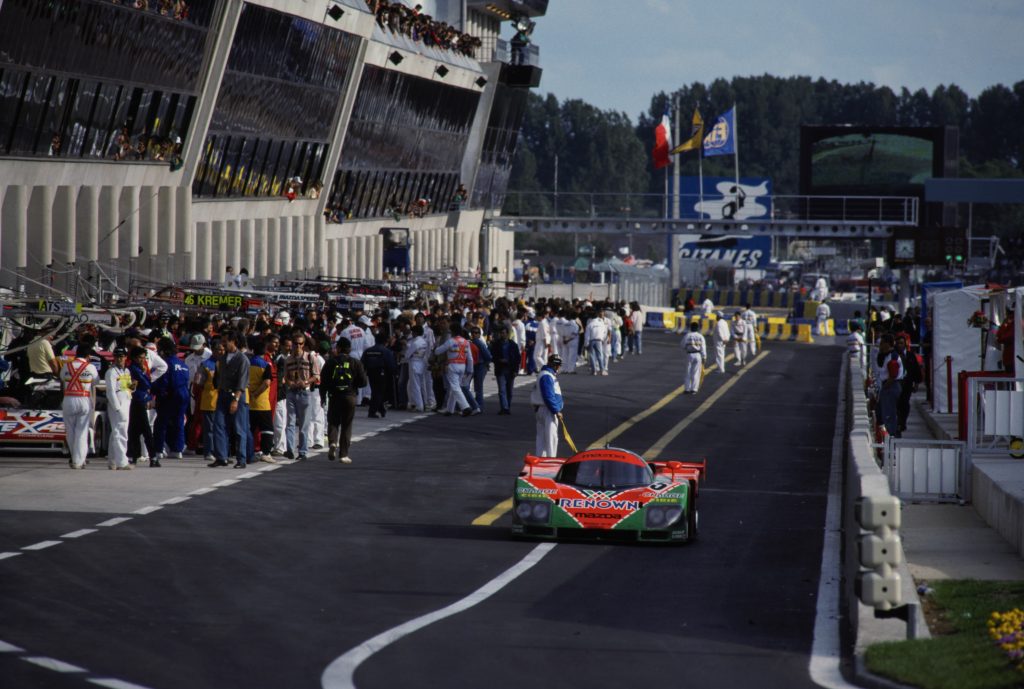 Piloted by ex-F1 driver Johnny Herbert, Volker Weidler and Bertrand Gachot, the 787B's victory at Le Mans serves as one of the main validations for Mazda's dogged development of its rotary powertrain. A saga which first began all the way back in the early 60s, and is amazingly still being continuously refined and toyed around with by the automaker till this very day.