Cars
Lotus 2.0-litre Emira i4 First Edition Priced At RM1,095,000
Lotus 2.0-litre Emira i4 arrives and is the lowest priced exotic sports car to buy now
Lotus Cars Malaysia, the sole franchise holder for Lotus in Malaysia, has just announced that the 2.0-litre Emira i4 in First Edition form is now open for booking at a special price of RM998,800, on-the-road and fully taxed.
Meanwhile, its slightly older sibling, the Emira V6 is priced a little lower at RM1,205,800 and delivers an acceleration time of 4.3 seconds. So, which version would you buy? When the V6 was first shown in 2022, its asking price was lower at RM1,131,800 and now its price rises due to currency exchange and higher shipping costs.
Interestingly, Lotus Cars global sales has grown from a humble 576 cars only in 2022 to a massive 17,000 plus bookings this 2023, even before the year is up.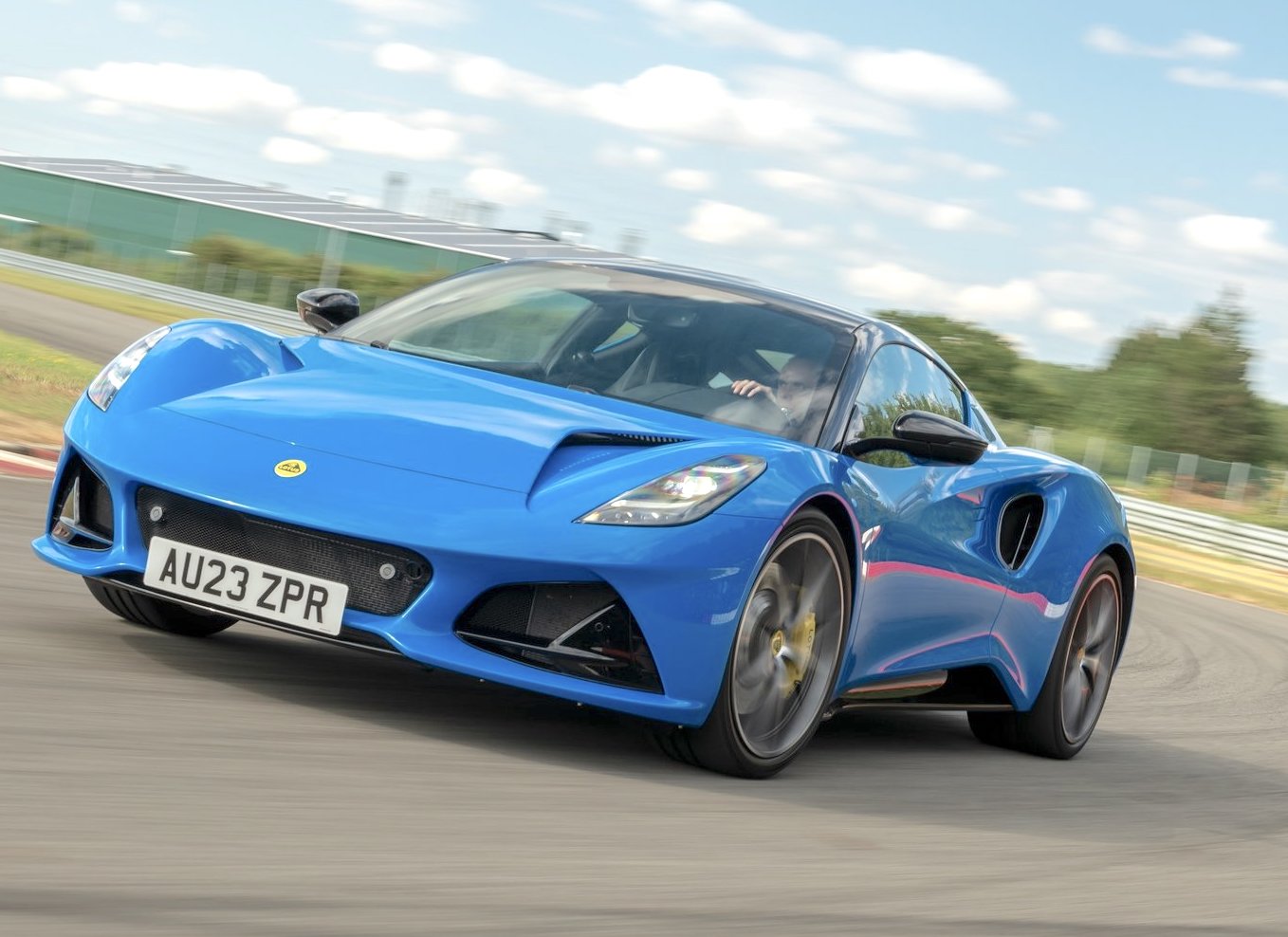 Now, the appeal of this mid-engined two-seater is further enhanced by the addition of a four-cylinder engine which features state-of-the-art technologies to deliver incredible performance and remarkable efficiency. Supplied by technical partner Mercedes-AMG, the all-aluminium, turbocharged 2.0-litre unit is based on the world's most powerful four-cylinder in series production.
The exclusive offer for this final ICE-powered Lotus is valid only for cars made in 2023 before its actual price takes effect – RM1,095,000 in Peninsular Malaysia and RM509,000 in duty-free Langkawi.
The most powerful four-cylinder from Lotus, this mid-engine two-seater receives a performance boost with the turbocharged 2.0-litre aluminium engine and eight-speed dual-clutch transmission (DCT) sourced from Mercedes-AMG.
Further developments by Lotus including new intake and exhaust systems, plus a bespoke calibration matched to new transmission shift-mapping enable the Emira i4 to deliver 360 bhp at 6,600 rpm and 430 Nm of torque at 3,000-5,500 rpm.
The Emira i4 stands out not only for its performance – achieving 0-100 km/h in 4.4 seconds and a top speed of 290 km/h – but also for its inherent day-to-day usability, thanks to its practicality, comfort, functionality and technology.
As with the critically acclaimed and award-winning Emira V6, production of the four-cylinder Emira i4 takes place at the Chapman Production Centre (CPC) in Hethel, named in honour of the company's legendary founder and inspiration.
Lotus Advanced Structures in Norwich is responsible for the sub-assembly of the lightweight aluminium chassis structure. Both these world-class centres of excellence for sports car manufacturing are part of a £100 million investment by Lotus in its UK facilities.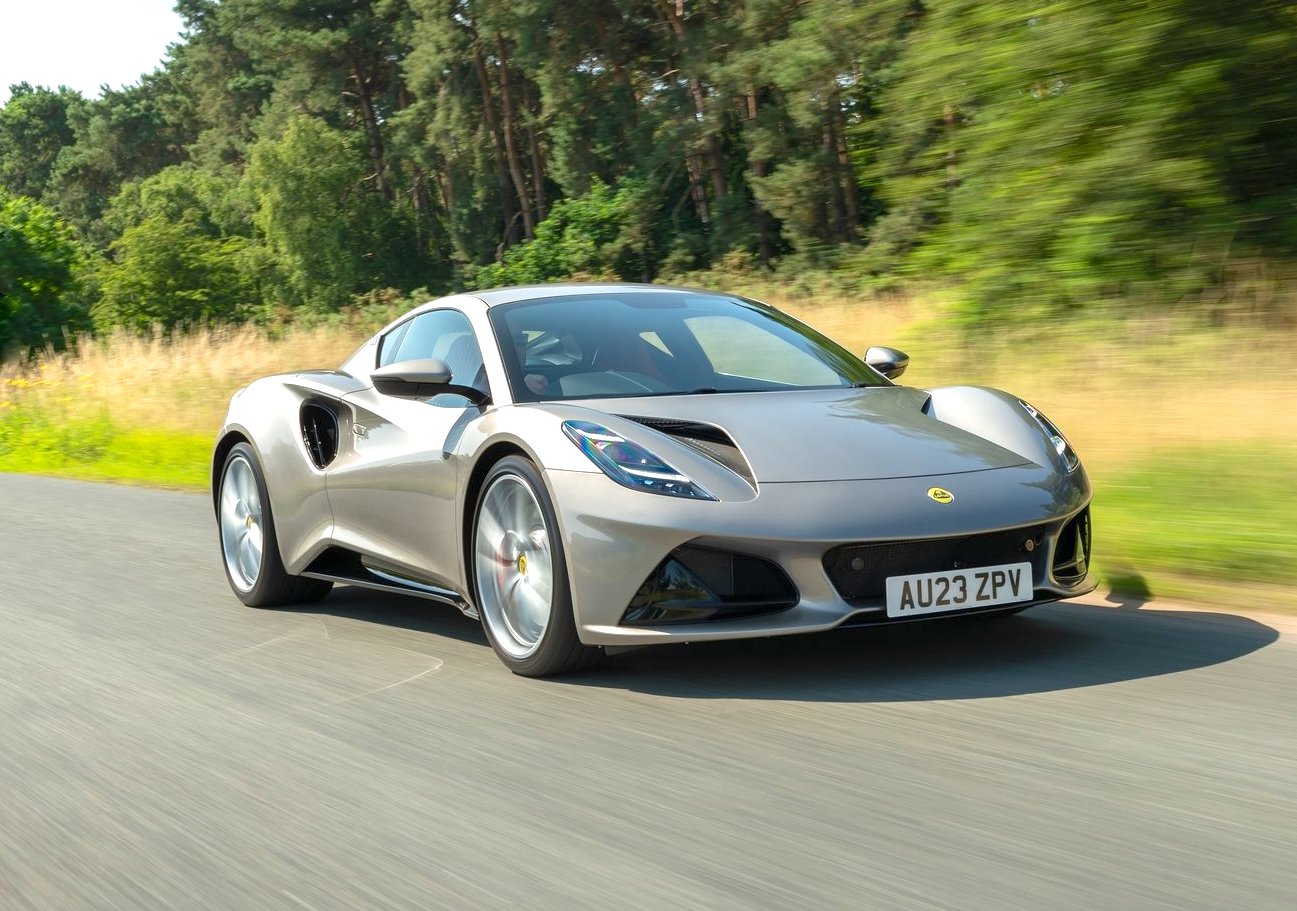 Powertrain: powerful, responsive, efficient
Designed solely for high-performance applications, the 1,991cc engine features a cylinder block produced using the advanced chill-casting process in a durable and high-strength structure needed to withstand high loads. Following motorsport practice, the closed-deck design offers maximum stiffness while patented low-friction coatings in the cylinder bores save weight. Both the steel crankshaft and aluminium pistons are forged for optimal strength and weight balance.
The cylinder head features four valves per cylinder and a 200-bar direct injection system. Variable valve timing for intake and exhaust cams, along with high and low-duration options for exhaust valves and high-precision piezo injectors combine to deliver improved combustion and reduced efficiency. For maximum power, the piezo injectors are joined by the port fuel injectors to deliver the correct amount of petrol needed at full load.
The turbocharger employs a 'twin-scroll' design for improved gas exchange efficiency, more rapid boost pressure build-up and enhanced responsiveness. To manage boost pressure most effectively, the wastegate is electronically controlled.
Sending power to the rear wheels, the eight-speed DCT offers quicker rapid gear changes without torque interruption, enhancing efficiency and shift comfort. Drivers can also control the transmission with the shift lever or steering wheel paddles for ultra-fast dynamic changes, and launch control optimises acceleration from a standing start.
Vehicle dynamics: agile, intuitive, rewarding
The Emira's light, stiff, bonded aluminium Lotus Sports Car Architecture provides the perfect platform for class-setting ride, handling and steering. Its chassis with a torsional stiffness of 26,300 Nm/degree allows for the immediate, precise responses of every system. The race-derived, lightweight, forged aluminium double-wishbone suspension ensures the greatest control of tyre contact throughout suspension travel, contributing to the Emira's exceptional agility and responsiveness.
The introduction of the four-cylinder engine allows for a new, lightweight cast aluminium rear subframe, reducing the car's weight by 12 kg compared to the Emira V6.  The subframe also houses the new rear suspension.
The electro-hydraulic steering system delivers the pure, truly connected feel fundamental to Lotus sports car DNA, together with speed-dependent efforts, but without engine-driven pump losses. The mid-engine configuration also helps amplify driver input responsiveness.
The Eibach springs and Bilstein high-pressure dampers are meticulously tuned to suit the Emira with different settings for the Tour and Sport chassis options. Tour is optimised for road use, offering softer springs and dampers, while Sport is track-focused with stiffer springs and dampers, together with increased camber and toe angles to maximise grip. The anti-roll bar stiffnesses are also bespoke to Emira, and the component on the front axle is now lighter too.
The Emira i4 comes with a choice of specially-developed tyres optimised for exacting steering and traction requirements – 245/35/R20 in front and 295/30/R20 at the rear. The Tour chassis version is fitted with Goodyear Eagle F1 Supersport tyres, which are also available as an option with the Sports chassis. Exclusive to the Sports chassis are Michelin Pilot Sport Cup 2 tyres designed for extreme track use without compromising ride comfort. Both tyres have 'LTS' markings on the side wall to denote the Lotus-approved specification
The braking system provides stopping power commensurate with the new engine's output and features lightweight, two-piece, cross-drilled and slotted discs together with four-piston callipers on the front axle. The branded callipers can be finished in a choice of four colours at no extra cost.
A completely new calibration for the Electronic Stability Control system and e-Diff function ensure maximum traction, especially when accelerating from slow corners in addition to dynamic performance and control in challenging conditions such as rain and mud.
Exterior design: aerodynamically beautiful
The Emira's design of sculpted surfaces and technical detailing, influenced by the Evija hypercar, presents a striking, timeless and unrivalled supercar desirability to the sports car segment.
Full-LED headlights with signature double 'blade' daytime running lights (DRL) and angular bonnet ducts dominate the front. Besides aesthetics, the bonnet ducts also guide airflow over the car, reducing drag.
Sculpted doors with deployable handles also cut drag, while intake ducts seamlessly integrated into the muscular rear haunches aid in engine cooling.
Distinctive gloss black vents at the rear release air from the wheel arches, while also complementing the gloss black rear diffuser that houses the two exhaust pipes and number plate.
Through meticulous development using cutting-edge computational fluid dynamics simulations, and further refinement in the wind tunnel, the Emira i4 achieve perfectly balanced passive downforce at all speeds. The result is enhanced grip and handling characteristics without any active aerodynamic features.
Thirteen colour options are available that enhance the Emira i4's visual impact: Hethel Yellow, Magma Red, Vivid Red, Dark Verdant, Seneca Blue, Atlantis Blue, Meridian Blue, Osmium Silver, Nimbus Grey, Shadow Grey, Zinc Grey, Mist White and Cosmos Black.
The 20-inch, ultra-lightweight forged wheels with their diamond-cut finish and silver or gloss black colour options complete the distinctive look.
Emira inside: driver-focused and pure
As with its V6 counterpart, the Emira i4's crafted interior combines luxury, spaciousness, rich material and the latest technologies for a driver-focused experience.
Above the flat-bottomed steering wheel is a 12.3-inch TFT instrument cluster. At the centre of the cockpit is a 10.25-inch touchscreen for the infotainment system, featuring integrated navigation and Wireless Android Auto/Apple CarPlay connectivity. All of the content was designed in-house, making it simple and intuitive to use, while enhancing the driving experience.
The acoustically-optimised 10-channel, 560W premium audio system with six speakers developed with KEF features the signature Uni-QTM technology. Finished with a distinctive bespoke speaker fret design, Uni-Q covers the entire mid and high-frequency sound spectrum for a more coherent, hyper-realistic sound experience.
The 12-way power-adjustable heated seats provide complete support for spirited driving as well as superb comfort on long drives.  The Nappa leather upholstery comes in colour options of black, red, ice grey or tan, or black Alcantara, with a choice of yellow, red or ice grey contrast stitching. Black Alcantara is also used for the headliner. Satin chrome trim finishers, white interior mood lighting and Lotus-branded sill kick plates complete the premium look.
Customers can also opt for the same Nappa leather on the steering wheel with the top dead centre band and stitching available in yellow, red or ice grey.
In terms of storage, there is 208 litres of space behind the two seats and an additional 151 litres in the rear luggage compartment.
Option packs available as standard
The Emira i4 First Edition comes fully loaded with four option packs as standard. One of it is the Lower Black Pack, which adds on contemporary gloss black accents to the roof, cantrails, mirror pods and the Lotus wordmark on the rear clamshell. The exhaust finishers are satin black.
The Design Pack adds on a privacy glass, sports pedals, a black Alcantara headliner and Emira-branded footwell mats.
The Convenience Pack adds front parking sensors, a rear reversing camera, rain-sensing wipers with aero blades, auto-dimming mirrors and a rear luggage storage net.
Last but not least is the Lotus Drivers Pack. This gives customers the option of the Tour or Sports suspension. For either option, it also includes Track Mode ESP, with a new Track mode highlighted on the TFT instrument display screen which prioritises information required for high-performance driving.
A first-hand look at the Emira
The first customer cars are expected to arrive in November this year. In the meantime, those interested previewing how the Emira i4 looks are welcome to visit the Lotus Store at Level 3, Pavilion Kuala Lumpur where the Emira V6, which is identical in exterior and interior styling is on display.
Open from 10 am to 10 pm daily, the boutique showroom offers a personalised experience with Lotus Experts on stand-by and an on-site configurator for customers to spec their vehicles.
The Lotus Emira i4 comes with a three-year unlimited mileage manufacturer's warranty. For enquiries or to schedule an appointment with the Lotus Experts, contact 016-6112388.
For more information about the Lotus, visit www.lotuscars.com or follow the Lotus Cars Malaysia Facebook, Instagram and YouTube channels.