Automotive
News
Lexus LM350 Officially Lands Locally Costing RM 1.15 Million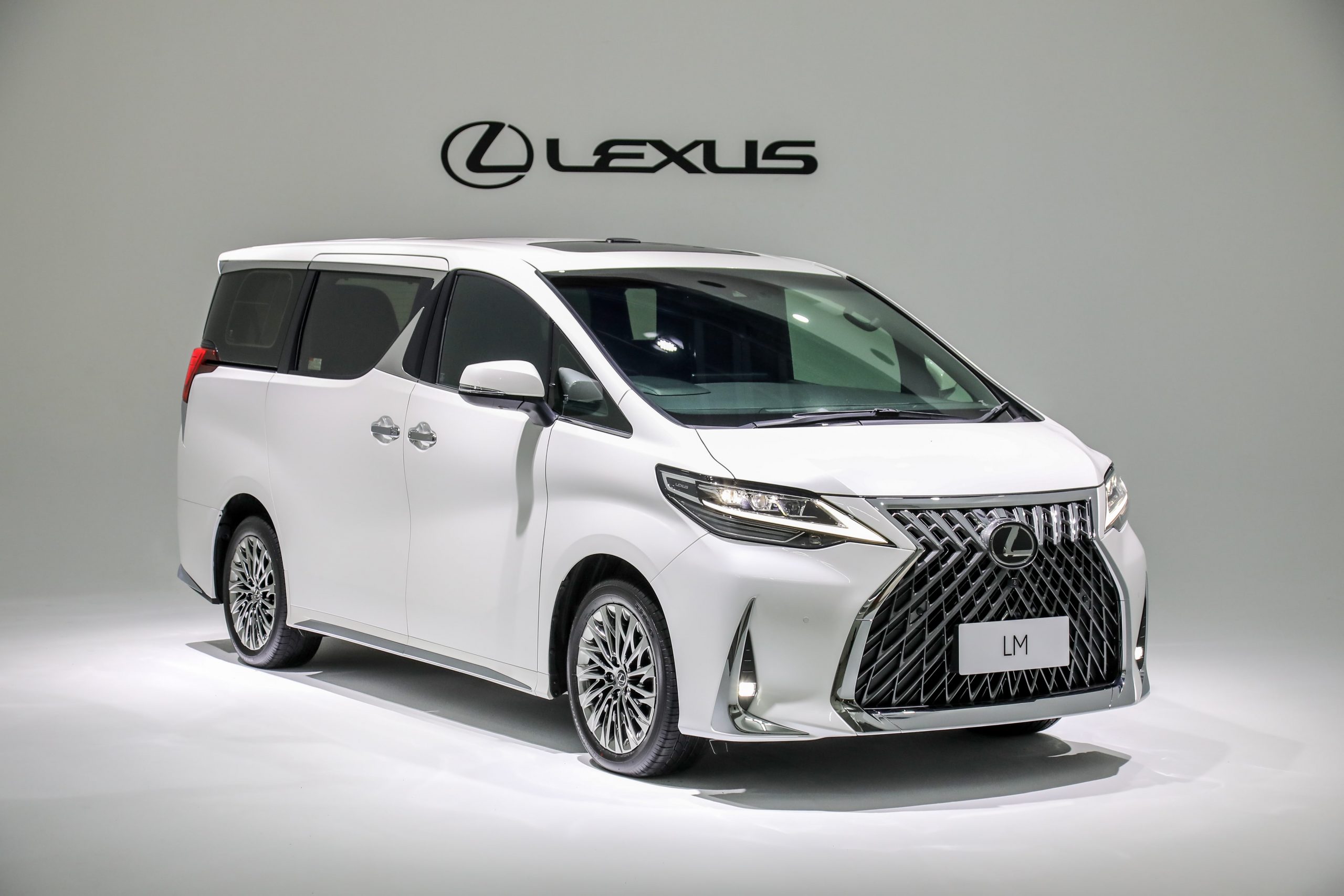 This four-seat Lexus MPV arrives costing a whole lot more than the Alphard on which it is based. 
The Toyota Alphard and Vellfire has long since become a staple means of transport for the more affluent Malaysians. Judging by the sheer number on the roads today however, what was once supposedly a status symbol can be argued to have been watered down somewhat due to the lack of exclusivity afforded by these now dime-a-dozen Japanese luxury MPVs. 
To the even more affluent Malaysians who wish to stand out further from the crowd with their luxo-minivans however, instead of resorting to various gaudy bodykits to further trick out their rides, there is now another way to one up a normal Alphard/Vellfire. And that comes in the form of the newly launched Lexus LM350 over here.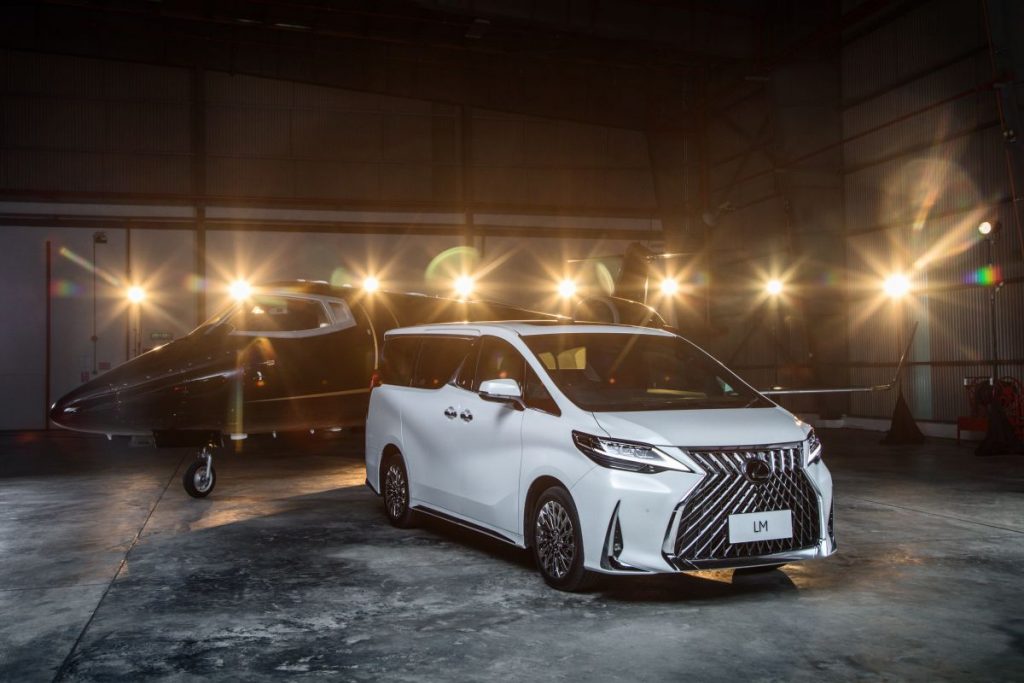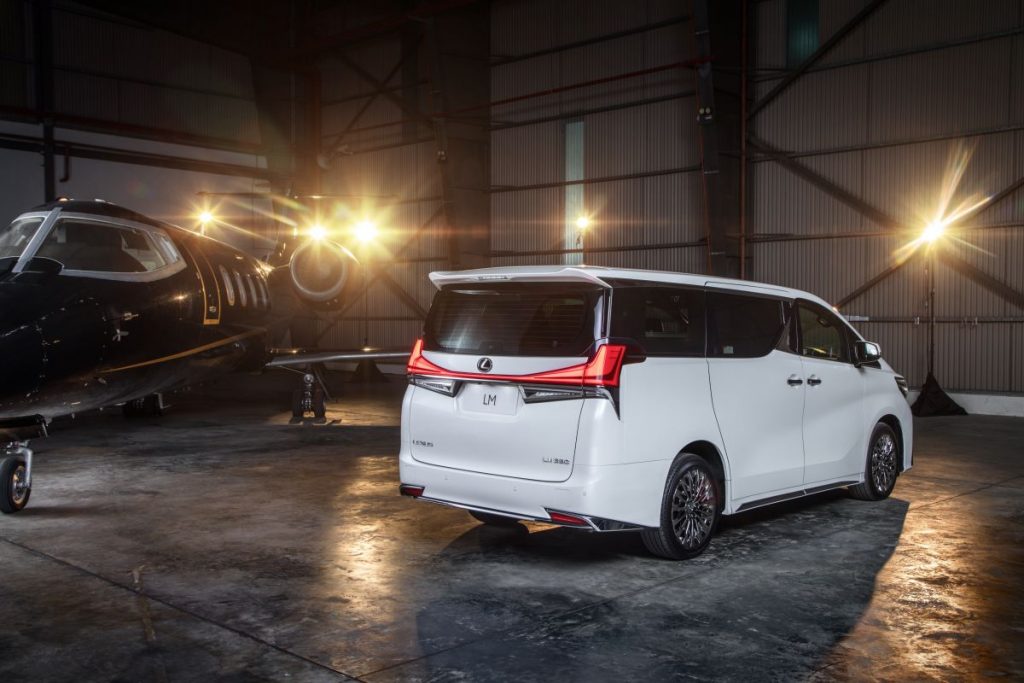 Opened for orders for quite some time already but having only recently made its official local debut, this LM350 may look just like an Alphard with a Lexus spindle grille slapped on the front. Costing an eye-watering RM 1.148 million however, there is really much, much more to this 'Luxury Mover' than that of a Toyota with a slightly different face. 
Starting within in the rear compartment of the LM first, the biggest distinction here with the Lexus and its Toyota stablemate will probably be replacement of the Alphard's twin row of rear seats with just 'a pair of plush VIP lounge seats'. Both of which are fully reclinable and feature Adaptipedic cushioning, an Ottoman massage function as well as the usual seat heating and ventilation capabilities.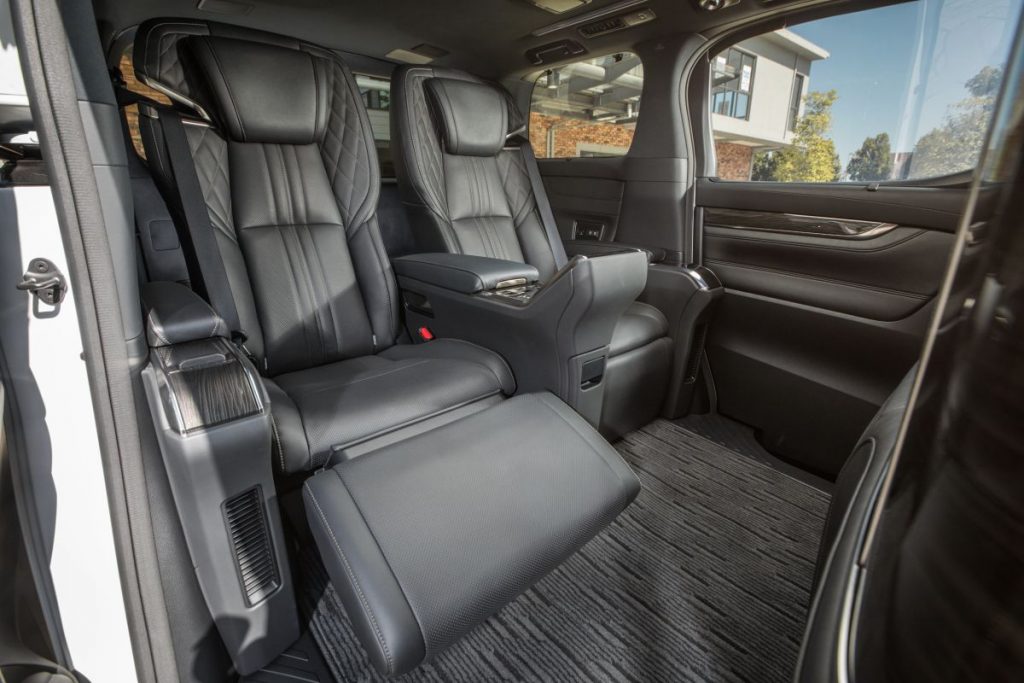 Another standout feature within the LM350 from the Toyota will have to be its partition between the first and second row seats. Apparently in the aim of creating the 'ultimate boardroom on wheels', this partition comes with a glass panel that can not only be raised and lowered at the whim of the rear seat occupants, but also features electronic particles embedded within to change its opacity for maximum privacy.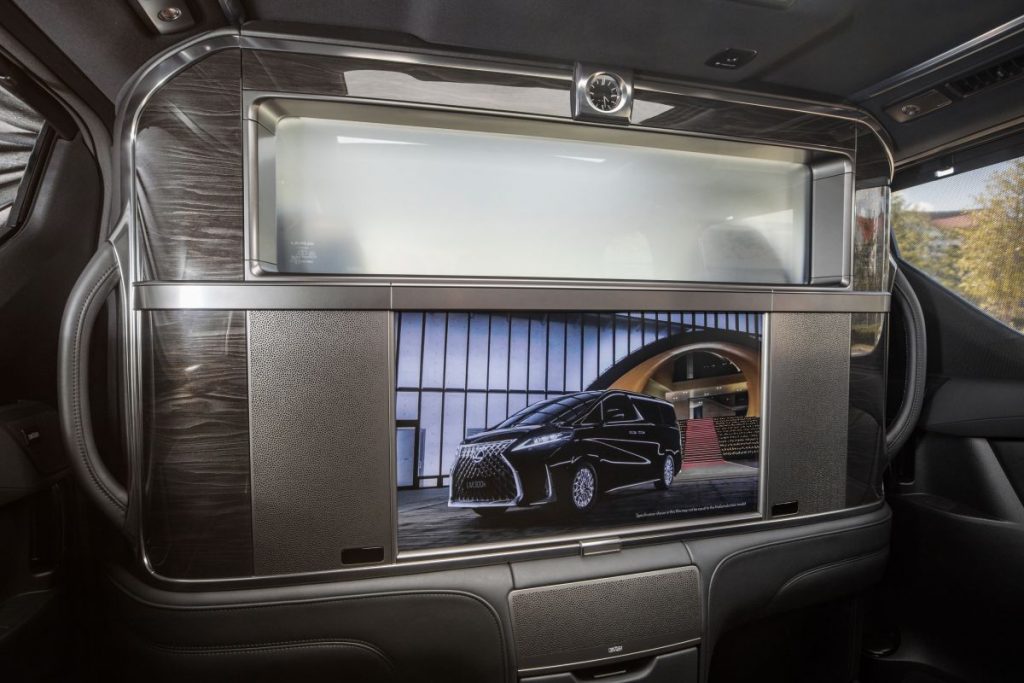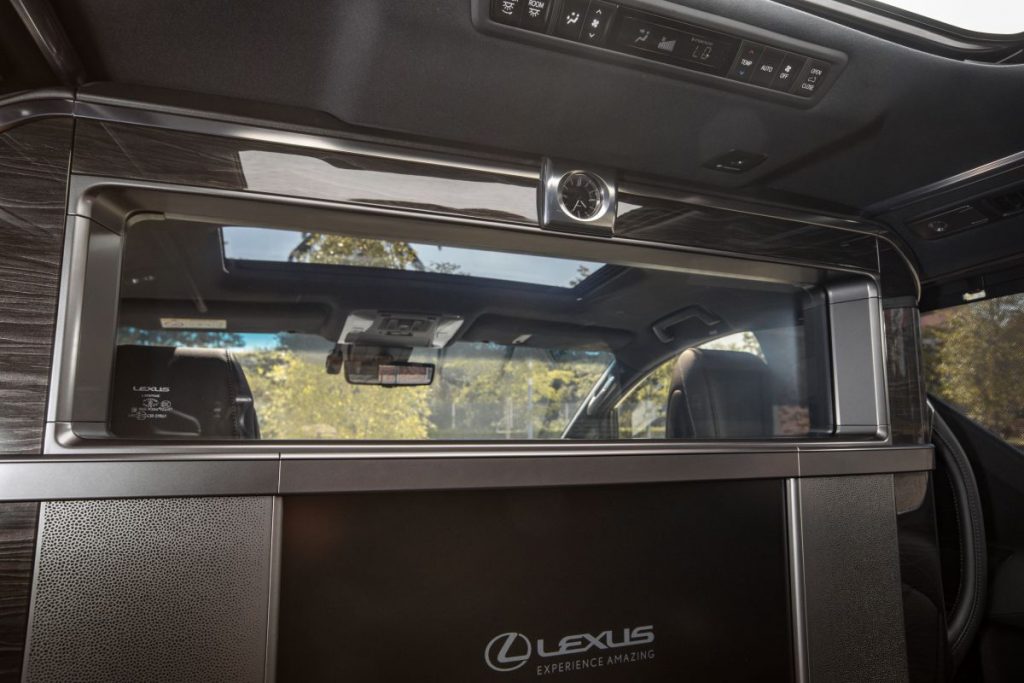 Speaking of the electronics within the partition, below the glass privacy screen lies a 26-inch HD display panel that is hooked up to the 19-speaker Mark Levinson reference surround sound system. Other highlights to be found within the rear seat compartment includes a fold-out magazine rack, built-in mini fridge, sunroof and various intricate 'Gin-Sui-Boku' ornamentation dotted within for the full 'Omotenashi' experience.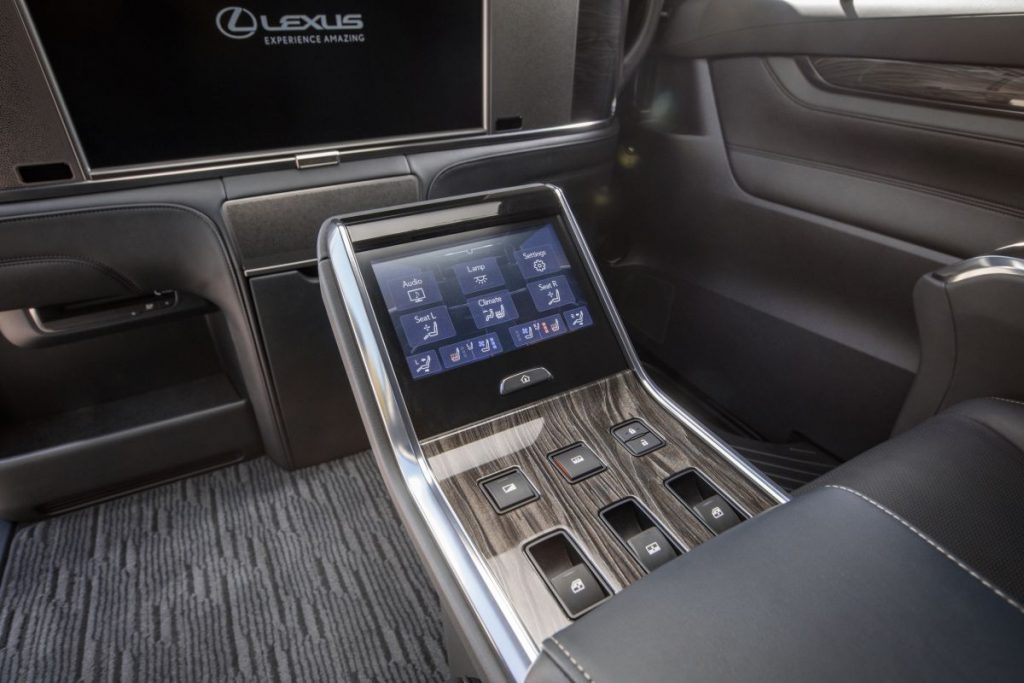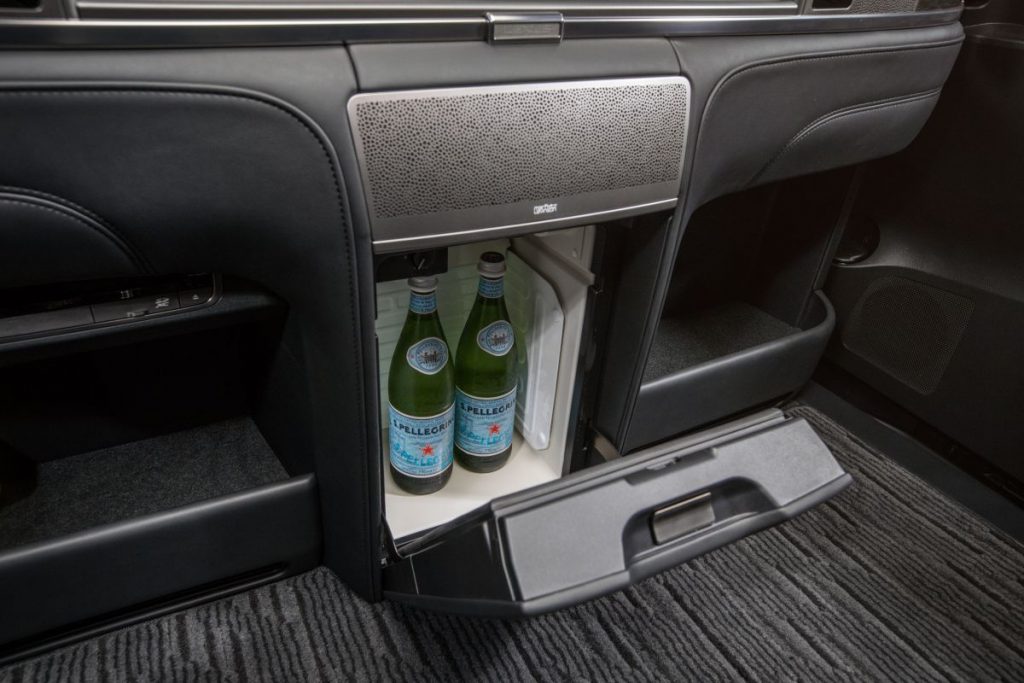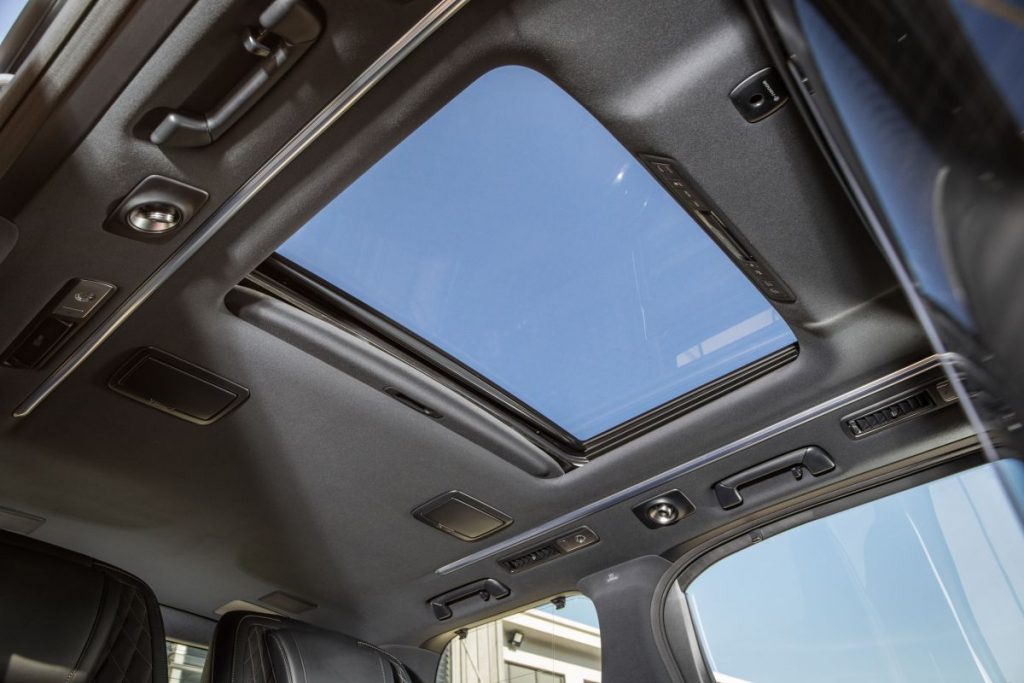 Now moving up front to the chauffeur's quarters, a plush leather-lined cockpit is complemented by the inclusion of a 12.3-inch central infotainment touchscreen with Apple CarPlay and Android Auto integration. Standard on the LM350 are also various active driver aids courtesy of the Lexus Safety System+, which brings with it Pre-Collision System (PCS), Dynamic Radar Cruise Control (DRCC) with stop and go functionality, Lane Tracing Assist (LTA), Lane Departure Alert (LDA), Adaptive High-Beam System (AHS) and 7 airbags.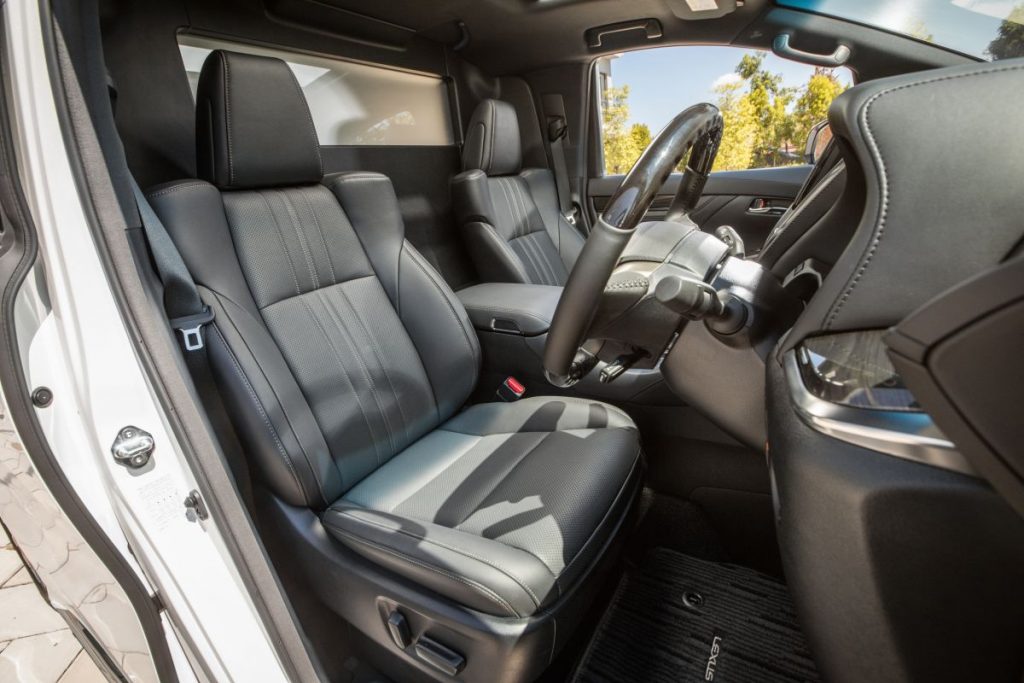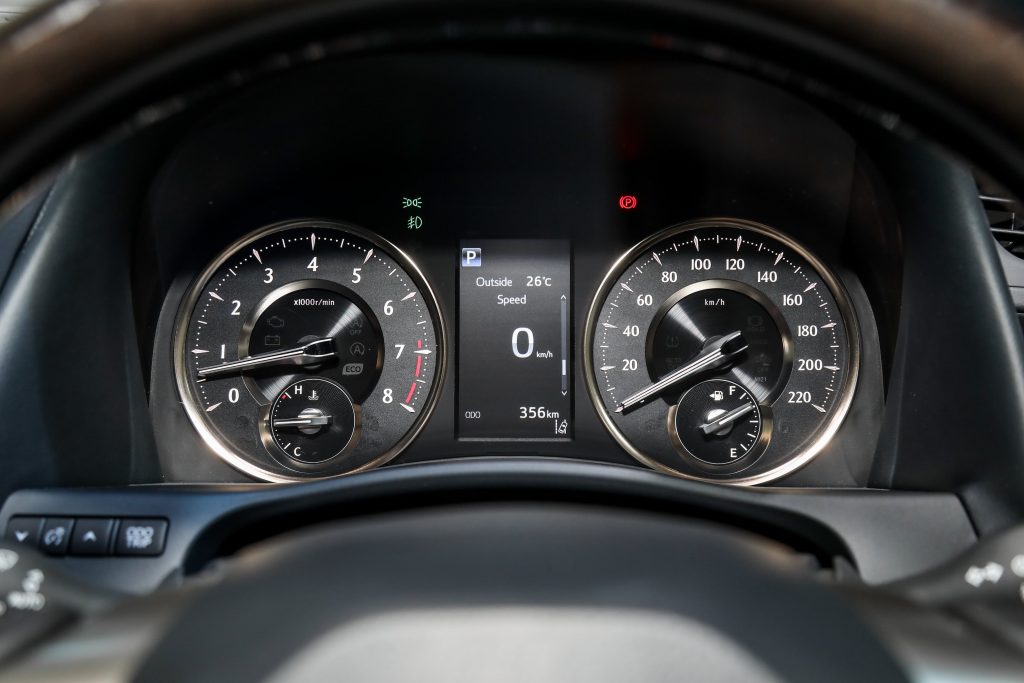 As for what powers the LM350, there lies a 3.5 litre quad-cam V6 that sends 296 hp and 361Nm of torque to the rear wheels via an 8-speed automatic transmission. What is perhaps of greater concern to the rear seat occupants however is the Lexus-engineered suspension system that employs swing valve shock absorber technology, which work in tandem with the 18-inch noise-reducing alloy wheels to deliver exceptional ride quality and on-the-road refinement.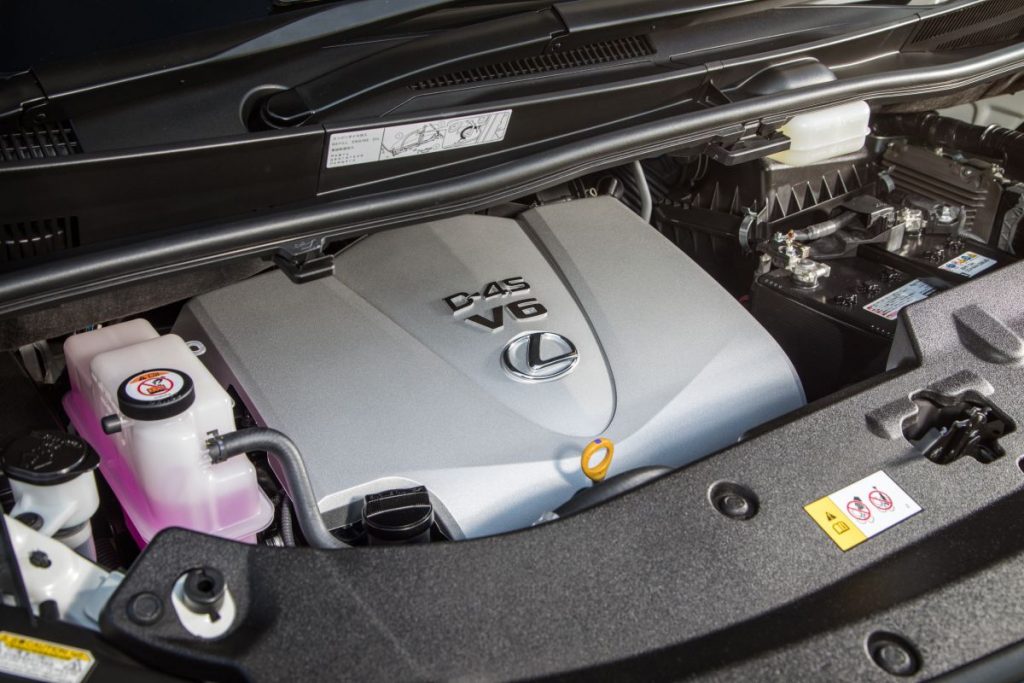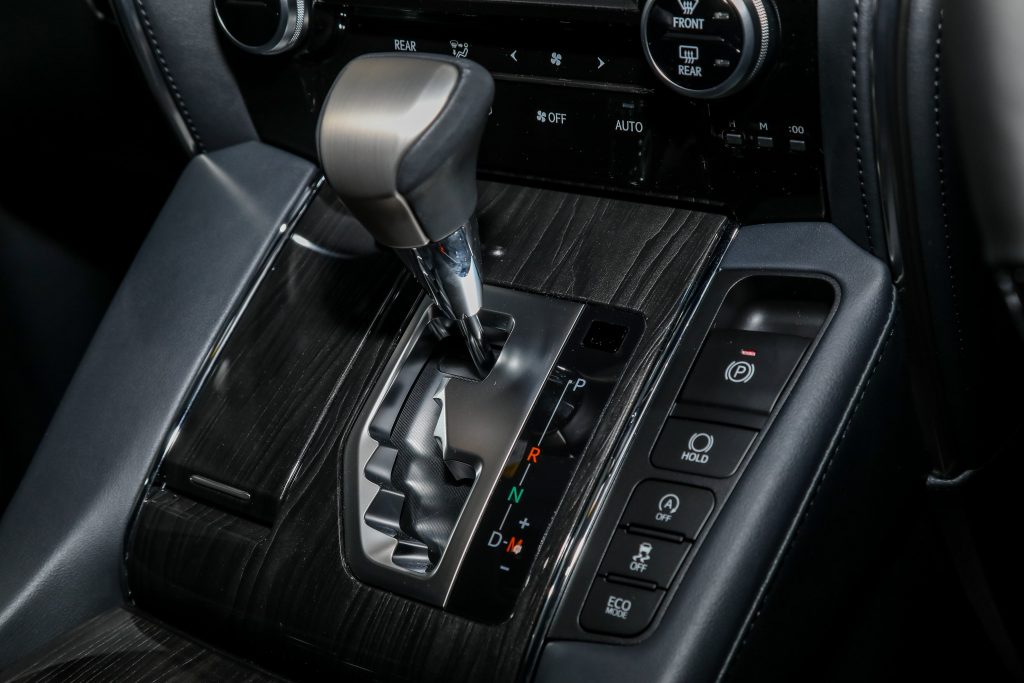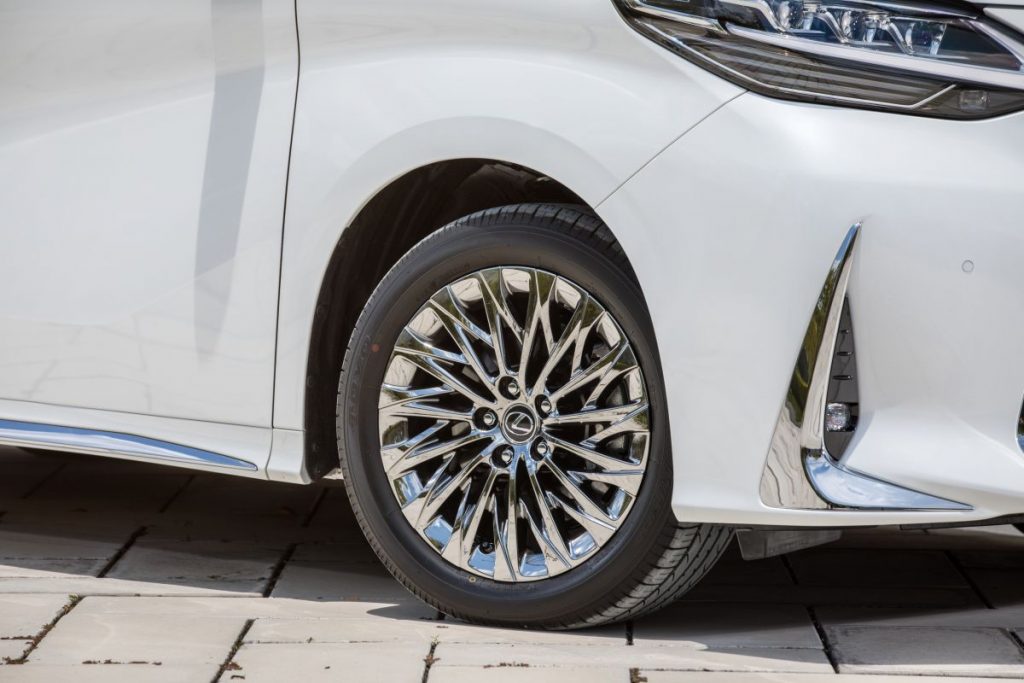 Fully-imported from Japan where it is built in Lexus' Inabe plant, the LM 350 comes with a 5-year unlimited milage warranty and in the choice of either Black or White Pearl Crystal Shine exterior hues. First deliveries of these luxo-MPVs will begin at the end of July, with orders still able to be placed for these Japanese minivans at the six Lexus Centres nationwide.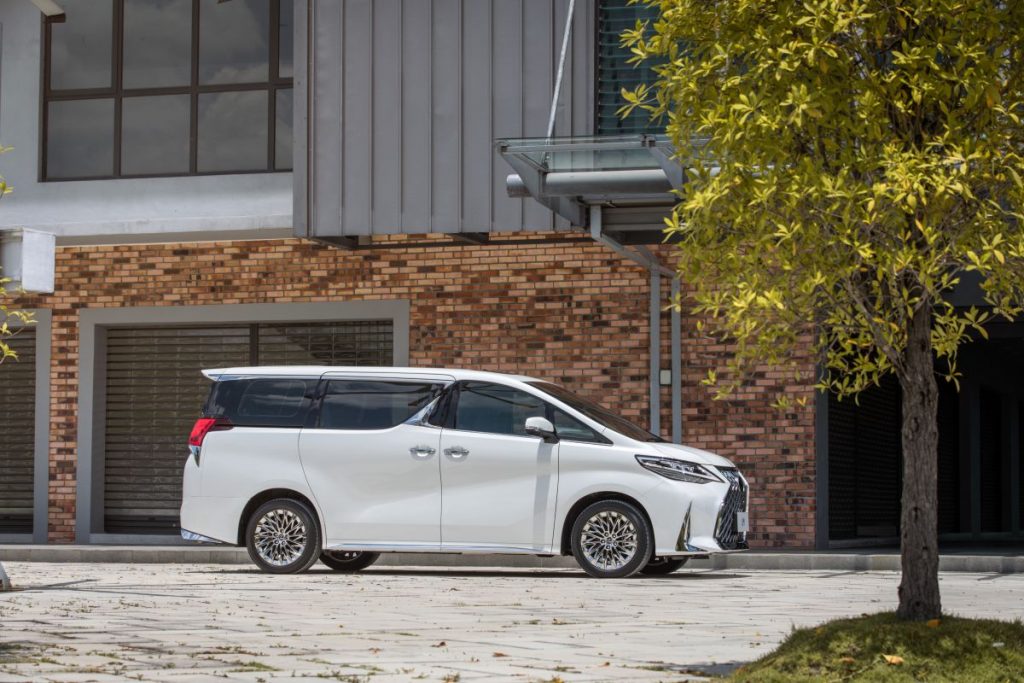 PRESS RELEASE: Lexus Malaysia has raised the stakes in the luxury transportation segment with the launch of the new Lexus LM 350. Conceived by Lexus as a new genre of 'Luxury Mover', the new model encompasses refined expression of Lexus innovation, exquisite craftsmanship as well as the brand's renowned 'omotenashi' hospitality. A true embodiment of a business-class suite on wheels, the LM 350 is designed as a luxurious vehicle designed to pander to the needs and lifestyles of the modern executive. 
Lexus' single-minded pursuit to provide a luxurious cabin space that offers both freedom of body and mind along with an emphasis of precious personal space, results in a next level interior that is simply unparalleled by any standards. 
Drawing on its rich heritage and the skills of Japanese craftsmen, Lexus imbued the LM 350 with qualities that are both cutting-edge and time-honoured. Combined, it offers to enrich individual experiences and quality of life. 
"With its outstanding comfort, sophisticated beauty and exceptional functionality, the Lexus LM 350 has single- handedly redefined the luxury MPV segment by taking fine automobile experiences where no luxury automobile has been," said President of Lexus Malaysia Mr Ravindran K.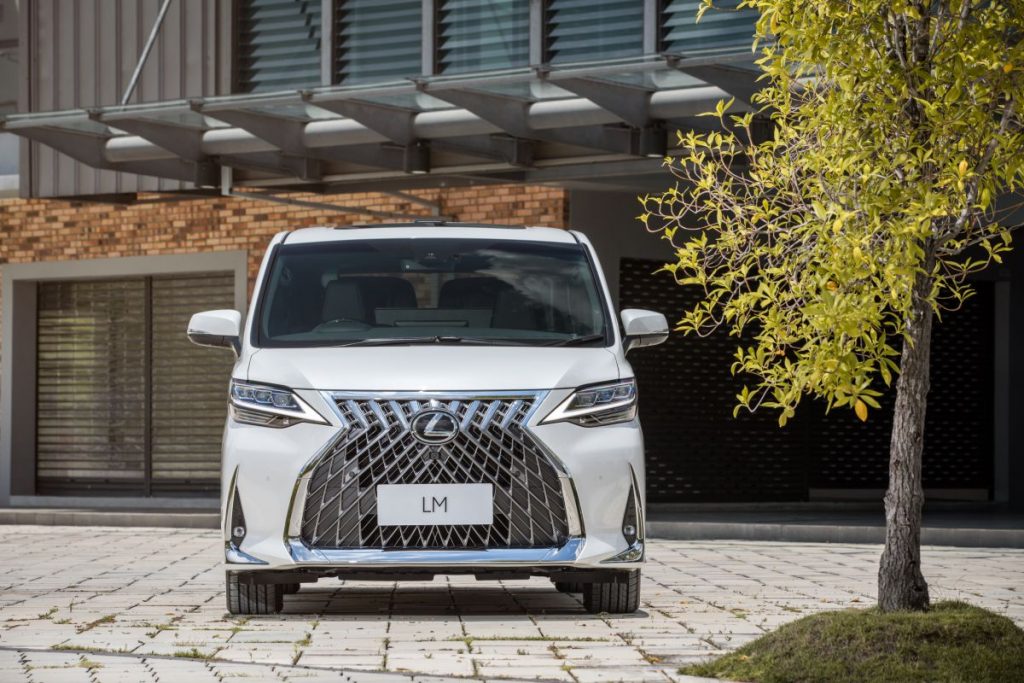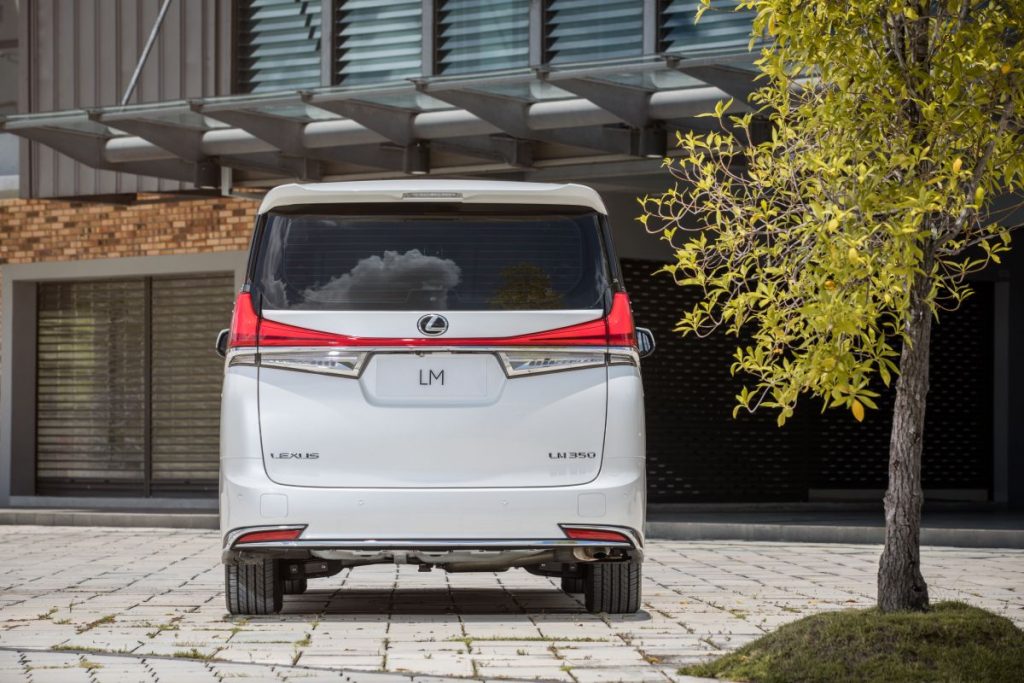 The LM 350 has been designed from the ground-up as a luxury mover for busy professionals who view their vehicle as more than mere transportation. Looking the part as an exceptional luxurious vehicle, Lexus has endowed the LM 350 with a dynamic profile that is elegant and composed. The design of the Lexus LM is defined by its high waistline emphasising strength and spaciousness as well as large spindle grille, which helps frame the ultra-compact 3-beam LED projector headlights. 
Its sharp and bold exterior lines are further accentuated with chrome highlights. The Lexus LM 350's premium nature is further enhanced with striking 18-inch noise-reducing alloy rims finished in hyper chrome metallic. Two colours are available for the new model – Black and White Pearl Crystal Shine. 
As the Lexus flagship MPV, the LM 350 exemplifies the very definition of Omotenashi, the Japanese art of exceptional experiences and hospitality. This new generation chauffeur-driven ultra-premium MPV boasts a luxurious roomy interior for a full sense of space and privacy designed for masters of their field. 
With a focus on pampering its rear passengers, Lexus has equipped the LM 350 with just four seats, allowing plenty of space to accommodate a pair of plush VIP lounge seats in the rear with ample legroom to spare – even with the seats fully reclined. These seats also feature the amazing Adaptipedic cushioning that intuitively forms according to individual body shapes to provide that extra comfort while an Ottoman massage function together with individual cooling and heating functions ensures you arrive perfectly relaxed and ready for your task ahead.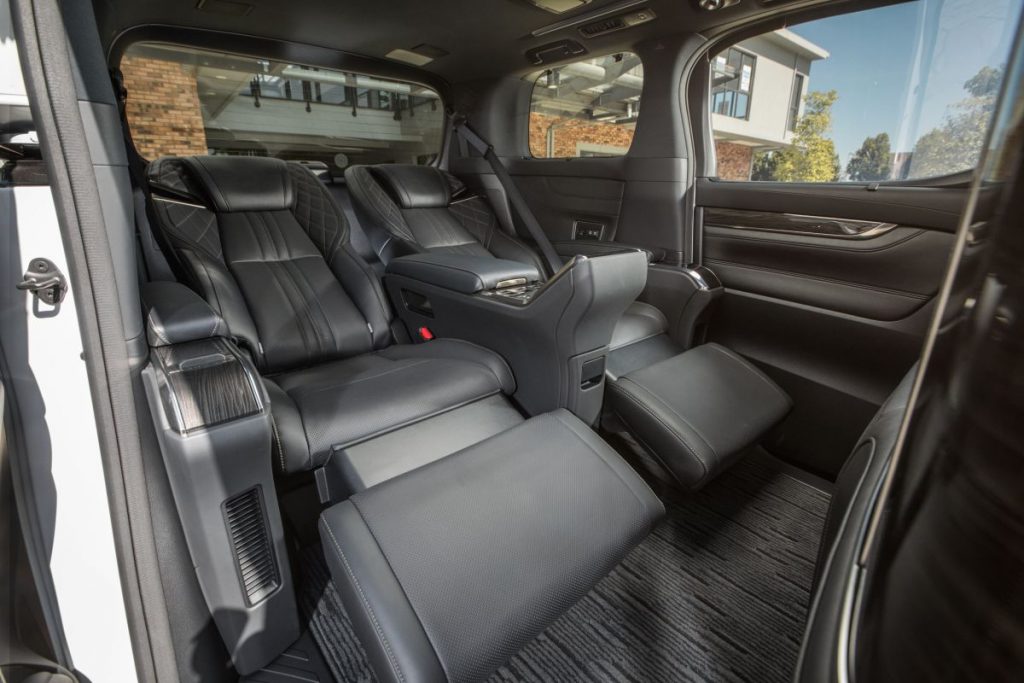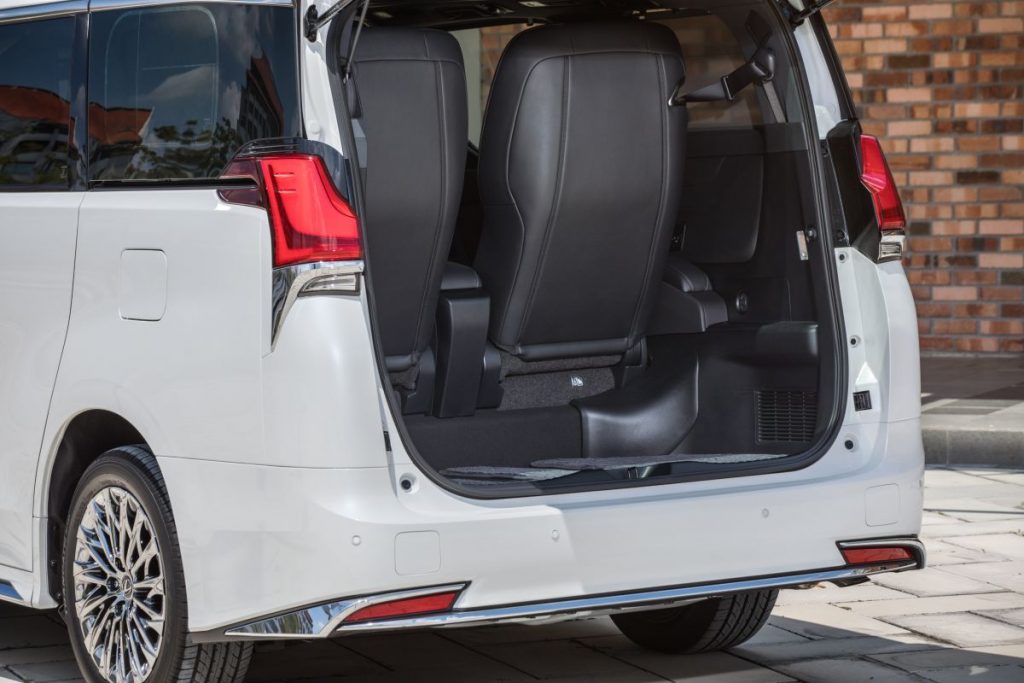 The high-quality cabin not only acts as a cocoon of privacy but also relaxation, with features that are intended to revitalise both body and mind. Boasting the attributes of a luxury study finished with intricate Gin-Sui-Boku ornamentation, every journey in the Lexus LM 350 lathers passengers in sheer luxury. 
Creating the ultimate board room on wheels, Lexus engineers have included a partition between the first and second row seats, the first Lexus model to be offered with this feature. A unique glass panel that can be raised at a touch of a button offers a level of acoustic isolation while electronic particles embedded in the glass panel can change its opacity to ensure that your privacy is never compromised. 
A 19-speaker Mark Levinson reference sound system acts as a dynamic full-bodied sound stage while mounted on the partition is a 26-inch HD display panel with multiple playback functions and connectivity options so you can enjoy your choice of entertainment or conduct meetings on the go. 
Key features of the model also include a fold-out magazine rack as well as large cubicles on both sides of the vehicle for additional storage space. A built-in mini fridge also ensures drinks and treats are always kept chilled. 
While the Lexus LM 350 aims to pamper the rear passengers, the driver is never forgotten and benefits from features available in other Lexus models including a 12.3inch touch screen with controls that be activated through a touch pad, Apple CarPlay, and Android Auto connectivity.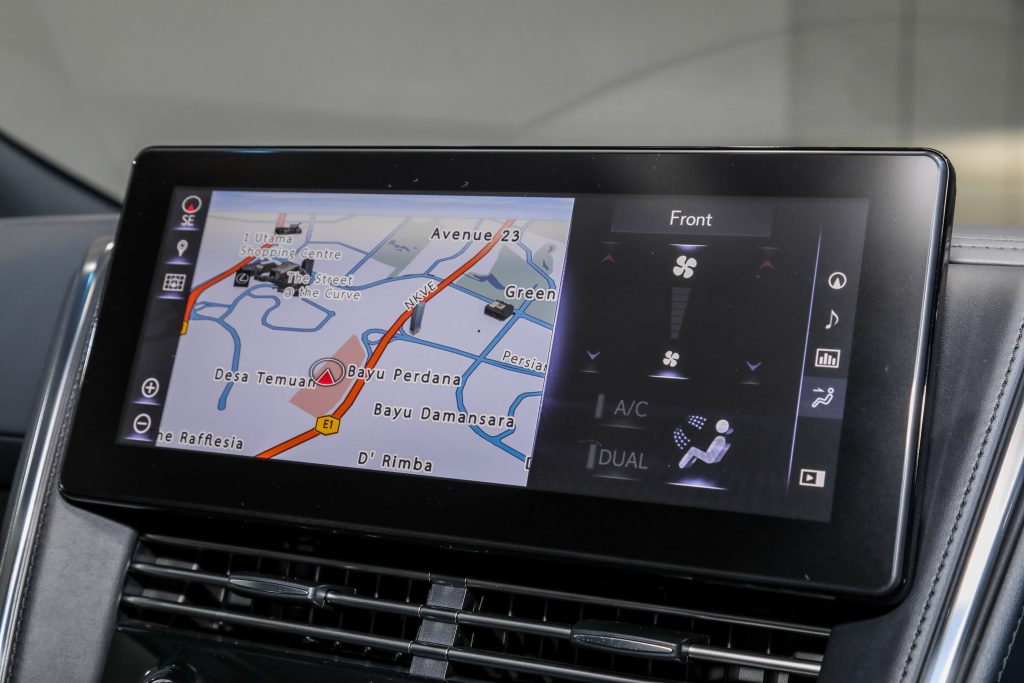 To ensure it measures up to the qualities expected of a Lexus vehicle, the Lexus LM 350 is equipped with a powerful 3.5-litre quad cam V6 powerplant delivering an output of 296hp with 361Nm of torque. Paired with a direct-shift 8-speed automatic transmission, the Lexus LM 350 will glide effortlessly with poise and confidence. 
As with any luxury automobile, ride comfort is paramount and the Lexus LM 350 exemplifies the best in delivering exceptional ride quality. This comes courtesy of its cutting edge Lexus-engineered suspension system that employs swing valve shock absorber technology. Through ultra-low velocity valves within the shock absorbers, the Lexus LM 350 is able to finitely control oil flow thereby allowing the vehicle to quickly respond to road imperfections for that silky-smooth ride. 
Safety has always been a top priority for the Lexus brand. The LM 350 carries the same values to provide unmatched safety for all occupants, courtesy of the Lexus Safety System + (LSS+). It features, amongst others, the Pre-Collision System (PCS), Dynamic Radar Cruise Control (DRCC) with stop and go function, Lane Tracing Assist (LTA), Lane Departure Alert (LDA) and Adaptive High-Beam System (AHS). The inclusion of seven airbags including two side curtain airbags further reduce the risk of serious injury in a collision. 
"The LM 350 undoubtedly evolves the concept of the luxury chauffeured vehicle," explains Mr Akio Takeyama, Deputy Chairman of Lexus Malaysia. "By infusing the Lexus' innovative approach in vehicular manufacturing, cutting-edge technology and Takumi craftsmanship, the model exudes a fresh expression of model luxury that is second to none. It is a vehicle that places a premium on precious personal time by providing the ultimate relaxing space to ease the mind, restore energy and inspire the spirit while on the move," he added. 
The 4-seater Lexus LM 350 is priced at RM1,148,000 on the road without insurance (Peninsular Malaysia) and is available at all six Lexus Centres throughout the country. The first customers of the Lexus LM 350 will receive their brand new luxury movers produced in the Inabe plant from as early as the end of July and as with all Lexus Malaysia vehicles, the Lexus LM 350 enjoys a comprehensive 5-year unlimited mileage warranty.