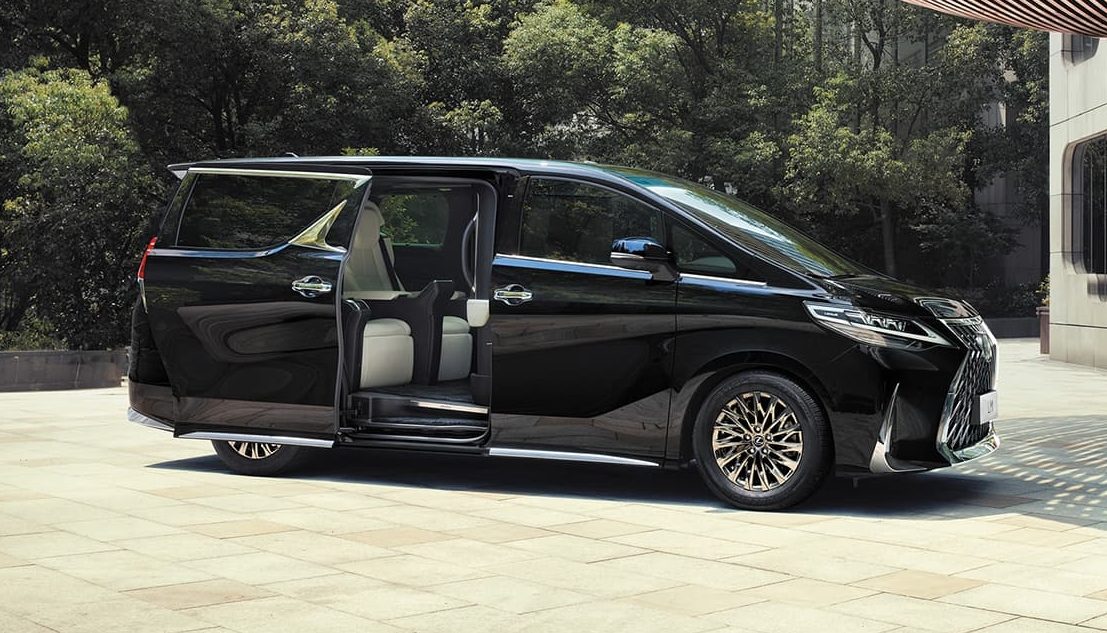 This new pimped-out Toyota Alphard with a Lexus badge is set to cost RM 1.15 million here. 
Lexus Malaysia has recently announced that it is will start to accept bookings for the LM350 luxury MPV locally. Priced at an eye-watering RM 1.15 million, this four-seater Luxury Mover will only launch here in May of next year.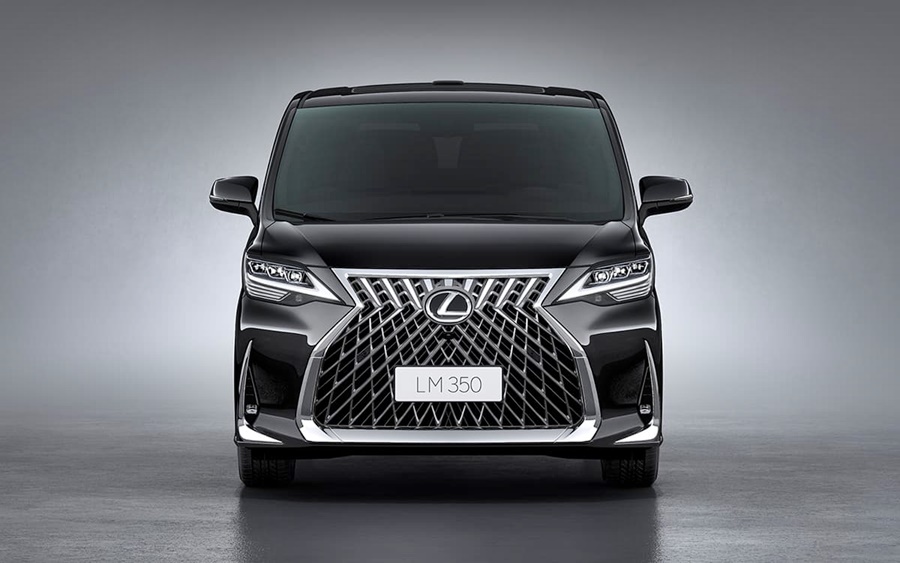 Now to the many who have noticed that this is pretty much a tarted up Toyota Alphard with a fancy badge, it is therefore a reasonable question to ask why pay an extra RM 700k premium when one could easily walk into UMW Toyota and buy an Alphard for just RM 446k. Well the truth is that there is actually quite a few key distinguishing features that are only found in the LM350, some of which might just make the wealthy consider splashing the extra cash for the Lexus. 
According to Japanese premium automaker themselves, the Lexus expression of Omotenashi hospitality can supposedly be experienced within this 'exquisitely-crafted MPV'. Marketing fluff aside though, the biggest difference in terms of the interior of the LM350 is the presence of only two VIP lounge seats out the back, instead of the usual four seats found in the Alphard.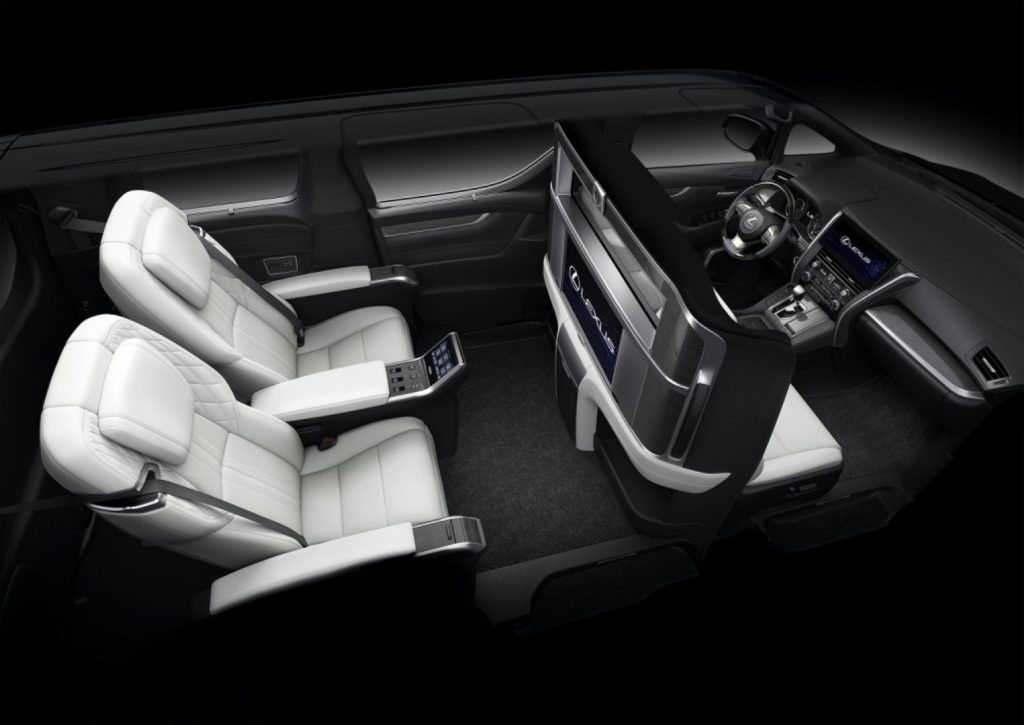 Featuring both heating and cooling capabilities, as well as an Ottoman massage function, these twin fully-reclinable Adaptipedic rear thrones in the LM350 supposedly offer a much more luxurious experience than the captain chairs found in the second row of its Toyota counterpart. Furthermore, for when the occupants within are feeling peckish or thirsty, a mini-fridge is standard on the LM350, as are a fold-out magazine rack and large cubicles on either side of this luxury MPV.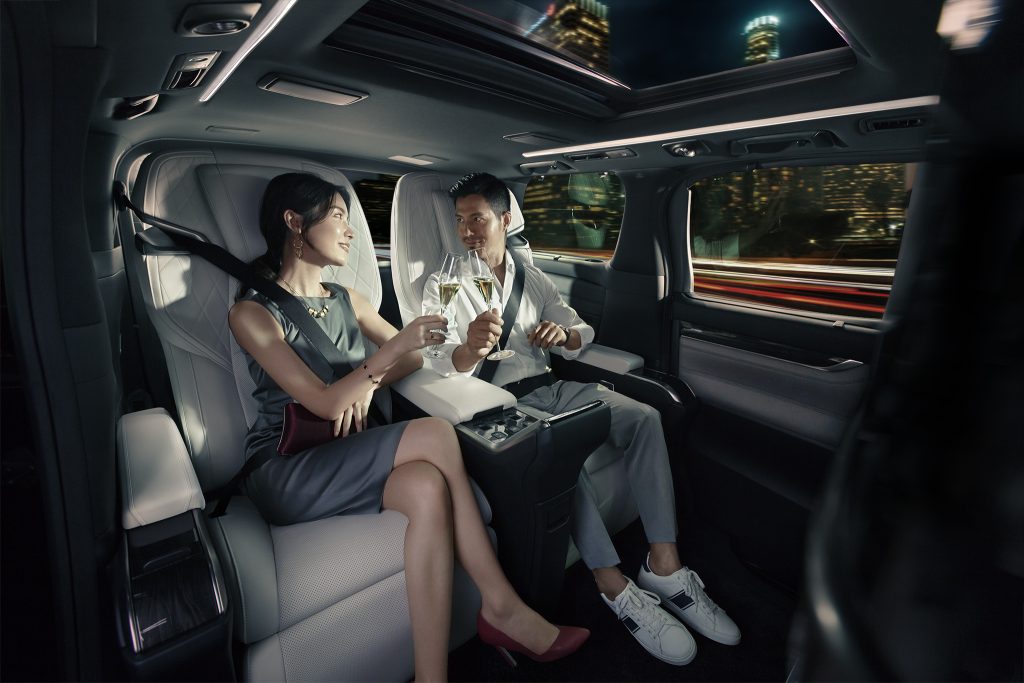 Adding to this luxury experience is a 26-inch full HD display panel mounted between the two rows of seats. The sound meanwhile for whatever that is playing on screen comes courtesy of the 19-speaker Mark Levinson reference sound system, that apparently offers 'opera-house clarity'. Having said all that, perhaps the most impressive interior feature within the cabin of the LM350 is the glass partition that can be raised or lowered at a touch of a button, thereby separating the front driver's compartment and the rear occupant space.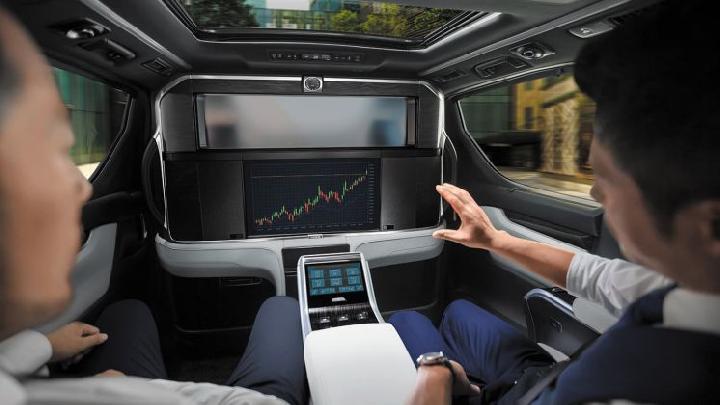 Beyond the glass partition up front, the inevitable chauffeur will be seated on a semi-analine leather front seat, and will have control of the 12.3 inch central infotainment touch screen with integrated Apple CarPlay and Android Auto.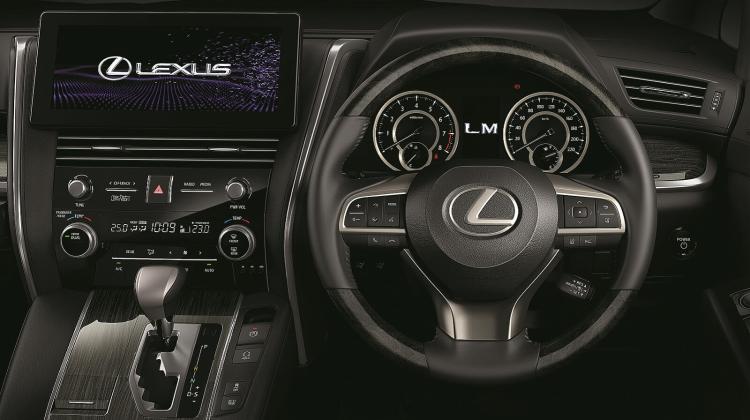 As for the exterior, the Lexus also features a few visual enhancements over its Toyota counterpart. Chief among which is the new spindle grille that emulates the front end aesthetic of the rest of the current Lexus lineup. Other exterior enhancements found on the LM350 include 3-beam LED projector headlights and noise-reducing 18-inch alloys, that are housed within an unmistakably Alphard-esque side profile.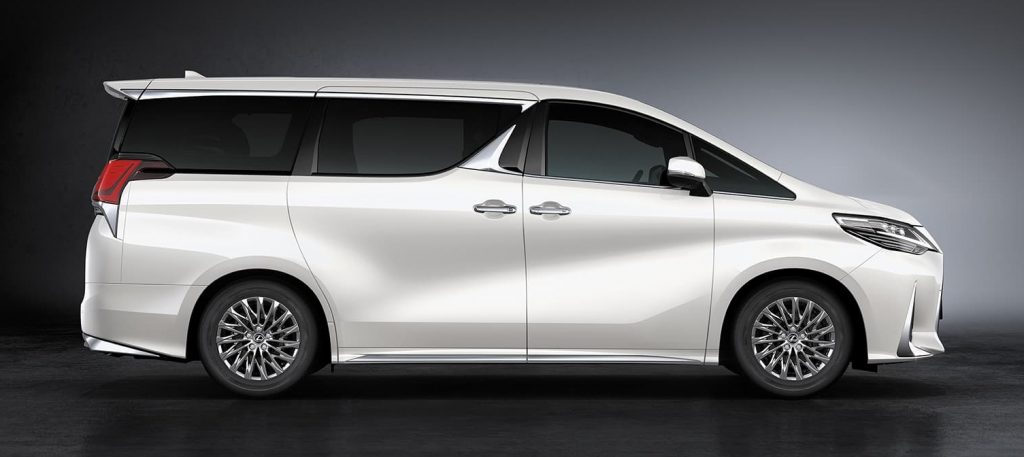 Moving under the bonnet, the Lexus' Alphard roots continue here too with a carry-over Toyota 2GR-FKS 3.5 litre naturally-aspirated V6 that is mated to 8-speed automatic transmission driving the front wheels. Nevertheless, this well-proven power plant still develops an adequate 296 hp and 361 Nm of torque, which is more than capable of allowing this luxury MPV to 'make light work of any journey as it whispers along in quiet confidence'.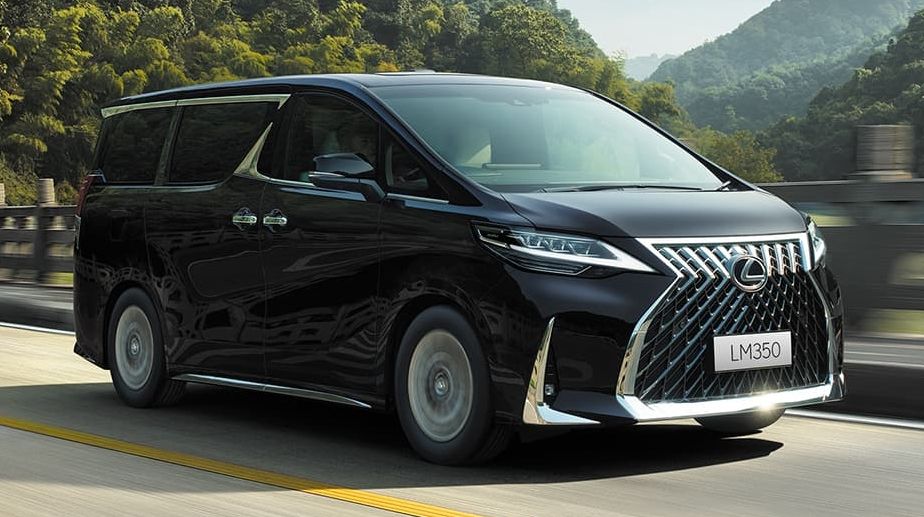 On the topic of making light work of any journey, LM350 also features all the prerequisite active and passive safety aids as part of the Lexus Safety System+ (LSS+). Additionally, Lexus Malaysia is offering a 5-year unlimited mileage warranty for further peace of mind ownership. 
Available in either black or white exterior hues, prospective buyers of this tarted-up 4-seater Toyota minivan can now place their bookings at any one of the six Lexus Centres nationwide. While the launch is set for May 2021, buyers are only set to receive the keys to their LM350s a month after that.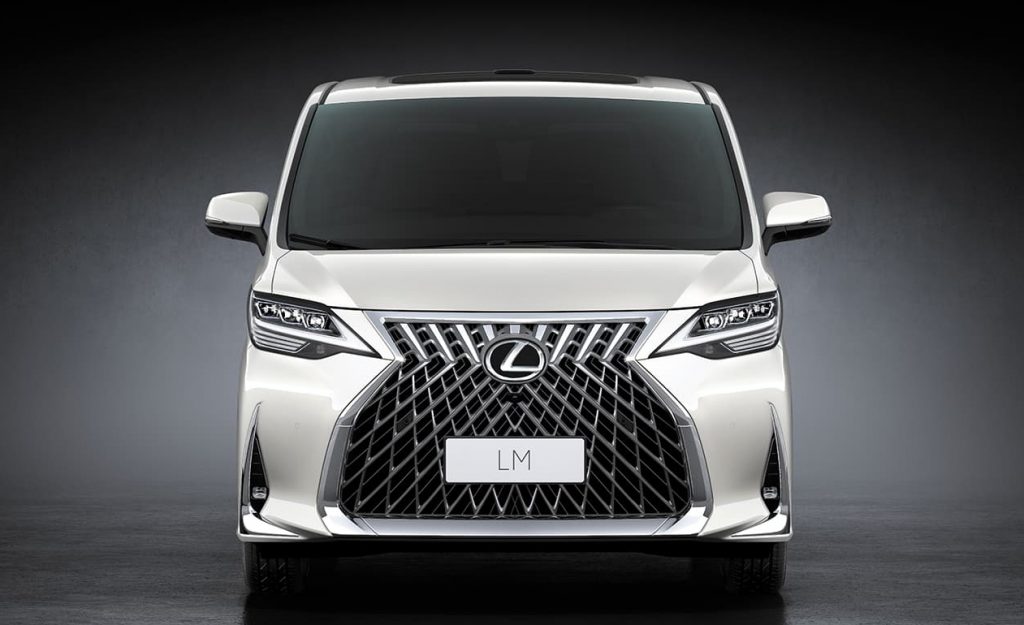 PRESS RELEASE: When Lexus decides to develop a spacious executive vehicle for your travels, you are assured that they will envelop you in total luxury and style ensuring that your every journey is filled with an aura of prestige. 
Enter the Lexus LM350, an exquisitely-crafted MPV with the Lexus expression of Omotenashi hospitality. This mobile first class lounge articulates the sense of a Luxury Mover where passengers arrive in better shape than when they left. 
From the outset, the Lexus LM350 cuts a dynamic outlook that expresses elegance and confidence in motion. The large spindle grille contrasts the ultra-compact 3-beam LED projector headlights while the high waistline impresses a vehicle of strength and spaciousness. Elegant 18-inch noise-reducing alloy rims finished in hyper chrome metallic blend perfectly with the chrome accents sprinkled sparingly around the vehicles.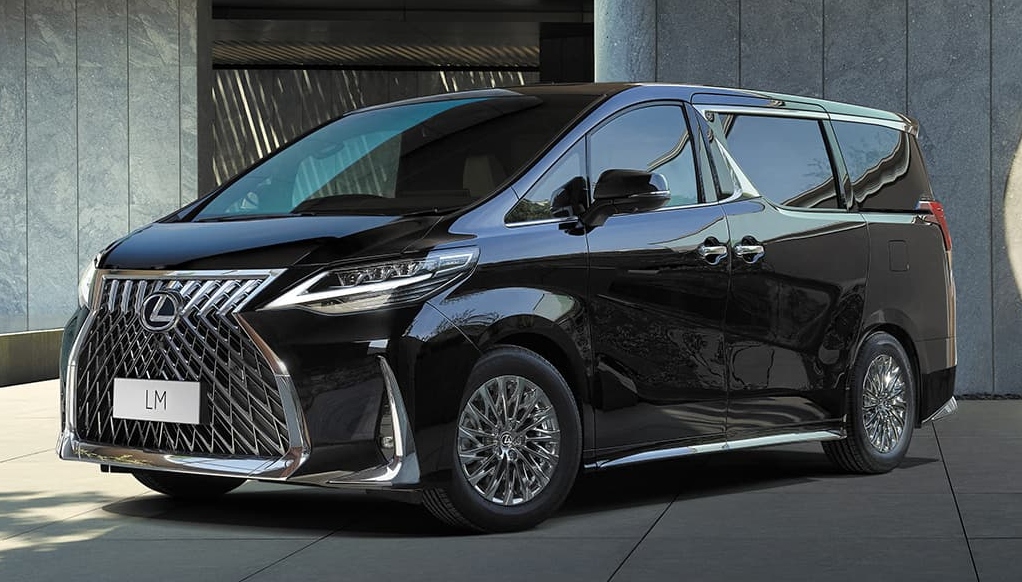 A powerful 3.5-litre quad cam V6 pushing out 296hp and 361Nm of torque ensures that this full-sized MPV is able to cruise sedately with ample power to spare when needed. Transmitting power to the front wheels through a direct-shift 8-speed automatic transmission, the Lexus LM350 makes light work of any journey as it whispers along in quiet confidence. 
Undoubtedly, safety remains a priority for all Lexus models and the LM350 comes with no less than the Lexus Safety System + (LSS+). It features the Pre-Collision System (PCS), Dynamic Radar Cruise Control (DRCC), Lane Tracing Assist (LTA), Lane Departure Alert (LDA), Adaptive High-Beam System (AHS) and Rear Cross Traffic Alert (RCTA) among others while seven airbags including two side curtain airbags reduce the risk of serious injury in a collision. 
Inside the Lexus LM350 is where the pearl is truly found. The driver undoubtedly gains many of the features available in other Lexus models including a 12.3 inch touch screen with controls that be activated through a touch pad, Apple CarPlay and Android Auto connectivity and plush semi-aniline leather seats. But much of the focus is placed on pampering the rear passengers. 
By placing just four seats in the Lexus LM350, there is an abundance of space to accommodate the pair of VIP lounge seats with generous legroom available even when the Adaptipedic seats are fully reclined. Activate the Ottoman massage function in the air cooled or heated seats through touch controls on the rear central console to sooth you after a long day in the office. Enjoy too the dynamic full-bodied sound stage created by the 19- speaker Mark Levinson reference sound system that is able to offer you opera-house clarity.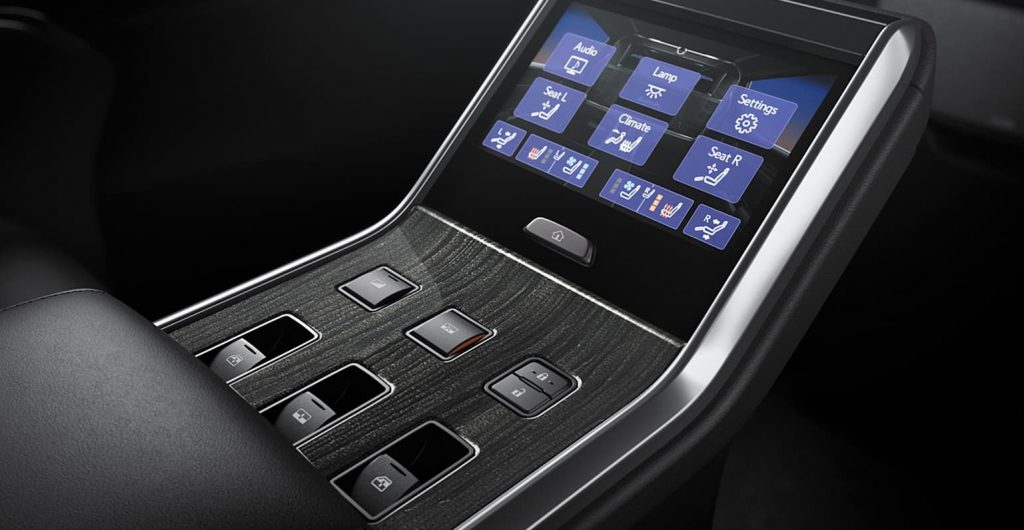 Every journey in the Lexus LM350 is never just idled away as there is a 26-inch full HD display panel mounted between the two rows of seats. The screen has numerous playback functions and connectivity options so you can catch up on your favourite series or even conduct meetings in Lexus comfort. To ensure your privacy, Lexus engineers have included a glass partition that can be raised or lowered at a touch of a button. 
With space comes the ability to indulge. A fold-out magazine rack ensures that your daily readings can be tucked away neatly while large cubicles on both sides of the vehicle allows you to elegantly stow a handbag or an attache case out of the way. A mini fridge ensures your drinks are kept chilled at the optimum temperature that you prefer. 
"In true Lexus fashion, the engineers have crafted a vehicle that heralds a new level of dignity in luxury motoring. From the immense road presence of the vehicle to the finite details of each interior component, the all-new Lexus LM350 is crafted to exceed the desires of those who appreciate the highest level of style and comfort on the move," said President of Lexus Malaysia Mr Ravindran K. 
"Lexus has once again delivered on the promise of elevating executive-class travel on the road. Whether your journeys are for urban commutes or inter-state travels, the notion of being transported in sophisticated elegance, top-level comfort and advanced safety is not compromised. Few vehicles on the road today are able deliver you in such a capable and dignified manner as the LM350 does," added Deputy Chairman of Lexus Malaysia Mr Akio Takeyama. 
With the official launch of the all-new Lexus LM350 expected to be held in May of 2021 with the first owners receiving the keys a month later, Lexus Malaysia is encouraging eager buyers to place their bookings now to secure their vehicles. 
All six authorised Lexus Centres around the country will be ready to accept orders of the Lexus LM350 from 23rd December 2020 for the 4-seater Lexus LM350 that is priced at RM1,148,000 on the road without insurance (Peninsular Malaysia). Two colours are available for the new model – Black and White Pearl Crystal Shine and all Lexus Malaysia vehicles enjoy a comprehensive 5-year unlimited mileage warranty.