Automotive
News
Lamborghini Crash Causes Massive Jam In KL This Morning
A shunt between a Lamborghini Gallardo and two other cars has brought KL to a standstill this morning. 
With Kuala Lumpur slowly but surely getting back to its feet again after many months of the pandemic, there has been a noticeable increase in the traffic too in and around the streets of Malaysia's most populous city. Though congestion this morning has been slightly worse than usual for those who were unfortunate enough to be on Jalan Tun Razak, as a coming together between a Lamborghini Gallardo and two other cars have effectively brought that part of town to a standstill. 
Occurring at around 8 am today, a purple Gallardo had experienced a rather major shunt with a red Suzuki Swift and what looks to be a brown Proton Perdana(?) on the flyover near Institut Jantung Negara (IJN). Details however on this recent road accident are unfortunately still rather slim on the ground at the moment, but the traffic reports have nevertheless confirmed that the subsequent 3 kilometre jam experienced by morning commuters via this route will add about 20 minutes to their commute.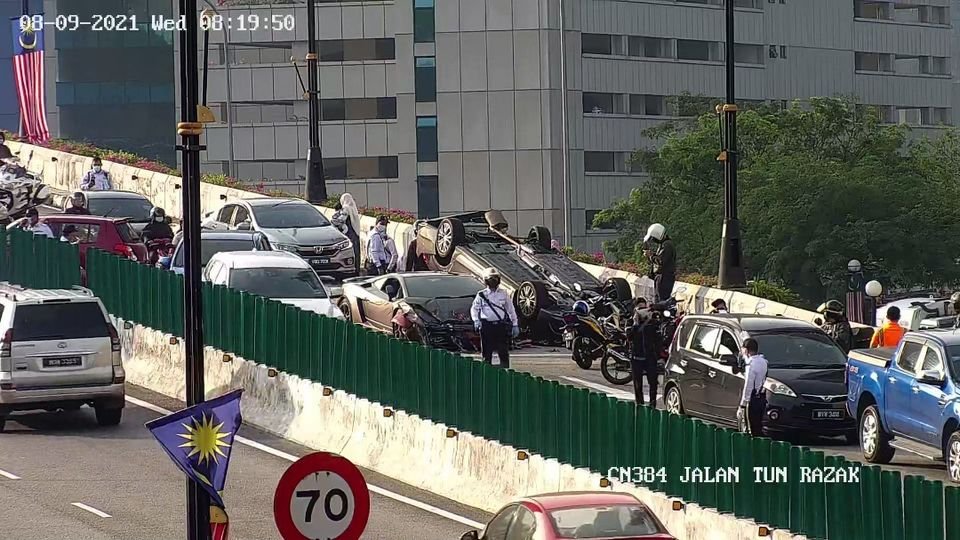 Going by the pictures too of the accident, it is rather clear to see that it will be a while before the traffic situation on that stretch of road will be back to normal. This is particularly considering that the crash has been spread across both lanes of the bridge, and what is presumed to be the Perdana is currently on its back as a result of its coming together with the Italian supercar. 
Now despite the damage sustained by these three cars, it is also perhaps safe to say that all victims of this crash had fortunately managed to escape with no major physical injuries. Further analysis of the photos too do paint a reasonably picture of the Gallardo having punted the sedan in its right rear corner probably in a lane changing manoeuvre while coming down the bridge, and this initial collision is what likely eventually sent the red Swift into the dividing barrier.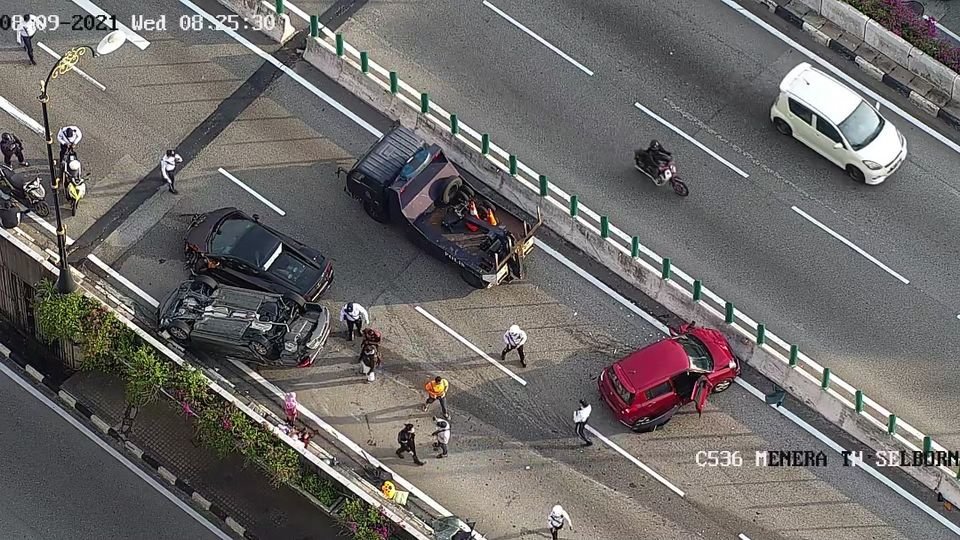 All said however, the above hypothesis as to the cause of the crash is still very much that at the moment. Exactly as to what caused this accident to occur in the first place too is also very much up in the air currently, but a betting man might probably be putting his chips onto the Lamborghini driver having opened the taps a little too wide on the raging bull this morning when heading downtown. 
It is therefore prudent then to once again remind all Malaysians that the public roads are not one's personal race track, no matter how fancy one's wheels are and how capable a driver one might think they are. Fortunately the accident this time round will only hurt the various parties involved financially, but the carnage left behind has still brought about a rather insignificant amount of frustration to the morning KL commuters nonetheless.