Automotive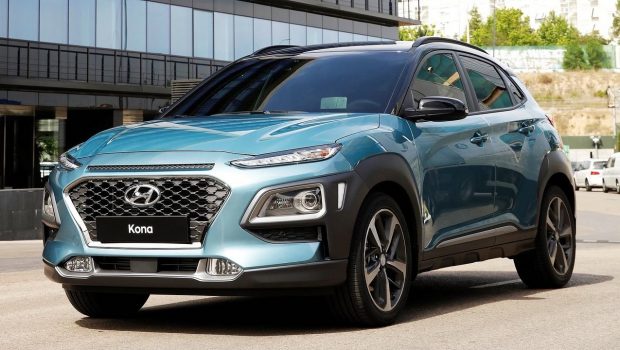 Published on October 30th, 2020 | by Joshua Chin
0
Hyundai Kona Finally Arrives In Malaysia, From RM 116k
The Hyundai Kona is the latest addition to the crowded compact crossover segment. 
It has been a really long time coming but the Hyundai Kona has finally arrived in Malaysia. Arriving a mere three days after the launch of its biggest rival, the Proton X50, this compact crossover that is fully imported from South Korea aims to be the funky choice in this ever-popular and ever crowded segment of the market.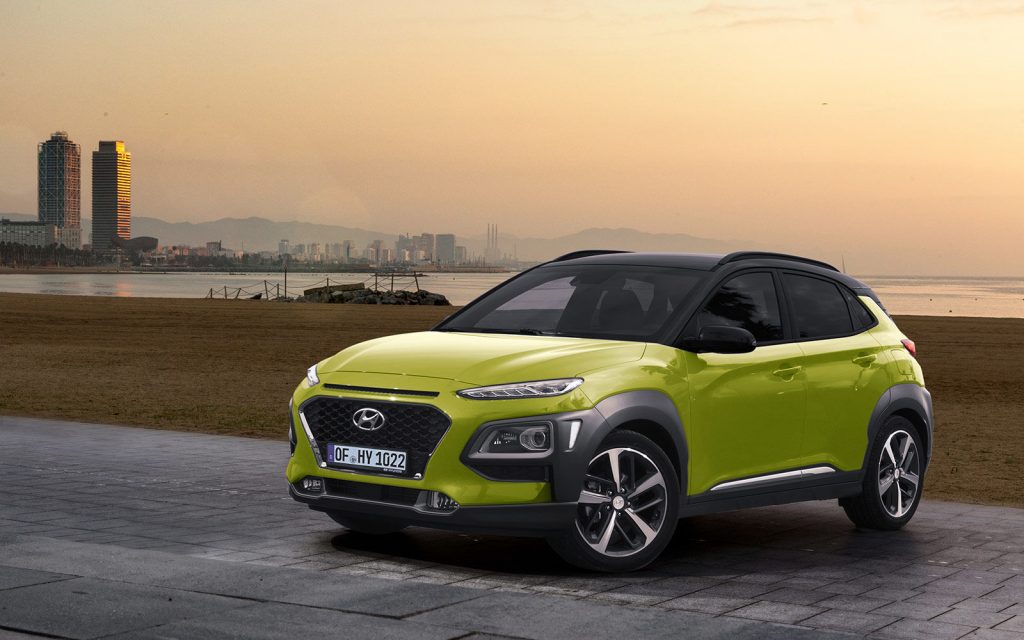 Three variants of the Kona will be brought in by Hyundai Sime Darby Motors (HSDM), with prices ranging from RM 116k to RM 144k. The price breakdown for each trim level (with tax incentives) are as follows:
2.0 L Standard: RM 115,888
2.0 L Active: RM 130,888
1.6 L Turbo: RM 143,888
Without tax incentives, the Kona will cost RM 123,888, RM 138,888 and RM 151,888 for each of the variants stated above respectively. It is worth noting too that all three variants arriving locally are that of the pre-facelift Konas and all of them drive only the front wheels.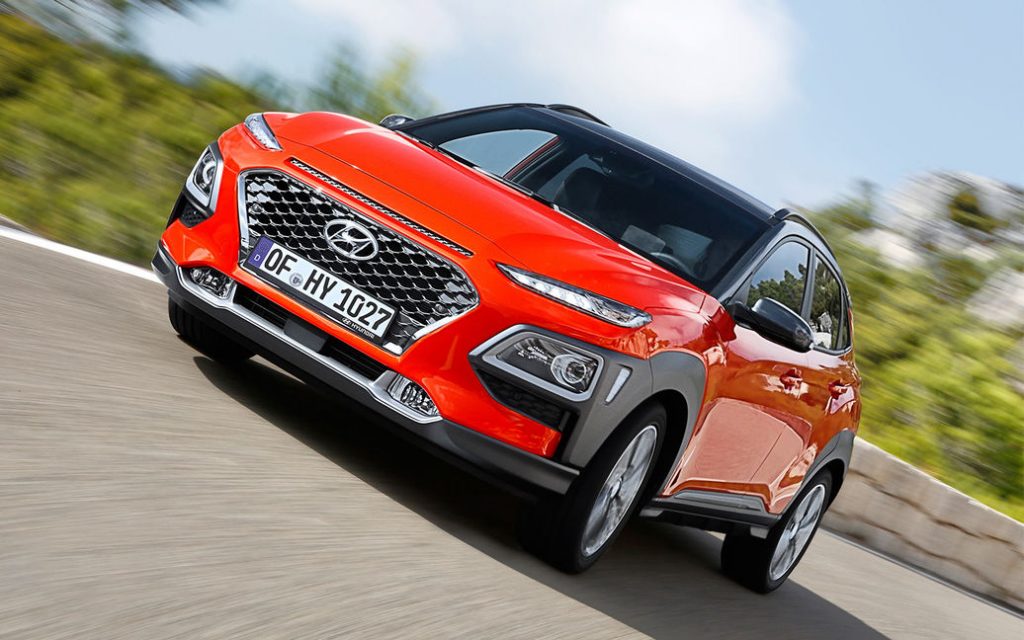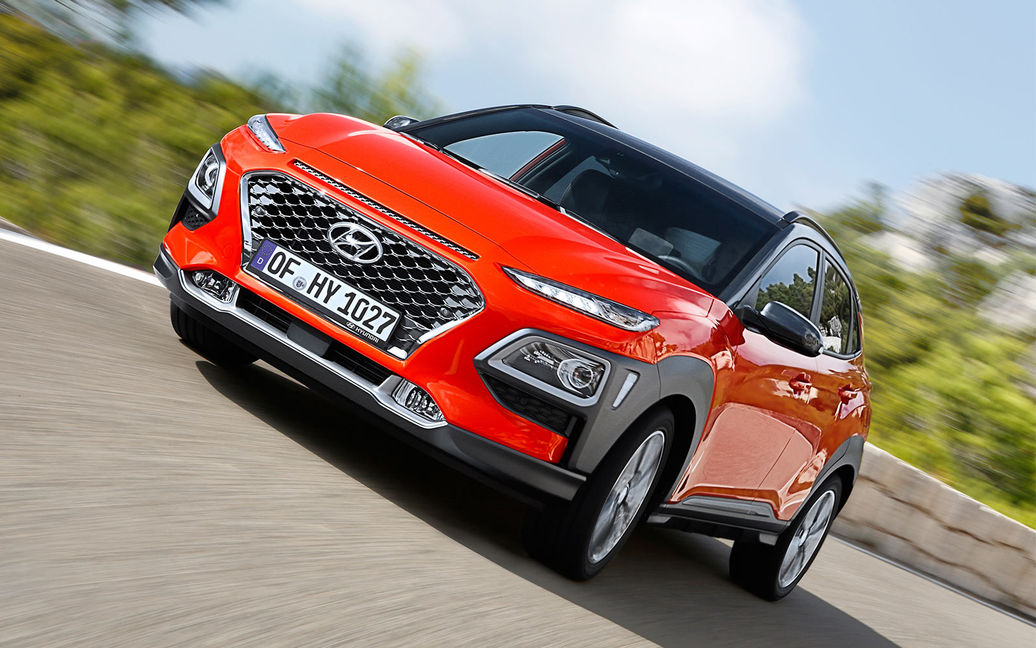 As for powertrain options driving those front wheels, the lower two trim levels will feature a 2.0 litre naturally aspirated four-cylinder that outputs an adequate 149 hp and 179 Nm of torque. The highest trim level Kona meanwhile is equipped with a 1.6 litre T-GDi turbocharged four-cylinder unit which makes a healthy 177 hp and 265 Nm of torque. Transmission-wise, 2.0 litre engine is mated to a six-speed automatic gearbox whereas the 1.6 litre turbo power plant is equipped with a 7-speed dual clutch transmission. 
All Konas will come as standard with 7 inch central infotainment touchscreen with integrated Apple CarPlay and Android Auto, not to mention a 4.2 inch LCD display flanked by twin analog dials in the instrument cluster. Keyless-go, a reversing camera and a tire pressure monitoring system are also standard across the range, as are the pre-requisite safety acronyms like hill start assist, hill descent control and six airbags.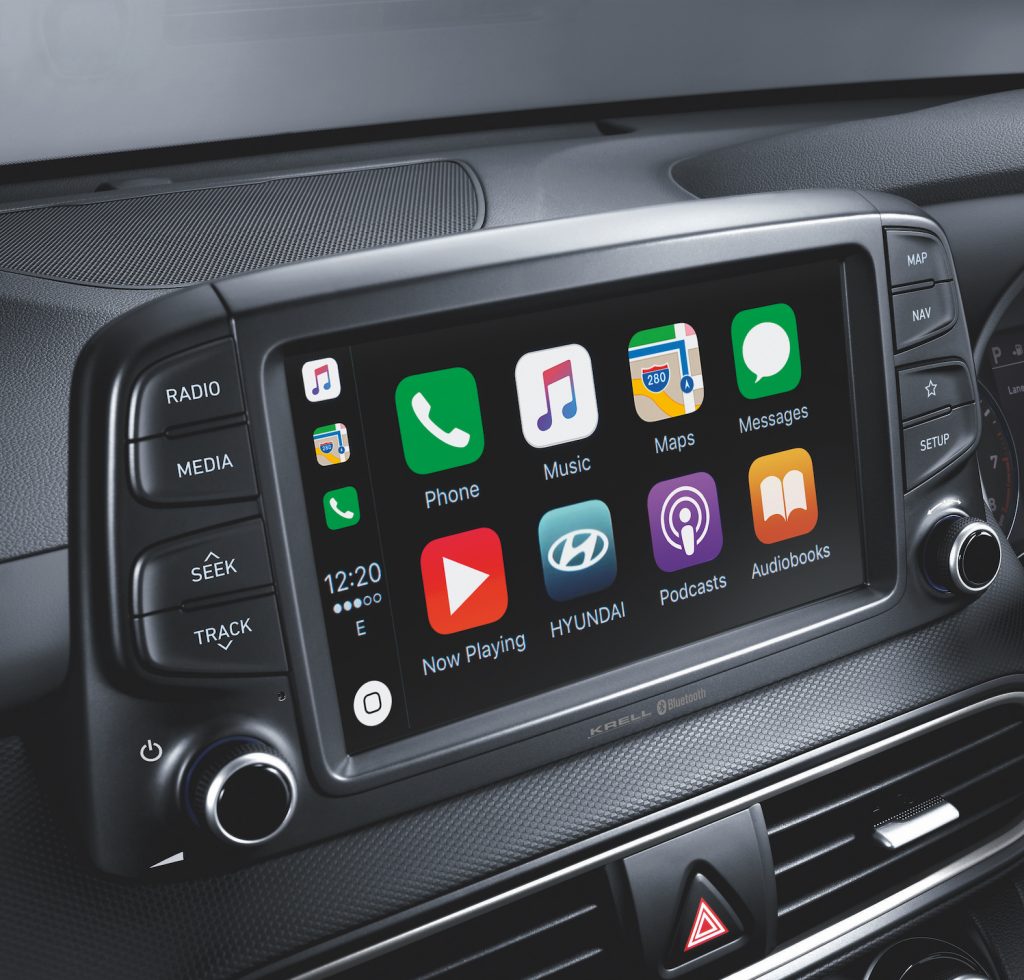 For a further spec breakdown, the base spec 2.0 L Standard Kona is available with 17 inch alloy wheels, fabric seats with leather accents and a front seat passenger seatbelt reminder. Stepping up to the mid-spec 2.0L Active variant adds 18 inch dual-tone alloys to the outside of the Kona, in addition to power adjustment on the driver's seat on the inside. A configurable heads up display is also standard from here on up, as well as Blind Spot Collision Warning (BSCW) and Rear Cross-Traffic Collision Warning (RCCW).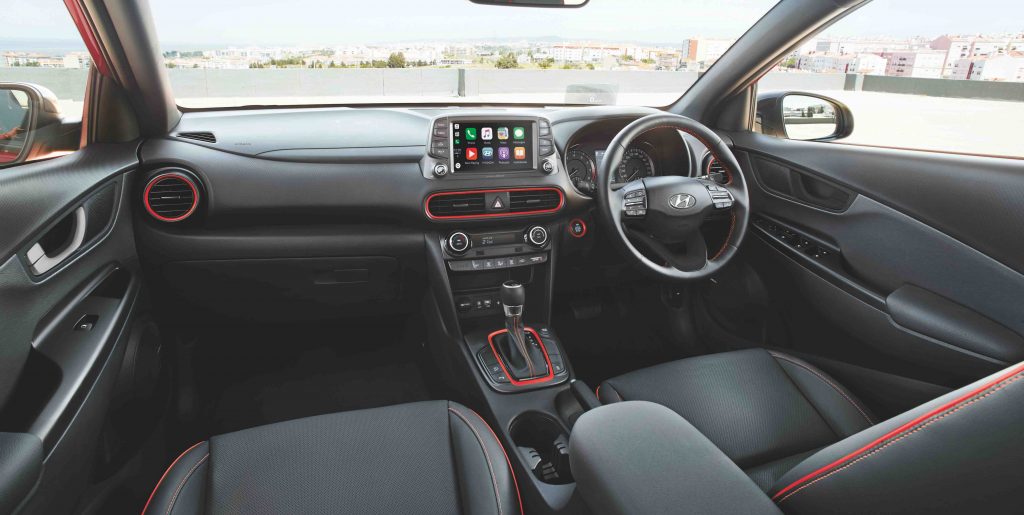 The top-spec 1.6L Turbo variant meanwhile is the only Kona to feature Hyundai's full active safety suite, which adds Lane Keeping Assist (LKA), High Beam Assist (HBA), Forward Collision Warning (FCW), Driver Attention Warning (DAW), Forward Collision Avoidance Assist (FCA) among others. Distinguished by its dual-tone exterior paint finish, this top trim level also adds a Qi Wireless charging pad, in addition to a full leather interior.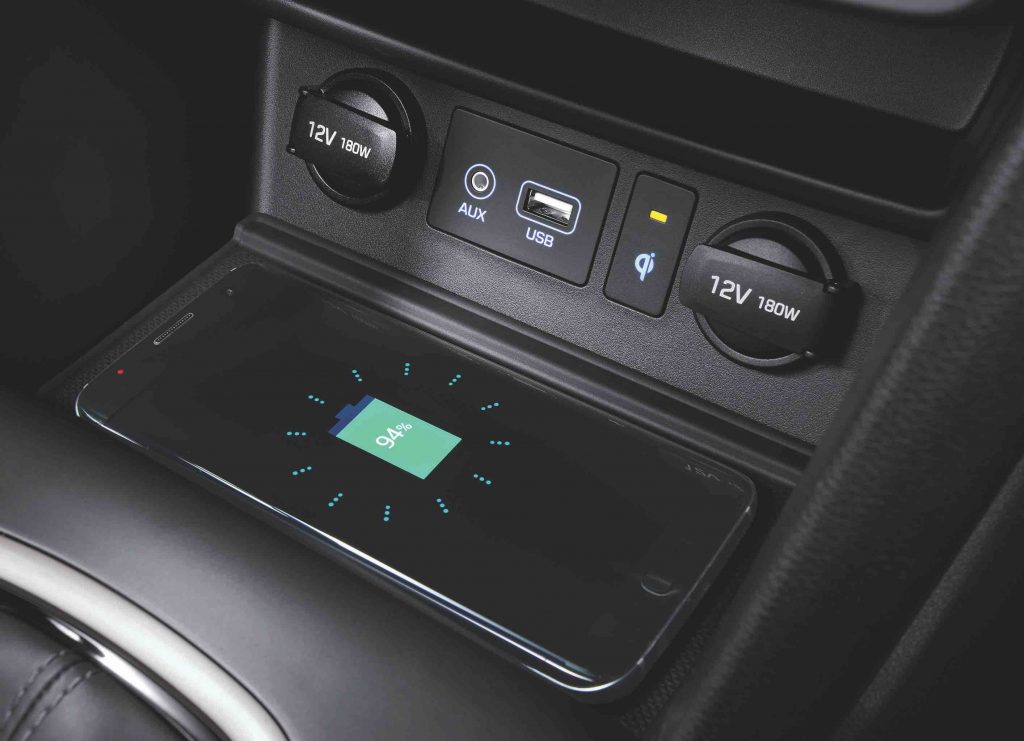 In keeping with the funky theme that is to be the main selling point of the Kona, naturally then a range of eye-catching colour combinations are available that makes this compact crossover stand out from the crowd. This funky aesthetic though is not only limited to the exterior, as the cabin gets a splash of colour too, on trim pieces like the seat piping, seat belts and air vent surrounds.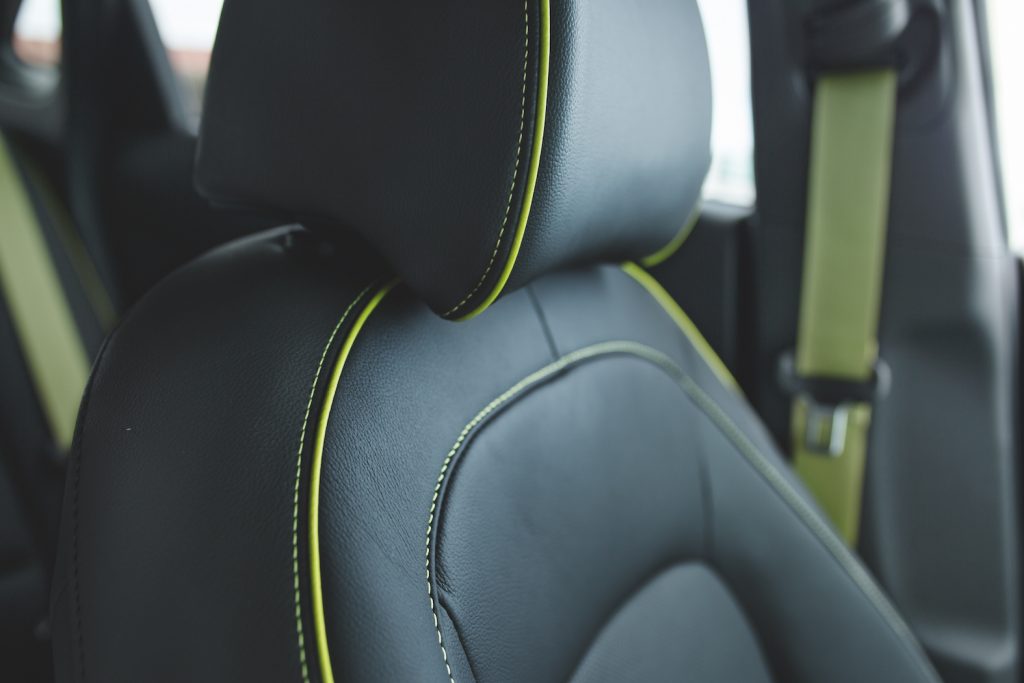 A full breakdown of the colour combinations corresponding to trim level can be seen below: 
2.0L Base
Phantom Black Exterior with Grey Interior trim
Lake Silver Exterior with Grey Interior trim
2.0L Active
Chalk White Exterior with Lime Green Interior trim
Phantom Black Exterior with Red Interior trim
Pulse Red Exterior with Red Interior trim
Blue Lagoon Exterior with Grey Interior trim
1.6L Turbo
Chalk White Exterior (Dual Tone) with Lime Green Interior trim
Phantom Black Exterior (Dual Tone) with Red Interior trim
Pulse Red Exterior (Dual Tone) with Red Interior trim
Blue Lagoon Exterior (Dual Tone) with Grey Interior trim
Ceramic Blue Exterior (Dual Tone) with Grey Interior trim
Despite being priced competitively against the locally assembled Honda HR-V, it's closest direct competitor, it is a given that the Kona will struggle when comparing it to the local compact crossover juggernaut that is the Proton X50. Especially considering the price delta. That said, to anyone looking to stand out from the crowd with something a little bit out of left field, the Hyundai Kona would is a thoroughly competent compact crossover that should definitely be on one's shopping list.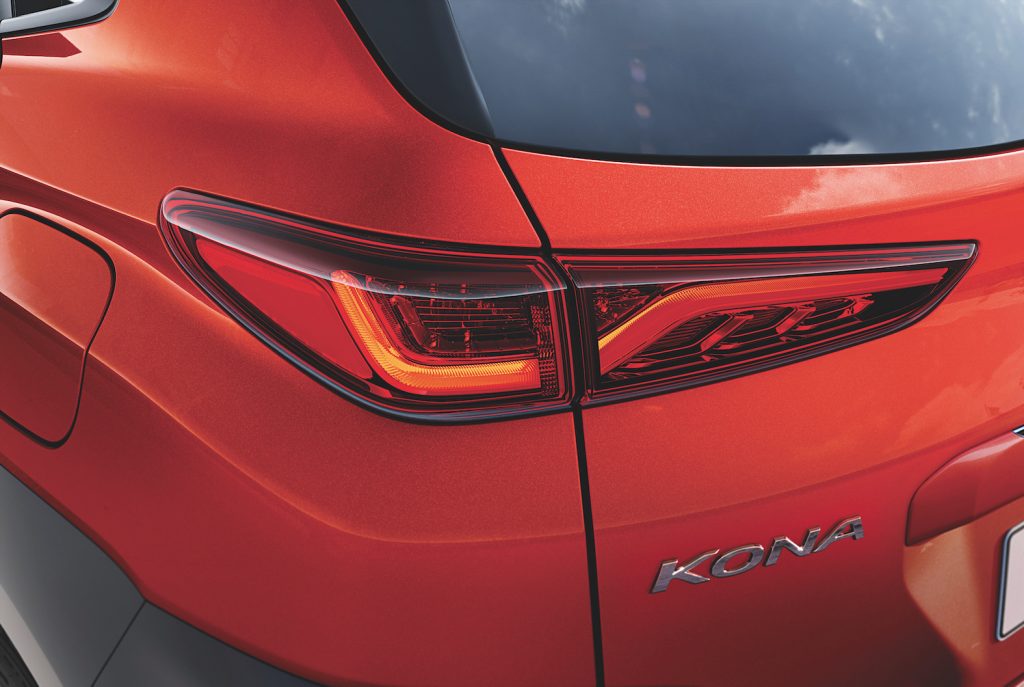 PRESS RELEASE: The All-New Kona is Hyundai's first compact SUV that reflects the lifestyle of modern customers. It is stylish and functional, and is most importantly tailored to the needs of customers who pursue active lifestyles.
Hyundai's Kona is named after the idyllic west-coast region of the Big Island of Hawaii. The Kona region is famous among endurance triathletes and thrill-seeking travellers, and this energetic image is reflected in the innovative and functional design of this lifestyle-focused Compact SUV.
MODERN DESIGN ENHANCED BY LED LIGHTING SIGNATURE  
The Kona employs refined aesthetics with sculpted body forms and sporty contours for an athletic, bold, and striking appearance. Its distinctive design is reinforced by the car's voluminous, aggressive body styling that emphasizes its well-proportioned, dynamic silhouette. A low and wide stance complements its profile, with a long wheelbase and short overhangs, ensuring sporty, nimble handling, in addition to delivering superior driving stability at highway speeds. Its masculine, protective 'armour' combines powerfully with the futuristic LED lighting to create a high-tech look.
Kona's front view conveys a powerful presence, as its armour shows readiness for adventuresome activities. It incorporates Hyundai's new family identity, the cascading grille, featuring a sporty mesh pattern, flanked by flared, wing-like fenders that dominate the front visage. It's further enhanced by a composite headlamp design, with high-efficiency LED headlights and LED Daytime Running Lights (DRLs).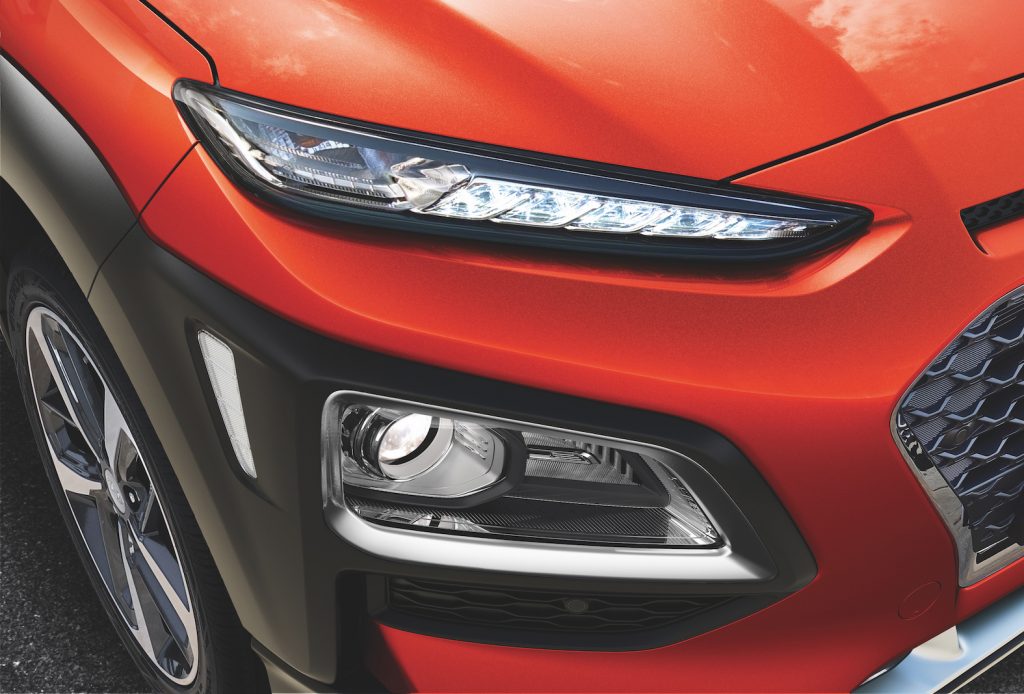 The slim brake lights, turn indicators and reverse lamps are in a separate configuration, surrounded by protective skin that begins at the C-pillar garnish.
In keeping with its adventuresome demeanour, a number of extroverted colour variations allow buyers to further express themselves by choosing colours such as Chalk White, Lake Silver, Phantom Black, Pulse Red and Ceramic Blue. The 1.6 Turbo gets black colour-contrasting roof, providing high contrast between the body, roof and wheels for a distinctive appearance.
The 2.0 Active and 1.6 Turbo variants are fitted with 18-inch alloy wheels while the 2.0 basic variant is fitted with 17-inch alloy wheels.  
SPACIOUS, COMFORTABLE INTERIOR
The unique features of the exterior continue inside with a strong horizontal character line creating a wide and spacious feel. Even with its compact dimensions and low roof line, the Kona delivers outstanding interior roominess.
Unique to the Kona is also its vibrant contrasting coloured seatbelts and interior trims. Grey coloured interior trims and black seatbelts are matched with the Lake Silver, Phantom Black, Blue Lagoon and Ceramic Blue exteriors; Red seatbelts and Red interior trims are paired with the Phantom Black and Pulse Red exteriors; and Lime seatbelts and Lime interior trims are paired with Chalk White.
The sleek and simple layout interior contrasts with the bold, adventurous exterior design. The audio/navigation display incorporates advanced infotainment features and the standard floating seven-inch touchscreen includes Android Auto™ and Apple CarPlay™ capability. The floating display design adds further to the occupants' sense of interior openness. 
POWERFUL AND EFFICIENT POWERTRAIN
The 2020 Kona is offered with two powertrains – the 2.0-liter Nu MPI engine and the Gamma 1.6-liter 4-cylinder direct-injected, turbocharged engine.  The 2.0-liter Nu MPI on the other hand generates 149 horsepower at 6,200 rpm and 180Nm at 4,000 rpm.  
The 1.6 Gamma T-Gdi generates 177 horsepower at 5500 rpm and 265 Nm of torque from 1500-4500 rpm, an advantage over its key competitors. Peak torque delivery starts at only 1,500 rpm and holds through 4,500 rpm, for low-RPM responsiveness and performance in everyday driving conditions. The turbo engine is coupled to a seven-speed EcoShift® dual-clutch transmission (DCT). This Hyundai-developed dual-clutch transmission offers outstanding efficiency with quick, seamless shifting and brisk acceleration. When compared with some competitors' continuously-variable transmissions, this DCT is able to handle more torque with minimal power interruption throughout the engine operating range for natural acceleration and premium aural character with greater durability.
SAFETY STRUCTURE
Hyundai is the only global car manufacturer to produce its own steel for vehicle production for specific benefits to Kona's structural integrity and safety. The lightweight unibody structure has been developed with 52 percent Advanced High Strength Steel to deliver leading levels of inherent passive safety characteristics.
Proprietary hot-stamping methods produce lightweight, ultra-strong structural elements to maximize the cabin's central safety cell. The length of structural adhesives used in Kona production exceeds 375 feet, providing additional torsional rigidity and further reducing overall structure weight for better fuel efficiency, acceleration and handling. The platform also features an innovative multi-load path structure – an advanced energy dispersion technology that boosts impact tolerance by dispersing crash energy across multiple structures to protect passengers in the event of an accident. These design features are expected to give Kona a NHTSA 5-star safety rating as well as an IIHS Top Safety Pick overall.
ADVANCED INFOTAINMENT AND CONNECTIVITY
Kona offers a full suite of sophisticated technologies paired with user-friendly functionality to keep passengers informed and entertained. The premium infotainment system offers various advanced connectivity features, including standard Android Auto™ and Apple CarPlay™. The standard seven-inch colour LCD display includes AM/FM/MP3 touchscreen audio, auxiliary input jacks, voice-command recognition and Rear View Monitor.
A Heads-Up Display system is available, projecting a virtual image onto the transparent panel mounted behind the instrument panel and helping the driver keep his or her eyes on the road. With a generous, eight-inch projected-image size and outstanding luminance, the Heads-Up Display ensures both excellent day- and night-time visibility. Information projected includes speed, navigation instructions, and audio system information. Deployed vertically by a simple touch of a button beside the steering wheel, the display disappears into the dashboard when not in use.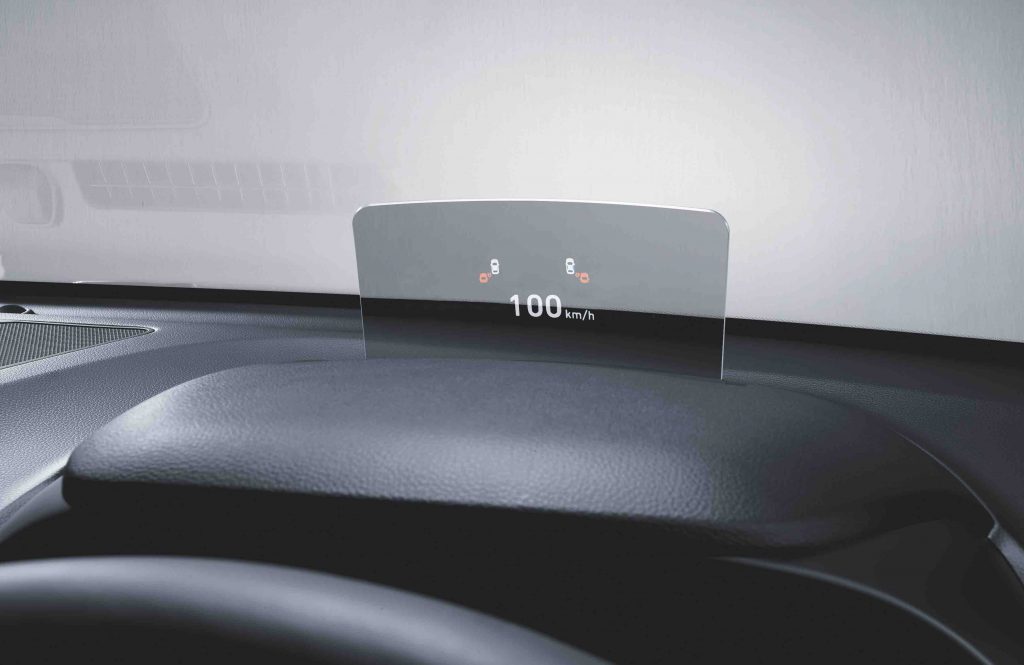 The Kona also offers smartphone wireless charging which is a segment-first feature. To charge a device, simply place a compatible smartphone on the wireless-charging interface located in the centre console storage, recharging without the need for cables. The system indicates when the phone has fully charged, reminds occupants to remove their phones when exiting the vehicle, and detects when a foreign object is in the recharging area that could interfere with charging. The system is fully compliant with Wireless Power Consortium's Qi standard for ease of use.
ACTIVE SAFETY 
Kona offers advanced active safety features, including Forward Collision-Avoidance Assist (FCA), which uses the car's front-facing camera and radar to detect an imminent collision and avoid impact or minimize damage by braking autonomously. Three additional systems also utilize the front-view camera to boost safety and convenience: Lane Keeping Assist (LKA), High Beam Assist (HBA), and Driver Attention Warning (DAW).
By sensing road markings, Lane Keeping Assist helps to prevent accidental lane departure by automatically steering the car if required. High Beam Assist automatically controls the high beam headlights depending on surroundings, while the Driver Attention Warning system monitors a spectrum of driver-related characteristics to detect driver fatigue or careless driving.
Kona radar systems also assist with the Blind-Spot Collision Warning (BCW) to detect approaching vehicles that may be obscured from view during highway driving. The Rear Cross-Traffic Collision Warning (RCCW) detects when another vehicle may have entered the car's rearward path, such as backing out of a parking spot, and provides a driver alert.