Automotive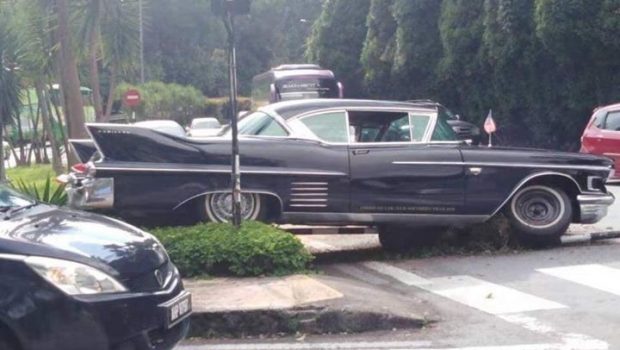 Published on November 6th, 2019 | by Hammer
0
Genting road claims a Cadillac Coupe DeVille
Famous for weekend racers and youtubers to show their driving skills, the stretch of road has seen many mishaps and you can count of at least one a week on average. This beautiful Cadillac Coupe DeVille from Thailand driver must have been driving beyond his ability or the 'old girl' must have been having some steering or brake issues and so 'she' lost it at a corner and has been damaged on the Genting Highlands road.
This classic and rare American tourer body seems ok and luckily the damage does not seem very severe, Just its steering and suspension mechanicals which parts can be found and replaced.
More importantly the driver and passengers are ok. The signboard can be recovered and re-installed and the damaged kerb can be repaired.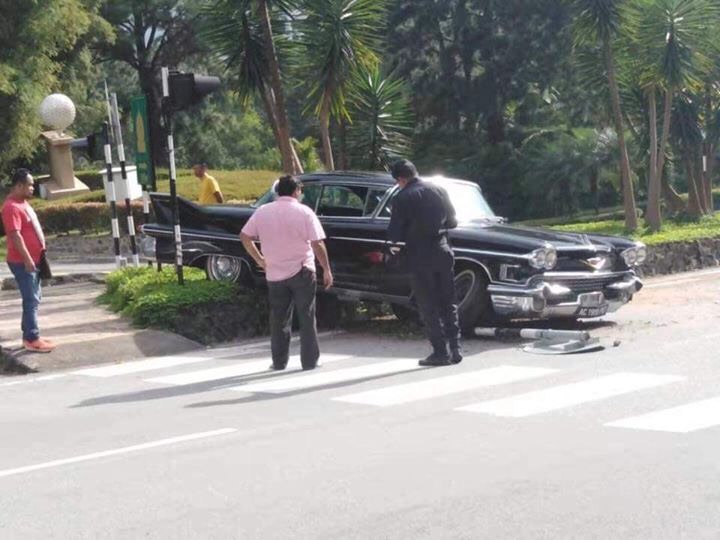 HISTORY of The Cadillac DeVille. This is a classic full-size luxury auto that was in production from 1958 to 2005 with model years 1959–2005 is a product of the General Motors Co.
The Cadillac DeVille was originally a trim level and later a separate model produced by Cadillac. The first car to bear the name was the 1949 Coupe de Ville, a pillarless two-door hardtop body style with a prestige trim level above that of the Series 62 luxury coupe. The last model to be formally known as a DeVille was the 2005 Cadillac DeVille, a full-size sedan, the largest car in the Cadillac model range at the time. The next year, the DeVille was officially renamed the Cadillac DTS.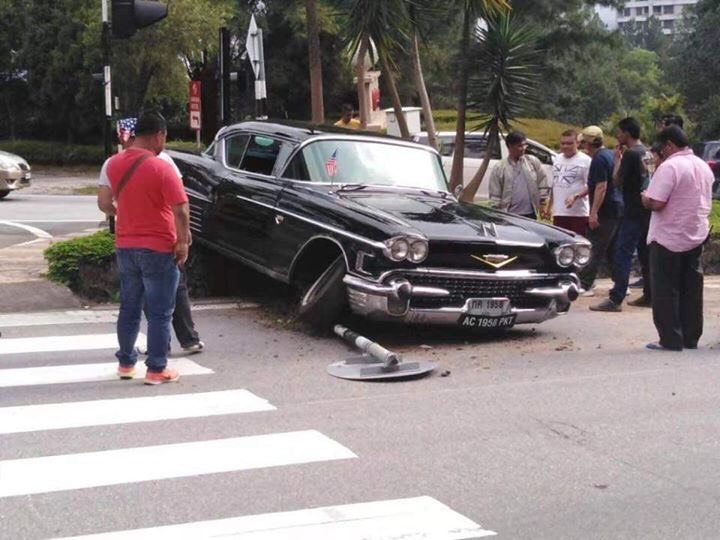 The first generation of the Cadillac DeVille lasted from 1959 to 1960, standing out with its sharp tailfins featuring dual bullet taillights. These paired with the distinctive roofline, deck lid beauty panels, and jewel-like grille patterns. The first generation DeVille had a 325-horsepower 6.4-liter engine, plus script nameplates situated on the rear fender. It came standard with power steering, power brakes, backup lamps, an automatic transmission, wheel discs, windshield wipers with two speeds, an exterior rearview mirror, power windows, two-way power seats, and a vanity mirror. It could have four or six windows.