Automotive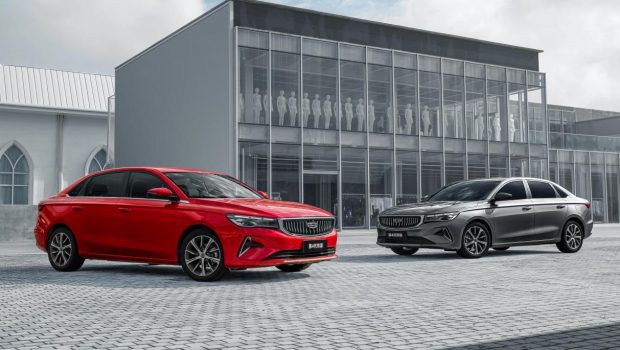 Published on August 30th, 2021 | by Joshua Chin
0
Fourth Generation Geely Emgrand Launched In China
Place your bets now as to whether this Geely sedan will sport a Proton badge in the future. 
To those who wanted the advanced tech featured within an X50 but in a saloon body instead, there might soon just perhaps be such a Proton for you. That is because Geely has recently officially revealed its latest 4th generation Emgrand sedan over in China, which is to be sitting on the same B-segment Modular Architecture (BMA) as its Bin Yue (aka Proton X50) brother. 
Before getting all excited about this Emgrand perhaps sporting a Persona badge in the future though, it is worth highlighting that the chances of such an occurrence is currently quite low at the moment. Then again, it is nevertheless prudent to take a closer look into what is offered by this Geely, in the off chance that it does pack a Proton badge sometime down the line.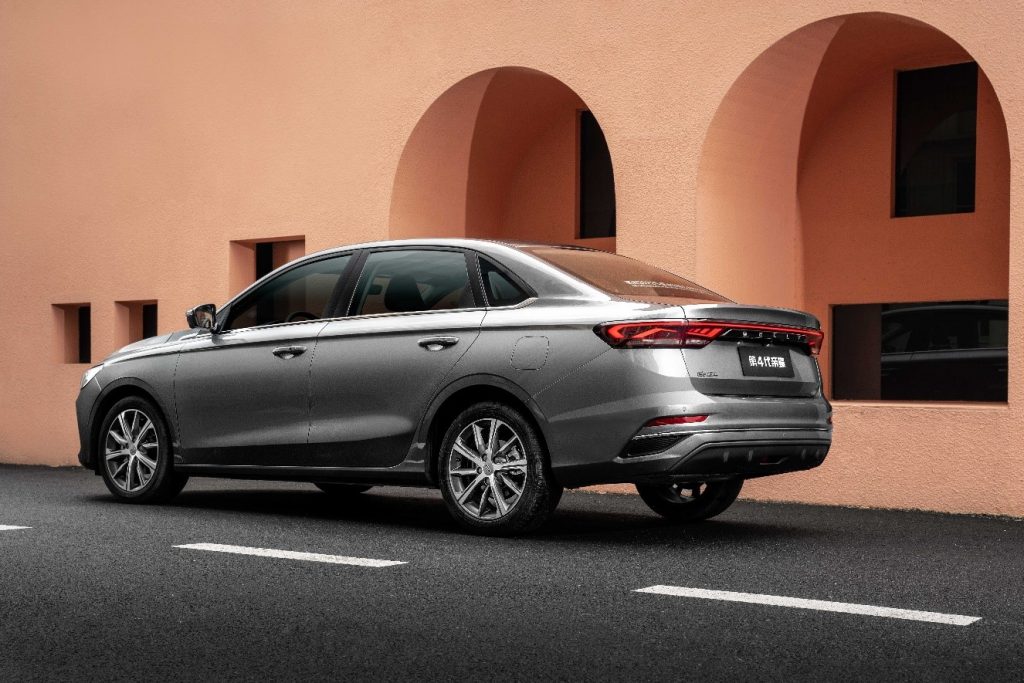 And starting the deeper dive with a just little bit of background on the Emgrand in general, this Geely sedan is actually China's best-selling sedan for 9 consecutive years. First appearing on the scene only 12 short years ago, a total of 3.25 million units of this compact saloon has been shifted in its three prior iterations.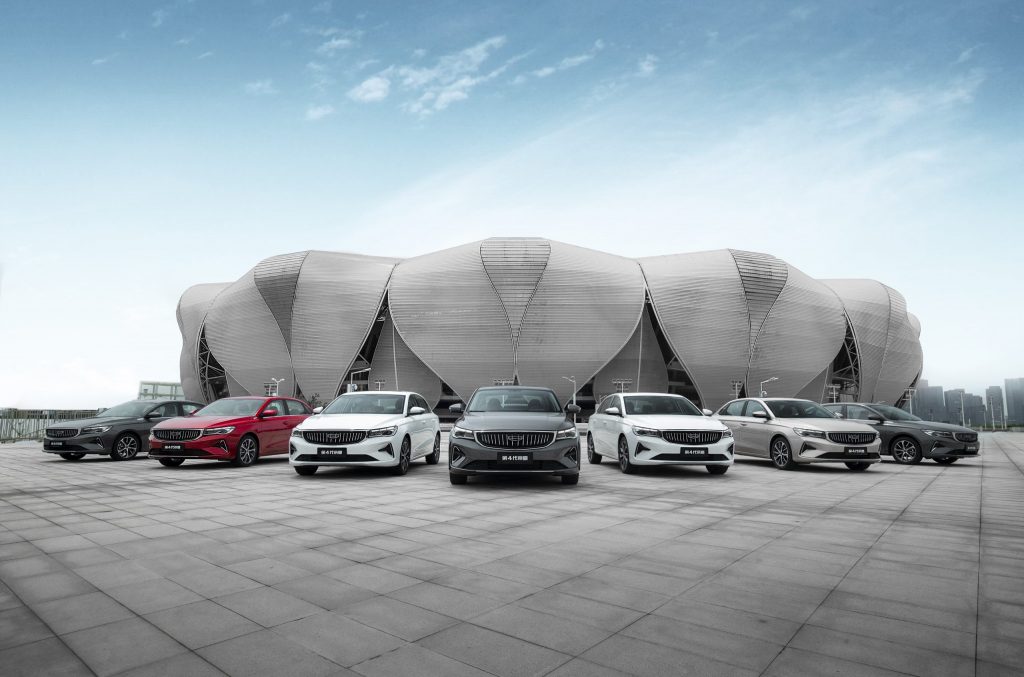 Now touching more on this latest and likely greatest iteration of the Emgrand meanwhile and starting with the outside, the Chinese automaker is touting for this newly launched sedan to be featuring 'the latest Innovative Geely 4.0 era designs'. What this translates to in normal English however is just a slightly larger car than its prior iteration — with its overall dimensions being 4,638 mm x 1,820 mm x 1,460 mm — and an overall exterior aesthetic that borrows significant design cues from its larger Preface sedan sibling.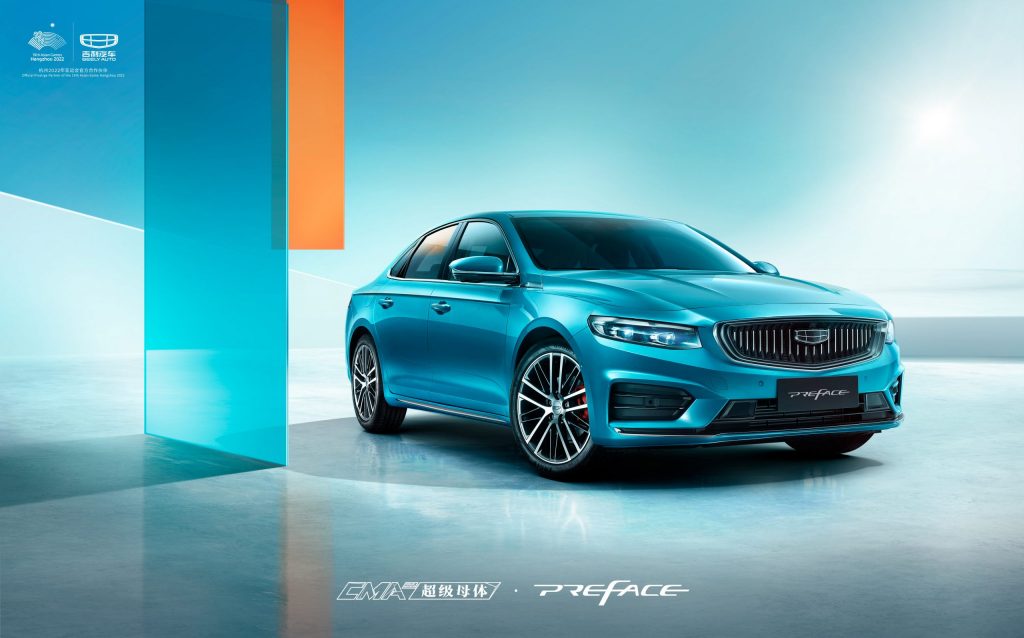 The expanding cosmos front grille and sleek silhouette is far from the only thing borrowed from the aforementioned Preface too, as the interior of the Emgrand is nearly a carbon copy of its larger sibling. This though means that this compact sedan does pack quite a lot of kit, with its 12.3 inch digital instrument cluster and 10.25-inch floating central infotainment panel complemented by AI voice assistant and a CN95 intelligent purifying climate control system.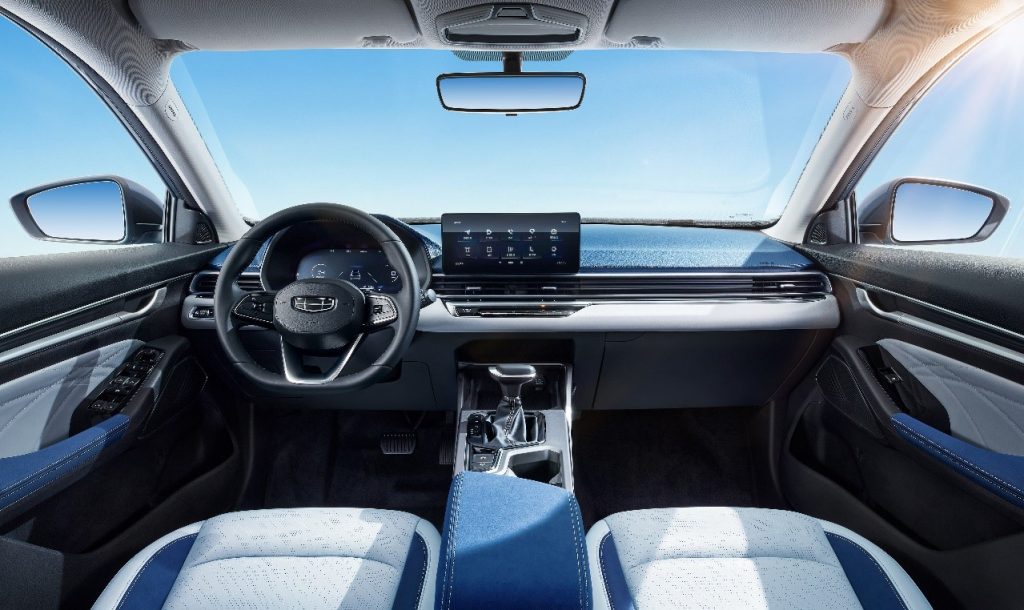 In higher-end Emgrands also, there is the availability of a 540° surround view camera system, a UHD driving recorder and an electronically operated tailgate. Standard however all these new Geely sedans are a best-in-class rear cargo capacity, not to mention an all-new all-aluminium 1.5-litre naturally aspirated four-cylinder up front too.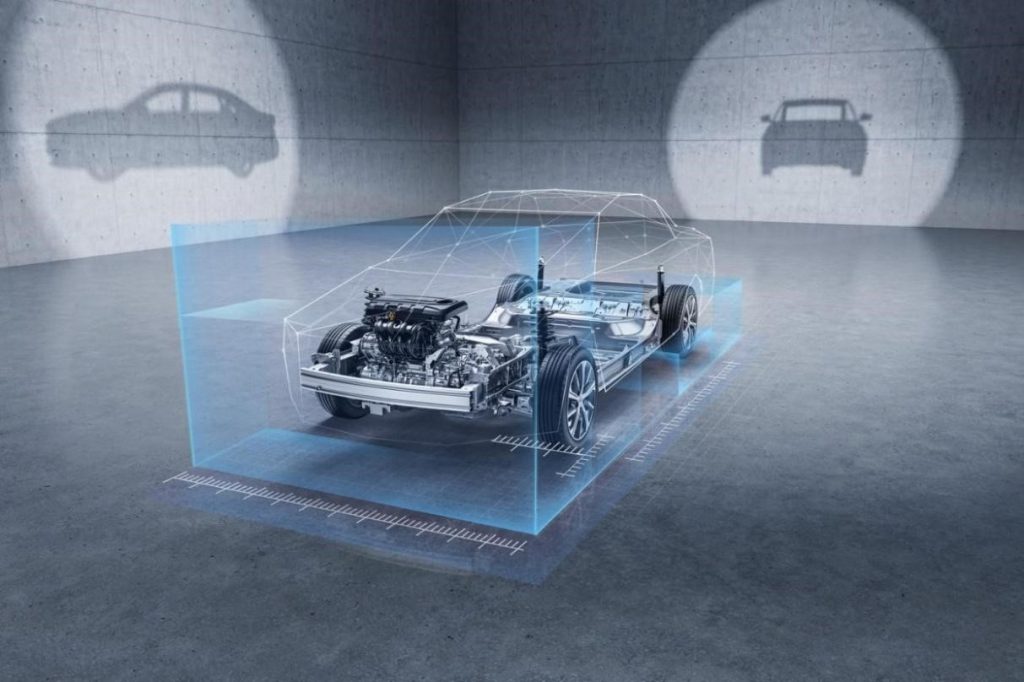 Paired with either a 5-speed manual gearbox or a new continuously variable transmission with 8 virtual ratios, the modest 113 hp and 147 Nm of torque produced by this motor won't be setting anyone's hair on fire. What this front wheel drive sedan gives up in power though, it compensates with refinement, as Geely is touting for this Emgrand to offer a 'premium level NVH performance' with a cabin noise level of 37dB at idle.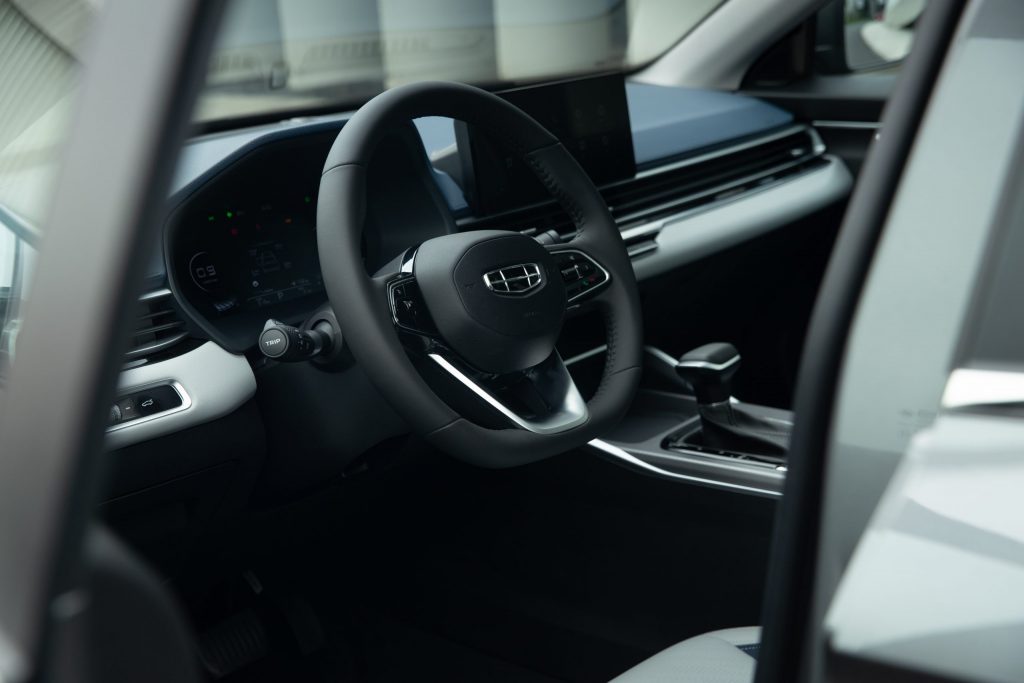 Geely goes on to tout too that this new Emgrand can come to a dead stop from 100 km/h in a class-leading 36 m, which comes courtesy of Bosch's latest 9.3 ESP system. Though perhaps the proudest achievement of the Chinese auto giant with this newly launched sedan isn't actually with the car at all, but with its nearly fully automated Changxing plant where these Emgrands will be produced. 
Prices for this fourth generation Emgrand has unfortunately yet to be officially revealed, but local media is reporting for it to range from between 87,000 yuan (RM57,000) for the base Premium trim level and 92,000 yuan (RM60,000) for the top-tier Flagship variant.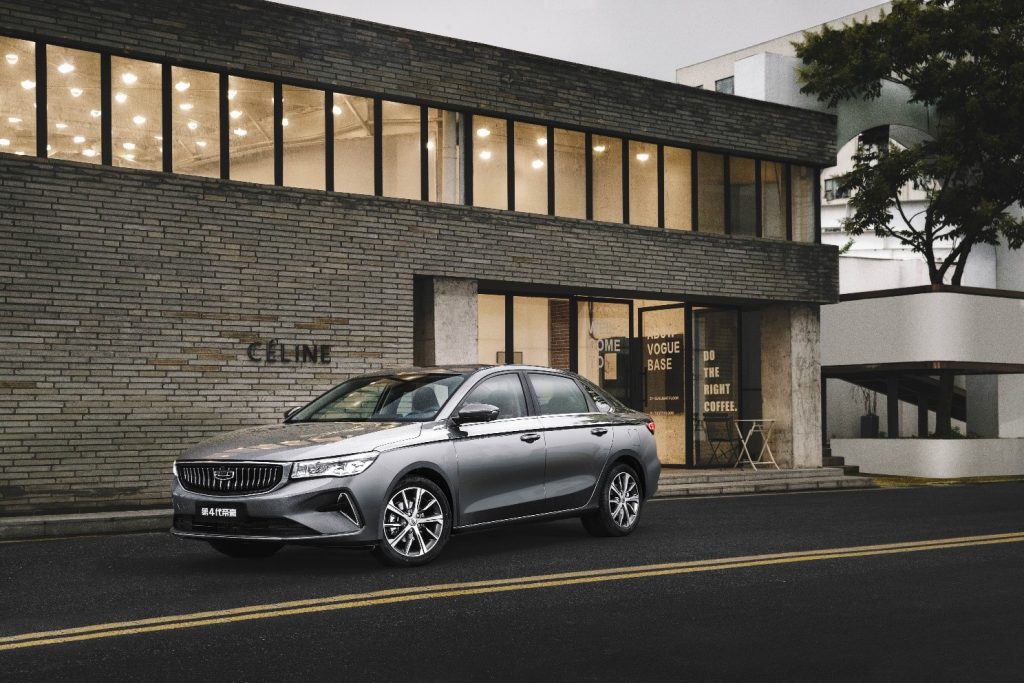 PRESS RELEASE: Geely Auto (Geely), the largest privately-owned Chinese brand, officially launched its latest 4th generation Emgrand sedan. The latest Emgrand model is the first in the series to be developed on Geely's B-segment Modular Architecture (BMA).
Twelve years since the first generation Emgrand was launched, the series has gone through four iterations to date with each improving to better meet user needs. The continuous improvement of the Emgrand series has enabled it to become the best-selling Chinese brand sedan for 9 consecutive years and satisfy the mobility needs of 3.25 million users. The latest 4th generation Emgrand inherits the series commitment to "quality, technology, and contemporary aesthetics." Empowered by Geely's advanced BMA architecture, the 4th generation Emgrand once again aims to set new benchmarks for small compact family sedans.
Endowed with the advanced properties of the BMA, the fourth-gen Emgrand offers users a sleeker body, greater space, improved comfort, better handling, higher quality, and Geely's latest technologies. The 4th generation Emgrand adopts the latest Innovative Geely 4.0 era designs with a sleek wide-body profile, an ultra-low 0.27Cd drag coefficient, and low center of gravity. The face of the new Emgrand adopts Geely Auto's latest interpretation of its signature expanding cosmos grille. The body of the 4th generation Emgrand sits at 4638x1820x1460mm and the new design improves the Emgrand's grip and handling.
The wider design has enabled designers to provide users with more usable space. The central control console features a unique double-layered three-dimensional storage compartment. Increased rear truck space has allowed the 4th generation Emgrand to become a leader in its class. Spatial visibility has also been improved with A pillars which only block 2.7° of the drivers vision, effectively reducing blind spots and improving driving safety.
Aided by Geely's global network of engineering talents, the 4th generation Emgrand received world-class tuning from experts in China and Europe. Chassis tuning not only improved handling, it also provided the 4th generation Emgrand with premium level NVH performance. At idle, in-vehicle noise reaches an ultra-low 37dB. The new model is equipped with Bosch's latest 9.3 ESP system and achieves a best in class 100km/h to 0km/h braking in under 36m.
Powering the new model is Geely Auto's newest 1.5L 4-cylinder DVVT ultra-light all-aluminum engine, providing a maximum power output of 84kW and torque of 147N•m. The engine's all-aluminum build help to reduce weight and improve fuel performance. The engine is matched to either a 5-speed manual transmission or the latest generation CVT automatic transmission which can simulate an 8-speed automatic with a hydraulic torque converter design, offering high transmission efficiency and smooth power output.
In terms of intelligence, the 4th generation Emgrand also exceeds all others in its class. Inside, users will find a 12.3 inch digital instrument cluster, 10.25-inch floating central infotainment panel, GKUI Geely Smart Ecosystem, AI voice assistant, a CN95 intelligent purifying AC system, and other advanced technologies from Geely. The higher trims also offer 540° surround view camera system, ultra-high def driving recorder, hands-free truck opener, and other convenient features. Being connected to Geely's Smart Ecosystem through the GKUI, the 4th generation Emgrand also supports OTA updates which enables constantly improving AI assistant, intelligent navigation, infotainment experience, and other smart features.
The 4th generation Emgrand is produced in one of Geely's most advanced smart production plants in Changxing. Geely Changxing plant adopts the industry's most advanced intelligent production processes to achieve zero deviation fully-automated stamping, environmentally-friendly zero waste automated painting, and 100% automated robotic welding. The plant also utilizes full digital twinning of the entire production process in order to make constant improvement to production and ensure quality.
The champion of Geely Auto, the Emgrand sedan has always been known for its quality, value, and reliability. Today, the new 4th generation Emgrand brings the model series to a new era of smart modular manufacturing and development. As the first sedan developed on Geely's advanced BMA architecture, Emgrand once again leads the way for Geely Auto to create mobility experience which exceeds user expectations.