Used cars
This BMW 3 Series Looks Like It Came Straight Off Mad Max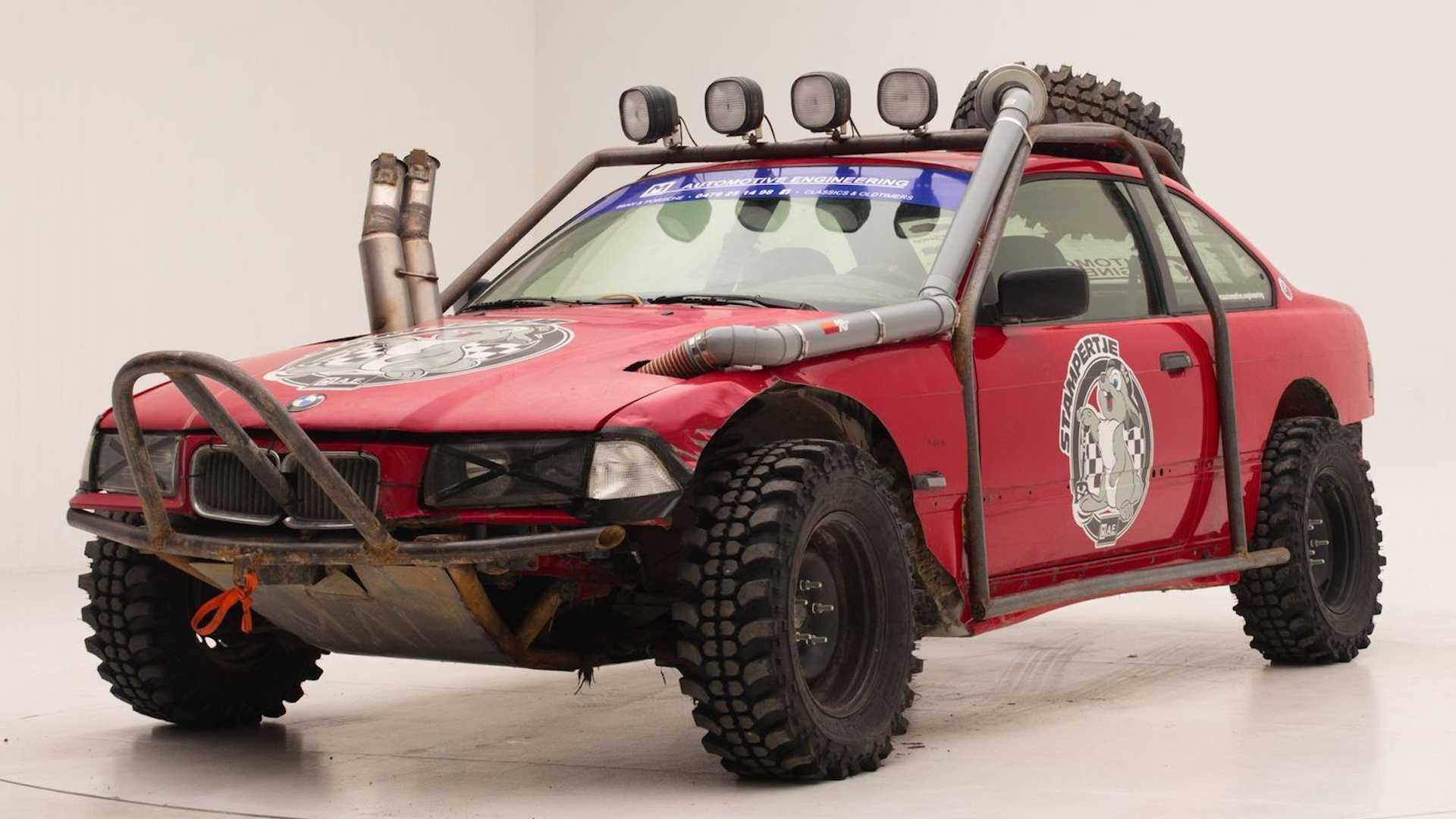 This BMW could well be ultimate driving machine for the end of the world. 
Just recently there was an article posted on DSF regarding the sale of a BMW E36 3 Series that featured a rather special Japanese heart. And if the comments on Facebook is anything to go by, many were just absolutely smitten by this particular retro Bimmer.
With today's wet and wild weather though, some may perhaps be thinking that it is perhaps owning a low-slung sedan may not be the best idea. Images too of the many flooded classics that surfaced after the floods last month may have potential buyers think twice before committing to this ruby red 3-er, and probably opt for purchasing a boat instead.
Happily however, there is actually a way to both live the BMW E36 life and survive whenever mother nature decides to kick up a storm. Enter: the 'Stamptertje'.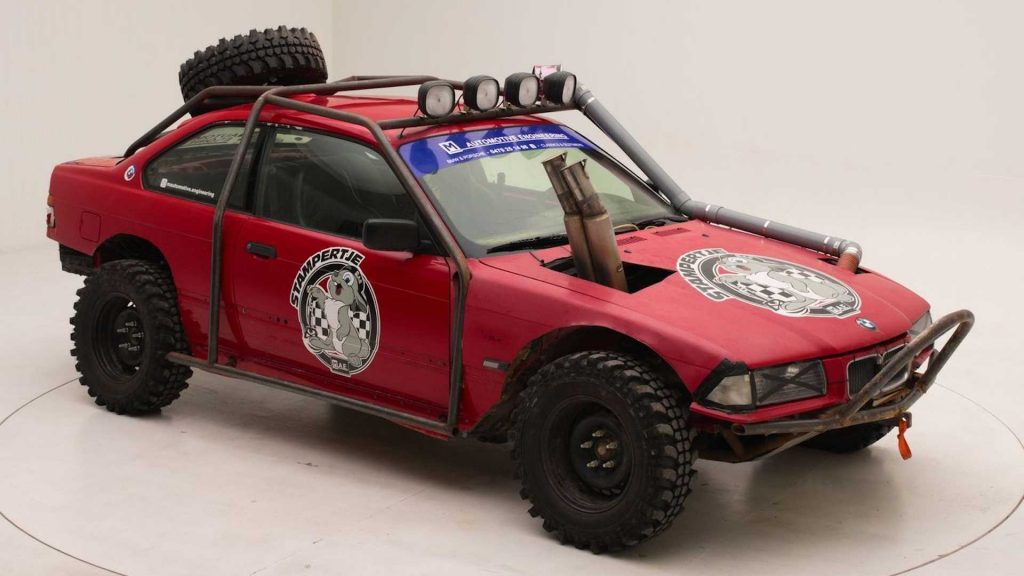 A BMW E36 318is coupe in its previous life, it is probably clear to see that the Stamptertje has long left its on-road roots behind for a life off it. In fact, with its knobbly mud-terrain tyres and twin exhausts that stick out straight from the bonnet, most would probably have believed it true if told that this red Bimmer just came freshly off the set of Mad Max. (It hasn't, unfortunately)
Handily though, if one were to be attacked by a motorbike gang in a dystopian post-apocalyptic world, the rather-beefy looking front and rear push bars that extend from the external roll cage might just be enough to ram said bikers off a bridge. The waterproof snorkel and quad auxiliary lights on its roof too may come in handy during the end times.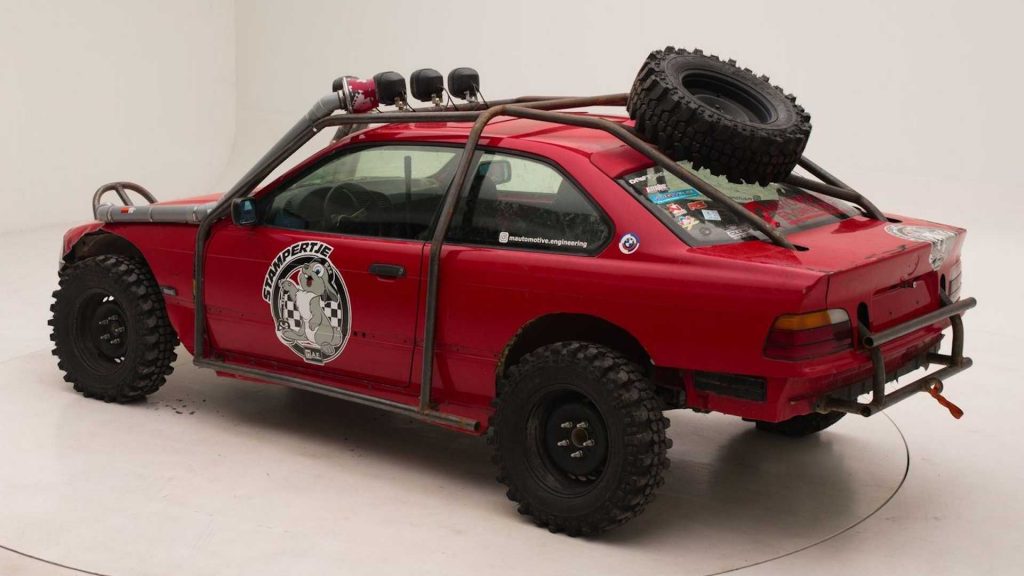 In all seriousness however, beneath the bruised and battered exterior of the Stamptertje lies some rather solid engineering. Its custom lifted suspension for instance has been made from parts out of other BMWs, with the front featuring modified wishbones and E92 steering arms, while the rear nets E46 springs and shock absorbers from an X3. A new clutch and hydraulic handbrake has been fitted too, though the engine remains the stock four-pot that came with the 318is. 
Producing 138 horsepower and 175 Nm of torque when new, the still-very-much-rear-wheel-drive-only Stamptertje isn't going to be giving the Pursuit Special a run for its money anytime soon. But at least the M42 does have a reputation for being a reliable ol' unit, making it perfect for when mechanics are hard to come by during the end of the world.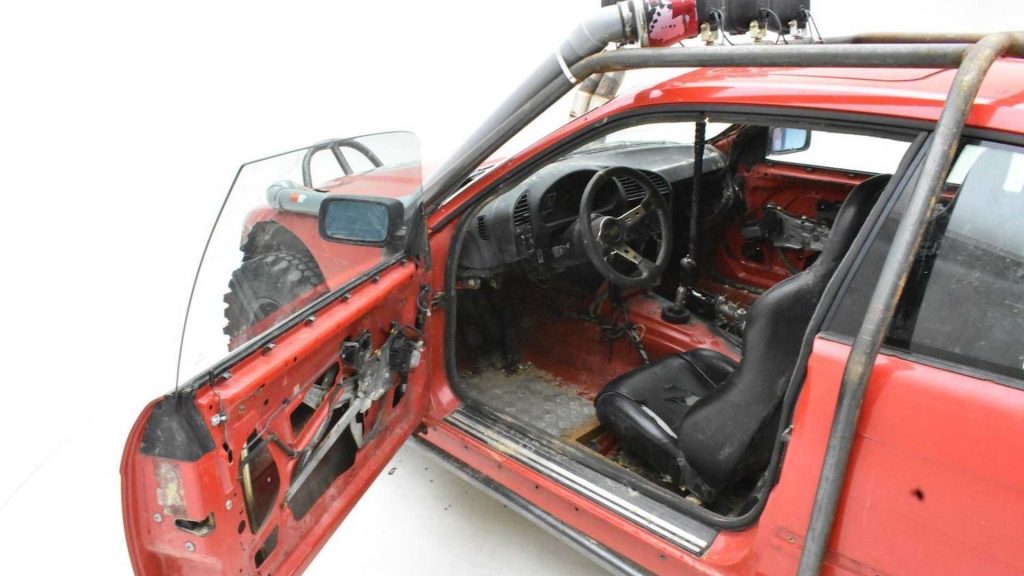 To top it off too, the Stamptertje is currently up for sale with an opening bid of only €1,300 at time of writing. It is however situated on the other side of the world Belgium, which might make it a bit of a hard sell to go through with.
Given though that E36s in over here are currently floating around the RM 7k – RM 15k mark, some enterprising fellow good with a wrench and a hacksaw could well indeed create a localised twin to the Stampterje for less than the price of a decent used pickup. So next time there is a flood then, perhaps of being rescued by lifted 4x4s, there might just be a BMW coming to save the day instead.