News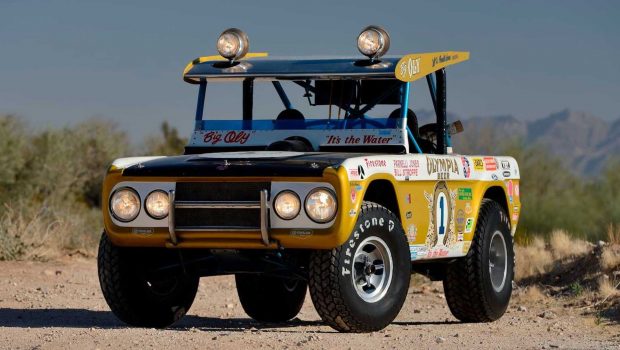 Published on May 31st, 2021 | by Joshua Chin
0
Baja-Winning Ford Bronco 'Big Oly' Sells For RM 7.7 Million
This famous  off-road racer is currently the most expensive Bronco auctioned to date. 
While the revived Broncos have certainly received their fair share of enthusiast love and attention ever since it was officially announced last year, there is still arguably still a lot of people who are willing to splash out big money on its original predecessors. Especially when it comes to one as special as the 'Big Oly' Baja racer, that sold for an incredible $1.87 million (RM 7.73 million) at the Mecum auction in Indianapolis recently.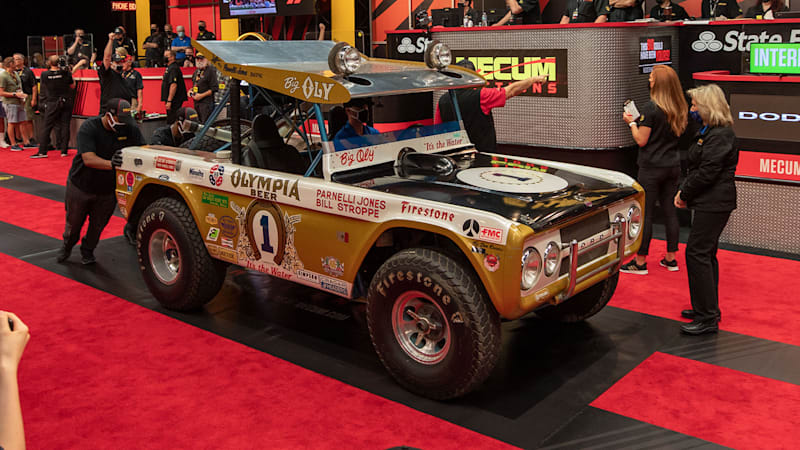 Perhaps second only in its level of fame to the white one driven a certain O.J Simpson, this Baja-winning Ford could nevertheless claim the title as being the most expensive Bronco ever to be sold at auction to date. Beating out the prior record that stood at $1,075,000 (RM 4.44 million), which incidentally was held by the very first model (VIN 001) of this recently revived SUV nameplate.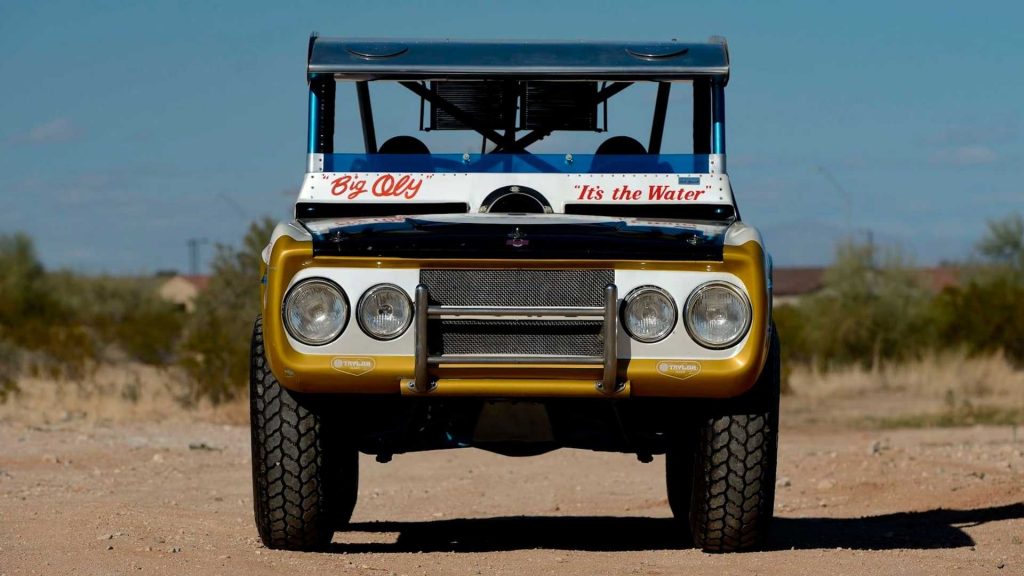 Now to those who are unfamiliar with the 'Big Oly', this Bronco made its name in motorsports history by winning the notoriously difficult Baja 1000 two years in a row in 1971 and 1972. It also clinched victories at the Baja 500 and Mint 400 the year after that too, with Indy 500 winner Parnelli Jones and Bill Stroppe behind the wheel on all the events entered.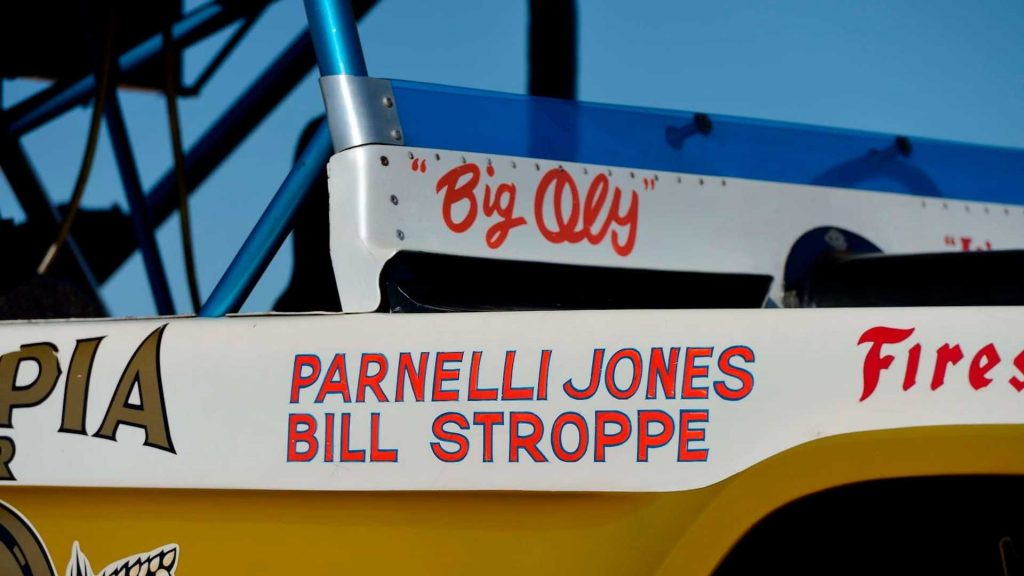 Nicknamed the 'Big Oly' due to the Bronco's Olympia Brewing Company sponsorship, the story of how this iconic yellow-and-white Bronco came to be is actually quite interesting. That is because like all good stories, it all started with a good ol' fashioned dare. 
Legend has it that when Stroppe had failed to recruit Jones into run the Baja 1000, he declared loudly among a group of friends at a 1967 Christmas party that he thought "Jones wasn't man enough for off-road racing." This therefore kickstarted the chain of events that initially saw the 1963 Indy 500 winner fail to finish the 1968 Mexican desert race in a mostly stock Bronco, and hence lead to the creation of the 'Big Oly' to rectify this problem.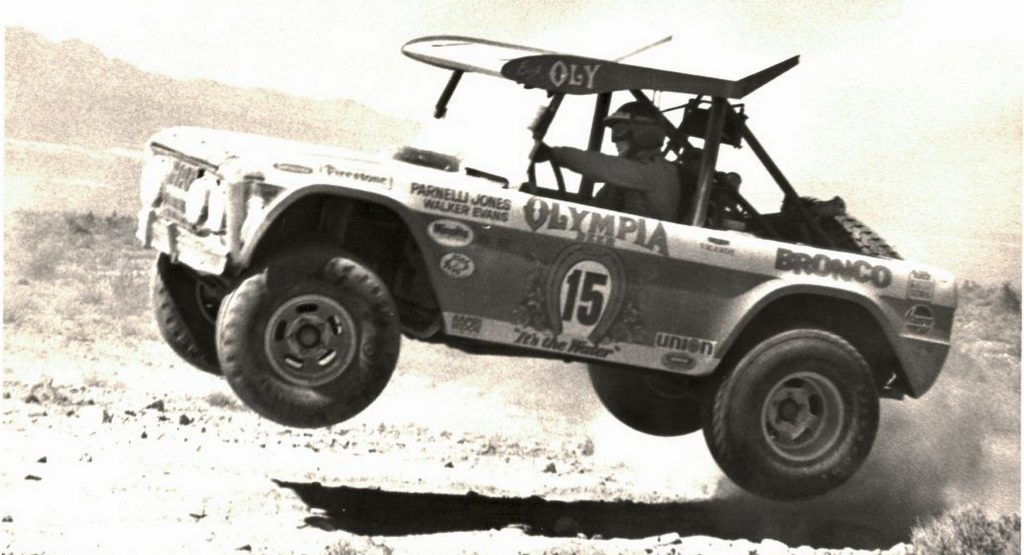 To that end therefore, it shouldn't really come as a surprise that this particular Baja-bashing Bronco doesn't really have a lot of original Bronco bits on it. Naturally the big wing-shaped roof that doubled as a massive spoiler isn't a factory Ford part, but there has also been a multitude of substantial modifications done to 'Big Oly' too in order for it to achieve its multiple rally victories at the time.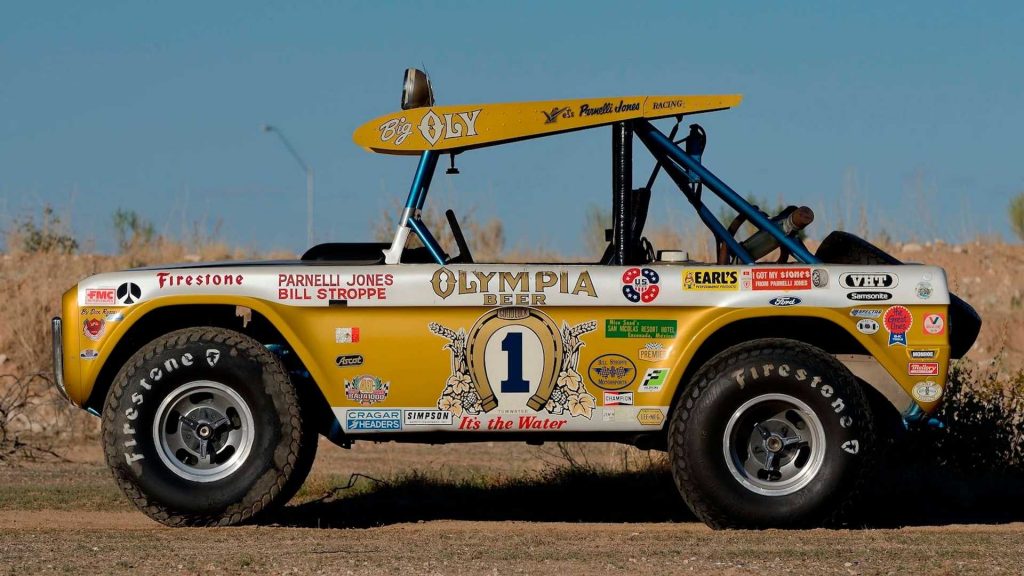 Starting with its chassis, the Bronco's original ladder-frame has been ditched in favour of a chrome-moly space frame similar to what would be found in open-wheel racers. The heavy steel body panels of the stock Ford too was replaced with lightweight items made from aluminium and fibreglass, meaning that 'Big Oly' only tipped the scales at a remarkably light 1,200 kg.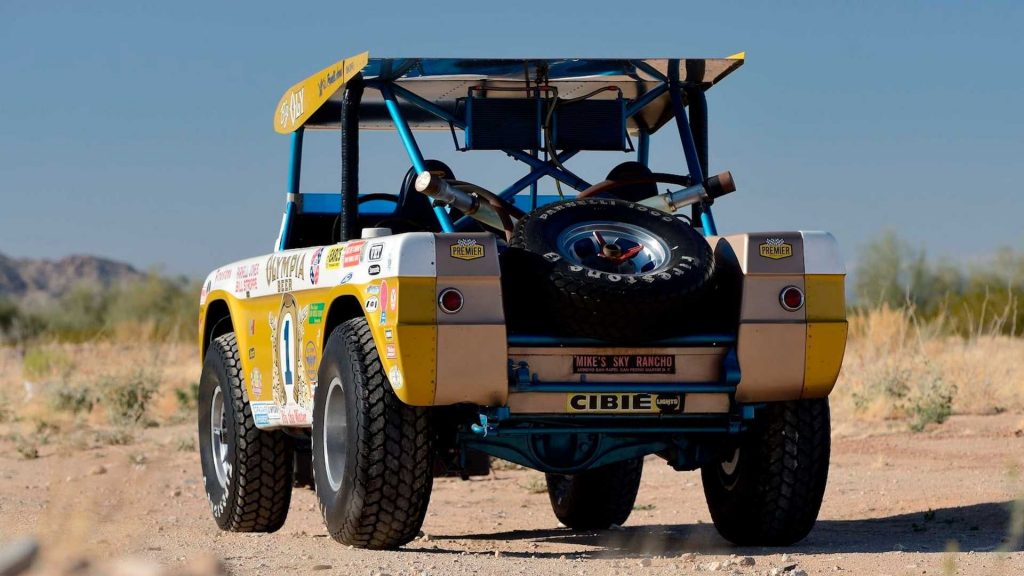 As for its powertrain meanwhile, Big Oly ran a 390 hp Ford 351 Windsor V8 mated to a C6 B&M three-speed automatic transmission. Other mods worth highlighting include the radically reworked long-travel suspension for tackling the tough desert terrain, a spool-style rear axle that locks both rear wheels for better traction, as well as integrated water tanks in the back that kept both the driver and co-driver hydrated under the blazing Mexican sun.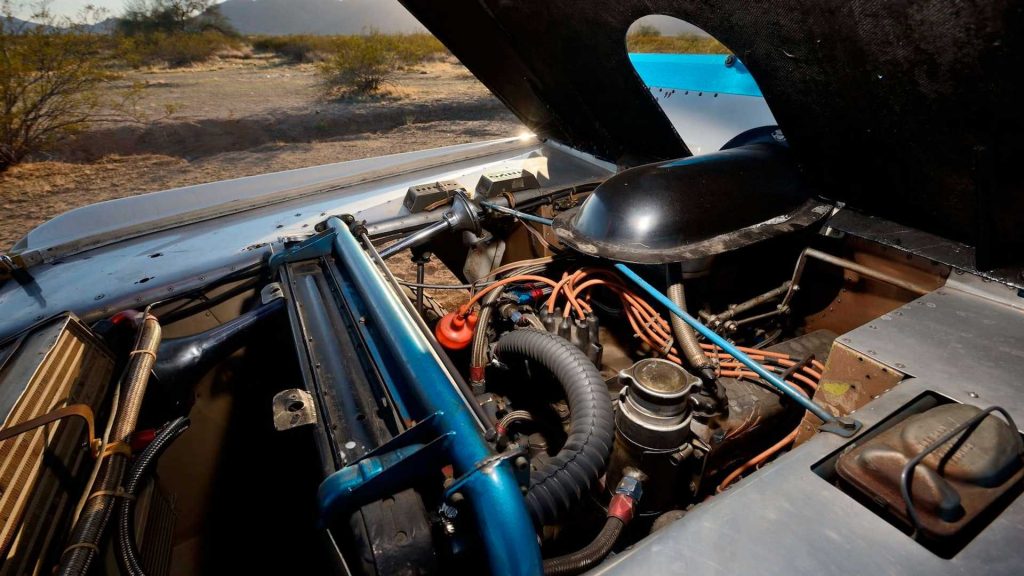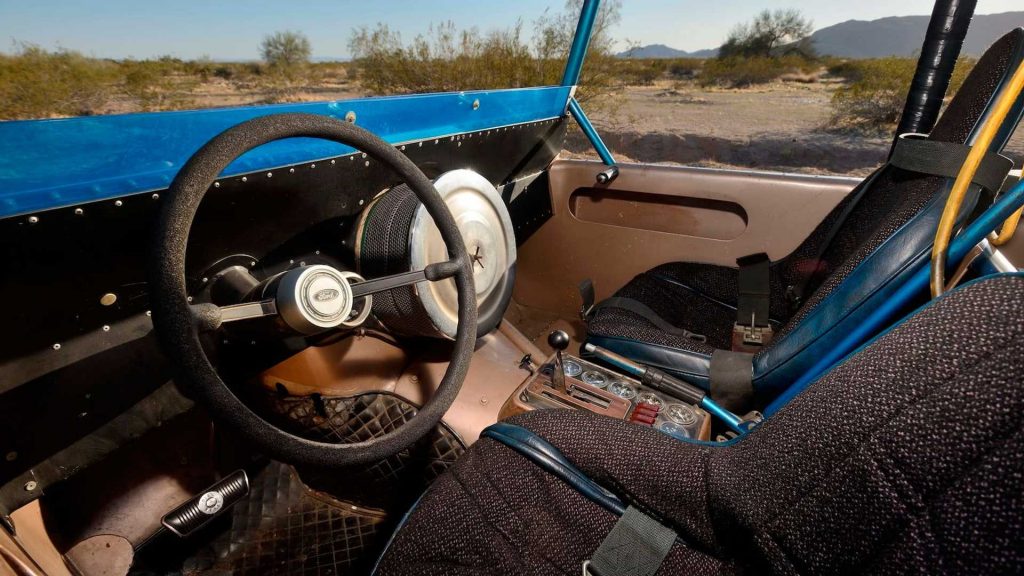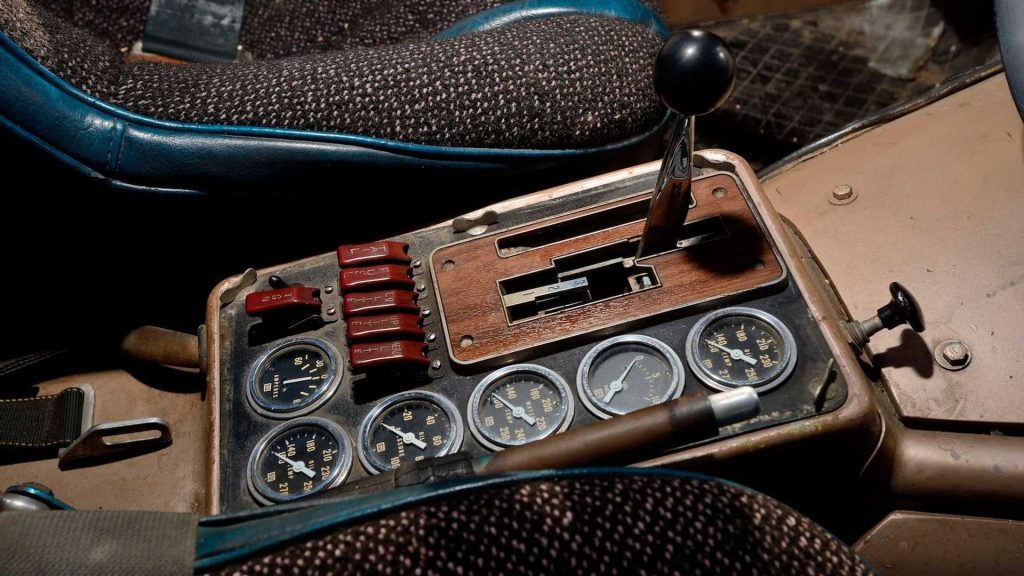 Prior to this auction, Parnelli Jones had rather amazingly retained ownership of this Baja-winning Bronco ever since it retired from the racing scene. Frequently spotted residing at his race shop and having made several public outings throughout the many years, let's just hope that the new owners who paid a pretty penny for this piece of off-road racing history will continue this practice in the future too.