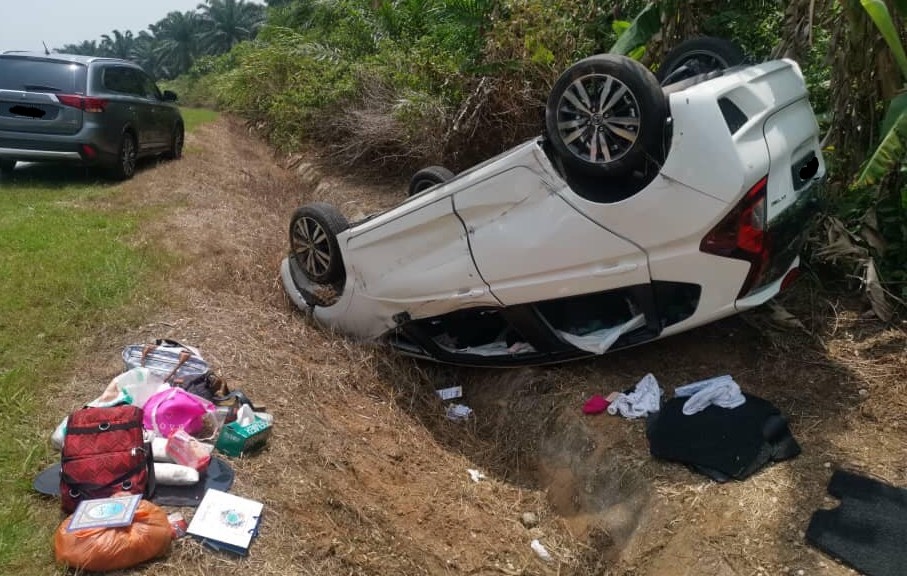 We keep reminding Malaysian parents to use a baby seat for their babies and toddlers and till today little change has happened until we saw this post where a baby strapped in a Graco baby seat was saved in this accident you see here. Well done parents and let this a reminder to parents who are NOT using a baby seat for their loved ones.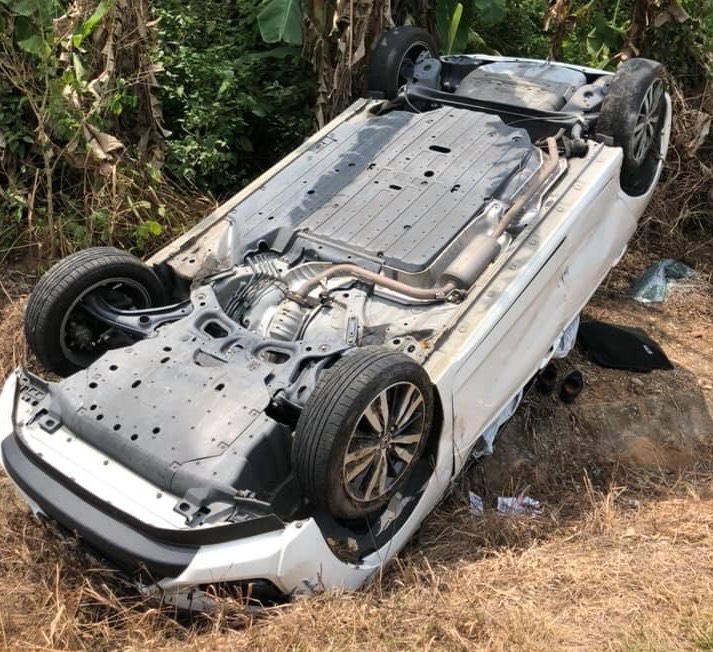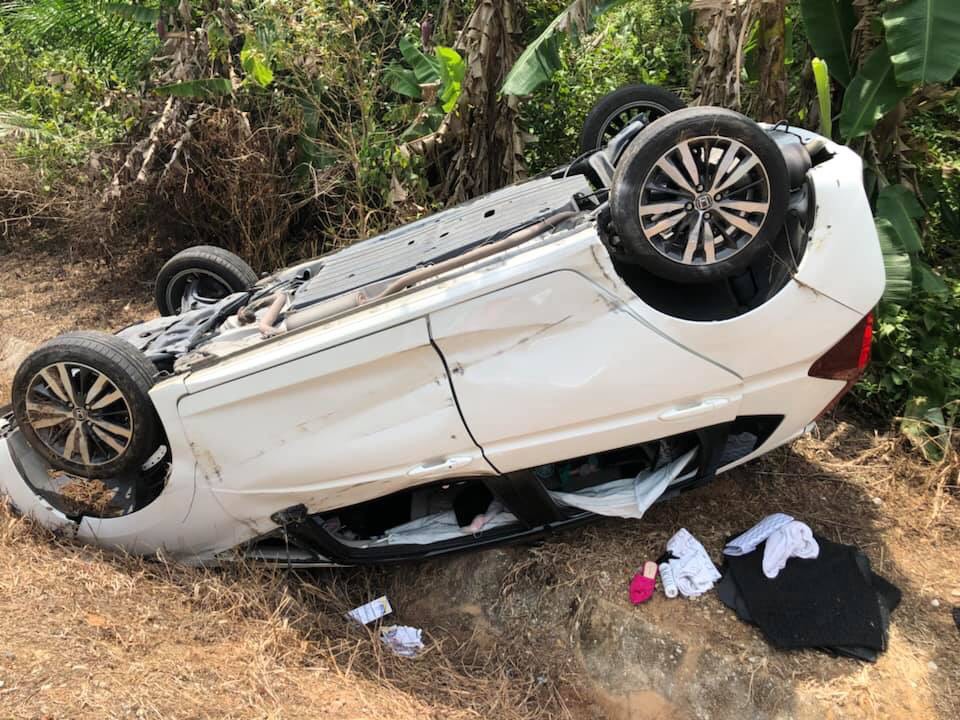 Not many Malaysian parents take car seats as an important safety feature for their child's safety. In many cars you can see children under the age of 12 years sitting in a car without a child seat or a booster seat. Well most do not even have their seatbelt on.
Even worse, many parents will not even have a baby seat for their toddler and instead have the toddler on their lap without even the mandatory seatbelt on. There seems to be a total disregard for the need to keep their children safe in a car.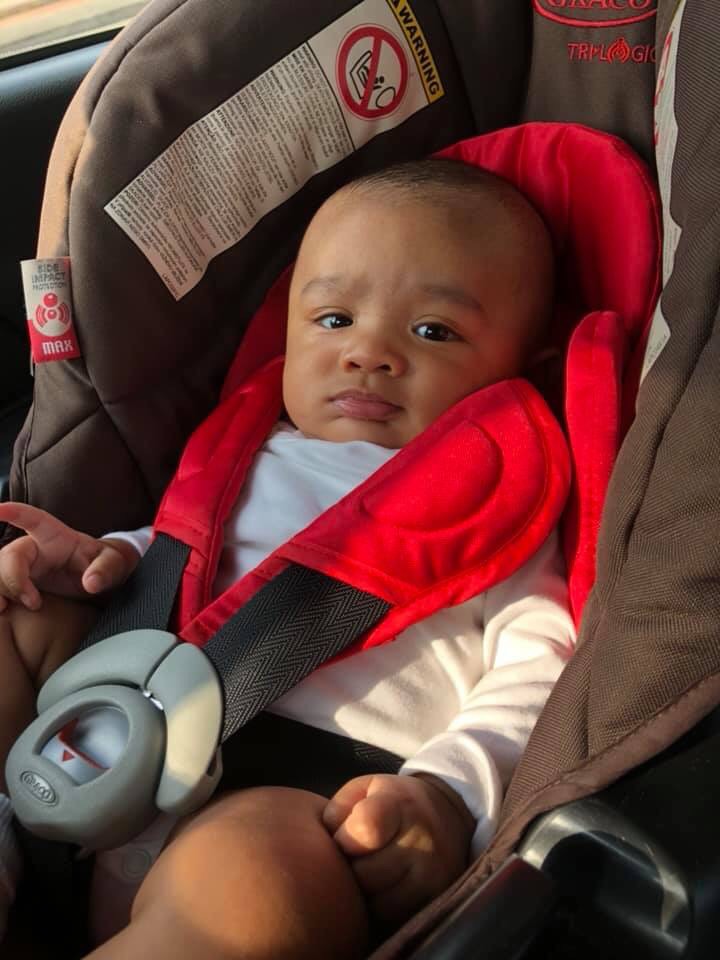 Many of these parents can be seen driving around with their kids on their lap, just sitting on the car seat without a seatbelt and even worse, standing on the front or rear seat without a seatbelt. In an emergency braking situation, the child will be thrown forward or worse thrown out of the vehicle and regret is all that can be felt after the tragedy.
Many parents who ignore the above when asked why they will not invest in a car seat/booster seat for their children will say that the car/booster seats cost a lot of money and they cannot afford it.
The same parents can be seen driving cars with aftermarket alloy wheels, lowered suspension, high-end aftermarket stereo systems installed and fancy body-kits installed on their cars.
So, the child seat money is better spent on the looks and dazzle for their car.
Below is the parents account of what happened:
12.00pm semalam 12 August 2019. Alhamdulillah ajaibnya kuasa Allah, kami bertiga tidak mengalami apa-apa kecederaan langsung terutama anak kami yang berusia 4 bulan.  Kalau tengok pada gambar kereta semua ingat kami cedera teruk.
PENTINGNYA CAR SEAT
Asytar memang tidur sepanjang perjalanan semalam. Lepas kejadian kereta terbalik suasana sunyi sepi. Dalam keadaan terbalik kami mencari menjerit nama Asytar sebab saya tak jumpa car seat. Alhamdulillah selepas beberapa saat kami terdengar tangisan Asytar. Dalam keadaan upside down Asytar berada dalam keadaan buckle up di dalam car seat. Saya baring di bawah Asytar dan cepat-cepat buka buckle nak keluarkan Asytar dari kereta. Dalam keadaan kereta upside down lega bila tengok car seat dan Asytar masih dalam keadaan baik. Suami dapat keluar kereta dahulu dan cepat-cepat ambil Asytar dari saya. Alhamdulillah bersyukur kami sekali lagi Asytar terus berhenti menangis seperti tiada apa yang berlaku.
Kami agak terlambat ajar Asytar duduk dalam car seat sebenarnya. Kadang-kadang memang kesian kalau dia menangis taknak duduk car seat tapi kami keringkan hati biarkan dia menangis dalam carseat. Alhamdulillah sekarang he get used to it. Lepas apa yang terjadi depan mata sendiri saya nak memberi kesedaran supaya parents luar sana especially orang-orang yang rapat dengan saya, kalau anda sayangkan anak-anak anda saya merayu tolonglah didik anak anda duduk dalam car seat seawal usianya baru lahir. Tiada siapa tahu apa yang akan terjadi dalam hidup kita. So kita kena take extra precaution before kita menyesal di kemudian hari. Kereta boleh beli, nyawa anak tiada gantinya.
Alhamdulillah Asytar sangat active lepas kejadian sampai hari ni. Hari ni kami bawa dia pergi clinic dan specialist. Alhamdulillah tiada tanda2 serius terjadi dekat Asytar. Mungkin Allah tu lindung Asytar yang tidak berdosa, dengan ibu dan ayah Allah lindung sekali untuk terus menjaga Asytar sehingga akhir hayat kami. Setiap kali solat saya tak pernah fail minta supaya Allah sentiasa lindungi Asytar Rizqi Akmal supaya sentiasa dibawah lindungan dan rahmat Allah SWT. Gambar ketiga adalah gambar Asytar duduk dalam car seat yang sama pada hari ini. Car seat masih dalam keadaan baik setelah apa yang terjadi semalam.
ALLAH MAHA BESAR, MAHA MELINDUNGI
Hebatnya kuasa Allah bila Allah hantar orang yang betul-betul ikhlas menolong kami. Cuma satu je kami ralat. Kami tak sempat berterima kasih pada keluarga yang menolong kami semalam. Abang dan kakak tu berserta keluarga melalui jalan yang sama untuk pulang ke Ipoh. Abang tu yang menyambut Asytar dari suami saya terus dia beri pada isteri dia. Dalam kami masih kusut, kakak tu jaga Asytar selama 2 jam macam anak dia sendiri walaupun bersempit-sempit dengan anak-anak dia dalam kereta. Kami terhutang budi dan nyawa pada keluarga tersebut.
Kalaulah abang dengan kakak tu tak ada tak tau lah Asytar macam mana tengah panas sementara menunggu keluarga saya datang beri bantuan. Ya Allah ikhlasnya keluarga tu sampai sanggup tunggu berjam-jam padahal perjalanan mereka masih jauh lagi. Disebabkan trauma dan kelam kabut semalam kami tak sempat nak minta contact number pada abang dan kakak tu. Gambar keempat tu kakak tu tengah dukung Asytar dengan anak kecil dia sekali. Video yang kelima agak blur tapi ada nampak sipi2 kereta dan abang yang tolong kami tu. Dengan kuasa viral, kalaulah abang dan kakak tu baca post kami ini, mintak tolong contact saya di nombor 0122628220 dan suami 0126410243.
Terima kasih tak terhingga pada keluarga Raja Nor Laila, Raja Shahrul Nizam dan Raja Norzakiah terutama Wan Shyrell, Raja Adly Izuan Badak-king, Raja Shahrul Nizam, Wan Shyney dan Amy Rahimi sebab bersama dan menunggu kami sehingga selesai semuanya. Jasa anda tak terbalas, hanya Allah yang dapat membalas. Terima kasih juga pada semua yang mendoakan kesejahteraan kami. Semoga kita semua dijauhkan dari segala perkara buruk yang tidak kita ingini.
"Benda yang rosak boleh dibaiki dan dibeli, nyawa yang hilang tiada galang gantinya."