Automotive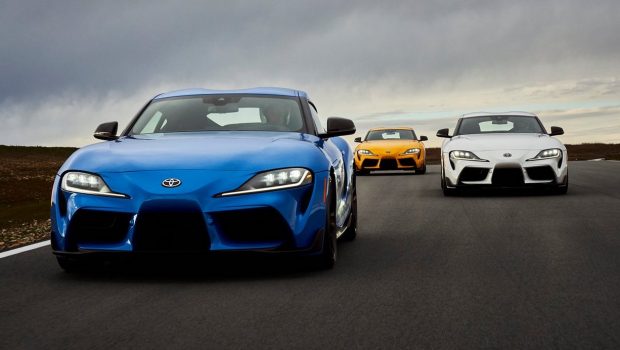 Published on August 27th, 2021 | by Joshua Chin
0
Toyota GR Supra Now Available Locally With Apple CarPlay
This connectivity update on the GR Supra comes after a performance bump last year. 
Good news to iPhone users looking to purchase a GR Supra, as UMW Toyota has recently announced that its updated Japanese sports car has recently gained Apple CarPlay integration. 
This new feature however still requires users to tether their phone via a cable connection, with wireless Apple CarPlay not a thing still with this BMW-based Toyota. Android users are also unfortunately still out of luck, as Android Auto is perplexingly not available with the A90 Supra to this very day.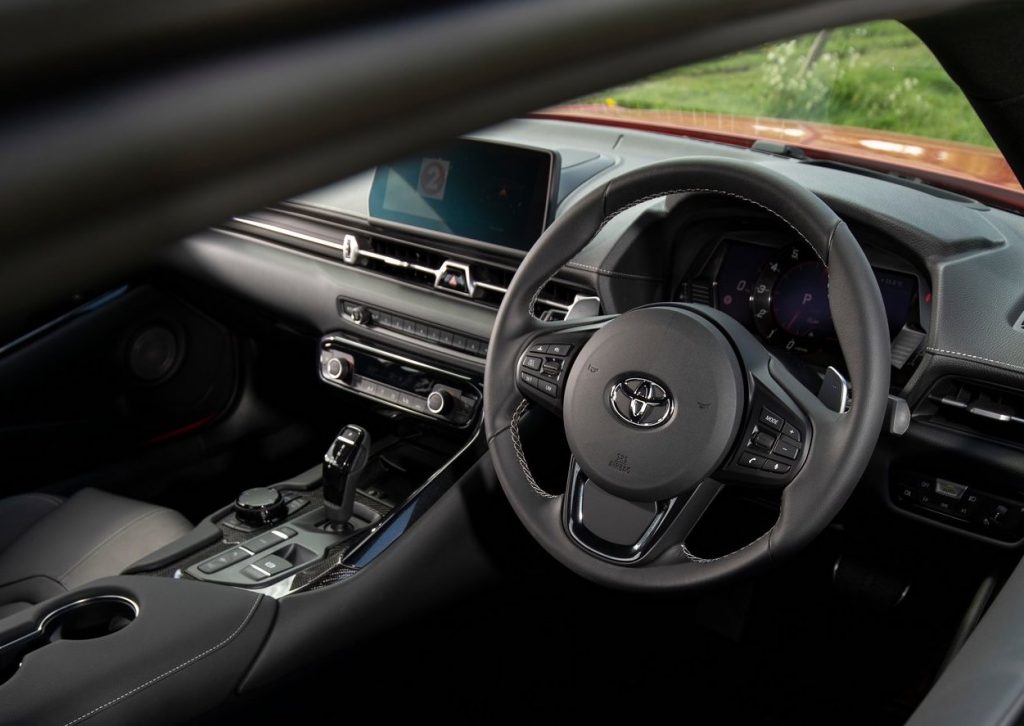 In continuing on the topic of perplexing too, the addition of wired Apple CarPlay connectivity is literally about all that has been updated with the GR Supra this time round. Though it is perhaps worth cutting Toyota some slack on this, as this Japanese sports car (with German bones) has nevertheless received quite a big revision just the year prior. 
Officially introduced over here last July, the big news from the update that time round was the not-insignificant 14% bump in power from its 3.0-litre turbocharged straight-six. Going from 340 PS to 388 PS, Toyota mainly attributes the extra 48 horses it has managed to cram under the hood to a new six-port dual-branch exhaust manifold and a new piston design that drops the engine's compression ratio from 11:1 to 10.2:1.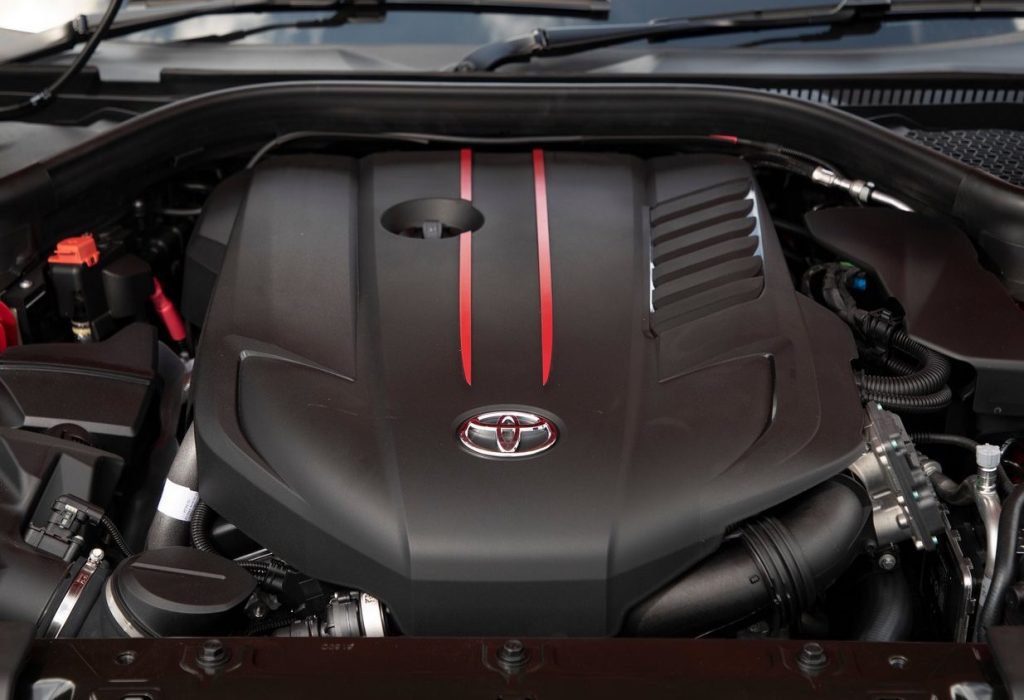 Now naturally too, Toyota has also been fettling around with the tune on the engine, as well as its 8-speed automatic transmission. All of which therefore equates to a century sprint time is now down by 0.2 seconds from before, to a much more respectable 4.1 seconds.
And in rounding off the other updates worth highlighting that were made then, Toyota has added a Performance Rod in a bid to increase lateral rigidity and greater cornering stability of this sports car. Its electric power steering, adaptive damper system, stability control and active rear differential were recalibrated to work better with the performance bump too, while its brake calipers also gained a splash of red for just that added bit of pop on its exterior.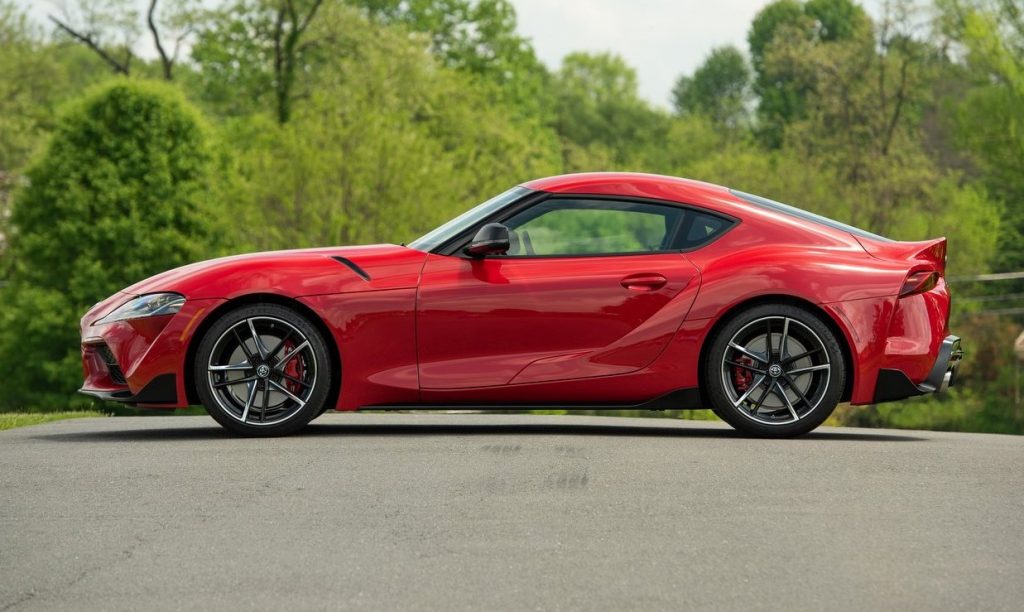 The updated GR Supra with Apple CarPlay integration is set to retail for the same price as the outgoing model, which is RM 589,987 inclusive of the ongoing SST exemption. Colours available with this Toyota include White Metallic, Silver Metallic, Ice Grey Metallic, Black Metallic, Prominence Red, Lightning Yellow and Matte Storme Grey Metallic. 
PRESS RELEASE: The best just got trendier! Built to be experienced not only for its thoroughbred performance, the newly improved Toyota GR Supra inherits refinements and upgrades for greater convenience and to keep the digitally savvy sports car enthusiasts indulged in even greater driving enjoyment and connectivity. 
Available in the 3.0-liter variant of the improved Toyota GR Supra, the introduction of Apple CarPlay (wired) is certain to keep Apple mobile users connected and entertained throughout their journey, and complements the earlier generation 8.8-inch touchscreen display with touch pad remote, built- in navigation, USB and Bluetooth already built into the car. The GR Supra is also equipped with a 12- speaker JBL HiFi Surround Sound System for uncompromised sound quality. 
The new enhancement is the second update to have been executed on the GR Supra following a performance upgrade that was introduced in July 2020.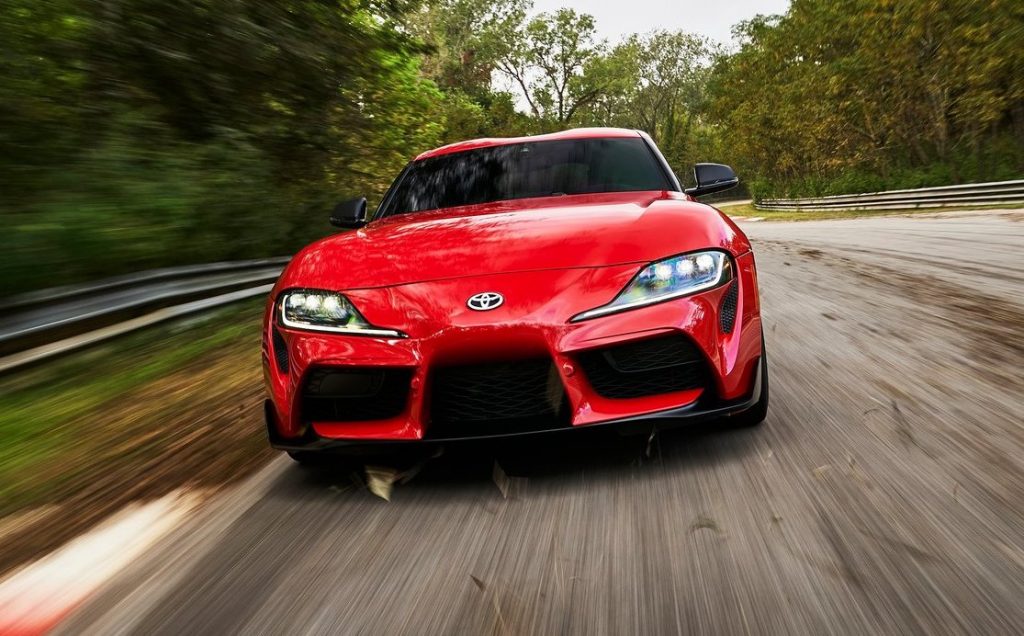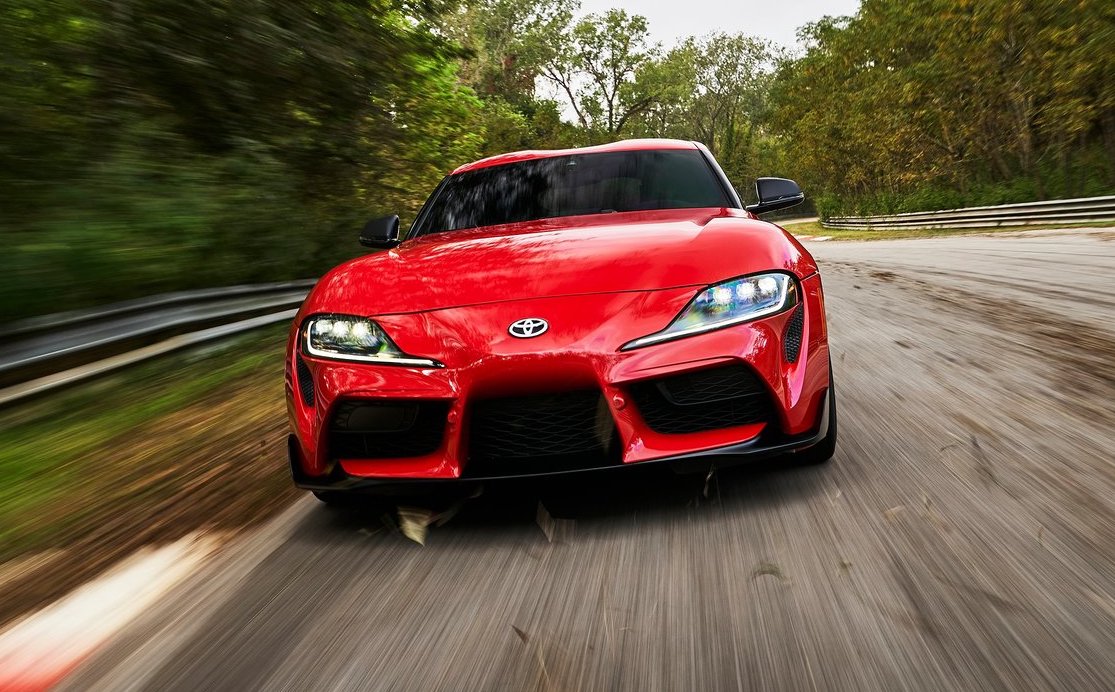 The performance upgrade centered on the turbocharged inline-six engine which now delivers 285 kW (388 PS) of power at between 5,800 and 6,500 rpm, representing a 14% increase. Maximum torque remains at 500 Nm, but peaks through a slightly wider range of between 1,800 rpm and 5,000 rpm instead of 1,600 rpm to 4,500 rpm. Toyota engineers had also increased power output by tuning and adding a new dual-branch exhaust manifold with 6 ports (instead of two), which improves heat management. A new piston design meanwhile, reduced the engine's compression ratio from 11:1 to 10.2:1. 
These improvements allow the GR Supra which is equipped with the standard 8-speed automatic transmission to accelerate from 0 to 100 km/h in 4.1 seconds, a clear 2/10ths of a second quicker, from its previous 4.3 seconds. 
The GR Supra's chassis was further tuned with the addition of a Performance Rod to increase lateral rigidity and greater cornering stability.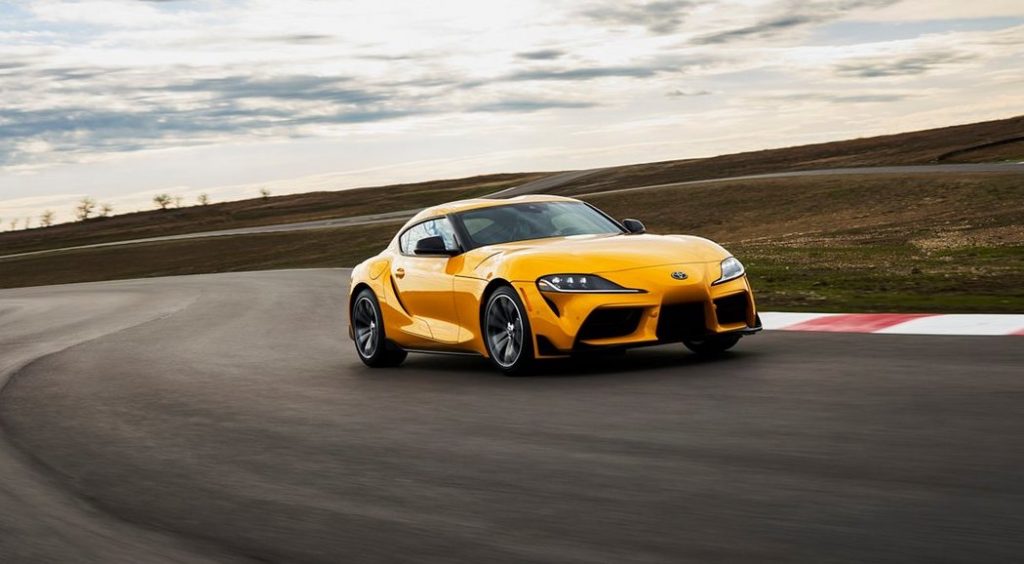 "The design and engineering parameters of the GR Supra from the onset placed great importance on performance, driving superiority and styling, elements that defined not only the heritage of the Supra but also represent the very the foundation of Gazoo Racing (GR). Having said this, GR models are built to continually evolve, not only enhancing on these three key parameters, but to also incorporate Connected Mobility and intelligent driving systems as these new advancements become available and can further enhance our customers' overall driving and ownership experience," said Gazoo Racing Malaysia Chief Motorsport Officer Akio Takeyama. 
Safety remains a priority for Toyota, and even more important with models like the GR Supra which is capable of very high performance. Safety technologies built into the GR Supra enable drivers to take the car safely to its limits. These technologies include a variety of active systems which work together to assist the driver when necessary. That includes Forward Collision Warning; Lane Departure Alert; Adaptive Cruise Control (All-Speed); Adaptive High Beam System; and Road Sign Assist. 
Other features include Anti-lock Braking System (ABS); Electronic Brake-force Distribution (EBD); Brake Assist (BA); Vehicle Stability Control (VSC) & Traction Control (TRC); Hill-start Assist Control (HAC); Emergency Stop Signal (ESS); Blind Spot Monitor (BSM); Rear Cross Traffic Alert; front and rear Parking Sensors; Reverse Camera; and Rear End Collision Warning. 
The GR Supra is available in seven distinct colours: White Metallic, Silver Metallic, Ice Grey Metallic, Black Metallic, Prominence Red, Lightning Yellow and Matte Storme Grey Metallic. 
Priced from RM589,987 (with 50% sales tax exemption until 31 Dec 2021 and without insurance) the enhanced GR Supra is now available for booking from selected authorized Toyota GR Garage showrooms nationwide. For further information, customers can visit Toyota.com.my or call the Toyota free phone line 1-800-8-TOYOTA (869682).